Love to craft & be creative? If you have the space, then you're going to want a designated room, especially for crafting.
One of the best things about making a room for your own crafts is that this helps keep you well organized with your projects. If you decide to do your own room, we highly recommend you first think about how the room should be organized – considering what type of crafts you do most often and what other crafts you would like to try. You'll want to keep crafting supplies handy and also away from getting dusty or picked up by curious toddlers!
Craft room organization projects are good to make and sell, because even if crafters don't have a specific room only for crafts they may appreciate having some of the organization systems. If you are the type of person who can put together IKEA furniture for example, you could charge a fee for this to help crafters. Or even refurbishing old furniture, to make it ideal to hold crafting supplies – this is both eco-friendly and a way to still treasure a beloved piece of furniture.
To make and sell these organization systems, consider what types of crafts you know a bit about and could create systems for. Sewing for example needs very specific crafting organizational supplies organization. So does scrapbooking.
...
Take the time to talk to the crafter, to understand how they would like to use the room or space. Also ask them if their children will be crafting too, as this may change how you design things.
Happy DIY-ing!
Crafting a Craft Room
Creating your craft room can be a work of art itself. Make it functional, but pretty too!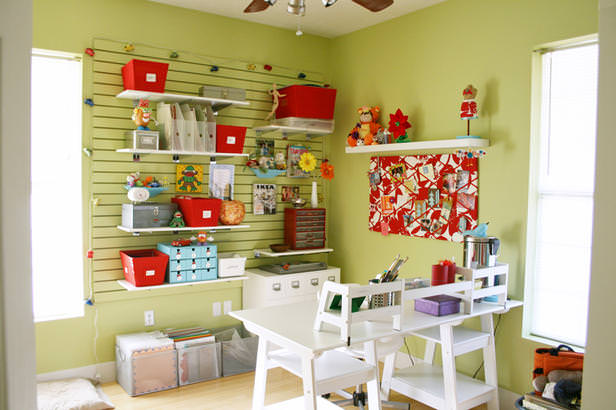 From TheBudgetDecorator
DIY Cereal Box Drawer Dividers
Use a lot of markers, pens, washi tape, etc? Try this DIY drawer dividers.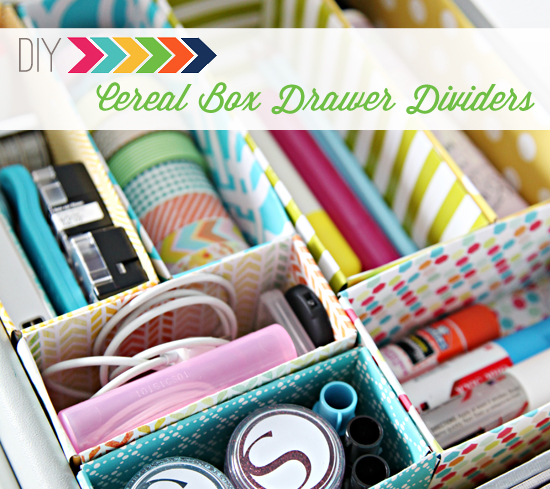 From IHeartOrganizing
Craft Room Reveal
Love to sew and fabric crafts? This craft room is perfectly designed for this!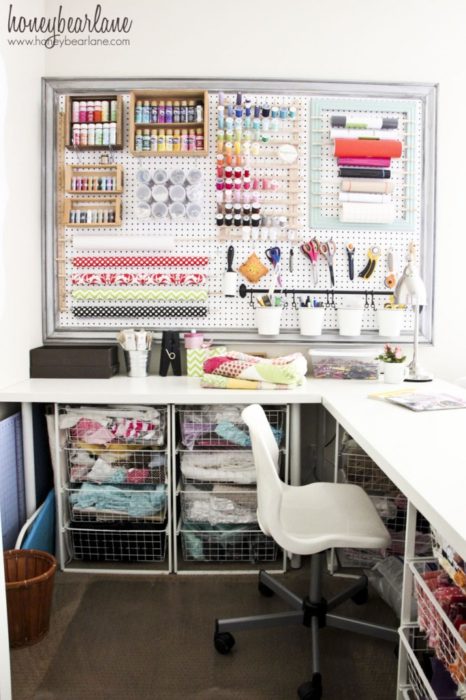 From HoneyBearLane
My Copic Storage
Love to use pen and ink? Here is a great way to store your favorite pens easily.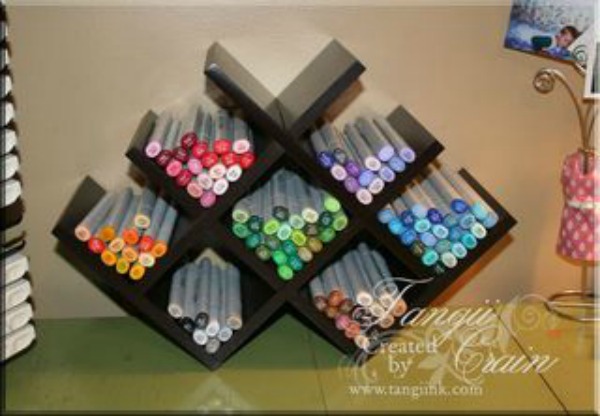 From Tangiink
An Attic Crafts Room
Your craft room can be anywhere in the house you have space. Simply look for a space you aren't using much.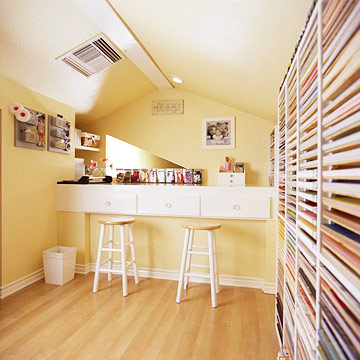 From BHG
Sewing Craft Room Ideas and Updates
Sewing your favorite craft? Here is the perfect sewing craft room.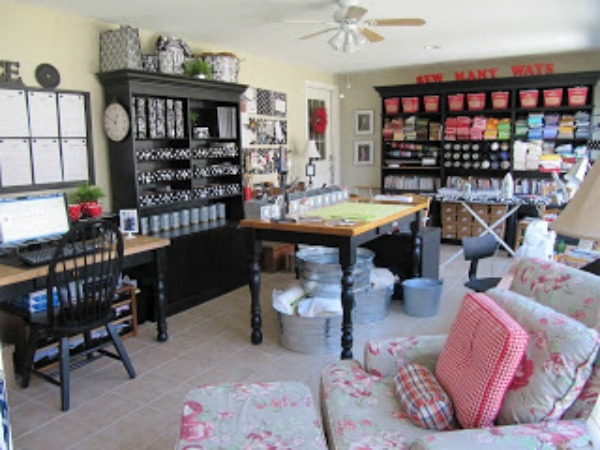 From SewManyWays
DIY Craft Table
A craft table can be helpful, especially for jewelry making or pen and ink crafts. Here is a DIY craft table to make.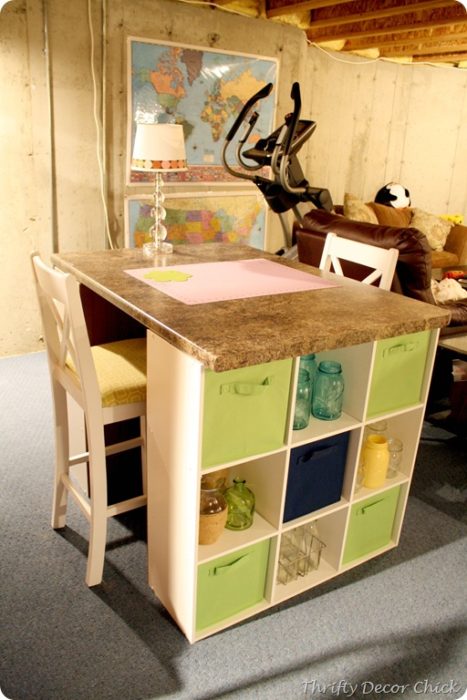 From ThriftyDecorChick
10 Secrets Behind This Tidy Craft Room
Here's a craft room created for lots of different types of crafts. Best of all, they can invite others over to come craft with them too.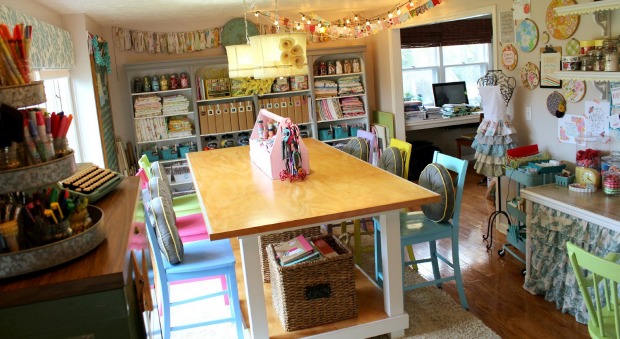 From GoodHousekeeping, crafting space of Jaime Favor blogger at Raising Up Rubies
Craft Room Desk Tutorial
On a budget for your craft room? You're going to like this DIY project!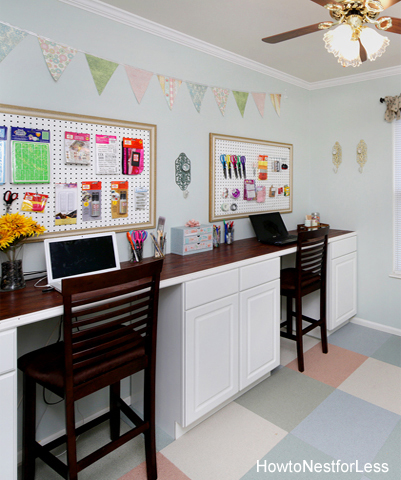 From HowToNestForLess
Family Craft Room Makeover
Here's a great family craft room. Space for everyone to be creative.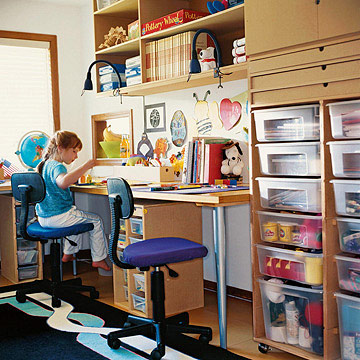 From BHG
Craft Room Makeover
This craft room is perfect, especially if you like to do a couple of different types of crafts. You've got a big counter space for crafting too!
From HoneyBearLane
Craft Room Makeover
When her son moved out, this Mom turned his room into her craft room. Take a look!
From GoodHousekeeping
Before and After an Unused Garage Becomes a Colorful Craft Studio
Don't use your garage much? Why not turn it into a crafting room!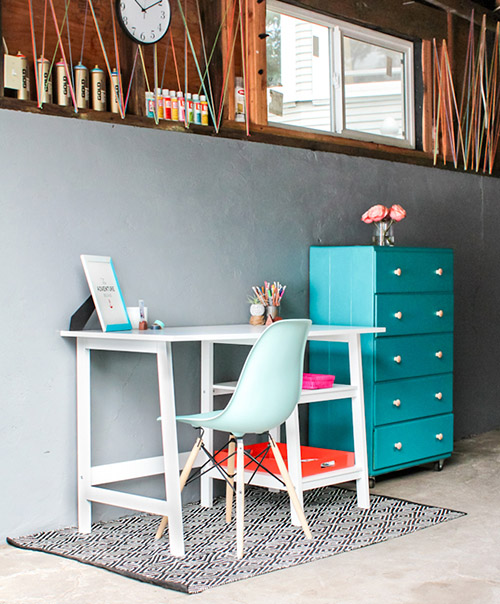 From DesignSponge
Make Your Crafting Space Pinterest Worthy
What's the best craft space? One that's pretty & super organized too.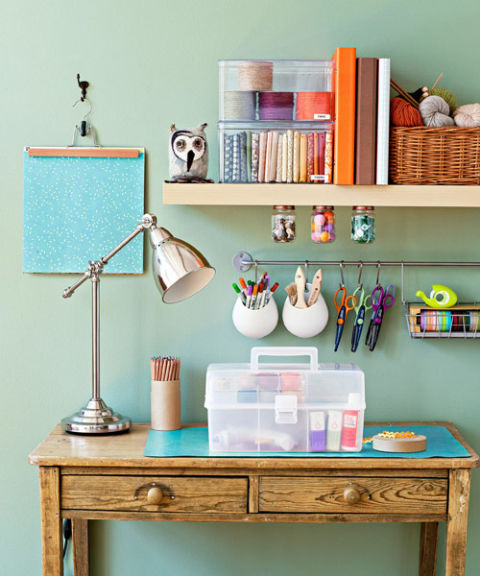 From GoodHousekeeping
Craft Room Storage Made Easy
Its not enough to have a craft room. You've got to keep it well organized.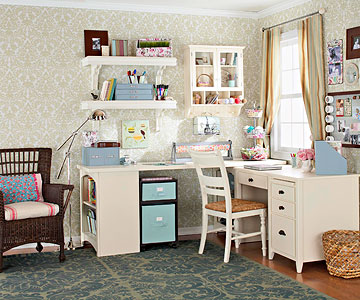 From BHG
Stenciled Pegboard
Pegboard is very popular in craft rooms. Did you know, if you stencil it that your pegboard will be so much prettier?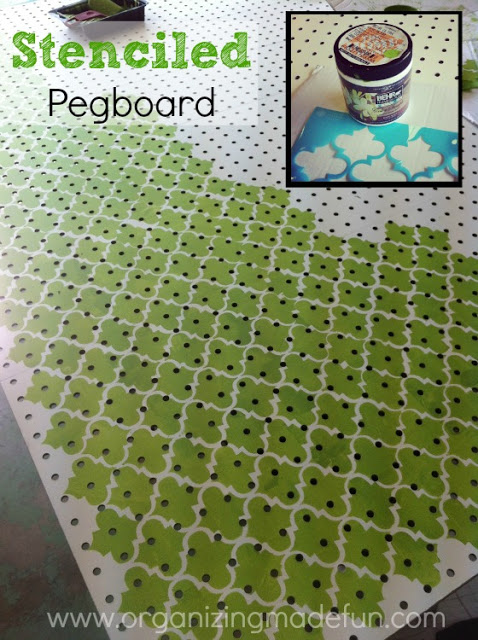 From OrganizingMadeFun
Closet Craft Room Makeover
A small closet becomes the perfect spot to craft. Look at how well organized this is!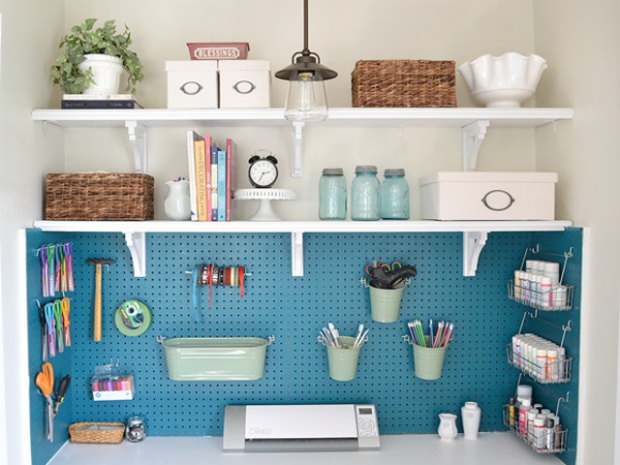 From GoodHousekeeping
Simple craft supplies storage ideas
Got a lot of ribbon? Don't let the cats play with it, organize it easily instead this way.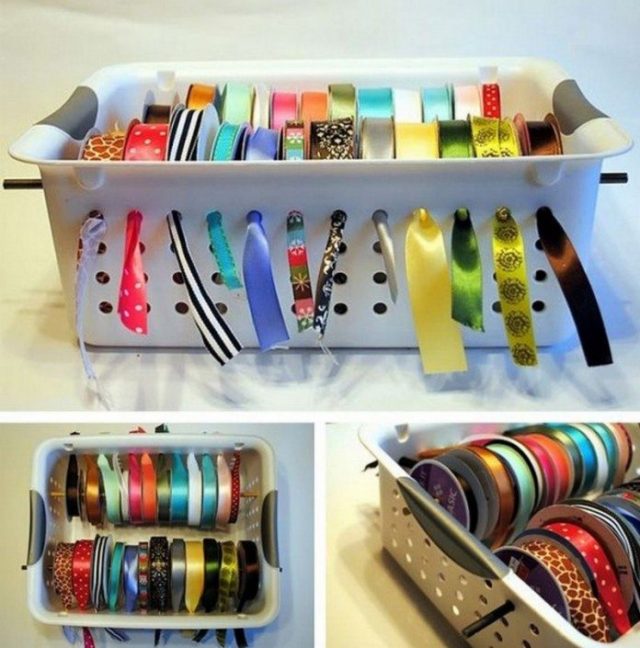 From Craft.Ideas2Live4
Craft Room Makeover Reveal
Pretty, with pink stripes and blooms. This is a room that's ready to craft in!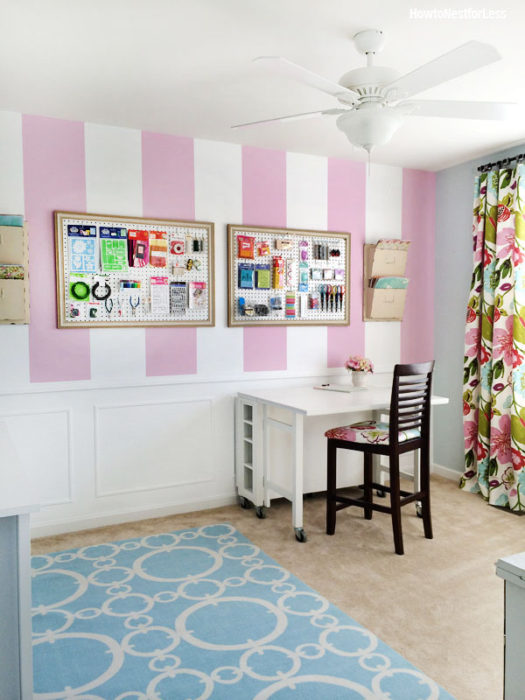 From HowToNestForLess
An Organized Craft Room – How to Organize Ribbon
Have a large craft room? Don't neglect organizing your supplies, try what this crafter did!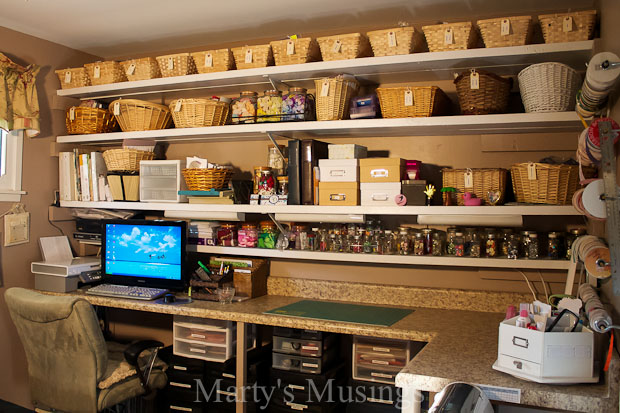 From OrganizingMadeFun
How to clean and organize your craft space
Isn't this terrific? Remember that your craft room will work well, if you keep it well organized.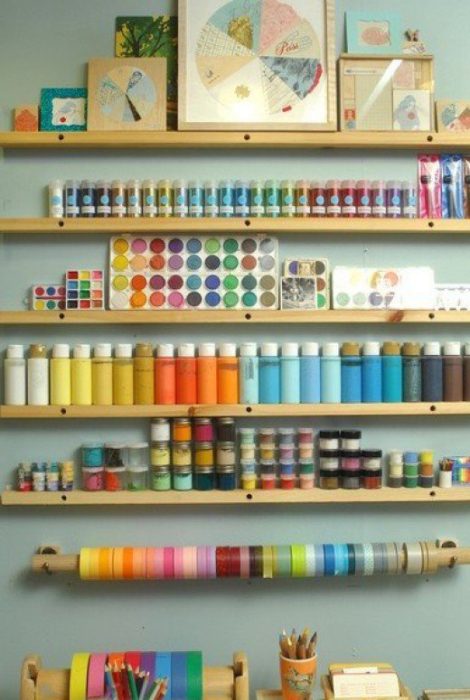 From HubPages
Craft Room Wall with Whites and Brights
Look at how bright and colorful this craft wall is. Everything is also easy to find.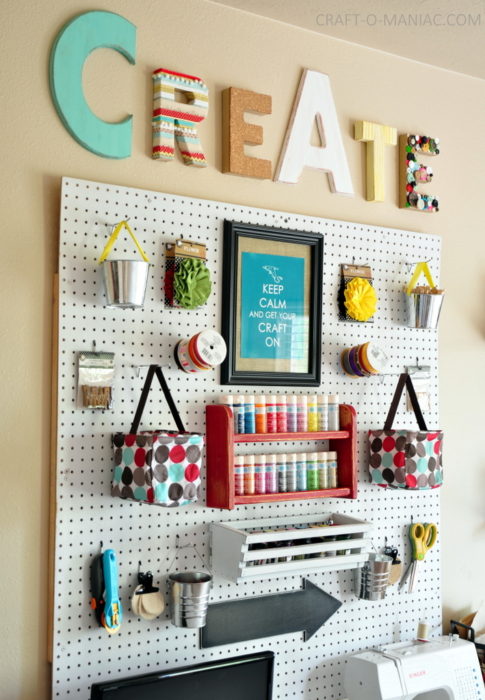 From Craft-o-Maniac
Oh Happy Day Studio Tour One Desk 4 Ways
Look at the creative "inspiration board" behind the desk. The desk has lots of space for digital creations as well as other types of creativity too.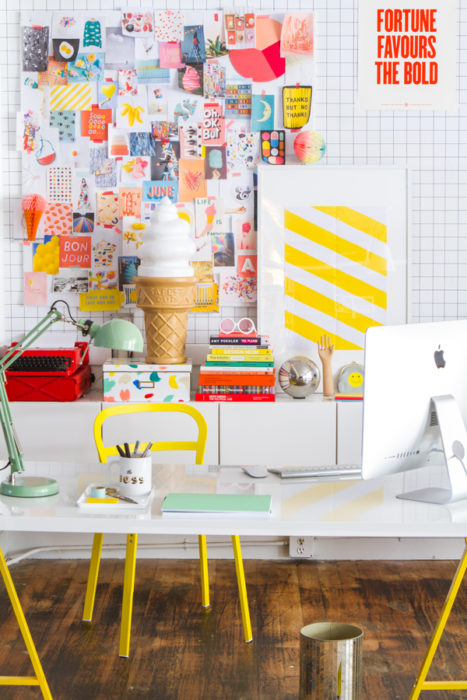 From OhHappyDay
Craft Room Progress and Storage
Creating a craft room? One of the big things you'll want to think about – is lots of storage!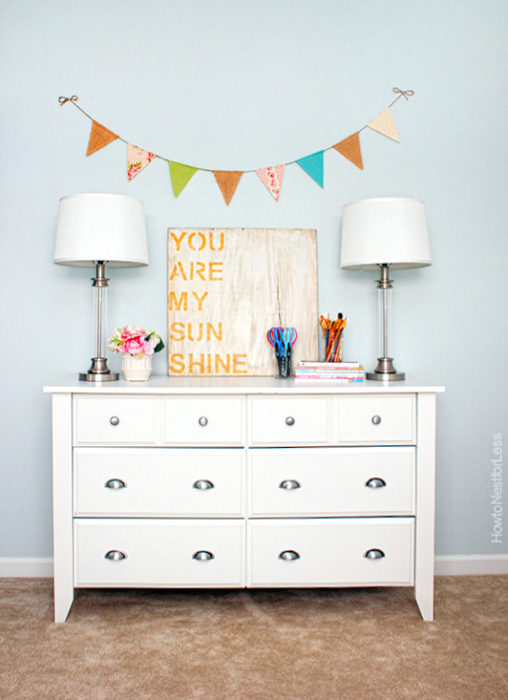 From HowToNestForLess
Ribbon Storage Ideas
Love ribbon? Keep it stored easily following these tips.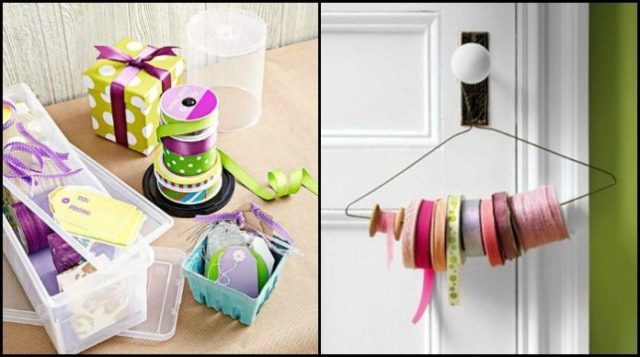 From Craft.Ideas2Live4
Reader Space Craftaholics Craft Room
Here is a craft room with a special nook for sewing. If you make clothes, quilts or stuffed animals, then this something you would want.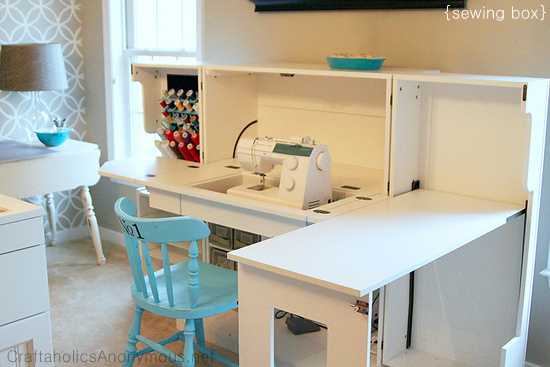 From IHeartOrganizing
DIY Wall Organizer
If you have a craft room, you're going to want a wall organizer. It keeps all of your crafting necessities handy.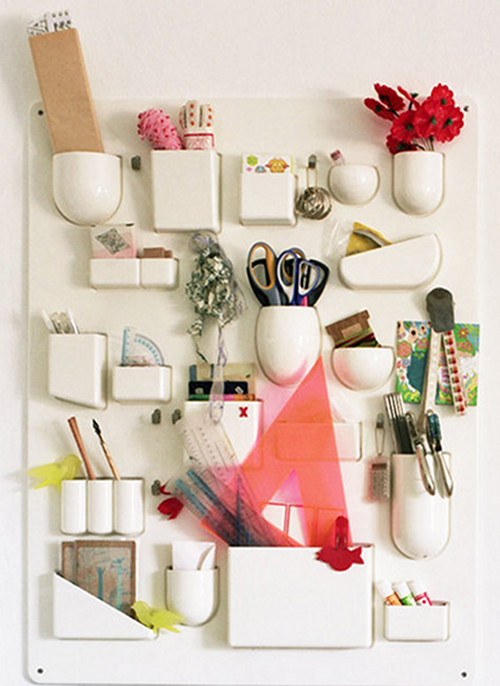 From DesignSponge
Something Turquoise Craft Room Part Four
Be amazed at how organized and beautiful this craft room is. This is not a pricey craft room, but its easy to see everything easily on hand.
From SomethingTurquoise
Craft Room Ideas on a Budget
Don't think you have to have a fat bank account to make a craft room. Stretch your budget, and see what you can do!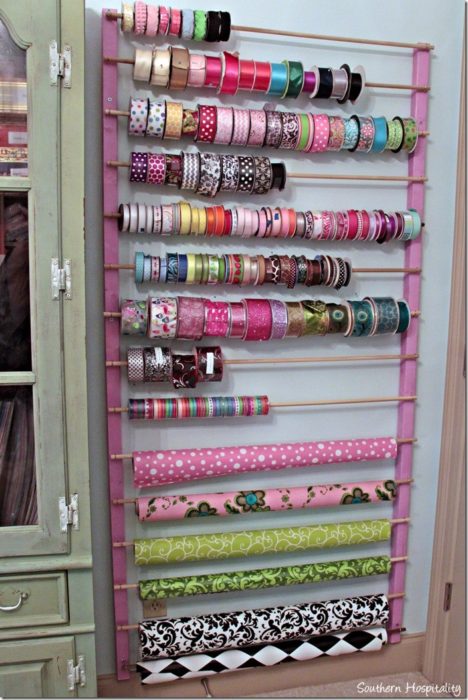 DIY Craft Room Pegboard Wall
Isn't this adorable? Perfect for a Mom and daughter to share too!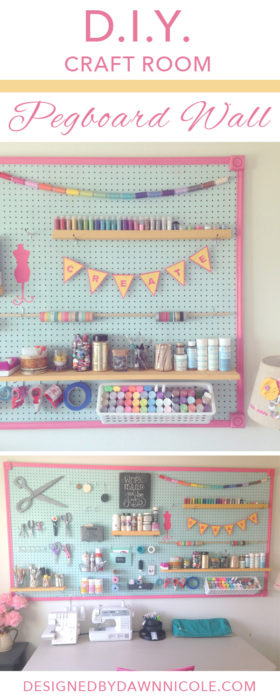 From ByDawnNicole
Something Turquoise Craft Room Part Three
Finding the right furniture is important to creating a great craft room. See how nicely this dresser keeps everything well organized.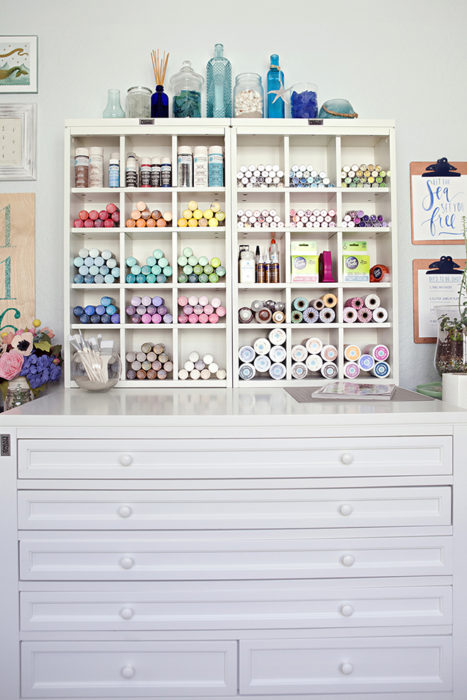 From Something Turquoise
Paper Craft Storage in IKEA Shelving
Love paper crafts? What you probably need is large shelves, to store your papers neatly.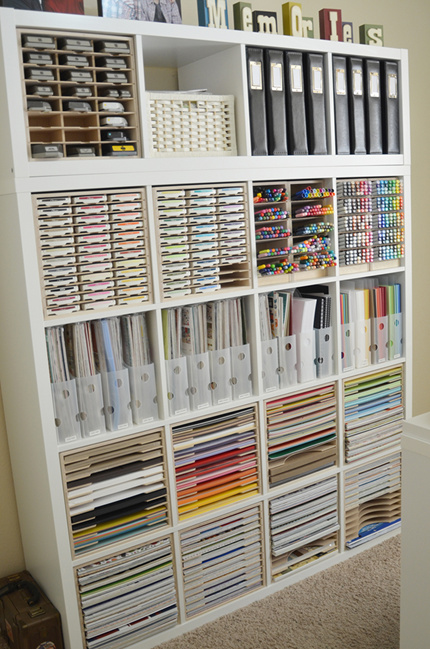 From StampNStorage
Reader Space Craft Room Meagan Made
Look at these storage towers! Perfect for scrapbooking and other paper crafts.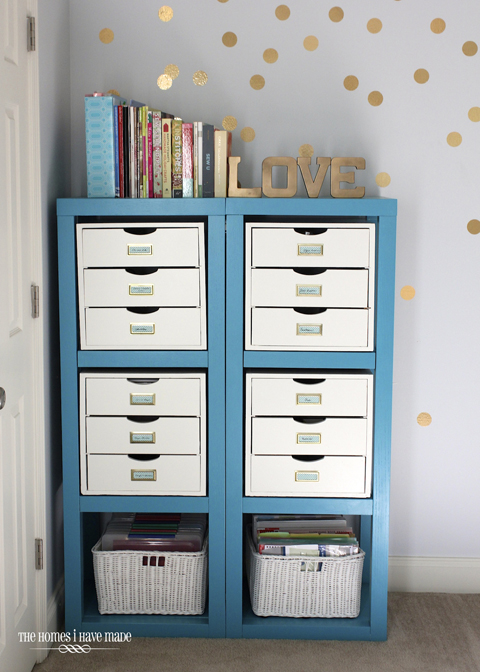 From IHeartOrganizing
Craft Room Pegboard
Like to do a variety of crafts? This pegboard shows you how to keep it all well organized and tidy.

From PrettyProvidence
Reader Space A Creative Place to Craft
If you are serious about crafting, then you may want to design the entire room especially for crafting. Just as this reader at this blog site did.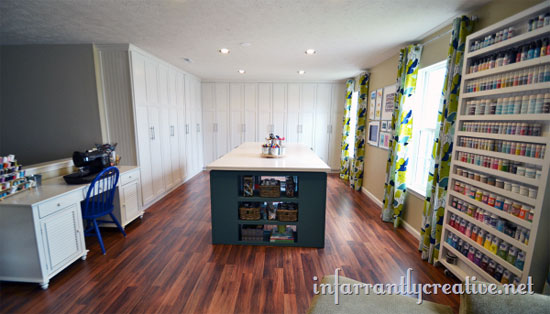 From IHeartOrganizing
Craft Storage from an Old Hutch
Sometimes repuposing furniture can be a great idea for your craft space. Look at how much this hutch holds.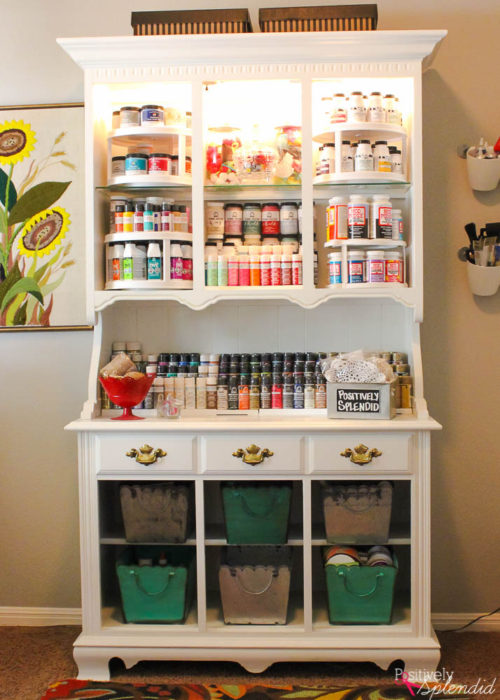 From PositivelySplendid
Workspace Upgrades
What we love about this pegboard is it includes both a clock and live plants. There is a table right under it with 2 sewing machines.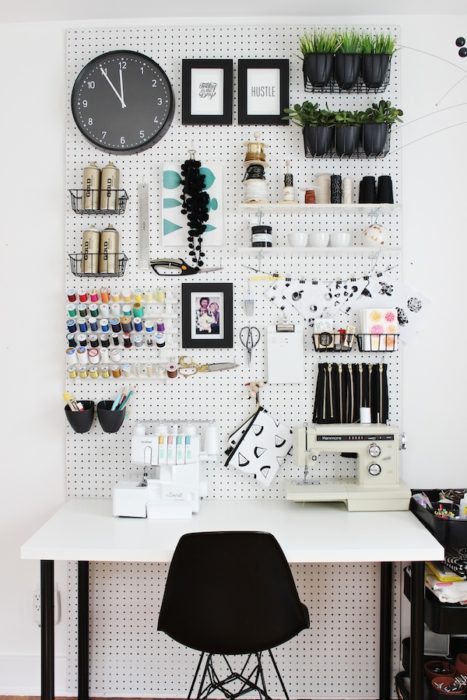 From FabricPaperGlue
Amanda's Showroom
Look at how Amanda has organized her craft room itself to be as pretty as the rest of the home decor. All of the markers and crayons are visible, in attractive containers.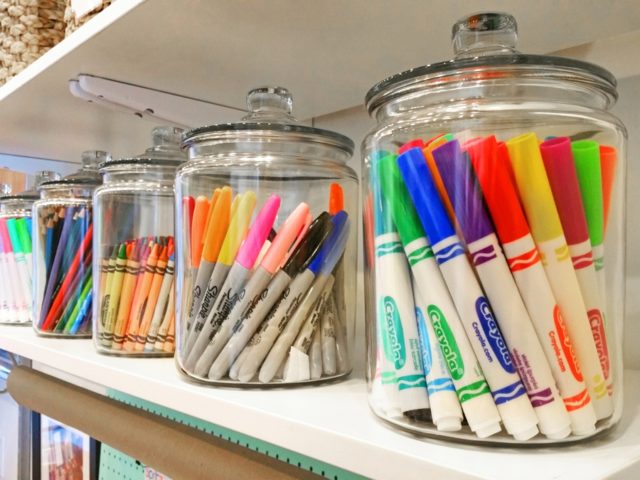 From StyleBlueprint
Extra Large Pegboard for Craft Room Organization
This pegboard is larger than others. Perfect if Mom and several daughters are crafting!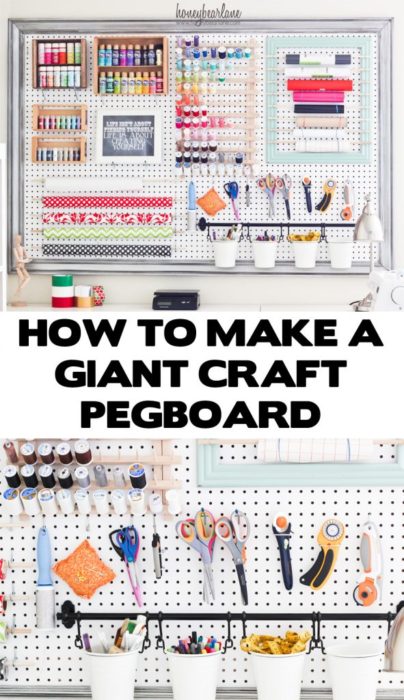 From HoneyBearLane
How to Build Your Own Pegboard Office Supply Organizer
This organizer is for crafts, office supplies and storage. See how it uses buckets and brackets to maximize storage ideas?