Hello, DIYers!
Journaling is a fantastic way to check in with yourself each day! Bullet journals are no exception to that rule! Additionally, bullet journals allow for positively endless creativity, organization, and help you to reach any goal that you can think of! You can use it as a weekly planner, a to-do list, a financial guidebook, or even to track the night sky!
There is no wrong way to go about starting your bullet journal, but if you're struggling to get started, you can use these 37 amazing pages to help you get started! As always, feel free to get as creative as you want!
Happy Journaling!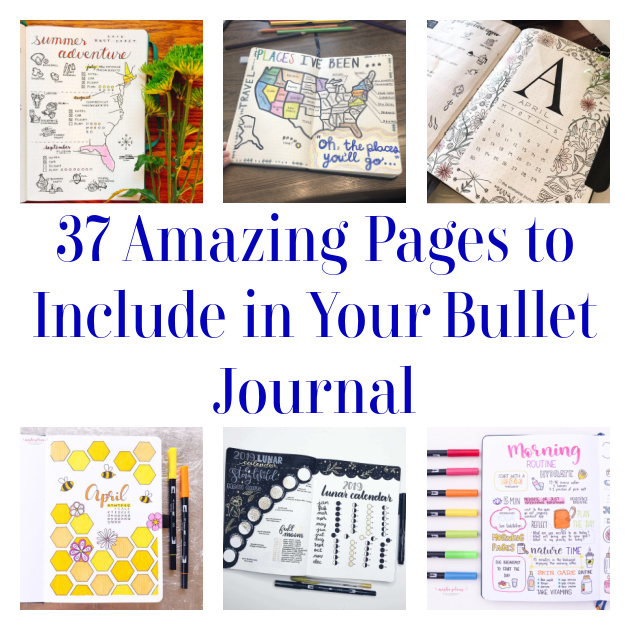 Weekly Planner
Planner layouts are so important in regards to how effective they make you! So why not go custom? Here is just one sample layout to make your days simple! Customize as needed!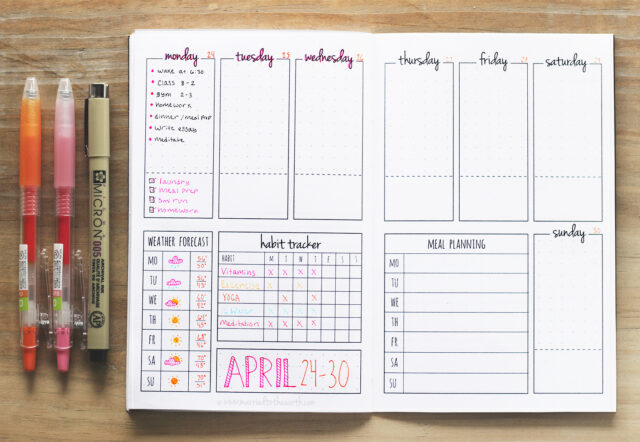 Found Married to the Earth
Self Care Bingo
This is a cute and inventive way to practice self-care!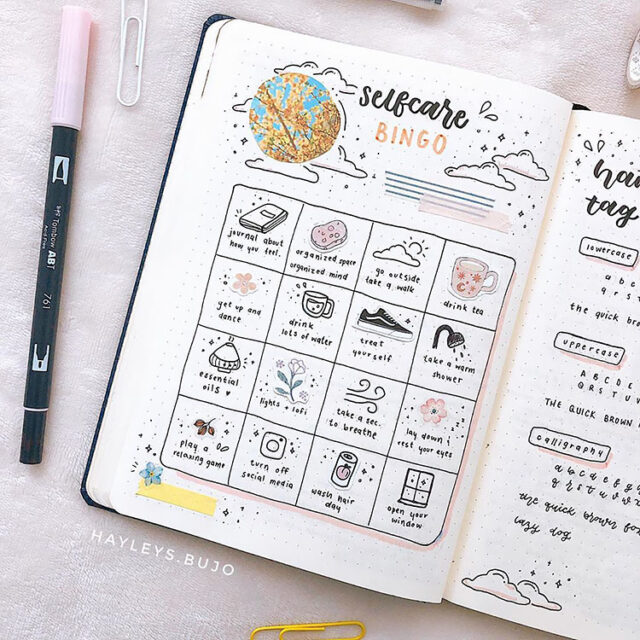 Found Ayleys.Bujo
Cleaning Tracker
If you use your bullet journal for organizational and home-care purposes, this cleaning tracker is perfect for organizing your cleaning projects!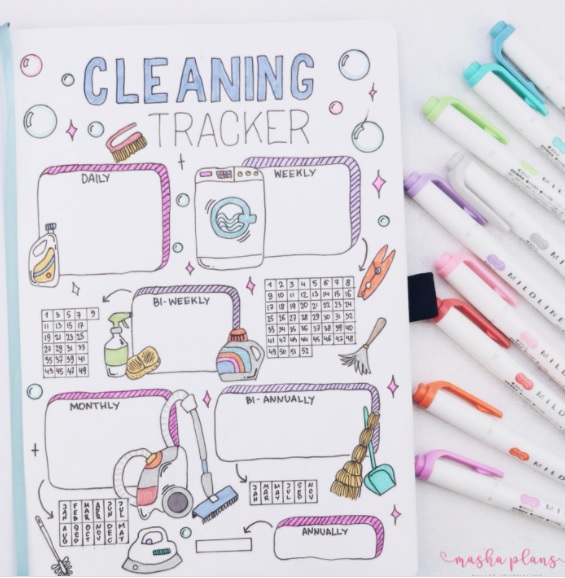 Found Archer and Olive
Packing List
Get your ideas together by creating this awesomely organized packing list! Bonus points if the items in your bag correspond with the pictures!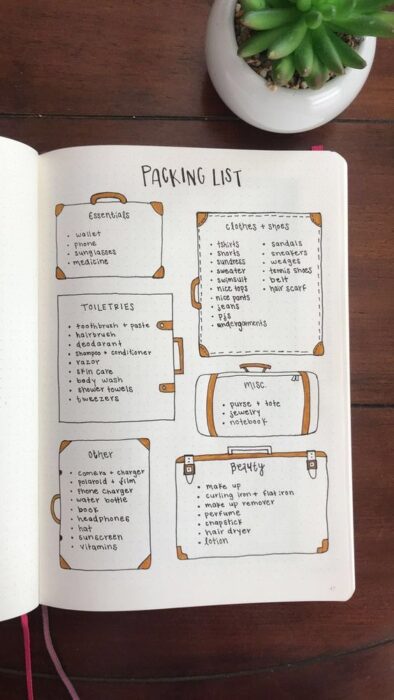 Found That Adventurer
Money Savings Tracker
Help keep track of your savings in general or to reach a certain goal!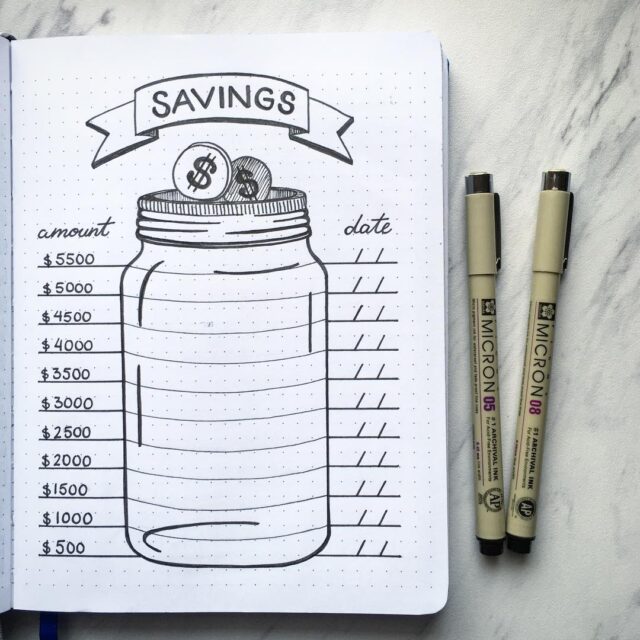 Found SugarPandaCo
Mood Tracker
There are a million different custom ways to track your moods in a bullet journal! Which will you choose?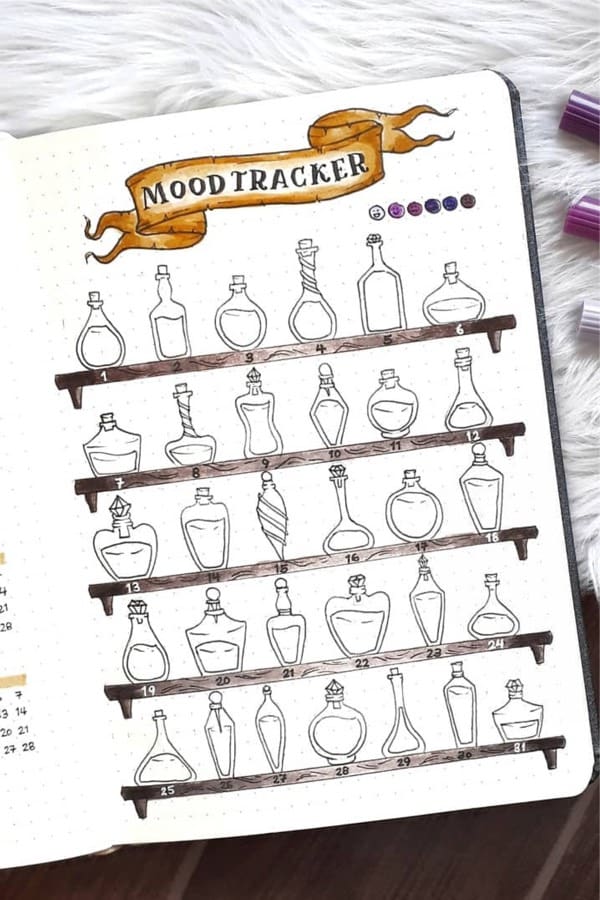 Found Crazy Laura
All About Me
Your bullet journal is all about you! You can create this page and update each year to see what changes for you!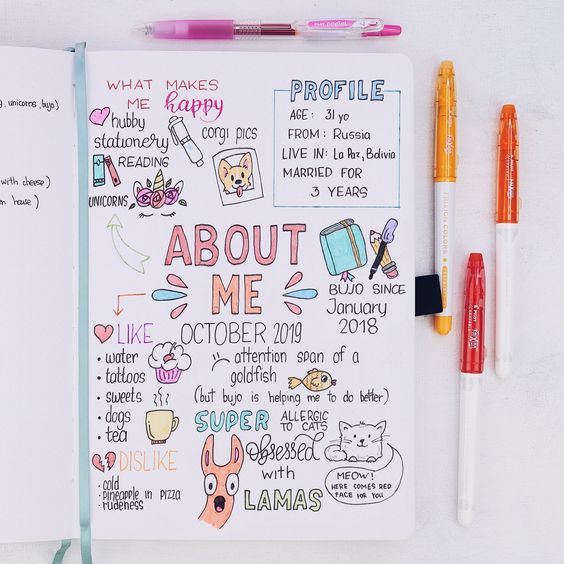 Found Archer and Olive
Highlight of My Day
Take a moment to reflect on small moments during your day that made a BIG impact!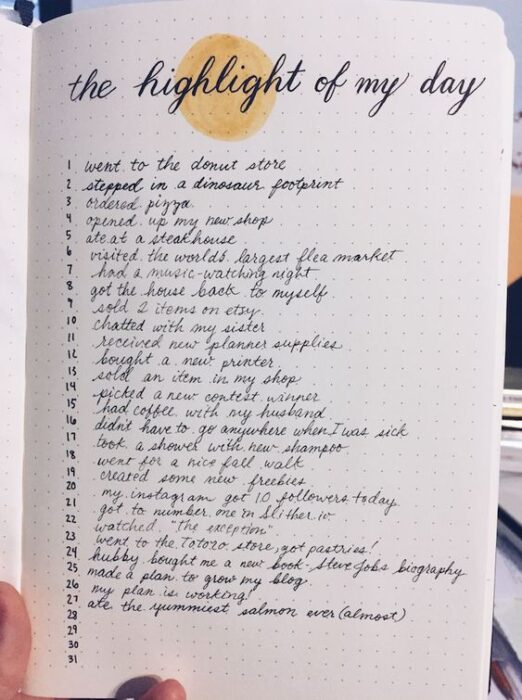 Found Wellella
Monthly Playlist
What have you been jamming to this month? Tell your musical story!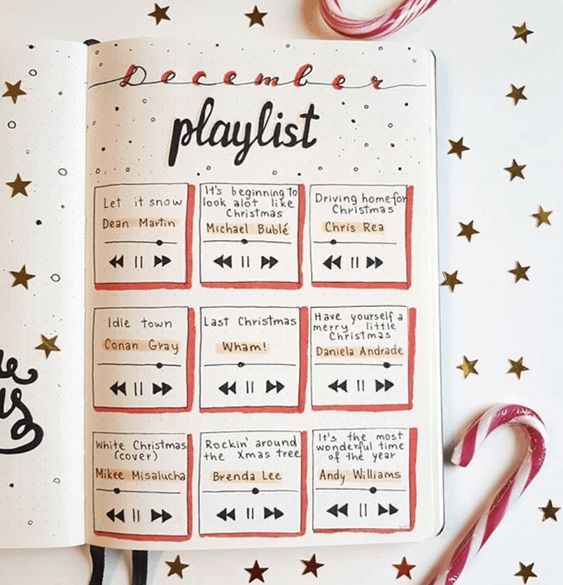 Found Artist Hue
Utility Bill Tracker
Keep track of your utility bill fluctuation with this awesome utility bill tracker page for your bullet journal!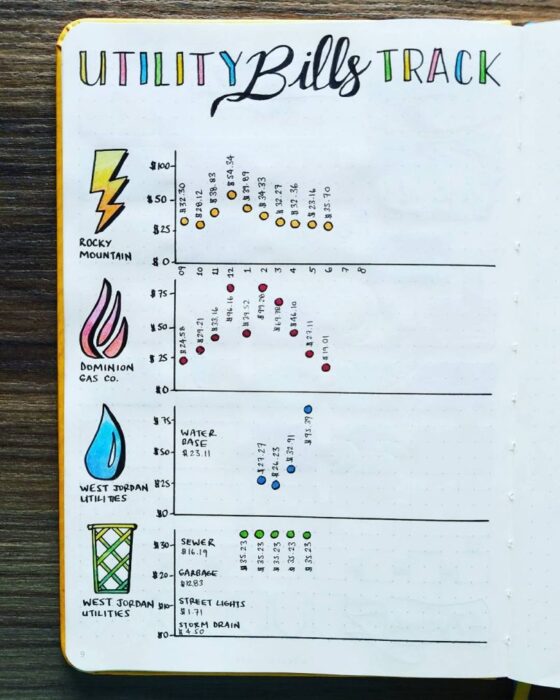 Found My Blue Sky Design
Dutch Door Layouts
If you are new to bullet journaling and weren't sure what this meant, you aren't alone! This layout gives you additional space without interfering with the integrity and readability of the page! Here is a great tutorial on how you can do it!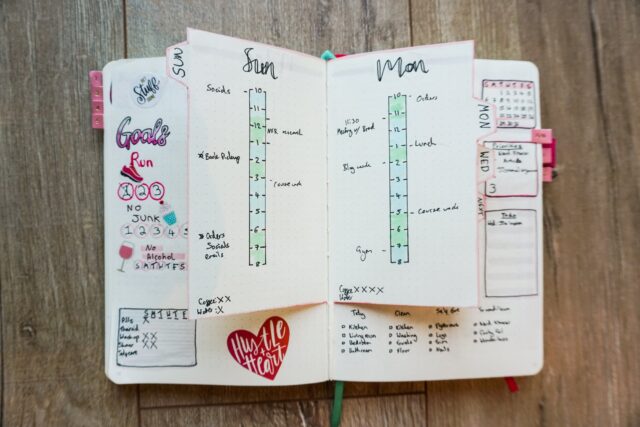 Found Journal Junkies
One Line A Day Journal
One line a day diaries is a super easy and fun way to start getting into the habit of writing daily!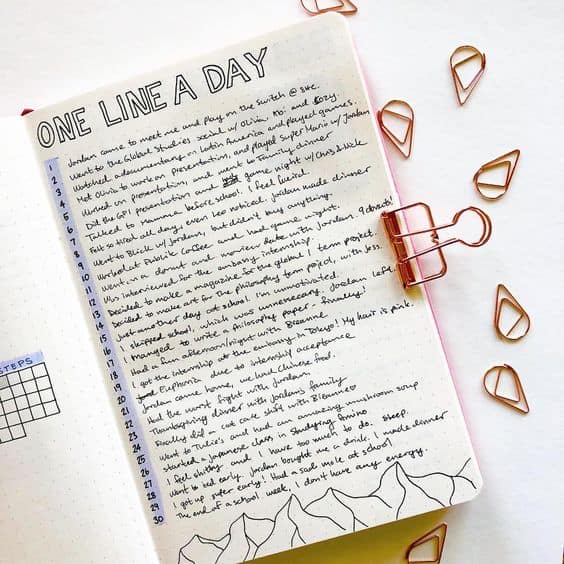 Found Mochibujo
Lunar Calendar
If you keep track of moon phases and take action/rest accordingly, you can make your own handy chart with dates and actions to take!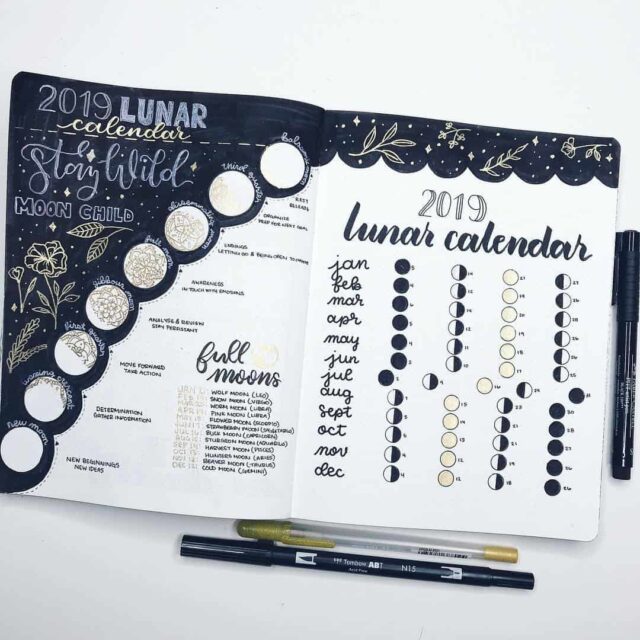 Found The Petite Planner
Bee Theme
Save the bees and make them a theme for your month!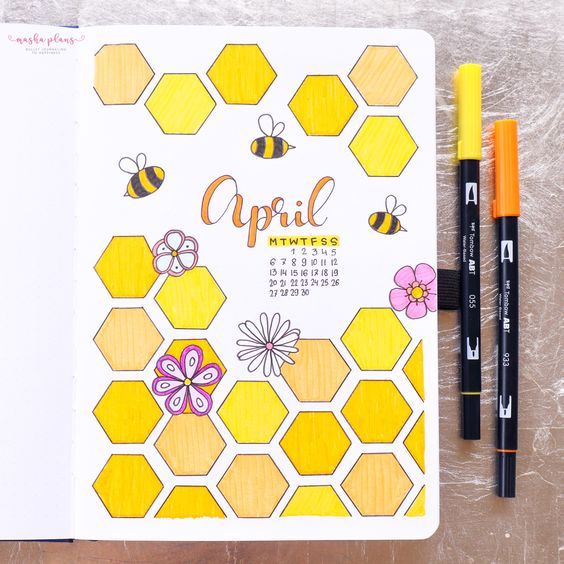 Found Archer and Olive
Book Tracker
Track your reading progress for the year with this awesome bookshelf image!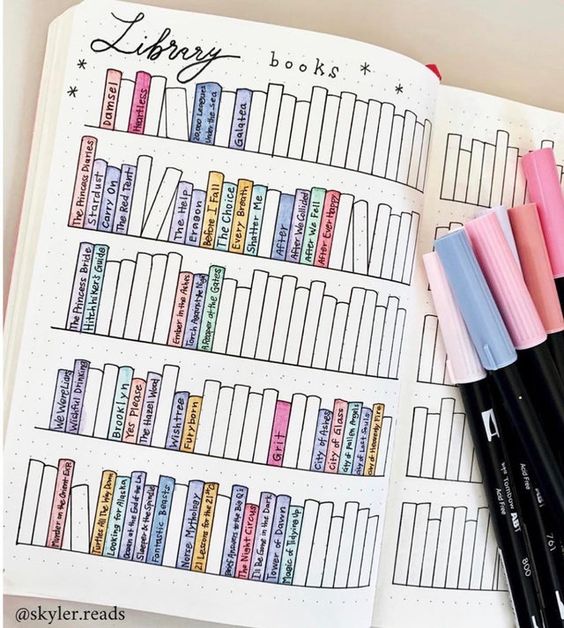 Found Skyler Reads
Adventure Planner
Have a road trip planned?! Map it out in your bullet journal with this adventure planner layout!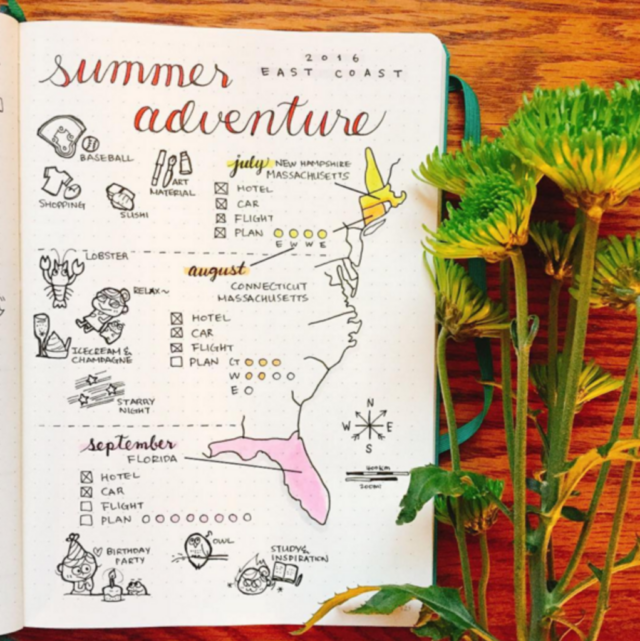 Found Honey Owl
Habit Tracker
This is a great way to track a collective list of positive habits you are trying to implement into your life!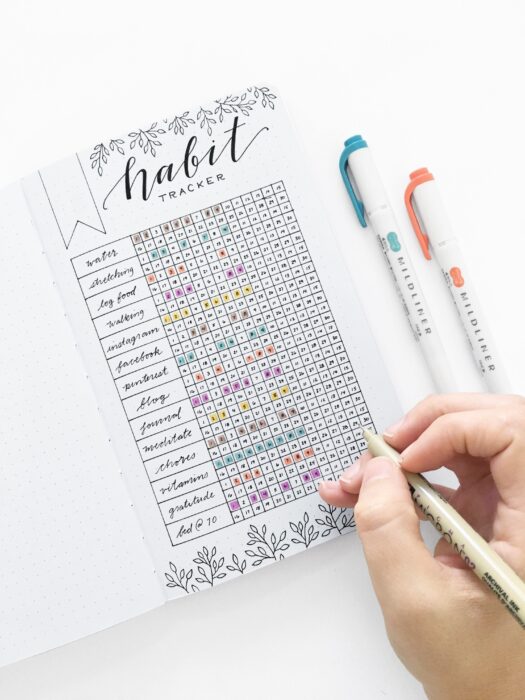 Found Archer and Olive
Credit Card Tracker
Keep track of your credit card debt with this great page for your bullet journal!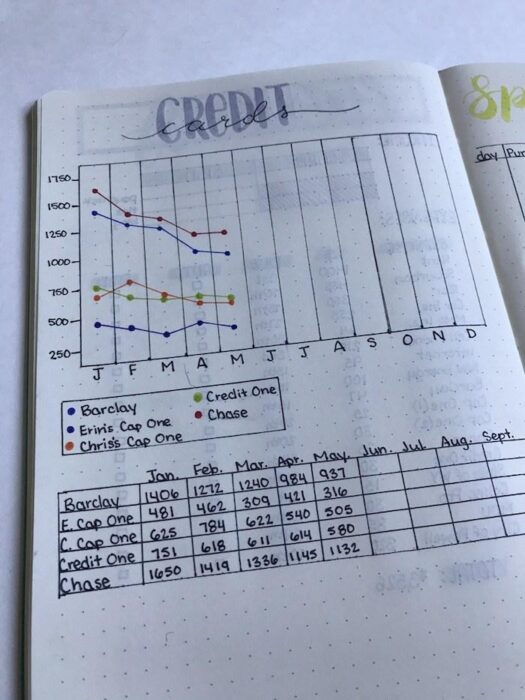 Found The Petite Planner
Yoga and Moon Phases
Focus your yoga and meditation by the phases of the moon!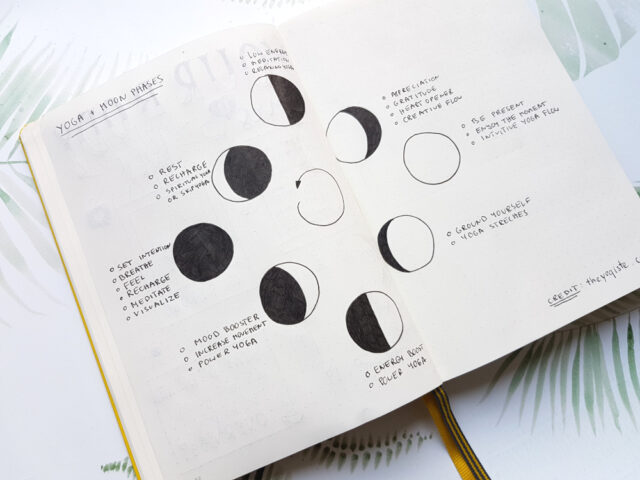 Found Anja Home
Morning Routine
Start every morning out right by thinking up the perfect morning routine and sticking to it!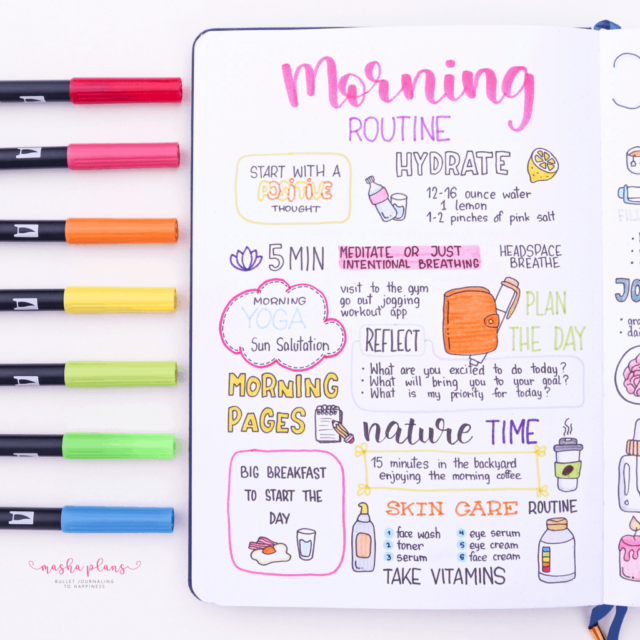 Found Masha Plans
Weekly Planner
Here is another great and organized option for your weekly planner pages!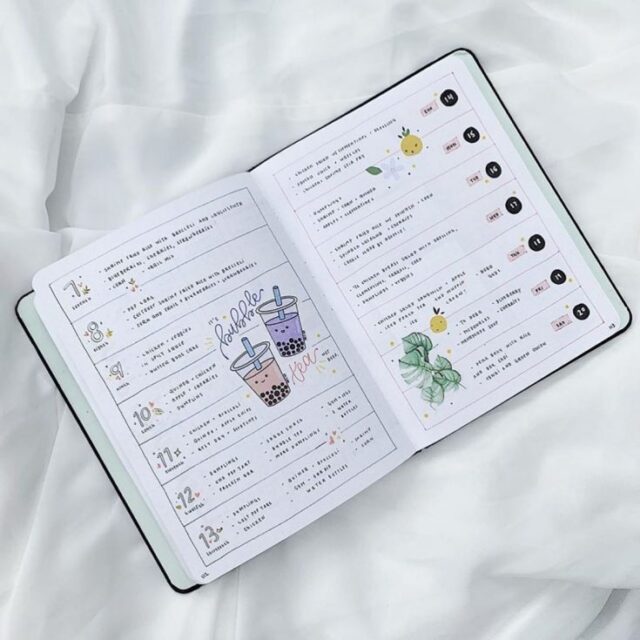 Found ByClairee
Self Care Instructions
In the middle of it, it can be hard to remember exactly what to do when we are feeling down, over stimulated, etc. For that reason, it's a great idea to include instructions that have been proven to help you in the past!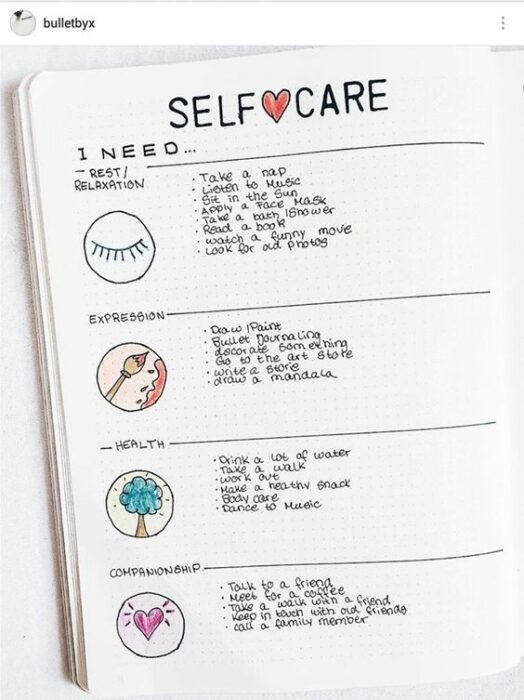 Found Our Mindful Life
Water Tracker
If you do nothing else in your day, ensuring that you drink enough water is the perfect way to help yourself feel great physically and mentally! You can use this or another creative water tracker to make sure you're getting it done!
Found Textiles4U
Daily Affirmations
Daily affirmations can actually re-wire neural pathways and boost confidence!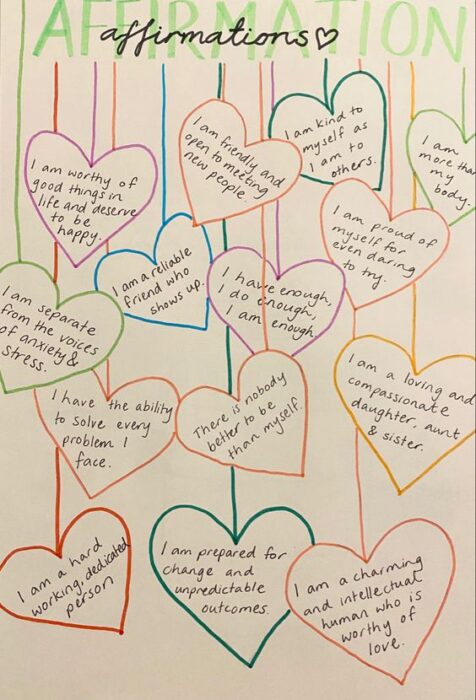 Found Ashley Gilgrist
Travel Tracker
Is it your goal to make it to every state in the US? Every country?! Keep track with this bullet journal page!
Found Baylee Jensen
Fitness Tracker
Make a deliberate effort to report and reflect on your fitness and health goals with this chart!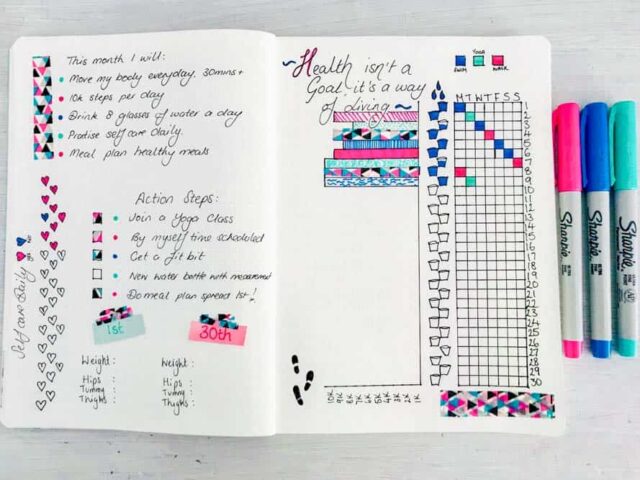 Found Diary of a Journal Planner
NaNoWriMo Word Count Tracker
If you're a writer who participates in NaNoWriMo, this is the perfect way to keep track of your daily word count goal!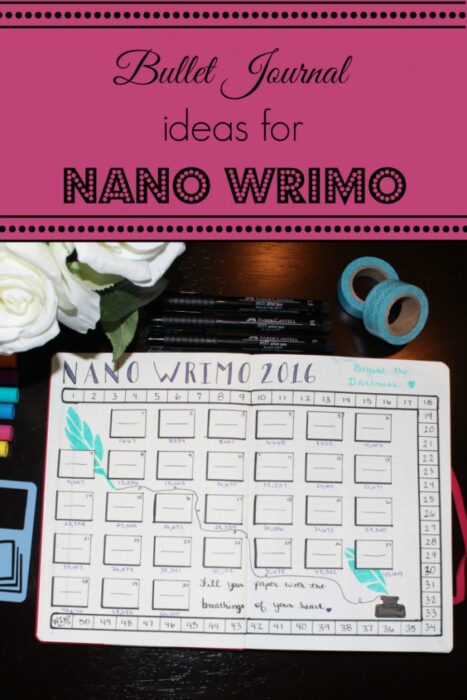 Found Sarra Cannon
Social Media Password Keeper
Keep all of your log in and password information in one place! Just make sure your journal is kept safe at home.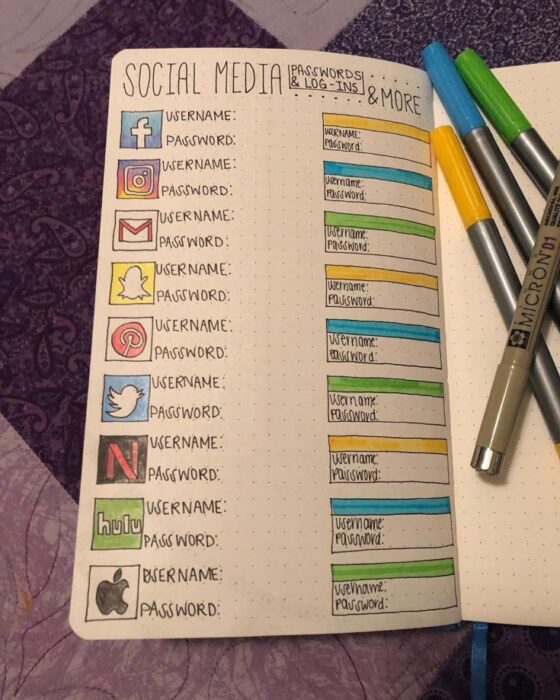 Found BulletJournalKW
Evening Routine
End your days in a thoughtfully deliberate way by implementing an evening routine!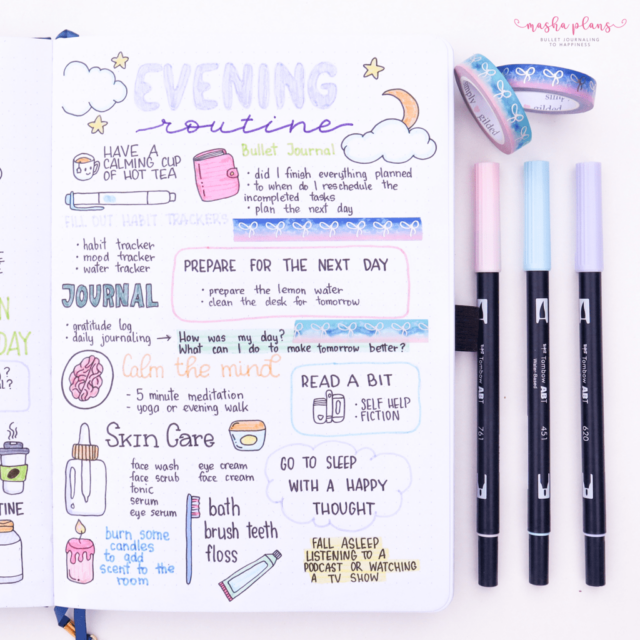 Found Masha Plans
The Perfect Day
It's hard to have the perfect balance of fun and productivity in a day if you don't plan for it!
Found jashiicorrin
Monthly Calendar
This is an adorable way to look at your monthly calendar! And you can customize any way that you'd like!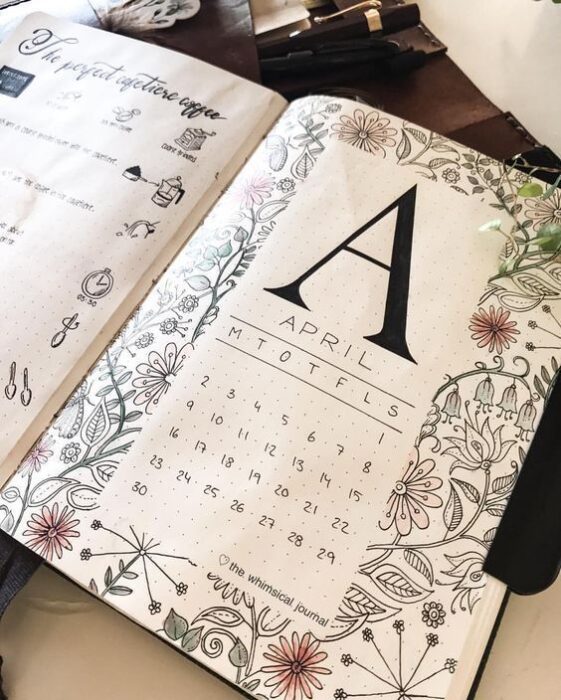 Found Pinterest
Dream Destinations
Take some time dreaming about future travels with this dream destination layout!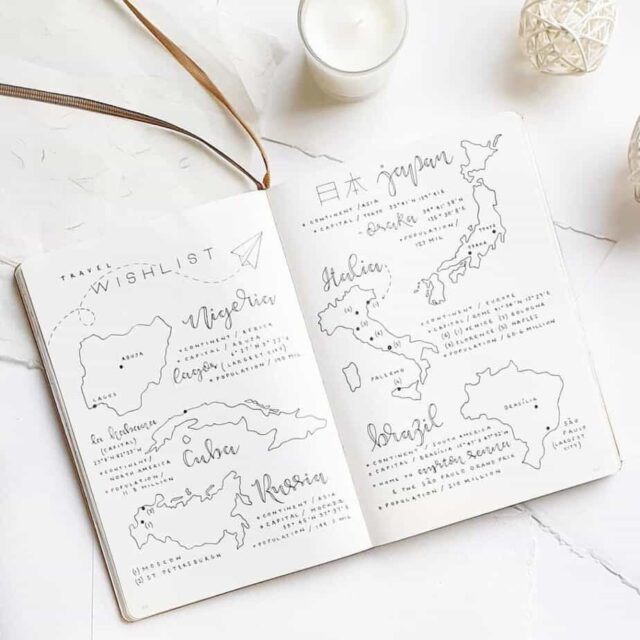 Found A Journal by Annie
#OOTD Spread
Get really creative by drawing out your outfit of the day or dream outfits in your bullet journal!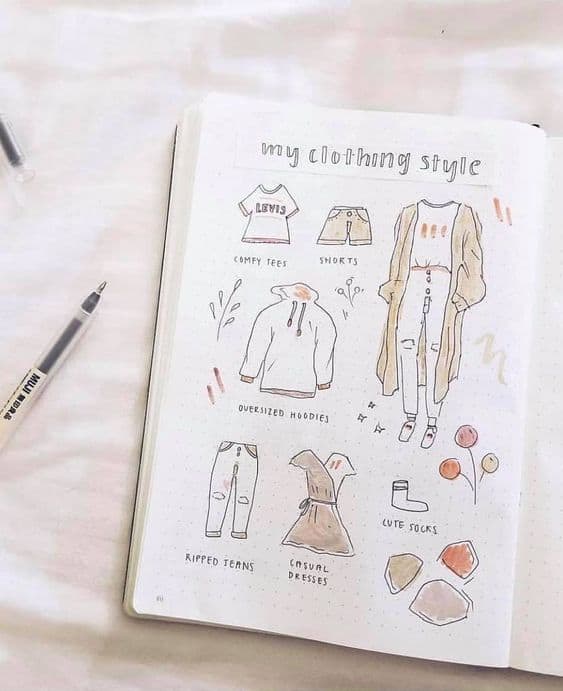 Found LowKey Studies
Gratitude Journal Page
This is a perfect thing to do in the month of November or any and every other month!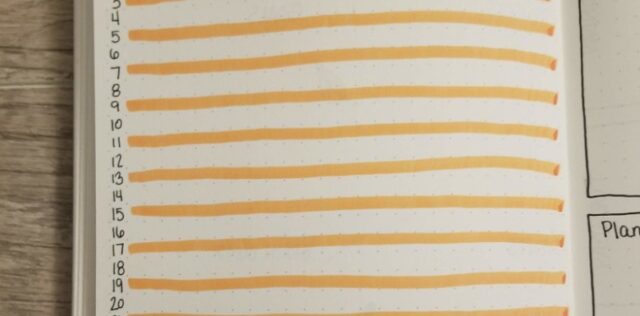 Found Bullet Journal Addict
Podcast Tracker
How many episodes do you listen to of your favorite podcasts? Why not keep track?!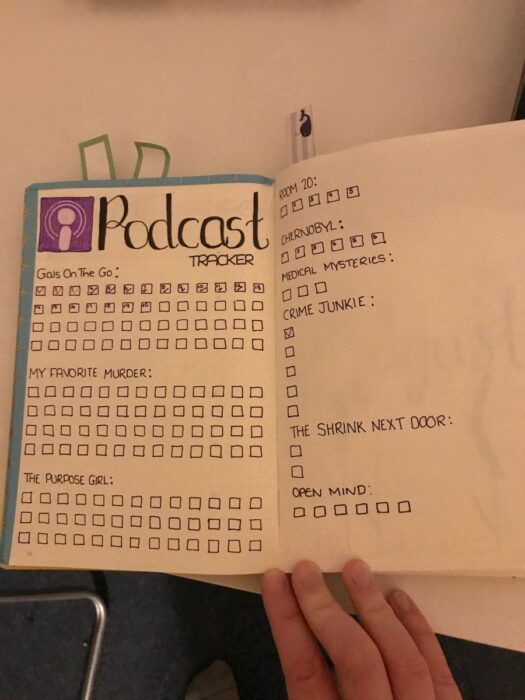 Found Lizzie Tims
Phone Numbers
Keep a non-digital account of important information! Use phone numbers, addresses, E-mail addressed, whatever!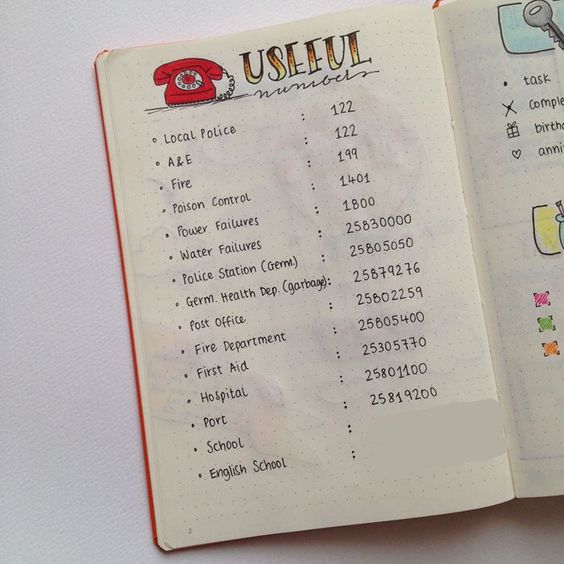 Found Pinterest
Netflix Tracker
Keep track of your Netflix or movie watch list with this bullet journal page!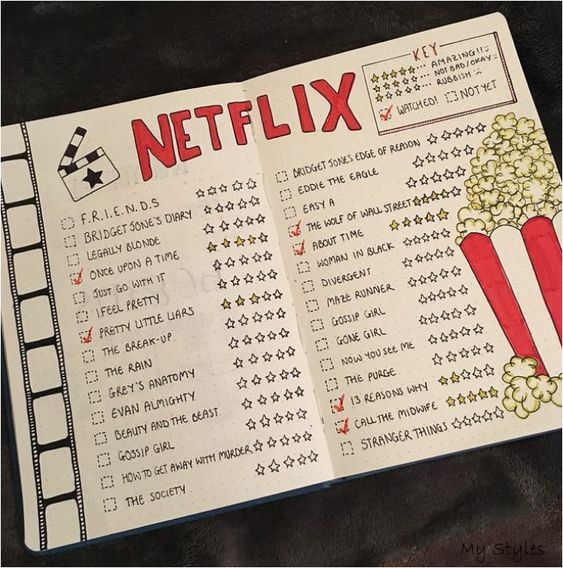 Found Pinterest
You May Also Enjoy…
33 Luxury Bath Products You Can Make Yourself
41 Free Patterns for Adorable Crochet Creatures
33 Fantastic DIY Bookmark Crafts
37 Beauty Supplies You Can Make Yourself