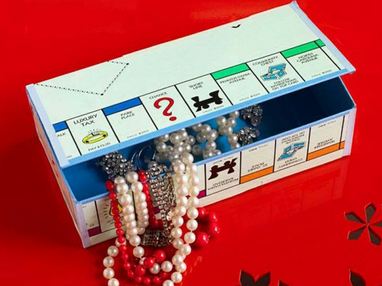 Lost some key pieces to your Monopoly game? Missing some Scrabble letters? Board games pieces tend to get lost over time and you're left with the question of what to do with whatever is leftover. By using a few things you have at home you can up-cycle an old playing board from a board game into a cute and multipurpose box. A board game box is a kitschy way to store jewelry, mementos or a fun addition to kid's playroom. It also makes for a funky reusable gift box for a family member or friend. Our eco-friendly craft today comes by way of readymade.com. Let's get crafting.
Supplies
• Board game board
• Ruler
• Utility knife
• Hot glue gun
• Tape (optional)
• Monopoly money or construction paper (optional)
• Scissors
• Game pieces (optional)
Directions:
1. Place the game board facedown with the hinge running horizontally. Measure and mark four lines: parallel to the edges of the game board: 3 ½" in from the left and right edges, 3 ½" up from bottom edge, and 3 ½" up from the hinge. Use the utility knife to cut along the dotted section of each line as shown, removing the shaded areas.
...
2. Measure and mark four more lines as shown, parallel to your first set: 1/16″ below the top marked line, 1/16″ below the bottom marked line, and 1/16″ to the inside of the left and right marked lines.
3. Score each line in the second set, making sure not to cut all the way through. Carefully peel away the resulting strips of cardboard one layer at a time, until each joint bends easily to a 90-degree angle.
4. One at a time, run a bead of hot glue along each joint, then fold the sides up. Hold in place until the glue sets (or gently tape the sides together), then run a bead of glue along the inside of each corner.
5. Cut a few bills of Monopoly money (or sheets of colored scrap paper) into ½" wide strips. Attach the strips to the outside of the box's corners and lid with white glue, covering the raw edges.
6. If desired, use the leftover pieces of game board to create dividers within the box, and line it with scrap fabric or felt from your craft bin.
The left over pieces of the board game, an example would be the thimble from Monopoly, can be glued to the top of the box and used as a handle. Remember that adult supervision is always needed when crafting and obviously children should never use a utility knife or glue gun. Though this is a fun and useful DIY project, it also makes for a thoughtful gift. If the recipient enjoys a certain game or you have special connection to it, this will work with everything from a checkers board to Candy Land. This eco-friendly craft would work well as wrapping for any small gift and also provides a unique keepsake.
Additions you could make to this eco-friendly craft include lining it in scrap felt or fabric or even gluing a small mirror to the underside of the lid. Another imaginative use for this would be a great pencil case or desk organizer for kids or just the young a heart. Have fun with this type of craft, be creative, and make use of what you have on hand.
Click here for baby bracelets.
Editor's Note: Sadly, /http://planetforward.ca/, the original poster, is no longer live on the Internet. We have made a duplicate of the post here for our viewers. If the author of this post would like it removed, please email us. It was originally linked from our post about using board games for crafts found here.