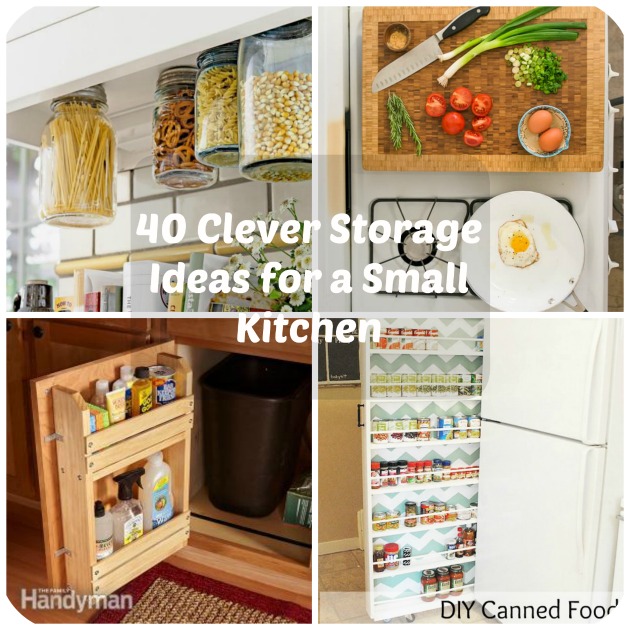 Do you think you are clever? Well, if you have a small kitchen, then you really have to be. Or at least try to think this way most of the time.
I speak from personal experience. For the past 20 years I've cooked holiday meals, dinner parties and everyday meals in a teeny, tiny kitchen. I know what it is like to squeeze every drop out of the space you've got. I also understand what "kitchen envy" is like, when you see those kitchen islands and yummy extra space in other people's kitchens. You rub your hands together, thinking of the waffle irons you could put there. But, alas!
Well, we've found you some great inspiration here for your small kitchen and storage solutions. Here are 40 ideas – from cabinet DIY, wall hanging, pegboard, under the shelves ideas and many more. Is it going to surprise you to know that you can even use that skinny space next to the fridge – or have you already put it to good use?
...
Whether you are new to DIY and organizing or more experienced, there is a project here to get excited about. Best of all, when you are done with them, your family and friends will enjoy the results of your efforts. So whether you want something you can do in a few hours or a couple of weekends, we've got the ideal DIY just for you.
Always remember – if you've got a small kitchen, then you've got to make the most of the space you've got. Think first about what you do with the space & then pick the projects that work for you. Happy DIY-ing!
Small appliance storage cabinet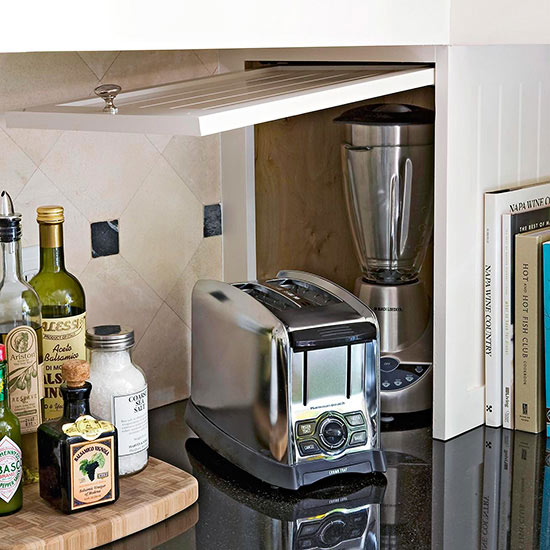 Got a small kitchen? Try adding this tiny cabinet to hold your kitchen appliances.
By BHG.com
DIY Hanging Mason Jar Storage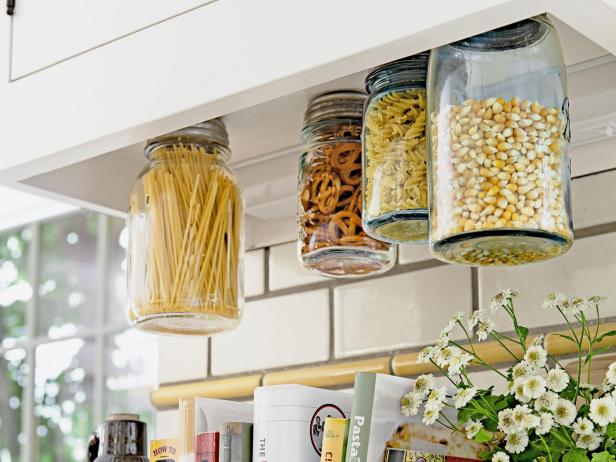 In your kitchen, space is everywhere. It is up to you to find it!
Located at HGTV.com
Make a Small Kitchen Storage Area Stand Out with Dark Paint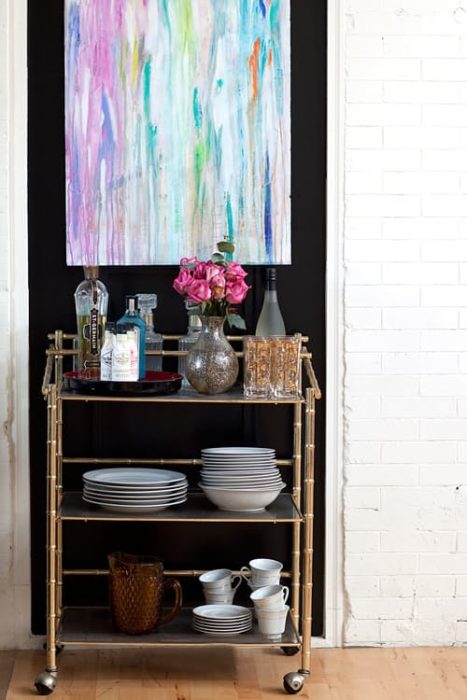 Here is a terrific way to make your kitchen look great. Follow these tips to have a small kitchen with big style.
From TheKitchn.com
Fan Housing Baskets for Overhead Storage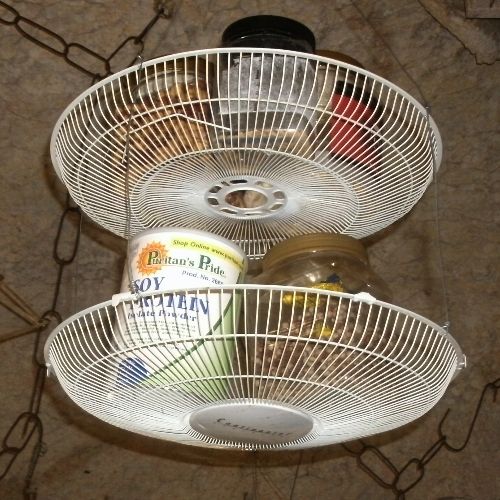 Be eco-friendly and space efficient with this overhead storage. You can keep everything you need handy.
From Instructables.com
Two Tier Drawer Spice Rack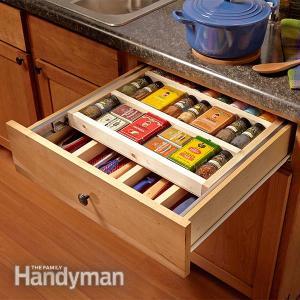 Now this is an organizational marvel! If you cook, you're going to want a spice rack like this.
DIY Canned Food Cabinet Tutorial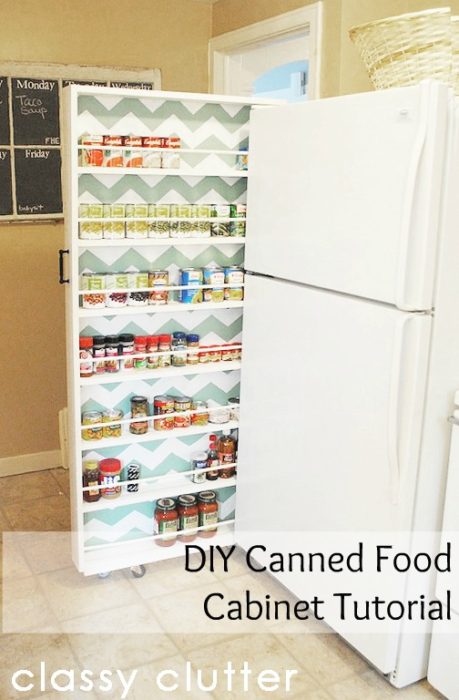 That teeny space by the fridge is something to make use of. Store your canned goods!
From ClassyClutter.net
Under the kitchen sink bag storage
Don't those plastic bags from the grocery store pile up? Here is a way to store them out of the way.
From Instructables.com
Kitchen Storage How Do You Contain Your Containers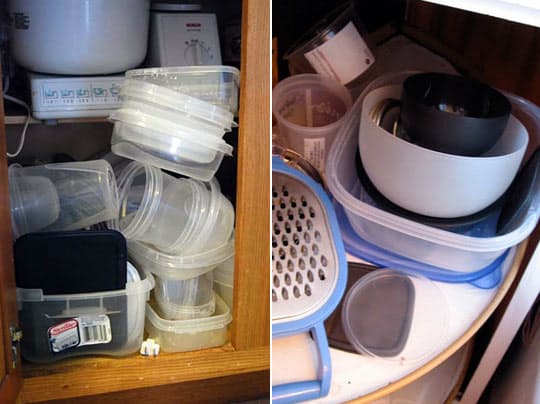 This is a huge challenge for many – those plastic re-usable containers we all use for leftovers. Follow these tips to get yours under control, especially in a small space.
From TheKitchn.com
Build Organized Lower Cabinet Rollouts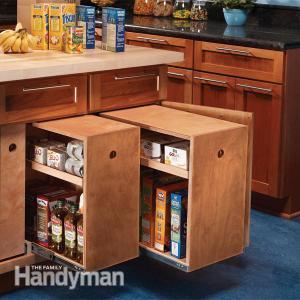 Make the most of your kitchen with these lower cabinet rollouts. You'll use all of the space available!
From FamilyHandyman.com
DIY shelf above the stove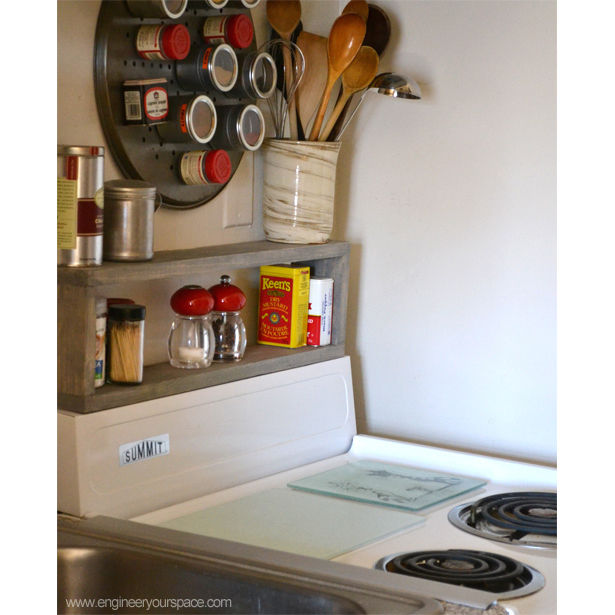 Don't forget the space above the stove when you are looking for space in the kitchen! Here is a great place to store things.
At Instructables.com
Small mesh stacking shelf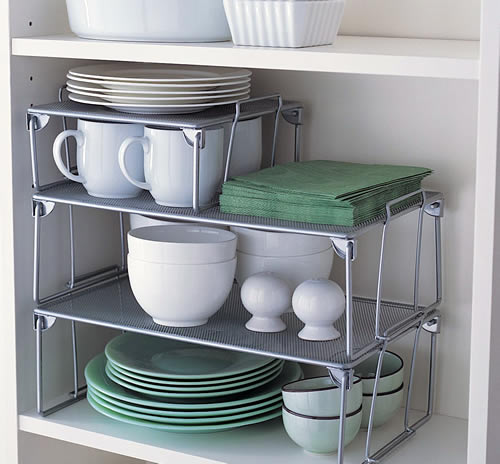 Shelves can be simple – or super organized. When you are short on space, you've got to make it all count!
From APlaceForEverything.co.uk
DIY Kitchen Pot Rack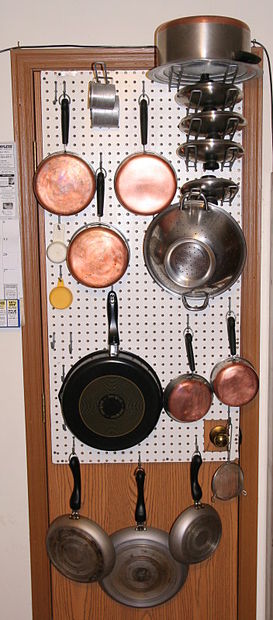 Having a rack is great, but organizing it is so important. Here are some tips on how to do this and DIY your own rack.
From Instructables.com
Wine rack and appliance cabinet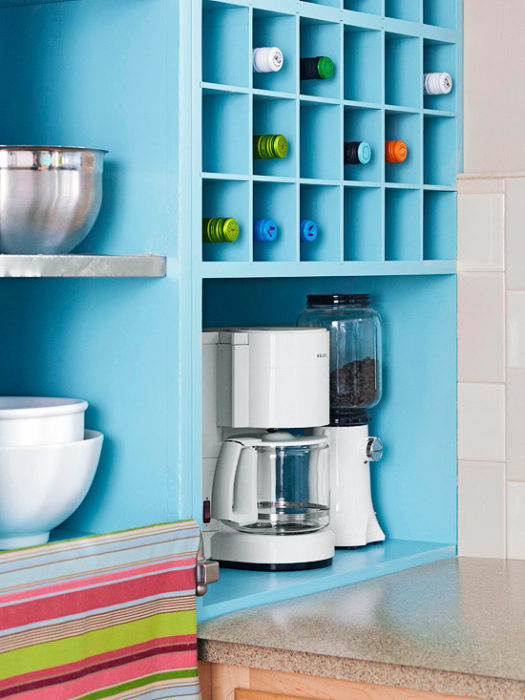 Love to entertain? Always keep a bottle of wine handy, with your small appliances in the cabinet below.
At BHG.com
Kitchen pegboard organizer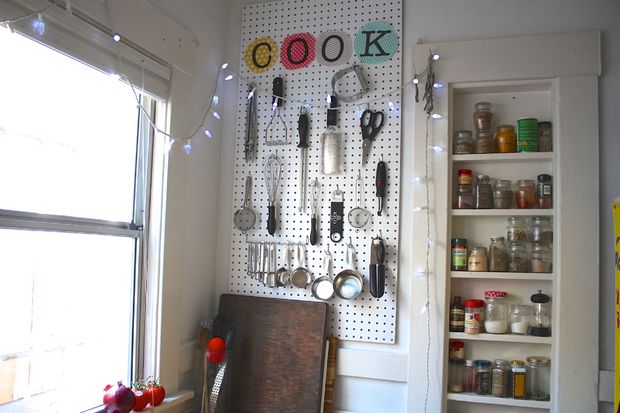 Make your pegboard look pretty and well organized. It will keep your pots where you need them.
How to Build Under Cabinet Drawers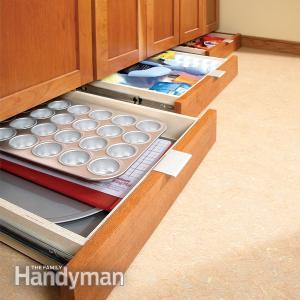 Now this is a real space saver! Add drawers under your cabinet to squeeze every inch out of your kitchen.
From FamilyHandyman.com
3 Basket Storage Bench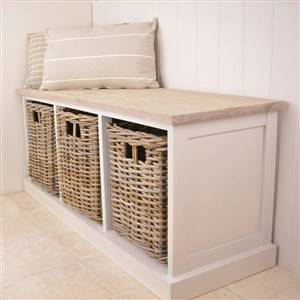 Perfect for the kitchen by your table or breakfast nook. Its got storage underneath!
From BlissAndBloom.co.uk
Hanging Microwave Shelf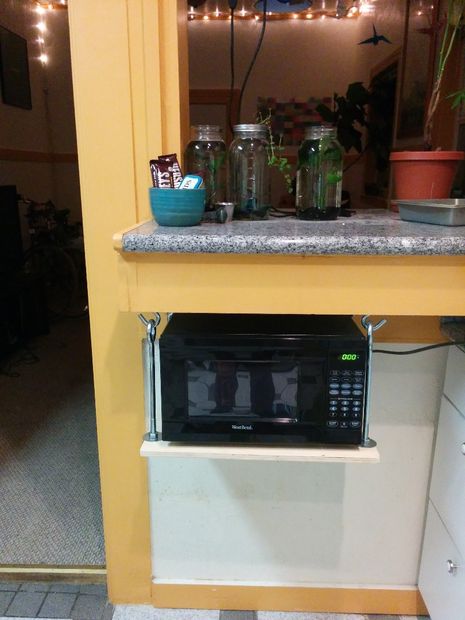 This shelf makes good use of underneath space. It can hold your microwave.
From Instructables.com
DIY Coffee Cup Holder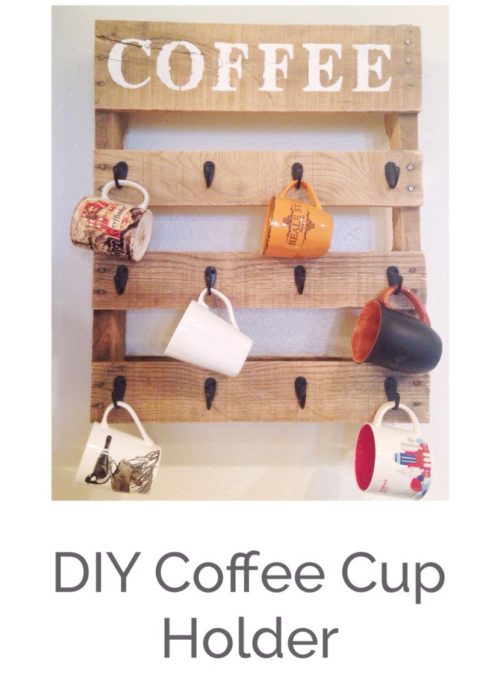 Hang your coffee cups with this DIY project. Its made from a pallet!
How to Build Kitchen Sink Storage Trays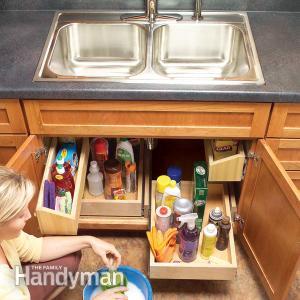 It might surprise you, but there is more space under your sink that you might think. Try this tray system!
From FamilyHandyman.com
Mesh Under Shelf Basket
With a few of these baskets, you can turn a shelf into extra space. Put on your thinking cap to make the most of the space you've got!
From APlaceForEverything.co.uk
Rolling Pantry Tutorial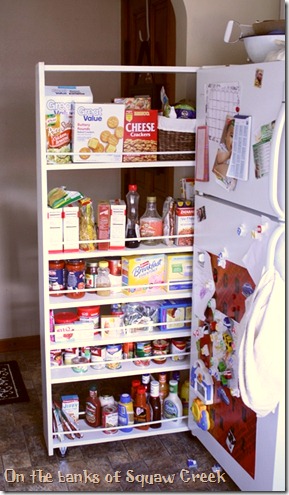 You know that skinny space by the fridge? Its actually usable – as a pantry – here's how!
From OnTheBanksOfSquawCreek.com
Cabinet Door Storage Rack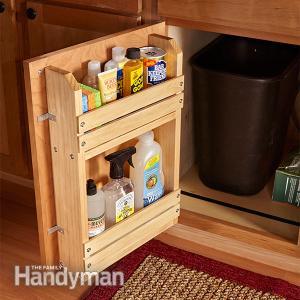 Keep your kitchen sink or cabinets tidy with door storage. This is a great solution!
Small appliances under cabinet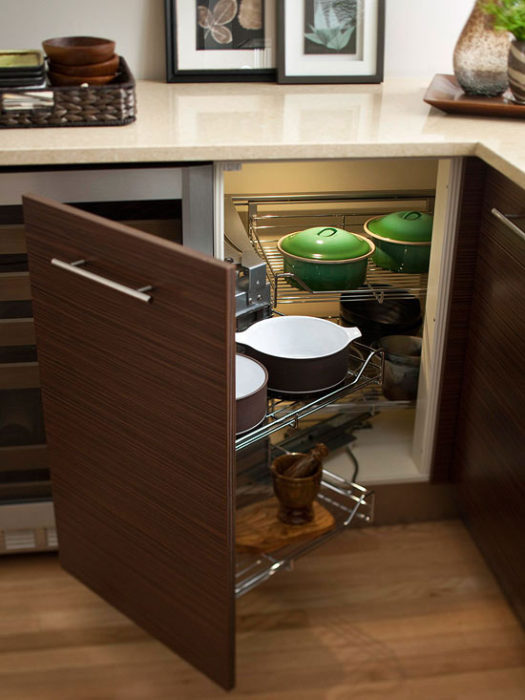 Keep your kitchen looking tidy. Also have your appliances right where you need them with this efficient and modern cabinet.
From BHG.com
DIY A Kitchen Pegboard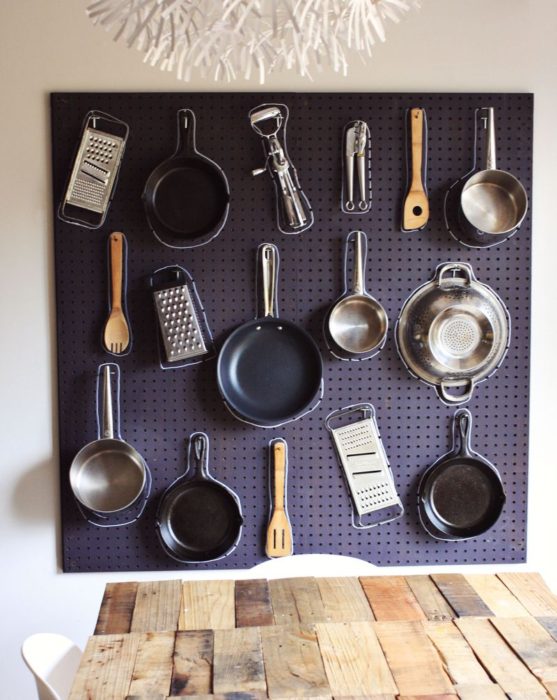 Keep your pots and pans right where you can see them. This DIY pegboard is perfect for small kitchens.
Vertical Plate Rack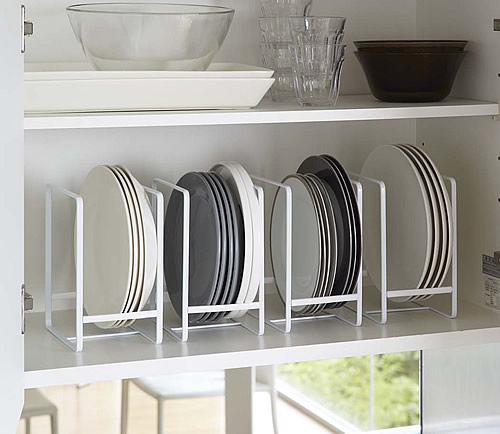 Store more plates on a shelf that is too wide and not tall enough. You've got to make the most of your space.
From APlaceForEverything.co.uk
Microwave shelf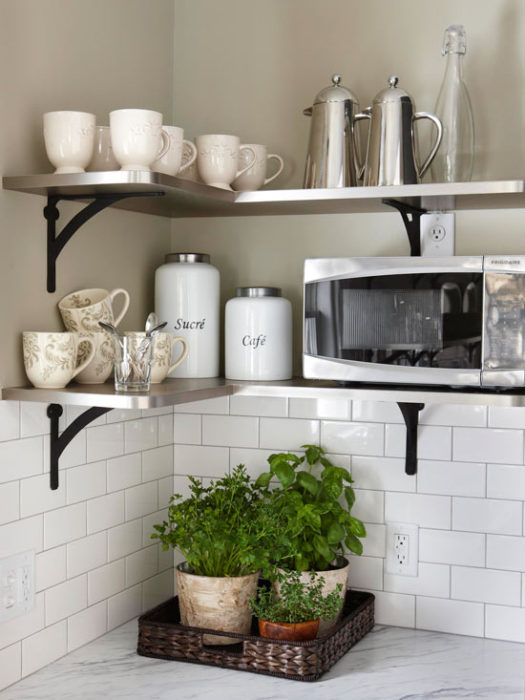 Like to microwave? Keep it out of the way with this attractive shelf.
Located at BHG.com
A Smart Effective Wire Shelving Unit for Kitchen Storage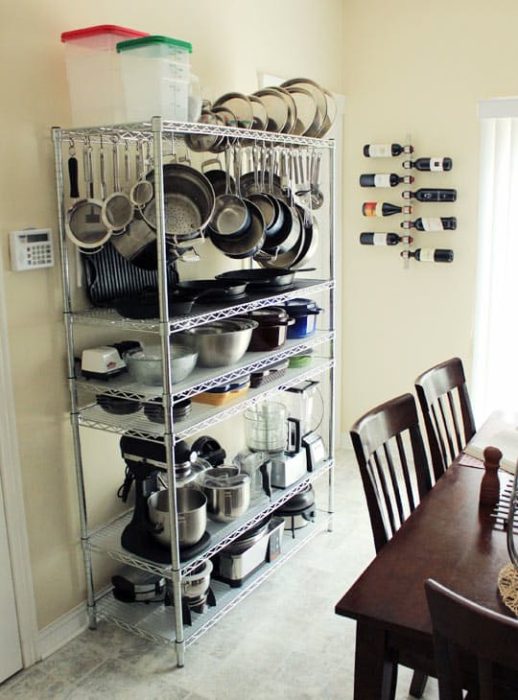 Keep all (or most) of your kitchen items right here, in this wire shelving unit. Look at how well organized it is!
From TheKitchn.com
The cutest dang coffee nook you ever did see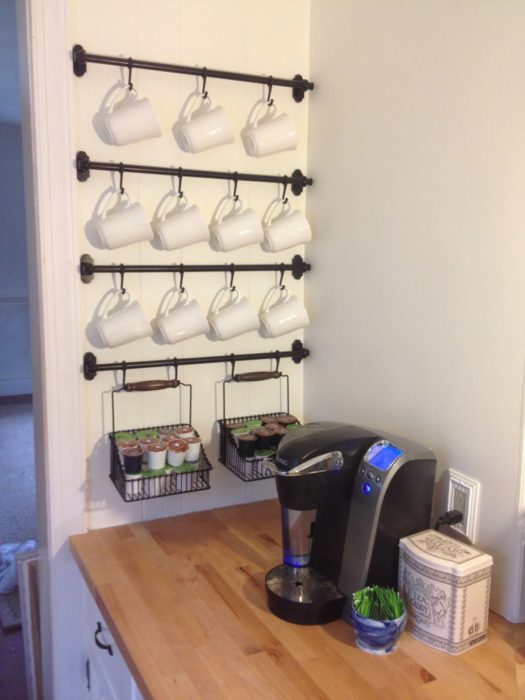 Check out IKEA for hooks and rails, as this blogger did. They created a space efficient coffee nook!
Coke bottle spice rack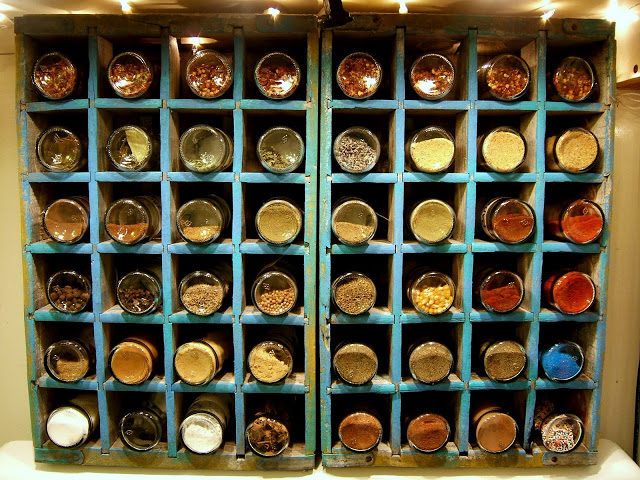 This vintage piece has lots of charm. But it reminds us that staying organized – keeping the spices you need in large quantities on hand is a good way to set up your kitchen.
From Ninred.Blogspot.ro
Door Organizer by CRAFT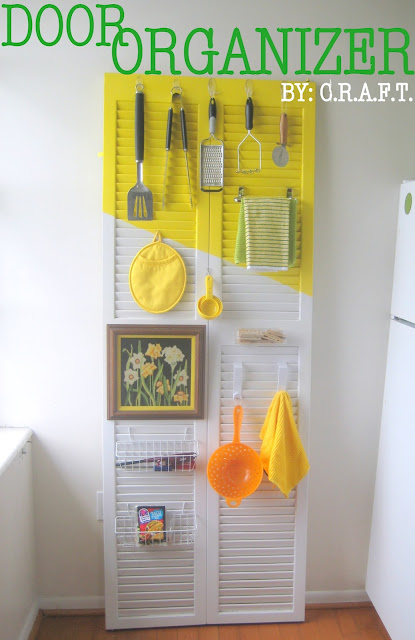 Be eco-friendly and use an old door to hang everything you need for your kitchen. This vertical storage also is a great organizational system.
By CreatingReallyAwesomeFunThings.com
Comfort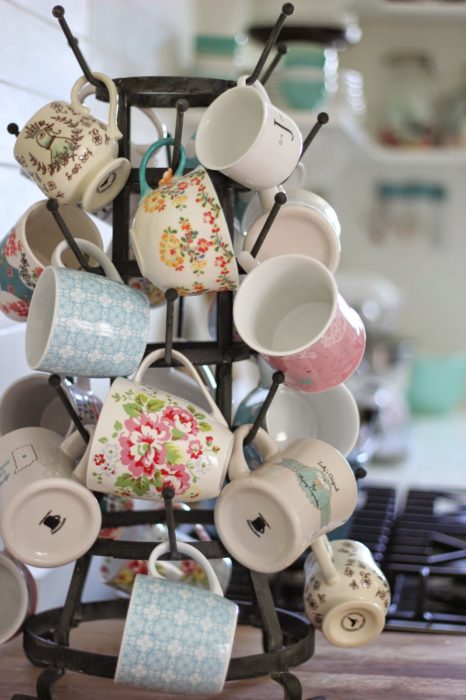 Getting a metal circular rack that holds all of your coffee cups may be the ideal choice. Especially if you have friends and family over for chit chat.
By TheCottageNest.Blogspot.com
Shelves Built Into a Staircase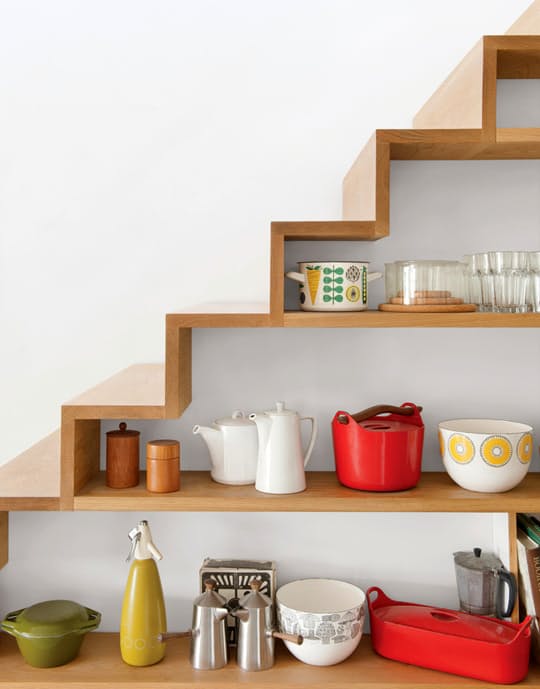 Here is a great project to use every inch of your kitchen. You can make more shelves anywhere, even under the stairs!
From TheKitchn.com
Mixer drawer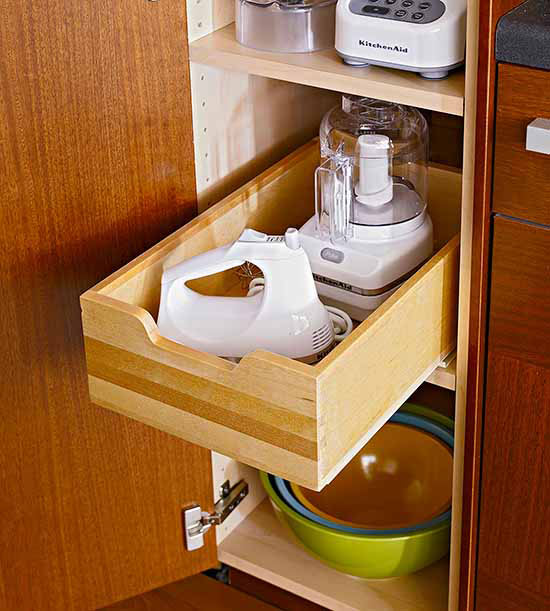 If you love to bake or use a blender, then consider creating shelves like this. Large appliances take up a lot of space, but with these shelves, you'll always know where they are.
By BHG.com
How to Build Burner Covers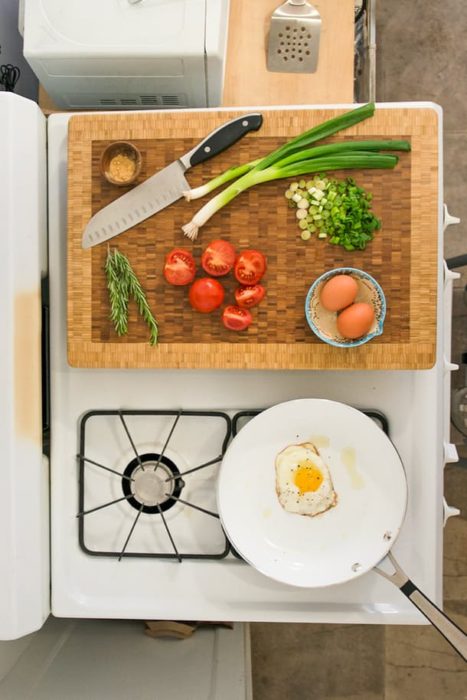 Here is a great project for you. They say it will double the size of your tiny kitchen!
Multi shelf appliance cabinet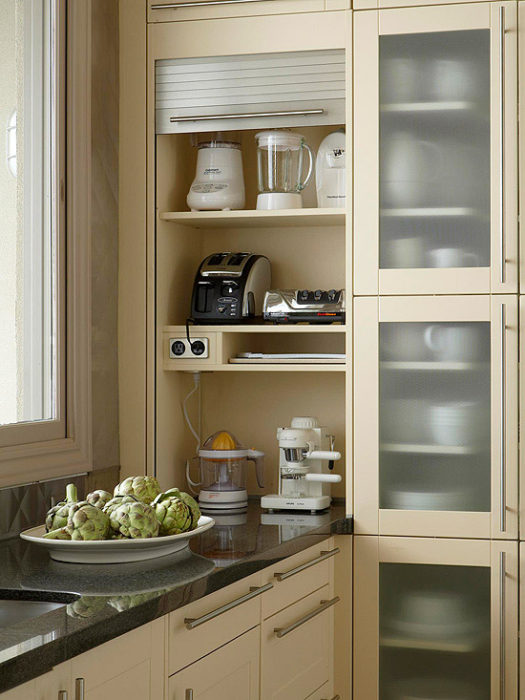 The best thing about a cabinet like this? You can use most of the appliances, right in it!
From BHG.com
Big mixer cabinet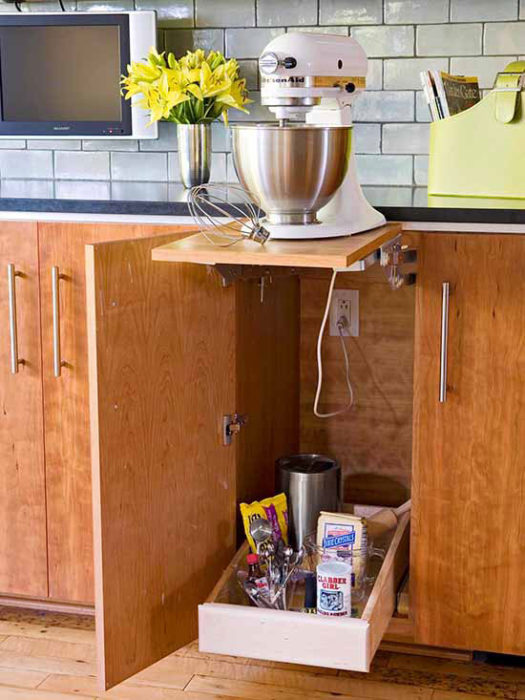 Love to use a big mixer regularlly? You need to create a special cabinet for it and your everyday baking goods!
From BHG.com
Espresso drawer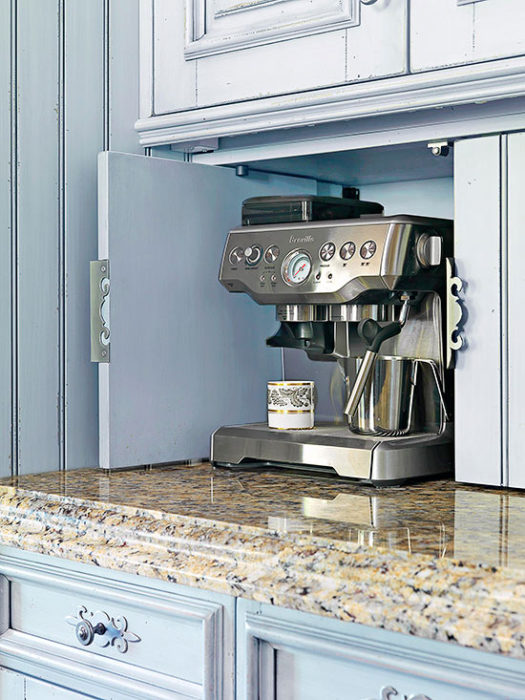 Need your java jolt in the am? Keep your favorite caffeine machine handy with a drawer like this in your kitchen.
Corral Your Utencils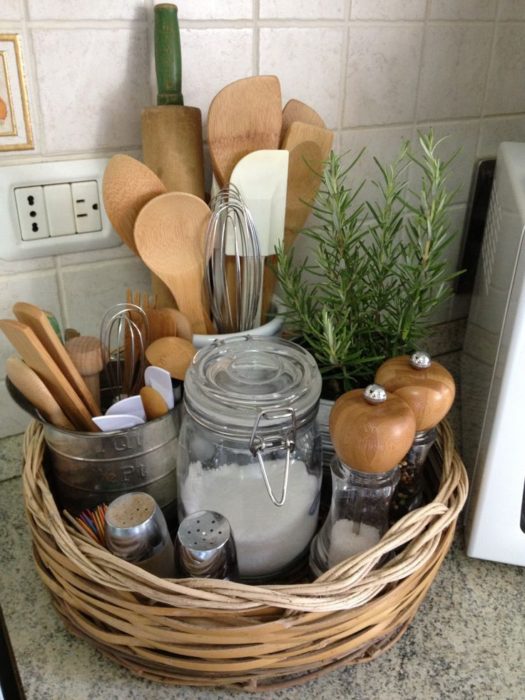 One great way to make your kitchen feel better is to stay well organized. Keep all of your utencils in one place where you can always find them – like this.
Organization inside doors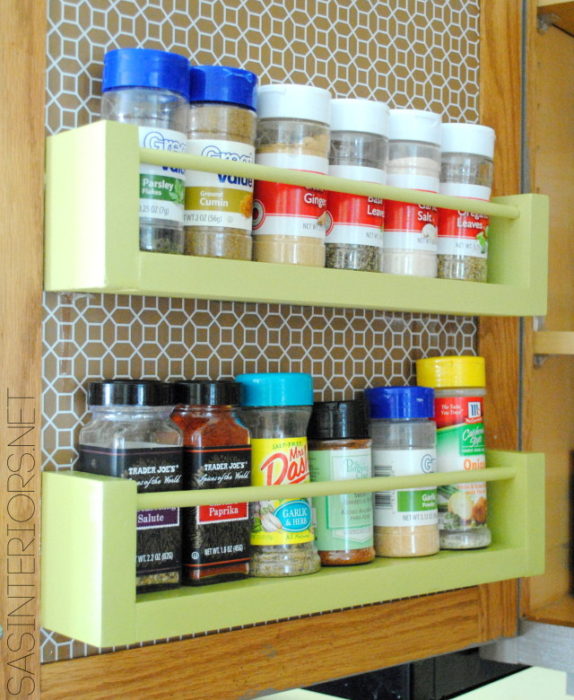 This is simply amazing. You can add utencils or spice racks, whatever you need the most.
From JennaBurger.com
At BHG.com
Appliance corner cabinet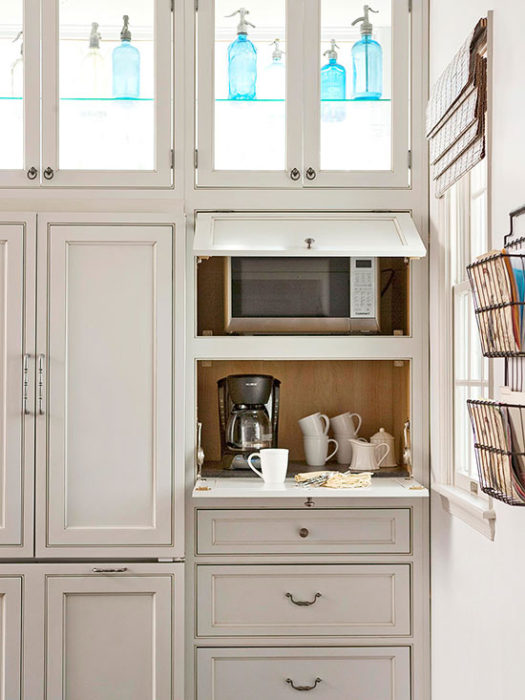 Use every space in your kitchen efficiently. Even this corner can hold the microwave and your coffeemaker with all the fixin's!
From BHG.com