Hello, DIYers!
Doesn't everyone love the beach in the summer?! Whether you're inland or taking a trip to the sandy shores, you can enjoy some summer fun with these wonderful beach themed craft projects that you can do with your little ones! Dye some shells, create their favorite ocean creature, or take delight in creating a beachy masterpiece! There is no wrong way to create!
Happy crafting!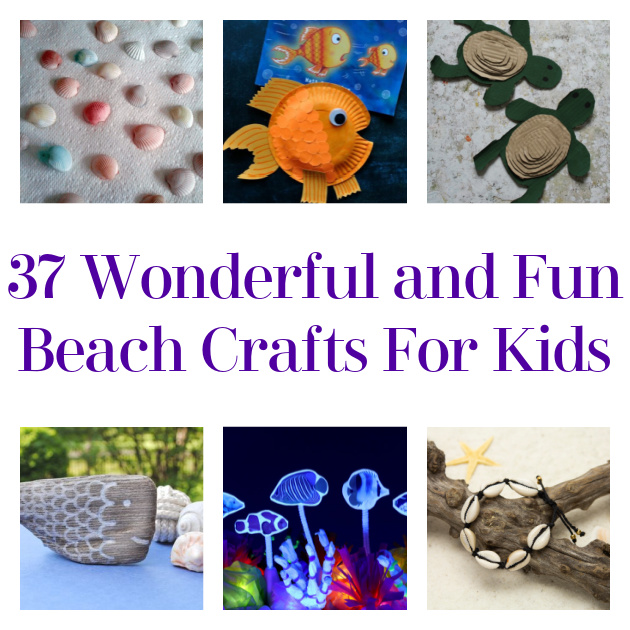 ...
Puffy Bubble Wrap Octopus
If you've got bubble wrap at home (and you can resist from popping it) why not try making this adorable octopus craft!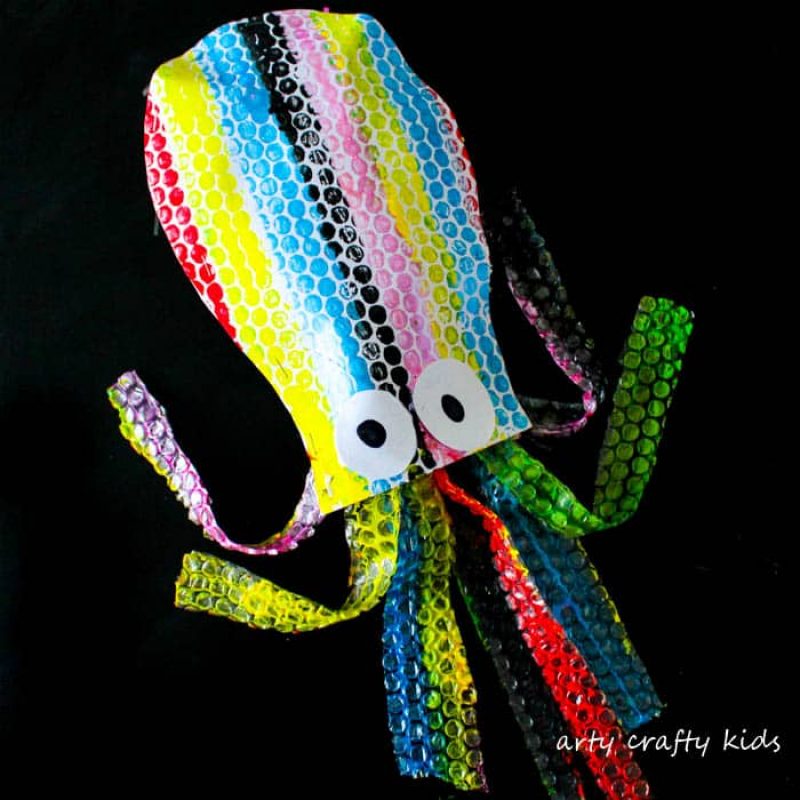 Found Arty Crafty Kids
Dye Seashells
Similarly to dying Easter eggs, you can make your lovely seashell collection even lovelier with a pastel dye job!
Found Rainy Day Mum
Plastic Tub Crab
Upcycle an old pudding cup by making this adorable crab craft!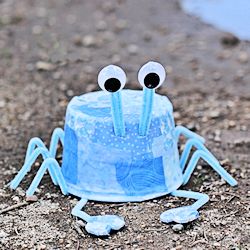 Found Fun Family Crafts
Aquarium In A Bottle
This is a fantastic sensory activity! Give it a shot!
Found A Little Pinch of Perfect
Palm Tree Craft
Help your little ones build their very own standing palm tree!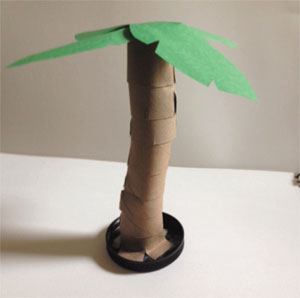 Found All Kids Network
Cardboard Turtle Craft
This turtle craft is made out of cardboard. How fun!
Found Crafts On Sea
Paper Plate Fish Craft
Paper plate crafts are always a hit, but this one is also super cute!
Found I Heart Crafty Things
Ocean World
Create your own under water world with this super fun family craft!
Found Rainy Day Mum
Cardboard Tube Jellyfish Craft
This is a fun and easy craft to hang and enjoy! Give it a try!
Found Buggy and Buddy
Cereal Box Aquarium
Did you finish a box of cereal this morning? Upcycle it into this fun craft!
Found The Best Ideas For Kids
Mesh Bag Fish Craft
Use a mesh bag to create scales for this DIY fish craft!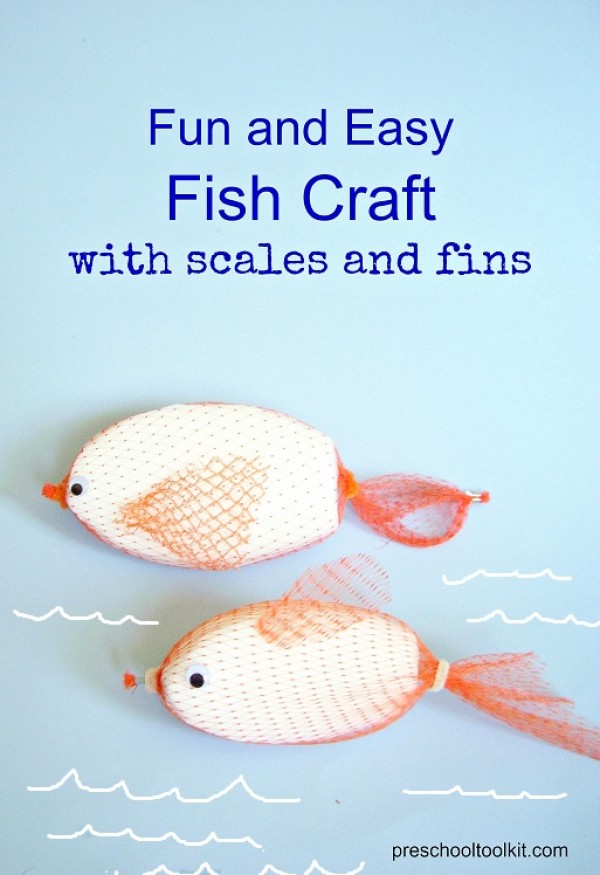 Found Preschool Toolkit
Rocking Paper Plate Submarine
Make yourself a rocking, yellow submarine!
Found Red Ted Art
Starfish Texture Art
These starfish pop up to add some extra dimension to your artwork!
Found Fireflies and Mud Pies
Tube Shark Craft
Use a toilet paper or paper towel roll to make this paper shark!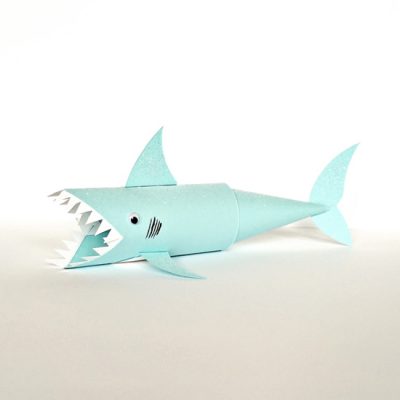 Found Fun Family Crafts
Egg Carton Sea Life Scene
Use an old egg carton to make this inventive scene!

Found Fantastic Fun And Learning
Paper Plate Scuba Mask
This is PRETTY MUCH the cutest thing ever. So why not give it a try?!
Found Rainy Day Mum
Egg Carton Paper Fish
How adorable are these? You can even set them up inside of a waterless fish bowl and make it a lovely feature in your little one's room!
Found The Craft Train
Ocean In A Jar
Bring a taste of the beach home with this beautiful keepsake!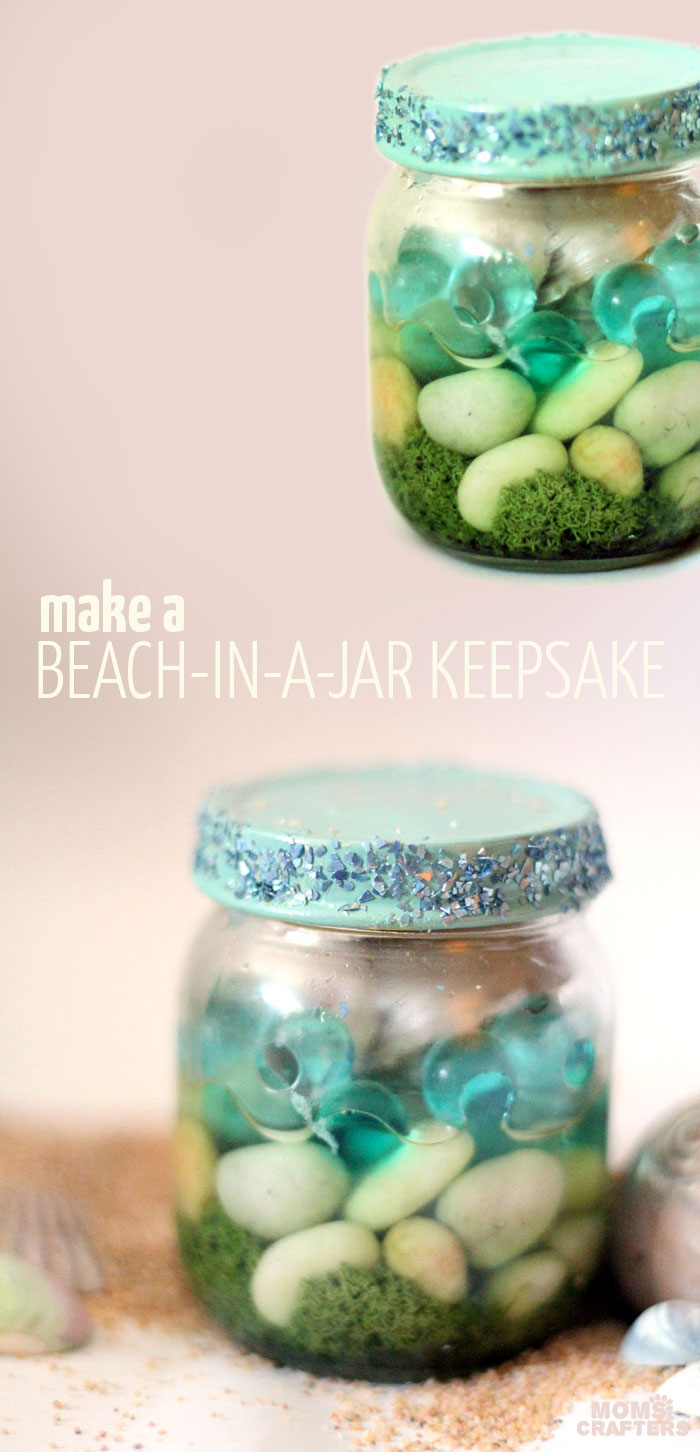 Found Moms and Crafters
Paper Plate Puffer Fish
How cute and fun are puffer fish?! You can decorate your own with this easy paper plate craft!
Found Buggy and Buddy
Paper Plate Sand Dollars
This is a simple paper plate craft that allows you to make your own sand dollars! How fun!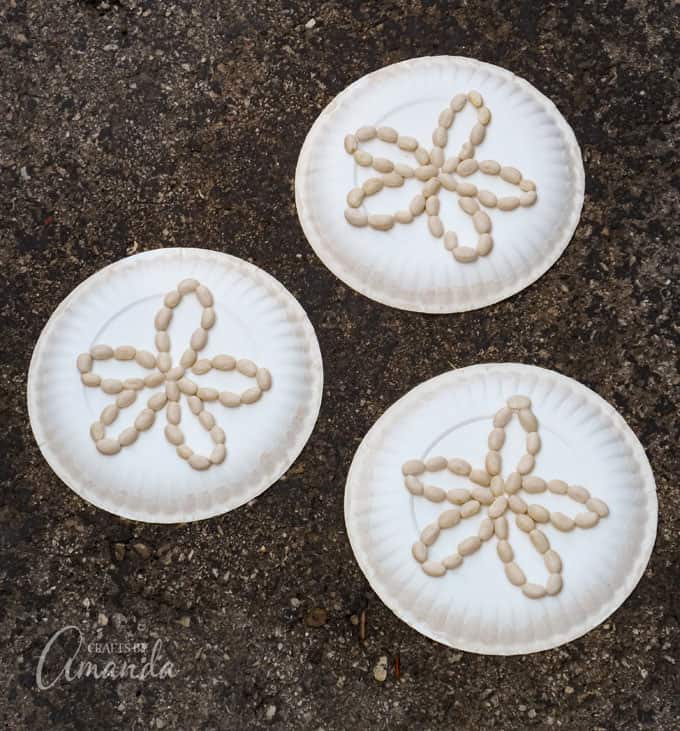 Found Crafts By Amanda
Ocean Animal Eggs
Dress your eggs up as these adorable ocean animals!
Found Craft Play Learn
Shell Bracelet DIY
This shell bracelet is classic beach wear! And now you can make your own!
Found Cousin DIY
Coral Reef Art Project
Use a sponge to make this awesome art project!
Found Primary Theme Park
Plastic Cap Fish Art
Create this fun multi-media 3D art using plastic caps as the body for these fish!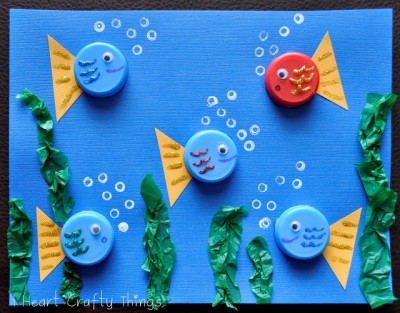 Found Fun Family Crafts
Paper Plate Oysters
Paper plates with a fun surprise inside!
Found Things To Share and Remember
Ocean Coral Blow Painting
This is a fun and messy way to create coral art that is just as unique as coral itself!
Found Woo Jr
Pasta Leg Octopus
This is a great craft for little ones to practice their fine motor skills!
Found Buggy and Buddy
Ocean Zone Bottles
Learn about the different layers of the ocean with this fun, interactive activity!
Found Edventures
Homemade Sea Turtle Stamps
You can DIY your very own turtle stamps using an old bottle cap and the pipe cleaners!
Found Rainy Day Mum
Driftwood Fish
Driftwood is beautiful! Scope out the perfect piece to make this driftwood fish craft!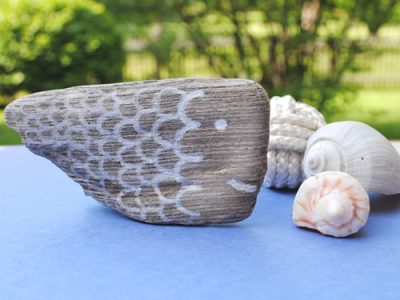 Found Fun Family Crafts
Under the Sea Votive Holders
Your little one can paint their very own votives for their room! Just get the battery lights for added safety!
Found Kitchen Floor Crafts
Paper Bag Sea Otter
This paper bag makes the body for this adorable sea otter!
Found Buggy and Buddy
Paper Plate Boat Craft
This is a fun and inventive work of art!
Found Non Toy Gifts
Light Up Reef Craft
How awesome is this!?
Found The Craft Train
Colorful Seahorse Craft
Lace up the mane of this seahorse craft!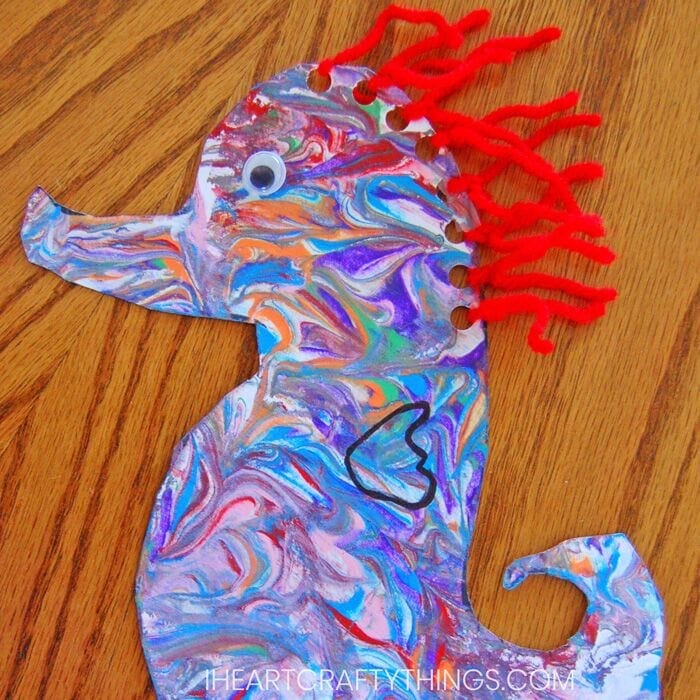 Found I Heart Crafty Things
Octopus Snuggly
Your little one can craft their own snuggly buddy by making an octopus out of kids tights! Give it a try!
Found Red Ted Art
You May Also Enjoy…
29 Cicada Inspired Creations For Everyone!