Hello, DIYers!
Whether you love them or hate them, cicadas are everywhere this summer! If you live near an area with trees, you've probably heard them screaming loudly throughout the day. Not only are these bugs very personable and interesting looking, they are leaving trails of shells and lost wings behind them! If you have kids, they might be curious to learn more about their new summer friends. We've collected some fun ideas of how you can take inspiration from these loud and interesting creatures in your DIY projects! Some of them are fun craft projects that you can do with kids using basic materials around the house. Others get you up close and personal with the bugs and all that they leave behind to create beautiful memorabilia of the 2021 summer, get silly with your creations, and even take photo opportunities! Give them a try!
Happy crafting!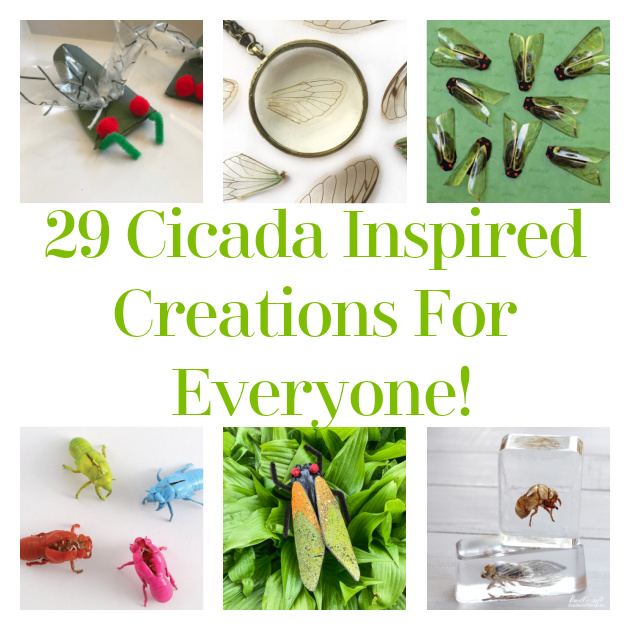 Painted Cicada Shells
Did you pick up a ton of cicada shells but now you're not sure what to do with them? Try having your kids paint and decorate them!
Found The Craft Train
Paper Roll Cicada
You can make your own cicada to play with using a paper towel roll!
Found Happily Ever Reading
Cicada Specimens
You can make specimens using cicada bodies, shells, or wings!
Found Doodle Craft Blog
Wine Cork Cicada Craft
Use left over wine corks to carve out the body of these cicadas!
Found Nature Net
Cicada Cupcakes
Get creepy and crawly with these cupcakes!
Found Sugar Swing
Cicada Shell Sculptures
You've maybe seen these cicada shell sculptures making the rounds on social media! What will you choose to make?!
Found Facebook
Paper Plate Cicada Craft
Paper plates are a staple kid's craft material!
Found In The Bag Kid's Crafts
Clip On Cicada
Take this little guy with you anywhere!
Found Barley and Birch
Cicada Papercraft
These lovely paper cicadas are fun to make and decorate with!
Found Simple Living Creative Learning
Get Creative With Cicada Shells
How cute and funny is this?! You can create your own scenes!

Found Reddit
Drawing a Cicada
If you've got a budding artist at home, why not show them how to draw a cicada!
Found Art Projects For Kids
Giant Cicada Sculpture
These big guys are fun to make and play with!
Found Instructables
Climbing Cicadas
These folded origami paper cicadas climb on a string! How fun!?
Found Vashi Art
Cicada Necklace Display
Find a small pendent that you can house a cicada shell in! Or you can purchase one here!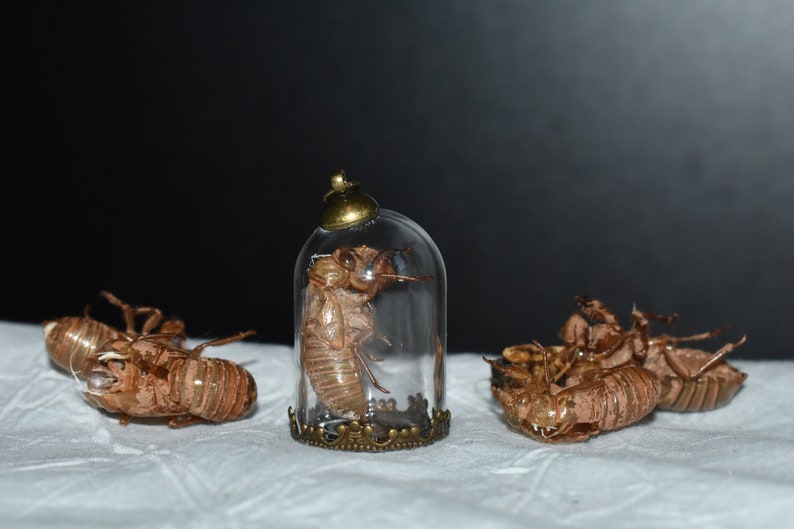 Found Etsy
Set Up An Obstacle Course
Cicada olympics, cicada circus! Have fun creating some fun obstacles for your cicada friends!
Found Yahoo News
Neon Cicada Shells
Paint these shells in fun, bright colors and use them to decorate!
Found The Craft Train
Cicada Wing Earrings
How beautiful are these?! Collect loose cicada wings and mark jewelry art!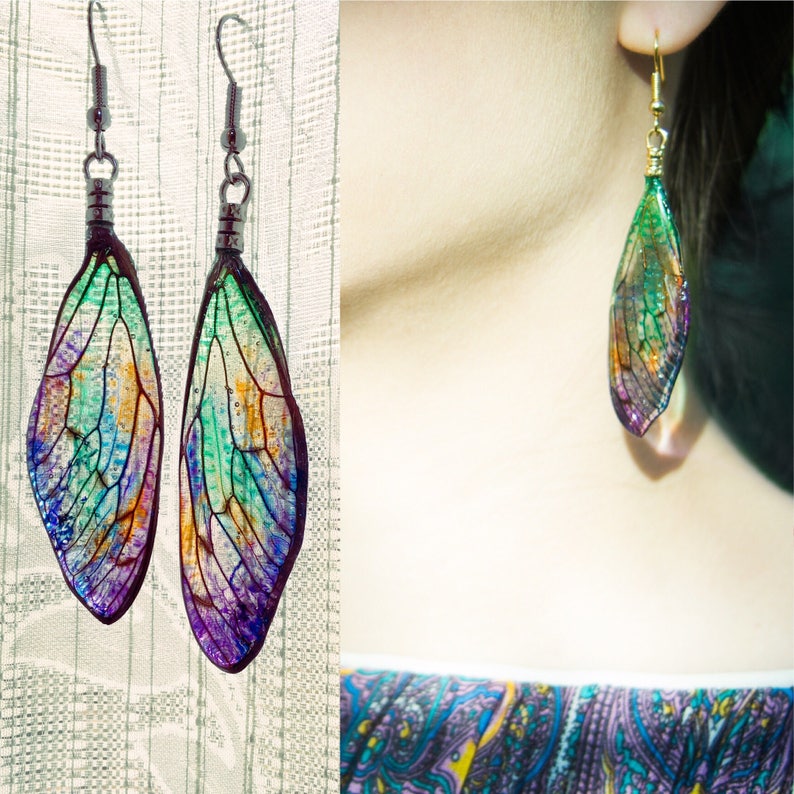 Found Etsy
Abstract Cicada Art
How cute is this simple and fun craft?!
Found Art With MRE
Cicada Mask
This template will cost you a dollar, but it will give you an afternoon of fun!
Found Teachers Pay Teachers
Cicada Wing Resin Necklace
You can make your very own cicada wing resin necklace! Include dried flowers, herbs, or a bit of color! Look up making resin jewelry if you aren't sure how it's done for your own custom creation or just buy this one if you're satisfied!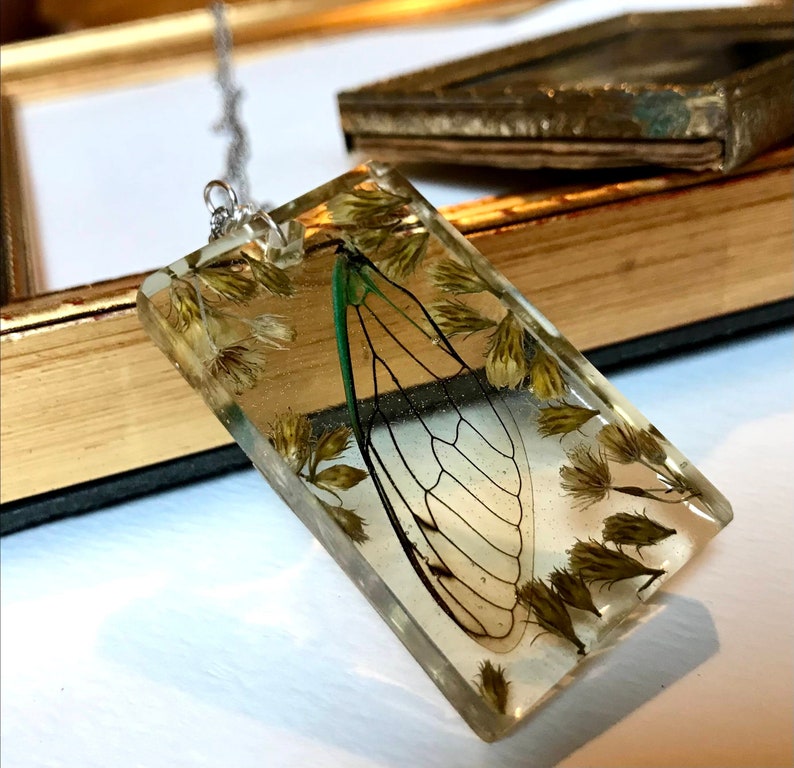 Found Etsy
Origami Cicadas
Get as colorful and creative as you want with these folded paper cicadas!
Found YouTube
Learning About Cicadas
Learn and craft all about these cicadas!
Found Blessings Overflowing
Photograph Them
Set up a cute photo session and take plenty of pictures for the memory book! After all, in a few short weeks they'll be gone for years!
Found Arlington Magazine
Cicada Wing Window Necklace or Keychain
How adorable is this?! You can either find a pendent with pressed glass or carefully pour clear resin in with the wing!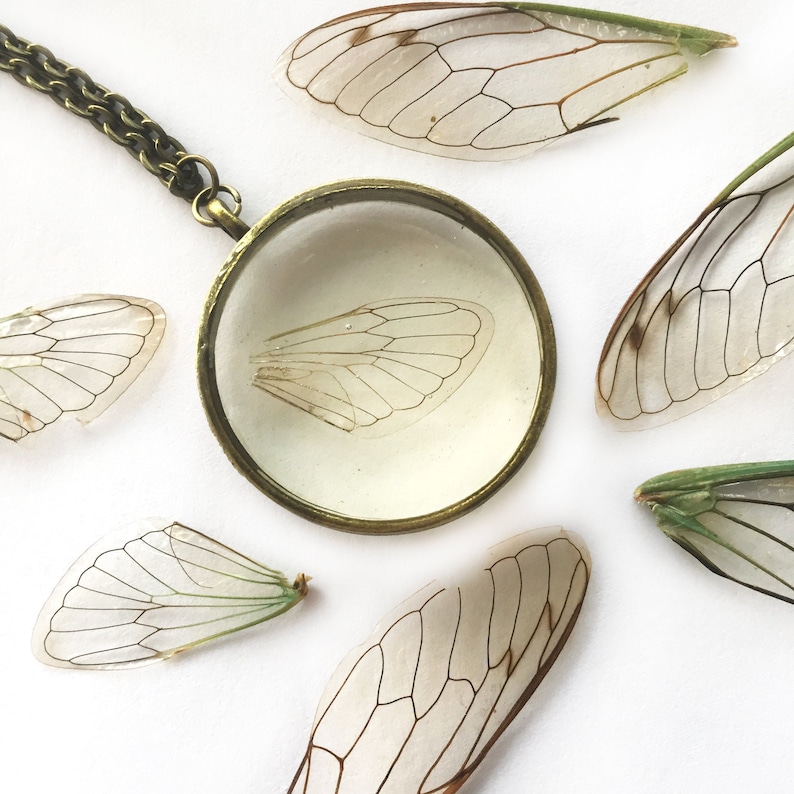 Found Etsy
Cicada Sensory Activity
Sensory activities are always so much fun for little ones! And this one is no exception!
Found Everyday Chaos and Calm
Learn About Cicadas
If your kids are interested in learning more about these curious creatures, check out these free printables!
Found Woo JR
Preserve Them
You can preserve your cicadas for collecting!
Found Massachusetts Cicadas
Spicy Popcorn Cicadas
Are you really brave? Why not try eating cicadas?! Here is a recipe to try!
Found Washington Post
Cicada Earrings
A little gross… a little fun!
Found Cape Cod Times
You May Also Be Interested In…
39 Amazing Summer Activities for Kids