Hello, DIYers!
There is no doubt that it has been a rough school year for our kids! Many of them were navigating a year of relative isolation on top of newly developed virtual learning. Now, as summer break rapidly approaches, it falls to parents to give our patient, resilient kids a summer full of fun! For that reason, we've collected 39 amazing summer activity ideas to help get you started! The best part? None of these involve any type of screen time!
Happy crafting, everyone!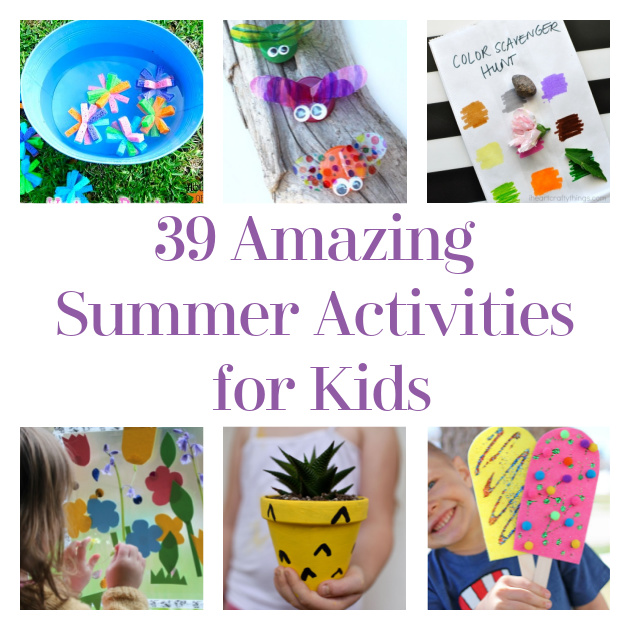 ...
Pour Painted Pots
Decorate some lovely flower pots and then grow something together! Your little one will have fun watering their plant and watching it grow!
Found Happiness Is Homemade
Bottle Cap Bugs
Create these cute and customizable bugs by upcycling bottle caps!
Found This Grandma Is Fun
Pool Noodle Race Track
Use a cheap pool noodle to create hours of fun with race track!
Found Tamara Like Camera
Solar Oven Smores
Cook up some smores in your very own homemade solar oven!
Found Desert Chica
Seashell Craft
Did you visit the beach or planning a trip this summer? This is a fun way to put the shells you collect to good use!

Found Crafts On Sea
Rainbow Bubble Snakes
These colorful bubbles are so much fun! give them a try!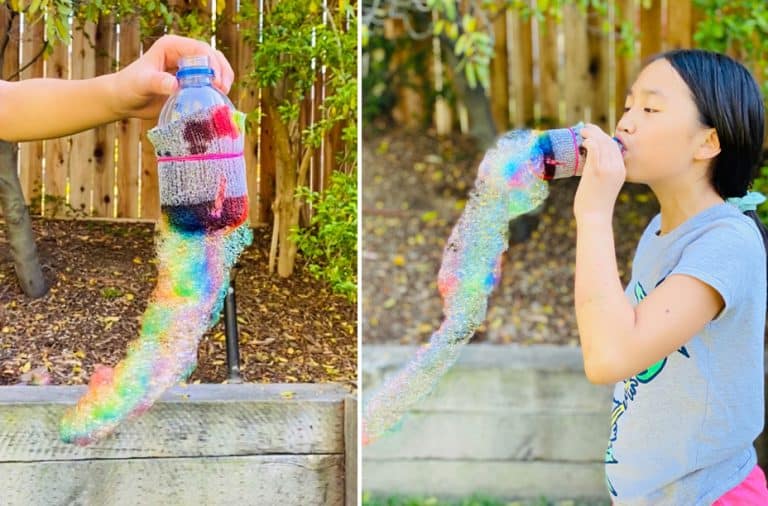 Found Hello Wonderful
Flip Flop Painting
Attach fun shapes to the bottom of a cheap pair of flip flops, paint the shapes, and let your little one's create a work of art with their feet!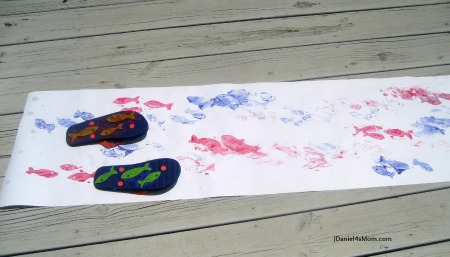 Found JDaniels 4 Mom
Fruit Fans
Help keep cool with these colorful and fruity fans!
Found The Idea Room
Pressed Flower Bookmarks
Reading is a FANTASTIC summer pass time for kids (and adults!) So why not make some lovely DIY bookmarks!?
Found Buggy and Buddy
Magic Aqua Sand
Make magic sand that can repel the water! It's part magic trick, part science experiment!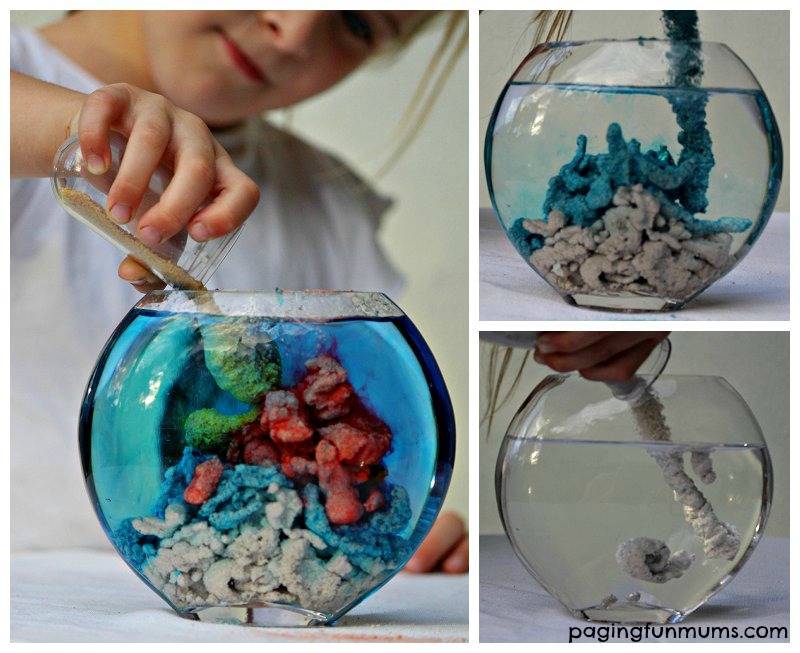 Found Paging Fun Mums
Turtle Rock Craft
Collect flat rocks and paint them to make an adorable turtle friend!
Found Easy Peasy Fun
Frozen Popsicle Chalk
Use popsicle molds to make this DIY frozen chalk! You can even pair this activity with a tasty DIY popsicle treat. Just don't mix up which is which!
Found Reading Confetti
Water Balloon Piñata
How fun is this?! Kids will have a blast breaking water balloons like a piñata!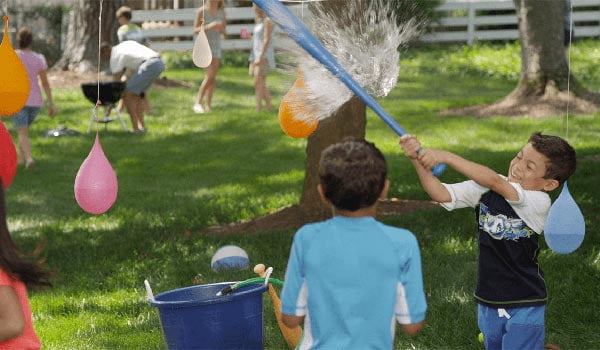 Found Walmart
Popsicle Stick and Felt Fish
Get creative by making colorful fish using simple craft items!
Found Glued To My Crafts Blog
Color Scavenger Hunt
Get out in nature trying to find things that match each color! How fun!
Found I Heart Crafty Things
Excavate Frozen Dinosaur Eggs
You can make frozen dinosaur eggs for your little one to chisel out of their icy shell!
Found Paging Fun Mums
Kiddie Car Wash
Use PVC Pipe to make this fun, kiddie car wash!
Found Mom Endeavors
Milk Carton Bird Feeders
This is a fun craft product you can put to work outdoors to encourage bird watching!
Found Happiness is Homemade
Salt Dough Starfish Craft
Bring the beach home by making these fun starfish out of salt dough!
Found The Crafting Chicks
Frozen Flower Sensory Play
Have fun collecting flowers from the garden or on a nature walk then take them home to freeze them! It looks beautiful and can be proudly displayed until it melts!
Found Crafts On Sea
Make a Kite
You can make your own kite to fly on a breezy day with this awesome outdoor STEM project!
Found Little Bins for Little Hands
Sponge Water Bombs
Have a water war outside with these fun and easy sponge water bombs!
Found House of the Hepworths
Pineapple Planter
How adorable is this?! It's so simple! And you can get one of these succulents at nearly any Lowes, Home Depot, or local green house!
Found Make Life Lovely
PVC Water Shooter Toy
Have a blast with this DIY water shooter made out of PVC piping!
Found Frugal Fun 4 Boys
Button Snail
Upcycle and old CD for a solid foundation on this adorable snail shell!
Found I Heart Arts And Crafts
Sand Slime
Slime is always a hit! This time you can give it a sandy texture for summer fun!
Found Paging Fun Mums
Glowing Campfire
Did your camping trip get rained out?! This is a great alternative activity!
Found Buggy and Buddy
DIY Waterslide
Make a fun, backyard waterslide with a few simple items!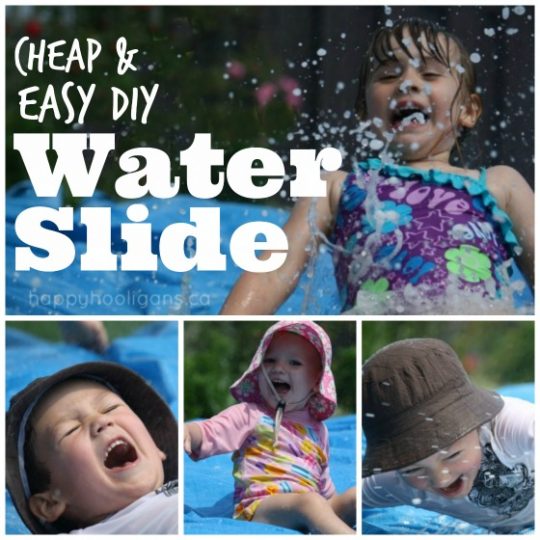 Found Happy Hooligans
Nature Bingo
Go for a nature walk and play bingo with these free, printable cards!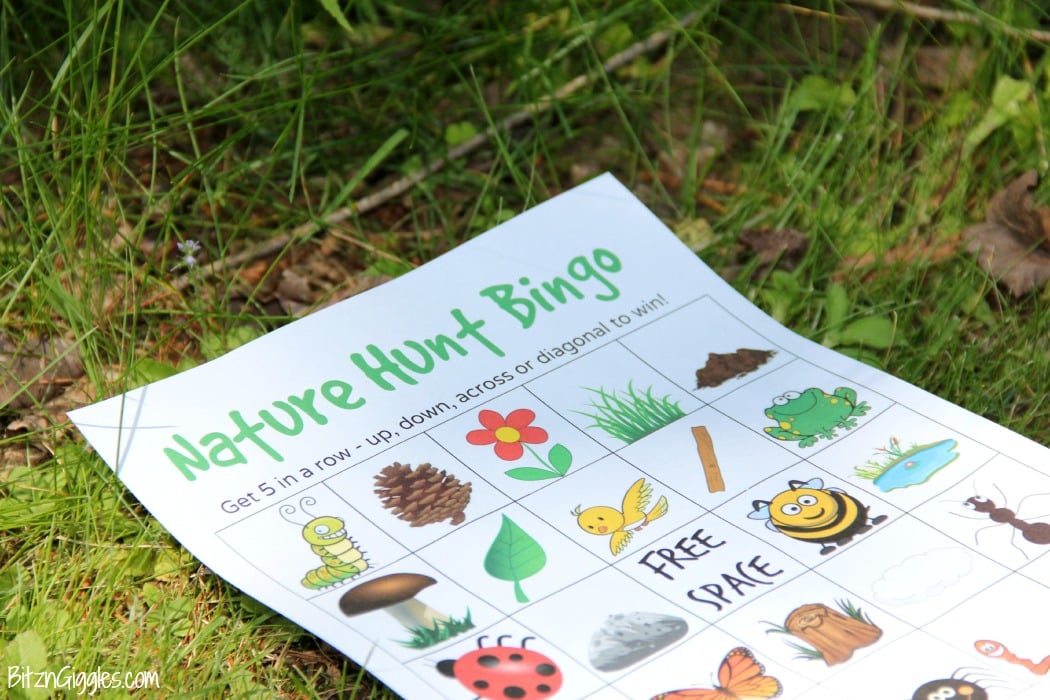 Found Bitzngiggles
Flower Garden Sticky Wall
Let your little one enjoy an afternoon by a window by making their very own sticky wall garden!
Found Crafts On Sea
Pool Noodle Water Wall
How fun is this DIY pool noodle water wall?! Your kids will spend hours playing! You can even make it work on a fence!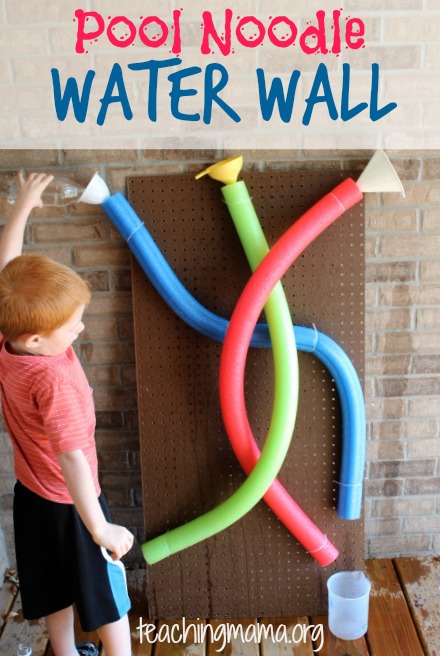 Found Teaching Mama
Acorn Marble Necklace
You can find the tops of acorns nearly any time of year in most regions! Scavenge for them and then make these lovely marble necklaces!
Found Rhythms of Play
Kaleidoscope Craft
Kaleidoscopes are so cool! And now your kids can make their own!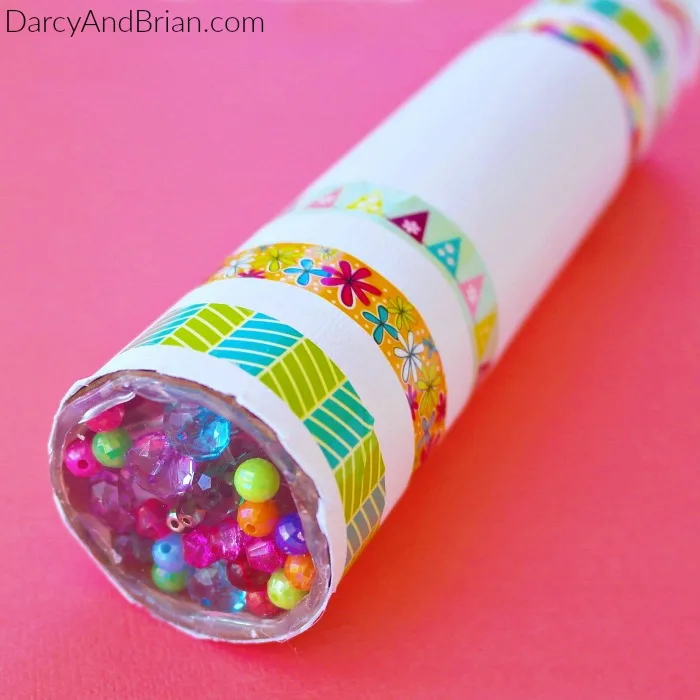 Found Darcy and Brian
Fly Swatter Painting
This could get messy, so make sure you do it outside! But it will be worth it!
Found Reading Confetti
Pool Noodle Shark
Here is another fun and creative way to upcycle an old pool noodle! Give this shark a try!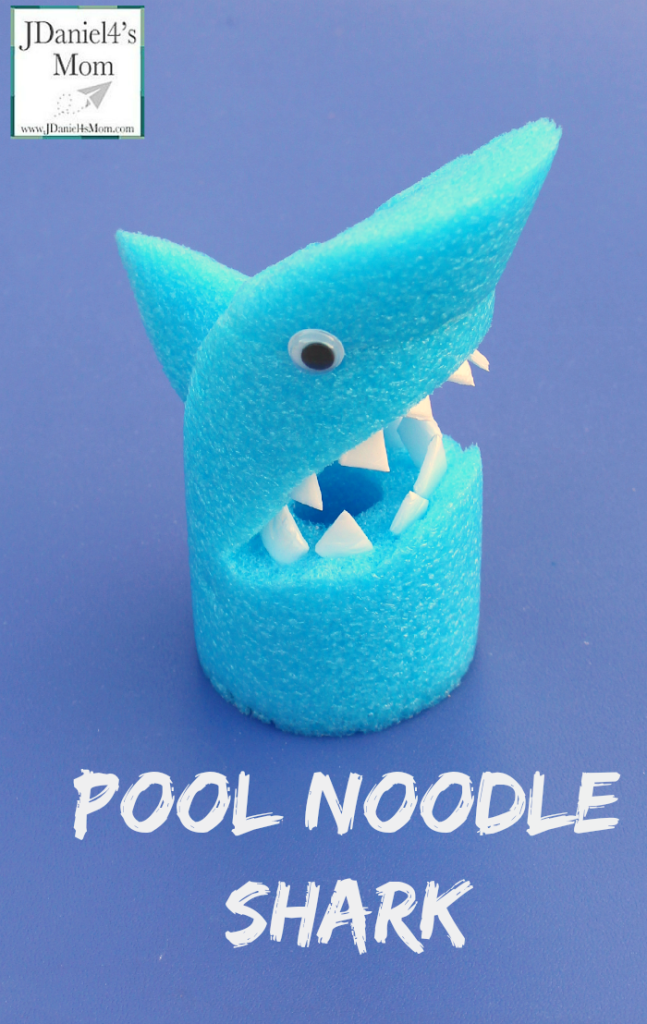 Found JDaniel4's Mom
Felt Popsicles
Get creative decorating these colorful felt popsicles to play pretend with!
Found Darice
Soap Boat Races
Have fun sending bar soap boars slipping and sliding down the track!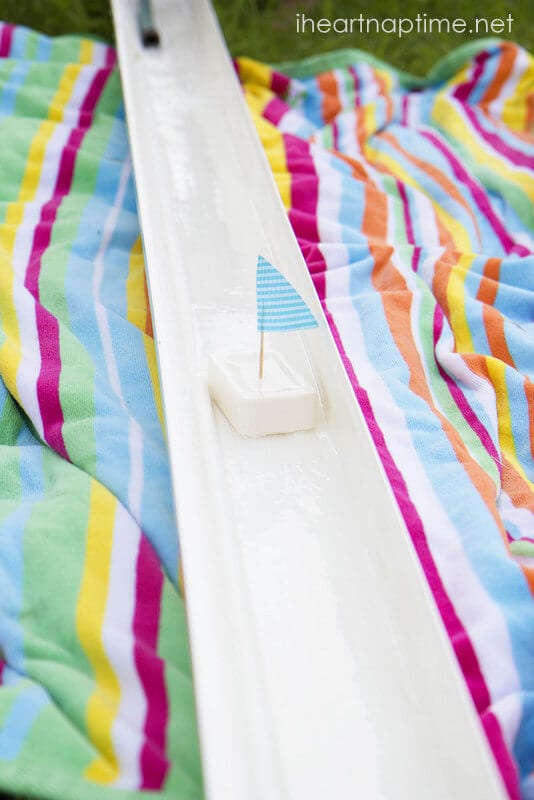 Found The Inspiration Board
Fizzy Chalk Paint
This chalk paint is sure to lead to an exciting afternoon!
Found Paging Fun Mums
Carnival Fish Prize
Remember winning a goldfish at a carnival?! This craft uses a blue slime with a fish toy to replicate this beloved summer experience (without the added responsibility of having a new pet to take care of!)
Found My Frugal Adventures
You May Also Enjoy…
40 Fun and Educational Animal Crafts and Facts For Kids