Hello, DIYers!
Does your little one have a love for all creatures? Encourage it! We've put together a list of all sorts of fun and adorable crafts to help them get to know their favorite animals and learn about new ones! In this blog each craft will come with a fun fact about the animal that you can share as you do the project! These projects are great to do with the family while you share fun facts, show off your best "roar", and make fun crafts to play with an display around the house!
Happy crafting, animal-lovers!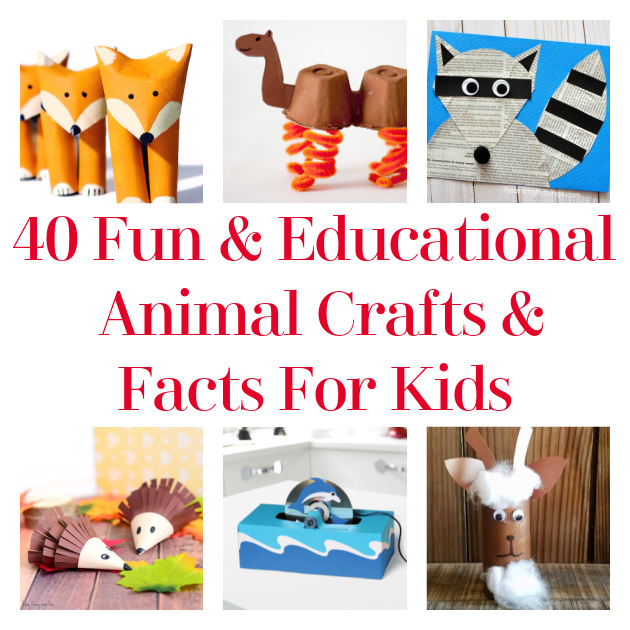 Pine Cone Owl
Did you know that a group of owls is called a parliament?!
Found Red Ted Art
Polar Bear Paper Plate Art
Interestingly, the polar bear's coat has no white pigment; in fact, a polar bear's skin is black and its hairs are hollow!
Found A Dab Of Glue Will Do
Newspaper Raccoon
Did you know that their black masks actually help them reduce glare and help them see better? Just like the black tape athletes wear under their eyes!
Found iheartcraftythings
Link Chain Alligator
Alligators cannot digest salt! Therefore they can only live in freshwater environments!
Found YouTube
Cupcake Liner Lion
Did you know that lions are the only cats that live in groups?!
Found Raising Little Superheros
Paper Hedgehogs
The hedgehog was not always called a hedgehog. Before this they were called Urchins which led to the naming of Sea Urchins!
Found Easy Peasy and Fun
Recycled Styrofoam Cup Cow
The average cow will spend about 8 hours a day eating and will consume about 40 pounds of food in a single day!
Found Kids Activities Blogs
Pom Pom Bumble Bee
If the bees nest gets too hot, worker bees post themselves near the entrance and fan the hot air out, like tiny flapping A/C units to keep the hive at 86 degrees Fahrenheit.
Found Molly Moo Crafts
Paper Octopus
Octopuses have 9 brains because, in addition to the central brain, each of 8 arms has a mini-brain that allows it to act independently!
Found YouTube
Popsicle Stick Wolves
Baby foxes are called pups, kits, or cubs!
Found One Little Project
Sting Ray Craft
Sting rays swim around while having no bones! they are made up of cartilage! The same bendy material that your nose and ears are made of!
Found Pinterest
Paper Plate Badger
Here is a badger! They make their homes by digging tunnels and caves and use grass and leaves for bedding and their home is called a sett!
Found Crafts on Sea
Bat Toilet Paper Roll
Bats can at 60 miles per hour! Certain species, such as the Mexican free-tailed bat, can fly even faster at a whooping 100 miles per hour!
Found Easy Peasy and Fun
Zebra Finger Puppet
A group of Zebras is called a Dazzle!
Found I Heart Crafty Things
Koala Craft
Koalas aren't actually bears… they're marsupials!
Found Iheartcraftythings
Snake Accordion
Did you know that snakes use their tongues to smell?!
Found Easy Peasy and Fun
Leaping Dolphin
While most people think of whales and dolphins being two entirely different creatures, dolphins are actually a type of whale!
Found Highlights
Kangaroo Craft
Kangaroos can hop around quickly on two legs or walk around slowly on all four, but they can't walk backwards!.
Found Tinker About
Vulture Craft
Vultures are so important for the environment! Their eating habits neutralize lots of harsh bacteria and prevent them from spreading!
Found Red Ted Art
Quilled Pig Craft
When trained, piglets can learn their names at just two to three weeks old. They can learn to respond when called and learn tricks faster than dogs!
Found Frugal Mom Eh
Deer Puppet
Roughly 1 in 30,000 deer is an albino! That means they are all white!
Found Ottawa Mommy Club
Flamingo Art
Baby flamingos are grey when they are hatched!
Found YouTube
Panda Bear Bookmark
Pandas are certainly cute! They're also pretty lazy! Their day consists primarily of eating, sleeping, and pooping!
Found Red Ted Art
Horse Craft
Horses can sleep lying down and standing up!
Found Funny Crafts
Elephant Craft
The deep wrinkles in elephants skin help them to hold water and cool them down!
Found Buggy and Buddy
Pom Pom Spider
Certain species of salticids (jumping spiders) can see into spectrums we humans cannot. A few have been shown to be able to see both UVA and UVB light.
Found The Best Idea For Kids
Hummingbird Craft
Hummingbirds are the only birds that can fly backwards!
Found Learn Create Love
Origami Whale
A blue whale's tongue alone weighs as much as an elephant!
Found Red Ted Art
Paper Fox
Foxes make up to 40 distinct sounds!
Found Our Kid Things
Puffer Fish Art
They puff up to about 3 times their normal size when feeling threatened!
Found Crafty Morning
Handprint Chicken
Chickens are actually descendants from dinosaurs! Specifically, the Tyrannosaurus rex!
Found Simple Everyday Mom
Paper Bag Platypus
The animal is best described as a hodgepodge of more familiar species: the duck (bill and webbed feet), beaver (tail), and otter (body and fur).
Found Cook Clean Craft
Tiger Frame
Unlike lions, adult tigers often live alone!
Found Preschool Playbook
Goat Craft
Goats were one of the first animals to be tamed by humans and were being herded 9,000 years ago.
Found Crystal and CO
Shark Puppets
Shark skin feels exactly like sandpaper because it is made up of tiny teeth-like structures called placoid scales, also known as dermal denticles. These scales point towards the tail and help reduce friction from surrounding water when the shark swims.
Found Pickle Bum
Paper Roll Giraffe Family
Giraffe's spots are like human finger prints, no two are the same!
Found Non-Toy Crafts
Springy Camel Craft
The humps on camels back store fat that they can use if food and water were to become scarce!
Found She Knows
Seal Popsicle Sticks
Seals prefer cold sea waters and are primarily found in the Arctic and Antarctic regions.
Found Craftionary
Butterfly Puppet
Butterflies taste things with their feet!
Found I Heart Crafty Things
Ostrich Craft
The flightless ostrich is the world's largest bird!
Found YouTube
You May Also Enjoy….
39 Phenomenal Science Experiments for Kids
30 DIY Alien Crafts Everyone Can Enjoy!
35 Amazing and Creative LEGO DIY Ideas
33 Fantastic Robot Crafts for Kids
35 Fantastic Kids Crafts for a Cold Winter Day
30 Nature Crafts for Kids for All Seasons
DIY Foam Cuckoo Clock for Kids