Hello, DIYers!
It's Summertime!! That means that pool noodles are virtually everywhere! But did you know that there are SO many things that you can do with them besides splashing around in the pool? They are the perfect size and material to be used in home hacks and fantastic upcycle projects! Play with them, make use of them, turn them into something different! The opportunities are endless. We've put together a list of 30 great ways to use these pool noodles around the house to get you started!
Chain Link Pool Noodle Activity
This is a super fun activity for kids! It practices fine motor skills and offers an opportunity to get creative!
Found Teach Preschool
Floating Cooler
Relax to the max by taking your cooler with you into the pool!
Found Create Craft Love
Trampoline Protector
The springs on a trampoline have always seemed like a pretty big design flaw. Even the ones that have a flap that covers them often seems to fly off. But this is the perfect way to keep your kids protected. Plus it's colorful and fun!
Found A Thrifty Mom
Pool Noodle Toss Game
Make fun with these pool noodles outside of the pool!
Found While He Was Napping
Use them for Sewing
You can use them to wrap extra fabric to store, as a pin cushion, and more!
Found Quilting Digest
Boot Storage
Stick pool noodles while storing your tall boots to help them keep their shape!
Found Pinterest
Pool Noodle Bed Bumper
If you have a little one who is ready to graduate to a big-kid bed, you might consider using a pool noodle strapped under the sheet to prevent accidental falling out of the bed!
Found Pinterest
Pool Noodle Napkin Holders
These would be so cute for a pool party or Summer birthday party!
Found Sew Many Ways
Swimming Ponies
Give your pool noodles some additional purpose by making them into ride along ponies for the pool!
Found Mrs. King's Music Class
Pool Noodle Jewelry Holder
How adorable is this?! No one would ever know that it started with a pool noodle!
Found YouTube
Pirate Raft Using Pool Noodles
Turn your pool noodles into something even more wonderful! How fun is this?!
Found Felt Magnet
Wire Organizer
Use a pool noodle to help keep all of your wires in place!
Found Create Craft Love
Pool Noodle Water Wall
Make bath time more fun with this awesome and easy to do water wall!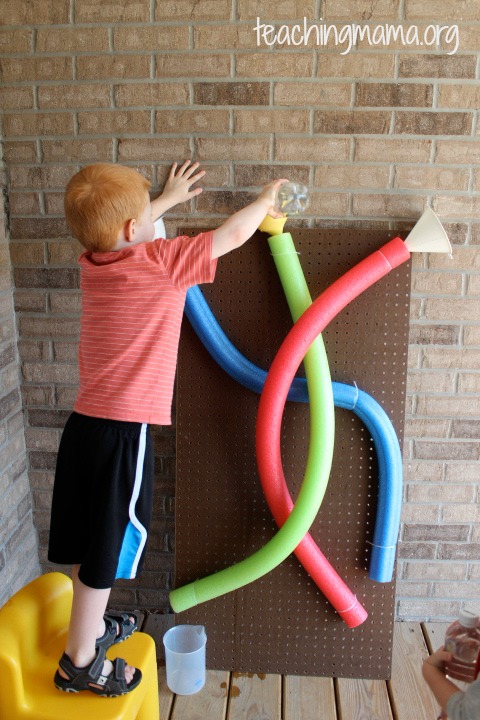 Found Teaching Mama
Car Rack Protector
If you have to haul something with your car, why not use pool noodles to make sure you can do it safely and without damaging your vehicle!?
Found The Family Handyman
Pool Noodle Light Saber
If your family loves Star Wars, have an epic battle with these awesome pool noodle light sabers!
Found Kix Cereal
Campfire Logs
Enjoy a cute and fun pretend campfire, using pool noodles as the logs!
Found Pinterest
Pool Noodle Rocket Ship
Upcycle an old pool noodle into this adorable rocket ship!
Found London Fields Blog
DIY Pool Noodle Garland
Have a bunch of colors laying around? You can make this lovely garland!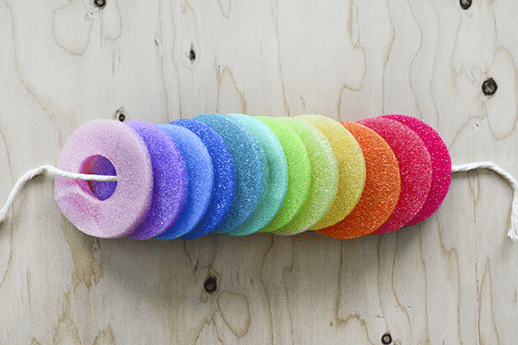 Found Sugar and Cloth
Pool Noodle Sprinkler
Turn this simple pool toy into hours of fun as a DIY sprinkler!
Found Make It Love It
Pool Noodle Ottoman
Turn your extra pool noodles into something colorful and useful! Perfect for hanging out by the pool!
Found Julie Measures
Pool Noodle Wrist Wrest
Keep your wrist safe by using a pool noodle for comfort while typing!
Found Pinterest
Pool Noodle Luminaries
Give your pool a majestic glow at night with these lovely and safe luminaries!
Found Create Craft Love
Fill Flower Pots
Fill out the bottom of your flower pots with pool noodles for extra drainage!
Found Pinterest
Wrap Bedding Around Pool Noodle
Wrap your extra bedding set around a pool noodle to avoid creases!
Found Pinterest
Paintbrush Holder
How convenient it this?! Just cut it in half length-wise and attach it to the bowl. Cut out small slits to hold your paint brushes! You'll be wondering how you ever lived without it!
Found Pinterest
DIY Headband Holder
This lovely, decorated headband holder is built with a pool noodle in the center! Perfect for a little girl's room!
Found Baubles and Babbles
Pool Noodle Spyglass
Play pretend with this awesome DIY activity that you can do with your little ones!
Found Repeat Crafter Me
Pool Noodle Wreath
A pool noodle makes the perfect base for any seasonal or holiday wreath! give it a shot!
Found Growing Up Gabel
Pool Noodle Pet Shower
The thing you didn't know you needed!
Found Instructables
Makeshift Squeegee
If you need a squeegee to clean with but don't have one handy, you can make one by sticking a pool noodle into a rake! Perfect!
Found Pinterest
Door Protector
Keep your door from getting slammed shut by wrapping a pool noodle around the side!
Found Pinterest
You May Also Enjoy…
30 Creative Upcycle Ideas for Old Keys
30 Phenomenal Wine Bottle Upcycle Projects
31 Fabulous and Interesting Wine Cork Crafts
40 DIY Hand Painted Wine Glasses
20 Bright Ideas DIY Wine & Beer Bottle Chandeliers
30 Fabulous DIY Active Wear Projects
37 Beauty Supplies You Can Make Yourself