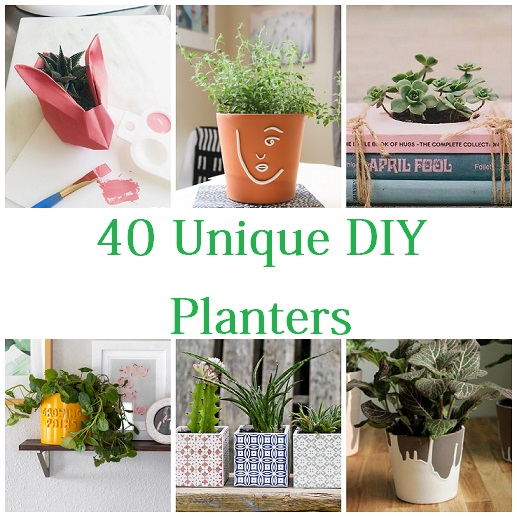 Hello DIYers and fellow houseplant lovers!
I think we can all agree that as lovely as houseplants are, planters are incredibly expensive! That's why we've come up with a list of 40 different DIY planters that you can make on a budget but still come out with some seriously impressive results! Some of these will start by using a cheap pot that you can spruce up and some are made from scratch. Whatever your DIY skill level, we're sure that there is something here for you and your home!
Many of these DIY planters make great gifts for any houseplant lover or can be created and sold as stand alone products or with your propagated plants. The opportunities are endless!
...
Have fun and happy DIYing!
3D Planter
This bold planter can be customized any way that you like! Add an interest piece to any room by sticking your favorite houseplant into this 3D planter!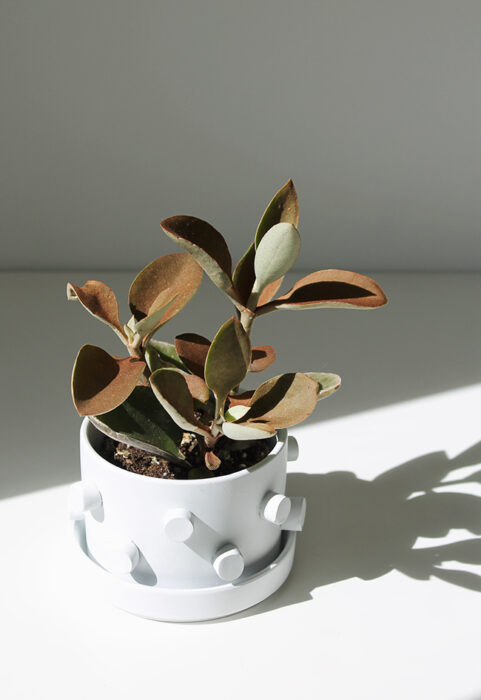 Found Almost Makes Perfect
Hanging Satchel Wall Pots
These hanging wall pots are perfect for creating an artistic houseplant look to a wall in your home! Cheap and simple to make with a massive visual appeal!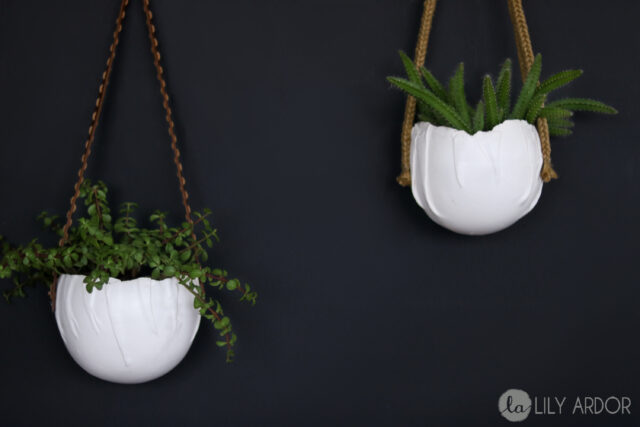 Found Lily Ardor
Wooden and Copper Standing Planter
If you love the trend of mixing wood and metal, this standing planter might be for you! This tutorial gives great details to make it easy to recreate at home!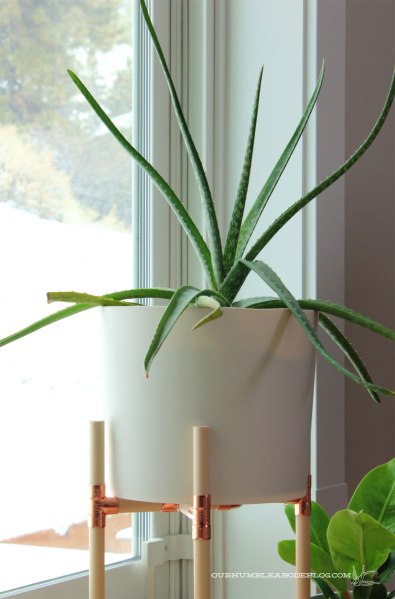 Found Our Humble Abode Blog
Geometric Concrete Planter
This adorable, geometric planter hits the trends in multiple ways! Whether they are for your own plants, to sell, or gift, these are bound to be a showstopper!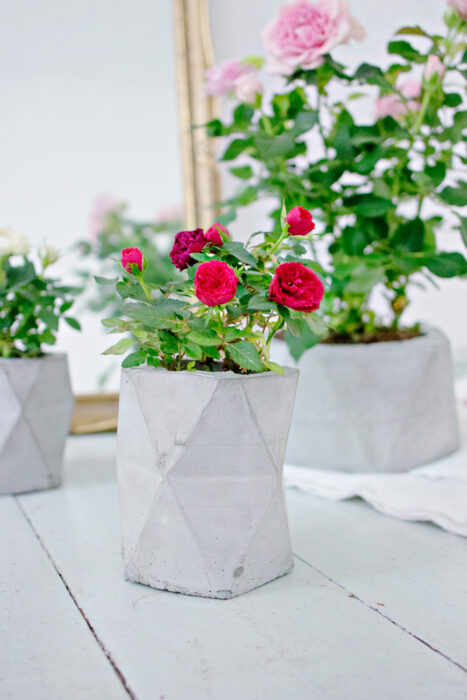 Found Lana Red Studio
Book Planters
Nothing is cozier in the home than these adorable book planters for succulents! Add some fairy lights for a little extra ambiance!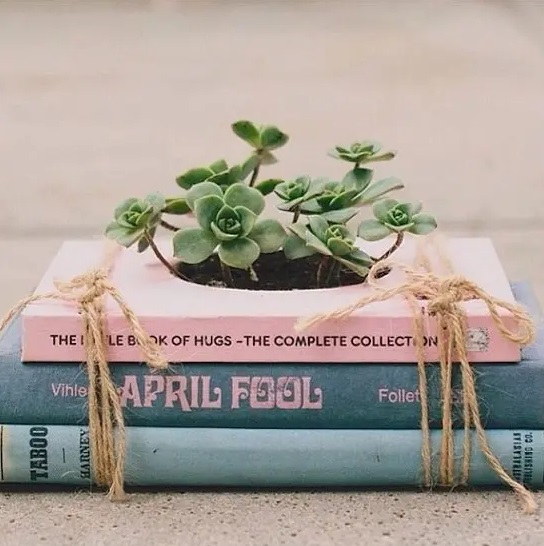 Found Balcony Garden Web
Milk Carton Planter
The possibilities are endless with this awesome and easy upcycle DIY planter! Choose whatever pattern goes with your home and enjoy this small, cost effective planter!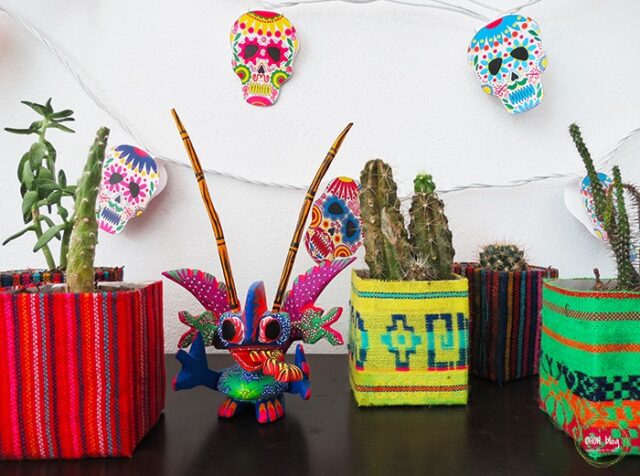 Found Oh Oh Deco
Cork Wrapped Succulent Planter
Turn a basic glass jar into this adorable cork succulent planter!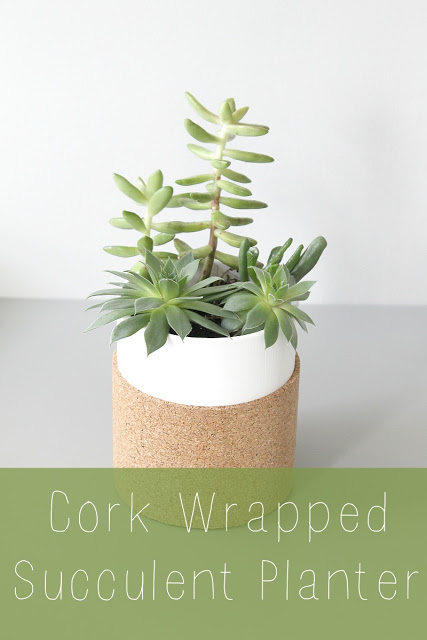 Found The Inspired Hive
Mason Jar Hanging Indoor Herb Garden
This hanging mason jar herb garden DIY tutorial is not only beautiful, it also takes account for the drainage necessary for yielding the best possible herbs. Pick your favorite herbs and have them fresh year round!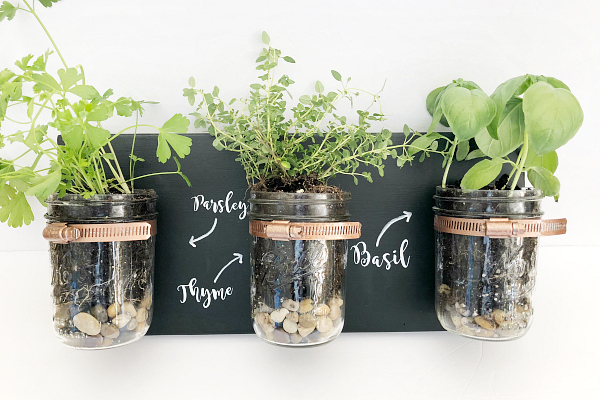 Found Lemons Lavender and Laundry
Sleek Oversized Planter Box
Feeling ambitious? These oversized planters add a sleek look to the home and can be made custom to fill up an empty wall in your home. Just make sure there is an appropriate amount of light for what you are planting!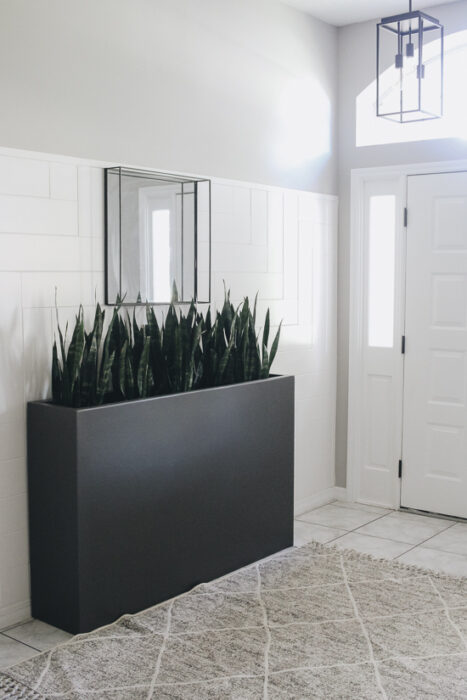 Found Within the Grove
Paint Dipped Ceramic Pots
With houseplants proudly on display, having a decorative planter is almost a must! Instead of spending a fortune on a pre-made decorative ceramic pot, you can spruce up a basic planter with just a little bit of paint!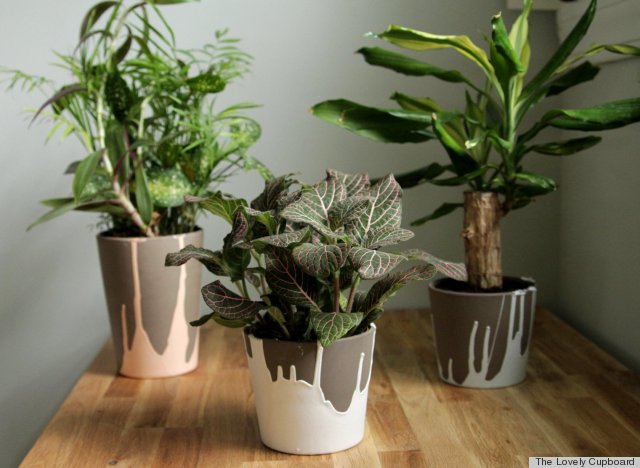 Found The Décor Fix
Tea Kettle Planters
Short on planters? Try using items you have around the house or have thrifted! How cute are these planters made out of vintage tea kettles?!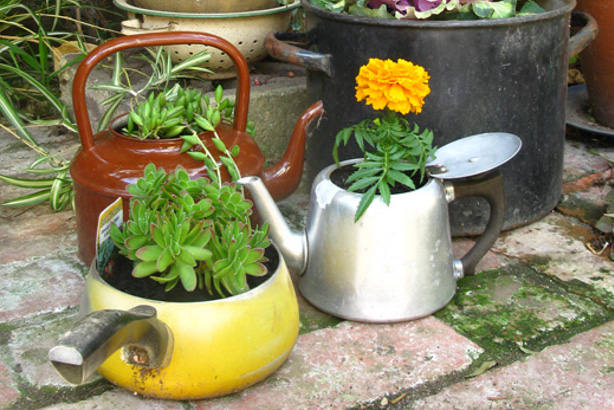 Found 1001 Gardens
Origami Bunny Planters
It doesn't get any cuter than these quirky origami planters! Perfect to keep on your desk or to add some greenery to a child's room!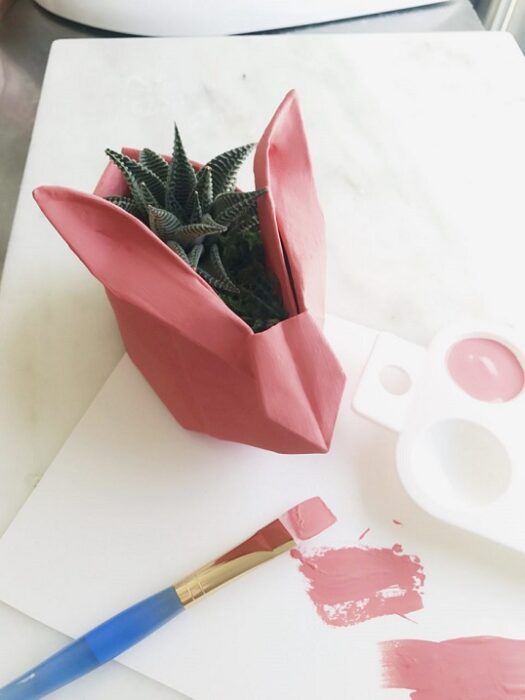 Found Twine and Table
Indoor Planter Box
Planter boxes aren't just for outdoors anymore! With the proper lighting, you can mount these sleek and stylish planter boxes indoors to keep fill your home with fresh, clean air!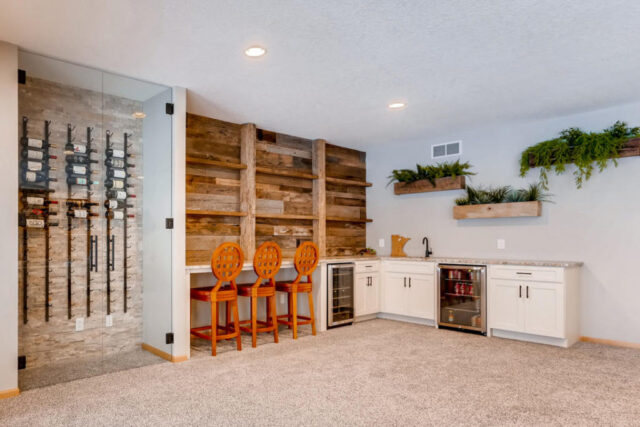 Found Construction 2 Style
Log Succulent Planter
This log succulent planter is the perfect addition to a rustic home!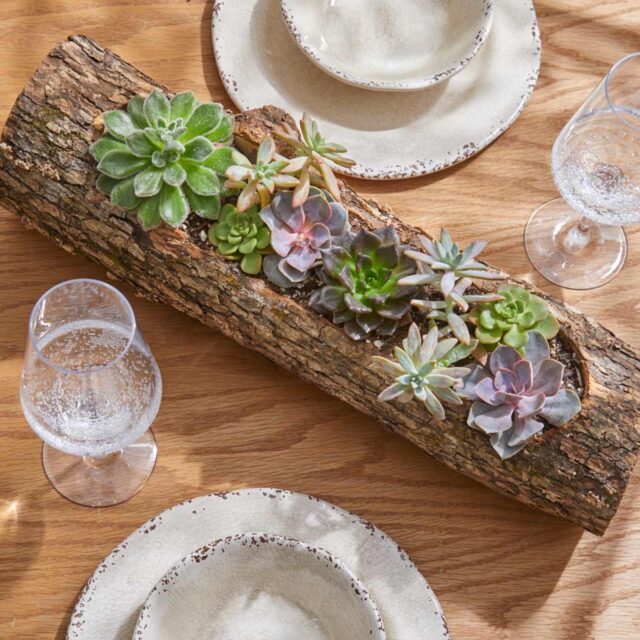 Found Family Handyman
Gold Leaf Planter
You can upcycle an ordinary ice bucket into this stylish gold leaf planter! Your friends will be stunned to find out that you made this yourself!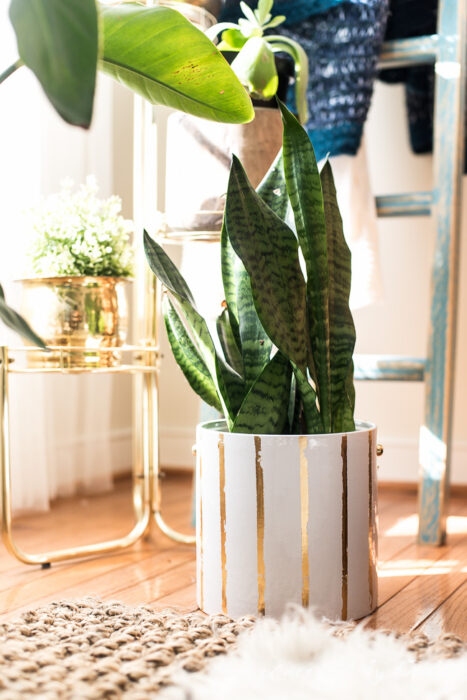 Found Place of My Taste
Terracotta Clay Hanging Planters
If you like working with clay, why not try making one of these beautiful terracotta clay hanging planters?!
Found Fall for DIY
Mid-Century Planter
If you love retro, you'll love this mid-century inspired planter! The contrast of this planter's texture against the sleek, leaves is a sure stunner in any room of the house!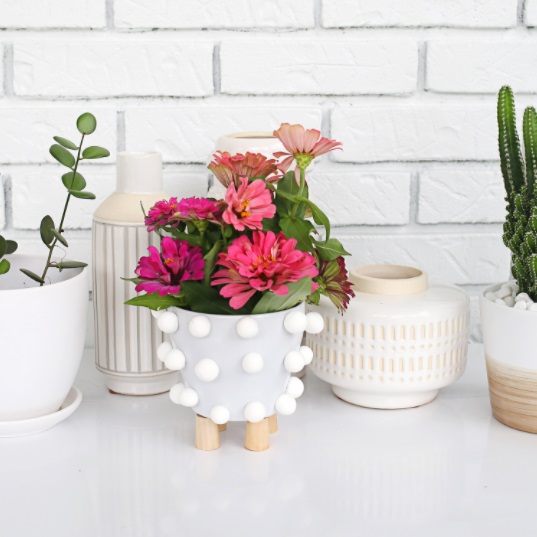 Found A Beautiful Mess
Beautiful Boho Moroccan Planter
Ceramic plants with designs cost a fortune at the store! This DIY will allow you to create a beautiful Moroccan planter on a budget!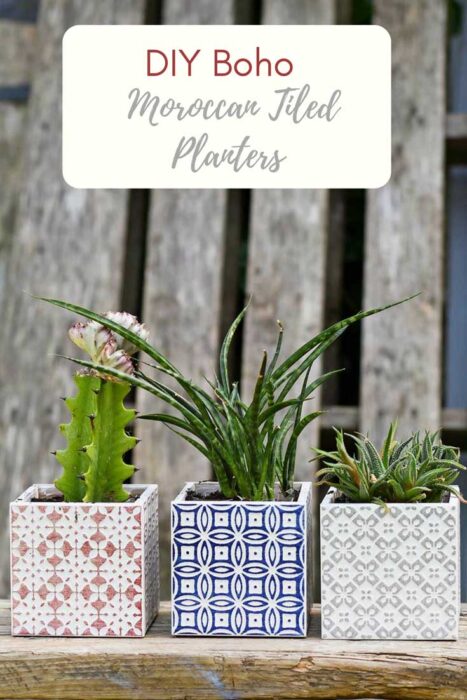 Found Pillar Box Blue
Leather Hanging Planter
It's easy to add subtle style in your home with the way you choose to display your plants and this leather hanging planter is proof!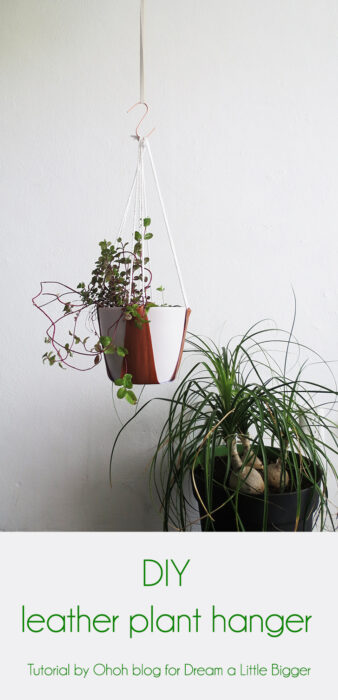 Found Oh Oh Deco
Skull Planter
Whether it's Halloween or you just enjoy a spooky aesthetic, this skull planter is a simple DIY and a great place to store your favorite succulent!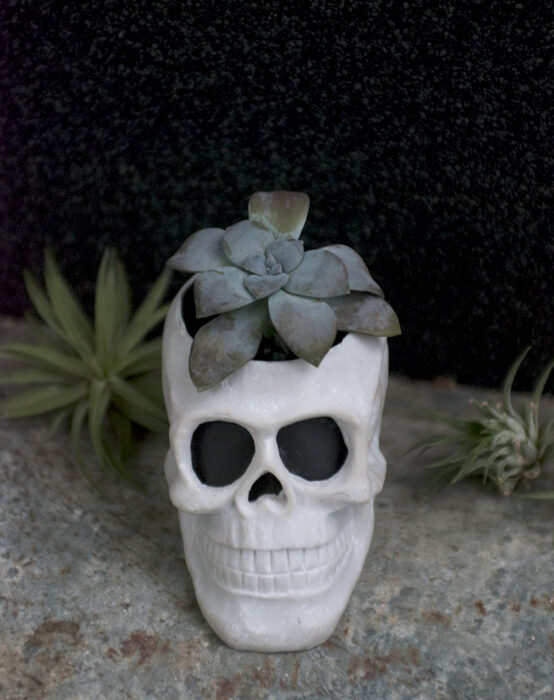 Found The Merry Thought
Test Tube Propagation Station
Whether you are growing new plants for your own garden or because you are going to sell, this test tube propagation station gives you a stunning visual display while nature goes about it's business!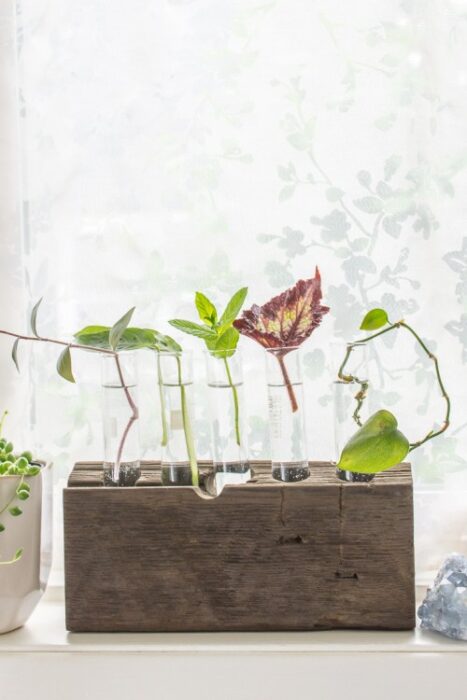 Found DIY in PDX
Oxidized Copper Planters
This is a fun DIY project that yields beautiful results… give it a try!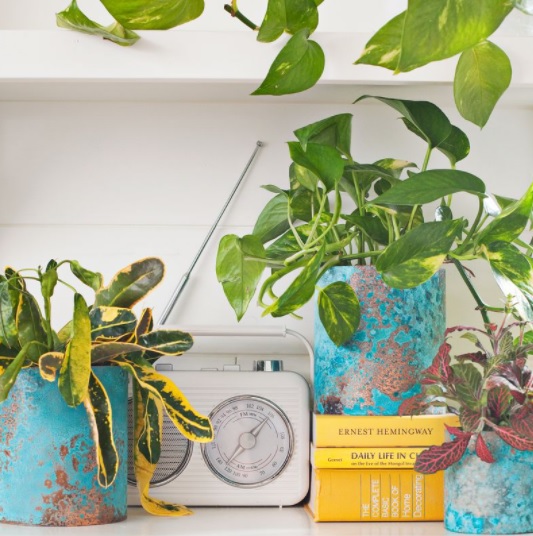 Found A Beautiful Mess
Moss Covered Pots
This DIY is not only beautiful, it's a fun way to grow an ecosystem!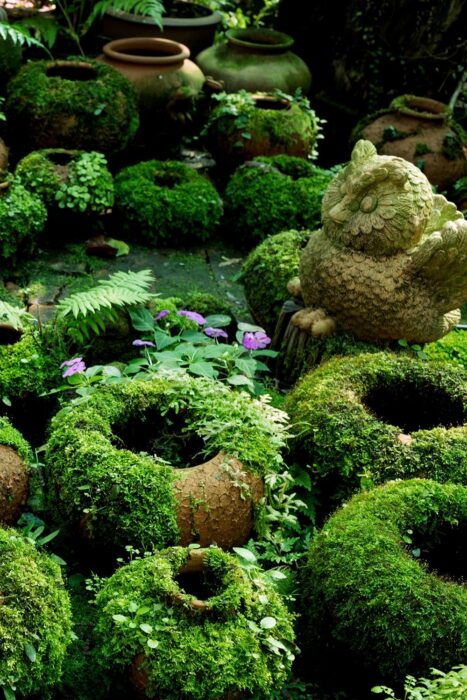 Found Spa Goddess
3D Letters Planter
This unique and customizable DIY is perfect in any room and makes a great gift!
Found Club Crafted
Concrete Pot and Wooden Stand DIY Planter
This is a slightly more advanced DIY that gives really great step-by-step instructions on how to work with these two materials. If you're a beginner who is looking to advance a bit, definitely check it out!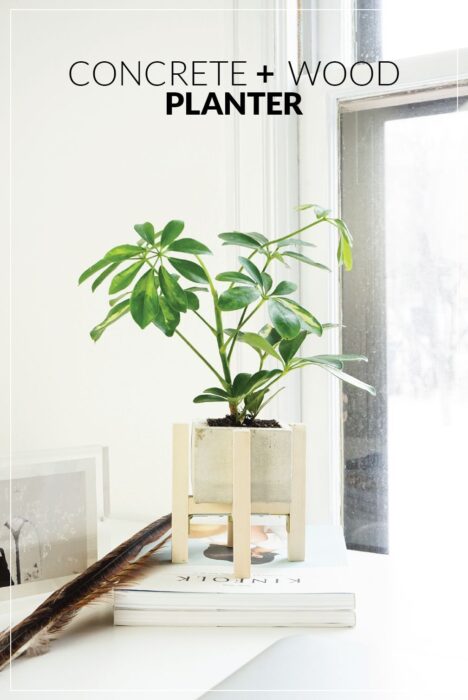 Found Homedit
Mud Cloth Inspired Planter
Experience the zen of drawing your own one-of-a-kind mud cloth inspired planter designs. Customize it to your style!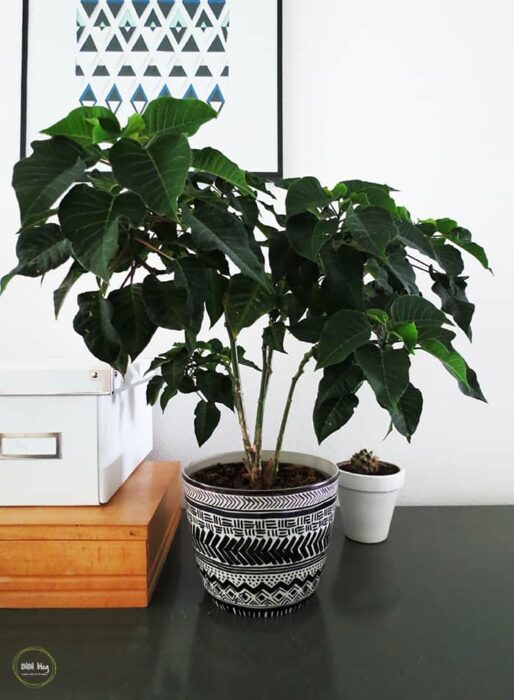 Found Oh Oh Deco
Vertical Ladder Garden
You can have an indoor garden, if if you're short on space! This tutorial makes it easy to re-create this awesome and stylish vertical ladder garden!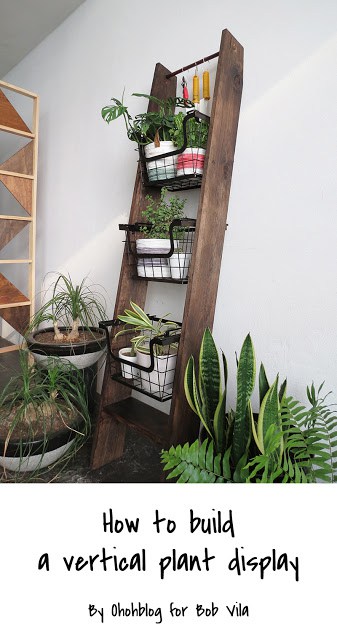 Found Bobvila
Abstract Art Planters
Each plant is a one-of-a-kind piece of art. Your planters should be too! Here is a great guide to making your own clay DIY abstract art planter!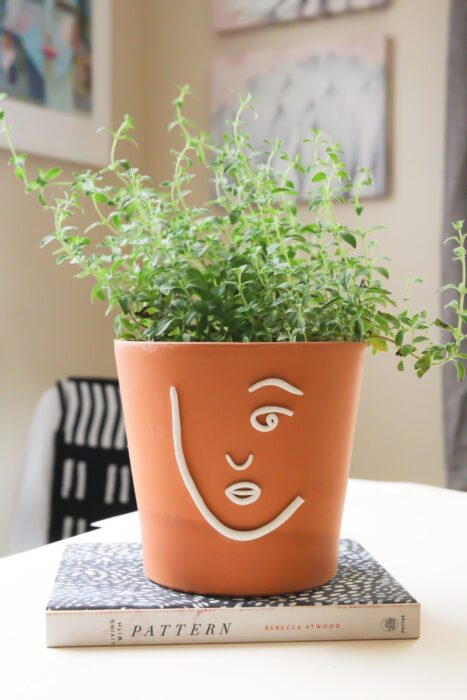 Found Bliss Makes
Color-Pop Ombre Planter
Looking for something to add some color to a room? Why not try sprucing up a plain planter with this awesome ombre paint DIY?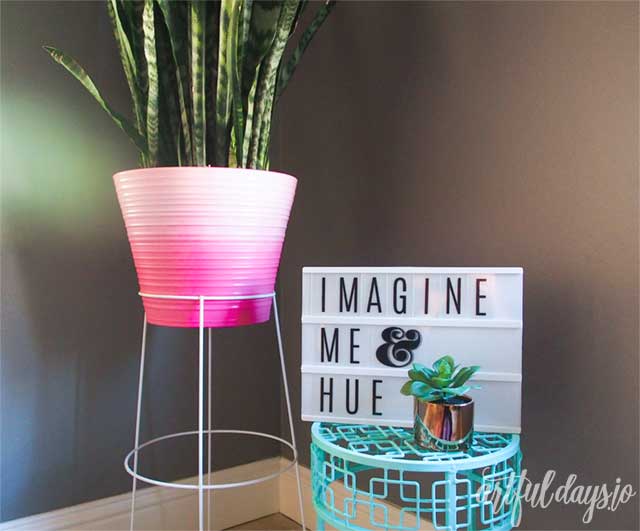 Found Artful Days
Scandinavian Minimalist Box Plant Stand
This simple, clean design is perfect for adding a delicate plant box into your home. Design it to a size that will work for you or fancy it up if you wish!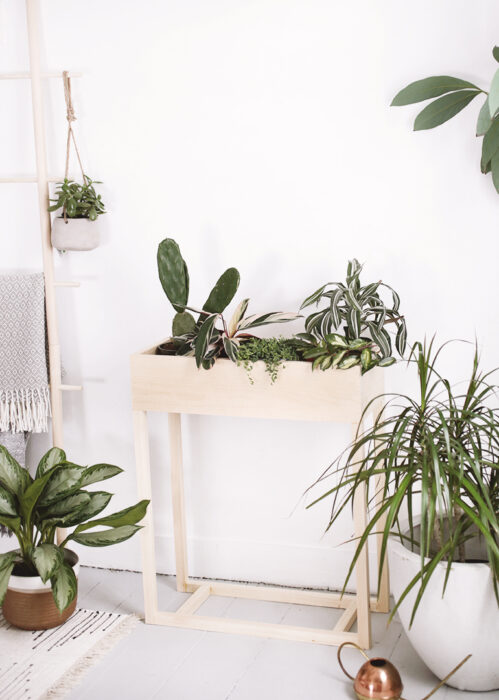 Found The Merry Thought
Braided Fabric Planter
You can make this expensive looking planted from cheap materials and an old T-shirt!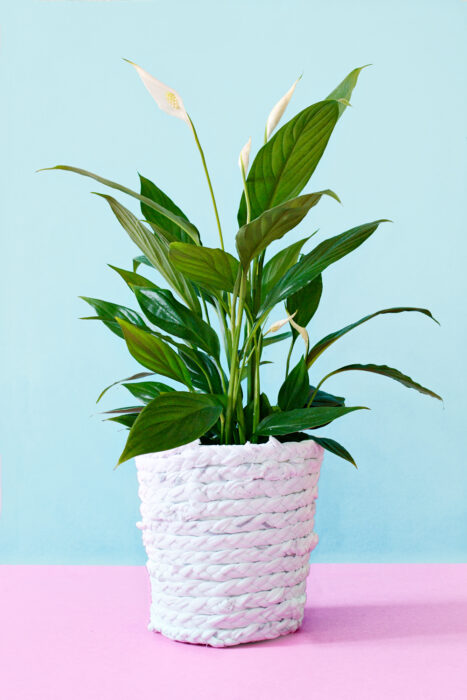 Found Lana Red Studio
Mini-Plant Drawers
This ridiculously cute DIY is such a fun addition to any home! Plus you can dress it up anyway that you like.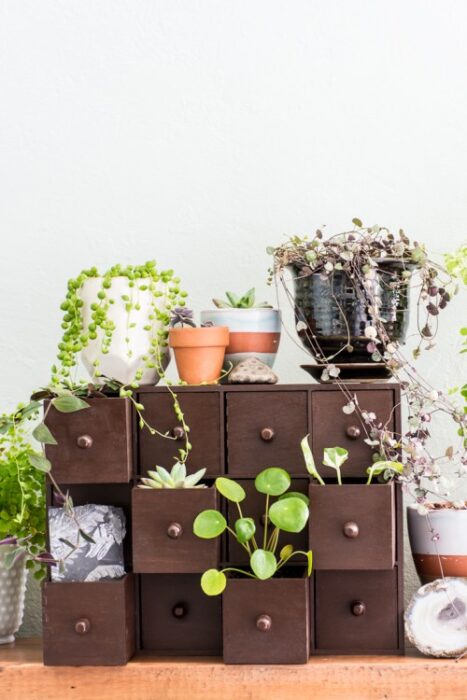 Found DIY in PDX
Small Upcycled Hanging Planters
Unsure of what to do with empty lotion or shampoo bottles? Check out this super cute and super easy upcycle DIY!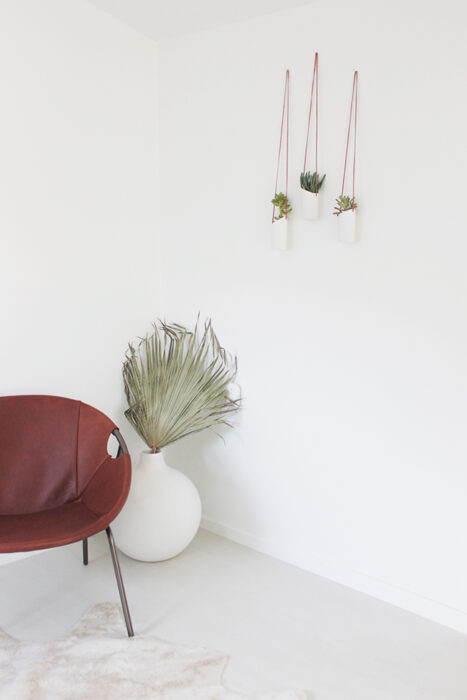 Found Almost Makes Perfect
Large Round Concrete Planter
Large planters especially can get PRICEY! This round concrete planter is easy and much more affordable!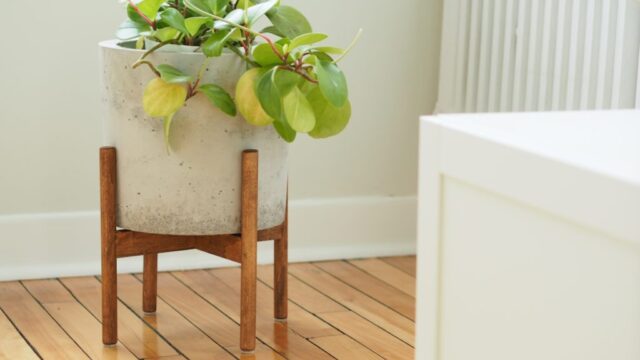 Found DIY Montreal
Lightbulb Air Plant Terrarium
Air plants are incredibly popular right now and there's a great reason for it! Not only are they like their very own piece of art, they are incredibly low maintenance. The only question is… how to display them? Check out this tutorial for a cheap and easy air plant terrarium!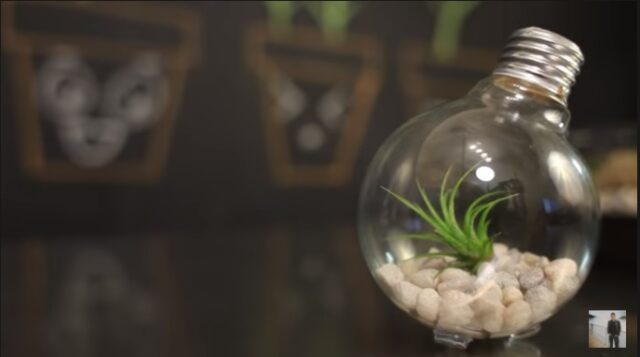 Found Get Crafty Crafty
Disco Ball Hanging bowl
Talk about a fantastic re-purpose! Who could not fall in love with a disco ball hanging planter?!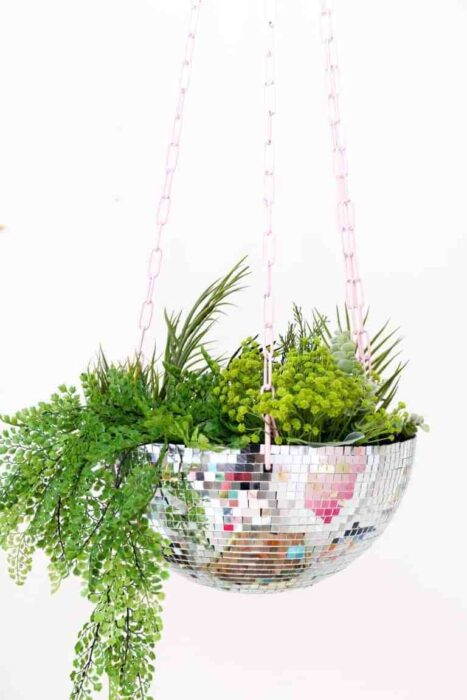 Found A Beautiful Mess
Mini Textured Succulent Planters
Here is a cute DIY that you can be proud to place your succulents in! Once you get the hang of them (and your house is full up on succulents), you might consider selling the planters alone or propagating your plants and selling them in the planters!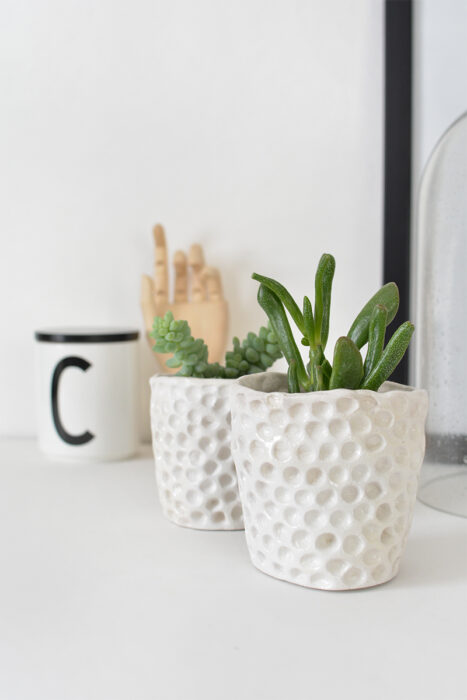 Found Burkatron
Corn Husk Planter
This is the epitome of unique! Add some great texture to your room with this corn husk planter DIY!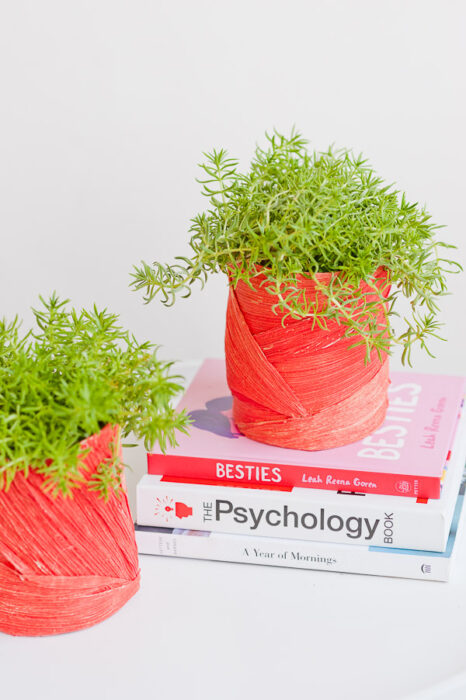 Found Paper & Stitch
Plastic Bucket Planter
You can turn nearly any plastic bucket into a seriously superb planter with just a simple modifications. Then you can customize it any way that you like!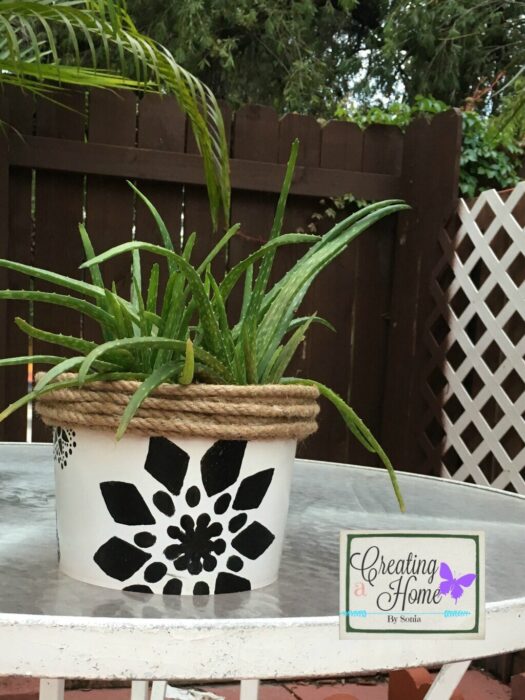 Found Creating a Home
Modern Concrete Planter
This modern planter is so unique and takes only a few minutes to create!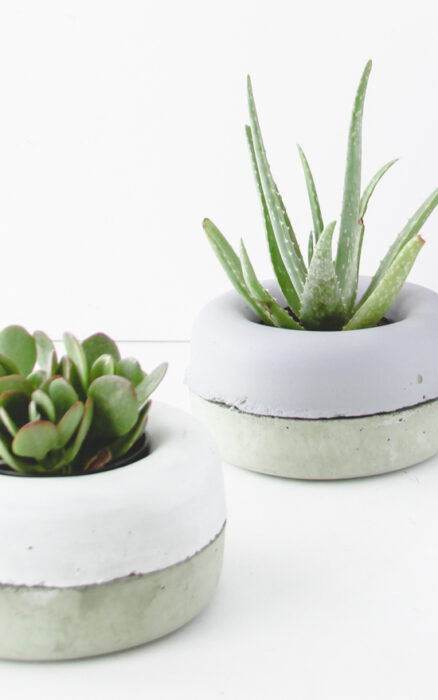 Found Paper & Stitch