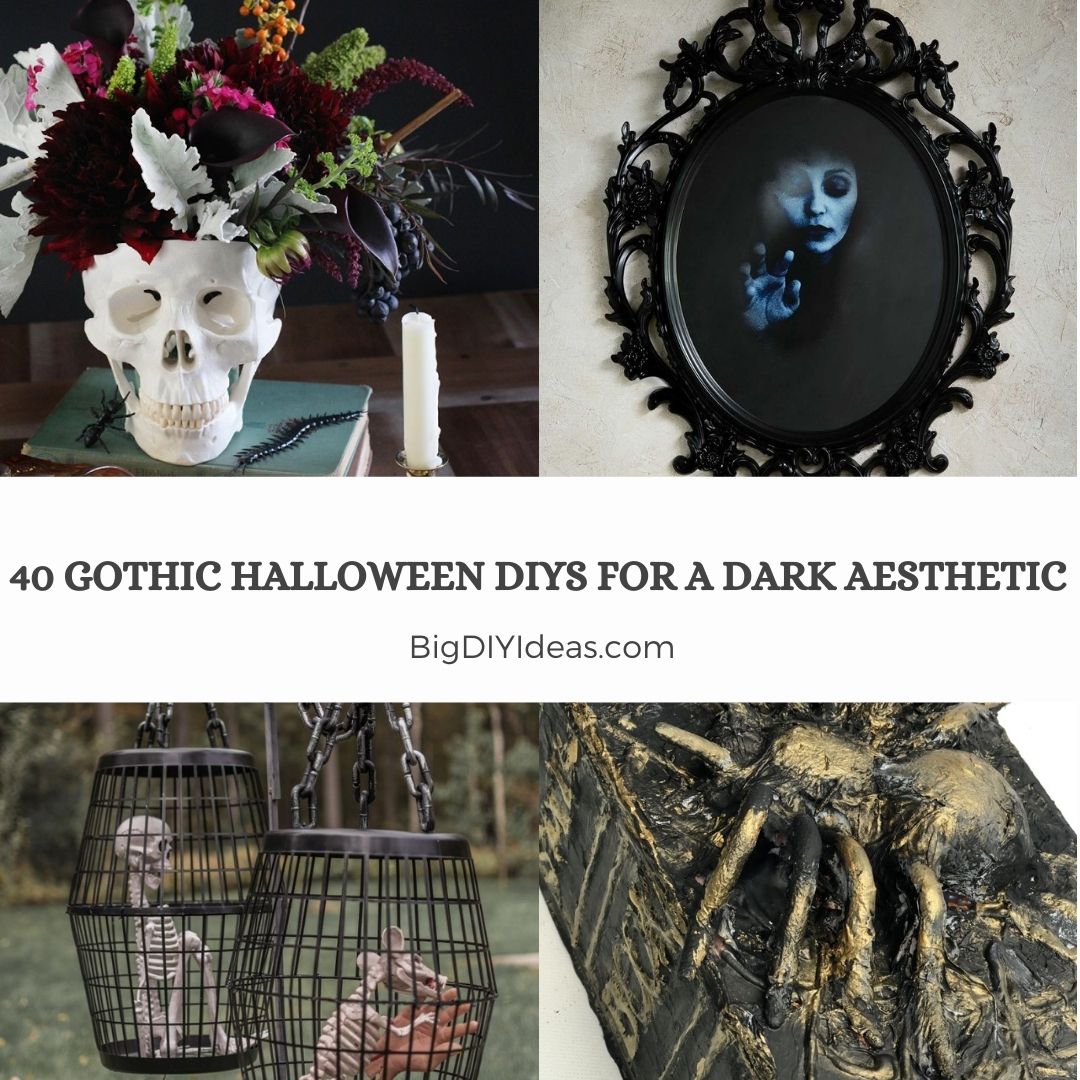 Hello and Happy Halloween, DIY-ers!
This year, we've compiled a list of Halloween DIYs that a full of spook and low on the cheese! These eerie, gothic Halloween DIY's are perfect to create a seriously haunting home for your holiday party or stand as proud décor all year long!
These projects range from beginner to advanced skill levels and are perfect for anyone who can appreciate a dark aesthetic! We're sure that you'll find something that suits your style, purpose, and skill level on our list of 40 Gothic Halloween DIYs!
Spell Book
Tongue of dog and eye of newt! What would Halloween be without a creepy spell-book?
...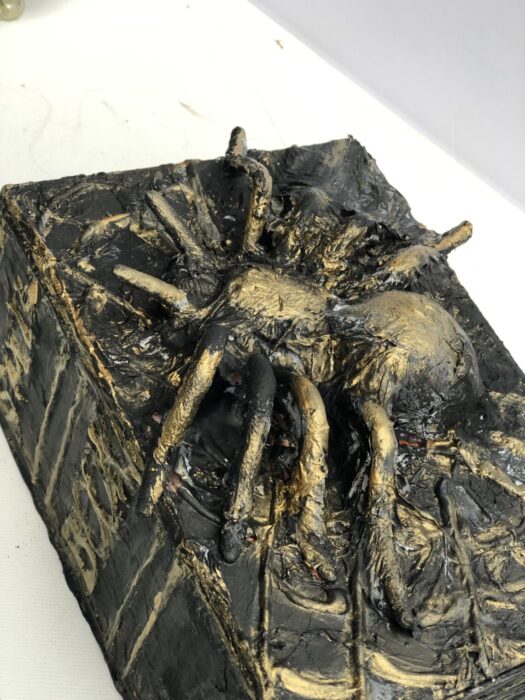 Found: Just That Perfect Piece
Spectral Mirror
Looking for some haunting artwork to spook up your walls? This spectral mirror DIY is perfect and the ghostly images are included with the instructions!
Found: Country Living
Faux Insect Taxidermy
If the thought of having real bugs on your walls gives you the heebie jeebies, give this faux taxidermy a shot!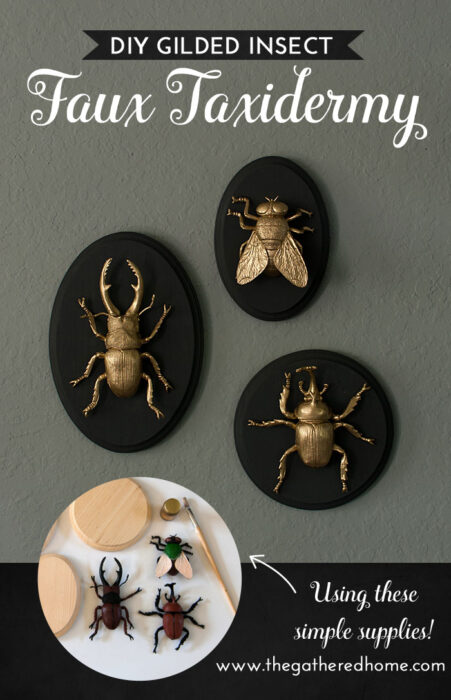 Found: The Gathered Home
Mice Infested Pumpkins
Get creative with your pumpkins this year!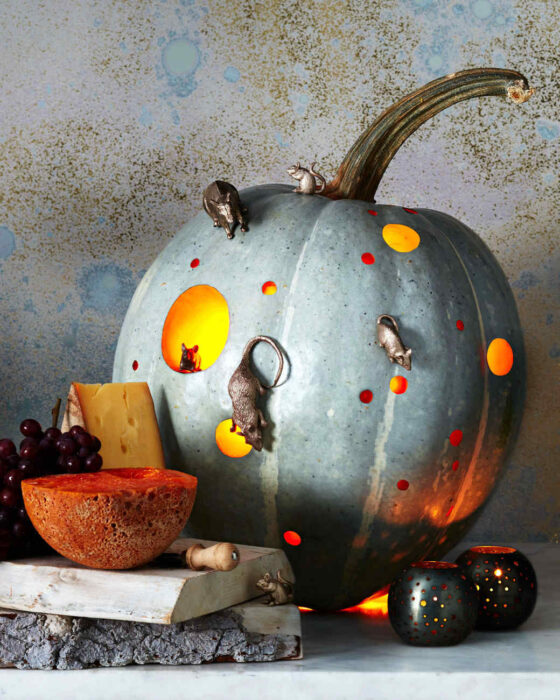 Found: Martha Stewart
Neo Noir Heirloom Pumpkin Display
This beautiful and evocative display is sure to impress this Halloween season!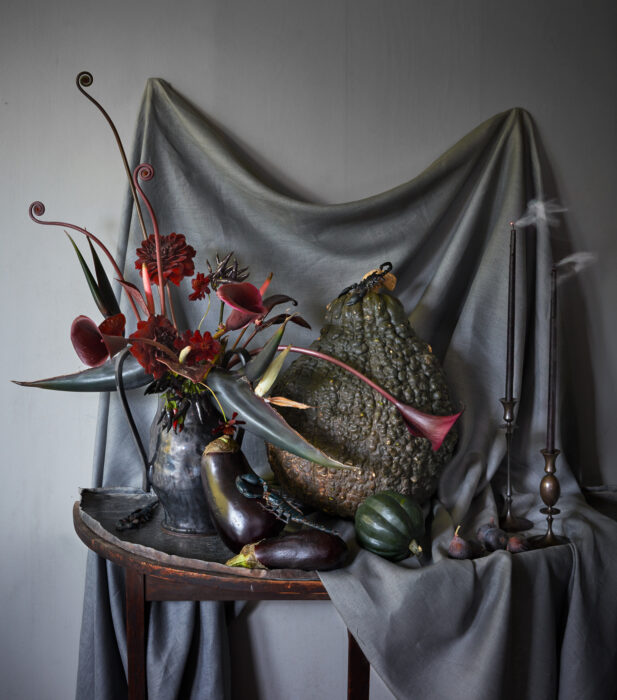 Found: Martha Stewart
DIY Crystal Balls
Gaze beyond the grave with these awesome DIY crystal balls on candle sticks! These would make a great centerpiece or addition to any arrangement.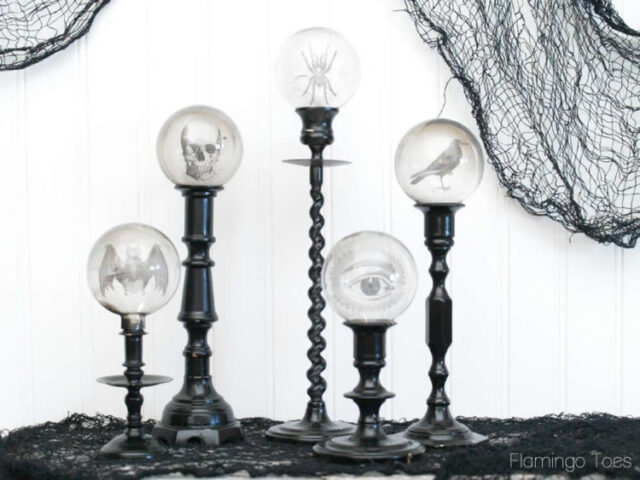 Found: Flamingo Toes
Murder Wreath
A meeting of the murder awaits trick-or-treaters this year if you should choose to make this awesome crow wreath!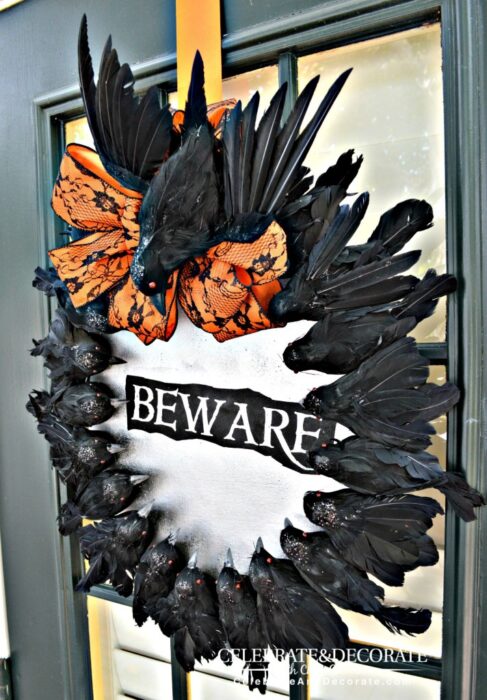 Found: Celebrate and Decorate
Graveyard Terrarium
If you love plants and Halloween, why not combine the two by making this awesome graveyard terrarium?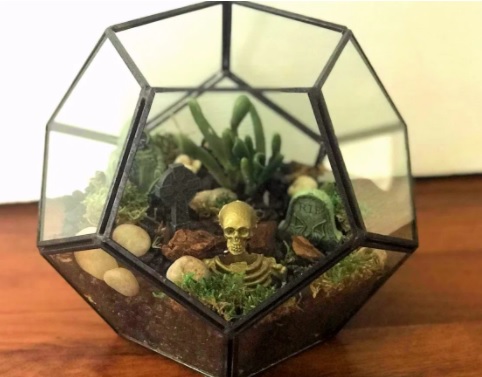 Found: PPM Apartments
SteamPunkins!
Adorable and punny steampunk pumpkins will be the talk of the neighborhood!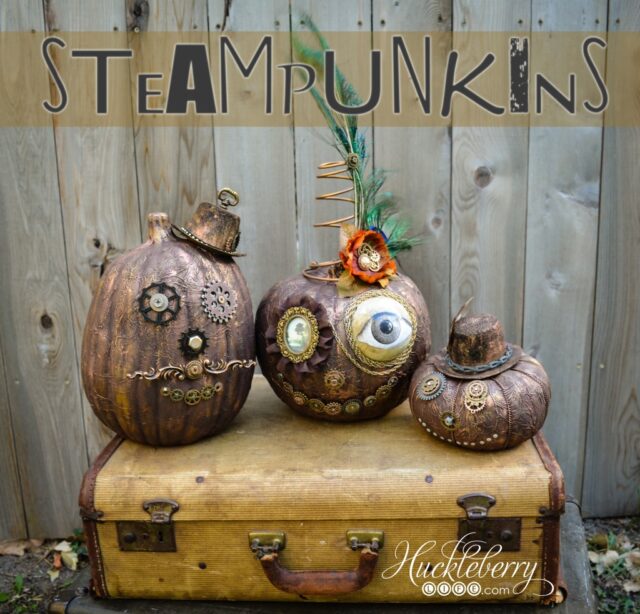 Found: Huckleberry Life
Skull Bookends
Bring your love of Halloween and books together with this wickedly awesome DIY!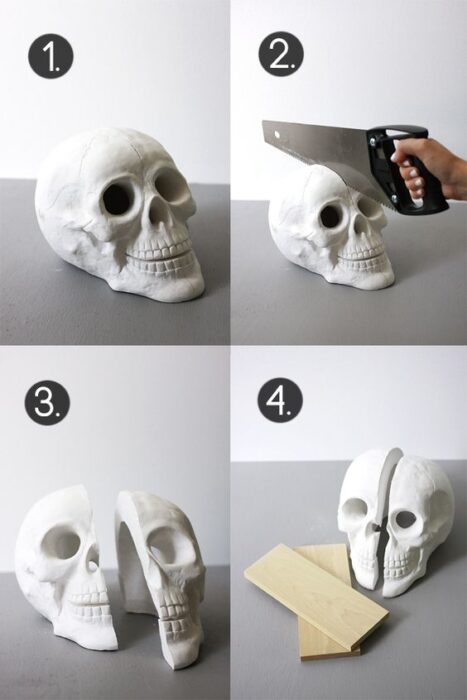 Found: GummerGal
Witches Broom
With or without the sparkle, this witches broom would make a great addition to any porch this Halloween!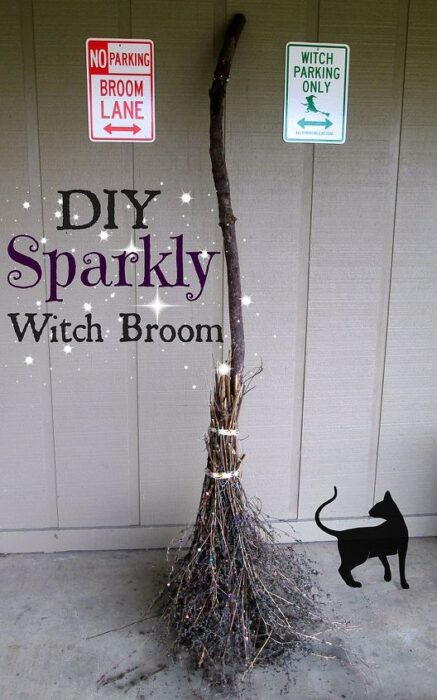 Found: HomeTalk
Spider Web Embroidery Hoop
Fast, easy, spooky! This is a great wall decoration that only takes about 15 minutes to make!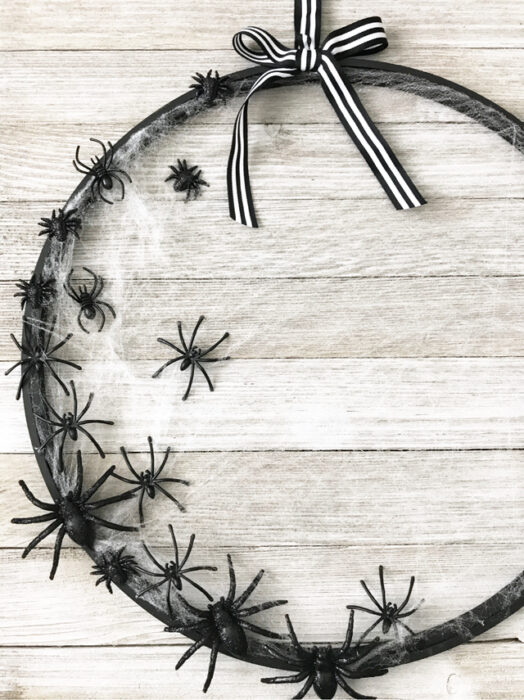 Found: My Sister's Suitcase
Pumpkin Patch Archway
Get the pumpkin patch up off the ground with this awesome and creative DIY!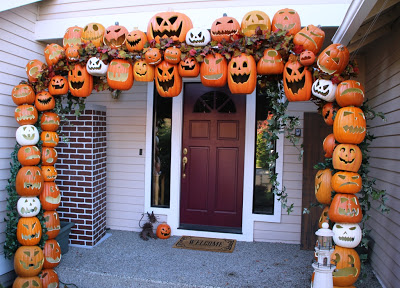 Found: Don Morin
Tall Gothic Candelabra
The perfect for any gothic or Halloween décor!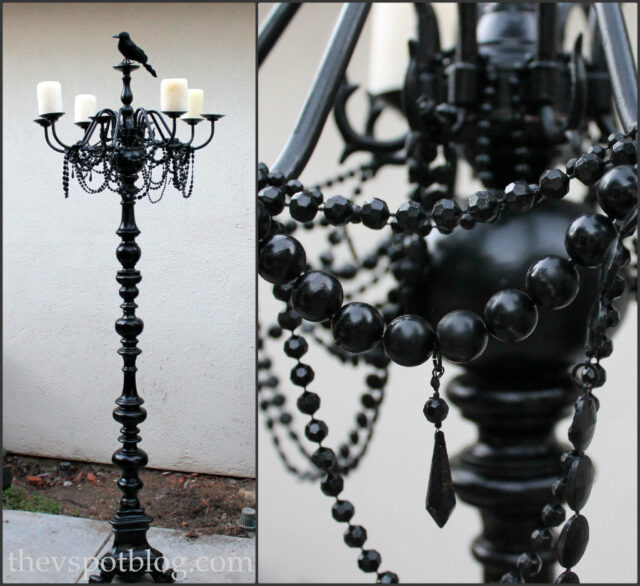 Found: The V Spot Blog
Apothecary Cabinet
Upcycle an old corner cabinet into an apothecary cabinet of curiosities!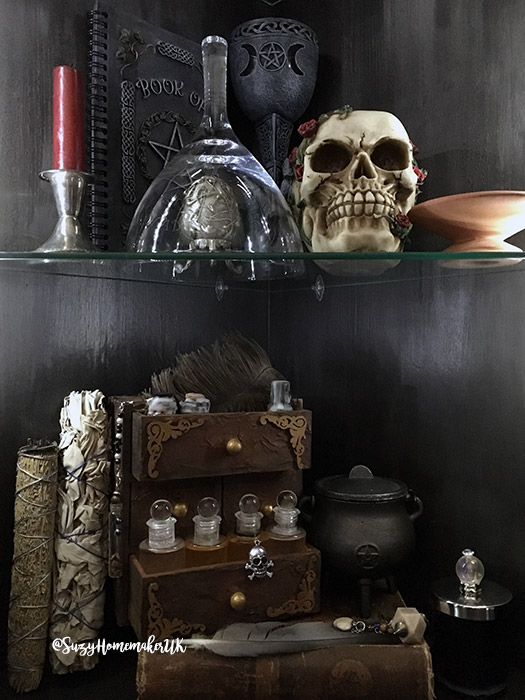 Found: The Witch at One and Seventy
Floral Skull Centerpiece
This gorgeous, gothic centerpiece will be the talk of the table!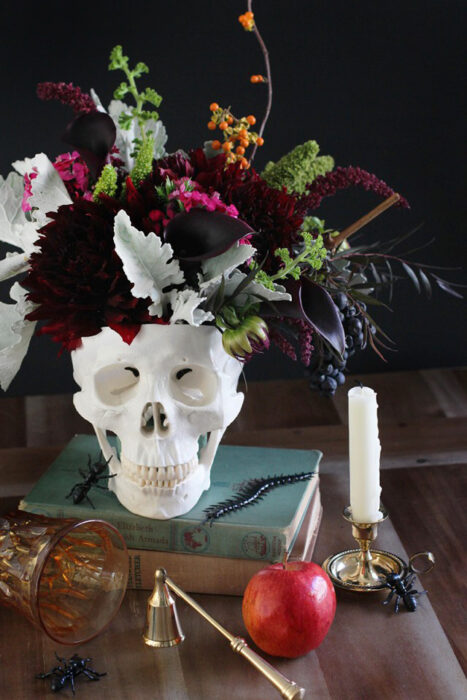 Found: Honestly Yum
Apothecary Jars
Turn your medicine cabinet into something seriously spooky!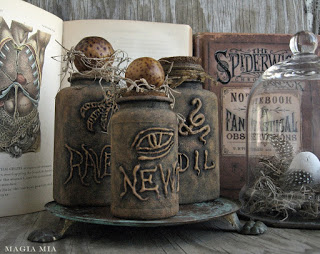 Found: Magia Mia
Faux Taxidermy Crow
Decorate your walls with faux taxidermy! No real birds required!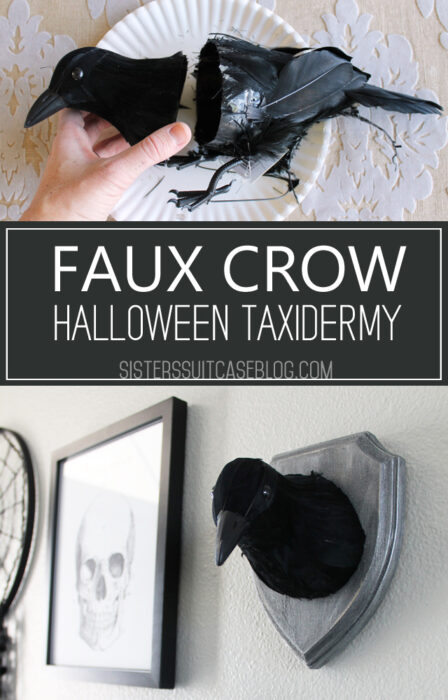 Found: Sisters Suitcase Blog
Small Caged Skeletons
Something spooky for the mantel!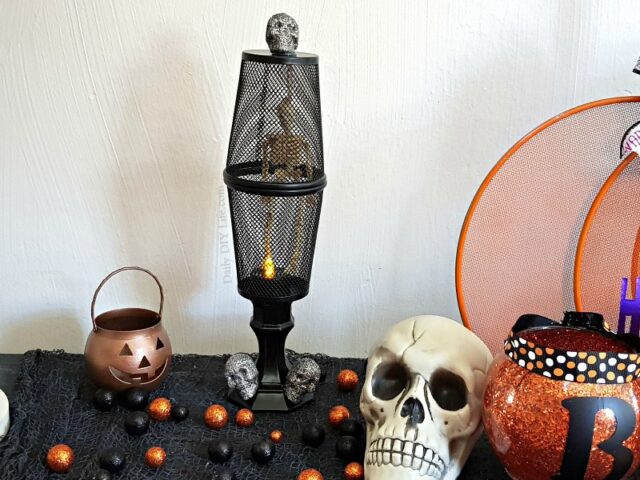 Elegant Gothic Jars
Beautiful lace on jars makes for an elegant and gothic piece of décor!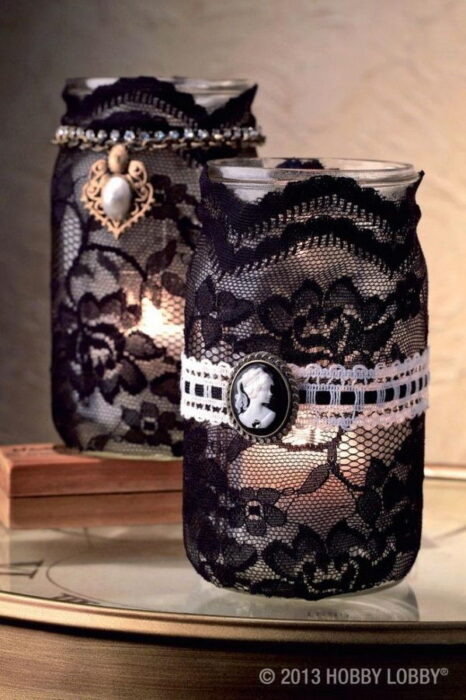 Source: Hobby Lobby
Pumpkin Diorama
Pumpkin Decorating just got a little bit more interesting! Why not try making a full on diorama?!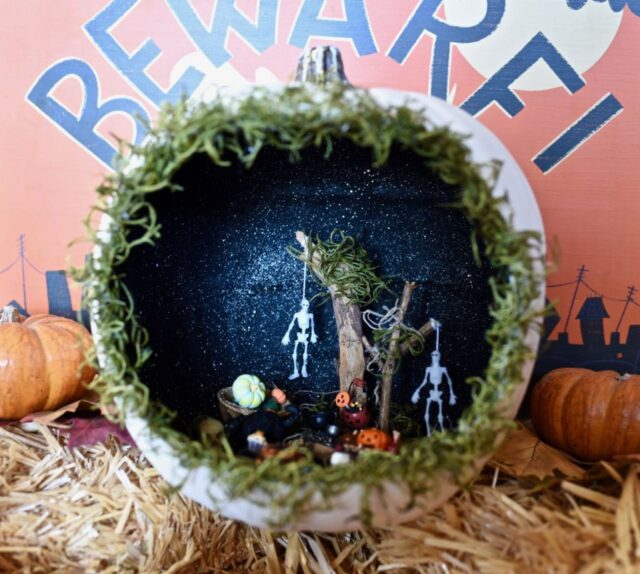 Found: Make Life Lovely
Tombstones
Super realistic tombstones to decorate your yard!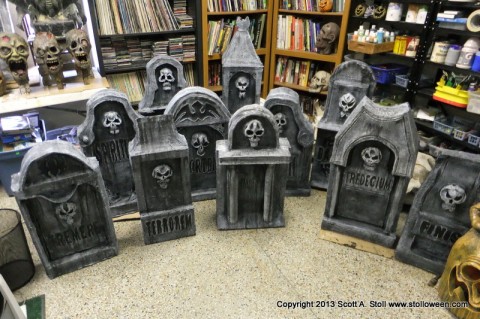 Found: Stolloween
Curiosity Cloches
Upcycling and curiosities all in one!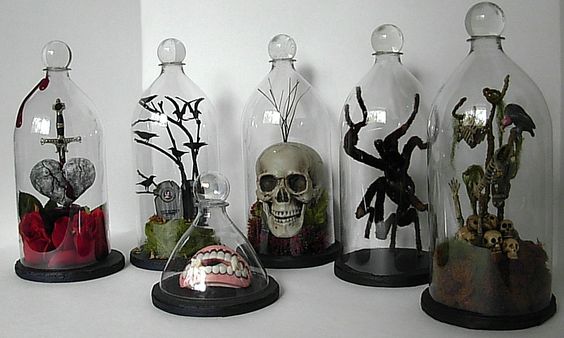 Found: Craft Your Happiness
Spiderweb Vase
For the Halloween or spider lover! This DIY Spiderweb vase costs only dollars!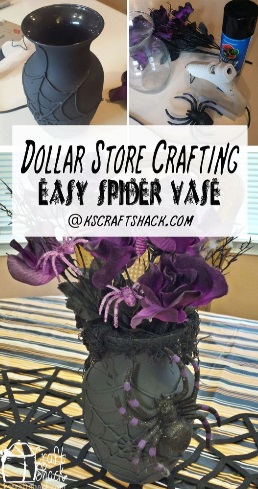 Found: Home Talk
Haunted Dollhouse
Repurpose an old dollhouse into this haunting, Halloween décor!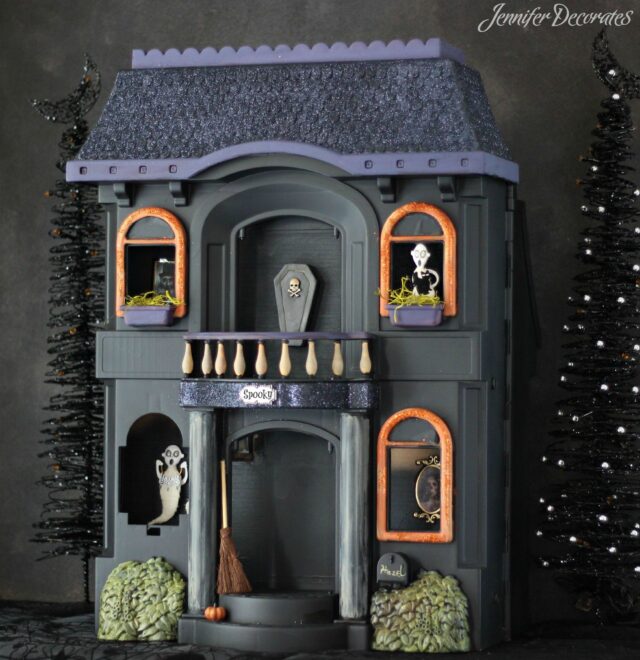 Found: Jennifer Decorates
Ghost Face Art
Want some seriously spooky new artwork for your house? Check out these amazing frames complete with ghost faces!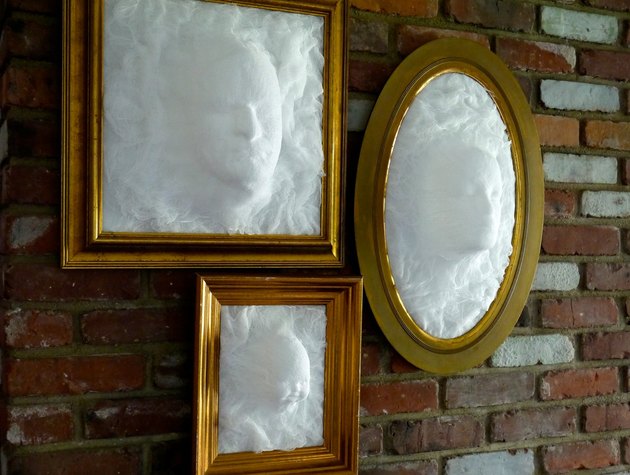 Found: Ehow
Hanging Cages
Problems with the neighbors? Show them you're not afraid to take prisoners!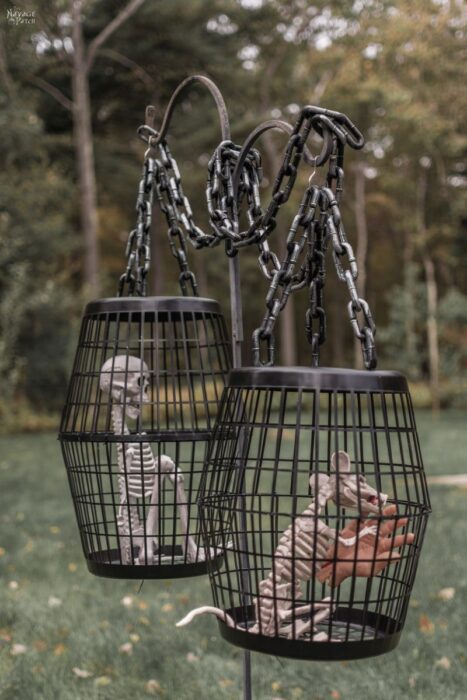 Found: The Navage Patch
Bloody Candles
This bloody candle display is impressive and surprisingly simple to make. Give it a shot!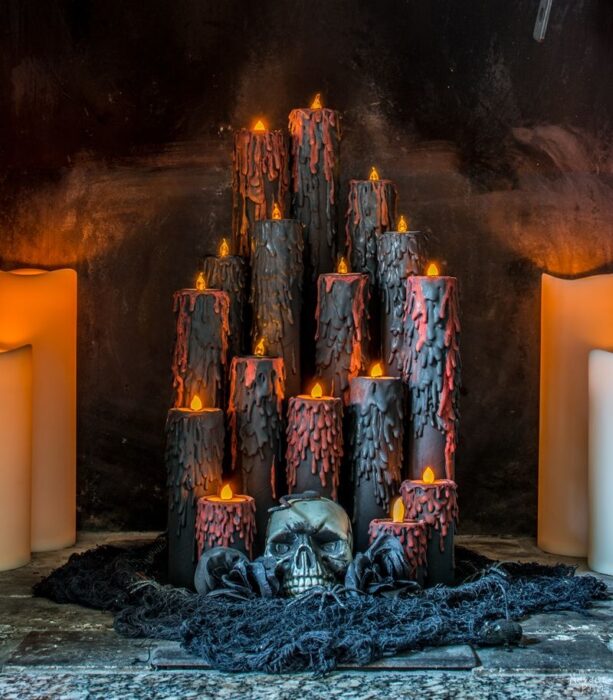 Found: The Navage Patch
Specimen Jars
These spooky specimen jars would look great on any bookshelf!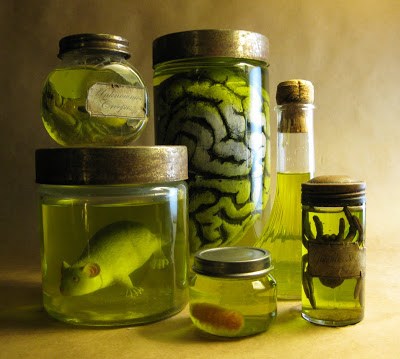 Found: Dave Lowe Design
Skeleton Entryway Pots
Remove shoes before entering… or else!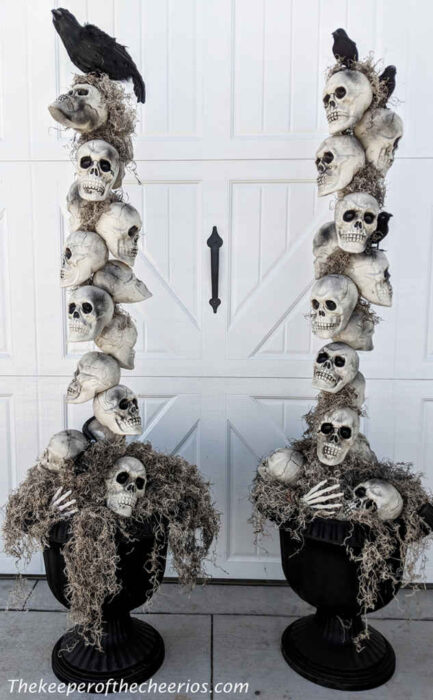 Found: The Keeper of the Cheerios
Halloween Window Silhouettes
Spook up your windows with these awesome, printable Halloween silhouettes!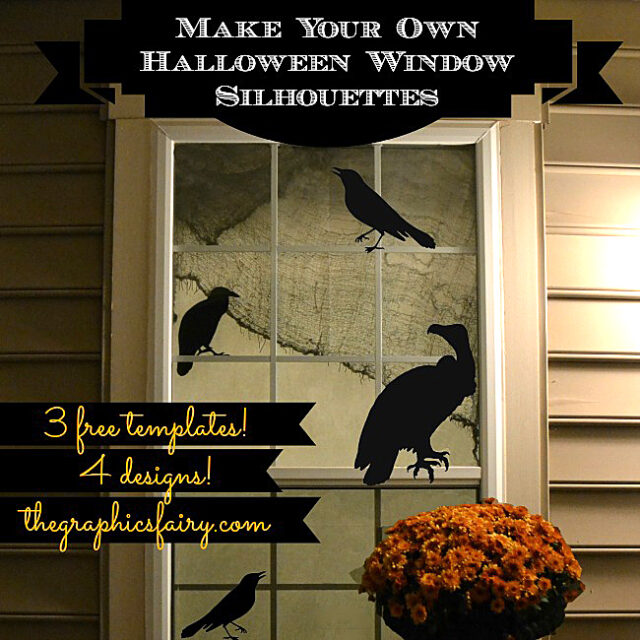 Found: The Graphics Fairy
Witch Lamps/ Swamp Lamps
Creative and adorable witch or swamp lamps will have your home feeling like a magical cottage!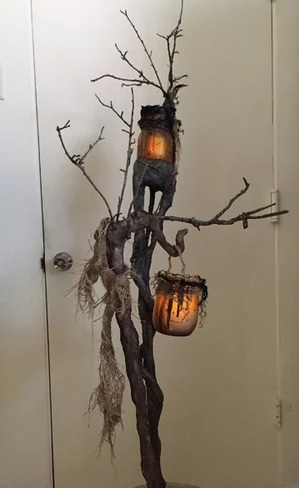 Found: Halloween Forum
Glam Skull Wreath
Perhaps dark and mysterious isn't your Halloween aesthetic. Give this glamorous skull wreath a try!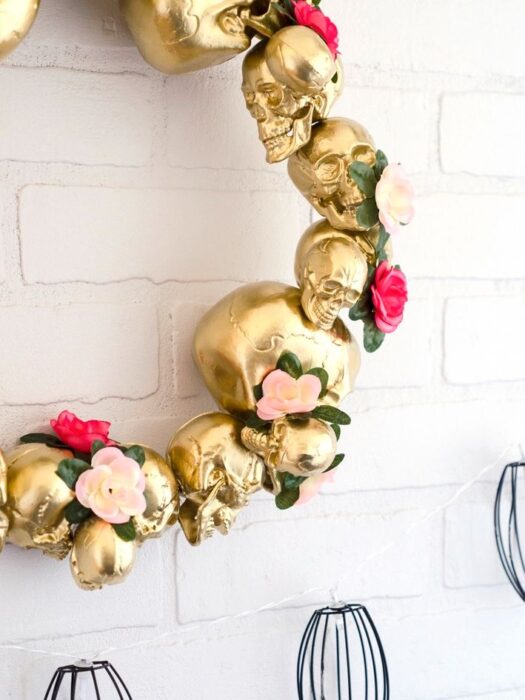 From: Curbly
Halloween Coasters
These spooky coasters will make a great addition to your home this Halloween!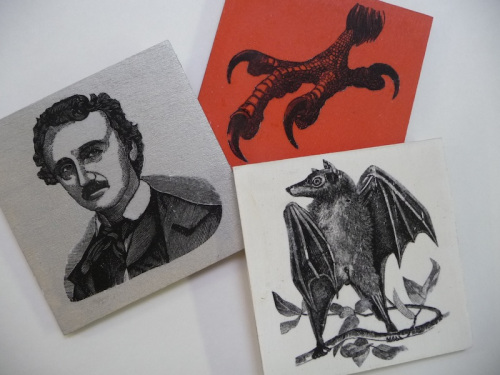 Found: Art Club Blog
Easy Made Shackles
Spook up your home with these budget friendly shackles!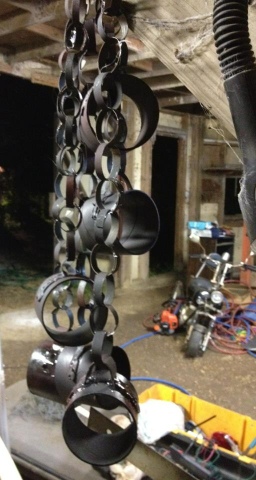 Source: Scary on QT Knee
Coffin Shelf
A fun place to store curiosities, crystals, or figurines!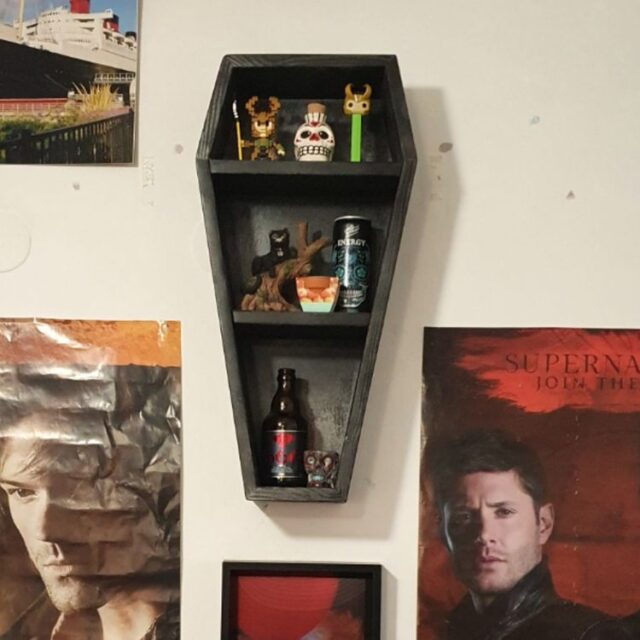 Source: BatBones
Galaxy Crystal Ball
This is an awesome simple and effective craft that makes an awesome addition for Halloween décor!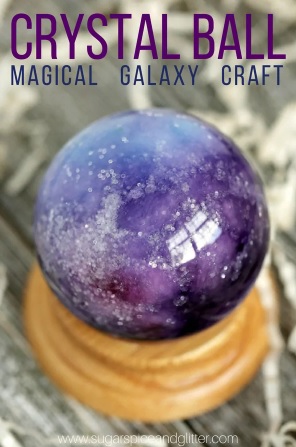 Found: Sugar Spice and Glitter
Haunted Skeleton Mirror
It takes a special home to make room for this super spooky mirror! Could it be yours?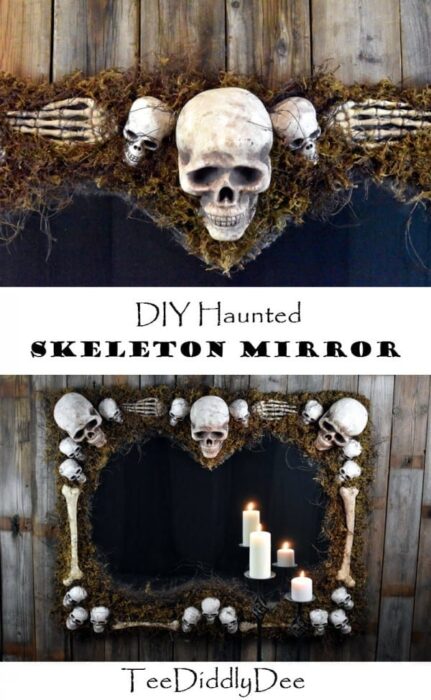 Found: TeeDiddlyDee
Faux Burning Embers
A fantastic addition to any corpse display!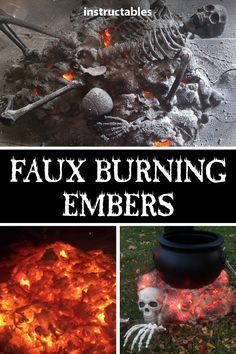 Found: Instructables
Black Crow Halloween Wreath
Set the stage for your home with this beautiful and spooky Crow Wreath!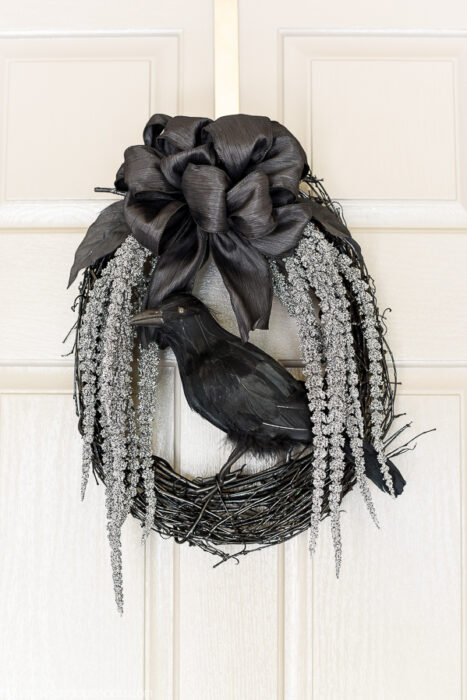 Found: A Pumpkin and a Princess