Hello, DIYers!
There's something so magical about trailing plants! Many plants, including popular(and low maintenance) pothos and philodendrons grow long vines with leaves that can travel up walls, cascade from their pots, and create stunning displays in and outside of your home. If you've got trailing plants and you're interested in making the most of their beauty, give these ideas a try!
Happy crafting!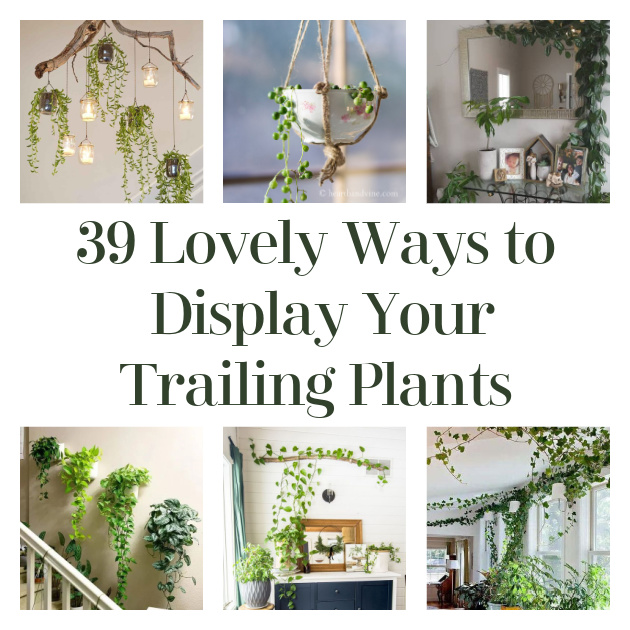 ...
Cascading Indoor Plant Chandelier
This is a beautiful way to display your plants over a dining table!

Found Homes to Love
Climbing Plant in a Basket with Circular Trellis
This earthy basket holding the planter while the circle trellis catches the vines is such a lovely idea!

Found Balcony Garden Web
On a Trellis
A trellis gives your crawling plants a place to climb!
Found Albert Parsons
Hanging Basket Decor
Use hanging baskets to display your trailing plants and let them drape from up above!
Found Dobbies
Clear Command Strips to Crawl on Walls
If you don't want to put holes in the wall, clear command strips are great for training your plants to crawl the walls! Just place them along the path you want them to take!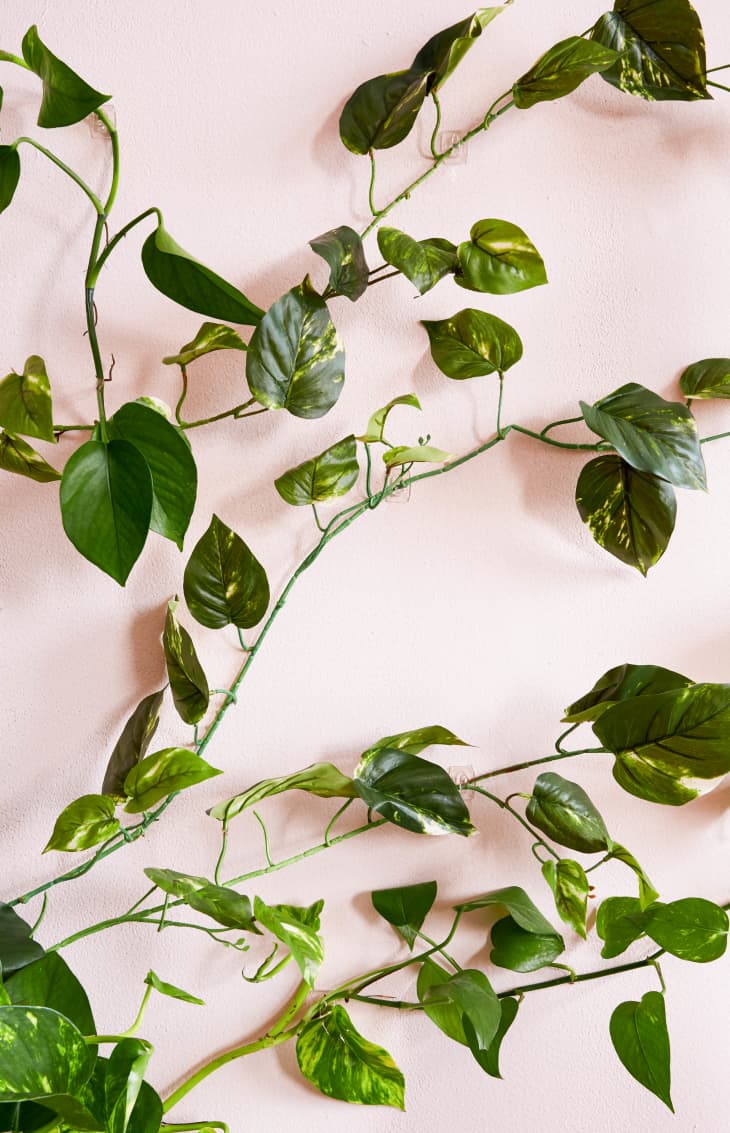 Found Rikki Snyder
Trailing on a Piece of Wood
You can use a piece of wood as an accent for your plants to vine over top of for an extra touch of nature in your home!
Found graceinmyspace.com
Trailing House Plant from Shelf
You don't have to hang your plants to have the cascading effect! You can keep your plants on a shelf and let them trail down!
Found Balcony Garden Web
How To Get Creeping Fig To Climb the Wall
Have a creeping fig? With a bit of patience you can get it to climb your wall outside!

Found Gardening Know How
Climbing Across the Ceiling
Plants below and plants above!
Found Balcony Garden Web
Pots by the Skylight
Nothing like prime placement to have your trailing plants pumping out new growth!
Found bhg
Flowing Over Entry Way
How charming is this?! It makes the entry way look magical!
Found Town and Country Living
Hanging Tea Cup
How cute is this?!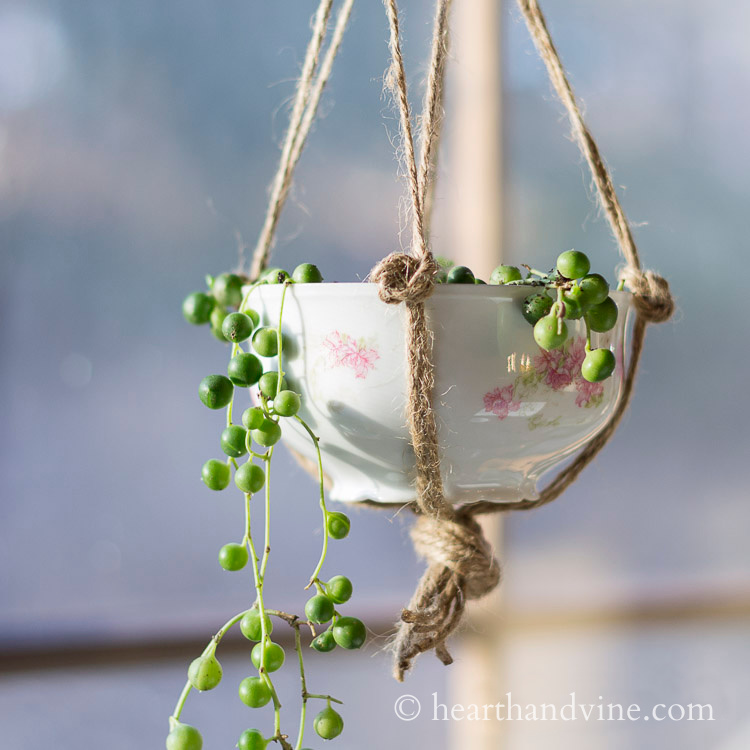 Found Hearth and Vine
Cascading Plant Shelf
This is lovely!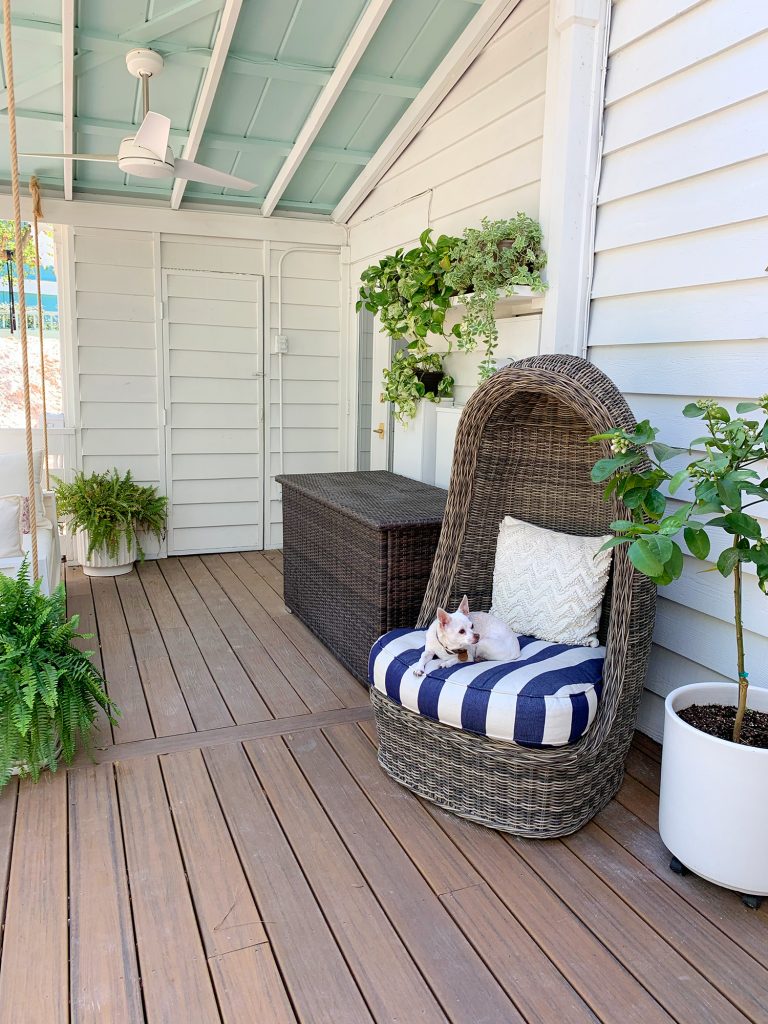 Found Young House Love
Training Vines to Climb a Fence
Have a foliage covered fence with these tips!
Found The Golden Hive
Trailing Tire Chandelier
Use a tire to display the beautiful, cascading leaves from your favorite trailing plant!
Found Green Plants
Framing a Mirror or Wall Art
Train your trailing plant to crawl up and around a mirror or other wall art!
Found Roxygurlwonder
Climbing from the Floor
Start your plants on the floor and let them climb all the way up to the ceiling!
Found alina.fassakhova
Hanging on Wall-Mounted Plywood Planter (That You Made Yourself!)
This hanging shelf planter is a DIY project that you can make and then place your plants with cascading growth!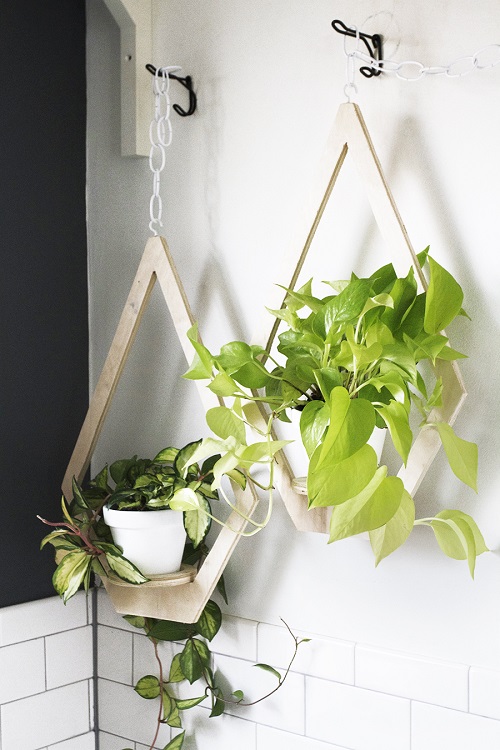 Found Duece Cities Hen House
Cascading Flower Box
Add something extra special to your outside flower boxes by having them burst over with cascading plants!
Found This Old House
On a Ladder
Train your plants to climb up a ladder!
Found Balcony Garden Web
Copper Pipe Plant Hanger
This is so cool! Give it a try!
Found Geeky Shenanagins
Trailing English Ivy
Lovely!
Found soiled.my.planties
Trailing Plants on Staircase Wall
So lovely! I like the idea of putting them in order by dark to light for an ombre effect!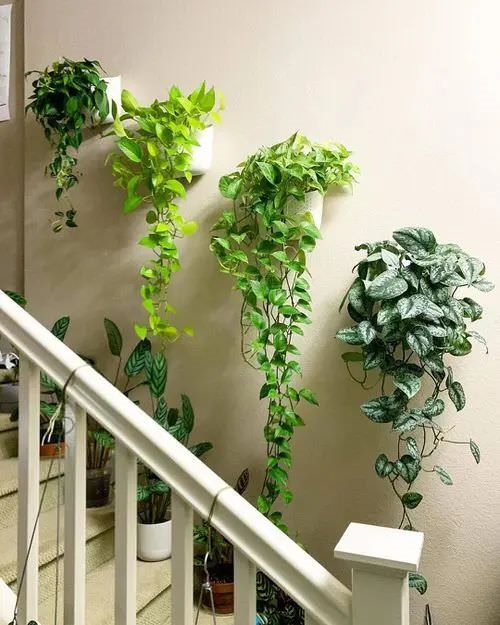 Found Hello Lidy
Wall Trellis
You can use a wall trellis to make your plants crawl all over the walls!
Found Pinterest
Tube Planters with Trailing Plants
PVC pipes are great to use as planters, especially on a uniform planter wall! Small trailing plants look especially great pouring over the top of them!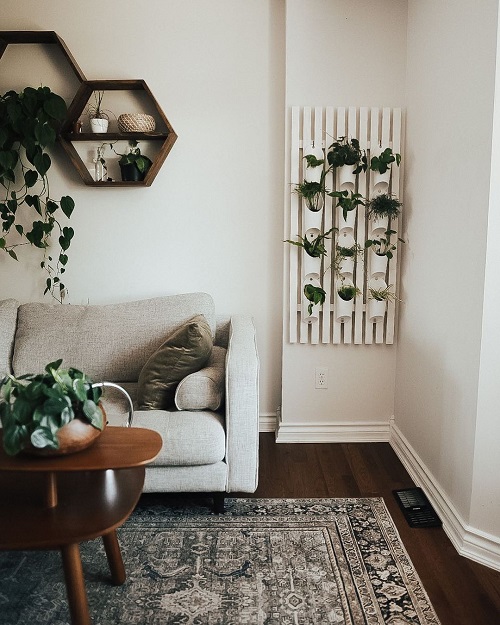 Found foreveronfront
Trailing from a Macrame
Hanging macrame is a great way to hang your plants, especially the ones that vine!
Found Balcony Garden Web
Wall Mounted Plants
As this plant grows, it will begin to travel down the wall or it can be trained to scale the wall!
Found A Beautiful Mess
Attach Plants to Vertical Stakes
Thin vertical stakes are perfect for your smaller climbing plants, especially those with large leaves, like a monstera plant!
Found Balcony Garden Web
Spilling Coffee Mugs
How cute is this?!
Found Balcony Web Garden
Plants in Shower
Invite plants to take a shower with you! They LOVE the humidity!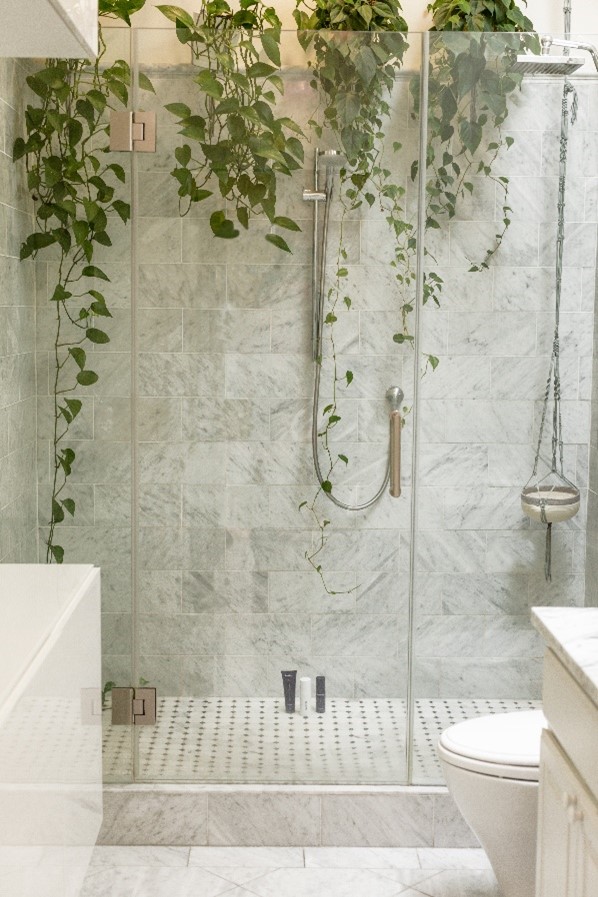 Found Curology on Unsplash
Terracotta Potted Indoor Plant Wall
This tipped Terracotta Pot wall is so cute! I love how the plants begin to spill out of them!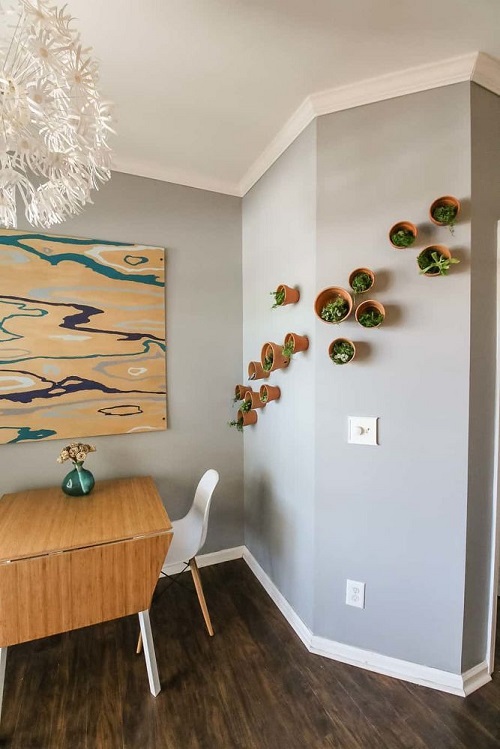 Found Charleston Crafted
Out of Water
Plants like a pothos can grow roots and thrive in the water. At the same time, the leaves can spill out over the sides!
Found Gardening Know How
Framing an Indoor Window Sill
Frame a window sill with a lovely, climbing and trailing plant!
Found living4media
Garden Arch Trellis
Plants like roses can climb all over an arched trellis outside!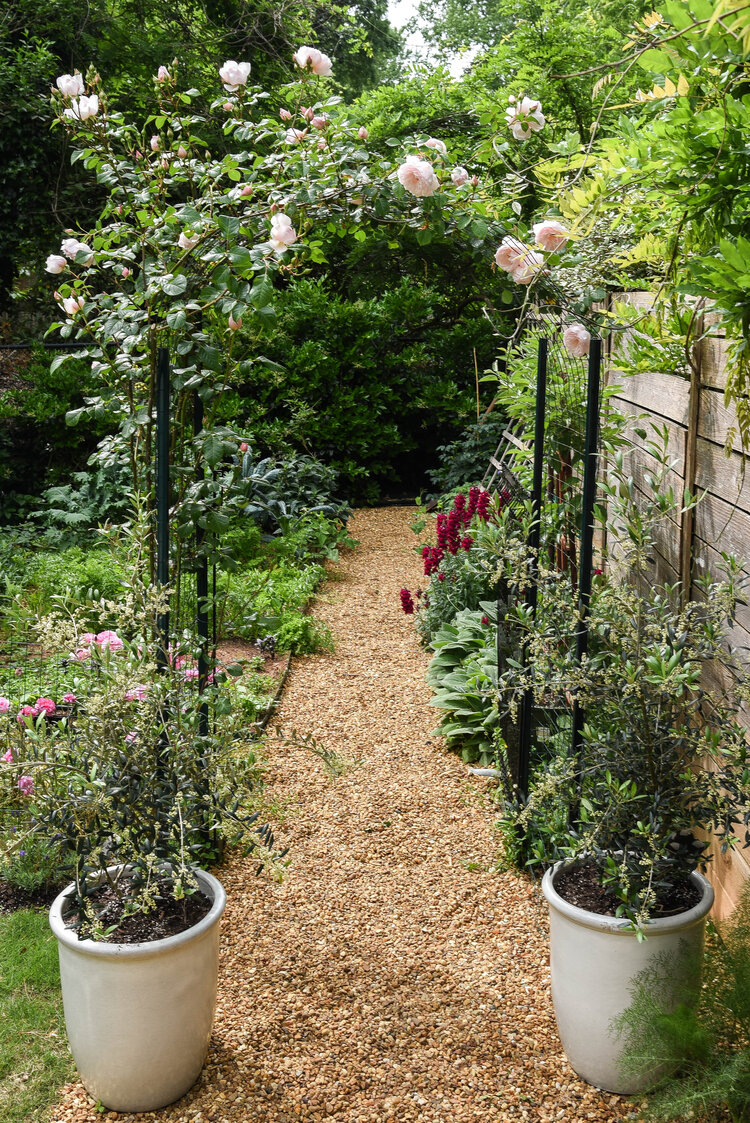 Found Iron and Twine
Vining Plants in a Bathroom
Vining plants can thrive in a humid bathroom!
Found theloftonthelade
Banana Stand Plant Holder
Upcycle a banana stand as a plant holder for a small plant just as it begins to start trailing!
Found Organized Clutter
Black Ring Planters
I love the little touch of the trailing sting of pearls in the circular succulent garden!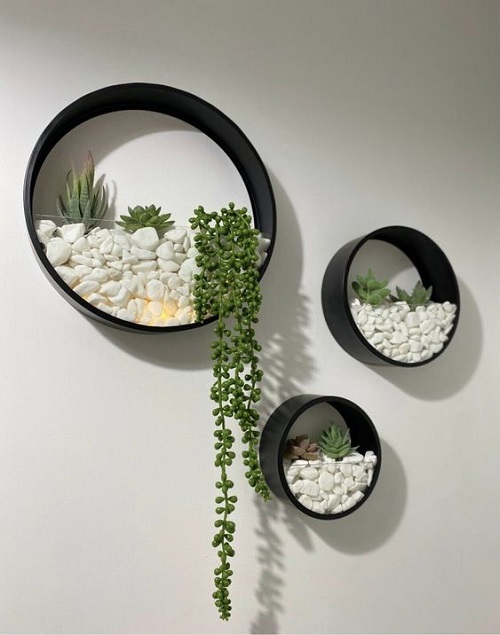 Found Pinterest
Climbing Plants on Large Spindle
A large spindle is a fantastic way to support your climbing plant!
Found Gardening Know How
You May Also Enjoy…
30 DIY Decorative Outdoor Lighting Projects for Your Patio & Garden
30 Lovely Landscaping Projects You Can Do Yourself!
37 Delightful and Decorative DIY Projects for Your Garden
30 Creative Ways to Display Houseplants
33 Creative Ideas for Displaying Air Plants