Hello, DIYers!
Spring is coming in just a few short days! As you clean up your gardens from the winter weather, you might be considering how you can decorate your garden with new displays and garden ornaments! We've collected 37 ideas for incorporating new new uses of space and water features as well as gazing balls and other decorative ideas that you can make yourself! We hope that you'll be enjoying warmer weather and longer, sunnier days!
Happy crafting!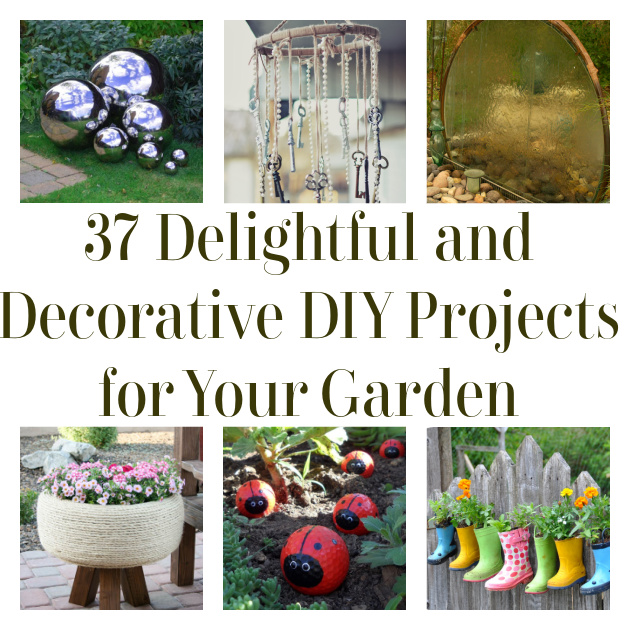 Upcycled Drawer
Have a set of drawers that has served their purpose in your home? Why not turn them into a planter!?
Found Beyond the Picket Fence
Shining Gazing Balls
You can create these beautiful gazing balls for your garden with only a couple of dollars!
Found Smart Fun DIY
Glass Table Water Feature
Water features are always a beautiful addition to a garden! But it doesn't always have to cost a fortune. This upcycles and old glass table to make a free-standing waterfall!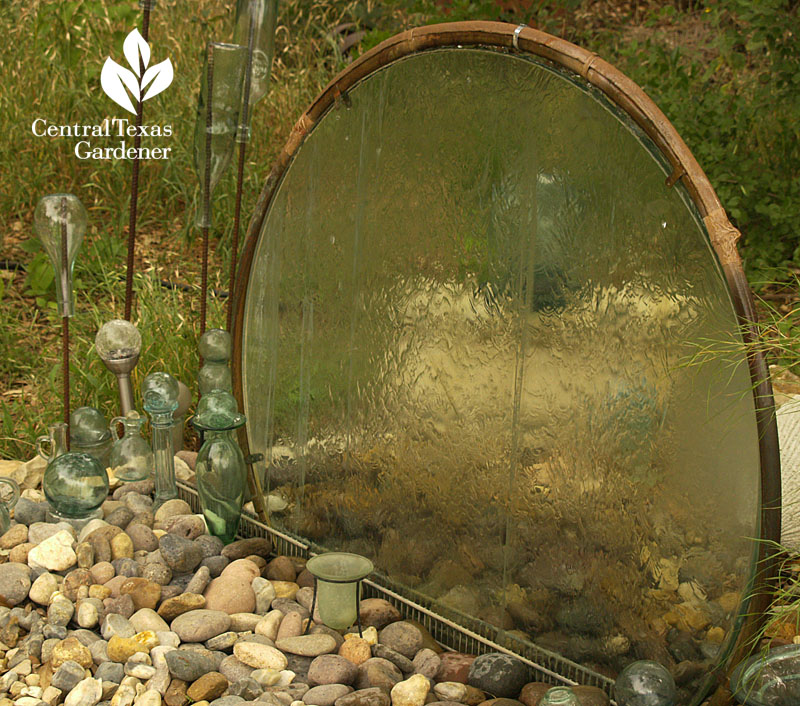 Found Central Texas Gardener
Rainboot Planters
Rainboots are a great way to line the inside of your fence with usable, colorful, and cute space!
Found Rosy Posy
Spoon and Screw Butterflies
This is a cheap and easy way to add décor to your garden this year!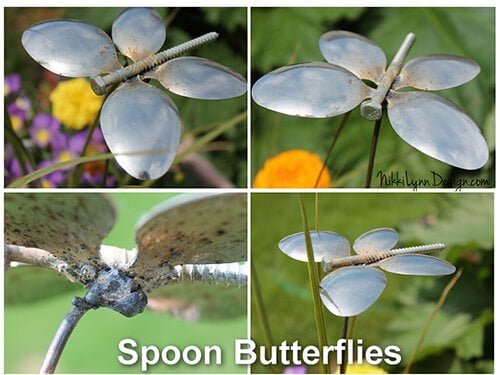 Found HomeBNC
Grapevine Balls with Lights
Add a magical, evening element to your garden by incorporating lights into hanging grapevine balls!
Found Lynne Knowlton
Wine Bottle Tree
This DIY is so simple! You can replicate the wine bottle tree pictured or get creative with the resources that you have on hand! Need something to do with the corks as well? We've got you covered!
Found Pinterest
Tires for Wall Mounted Planters
Old tires are so useful in the gardens! You can use them on a patio or along the wall of a shed to take advantage of vertical space!
Found Wholefully
Light Fixture Upcycles
How witty! You can use old (or new) light fixtures and turn them into a beautiful gazing ball for your garden in just a couple of simple steps!
Found Engineer Mommy
One of a Kind Concrete Planter Display
You can make your own custom concrete planters and make a display with them! The creativity is endless!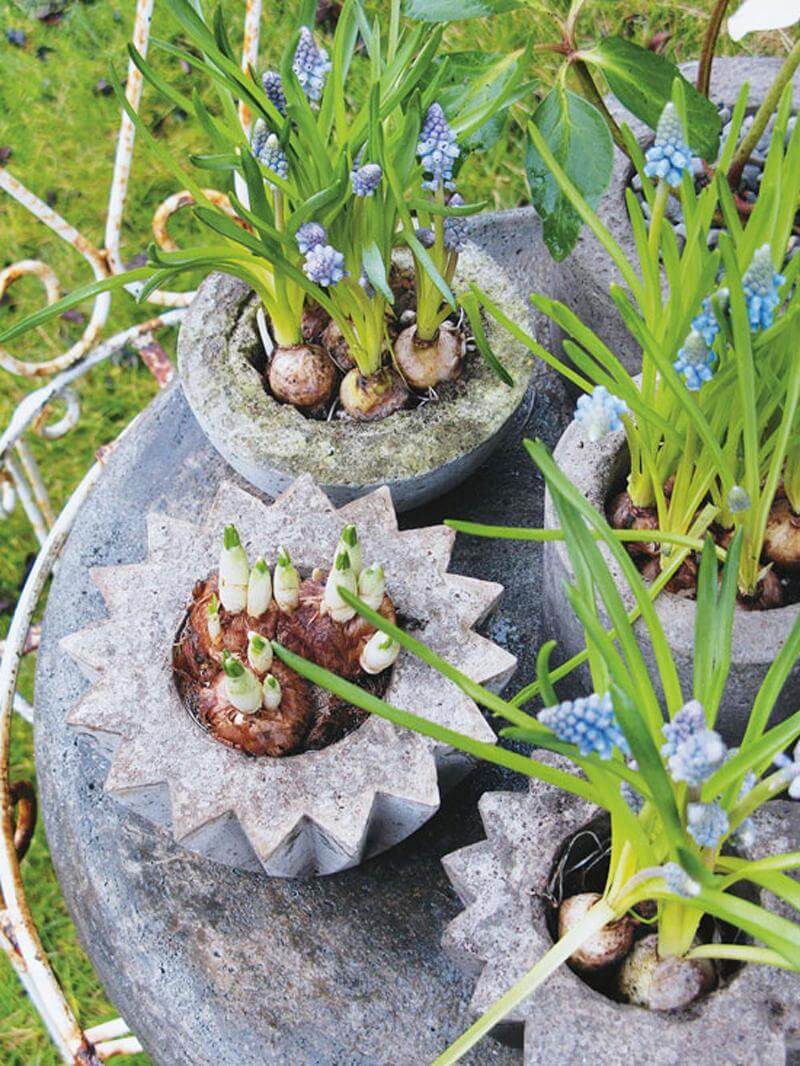 Found BHG
Spiraling Rock Décor
You can arrange plain old rocks in your garden to give it a truly magical element!
Found Oh My Creative
Bottle Cap Flowers
Add a pop of color with these adorable bottle cap flowers!
Found Art in Red Wagons
Penny Gazing Ball
Add a beautiful copper accent to your garden by clearing out your change jar!
Found Kindred Style
Stackable Planter and Bird Bath
How perfect is this?! It's a work of art, a bird bath, and a planter all in one!
Found Home Stories
Upcycled Trampoline Plant Hanger
Is your trampoline a little worse for the wear? Don't throw it in the trash! You can upcycle it into a beautiful plant hanger for your garden!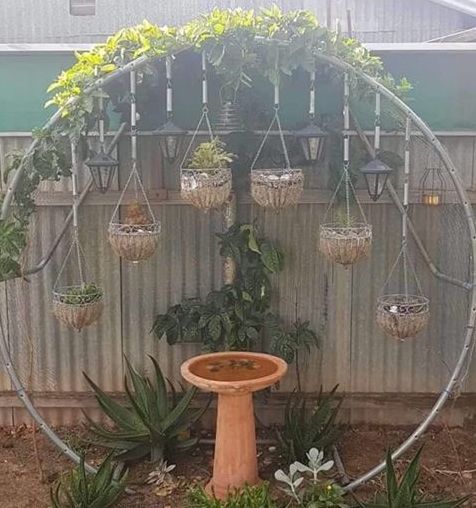 Found Parts for Trampolines
Wheelbarrow Flowerbed Display
Make good use of broken or damaged wheelbarrows by giving them new life in your garden!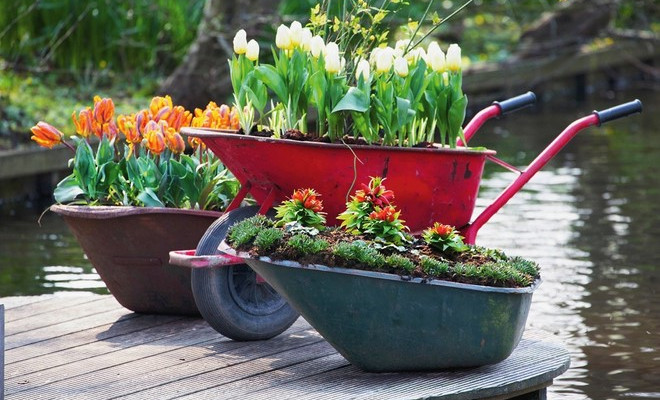 Found DIY Enthusiasts
Garden Stepping Stones
You can create your own DIY stepping stones for your garden! Give it a shot!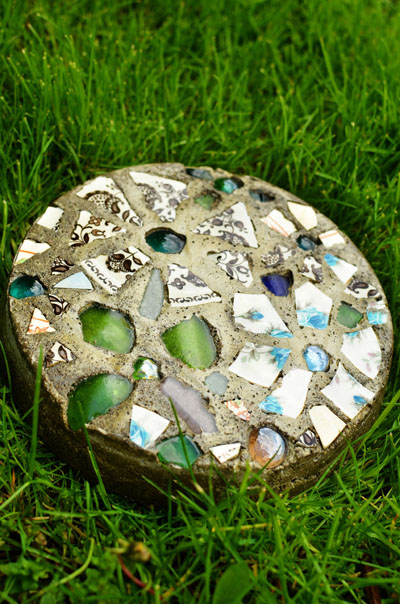 Found Intimate Weddings
Key and Pearl Windchime
These key and pearl windchimes are a creative and elegant way to add charm to your outside garden area!
Found Cancan Dancer
DIY Mirrored Gazing Balls
You can make these mirrored gazing balls using just about anything that is round and weighted (or can be weighed down)! You just need some mirrored paint and some time!
Found The Garden Glove
Tire Planter
Planters get PRICEY! That's why DIY planter projects are so popular! This one is perfect to take outside for your garden or patio!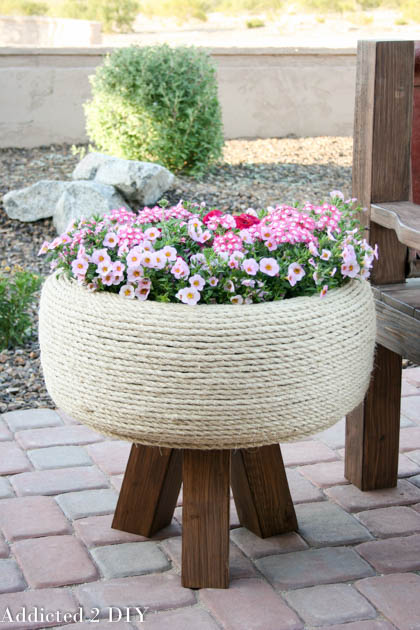 Found Addicted 2 DIY
Table Leg Dragonflies
You can add these large and fun dragonflies to your yard by upcycling an wooden table leg!
Found The Whoot
Wine Bottle Wall
You can use multi-colored wine bottles to create a lovely accent wall in your garden!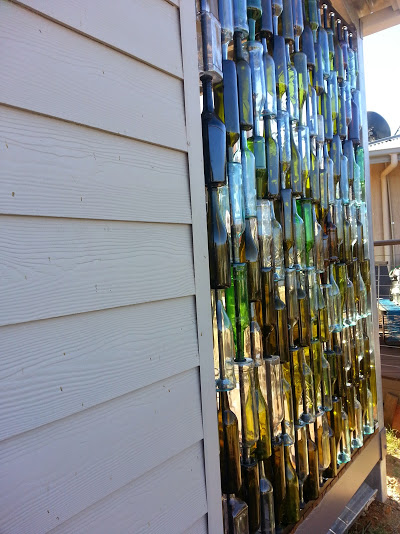 Found HomeTalk
Concrete Garden Orbs
These garden orbs are so interesting and way easier to make than they look!
Found Made By Barb
Brick Library
The garden is the best place to read! Make these adorable brick books by painting them!
Found Balcony Garden Web
Cedar Pallet Succulent Planter
The low maintenance of succulents make them a perfect plant to decorate your garden, porch, or patio with! This cedar pallet makes for a fantastic way to display them!
Found Mom Spark
Concrete Mushrooms
Mushrooms are a popular garden decoration. You can make your own with this great video tutorial!
Found YouTube
Golf Ball Lady Bugs
This ridiculously adorable project is an easy and fun way to add some whimsy to your garden!
Found Art Drops
Rock Covered Bucket
Expensive looking planter… or a rock covered bucket!? No one will ever know…
Found Centsational
Beaded Lawn Ornament
This is a beautiful garden ornament that bursts with color!
Found Etcetorize
Concrete Leaf Casting
While this project may look like a huge undertaking, it's actually incredibly simple! After you have created your concrete leaf, you can paint and customize it however you'd like!
Found Garden Muse
Tennis Racket Garden Art
Lace up the inside of old tennis rackets with sun catching beads! They make a lovely and interesting addition to your garden!
Found Pinterest
Glass Bottle Art
Feeling especially ambitious? Get creative in making some whimsical art out of glass bottles!
Found The Art In Life
Concrete Planter Retaining Wall
If you need to build a retaining wall, why not also make it an artful planter?!
Found Wise Geek
Hubcap Flowers
This project uses painted hubcaps to create a lovely garden ornament!
Found The Weathered Door
Rock Caterpillar
How cute is this rock caterpillar?! It's perfect for doing with your little ones!
Found Nellie Bellie
Re-Painted Garden Statues
Just because a garden statue is looking rough or doesn't go with your color scheme doesn't mean it isn't a worthy upcycle project!
Found Hydrangea Treehouse
Container Pond
Container ponds are a great way to add a water element to your yard!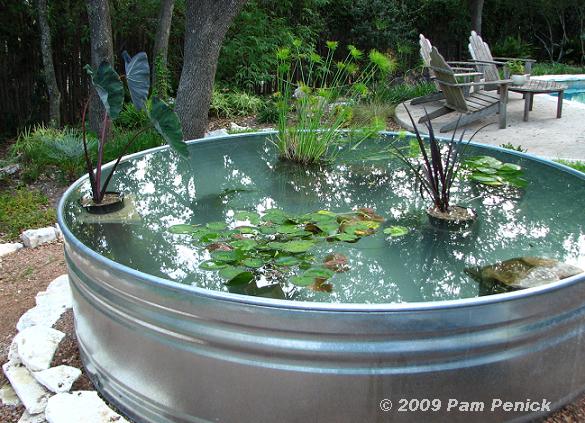 Found Penick
You May Also Be Interested In…
31 Magical Fairy Gardens to Recreate
29 Beautiful and Efficient Propagation Stations
31 Beautiful and Natural Dried Flower Crafts