Hello, DIYers
If you're a DIYer and a bookworm, this is the list for you! Bookends can be difficult to find, especially in an appealing style at an affordable price. For that reason, we have put together a collection of brilliant and creative bookends that will give you an awesome project for the weekend and a fun statement piece to add to your bookshelf! Whether you want a pop of color, a splash of color, or a metallic accent, we've got you covered.
Happy crafting!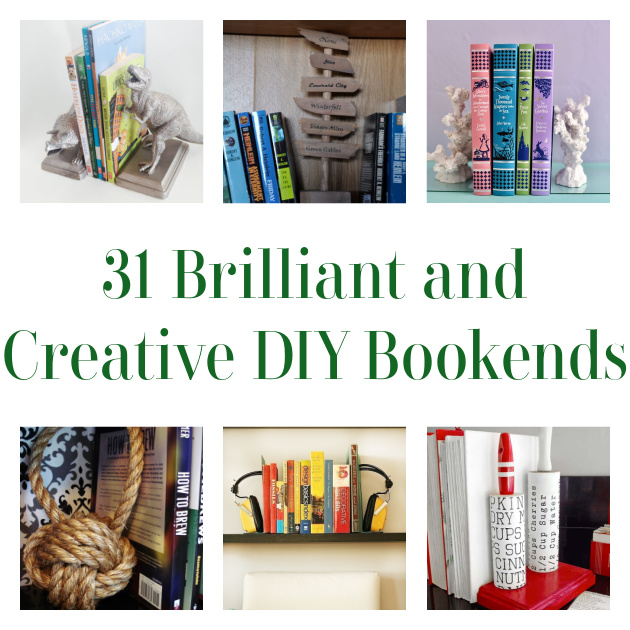 Faux Gold Cylinders
This painted collection of multi-sized cylinders makes an interesting and elegant collection of bookends for any décor!
Found A Beautiful Mess
Nautical Rope Bookend
This is the perfect bookend for any nautical themed or coastal room!
Found Heart Maine Home
Coral Bookends
This is perfect for any beach lover or coastal design room!
Found Make Life Lovely
Dinosaur Bookends
If your love of books only pales in comparison to your love of dinos, these are for you!
Found Julie Measures
Industrial Pipe Bookends
Industrial décor can get pretty expensive, but by doing it yourself you can save a boat load of money!
Found Family Handy Man
Quotation Mark Bookmarks
How adorable does this look on a book shelf?!
Found A Beautiful Mess
Concrete Geometric Bookend
This is the perfect addition to any industrial living room or office!
Found Hunker
Beautiful Amethyst Bookends
A set of these authentic crystal bookends runs for hundreds of dollars! With this fantastic DIY, you can make them yourself for under $100!
Found Curbly
Lovely Letter Bookends
How beautiful are these initial bookends?! You can make them yourself with this great tutorial!
Found One Good Thing
Decorative Rolling Pins
This makes the perfect gift for anyone who collects cookbooks!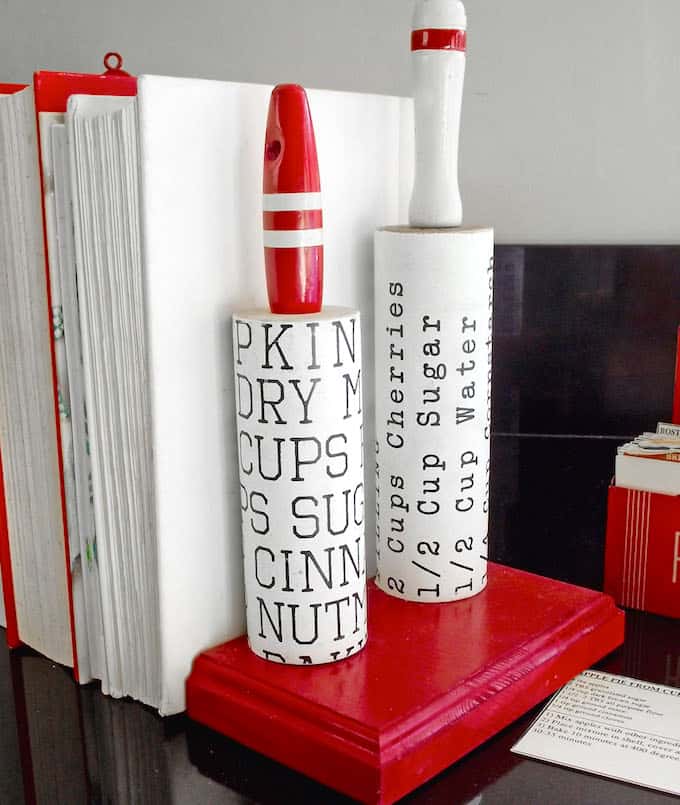 Found Modge Podge Rocks Blog
Faux Zinc Bookends
These look like a high end product but actually, you can make it in just an afternoon!
Found Lori1010
Vintage Phone Bookends
This is a fantastic upcycle for old telephones that are no longer hooked up to a landline. Plus so cute!
Found A Beautiful Mess
Decorated Bricks
Simple, creative, and effective! Customize a set of bricks to match your décor!
Found Camille Styles
Organizer Bookends
This is the perfect bookend for a craft room or a dorm room! It helps to make the most of the space it takes up!
Found Instructables
Destination Bookend
Hold everything! This is such a thoughtful addition to any bookshelf! You can make your own using this DIY tutorial.
Found Indigo Amethyst
Lump of Gold Bookends
Show off that your real riches live on your bookshelf with these faux lumps of gold!

Found Design Lovefest
Mountain Bookends
How cute are these fantastic wooden mountain bookends?!
Found House of Pixel Dust
Baseball Bookends
These are fantastic for any baseball fan's bedroom or office!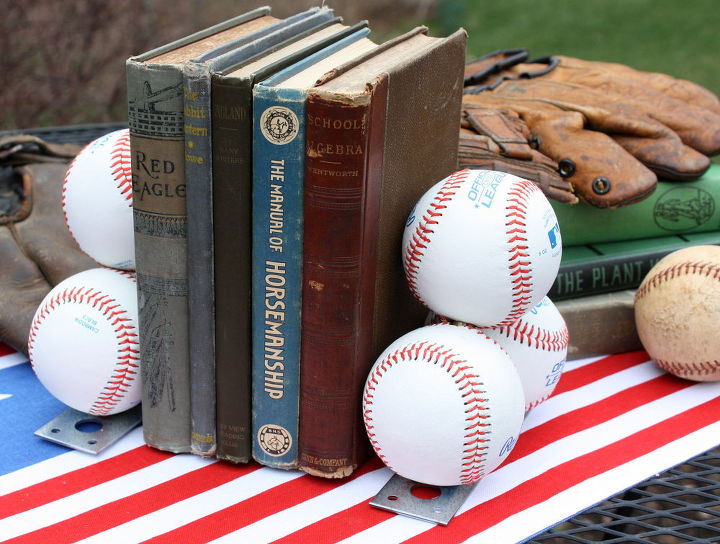 Found Hometalk
Faux Ceramic Animal Bookends
This looks like a lovely, high dollar project but is actually incredibly budget friendly!
Found Lovely Indeed
Star Trek Bookend
Live long and prosper with this awesome, homemade Vulcan bookend on your shelf!
Found Our Nerd Home
Succulent Bookends
This is the perfect solution or gift for any plant-lover!
Found Sarah Richardson Designs
Wooden Bookends
These are simply elegant and so easy to make!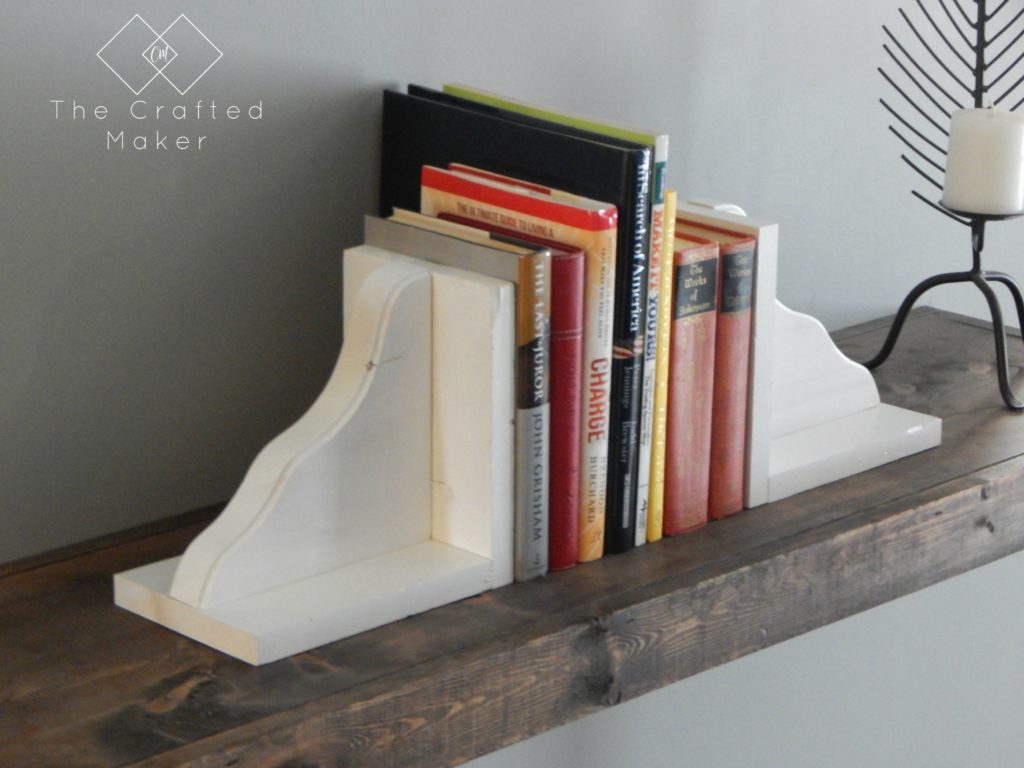 Found The Crafted Maker
Record Upcycle Bookends
These bookends are made using upcycled records! It's a simple DIY and the perfect gift for any vinyl-lover!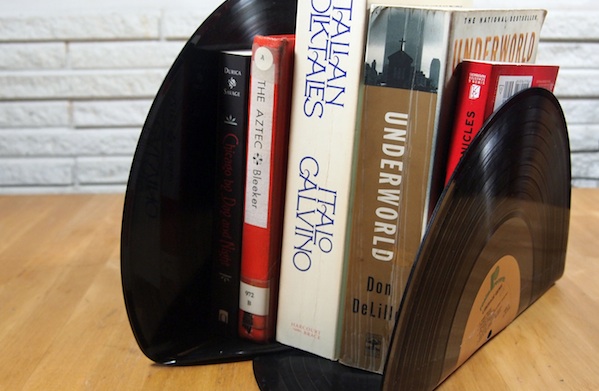 Found Groupon
Golden Pineapple Bookends
This is an incredibly simple DIY that is completely on trend and looks high dollar!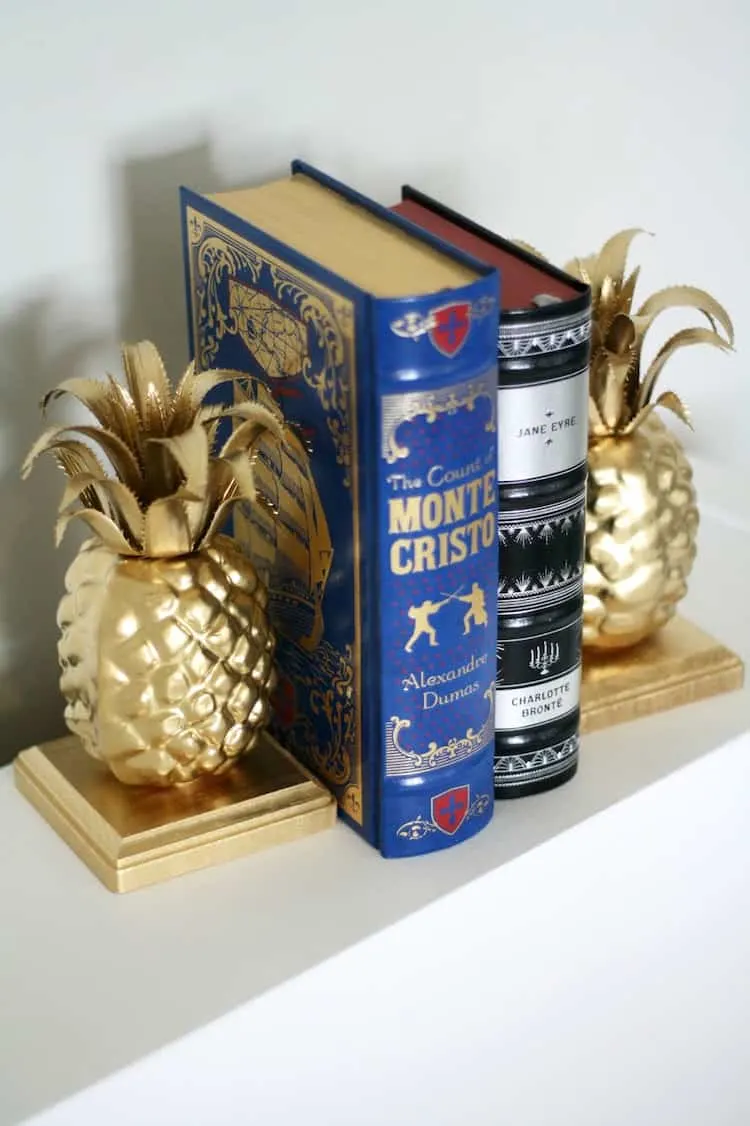 Found DIY Candy
Wooden Color Block Letters
This is a fun afternoon project for any girl's room!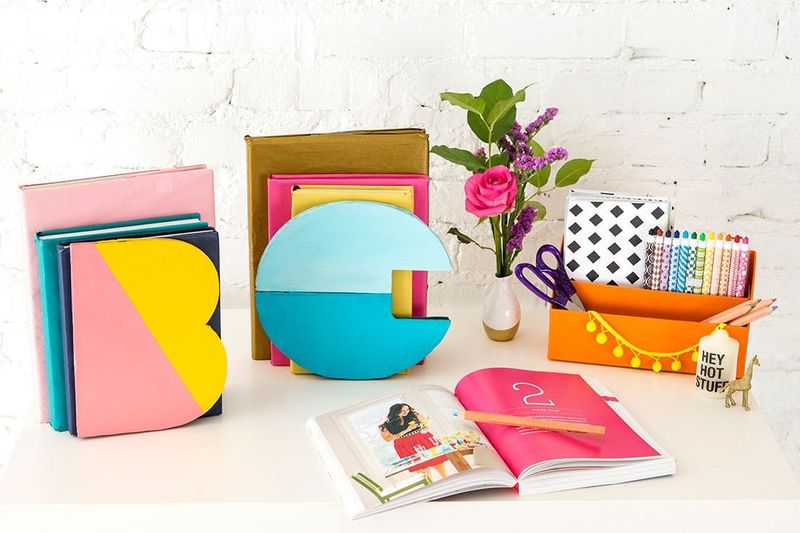 Found Brit + Co
Sliding Bookends
These bookends slide across the shelf to expand with your book collection and shrink while one is off of the shelf! Brilliant!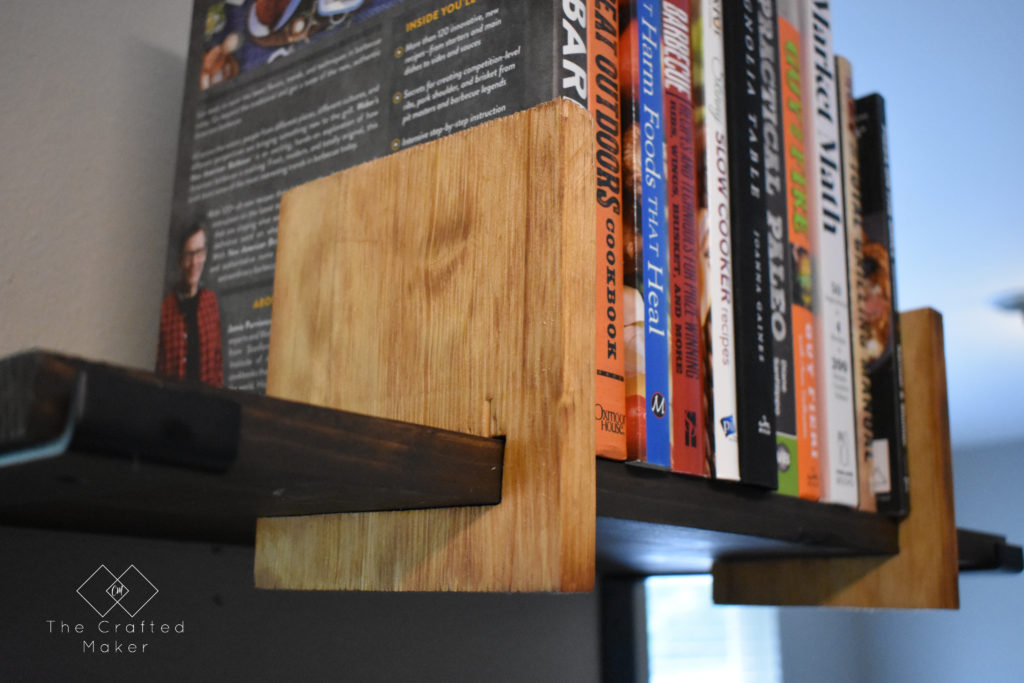 Found The Crafted Maker
Headphone Bookends
Have a broken pair of headphone laying around? Don't pitch them! You can turn them into an adorable set of bookends!
Found Cut Out and Keep
Neon Plastic Animal Bookends
Add a pop of color and some whimsy with these fantastic neon animal bookends!
Found Hi Sugar Plum
Honey Bear Bookends
It doesn't get any easier than this project! You simply need some empty honey bear containers and a spray paint in any color you'd like!
Found Pretty Providence
Arrow Bookends
This is a cheap and interesting way of displaying your books on an open shelf!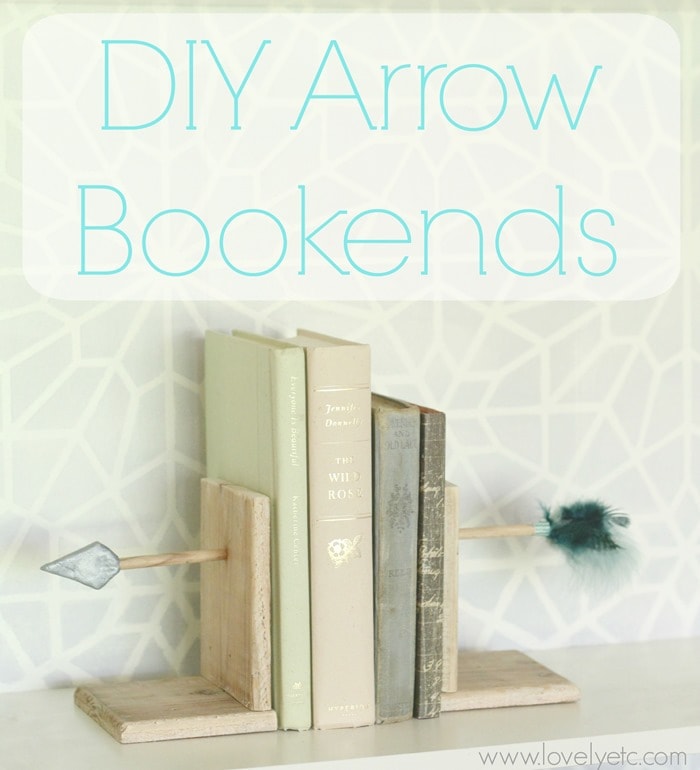 Found Domestically Speaking
Superhero Bookends
This is great for your superhero loving little one's room!
Found Little Red Window
You May Also Enjoy…
33 Fantastic DIY Bookmark Crafts
40 Brilliant DIY Book Art Ideas
33 Amazing and Unique DIY Lamp Projects