Hello, DIYers!
Spring is coming and with that, the urge to garden follows closely behind! If you're up for a little whimsy this year, you might consider making your very own fairy garden! We've been seeing the miniature accessories sold in nearly any discount store. With such easy (and affordable) access to a creative project, all you need is the plants to get you started. Whether you need some fresh inspiration or you are a beginner, we have put together a list of truly magical fairy gardens and unique planter ideas to inspire you!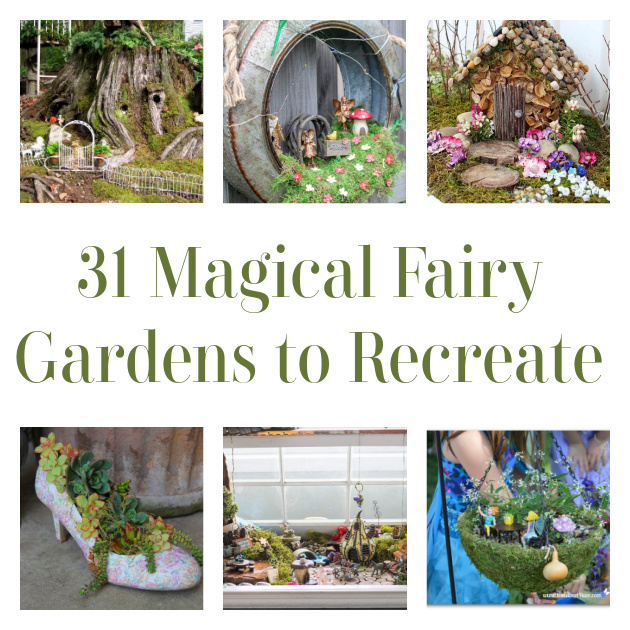 Flower Pot Cottage
By cutting into a traditional flower pot, you can set the scene for an adorable fairy garden that travels downhill!
...
Found Fresh Patio
Birdbath Fairy Garden
Birdbaths are a fantastic place to put a fairy garden together! It's got it's own prominent place in your garden and is easy to maintain!
Found Properly Rooted
Tree Stump Fairy Garden
You can put your fairy garden directly in nature! If you have an ugly tree stump in your yard, consider turning it into something magical!
Found Flea Market Gardening
Basket Fairy Garden
You can use a wicker basket to create your fairy garden this year! You can even make them to give as unique gifts for Easter!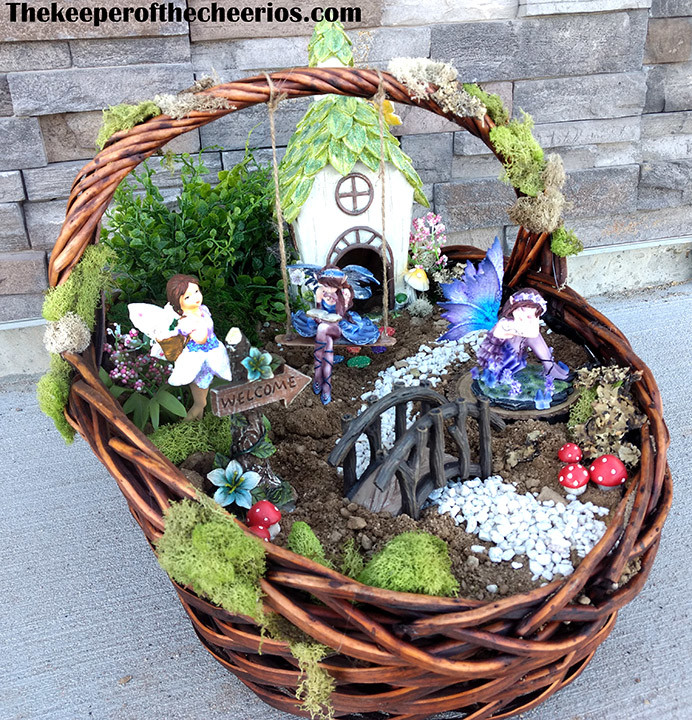 Found The Keeper of the Cheerios
Fairy Shoe
How romantic and elegant is this?! You can use an unwanted pair of shoes or thrift for a set! You can have a matching set or gift one to a friend!
Found Just Home Gardening
Dreamy Night Lights
This adorable scene is beautiful during the day, but it really shines at night! By using fairy lights, the fairy garden is strategically lit to highlight the dreamy violet flowers!
Found History Maniac Megan
Tea Cup Fairy Garden
Tea cups can make the perfect home for your fairy garden! All you need is a little bit of creativity!
Found Southern Living
Fairy House
You can dress up an old birdhouse to make your very own fairy house for your fairy garden scene!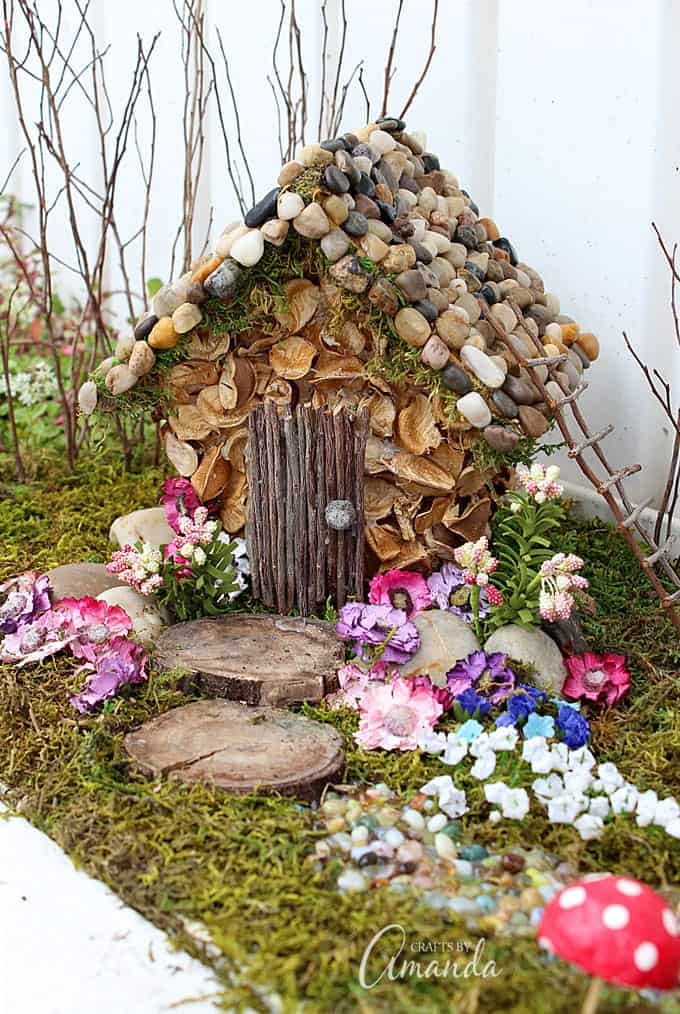 Found Crafts By Amanda
Upcycled Grill Fairy Garden
If you have a small, standing grill that is broken, you can upcycle it into a fairy garden!
Found Passion Fruit Princess
Barrel Fairy Garden
If you have an extra barrel laying around, you can turn it into a luxury fairy property! Set the scene however you want!
Found Crow's Feet Chic
Vintage Furniture Fairy Village
If you really want to set the scene, you can upcycle fabulous, vintage furniture for your entire fairy village!
Found MWorksLTD
Aquarium Fairy Garden
If you have or come across an old aquarium, you can use it to create a seriously impressive under water themed garden! Why not give it a try?!
Found Birds and Blooms
Terrarium Fairy Jar
You can create an adorable DIY terrarium fairy jar using Dollar Store and upcycled items!
Found Pretty Handy Girl
Window Sill Fairy Garden
Make the most of this sweet, sunny space by placing a fairy garden on your window sill!
Found Just Home Gardening
Bonsai Garden
You can use the space around a bonsai tree to create a lovely scene in your home!

Found Bonsai Empire
Lantern Fairy Garden
Create a truly beautiful addition to your patio with this fairy garden lantern! Use it as table décor or hang it!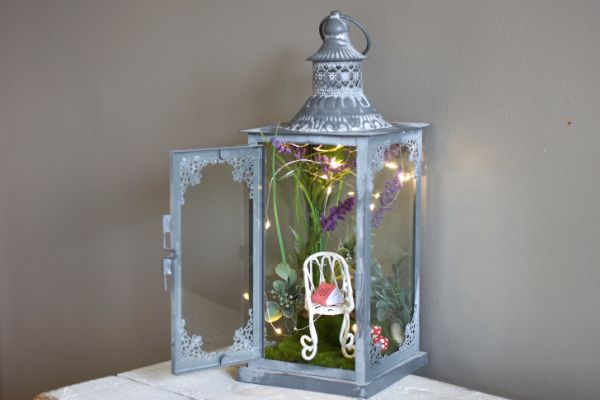 Found Fairy Garden DIY
Hanging Fairy Garden
You can even hang your fairy garden! Having several of these throughout your garden at different heights seems like an adorable way to create additional depth and dimension!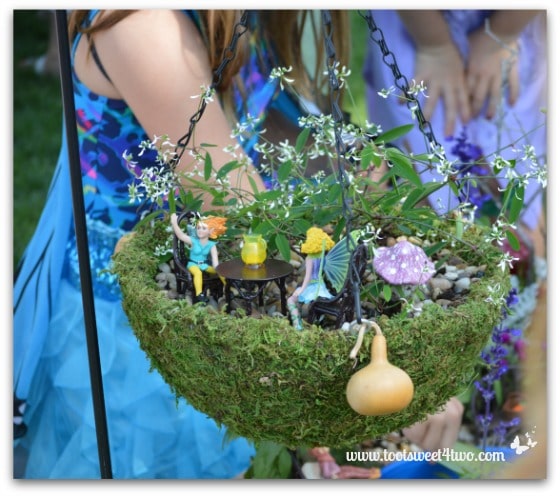 Found TootSweet4Two
Tire Fairy Portal
Use an old tire to add height and excitement to your fairy garden!
Found Pinterest
Wheelbarrow Garden
Use a vintage wheelbarrow to create a beautiful, outdoor scene!
Found Enchanted Acorn
Creating Levels
By using a broken pot, you can use the pieces to help carve out levels and ledges that give you more space to insert different plants or accessories for your fairy garden!
Found Fresh Patio
Vintage Luggage Fairy Garden
What an adorable way to show off this suitcase!
Found Empress of Dirt
Wagon Fairy Garden
Upcycle a pull-along wagon to create an adorable and movable fairy garden scene!
Found Pinterest
Fairy Fountain
Re-use a small fountain to creates a lovely fairy scene in your yard!
Found Facebook
Fish Bowl Fairy Garden
This is a lovely and simple fairy garden that you can make with your kiddos!
Found Pondered Primed
Upcycled Chair
Do you have an old outdoor chair lying around? Consider using it to create a fairy garden! I love the use of dinosaurs in this DIY! It's proof that you can get creative!
Found Sixty Fifth Avenue
Fairy Garden Wreath
It doesn't get cuter than this! Use an old tire to create a hanging fairy garden with greenery spilling out!
Found Create Craft Love
Fairy Garden Table
Found Just Home Gardening
Galvanized Metal Bucket
Give an old bucket new life by turning it into an adorable fairy garden for your porch or patio!
Found The Seasonal Home
Bathroom Sink
A dated bathroom sink might not seem appealing in your home, but in your garden it can be completely charming! Give it a try!
Found Pinterest
Wooden Planter Fairy Garden
Give your fairy garden its very own planter!
Found Make It Love It
Tool Box
Whether it's shiny or rusted, a tool box can make a great place to make a garden and give a fun vintage feel! Just make sure to add drainage, especially if you're going to make it a home or succulents!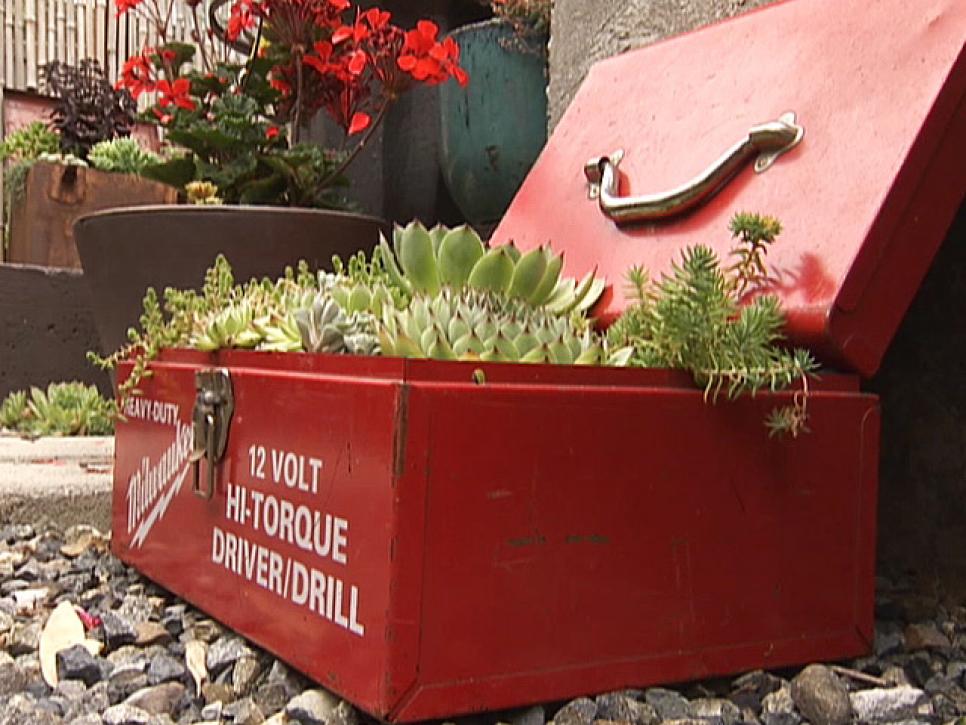 Found DIY Network