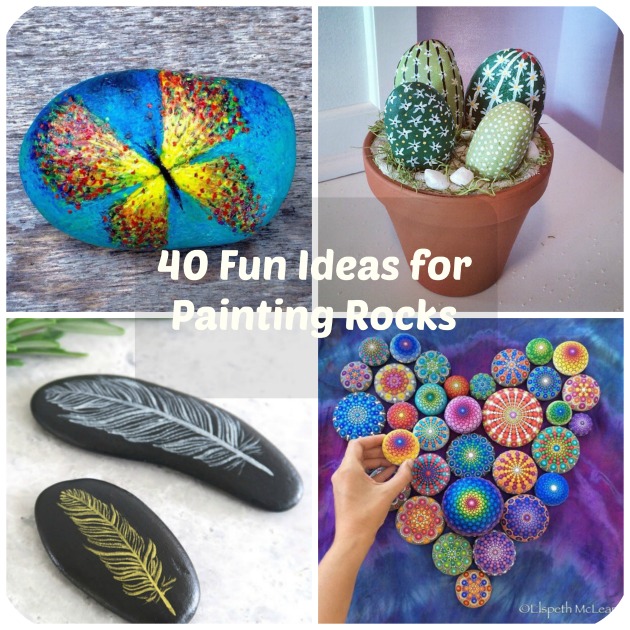 Do you like rocks? Most people don't realize just how creative you can get with a simple rock. Painting rocks and stones can truly turn them into a real work of art. Big rocks can be door stoppers or grace your garden. Tiny rocks can become kitchen magnets. Rocks that are "in between" sizes can be just about anything – from paperweights for your desk, to markers in your herb or flower garden. What's truly wonderful is that you can paint them, making these rocks unique and special.
Try painting rocks to look like favorite flowers, ladybugs, cute insects or hummingbirds. Or delicate patterns such as henna or mandala which are relaxing to look at. Another great idea is to add a word or saying to your favorite rock. You could put a piece of Scripture or an inspirational saying, keep the rock in your pocket so it is always with you. If you are a pet lover, try painting a rock that looks just like Fido or Fluffy when they are curled up, ready to take a cozy nap!
One of the best things about rocks is that they are found in nature, so for most of us rocks are free and easy to find. If you are a crafter or DIY-er then you know what a great gift this is. You can make your handpainted rocks perfect for the outdoors by adding some waterproof, clear sealant after you have handpainted them, so they'll always stay shiny and fresh, just like you've recently painted them. Happy Rock Painting!
...
Ladybug Painted Rocks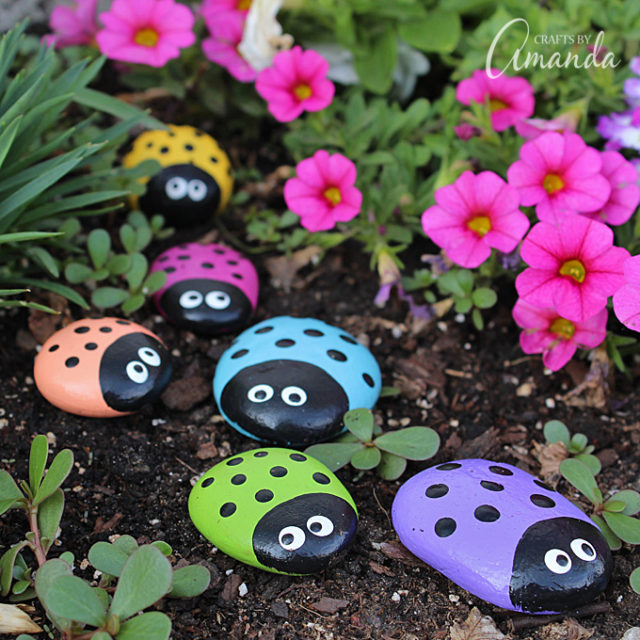 Here is a fun painted rock you can make with kids. What's more adorable than a cute ladybug?
Cat Rocks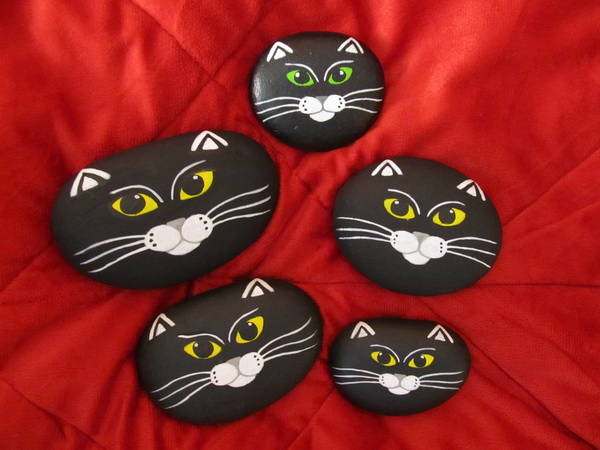 Make smiling cat faces on rocks. Perfect for a "cat person" in your life.
Located at Stein-Katzen.npage.de
Purple dragonfly painted rock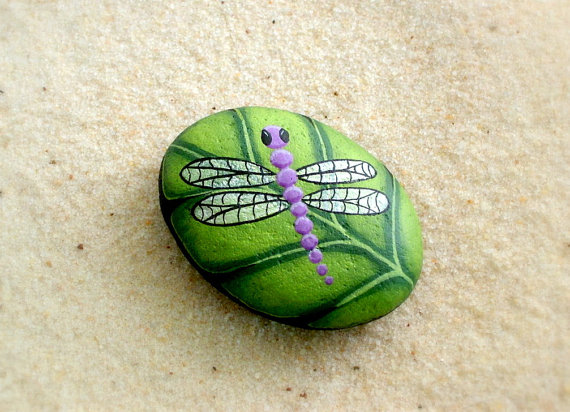 A charming dragonfly and a lush leaf, all on a rock. Perfect for your garden bed or a desk to remember spring days.
All You Need Is Love and a Dog Rock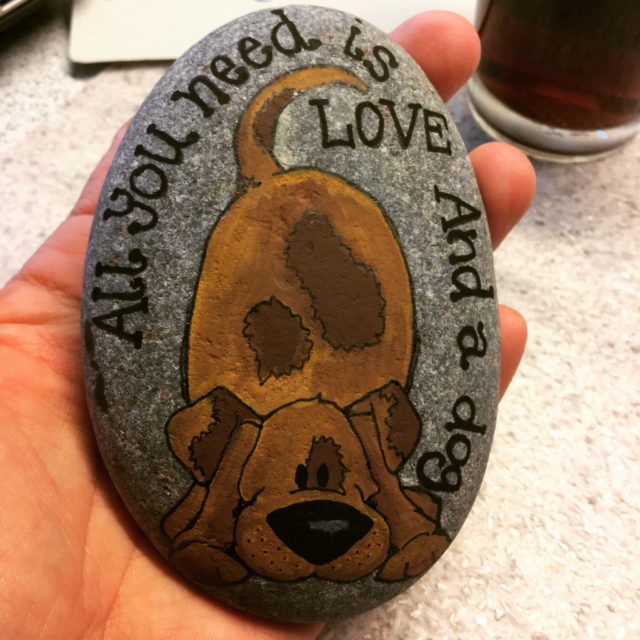 Here is a sweet rock, perfect for any dog owner. Look at the friendly dog on the rock!
From S-Media-Cache
From Etsy.com by MariannaArtStones
Mandala Rocks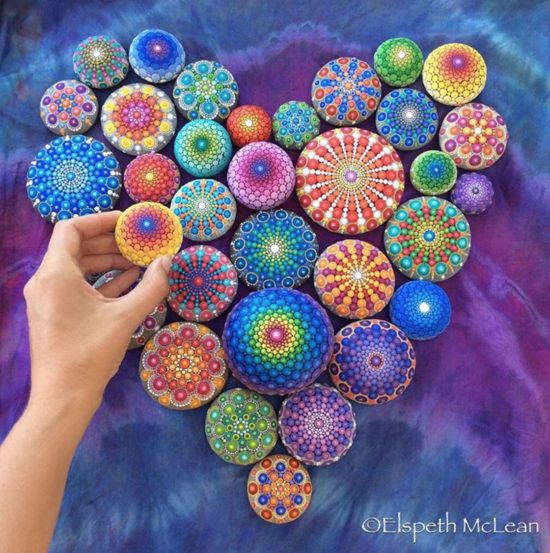 Have you always loved these? Follow these tips and you'll soon be making your own!
From TheWhoot.com.au
Personalized Stone for Mini Zen Garden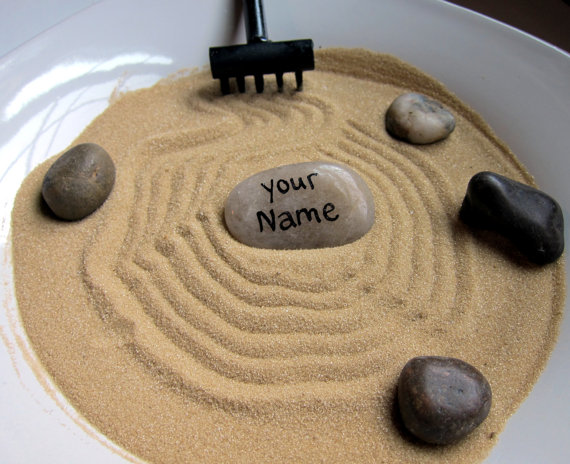 Now this is another great reason to paint rocks – to personalize your own zen garden. Great for meditation and relaxation.
Affirmation Stones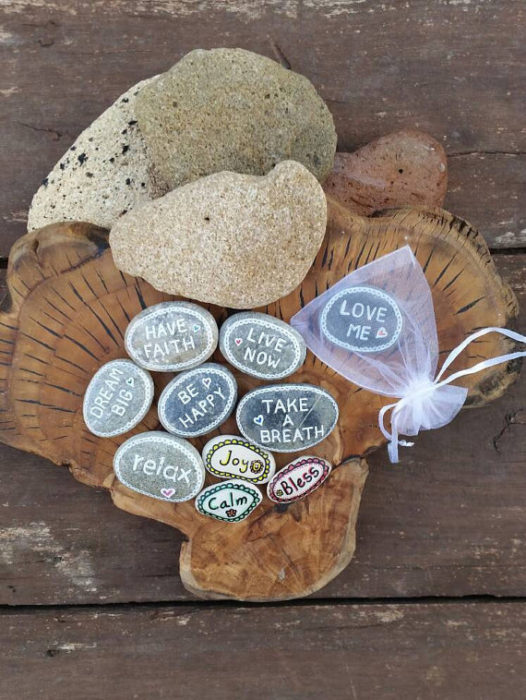 One great thing to do with a rock or stone is to write an affirmation on it. You can hold it and think positive thoughts each day.
Painted rock Sunset
Did you know you can depict a whole landscape on a rock? Look at this beautiful sunset.
Tropical Fish Rock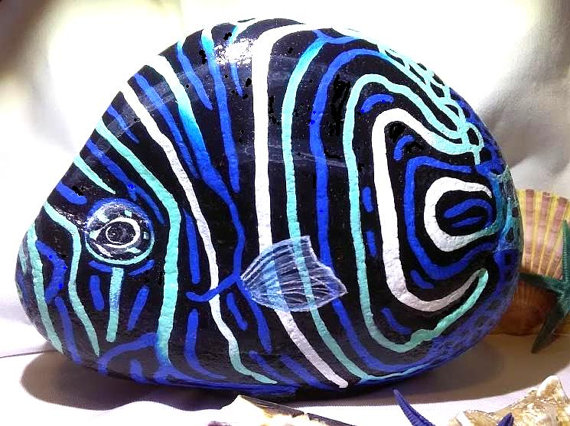 Quick, put this fish in the tank! No, its actually a rock, but isn't it lifelike?
Farm Scene in Winter
Doesn't this look peaceful and serene? Its perfect for a gift or to put on your desk.
From Etsy.com by GrannyBeansBoutique
Dream Inspirational Stone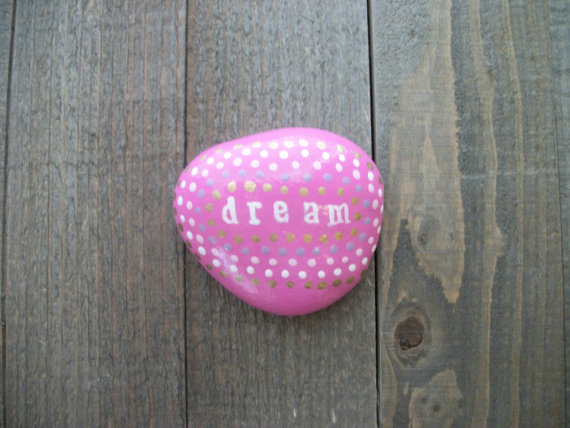 Stones and rocks can be touchpoints for you. Add inspirational sayings and they can motivate you each day!
From Etsy.com by TLCHandcrafted
breathe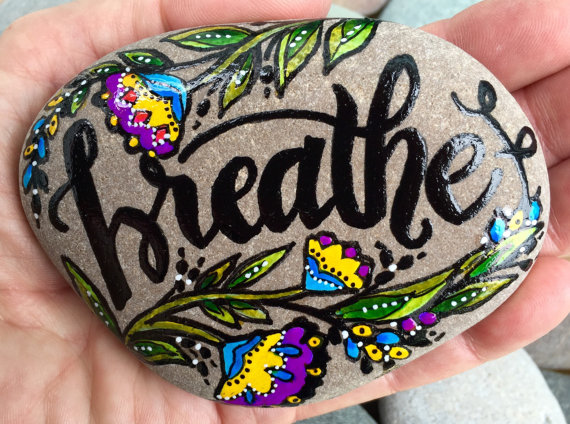 Boho style art is very popular. Try creating a handpainted rock this way.
At Etsy.com by LoveFromCapeCod
Mandala stones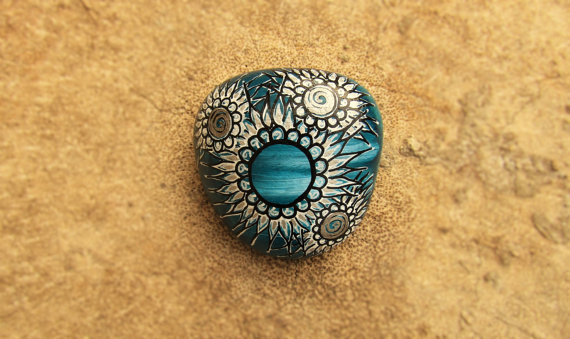 A beautiful sunflower and a lovely mandala style rock. Rocks and stones can be stunning artwork.
Mandala Stones Bohemian Dot Art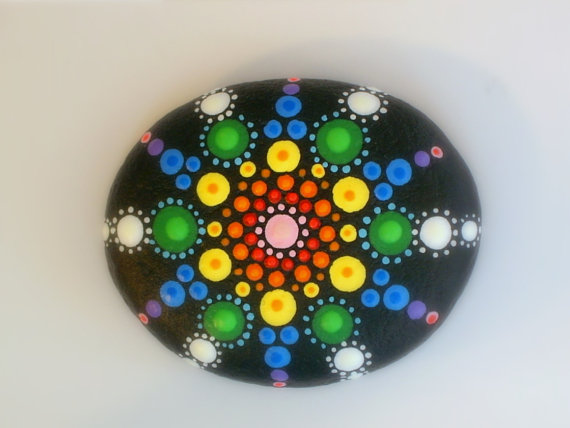 Isn't this stunning? With simple dots, the artist has created a work of art on this stone.
Located at Etsy.com by RockArtiste
Tiger Cat Rock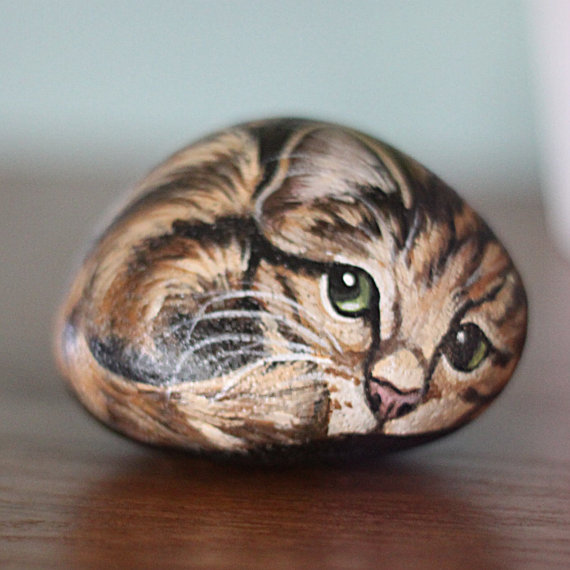 Look at this charming cat on a rock. Isn't it sweet how the cat is all curled up?
At Etsy.com by PetRocksbyTheresa
Hand painted lighthouse rock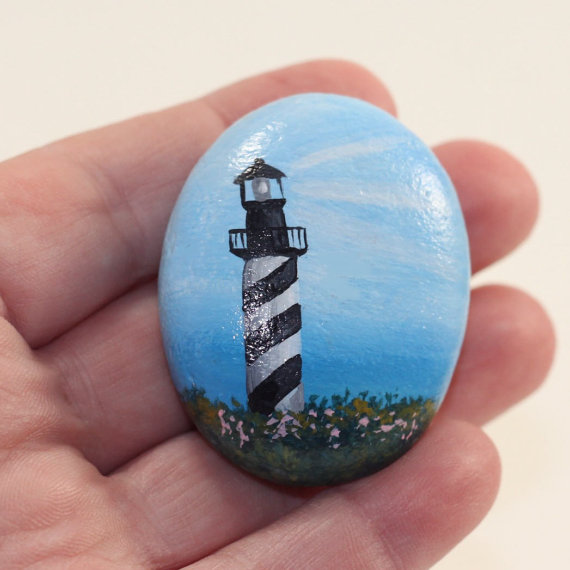 On a rock you can create a beautiful nautical scene. This makes a great souviner too!
From Etsy.com by PetRocksbyTheresa
Mouse rock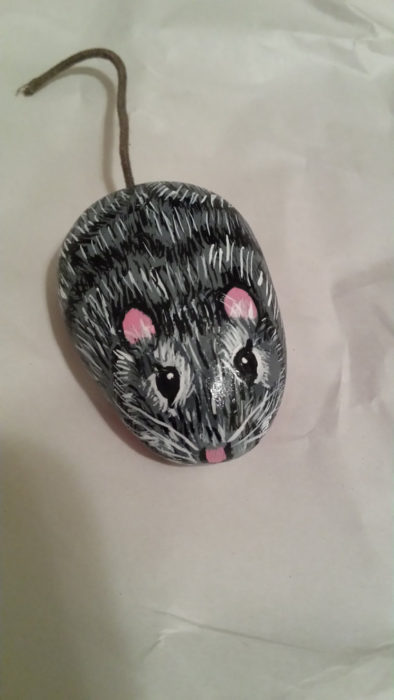 Here is a super cute rock that is a mouse. Why, its like having a rock that is a pet!
From Etsy.com by 800ChestnutStreet
painted stone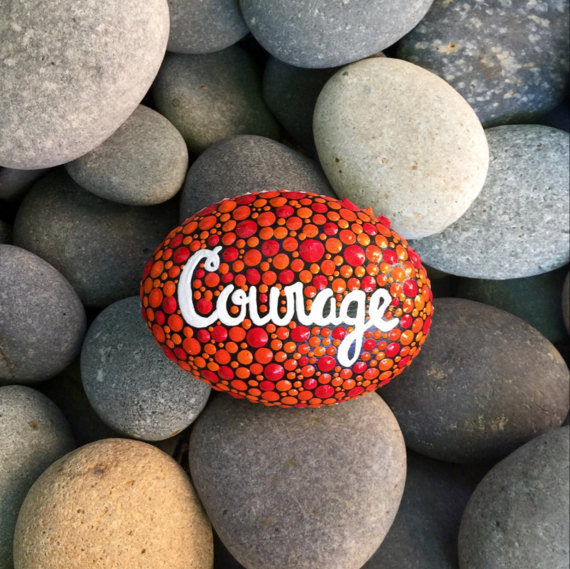 On a rock you can paint words of inspiration. A simple stone can motivate you each day to greatness.
From Etsy.com by HueofBlueStudio
Squirrel wildlife art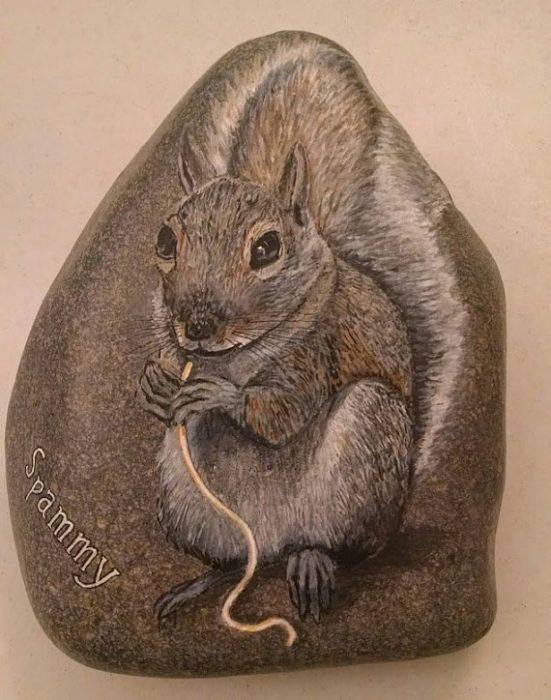 Here is an adorable squirrel painted on a rock. It looks so lifelike!
Scripture Rock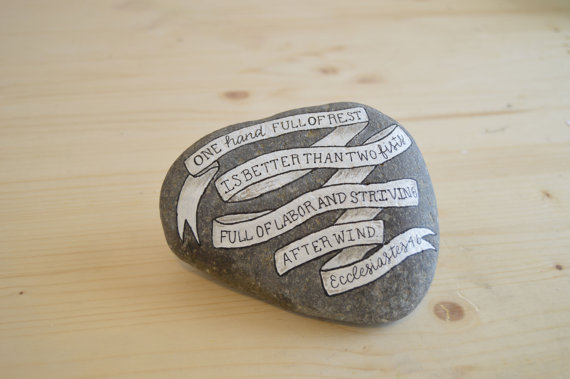 Fill your heart with peace and keep a bit of Scripture always on hand. With a rock like this, you'll always feel steady and calm.
By Etsy.com by PosyPaperStudio
Swirling Inspiration Rock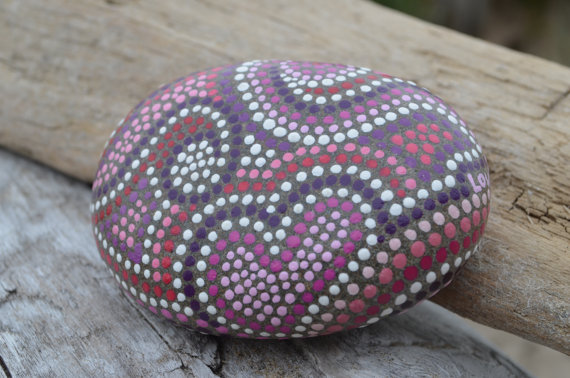 Now this rock is just decorated with tiny dots. But look at how stunning it is!
By Etsy.com by BeachMemoriesByJools
Lady bug Stone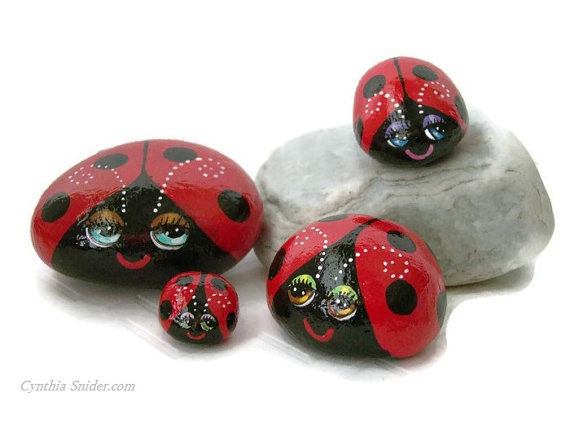 Aren't these cute? Perfect for a child's room or your garden bed.
From Etsy.com by NightOwlFineArt
Prayer Rock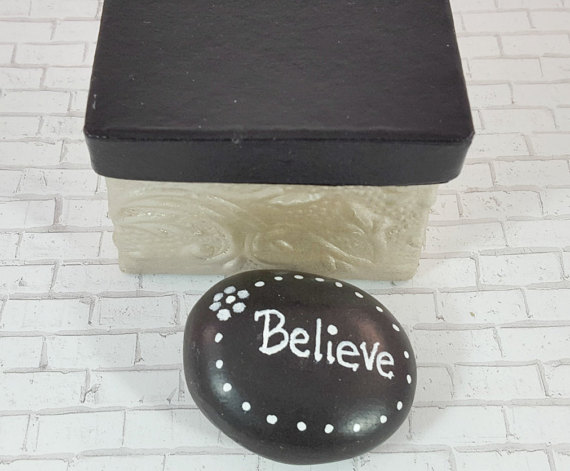 Here is a rock that can help you find peace. A rock to sit with in quiet moments.
From Etsy.com by RocksofLovebyJohnna
Hummingbird Art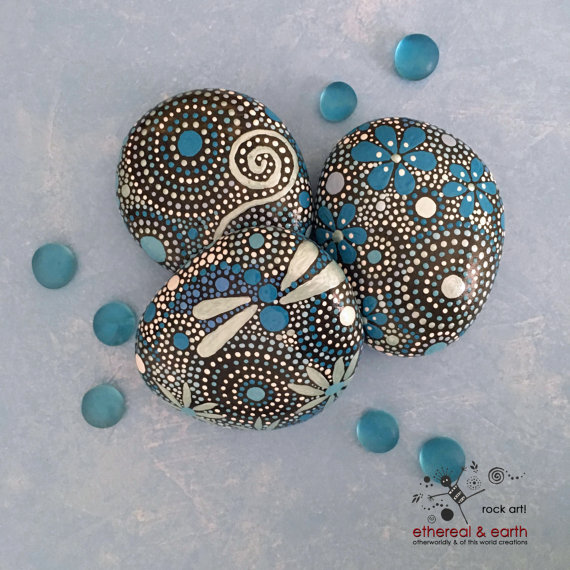 These rocks are created in nearly art deco style. Look at the lovely hummingbird too!
From Etsy.com by etherealearthrockart
Bee Cute Handpainted Rock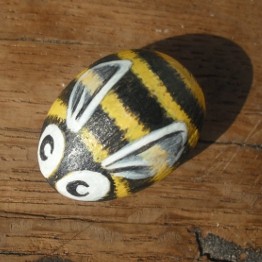 Bzz! Don't swat that bee! Just admire this handpainted rock!
Painted Rock Garden Markers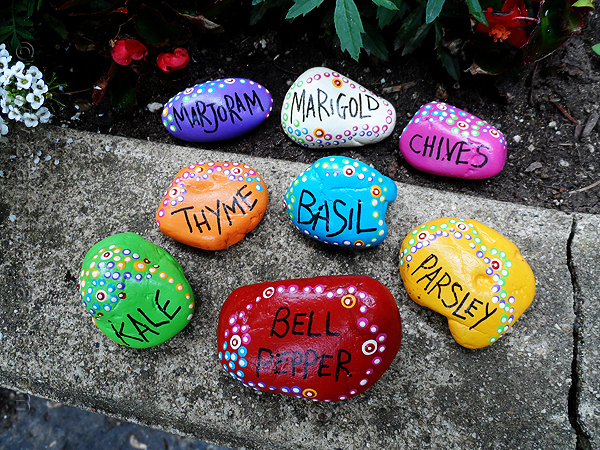 Always know what herbs or flowers are growing in your garden. These charming rocks mark your garden so easily.
From CraftsByAmanda.com
Cactus rocks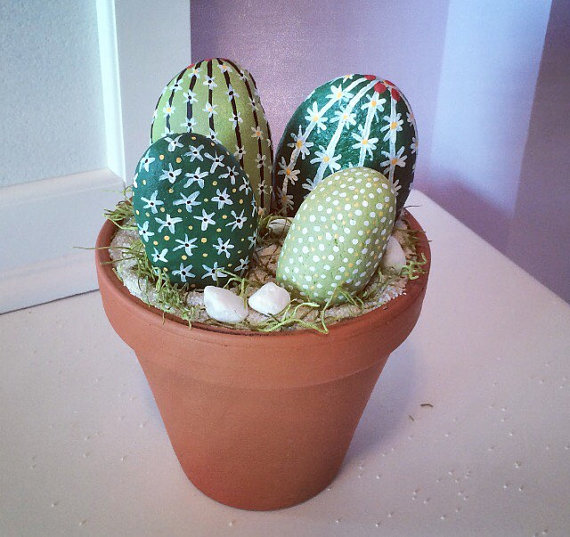 This is probably one of the cutest rock art collections we've seen so far. 4 rocks, painted like different types of cacti!
From Etsy.com by Customizedboxes
Herb Garden Marker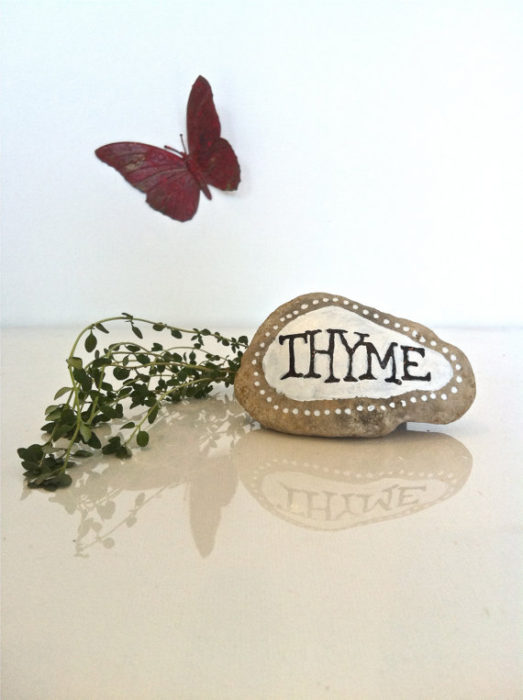 Here is a charming rock to mark your herb garden. A set of these will make gardening a lot easier!
Rock Art Mandala Design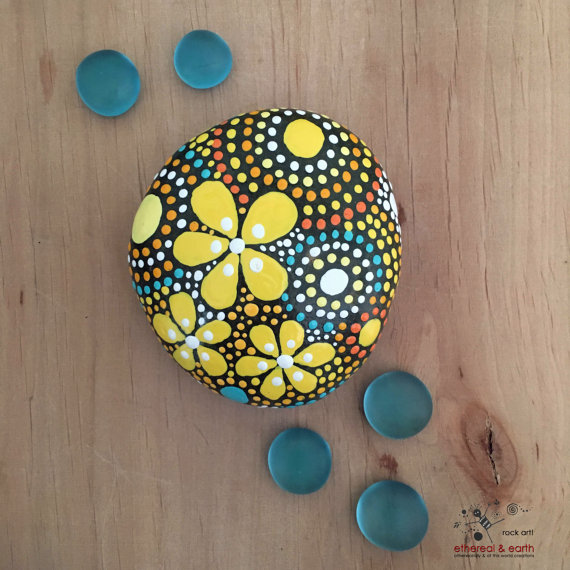 A simple rock with some thought can actually become a stunning work of art. Look at this lovely mandala style rock!
By Etsy.com by etheralearthrockart
Shih Tzu Rock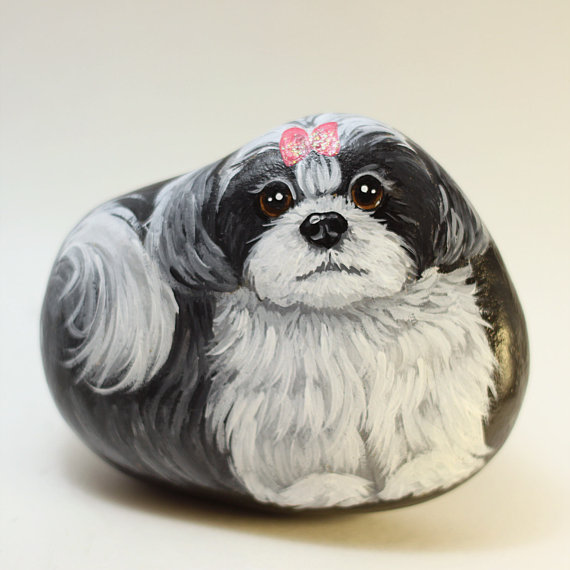 Look at this sweet doggie rock! Its perfect to give to any dog lover you know.
From Etsy.com by PetRocksbyTheresa
Butterfly Art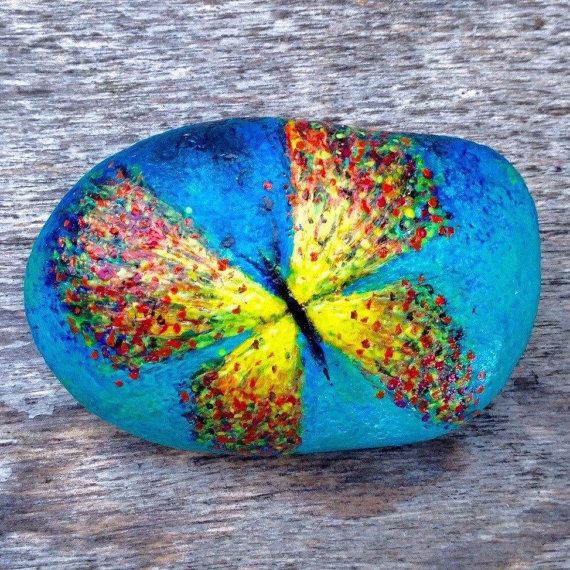 When painting rocks, remember to use all of the space on a rock for a beautiful design. Look at this lovely butterfly.
From Etsy.com by PetraMarGallery
Story Rocks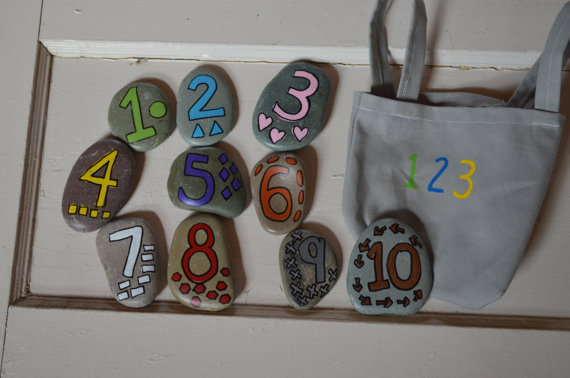 Some painted rocks do more than look great, they can help your children learn. Take a look at these Story Rocks, inspired by Montessori and Waldorf schools for children.
By Etsy.com by TheLastBestPlaceBaby
Painted mandala stones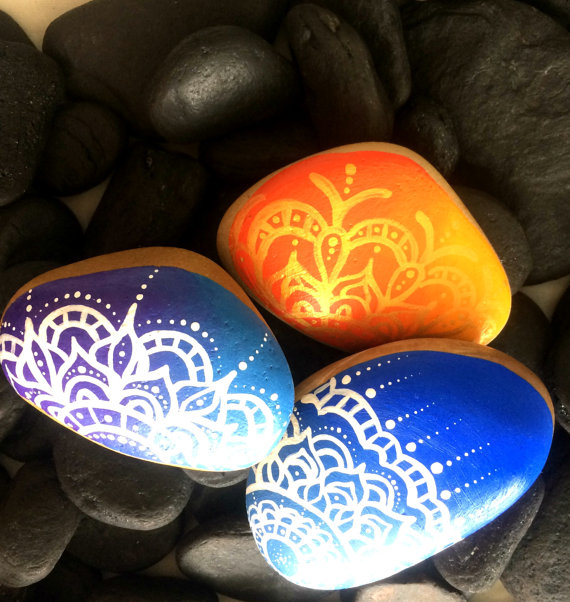 Bright and colorful, these are lovely stones. Look at the beautiful mandala patterns.
At Etsy.com by thegirlwithpaint
Painted rock Tree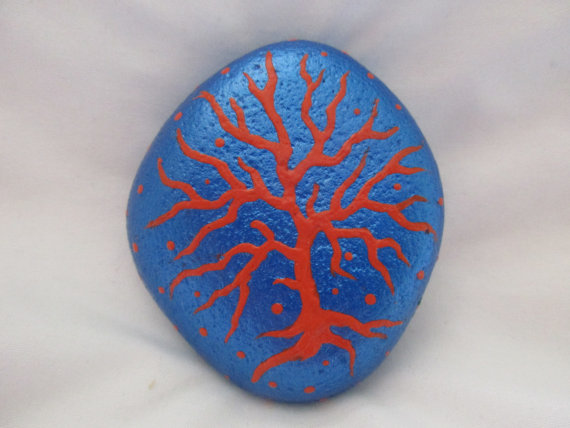 Here is a bright, modern art style rock. Depicting a tree it is perfect for your garden bed or desk.
Located at Etsy.com by PlaceForYou
Henna Painted Stones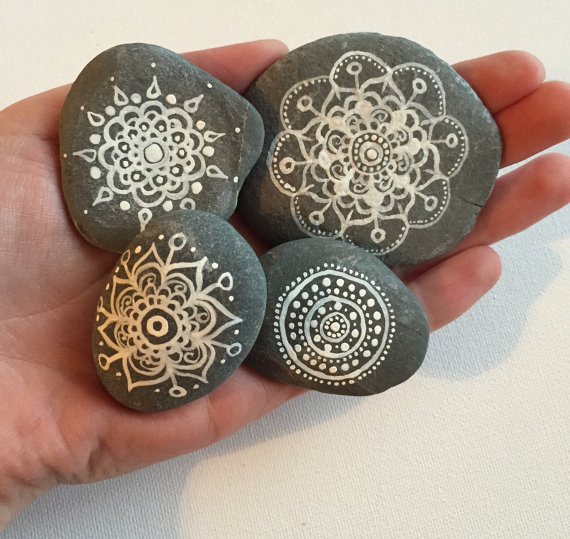 Like Henna patterns? Look at how elegant they look on simple rocks!
Feather Rock Art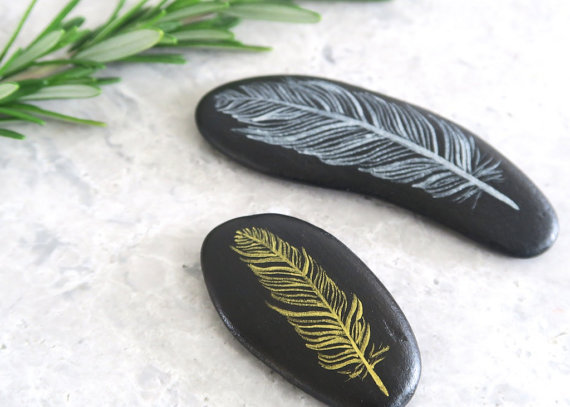 Look at these beautiful feathers. So delicate and perfect for long, flat rocks too.
Located at Etsy.com by EchidnaArtsandCards
Painted Pebbles
One great thing about painting on rocks is you can add inspirational sayings. This is a rock that will make anyone smile!
From Etsy.com by LostMooseCreations
Hand Painted Stone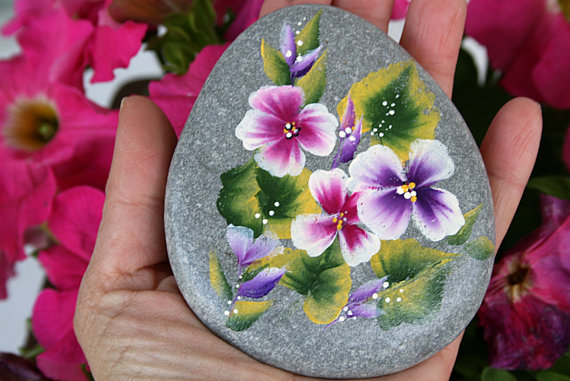 Love flowers? These look as if you could pick them right off the rock, so realistic!
Feathers on Stones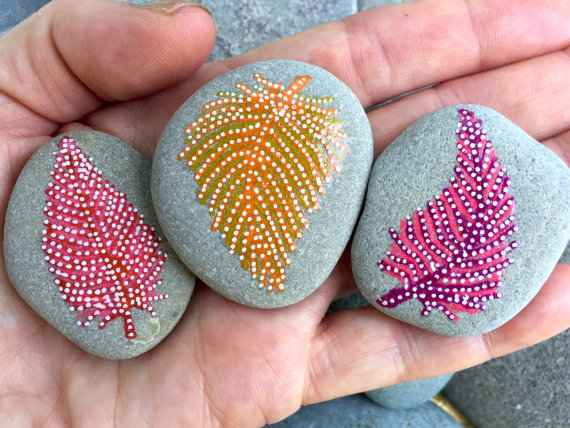 These feathers look so delicate and feminine. A bright touch to your garden!
From Etsy.com by LoveFromCapeCod