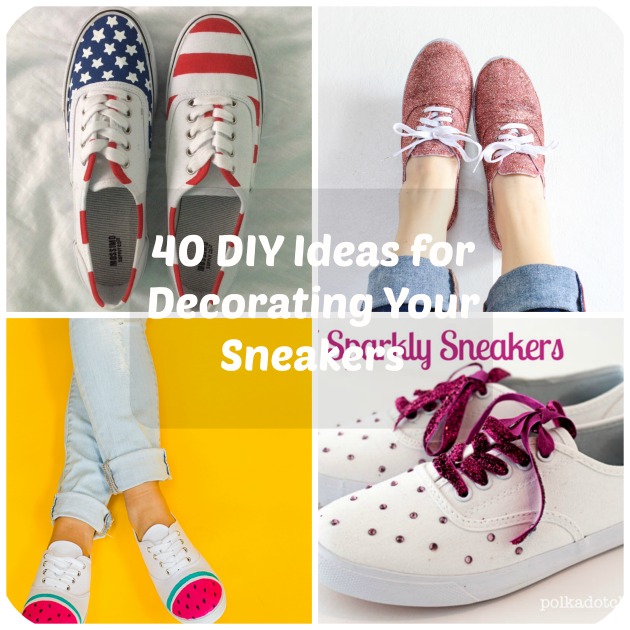 Got cool kicks? Most of us love our sneakers and have a favorite pair. But if you are a crafter or DIY-er, now it is easier than ever to get that special, customized look you've always wanted – without the high price tag.
We've found you 40 fun DIY decorative sneaker projects to try. There is something here for everyone. Whether you are a brand-new beginner or a more experienced DIY-er. Making decorative sneakers is also a great DIY project to do with your tween or teenager, as they will be thrilled to see how great their kicks now look.
Brides today also like to customize their sneakers, wearing them at the wedding reception. Especially for a beach or BBQ style wedding reception, these are a perfect choice. You can make very pretty and feminine sneakers that will easily compliment your wedding dress, while letting your feet stay totally comfy.
...
If you have more advanced DIY or crafting skills, then consider putting them to good use on your kicks. Take a look at the project where someone embroidered their sneakers! Or the delicate hand-painting, to show the child's storybook The Little Prince. This is a fantastic way to share your passions and what you love, often you simply won't find sneakers like this in a store to buy for any price.
Our best tip? Always remember to start by choosing a pair of shoes that is comfortable, so you'll want to wear them all the time. That way you will share your beautiful decorative sneaks with everyone! Happy DIY-ing!
How To Make Glitter Shoes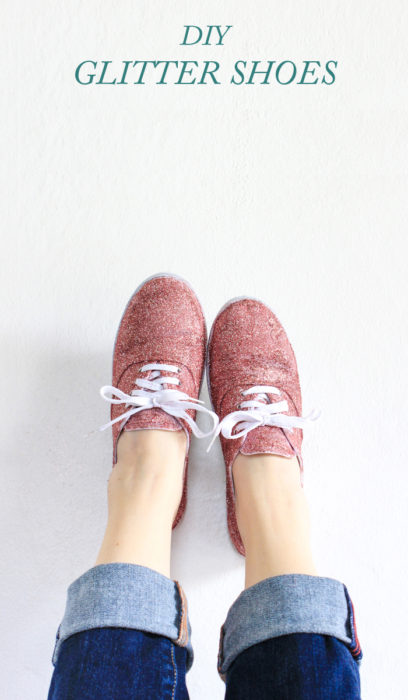 Dorothy in the Wizard of Oz is not the only one with sparkly shoes. Make your own kicks that have lots of glitter!
Galaxy Shoes Handpainted sneakers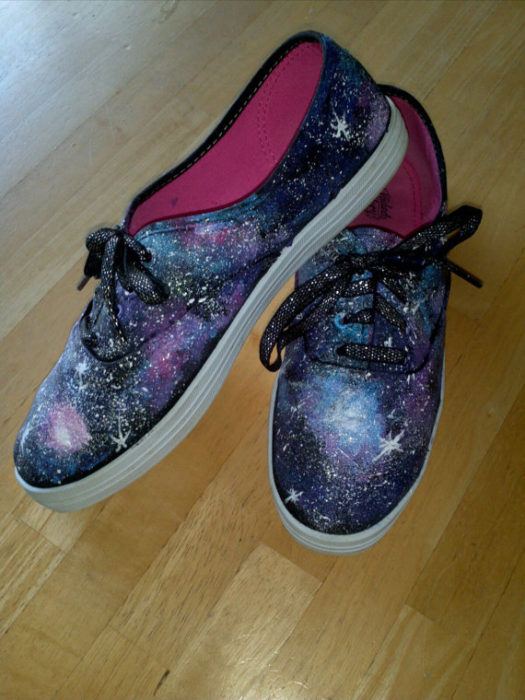 What beautiful colors that depict the galaxy. This is a very unique look for your kicks!
From Etsy.com by Bobby Walfingers
DIY Fabric Accent Sneakers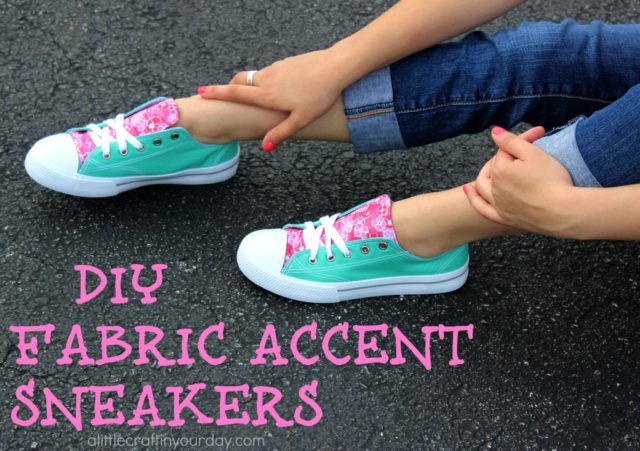 Want kicks with a pop of color? Try adding a fabric accent!
Doodle Your Style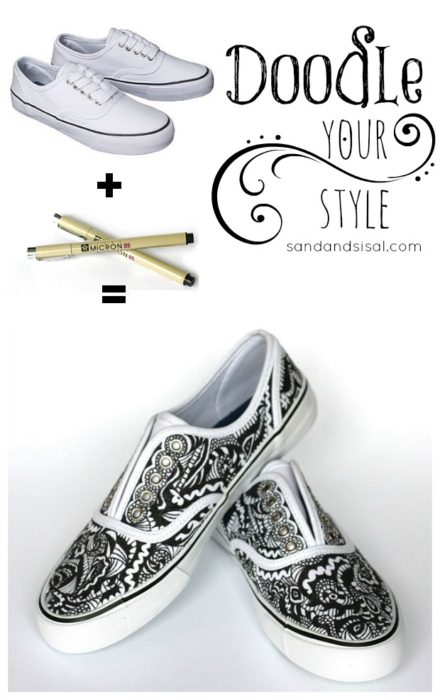 These kicks you can decorate with Zentangle doodling. This is a fun, new way of doodling!
Located at SandAndSisal.com
DIY Miu Miu Sneakers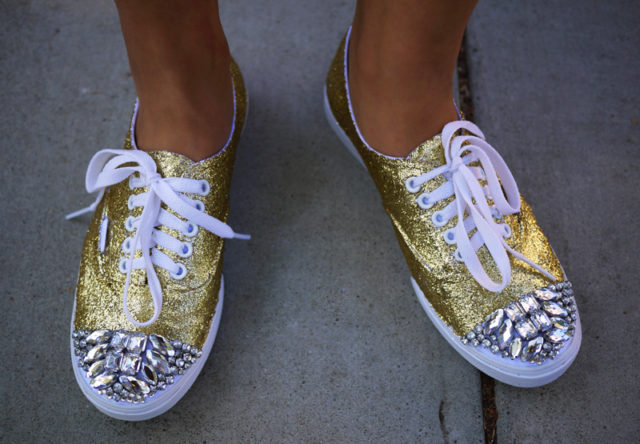 Love the designer Miu Miu's sparkly sneakers? Make your own DIY style!
From HonestlyWTF.com
Vans with London Underground Map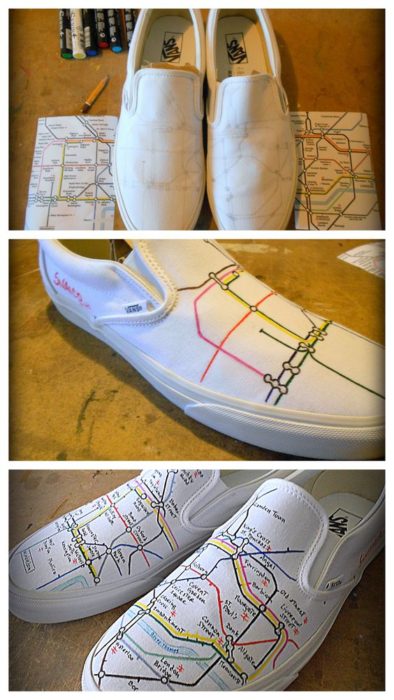 Never get lost again. These sneakers have the London Underground map on them.
At Pinterest.com, pinned by Snaico For Art, source unknown
Holly Day Painted Leaf and Berries Slip On Canvas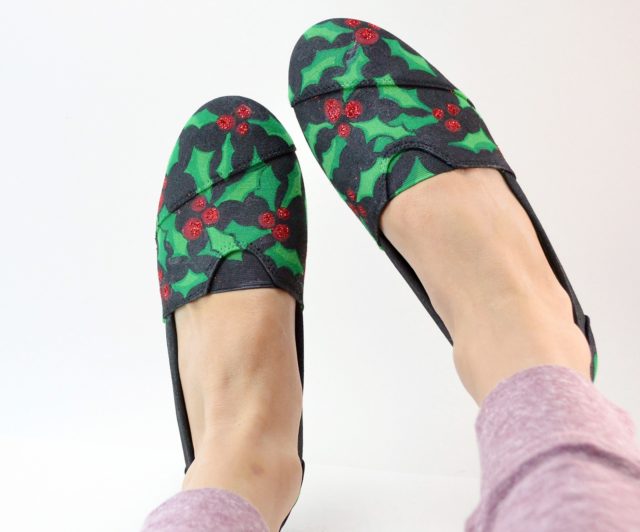 Christmas is coming. Here is a festive design for your sneakers.
From ILoveToCreate.com
Funny Cat Shoes Summer Fun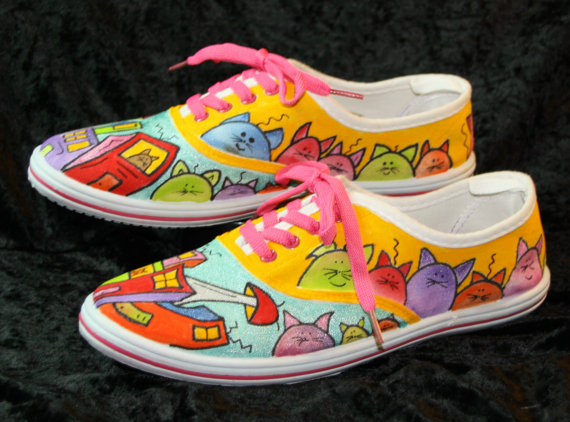 Love cats? Why not decorate your kicks with adorable felines?
Painted Flash Shoes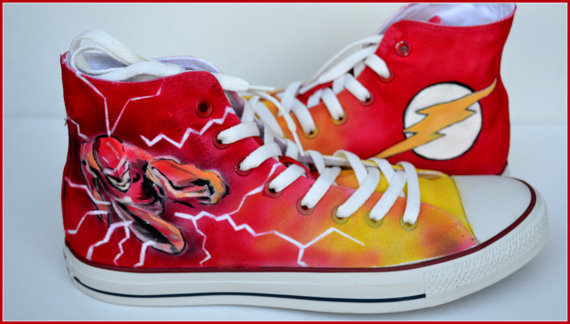 Love comic books? Take a look at these Flash kicks!
Oodles of Doodles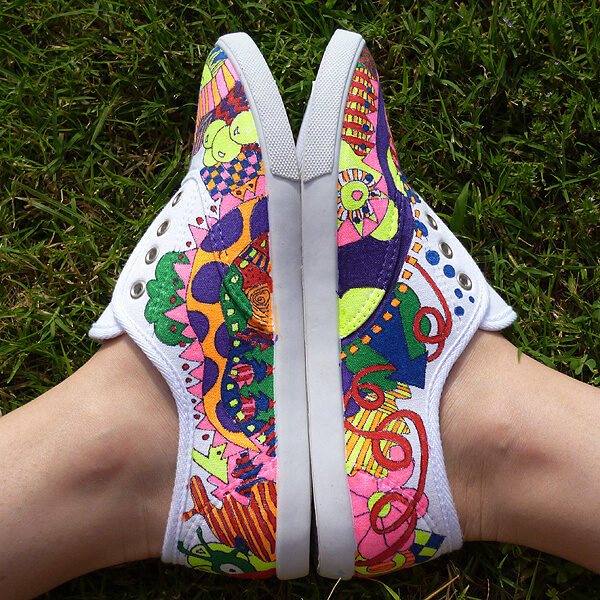 Don't just draw on your sneaks – make them into one big doodle! Why, these are a true work of art!
DIY Tribal Shoes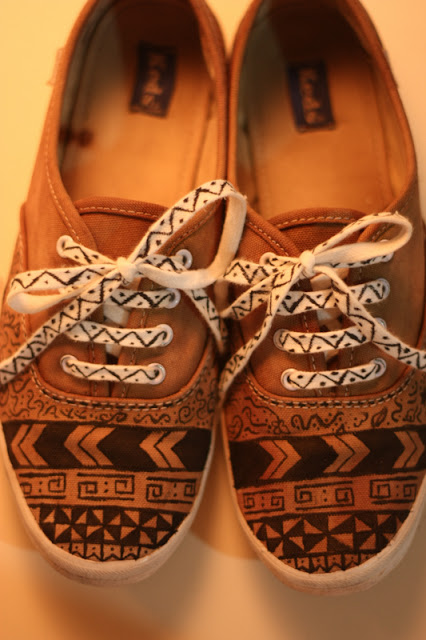 Here is a stunning way you can decorate your sneakers. A pattern can make your shoes look very stylish.
From MyJunkyBox.com No longer online.
DIY Sparkle Sneakers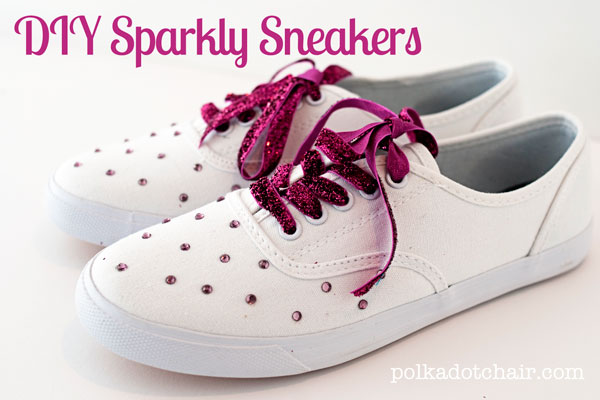 Want sneakers with just a bit of sparkle? Try this DIY tutorial.
Disney Shoes Sneakers Crystal Rhinestones Mickey Mouse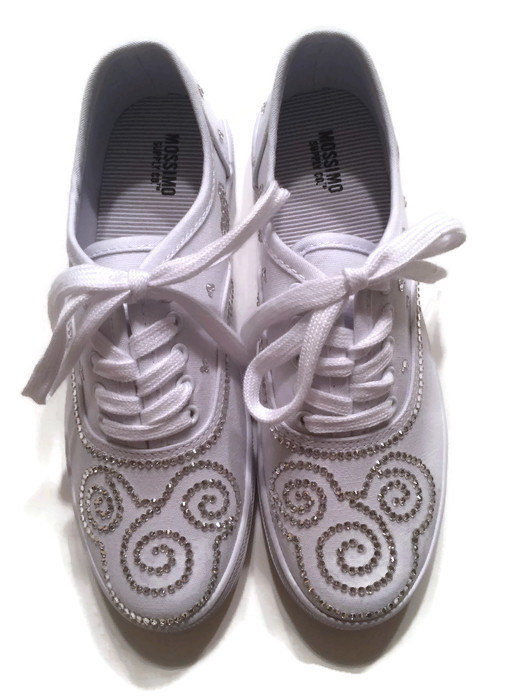 Love all things Disney? Check out these Mickey Mouse style sneaks!
At Etsy.com by WishesbyJennifer
Marimekko Inspired Sneakers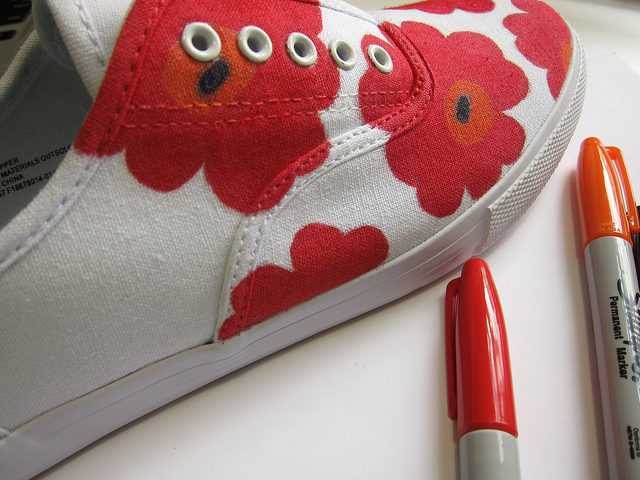 Love the bright, vivid styles of Marimekko? DIY your own sneaks in that inspiration!
Located at Flickr.com by katbaro
DIY Flamingo Shoes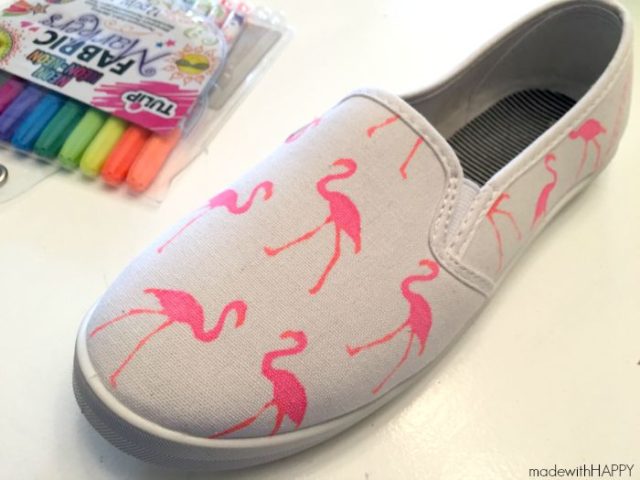 Aren't these fun and adorable? Perfect for summer or thinking about warm weather months.
Custom Wedding Shoes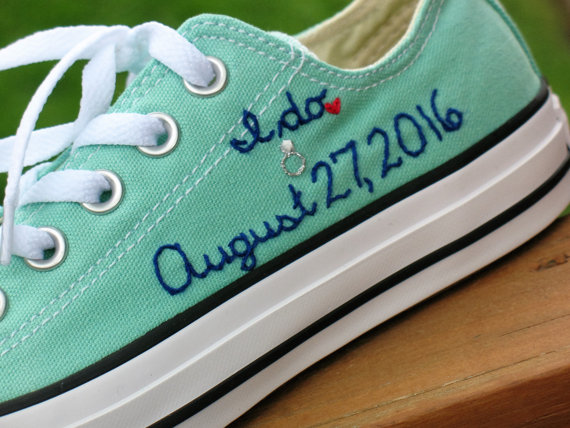 These shoes commemorate your wedding date. Perfect for a beach wedding or casual outdoor wedding too!
Rhinestone Sneakers Tutorial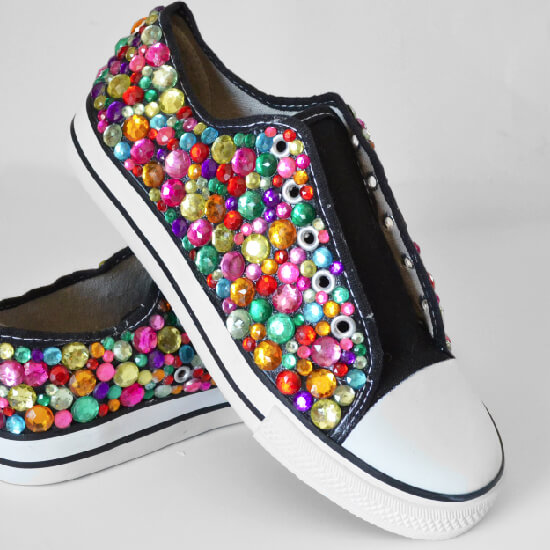 Wow! These sneaks have tons of sparkle! This is also a pair your teen or tween will want to make.
The Grateful Dead Hand Painted Sneakers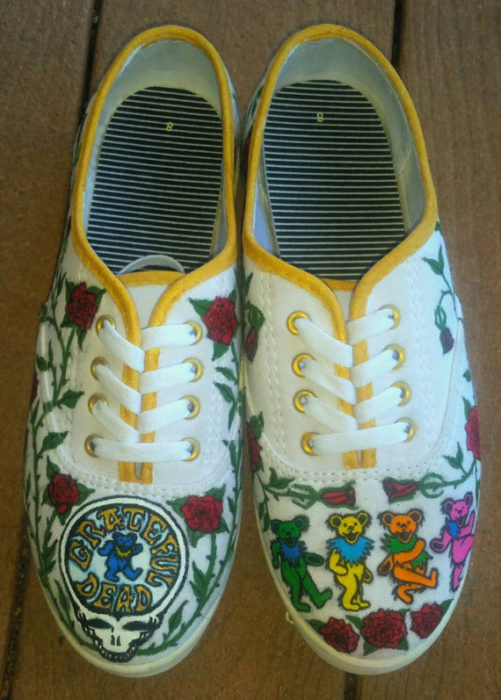 If you are a Dead fan then you'll certainly admire these sneakers. Why not add some dancing bears to your favorite kicks?
From Etsy.com by JensWickedCrafts
Super Easy Rainbow Shoes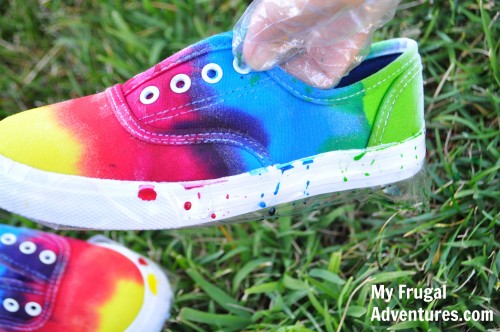 Admire those rainbow sneaks you see others wearing? Save money and DIY your own pair!
Zentangle sneakers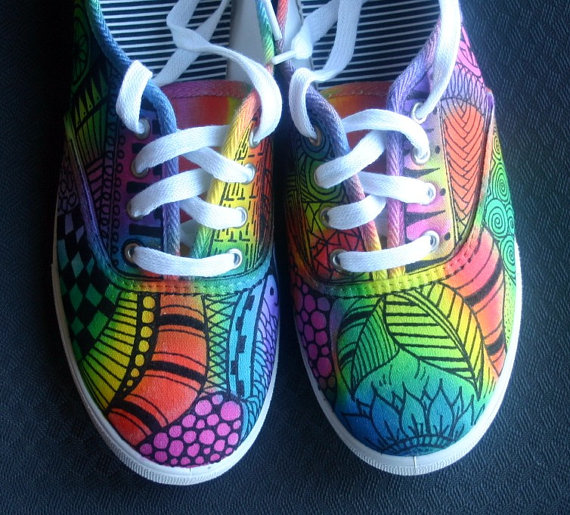 Zentangle is a popular way to doodle now. This is a fun method of designing your sneakers, just add color to the doodles too!
From Etsy.com by ArtworksEclectic
Custom Solar Flare Galaxy Nike Air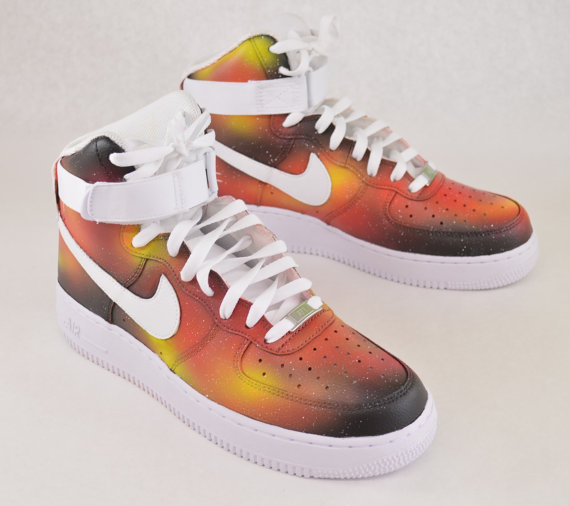 Here is a fun way to paint your sneakers – like a solar flare! Its a real attraction getter.
Spraypainted Toms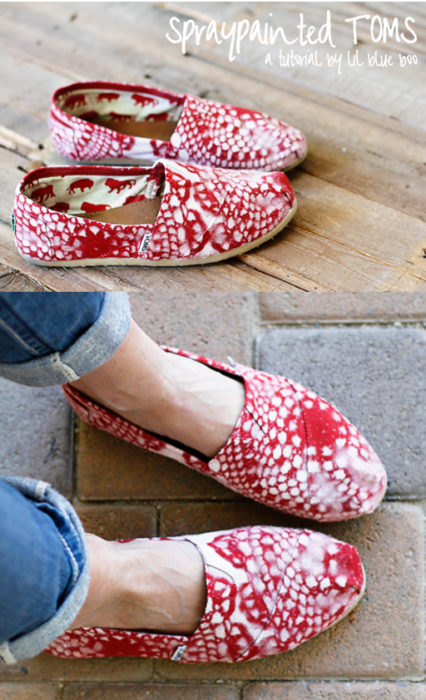 Love Toms Shoes? Make yours look even more unique with a little spraypainting DIY.
Located at LilBlueBoo.com
Tie Dye Converse Hi Top Sneakers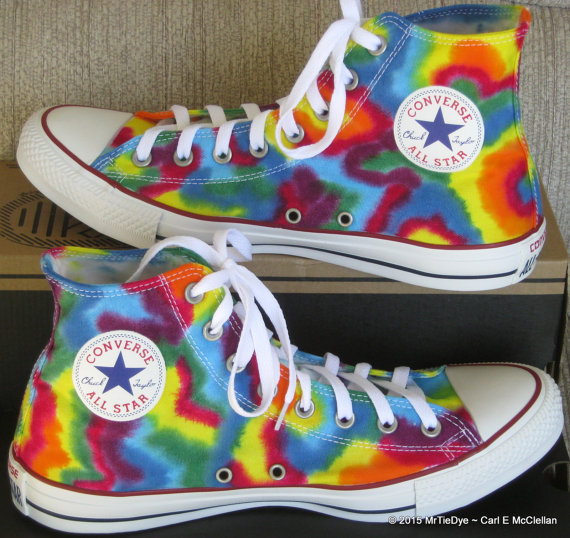 Tie Dye is a classic way to bring bright colors to your clothes. Why not try it on your sneakers?
From Etsy.com by MrTieDye
Floral Vans Restyle DIY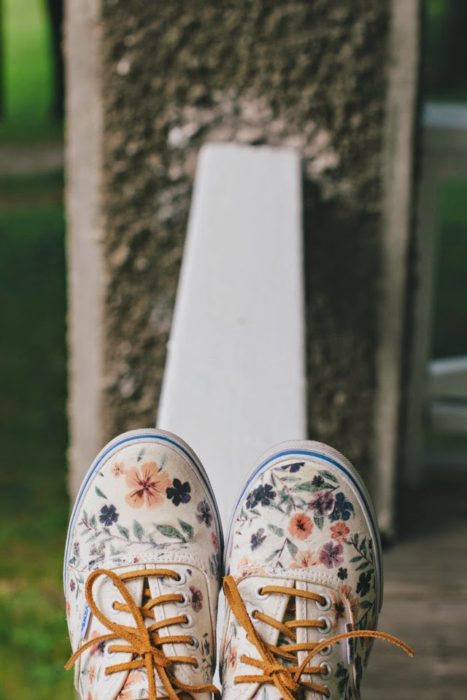 Aren't these lovely? They were done with iron-on transfers, so simple.
From AlwaysRooney.com
Indigo Dyed Ombre Shoelaces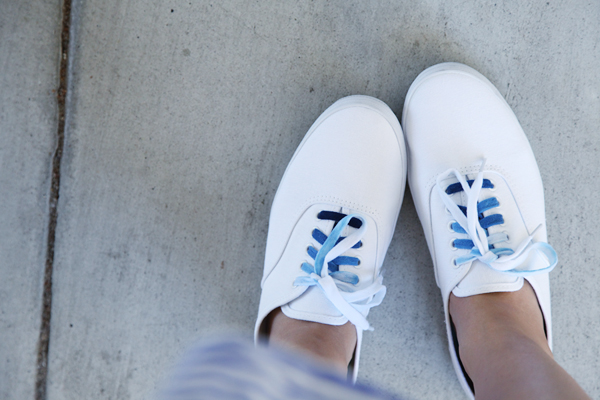 For a nice pop of color – why not just dye the shoelaces? This is the perfect way to show off your favorite pair of white or light colored sneakers.
Crystallaisations Vans Off the Wall Checker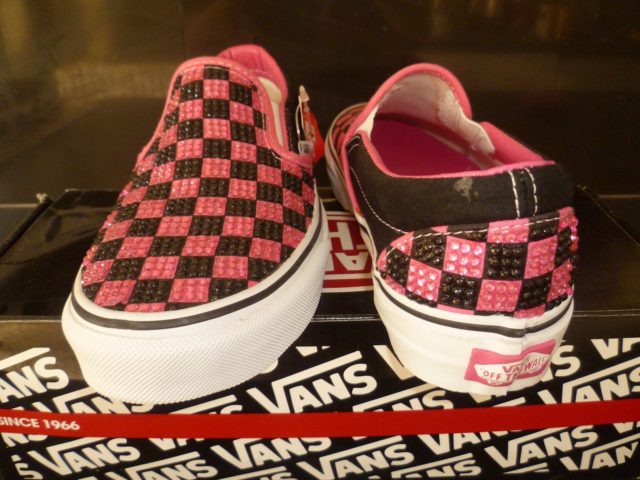 These kicks are super snazzy! With crystals they have tons of sparkly shine!
From RobinSparkles1.Blogspot.co.uk
American Flag Sneakers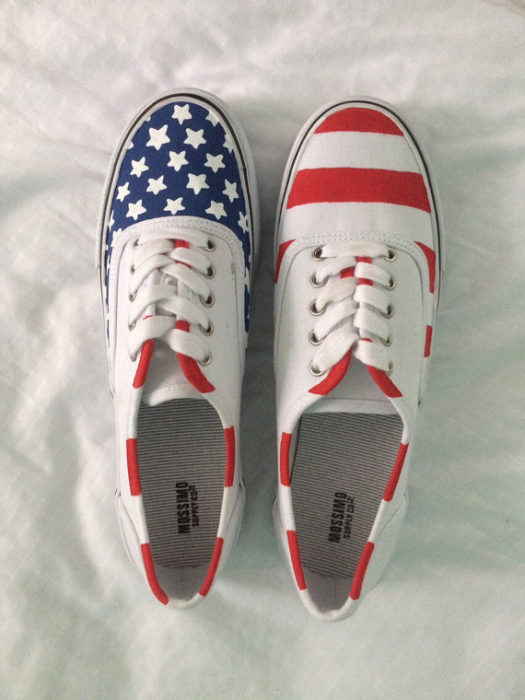 Show your U.S.A. patriotism with these cool sneakers! Perfect for 4th of July or other holiday events too.
At Etsy.com by BMoreFreeDesigns
Embroidered Converse All Star Sneakers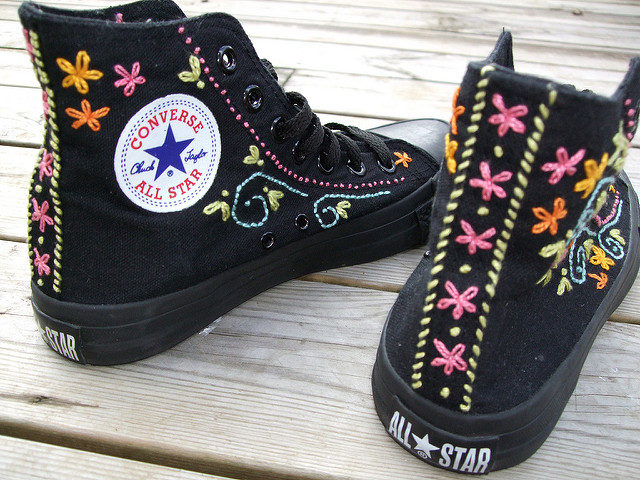 Handy with a needle and thread? Why not embroider your sneakers for a stunning look?
Custom Keith Haring Inspired Canvas Sneakers Tutorial

Keith Haring was a popular contemporary artist in the 1980's in NYC. Make a pair of sneaks that are inspired by his fun artwork!
Located at DreamALittleBigger.com
Womens Converse Swarovski Crystals Personalized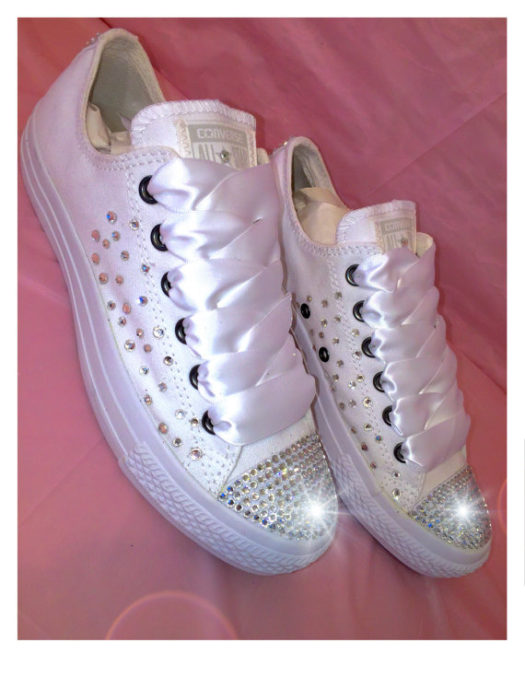 Its become a new trend for brides to switch into sneakers at their wedding, but they have to be a special pair. Take a look at these – with stunning crystals!
DIY Ombre Sneakers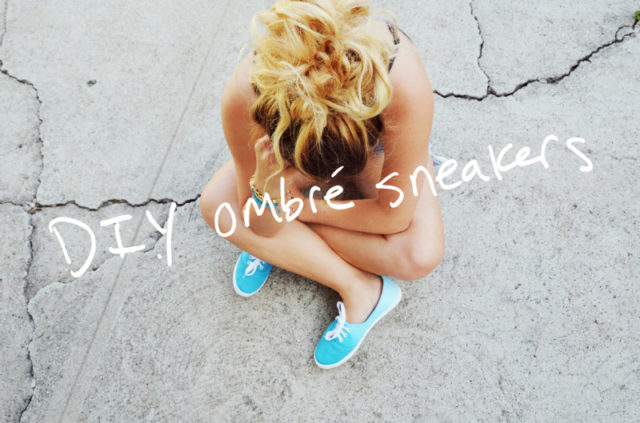 Ombre is one of the fun color trends today. Make your sneakers ready for the season, use a favorite color!
From MrKate.com
Rhinestone Converse All Star High Tops with Ribbon Laces

Wear these and you'll get lots of compliments. Adding rhinestones to your favorite pair of sneakers is a great way to DIY them up.
DIY Saddle Shoes

This is a classic type of shoes – saddle shoes. You can easily make them with a pair of white sneakers, just follow the directions!
At BleuBirdVintage.Typepad.com
Christmas Lights Inspired Sneakers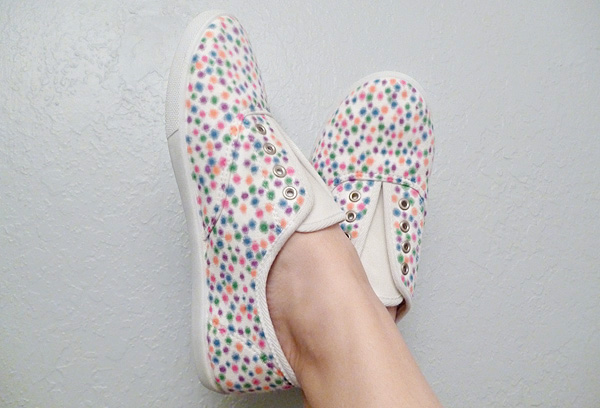 Aren't Christmas lights pretty? Enjoy them year round on your DIY sneaks!
Polka Dot Sneakers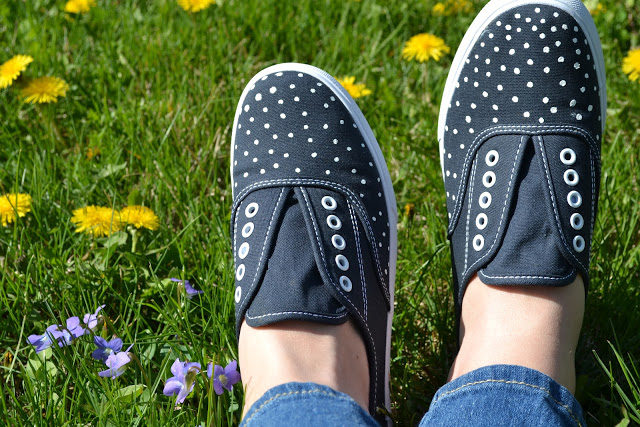 Dots are fun, modern, trendy and a bit sweet too. This is a simple way to dress up any pair of sneaks that you have.
At GoldenAndLovely.Blogspot.Se
Unique sneakers "The Little Prince"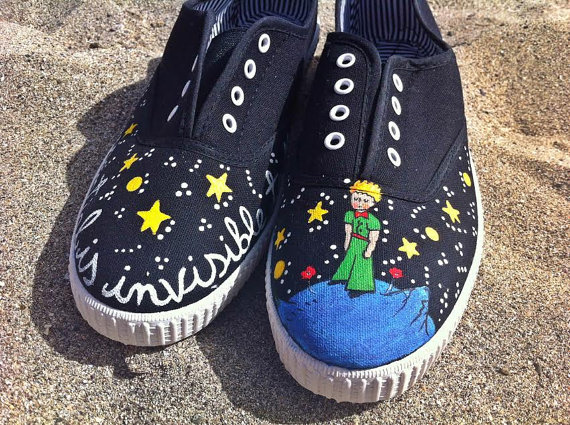 The Little Prince is a charming tale. Wear sneakers that will remind you of this everyday.
DIY wedding Personalized Glitter Trainers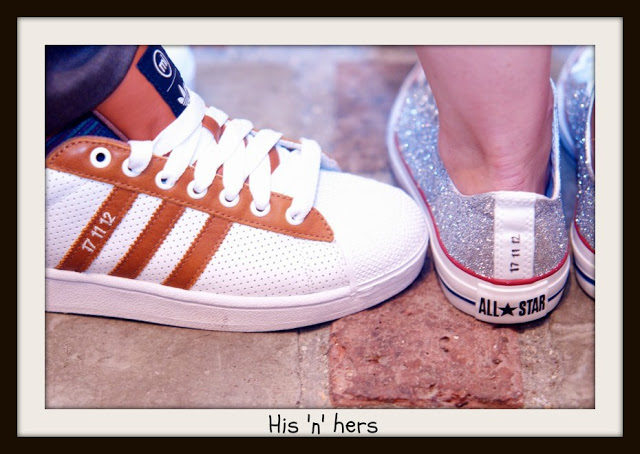 This is for for His n' Hers sneakers for a wedding. Make personalized glitter trainers!