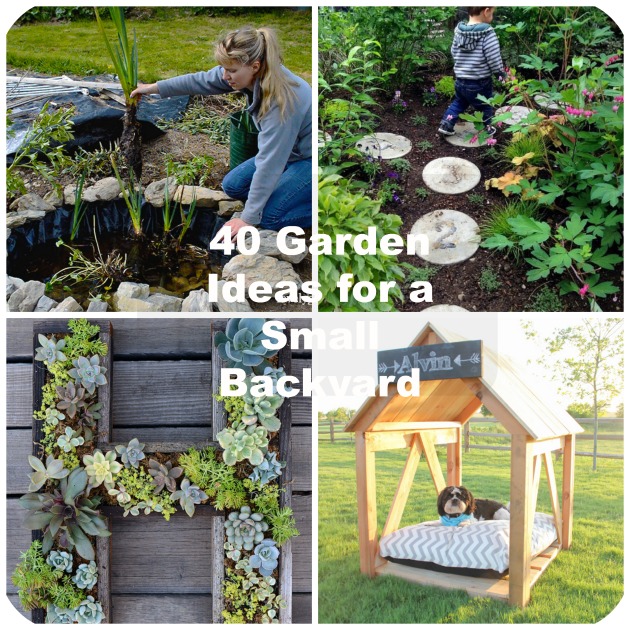 Do you have a small backyard? Now everyone wants their home and garden to look terrific. Its very easy to look at a large yard and get envious of a bigger space. But we have a terrific treat just for you: 40 projects that are especially great for smaller backyards.
If you have a petite space then we recommend you focus on one to three "must have" elements to your backyard. Whether that is a veggie garden, garden bench or even a pond. Most likely you can have just about anything your heart desires, but it is so helpful to gather inspiration from others who have smaller space, just as you do. Some projects – like a storage shed – you may need to scale down so they fit your space in that "just right" way.
Think about what you love to use your backyard for. Do you have BBQs where you have family, friends and neighbors over regularly? Do the kids play there every day and in every season? Do you long to grow fresh veggies, so your family continues to eat healthy meals? Or do you simply want a lush, beautiful place for your family to relax and enjoy a few moments after a busy day? Considering what is most important will help guide you to which DIY projects are perfect for your small backyard of your dreams.
...
You'll be thrilled to know that most of the projects we found here are very beginner friendly, so you can feel confident about giving them a try. Happy DIY-ing!
No Joke This Is a Mobile Home Backyard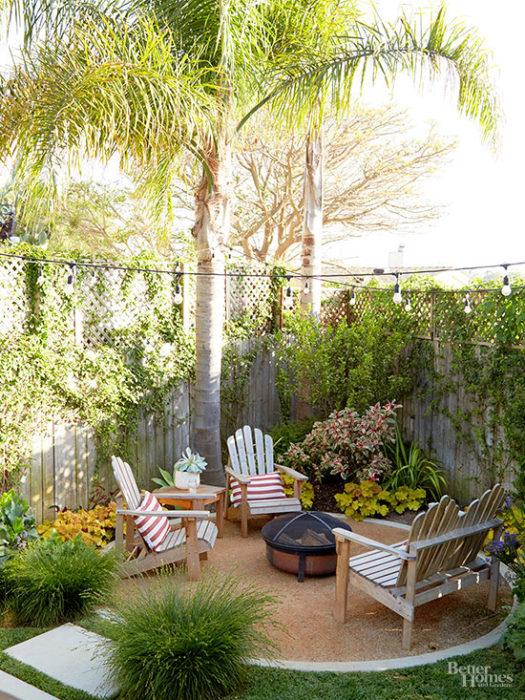 You've got to see this DIY project at BHG, a couple have created the perfect mobile home with a charming backyard. Take a look at the firepit!
Located at BHG.com
How To Make Moss Graffiti
DIY Tiered Herb Garden Tutorial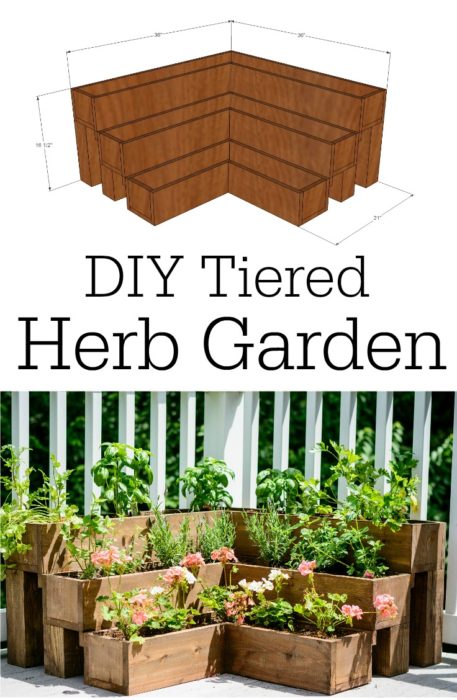 Make great use of a small space. You can easily plant more herbs with this tiered garden.
Constructing a Small Fish Pond in the Garden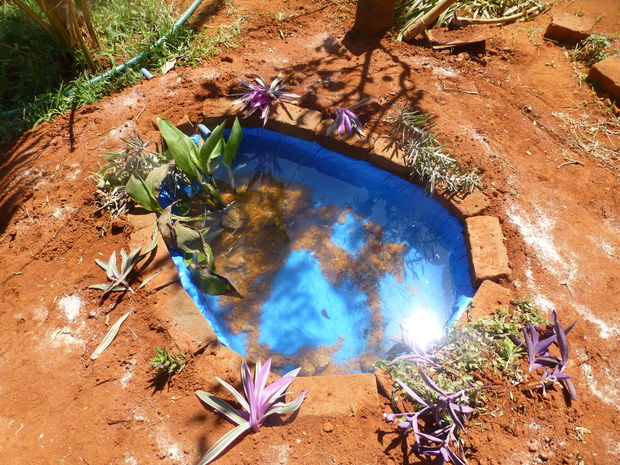 A fish pond is a charming addition to any small backyard. Your children & cat will especially like it!
From Instructables.com
Mini Shed Project

For $30 you can build a shed to hold all of your gardening supplies. Its the perfect petite size for a small backyard too.
Bottle Tower Gardening How to Start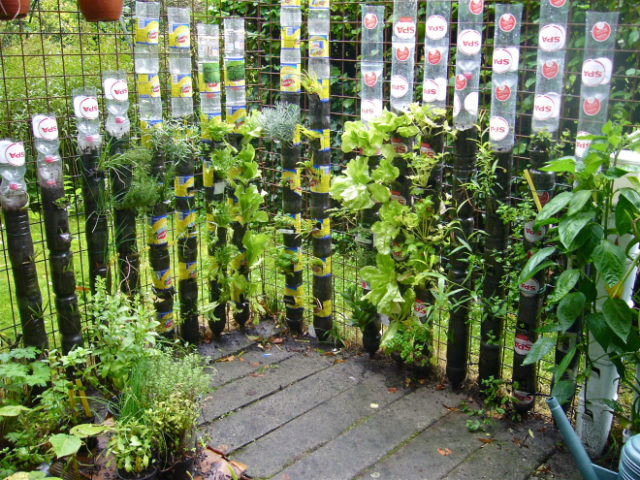 This is an eco-friendly project. It also is a terrific space saver to garden.
Located at ContainerGardening.com
Vertical Vegetables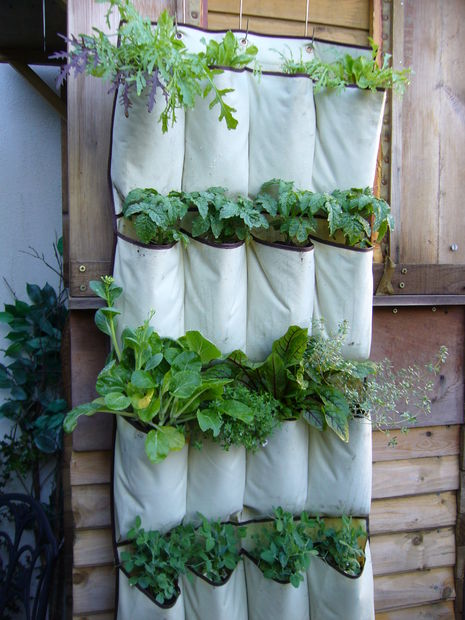 Have a super small garden? No worries, you can still have a garden, give this a try.
From Instructables.com
Build Your Own Ladder Garden Planter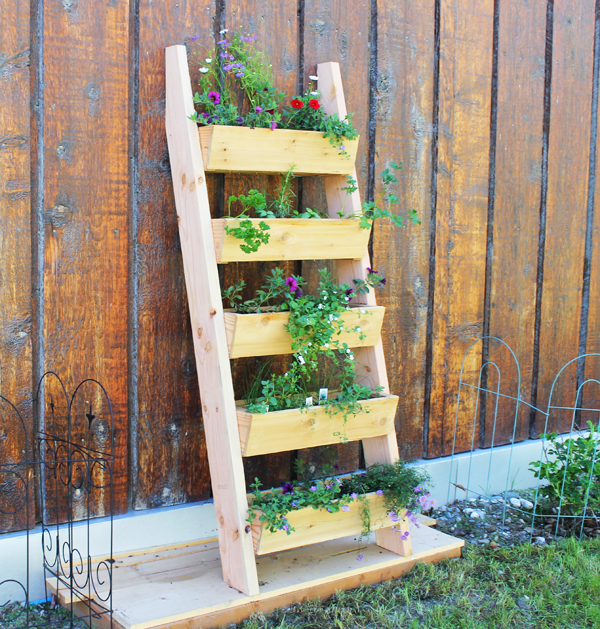 Love gardening? Here's a way to use your space very efficiently.
From Ana-White.com
Growing a Small Kitchen Garden in Your Backyard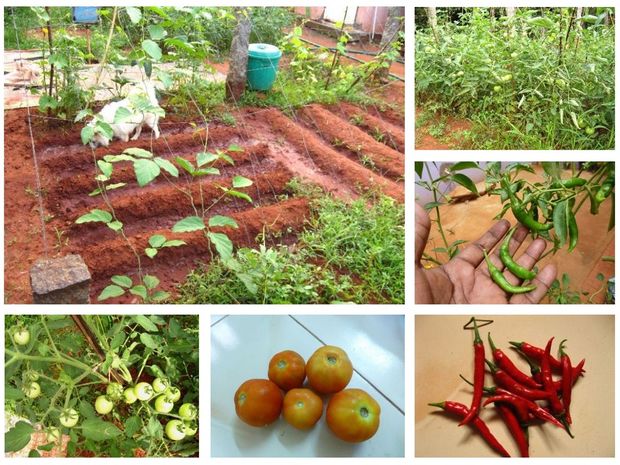 Want fresh veggies for your meals? You don't need a lot of space, take a look at the plans for this vegetable garden to DIY.
From Instructables.com
DIY Outdoor Succulent Wall Accent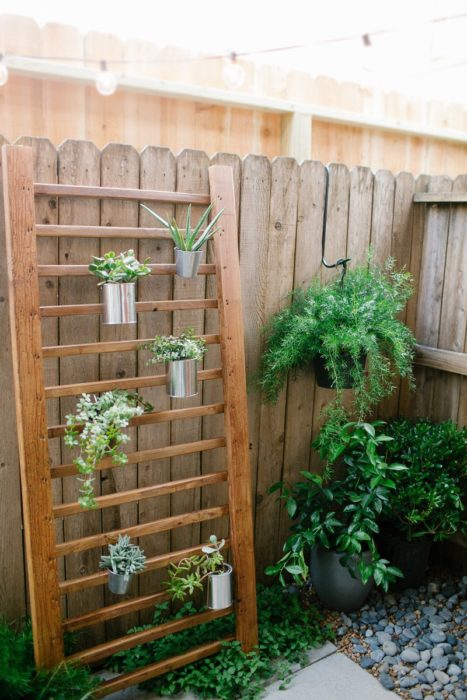 Show of your succulents with style. This wall accent is a unique way to grow them.
Located at SugarAndCloth.com
4 Step Guide to Building a Herb Spiral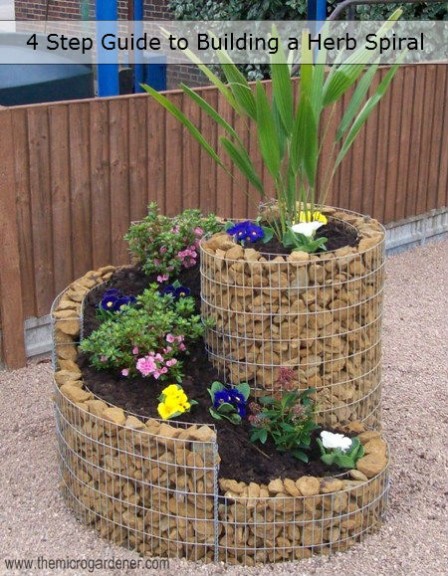 Make the most of a small space and grow lots of herbs. This spiral is compact but efficient.
From TheMicroGardener.com
Small Solar Powered Pond and Garden for Around $100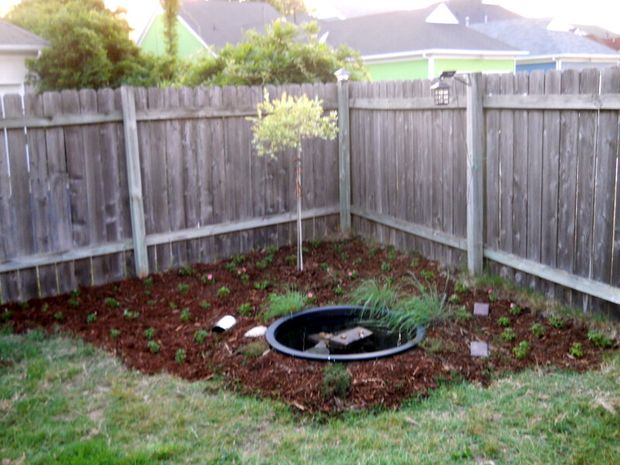 Working with a small budget and small yard? Try this project to have a lovely yard.
From Instructables.com
Small Cedar Fence Picket Storage Shed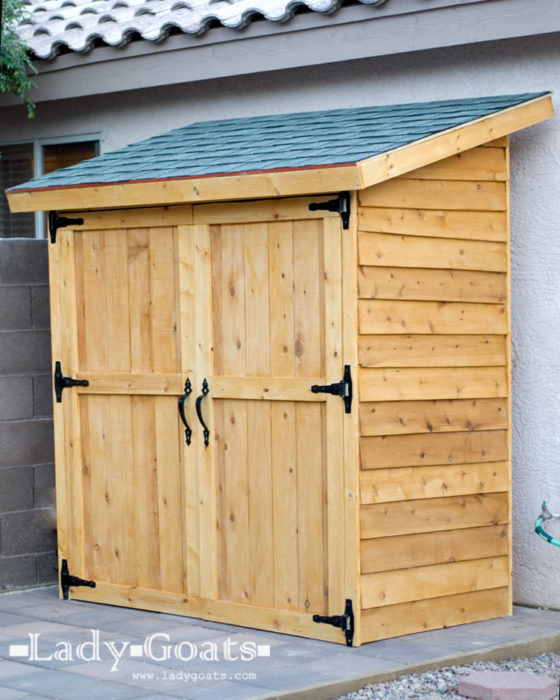 Got things to store? Take a look at this great small shed project.
DIY Garden Stones
These add charm to your garden. They are also a great beginner's project.
Located at IntimateWeddings.com
Raised Bed Garden Planters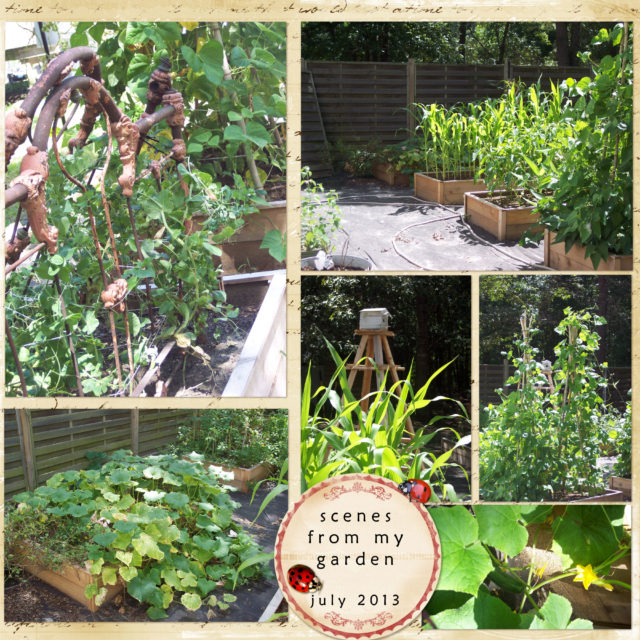 Make simple raised bed garden planters. This will keep critters from eating your veggies.
How to Make Window Boxes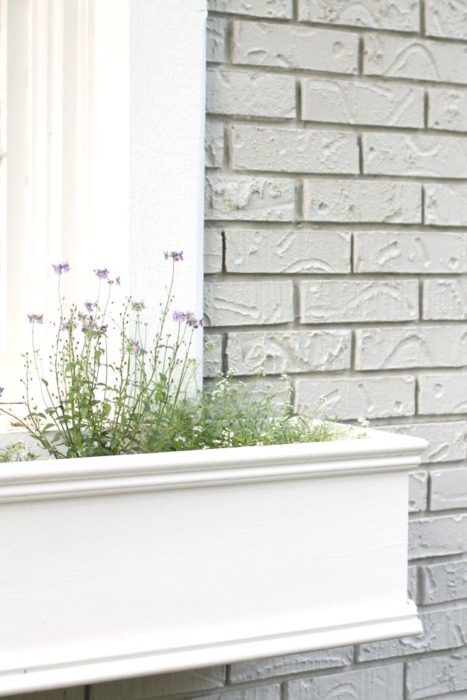 Make the use of every bit of sun that you have. Create window boxes so you can garden from all of your backyard.
From JulieBlanner.com
DIY Garden Planeter Birds Bath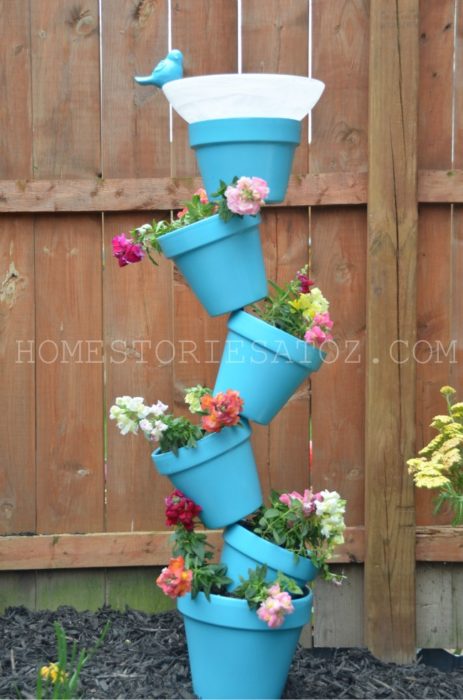 This DIY project is a 2 for 1! Make a garden planter and a bird bath.
From HomestoriesAtoZ.com
Garden Bench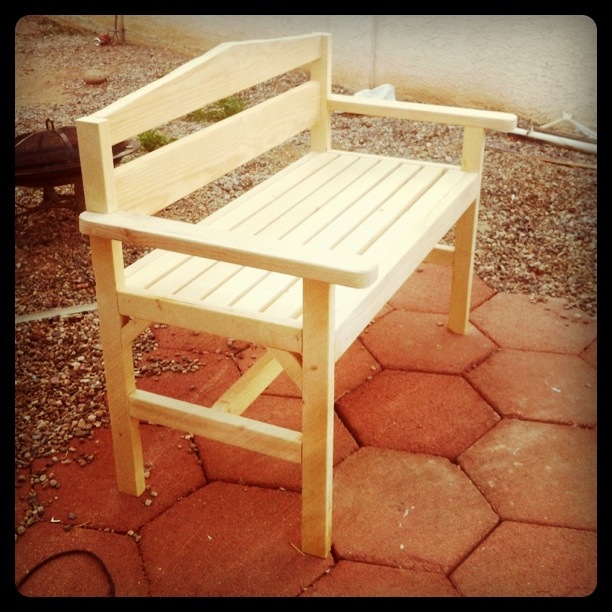 Create a classic garden bench for your small backyard. So you can sit and enjoy the sunset with your sweetie.
Located at Ana-White.com
DIY Planter Box from Pallets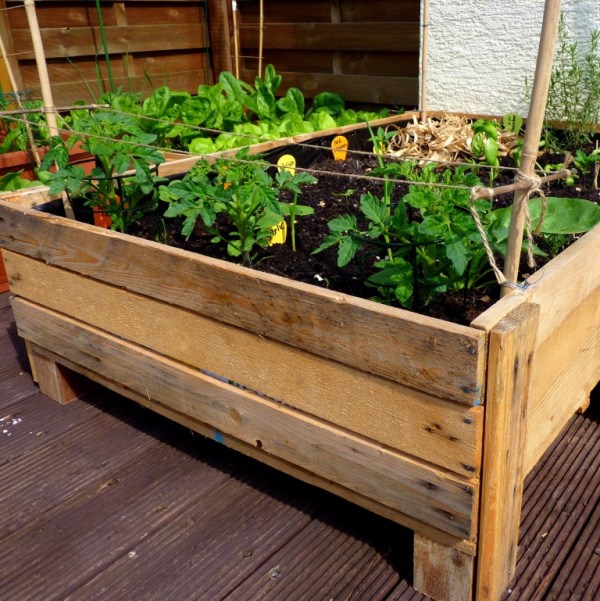 Pallets are a great building material. Make the most of your backyard with this planter box.
Rustic Pallet Dog House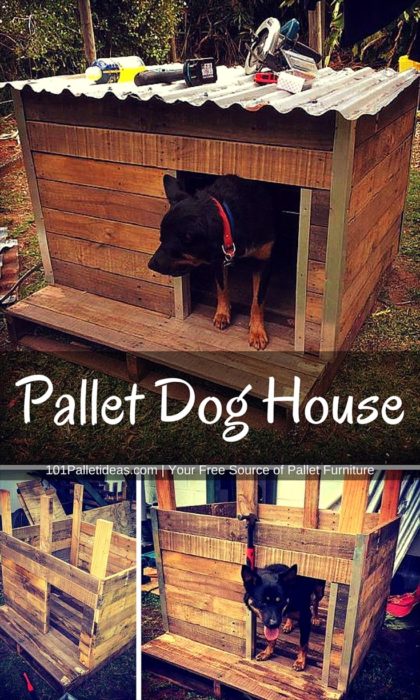 Man's best friend deserves a great little house in your backyard. Here is one made from pallets.
How to Make a Decorative Garden Path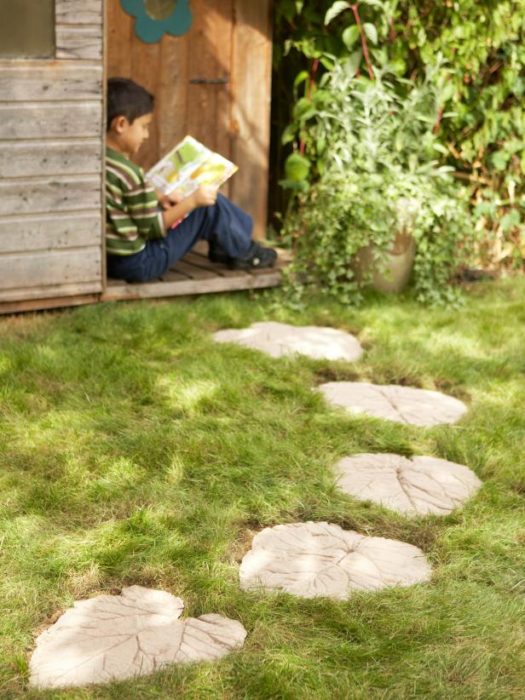 Welcome friends and guests to your garden. This walkway is simple to make.
By HGTV.com
Make your own moss grafitti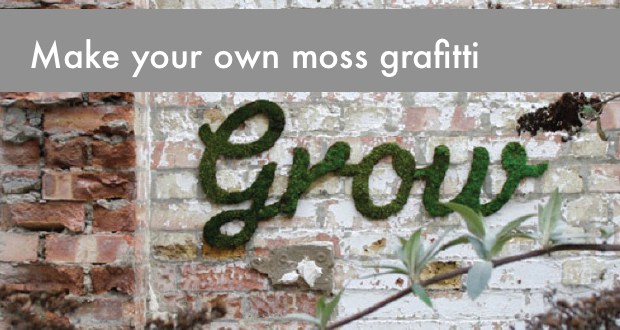 Decorate your backyard with style, with moss grafitti. This is a fun project beginners can do.
Building a Wildlife Pond in the Vegetable Garden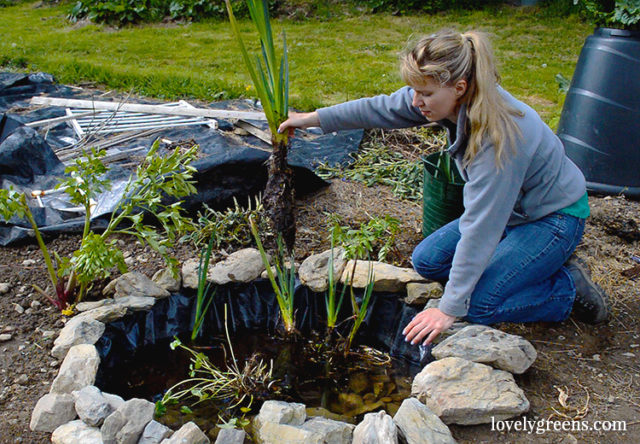 Adding water to your garden creates real charm. It also means that wildlife like frogs will come.
The Art of Espalier Growing Tree Fruit in Small Spaces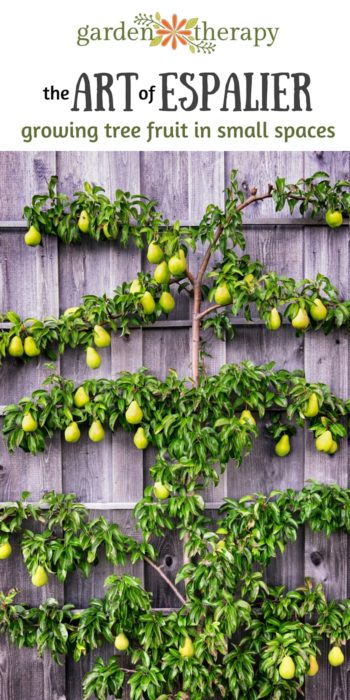 Have your kids longed for an apple or pear tree? Even if you have a small backyard, this blog shows you how to make it possible!
From GardenTherapy.ca
Hopscotch Garden Stepping Stones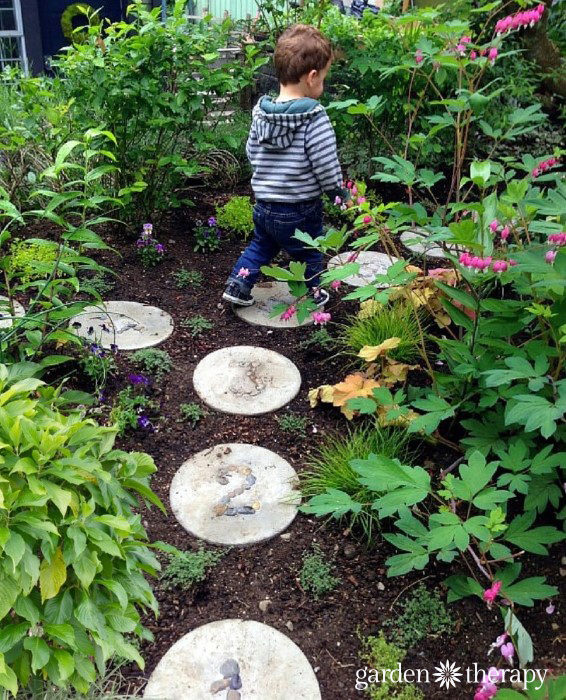 These are fun to make, they will make kids smile. Great to teach kids to learn how to count and enjoy the garden too.
At GardenTherapy.ca
DIY Dog House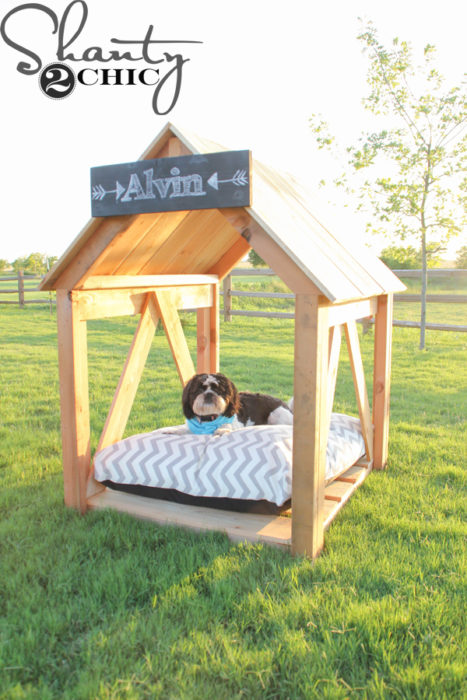 This dog house is perfect if you live in hot weather. Create a shady spot for your dog to cool off.
How to Build an Elevated Garden Bed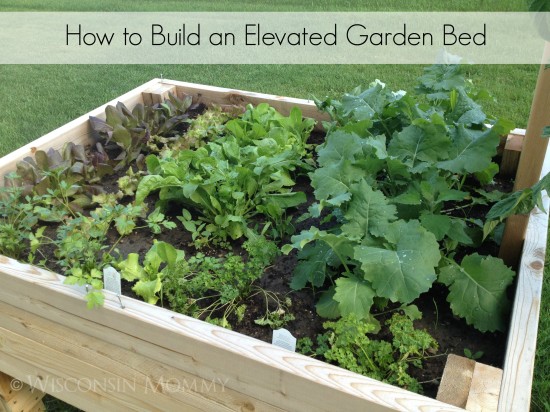 If you grow veggies but the rabbits eat them, an elevated garden bed is a great idea. Here are tips to make a smaller one.
Small Garden Ideas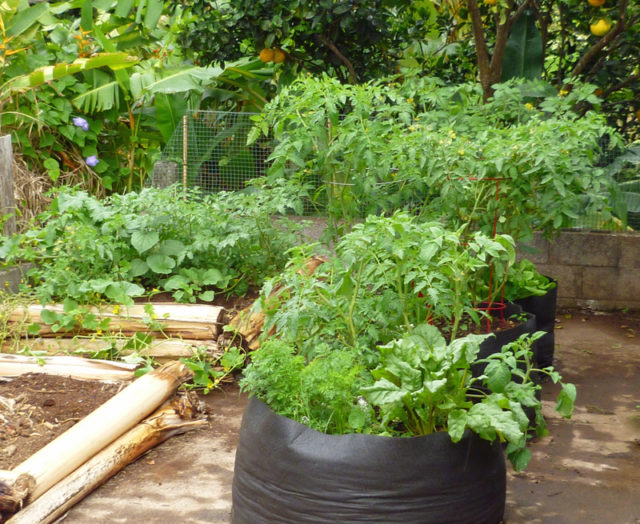 If you have big ideas but are limited on space, then you've got to take a look at how they've organized their garden. This is how you get the most out of your garden all the time!
DIY Herb Garden

Make a simple outdoor herb garden with this project. This is a great DIY project for beginner to try.
From SuburbanBitches.com
DIY Backyard Pond Landscape Water Feature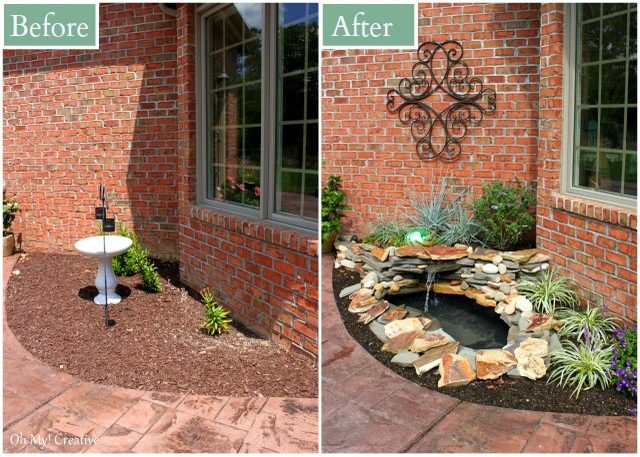 As you can see, a water feature such as a pond can look really pretty. It also doesn't need to take up a lot of space.
Located at OhMy-Creative.com
DIY Raised Garden Beds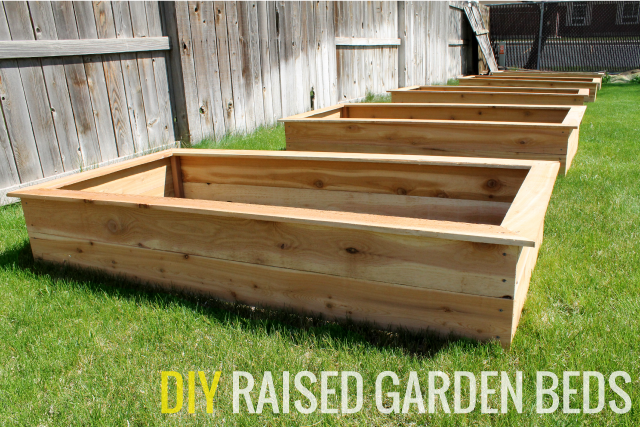 These garden beds cost less than $100. The perfect budget friendly project!
Slim Rear Contemporary Garden Design London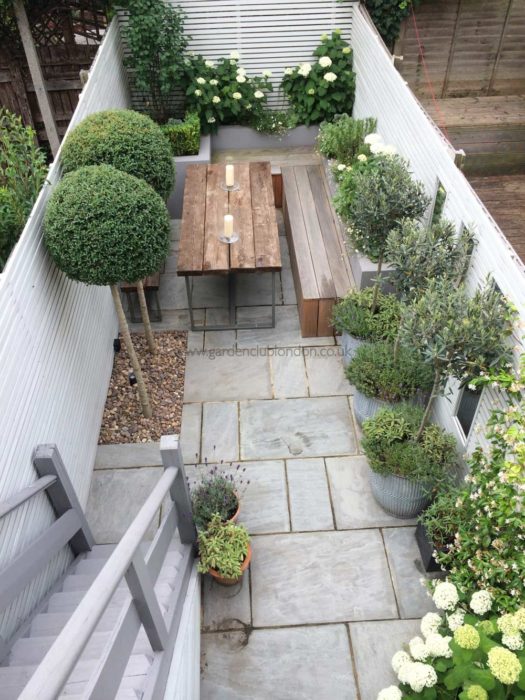 Lots of people have great ideas and are just a little short on space. Take a look at this sophisticated garden idea in London, UK.
Located at GardeningDaily.com
DIY Bird Bath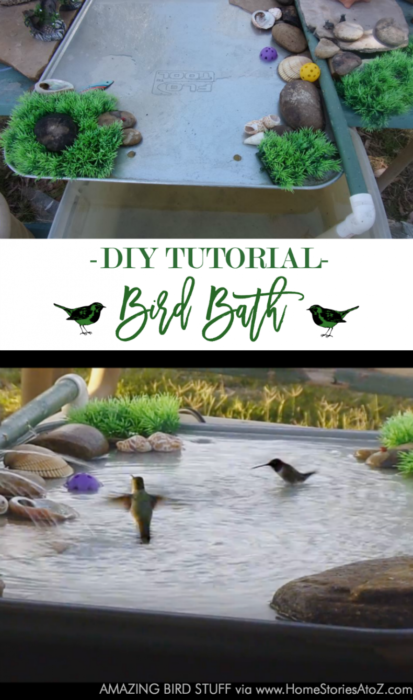 Be a bird's best friend with this project. You can enjoy seeing the birds each day too.
From HomeStoriesAtoZ.com
Garden Spiral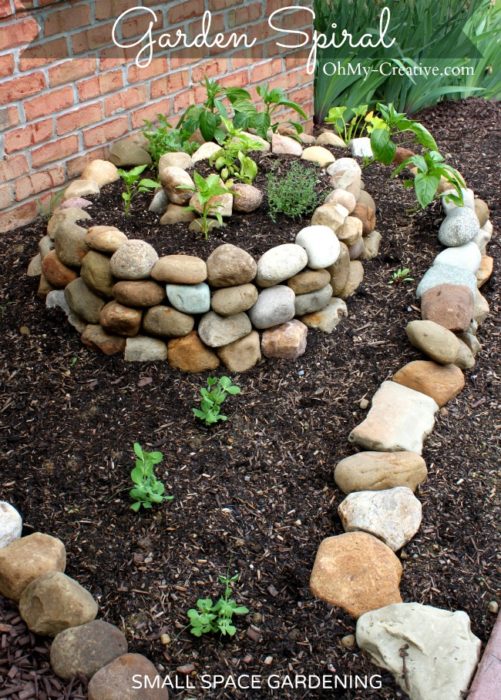 Grow vegetables and herbs in a small space. This looks stylish in your yard too.
Homemade Twig Trellis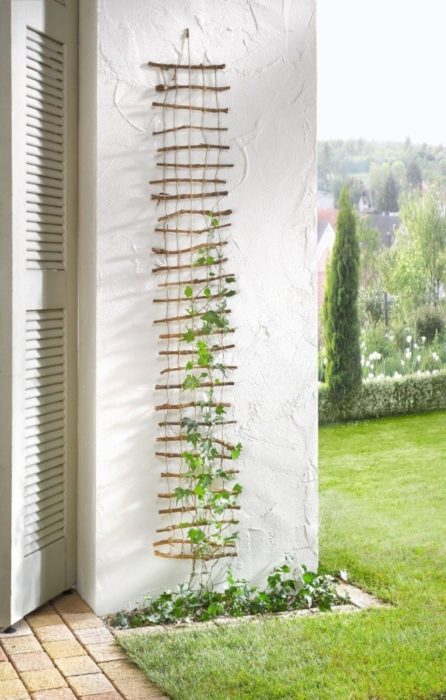 Encourage vines and flowering vines to easily grow up walls and your home. This homemade twig trellis is a simple DIY project.
From Al-Hfifa-arabians.com. (photo posted by s2bu but not credited to anyone)
How to Plant a Water Container Garden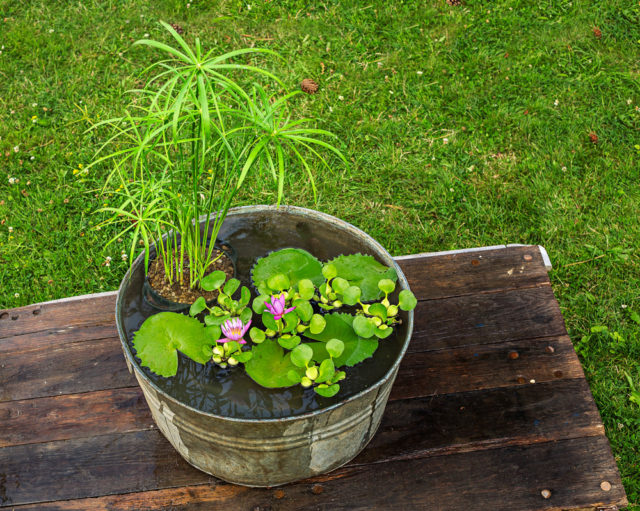 This wont work in every climate. But adding a water container garden is a lovely feature if you are in the south or west.
From MidwestLiving.com
Wall Mounted Succulent Letter DIY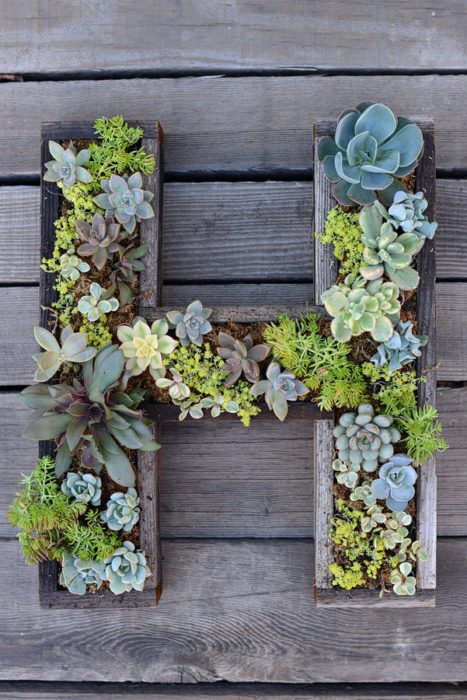 Let everyone know they are coming to your home with this gardening themed monogram. It is also a beginner friendly project to do.
Vintage Galvanized Wash Tub Herb Garden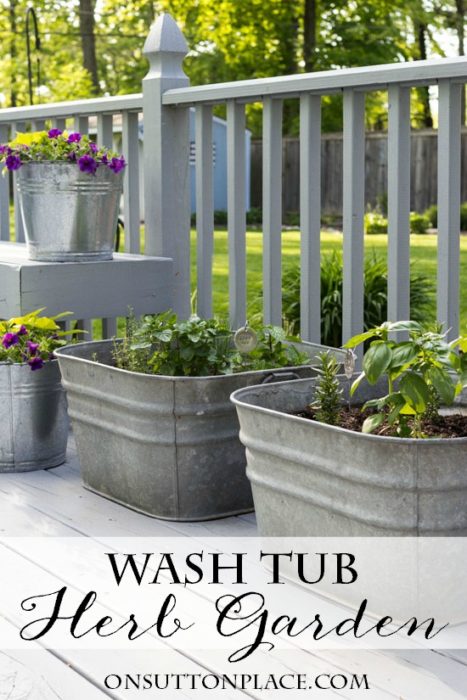 Grow herbs easily on your porch in these big tubs. These stylish containers are perfect to fit in with your decor.
Rose Arbour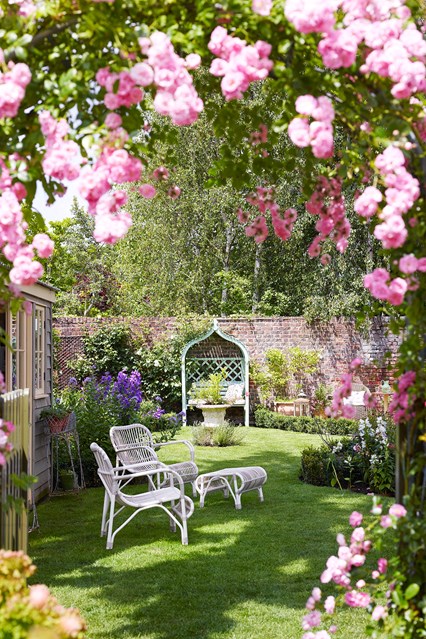 Planting flowers is a lovey way to brighten up your small garden area. Take a look at what this homeowner did.
From HouseAndGarden.co.uk