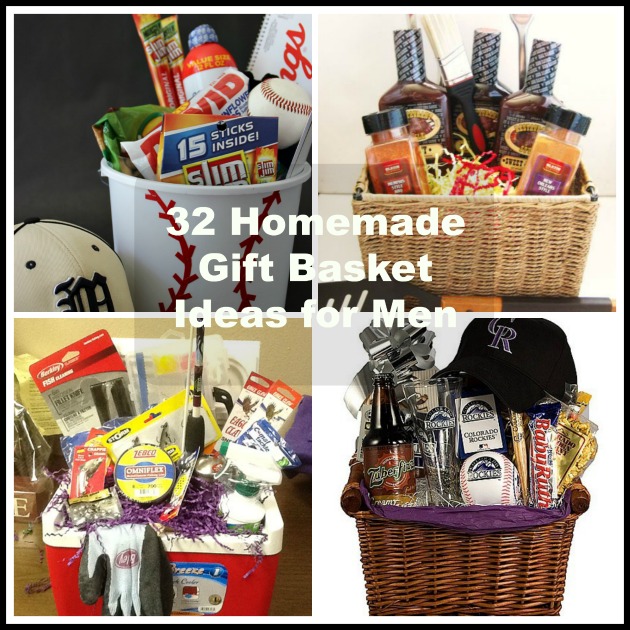 Looking for a great DIY gift idea for your husband, boyfriend, Dad, brother or male friend? We've got 32 homemade gift basket ideas for men here! Gift baskets are a terrific gift, especially because you can customize them. Include your sweetie's favorite colors or special foods and treats. Personalize it by writing not only their name, but a message on it, wishing them a Happy Birthday or holiday greeting on the basket.
One thing we know you'll appreciate, is that there are a wide variety of ideas for gift baskets for guys. So whether your guy likes sports, grilling, BBQ, camping, beer or even snack foods, you'll certainly find the perfect DIY gift basket that is ideal just for them.
Keep in mind our tips when creating a gift basket. First, it is best to choose one specific theme for a gift basket. Most recipients really have a lot of fun with this and it will also spark your creativity. Second, we recommend you select your gift items before you decide on your gift basket or container. There is nothing more frustrating than having to run out and buy a 2nd container because the one you've got is either too small or too large. Third, remember that with a gift basket, presentation matters. Look through these gift baskets and use the ideas for your inspiration. You may realize that your guy would be thrilled to get a golf, coffee themed or BBQ gift basket and now you need to sit down and plan it out so it looks great. Happy DIY and Crafting!
...
DIY Grill Master Gift Basket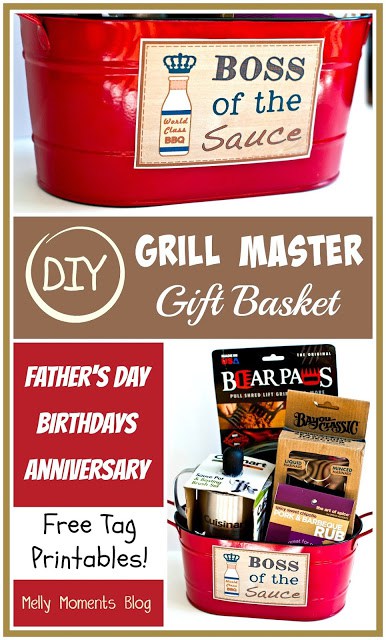 Do you have a guy who is most at home when grilling? Make this DIY gift basket, just for him!
Fishing Gift Basket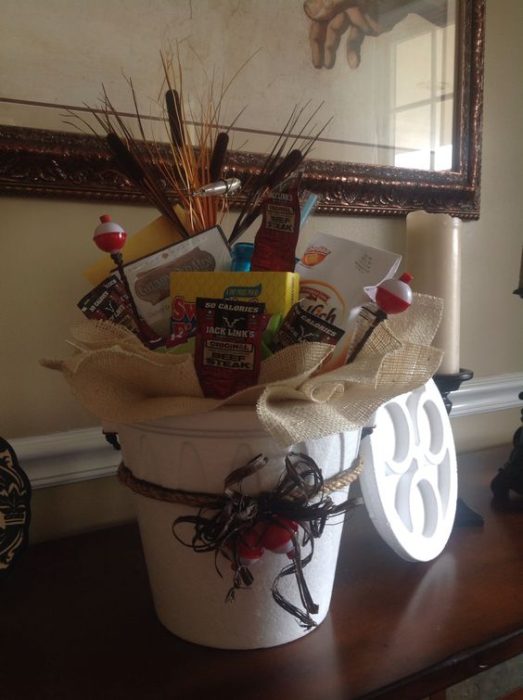 Is your guy's favorite thing a day on the lake or on the ocean, fishing? Lure him in with a fishing fish gift basket.
Located at Pinterest.com, saved by Shana Day
Fishing Gift Cooler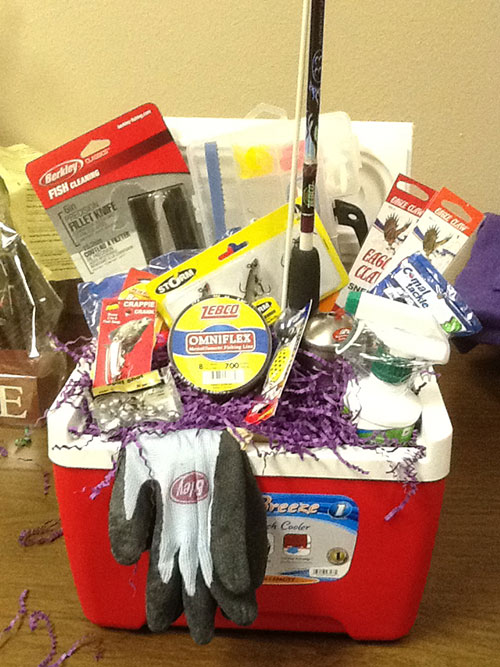 Give your guy a great gift basket, one that can hold their day's catch! Make this DIY fishing basket.
By CWJCWACO.org
Homemade Six Pack of Treats for Dad
Most Dads like to relax occasionally with a cool six pack. This one is cooler than most, because you made it as a DIY gift.
Tailgate Gift Basket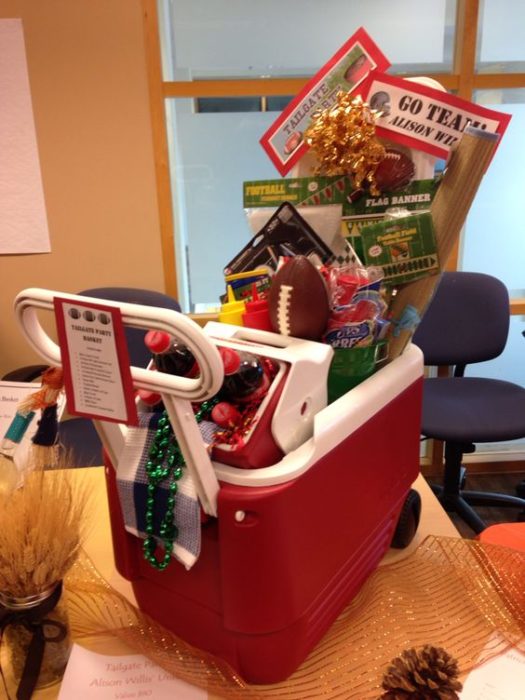 Is football your guy's favorite sport? Then make them this tailgating gift basket.
From Pinterest, saved by Mich Anne
Wine and Picnic Gift Basket
If your guy likes getting out and enjoying the outdoors, why not choose this wine and picnic DIY basket? Its a fun way to celebrate special moments together.
From Yahoo Images
Beer Fishing Bucket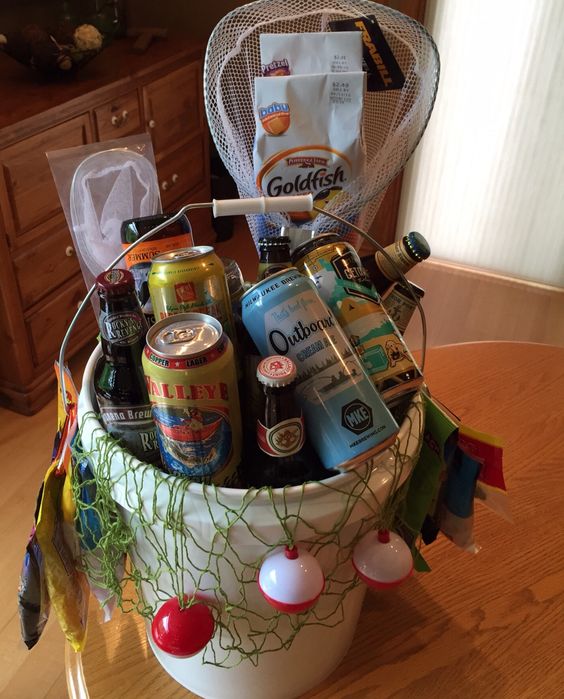 Now what could be better than a day out on the lake, with a cold beer? Why, getting this beer fishing bucket as a gift of course!
At Pinterest.com, saved by Mary Van Norman
Picnic Gift Basket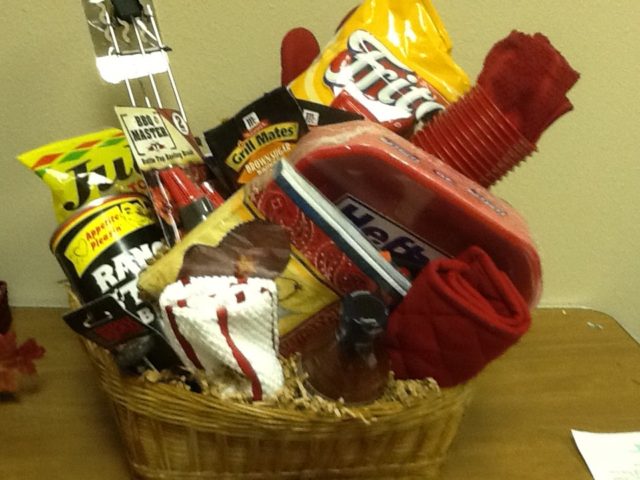 Lots of guys like to take their wives or families on picnics. Try giving this DIY gift basket to make them smile.
From CWJCAWACO.org
Guy Food in a Jar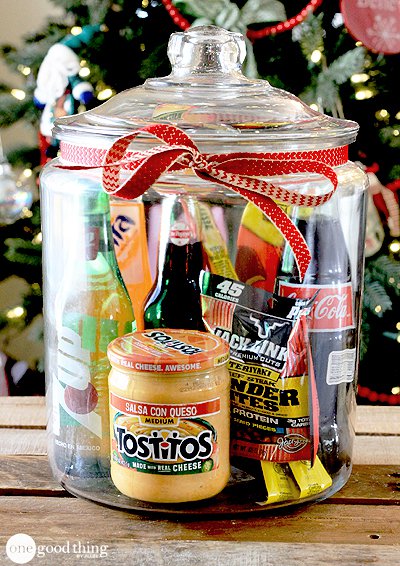 Make the next snack attack easier than ever with this jar of tempting treats. Fill it with your guy's favorite things.
Sports Themed Gift Bucket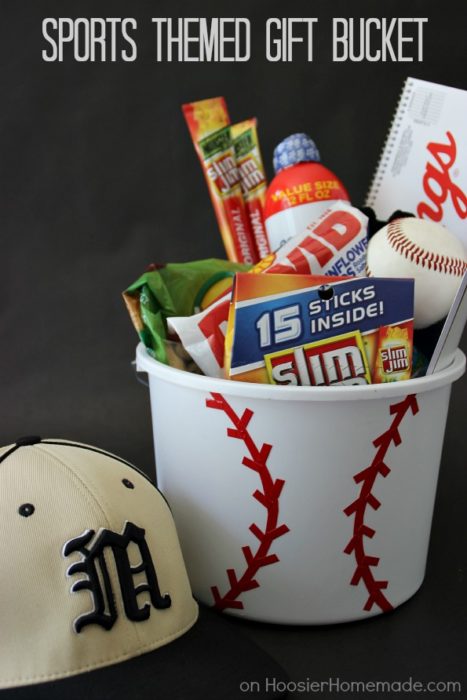 Hit a homerun with your next DIY gift for your guy. This sports themed gift basket is a great one to make.
Beer Pong Gift Basket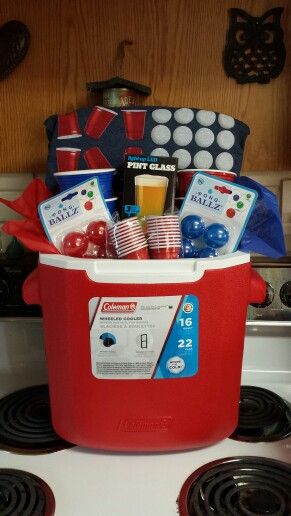 This is a great gift basket for a college student, to enjoy this classic beer drinking game. They can play it with their friends at school.
At Pinterest, saved by Heather R.
Coffee Lovers Gift Basket
If your guy does not start his day without his morning java, then this is the DIY gift basket to make. Add single serve coffee cups so they can make their own coffee at work or at home and treat themselves.
From HappyGoLuckyBlog.com
Par Tee Golf Gift Basket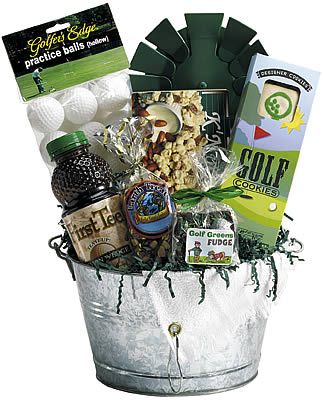 If he enjoys getting out to the golf course whenever he can, then this is the DIY gift basket to choose. Its a hole in one!
Located at TrendVee.com
DIY Brewquet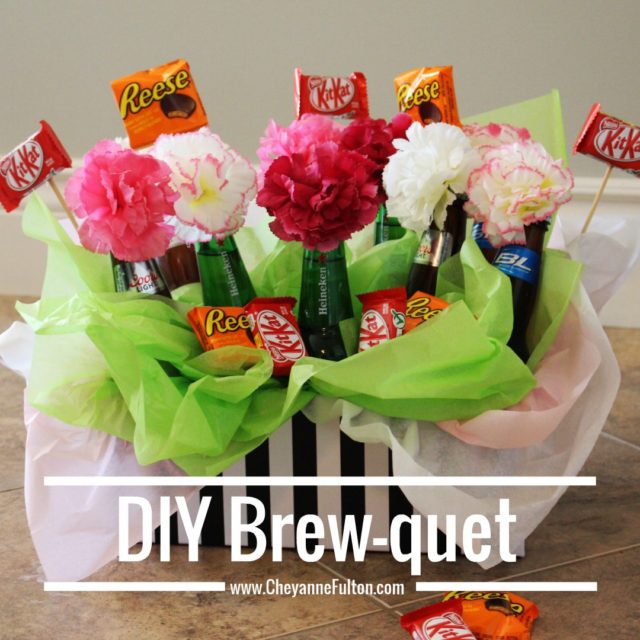 Sometimes all a guy wants is a cold beer. Give him that & more with this special gift basket.
From CheyanneFulton.com
BBQ Basket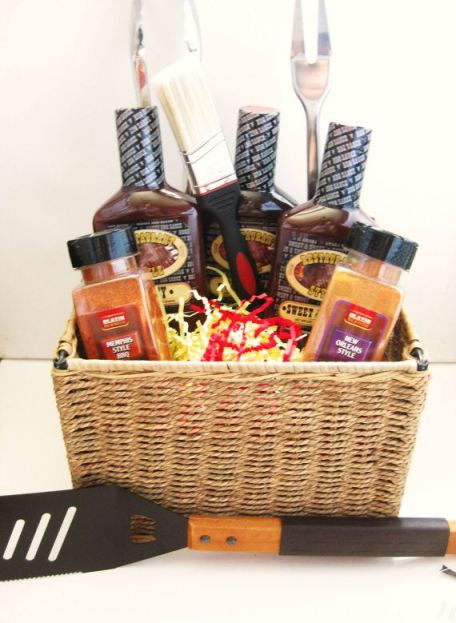 Guys will be saying its time to BBQ and grill when they receive this gift basket. Its a fun one to DIY as a family.
Coffee Chocolate and Goodies Gift Basket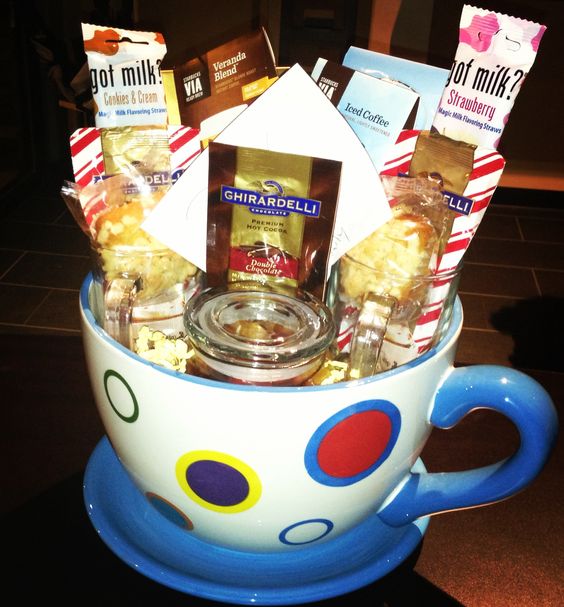 Treat your guy in a special way, with this gift basket chock-full of goodies. With coffee singles, chocolate and all sorts of yummy treats!
From Pinterest, saved by Lydia Vega
Family Bagel Basket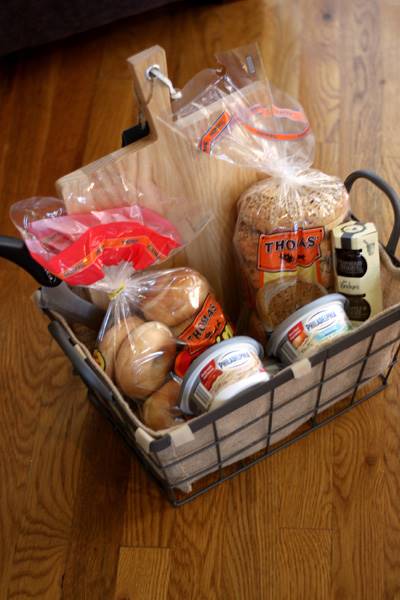 Does the day only begin after he's had his bagel nosh? Make him this terrific DIY bagel gift basket!
From MomsWhoThink.com
How to Make a Coffee Gift Basket
Coffee is a favorite indulgence for many and is a great way to start the day. Why not make your guy this DIY gift basket?
Get Well Kit
Is your guy not feeling well? Cheer him up and put him on the mend with this cute get well gift basket.
From TheMerryThought.com
Adult Easter Basket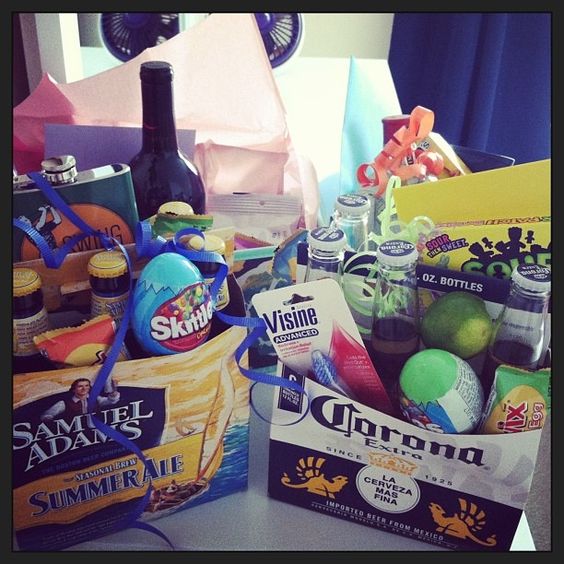 Who says Easter baskets are only for little kids? Give your guy an Easter themed basket that will make him smile!
Located at Pinterest.com, saved by Nycole Majka
Hot Cocoa Gift Basket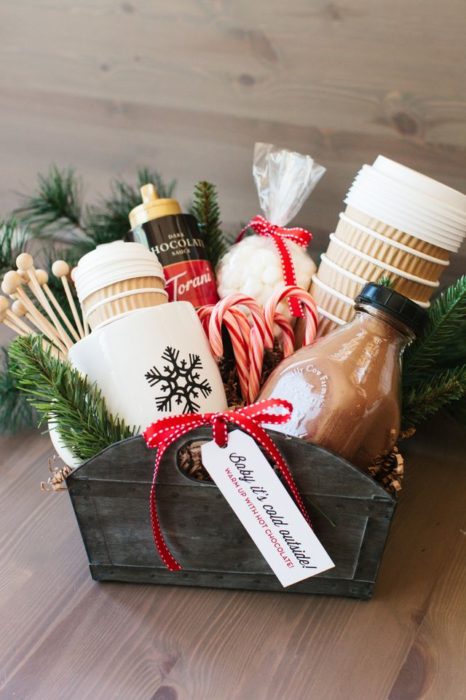 Treat your guy this winter to a hot cocoa gift basket next time he works so hard shoveling the driveway. A sweet treat for someone special.
From TheTomKatStudio.com
Camping Basket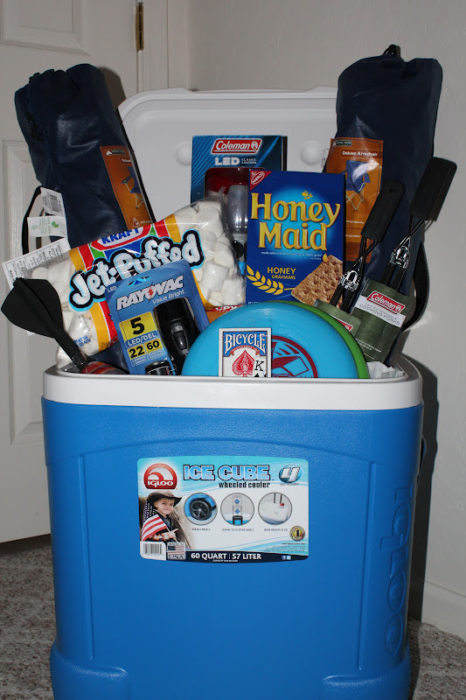 This basket is great for a guy who likes to camp. It has everything you need to have a fun time while camping! You may consider adding an outdoor camping blanket from this helpful guide.
From Yahoo Images
DIY Gift Idea Golf Gift Basket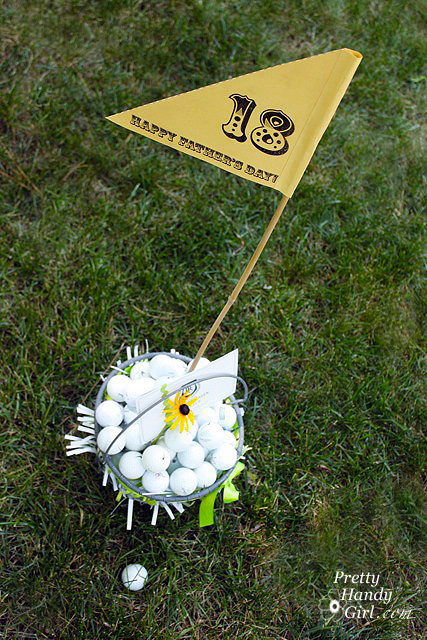 Does your guy like golf? Give this terrific gift basket and pair it with a game of golf, it will be a real hit!
Lotto Ticket Gift Basket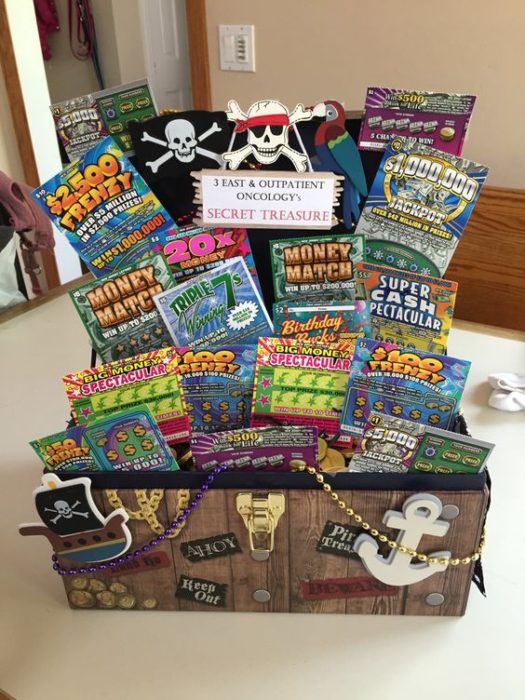 Are you lucky to have a great guy? Give him a gift basket that could make him very lucky, full of lottery tickets!
From Pinterest, saved by Caitlin Dimino
The Manly Gift Bucket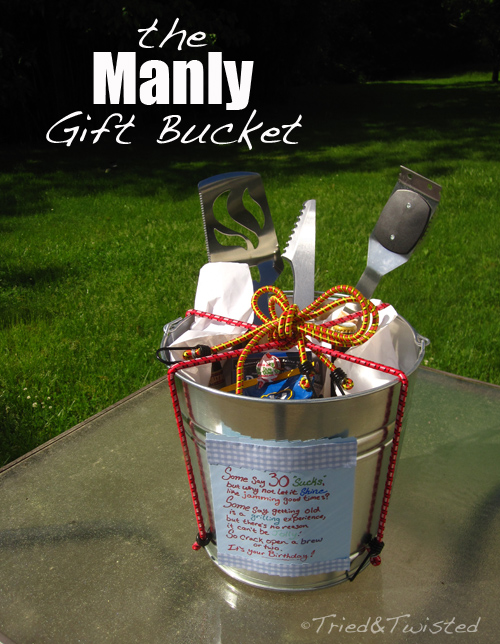 Do you have a real macho guy? Try giving him this gift bucket, with all the things an alpha guy will appreciate.
From TriedAndTwisted
BBQ Gift Basket DIY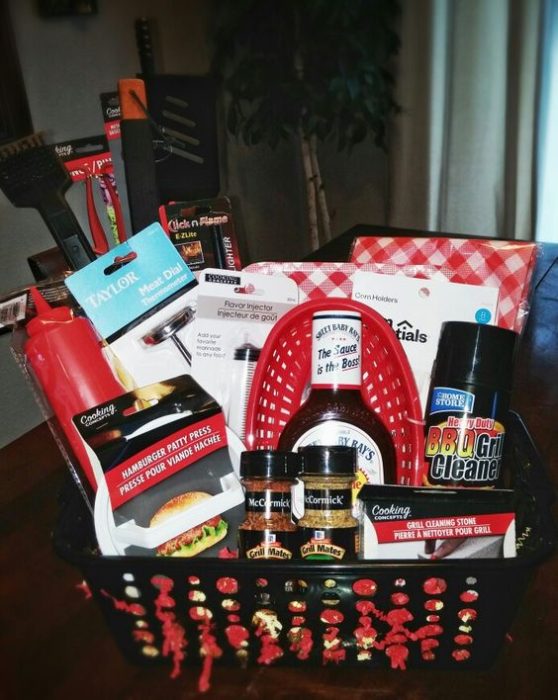 Is BBQ one of the major food groups in your home? Then this gift basket is perfect for your guy!
By Pinterest, saved by Stephanie Garcia
Coffee Gift Basket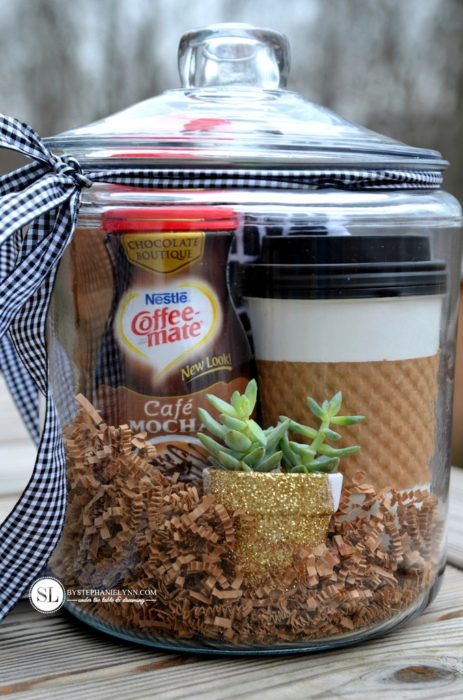 Make the next coffee break a true indulgence with this gift basket. Everything in it is a real treat.
From ByStephanieLynn.com
Car Care Gift Basket
Is tinkering around with his car, the favorite activity when he has spare time? Then give him this car care gift basket.
By Yahoo Images
Father's Day BBQ Gift Basket DIY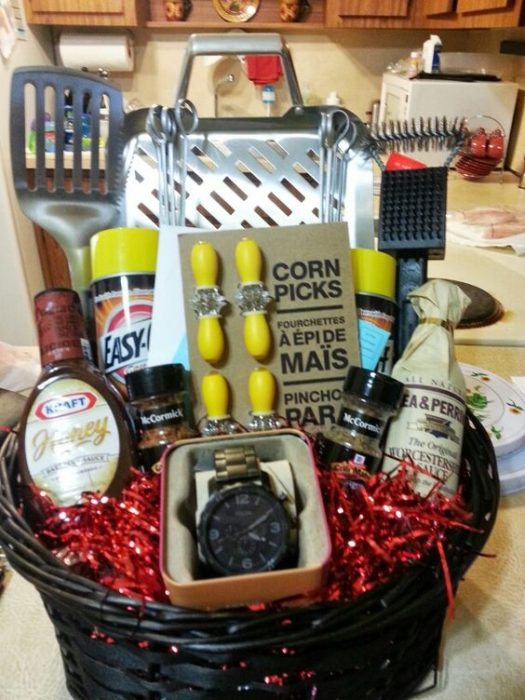 Whether it is Father's Day, birthday or "just because" this BBQ gift basket is a great gift idea. You can DIY this as a family.
At Pinterest.com, saved by Nisett Riera
Baseball Lovers Gift Basket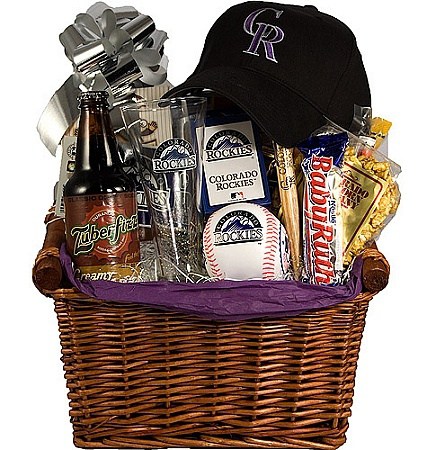 Make cheering for their favorite team even more fun. This DIY gift basket has everything they will need to root their team to the final game.
Located at TodaysEveryMom.com
Father's Day BBQ Gift Basket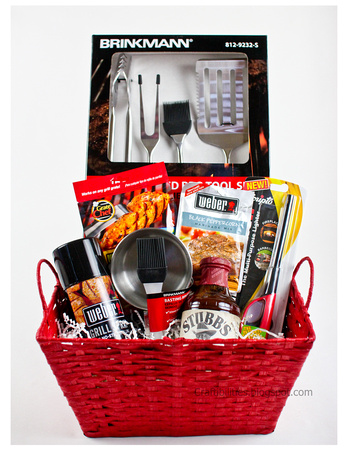 When you have a real Grillmaster in the house, you've got to treat him right. This gift basket is the perfect one to choose for him.