Psst! Do you believe in fairies? Most of us have seen or read Peter Pan and remember clapping, to say that we did. Well, here is a fun craft to share your love of fairies with friends and families.
Fairy gardens are charming and a perfect DIY project to do with your children. Many of the materials you need, you likely already have on hand, such as a clay pot or other large container and small plants.
One of the great things about fairy gardens is that no 2 are exactly the same: the way you make one is likely going to be a bit different than your best friend or sister would. We've found you 35 fun fairy gardens in a pot, to see how others have designed theirs. You'll see just how creative they can get!
If you want to make a tiny one for your kitchen windowsill, try the teacup fairy garden. Or if you'd like to make one that grows herbs too, try to kitchen herb fairy garden. Perhaps you'd like to make a fairy garden that includes other magical creatures – there is even a gnome garden and he looks quite at home!
...
We think fairy gardens in pots are a terrific DIY project too because they are eco-friendly. You are using materials that otherwise might be not put into a project. Best of all, everyone gets to enjoy the terrific results!
Please note, some of the images we found did not credit the DIY creator. Please notify us in the comments if you know the true source of any images; we try our best to credit the artist when we can find them.
Whether you are brand new to DIY projects or are experienced, we know that you can create a wonderful fairy garden. So let's get started. Happy Crafting!
Fairy Garden Pot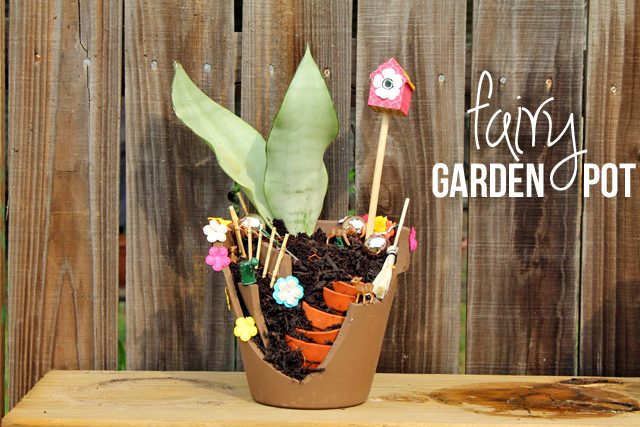 Make a tiny fairy garden, in a broken clay pot. Your little ones will be charmed and look for the fairies!
How to Make a Broken Clay Pot Fairy Garden

Broken flower pots today can be made into charming home decor, fairy gardens! Make one to entrance your children and guests who come to visit.
Located at TheWhoot.au
Circus Themed Fairy Garden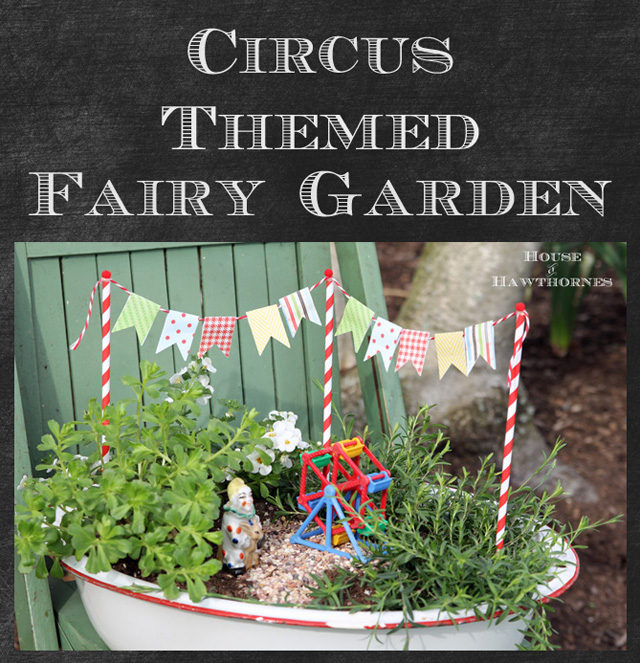 Make your fairy garden super playful, with a unique circus theme. Everyone will enjoy it and can't help but smile when it greets them.
Broken Pot Garden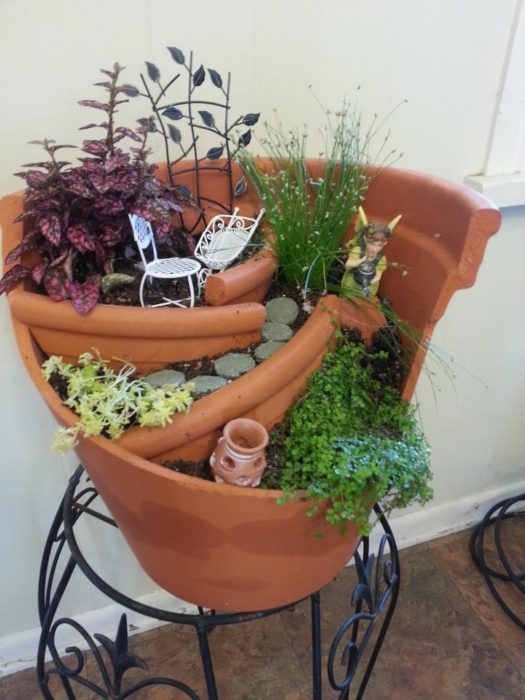 Fairy gardens are a sweet indoor garden accessory. Give it a try!
Located at InfoJardin.com
Old Drawer Fairy Garden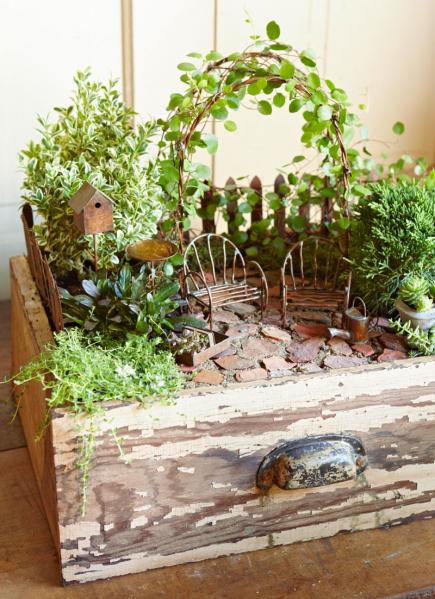 Making fairy gardens from drawers or old pots is eco-friendly, as you are giving old materials a new life. Look at how beautiful this old, worn drawer now is with its fresh purpose!
Fairy Garden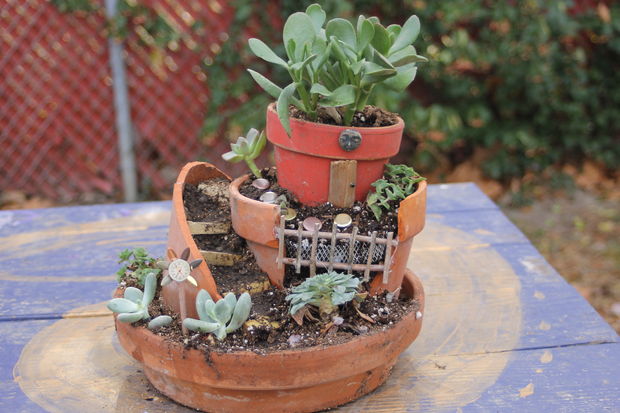 Make your own fairy garden, instead of getting one at a pricey Big Box store. Get creative and soon you'll be receiving many compliments!
From Instructables.com
Fairy Garden in a Broken Terra Cotta Pot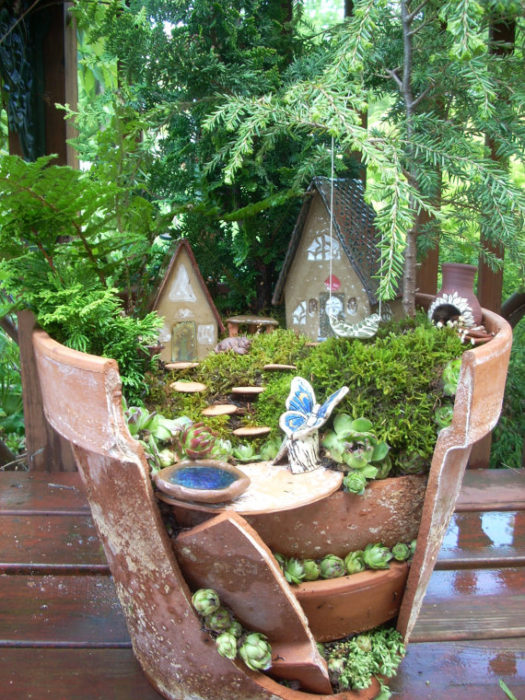 Could there be fairies in those adorable houses? Or perhaps sitting on the mushrooms?
Bird Bath Fairy Garden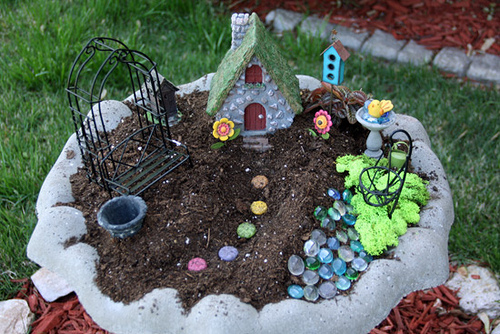 Fairy gardens are eco-friendly, a great way to re-use gardening materials. Whether you have clay pots or something such as a bird bath in your garden, it could make a great fairy garden.
Fairy Container Garden
Its the perfect DIY project to do with kids or teens, make a fairy garden! Add veggies, flowers or other plants you like, along with fun fairy themed accessories.
Enchanting Fairy Garden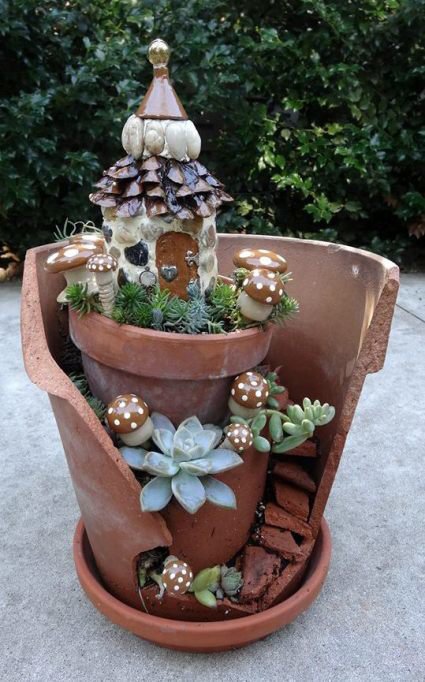 Make a sweet fairy garden to greet guests when they visit. It will certainly make everyone smile with wonder and joy.
Woodland Fairy Garden from 3 Tier Stand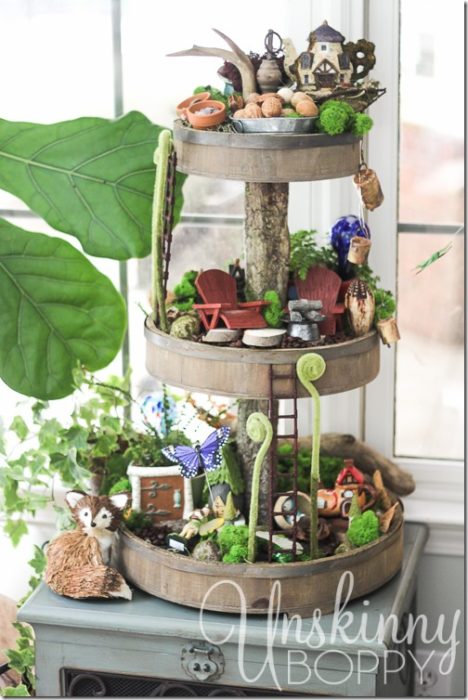 Can you see all the fairies? If you look hard, we bet you can see a few in this unique container.
Teacup Fairy Garden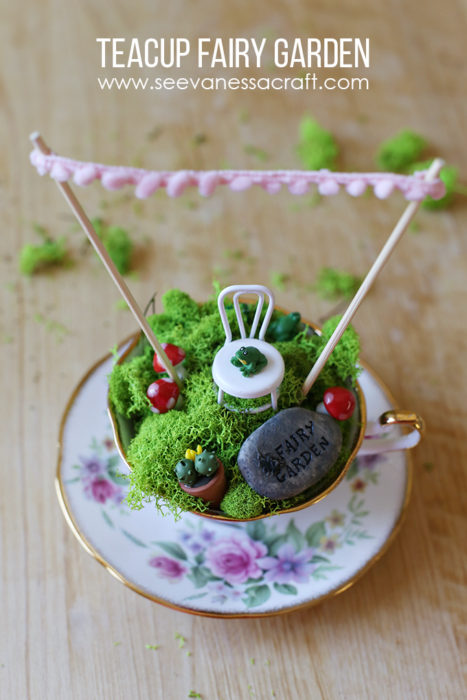 Isn't it adorable? A fairy garden you can hold in the palm of your hand.
Home for a Gnome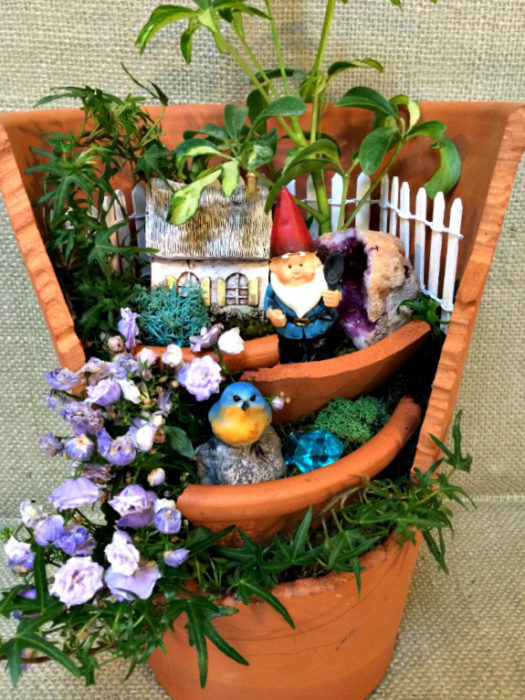 Why not make this flower filled fairy home, complete with a happy gnome? With charming birds and animals, it is the perfect outdoor scene.
Bathtub Fairy Garden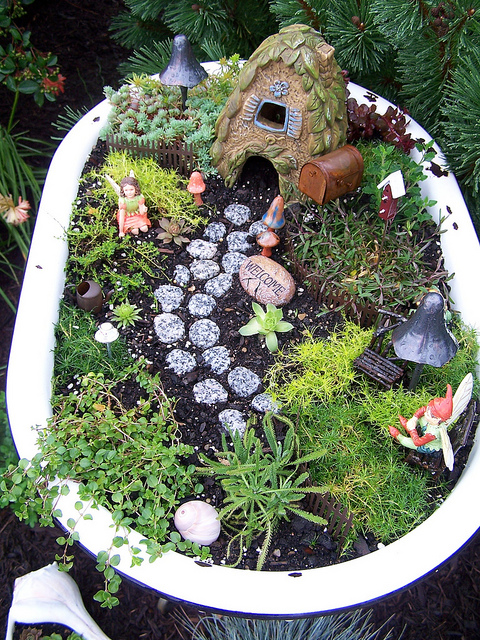 Fairy gardens are super eco-friendly. You can make good use of materials you have – such as an old bathtub – and make it beautiful for everyone to enjoy.
By Flickr.com photo by Arlene Breneman
Fairy Garden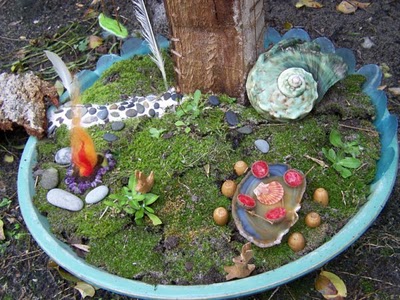 Make a fairy garden for your backyard. Its great for kids and families to do as a fun DIY outdoor project.
Fairy Teacup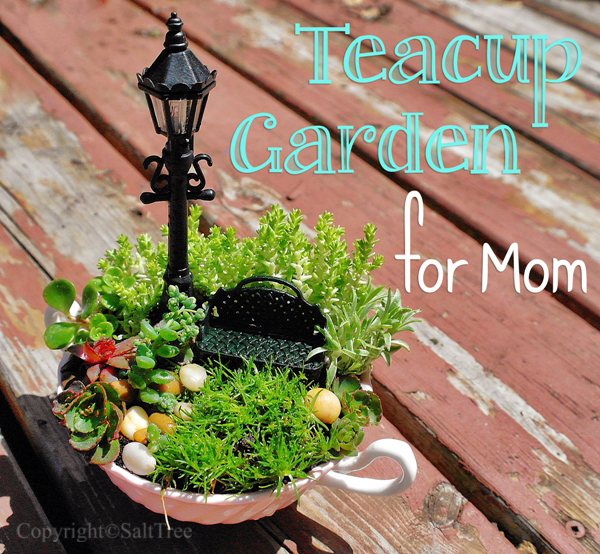 Perfect for a shelf or over the kitchen windowsill, this fairy themed garden teacup is sweet and charming. A great gift for your Mom or any woman who loves fairies!
At SaltTree.net
Broken Pot Fairy Garden

Who knew that a broken pot could become so adorable? This is the perfect craft to do with your children.
Child's Fantasy Garden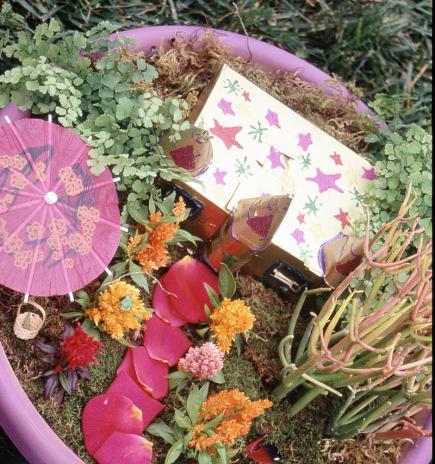 Make a fairy garden as a family project, its a fun DIY craft you can do together! Who knows, you might spot fairies!
From MidwestLiving.com
Fairy Pot in the Garden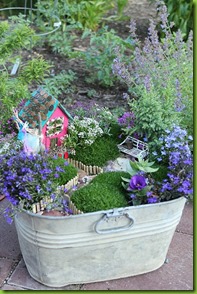 Fairy pots are the perfect addition to your garden. Try them in a larger container or pot, not just clay pots to make a bigger fairy garden.
From TheBurghBaby.com
Kitchen Fairy Garden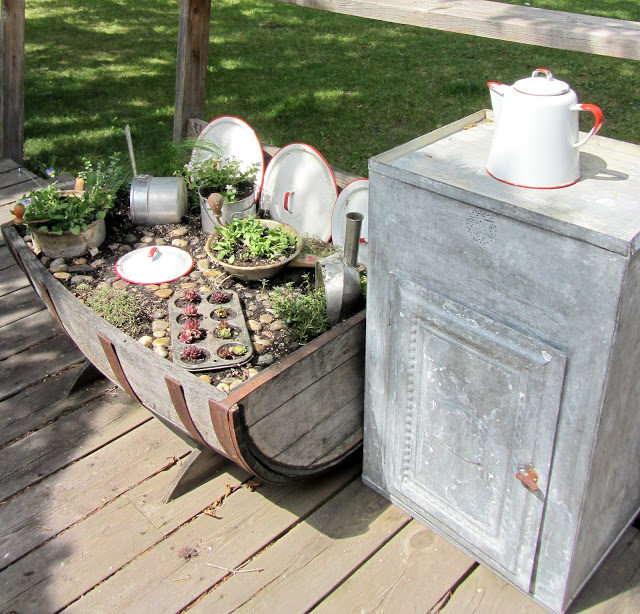 Try making a fairy garden with a fun, kitchen theme. Complete with herbs you can pick for your home cooking for family meals.
Fairy Garden Pot Outdoors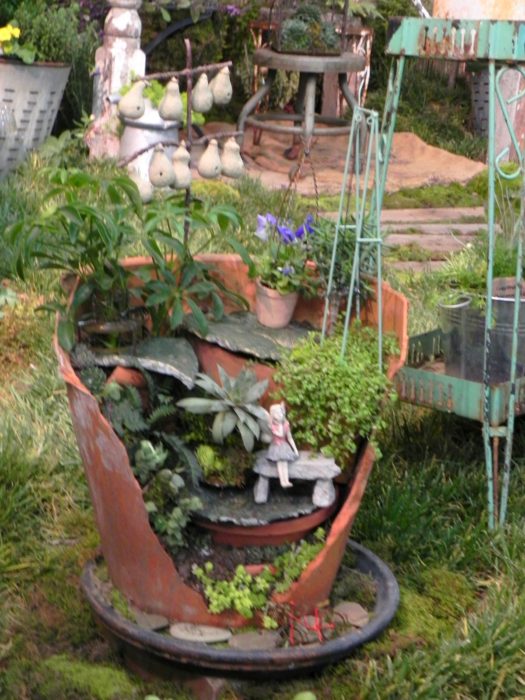 Have a big, clay pot that's broken? Put it to good use and make a fun, fairy garden!
From InfoJardin.com
Kids Craft – Fairy Garden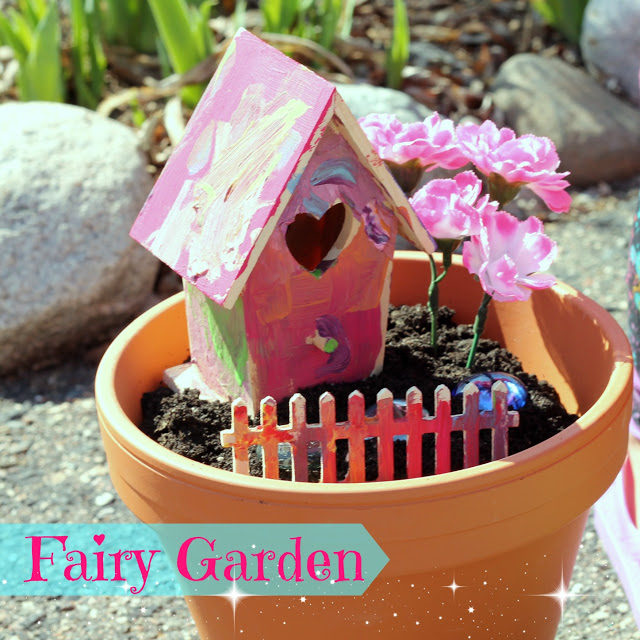 Looking for a fun kids' craft or DIY project? Try this fairy garden, they can enjoy watching the plants and flowers grow year round.
Located at AccordingToL.com
Fairy Garden in a Broken Pot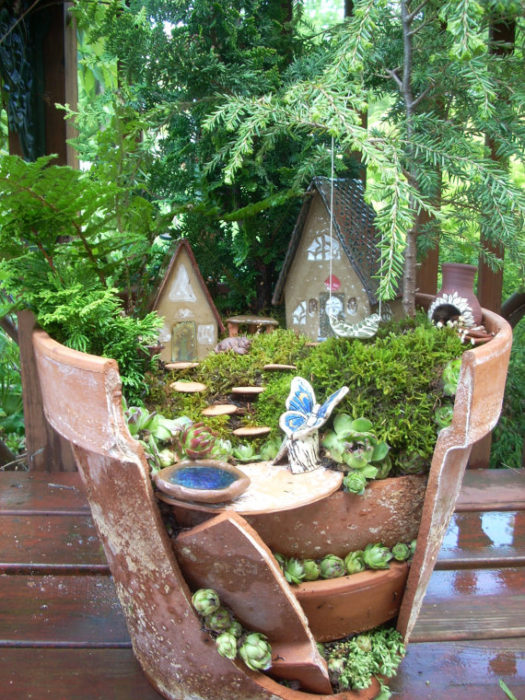 Now this is a fairy garden that will make everyone smile when they see it in your home. Do you see a fairy peeking in the garden? Perhaps you do!
Located at RefreshingTheHome.com
How to Make a Fairy House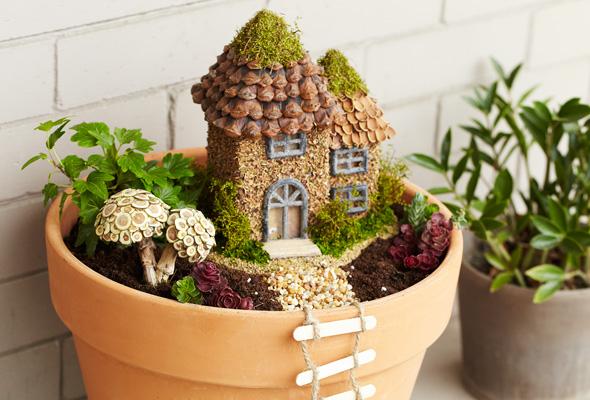 What a fun craft to do with your children or as a family, make a fairy house. It is perfect to keep on the porch or just inside your home.
Magical Fairy Garden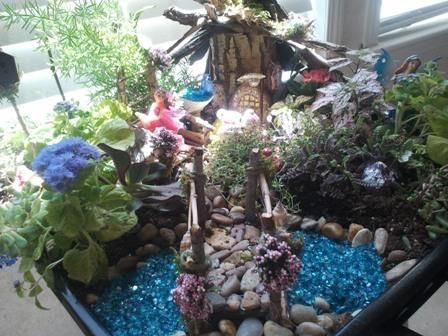 Try making a vivid and colorful fairy garden. A pot full of flowers and fairies is fun for everyone!
From Instructables.com
Fairy House Garden in a Pot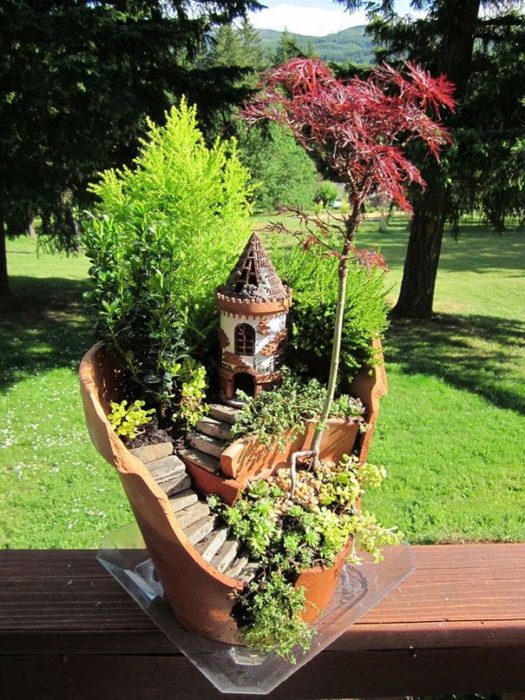 This charming fairy garden even has a little house, where you can imagine the fairies to reside. Its perfect for your outdoor deck or indoor porch.
Fairy Garden with Birdcage in a Pot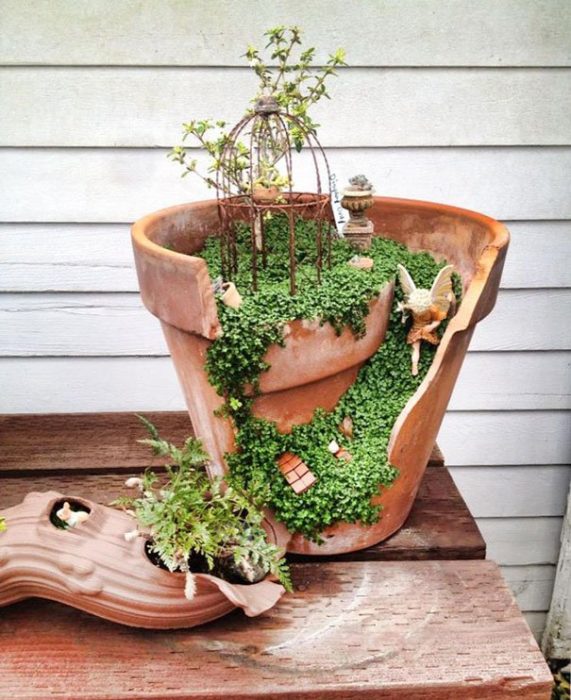 This fairy garden in a pot depicts a sweet outdoor scene, complete with a fairy! This is unique because most fairy gardens we've seen actually don't have fairies in them.
From Demotivateur.Fr
Fairy Door Planter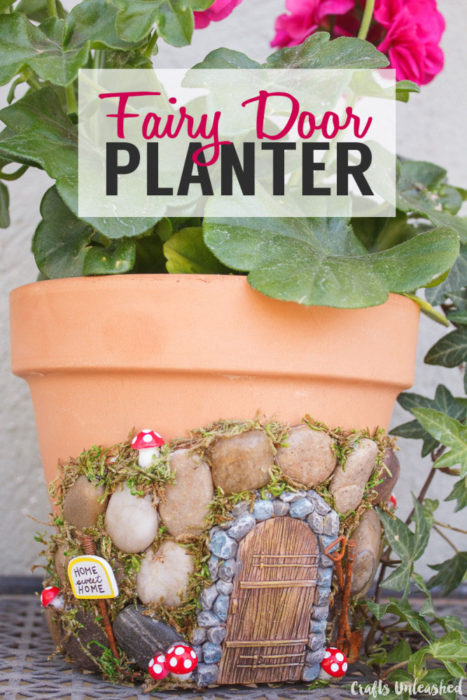 3 Story Fairy Garden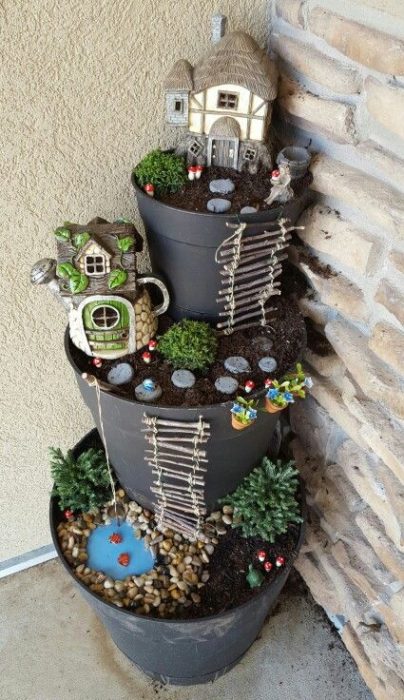 Now this fairy garden is truly sky high! Make a stunning fairy garden to greet guests who visit your home.
At Pinterest (pinned by Sadie Mecham)
Flower Pot Fairy Garden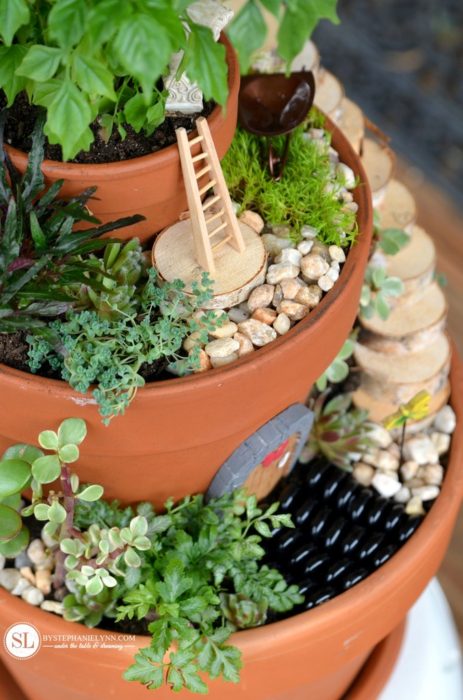 Succulents are terrific to add to your fairy garden. Don't forget a sweet door or other cute accents.
From ByStephanieLynn.com
Broken Clay Pot Fairy Garden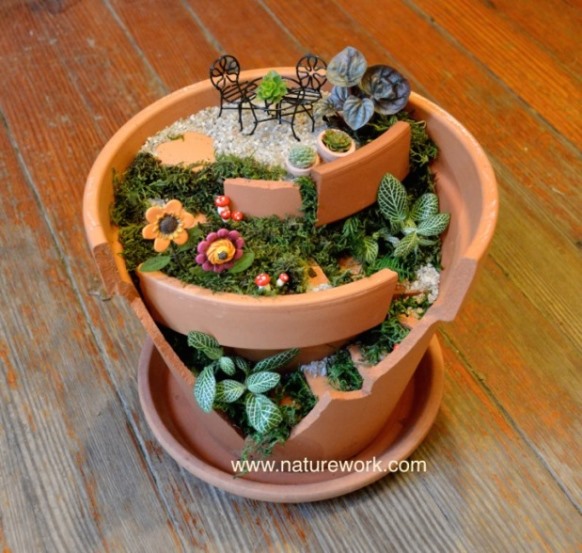 Fill your fairy garden pot with luscious plants. Why, the fairies will certainly enjoy it!
Indoor Tabletop Water Garden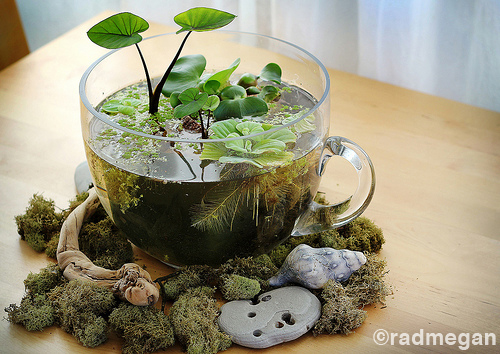 Here's a unique twist on a fairy garden. Make a tiny water garden to lure the sprites (water fairies) to come and play!
By RadMegan.com
Mini Fairy Garden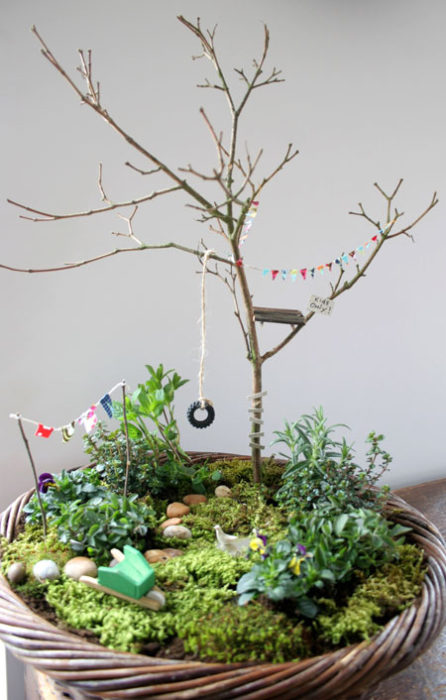 Its easy to see how the fairies could be at play all day in this sweet garden in a pot!
Located at Flickr.com (photo by ninlmakes)