Hello, DIYers!
We're finally beginning to see the world get greener after a long winter! Because of that, it's the perfect time to start working on the landscaping of your yard. You can create a garden oasis, an earthy space for meditation, or a clean and sleek modern look to maximize curb appeal. Whichever way you decide to go, we're sure that you'll find a DIY project worth incorporating into your yard and garden this Spring!
Happy landscaping!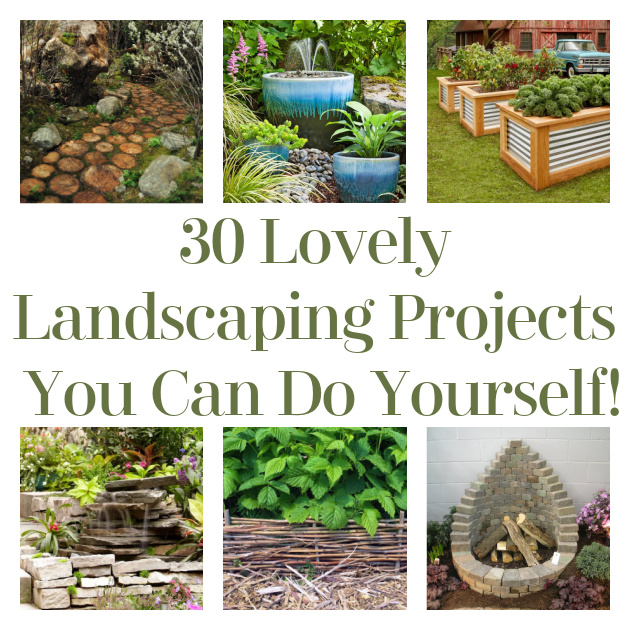 ...
Pallet Walkway
This is a wonderful, cost effective project that you can get done in a day!
Found Funky Junk Interiors
Spilling Garden
Having flowers planted as if they were spilling out of a planter, bucket, or other contained is a great way to landscape in a beautiful and interesting way!
Found Fresh Patio
Landscaping Around a Tree
Whether the trees in your yard have matured or you've just planted new ones, landscaping with mulch around a tree has many benefits to keep your tree healthy and your hard safe! These tips will help you do so like a pro!
Found BHG
Hexagonal Tree Bench
Enjoy relaxing under the shade of your favorite tree with this fantastic DIY hexagonal bench!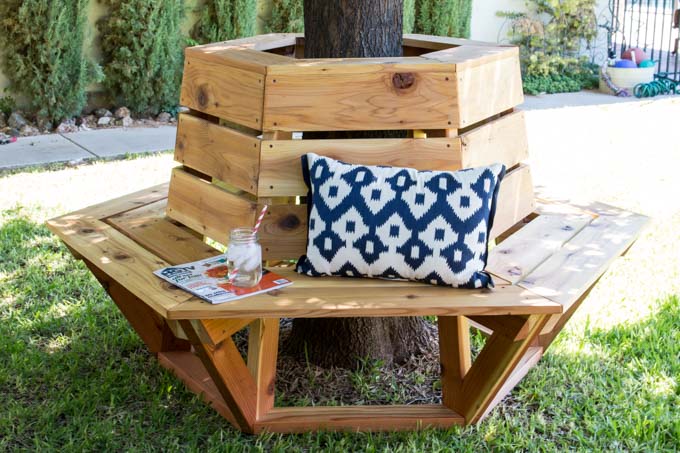 Found Addicted2DIY
Wicker Garden Edging
Wicker is lovely! And it is a great way to keep an earthy element to your gardens, even with the landscaping!
Found Lovely Greens
Build a Pond
If you want to add a water element to your landscaping, you can build a small pond to enjoy!
Found YouTube
Plant Privacy Hedge
A privacy hedge comes with the benefits of increased privacy, curb appeal, and some protection from weather! Give it a try!
Found ArborDay
Mailbox Gardens
Placing a garden around your mailbox can make it a beautiful extension of your landscaping! Give it a try!
Found Proven Winners
Rock Garden
Adding a rock garden to your yard can have several benefits! Not only does it add interest to your yard, it can also rid you of an awkward space to mow!
Found The Spruce
Classic Arbor
You can build a classic arbor without spending a fortune! Check out this great DIY!
Found Old World Garden Farms
Decorating Tree Stumps
When you have a stump in your yard, it isn't always cheap or convenient to get it removed. That doesn't mean that it has to be an eyesore though! You can dress it up as an unconventional garden and make it a beautiful feature for your landscaping!
Found Interiorholic
Modern Cedar Fencing
How beautiful and interesting is this beautiful and modern DIY fence?!
Found Imgur
Planter Water Fountain
Adding water is a lovely way to add a different element to your garden. Plus it is way easier than you think!
Found Lowes
Layering the Height of Your Plants
Give your yard a ton of curb appeal thanks to a fullness and vibrant display of your plants! This DIY shows you you can best layer your garden by style and height!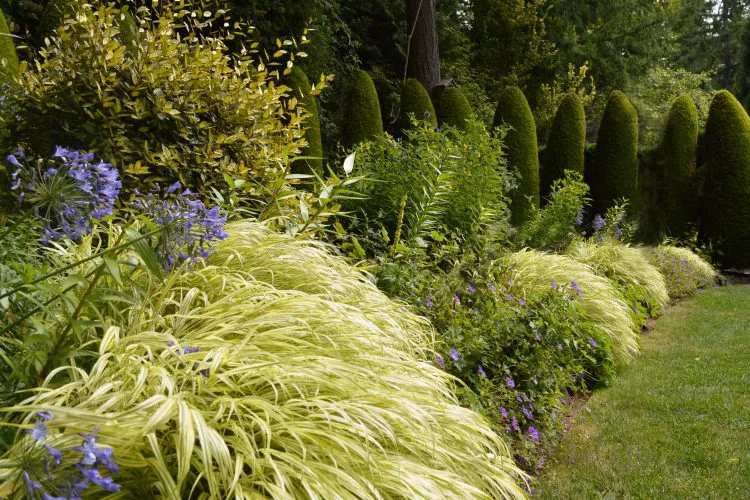 Found Board and Vellum
Raised Patio
Raise your patio up a level with this fantastic DIY
Found Allan Block
Stepping Stone Path
This is an easy and affordable way to add a stepping stone path to your landscaping!
Found Backyard Boss
Tiered Garden Wall
Build layers to keep your landscaping interesting and safe with this tiered garden wall!
Found DIY Network
Rock Art
You can use multi colored rocks to create fantastic images all through your landscaping!
Found Pinterest
Bench Seating Area
Give yourself a place to sit and enjoy your yard with this fantastic DIY bench!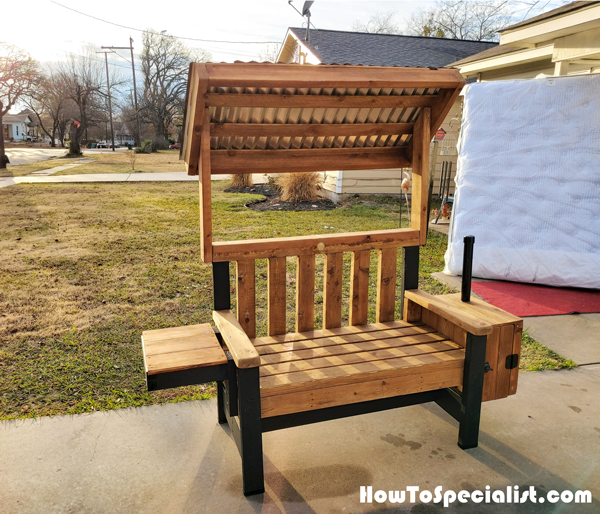 Found How To Specialist
Teardrop Fire Pit
Get creative with the structure of your firepit! It can be a work of art in your yard!
Found Trendir
Wood Slice Pathway
Keep your garden looking like a woodland oasis with this wood slice pathway!
Found Shelterness
Raised Garden Beds
If your garden is a hotspot for weeds and pests, these raised garden beds can be the perfect solution to your woes! Plus, they look fantastic! You can make them yourself for a fraction of the cost of buying them!
Found The Family Handyman
Create a Berm
If your yard is entirely flat and you're not sure how to landscape it, you might consider adding a berm! A berm will help you add different heights and points of interest to your yard!
Found Gardening Know How
Build a Trellis
If you don't have any trees in your yard, or you're just interesting some additional height, you can build a trellis for flowers and plants to climb up!
Found This Old House
DIY Waterfall
Enjoy the beauty and sounds of having a small waterfall in your backyard!
Found Family Handyman
Brick Path Edging
Take your pathway from basic to beautiful by adding a brick edging to the sides!
Found The Family Handyman
Grass Between Pavers
Add a design in between your bricks or other pavers by using grass!

Found HGTV
Garden Archway
You can add a beautiful archway to your garden with this amazing DIY project!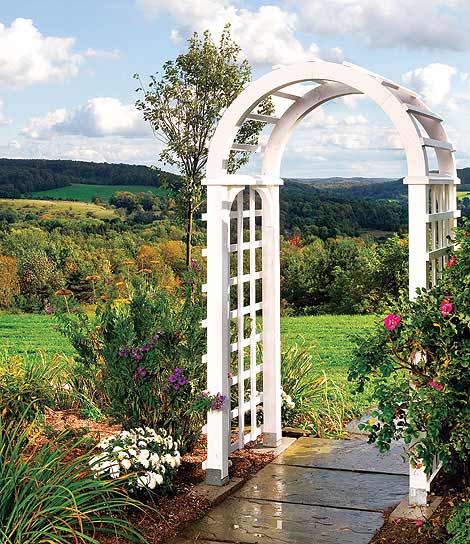 Found Popular Mechanics
Window Boxes
Tie the exterior of your home in with the landscaping by building window boxes! They're so easy to make!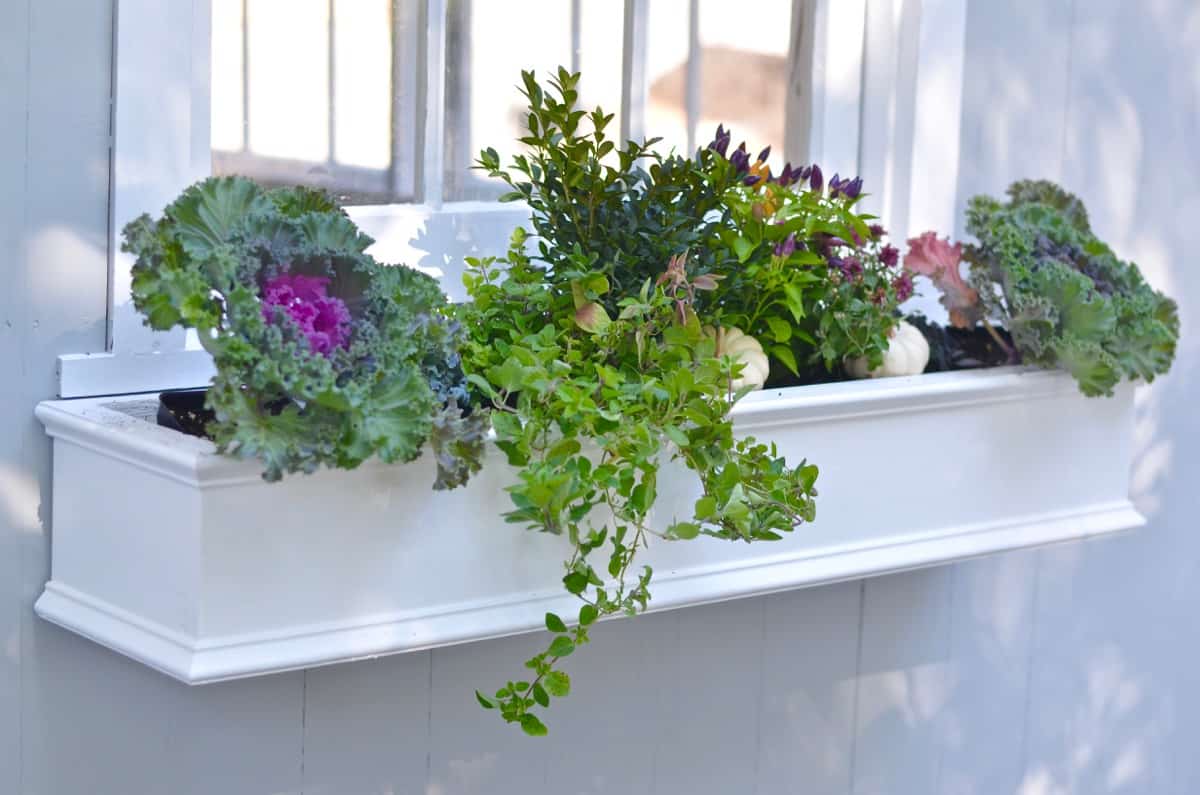 Found At Charlottes House
Illuminated Walkway
You can make your walkway edges glow by using rope light outside!
Found Christmas Lights Etc.
You May Also Enjoy…
35 Creative and Lovely Birdhouses
31 Magical Fairy Gardens to Recreate
29 Beautiful and Efficient Propagation Stations
31 Beautiful and Natural Dried Flower Crafts
37 Delightful and Decorative DIY Projects for Your Garden