Hello DIYers!
Eating healthy can be difficult to do, especially if you are busy! On top of that, it can also be extremely expensive when you consider the options for healthy food on the go! Many bistros and other places serving lunches and dinners are marking up their product prices like crazy, knowing that healthy options are in demand and hard to come by. But it doesn't have to be that way! You can make your own healthy and delicious quinoa bowls at home and take them on the go!
Why is quinoa a GREAT healthy option? It is a gluten-free grain that is high in protein! Additionally, it contains all nine essential amino acids. It's high in magnesium, vitamin B, fiber, potassium, calcium, and more! It really is a super food! Even buying the organic quinoa is incredibly low-cost per serving and it can be paired up in so many different ways so that it never gets boring! Check them out!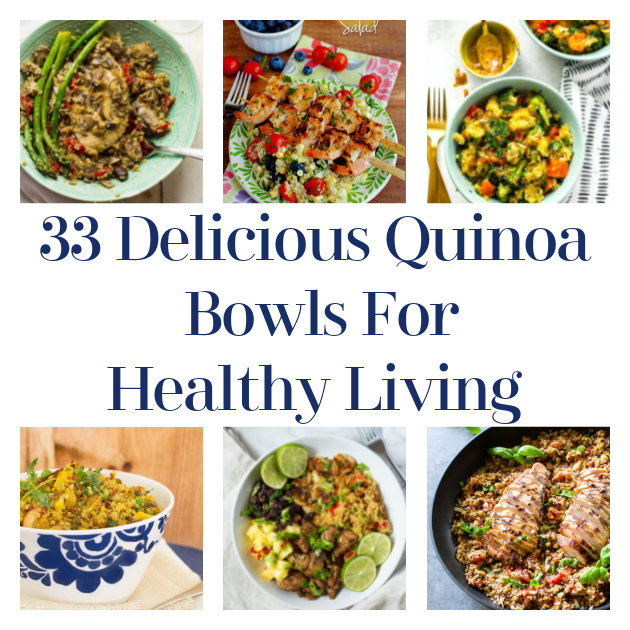 ...
Spiralized Butternut Squash Bowls with Harissa Chickpeas + Quinoa
How amazing does this look?! Plus it is packed full of nutrients!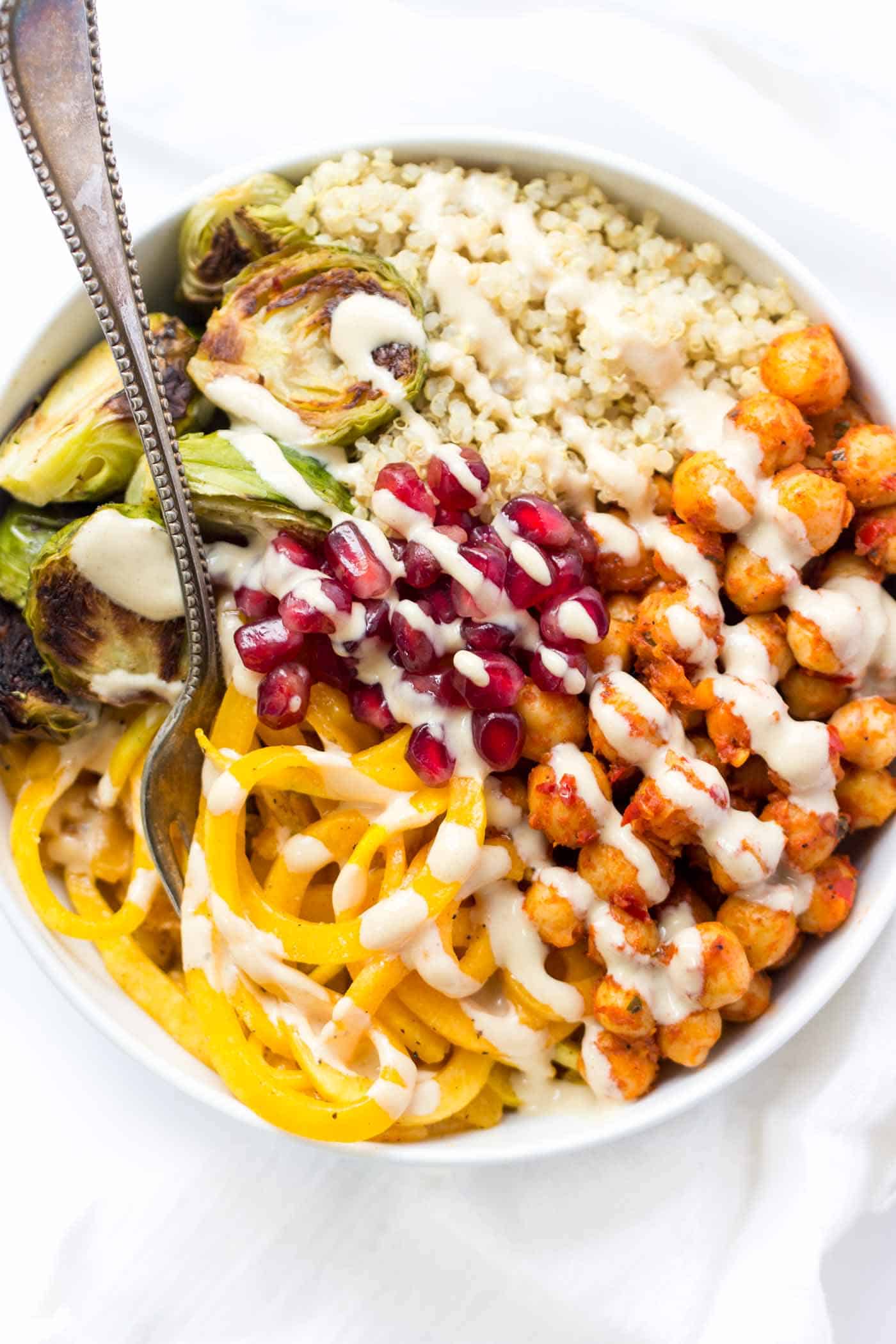 Found Simply Quinoa
Spiced Blueberry Quinoa
The flavors of this amazing breakfast bowl come together beautifully! Give it a try!
Found Taste of Home
Healthy Thai Coconut Quinoa Bowls
Do you love thai food? Make it healthier by using quinoa instead of rice!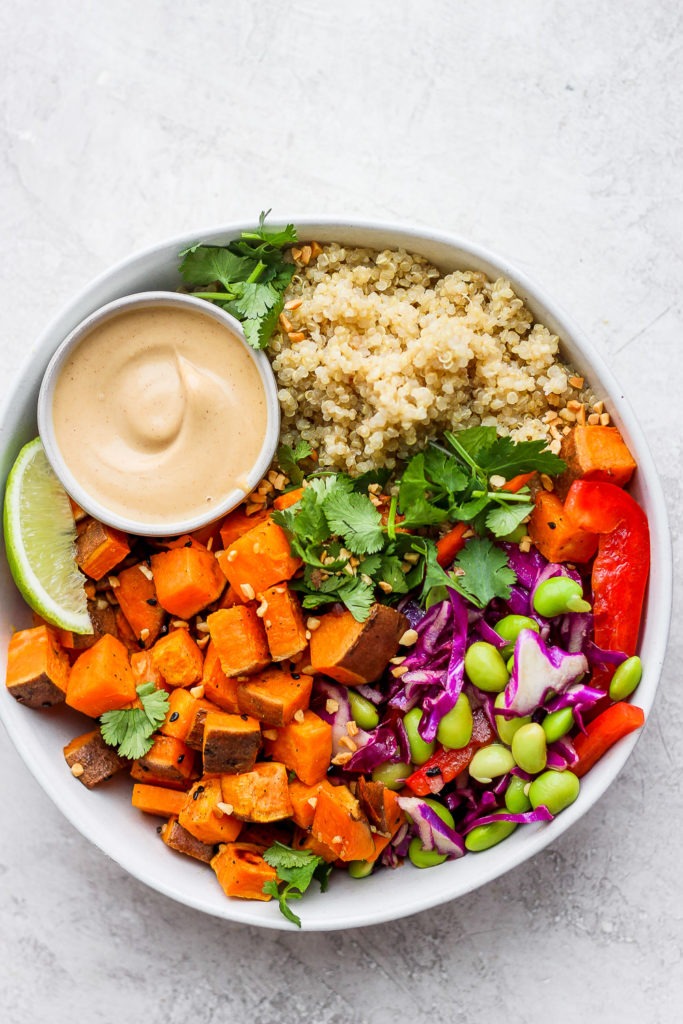 Found Fit Foodie
Quinoa Mac and Cheese
This is a healthy alternative to traditional mac and cheese! Give it a try!
Found The Garlic Diaries
Mango Quinoa Bowl
Add some sweetness to this delicious and healthy lunch idea!
Found A Couple Cooks
Cinnamon Apple Quinoa
This makes a fantastic and delicious breakfast that is packed with sweetness and protein!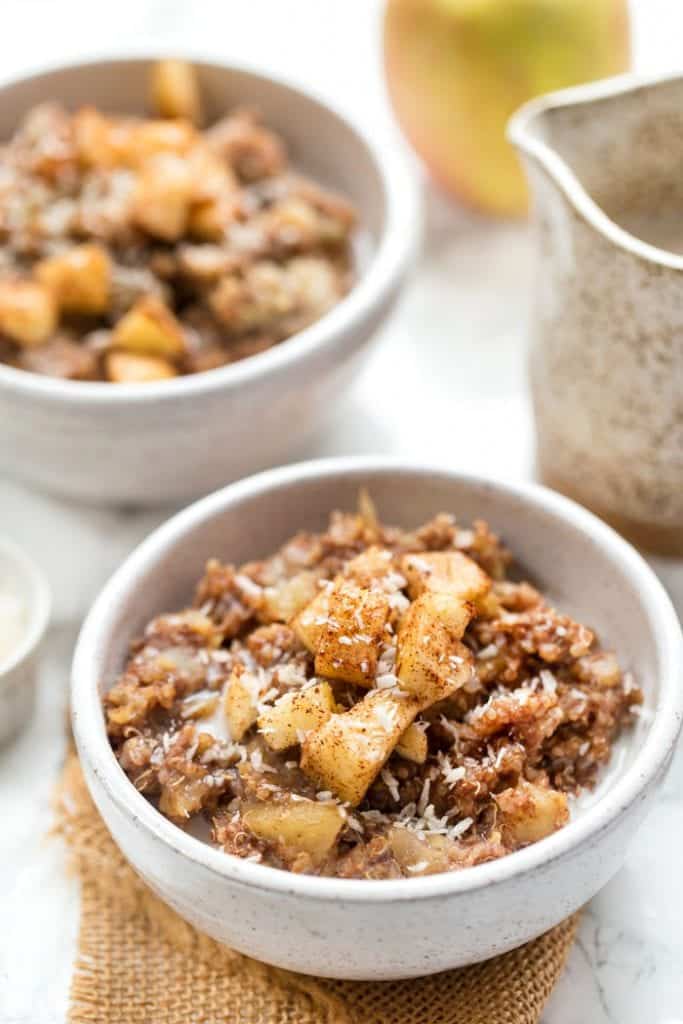 Found Simply Quinoa
Fall Roasted Vegetable Quinoa Bowl
This mix of delicious roasted vegetables is the perfect pair for quinoa and a Fall day!
Found A Couple Cooks
Fresh Corn & Blueberry Quinoa Salad with Honey Lemon Vinaigrette
Delicious! This makes a perfect addition to any picnic!
Found Iowa Girl Eats
Found Eating Instantly
Greek Quinoa Bowl
Greens, feta cheese, and tomato! Delicious!
Found A Couple Cooks
Cheesy Broccoli Quinoa Bowl
This is a filling recipe that is perfect to come home to after a long day at work!
Found All Recipes
Tomato Basil Chicken Quinoa
This is a delicious way to enjoy a protein packed lunch!
Found The Girl Who Ate Everything
Vegan Quinoa Salad
This is a great vegan option for a healthy, quinoa lunch!
Found Taste of Home
Spring Quinoa Salad With Honey Vinaigrette
This fresh salad is perfect for a Spring day!
Found Pinch Of Yum
Jamaican Jerk Chicken Quinoa Bowl
This recipe comes with pineapple salsa and fried bananas! delicious!
Found Ginger With Spice
Seated Salmon Poke Bowl
There is no doubt that this is the perfect healthy lunch or dinner meal!
Found A Couple Cooks
One Pan Creamy Chicken with Quinoa
Look at this creamy deliciousness! Enjoy it for a great dinner!
Found The Girl On The Bloor
Kale Quinoa Salad
It doesn't get any healthier than this!
Found Taste of Home
Quinoa Sweet Potato Salad
This is the mother of all super foods! Give it a try!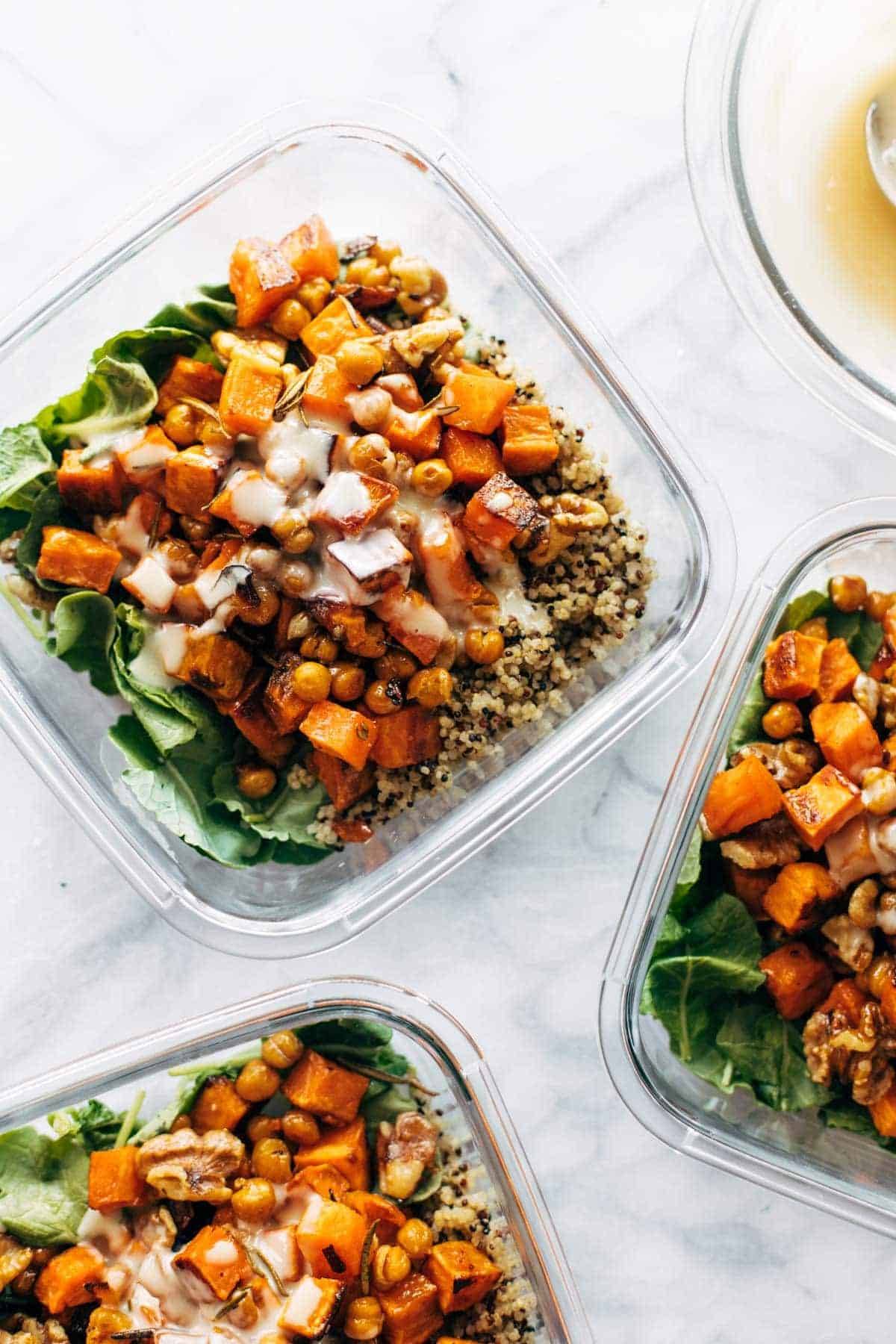 Found Pinch of Yum
BLT Quinoa Bowl
Bacon, Lettuce, and tomato come together in this delicious and easy lunch!
Found Taste of Home
Pesto Quinoa Bowl
This delicious pesto bowl is both vegan and gluten free! Give it a shot!
Found Short Girl Tall Order
Moroccan Quinoa Salad
Yummy and protein packed!
Found Spinach 4 Breakfast
Masala Chickpea Buddha Bowl
This bowl uses black quinoa for a fun twist!
Found Full of Plants
Chipotle Sweet Potato Quinoa Lunch Bowls
Any time that you mix quinoa and sweet potato together is a big, big win!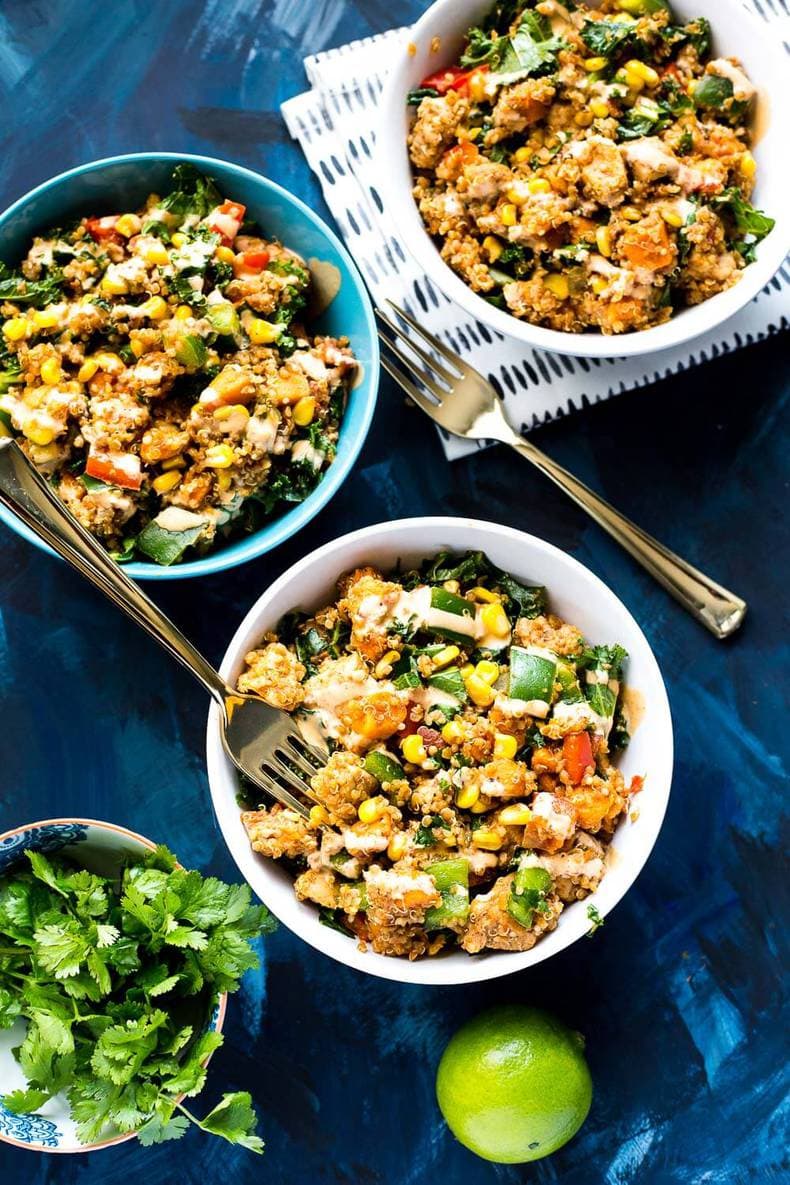 Found The Girl on Bloor
Avocado Quinoa Bowls
If you love avocado, you will love this high fat (the good kind!), delicious quinoa bowl!
Found A Couple Cooks
Quinoa with Peas and Onion
The flavors and textures of this dish come together beautifully! Give it a try!
Found Taste of Home
Indian Spiced Quinoa
If you enjoy the spice of Indian food, you will love this quinoa bowl!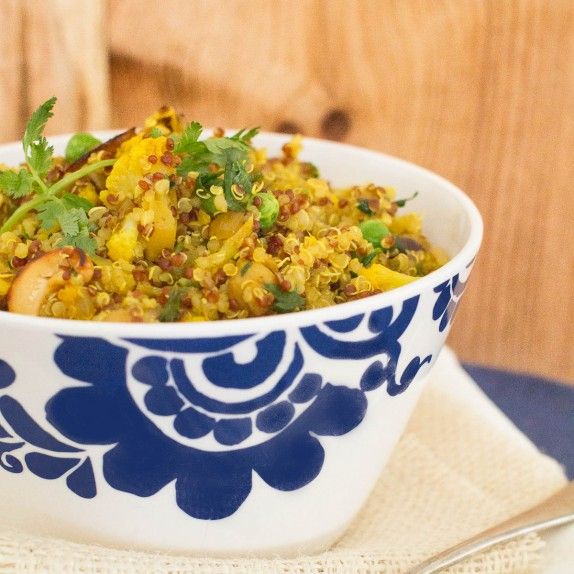 Found Indiaphile
Winter Rainbow Quinoa Salad
This is the perfect light lunch or dinner for winter!
Found Pinch of Yum
Lemon Herb Cheesy Quinoa
Fresh lemon and herb with cheese? Perfection!
Found Bucket List Tummy
Carrot, Tomato, and Spinach Quinoa Pilaf
This is a fabulously healthy lunch that you can take with you to work and skip the bistro!
Found All Recipes
Chocolate Quinoa Breakfast Bowl
Now for something completely different! Try quinoa with chocolate!
Found Minimalist Baker
Carrot Salad With Quinoa and Almonds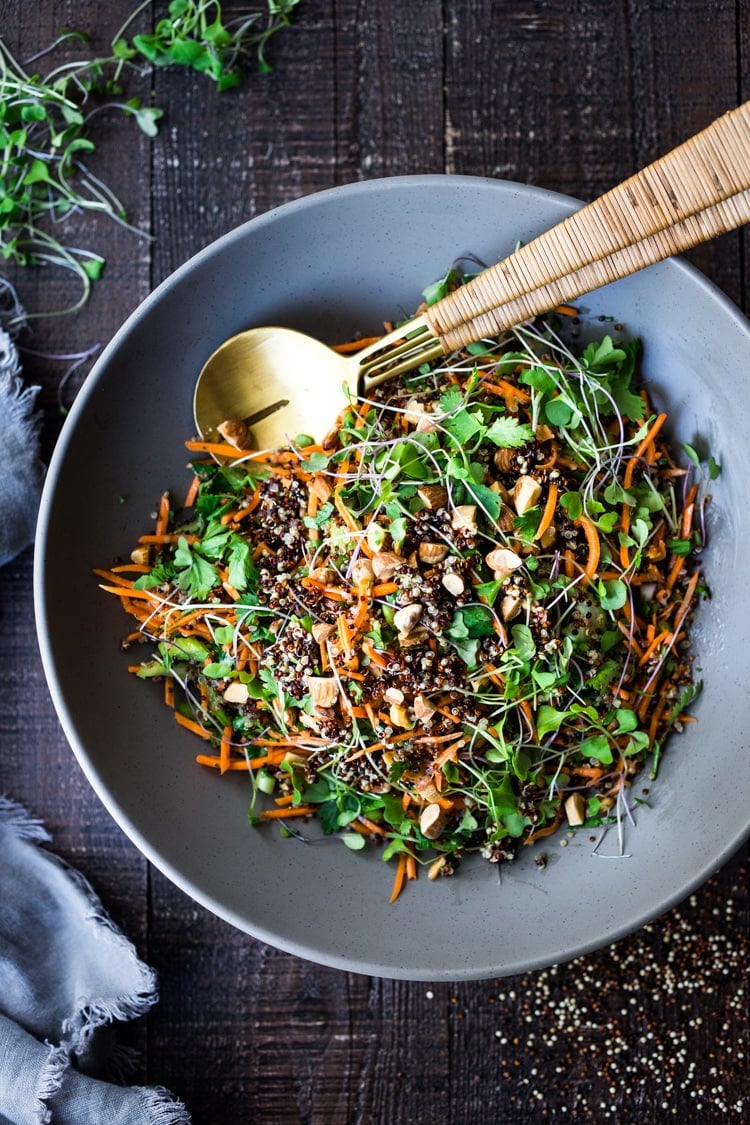 Found Feasting At Home
Chickpea and Quinoa Grain Bowl
This is packed full of healthy grains! Give it a try for your next meal prep session!
You May Also Enjoy…
30 Easy Ways To Reduce Waste In Your Home
33 Fabulous Grilled Cheese Sandwich Recipes To Make At Home
39 Marvelous Macaron Recipes To Make At Home
39 Delicious Milkshakes That You Can Make At Home
33 Delicious Donuts To Make At Home
39 Nutritious Recipes Your Baby Will Love
37 Tasty and Decadent Easter Desserts