Hello, DIYers!
Are you craving something sweet? Or maybe you have a party or event coming up. Either way, macarons are a fun and sometime challenging baking project that yields some pretty delicious results! There are, of course classic flavors. Fruit and cream, chocloate, and vanilla all show up on this list to tickle your taste buds. But we're also exploring interesting textures, unique and decadent flavors, booze, and even some spice to keep things interesting! No matter which you choose, make sure to pay close attention to the instructions. There is definitely an art to making these delicious French cookies! But once you have it down, your friends and family will always look forward to which yummy flavor you'll serve next!
Happy baking!
...
Blackberry Macarons
I'm just going to say it… blackberry isn't used enough in baked goods! Give this one a try!
Found Pies and Tacos
Salted Caramel Macarons
Salt can make the sweetness of this fabulous macaron sing! Give it a try!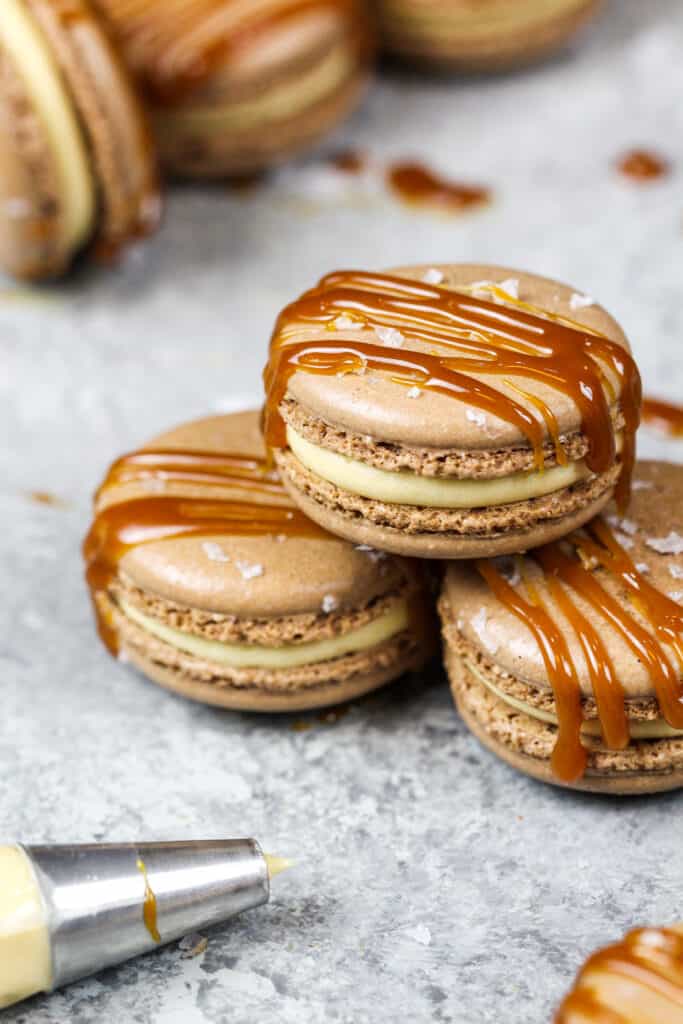 Found Chelsweets
French Mint Macarons with White Chocolate Ganache
Play with flavors! Sweet and minty deliciousness comes together with this recipe!

Found Sweet and Savory
Confetti Macarons
If you really want to celebrate, do it with these fun and beautiful confetti macarons! They go great with champagne!
Found The Inspired Hostess
Chocolate Ganache Macarons
Chocolate is a classic perfection! Add a chocolate ganache to the already exciting texture of a macaron! It's a total win!
Found Sprinkles and Scribbles
Pistachio Macarons
Pistachio is a popular choice! And this recipe features a white chocolate ganache!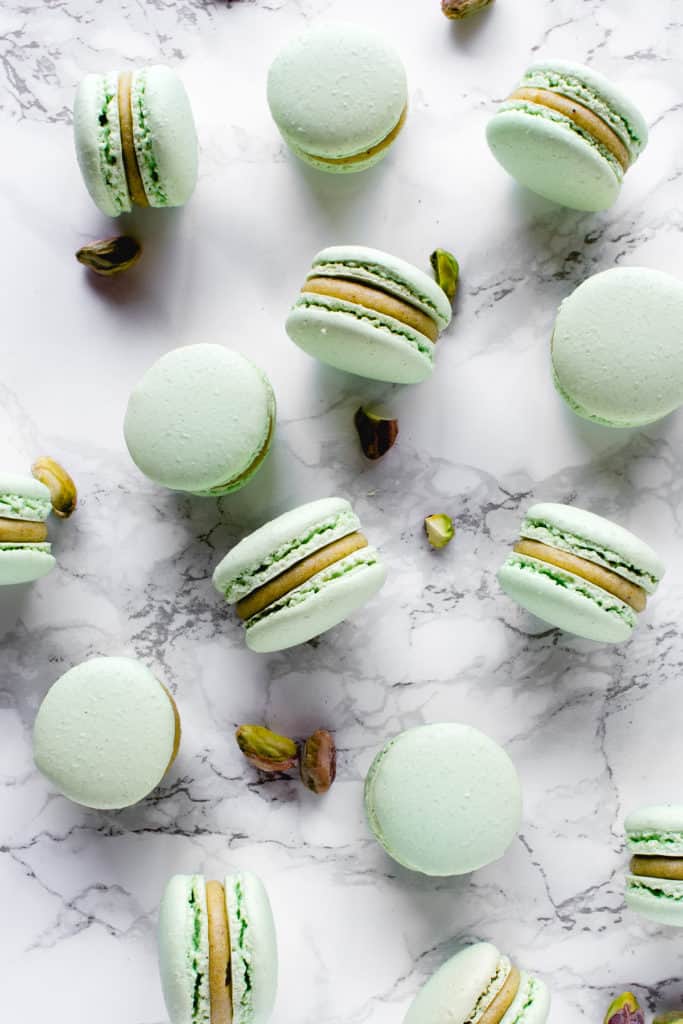 Found Ana's Baking Chronicles
Waffle Macarons with Maple Bacon Buttercream
This is fun, different, and tastes AMAZING! If you love breakfast, give this macaron a try!
Found Raspberri Cupcakes
Pecan Turtle Macarons
These macarons get a 10/10 for showmanship and deliciousness!
Found Pies and Tacos
Cappuccino Macarons
Get refreshed with these fantastic and delightful cappuccino macarons!
Found Home Cooking Adventure
Vanilla Bean Macarons
Yummy, traditional vanilla bean is always perfection! Dressing them up with a fun color is a great idea!
Found Pies and Tacos
Chocolate Macarons with Bourbon Praline Buttercream
If there were a recipe to fall in love and start a family with, this would be the one!
Found Sweet Cinnamon Honey
Rose Macarons
These rose macarons are delicate and lovely! They are a perfect pair for tea!
Found Taste Made
Bananas Foster Macaron
Do you enjoy the sweet goodness of a banana? Try it in this fantastic bananas foster macaron!
Found Imperial Sugar
Cinnamon Toast Crunch Macarons
Does the fact that they are named after a cereal mean that you can have them for breakfast? I say yes!
Found Pies and Tacos
Bailey's Irish Cream Macarons
This boozy macaron is a slam dunk at parties!
Found Venture 1105
Flamin' Hot Cheeto Macarons
I'm a little uncomfortable with this one… but also curious!
Found Kara's Couture Cakes
Red Velvet Macarons
Are you a lover of red velvet cake? Try it as a macaron!
Found Pies and Tacos
Coconut Dark Chocolate Macaron
Enjoy the lovely sweetness with the balance of rich, dark chocolate!
Found Baking In Pink
Mango Macarons
Mango is such a sweet and interesting flavor! And I love just the slightest hint of chocolate that this recipe brings!
Found Phenomenal Phoods
Snickers Macarons
Are you a fan of the snickers candy bar? Well, great news! You can re-create the delicious flavor into a macaron!
Found Scone Baking
Chocolate Strawberry Macarons
This dessert brings all the flavor of a chocolate covered strawberries with all of the delicate deliciousness of a macaron!
Found Pies and Tacos
Passionfruit Macarons
Do you want a dessert that is a little bit exotic? Look no further!
Found The Hallmark Channel
French Lemon Macaron
Lemons are a lovely, refreshing way to enjoy any baked goods! And macarons are no exception!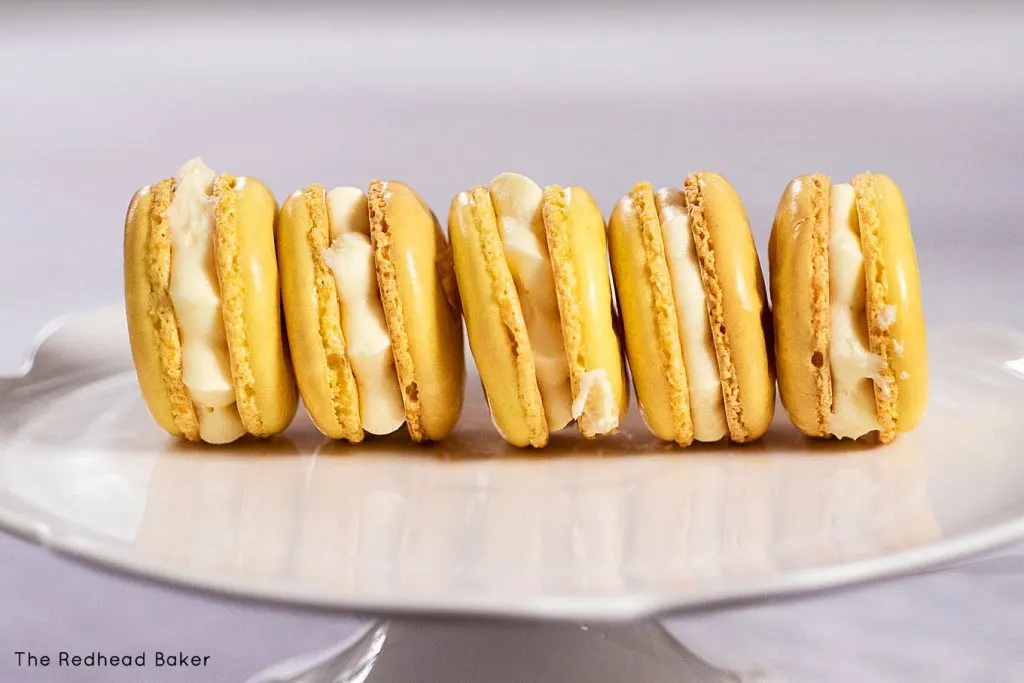 Found The Redhead Baker
Bloody Mary Macaron
I'm not here to tell you that this is one that I would show up for… but it does sound intriguing. Would you dare!?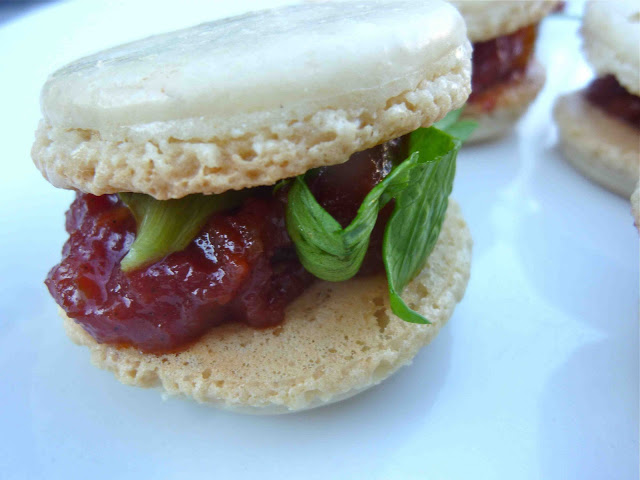 Found Diary Of A Mad Hausfrau
S'mores Macarons
S'mores just seem like an obvious choice when it comes to flavoring a macaron! Give it a shot!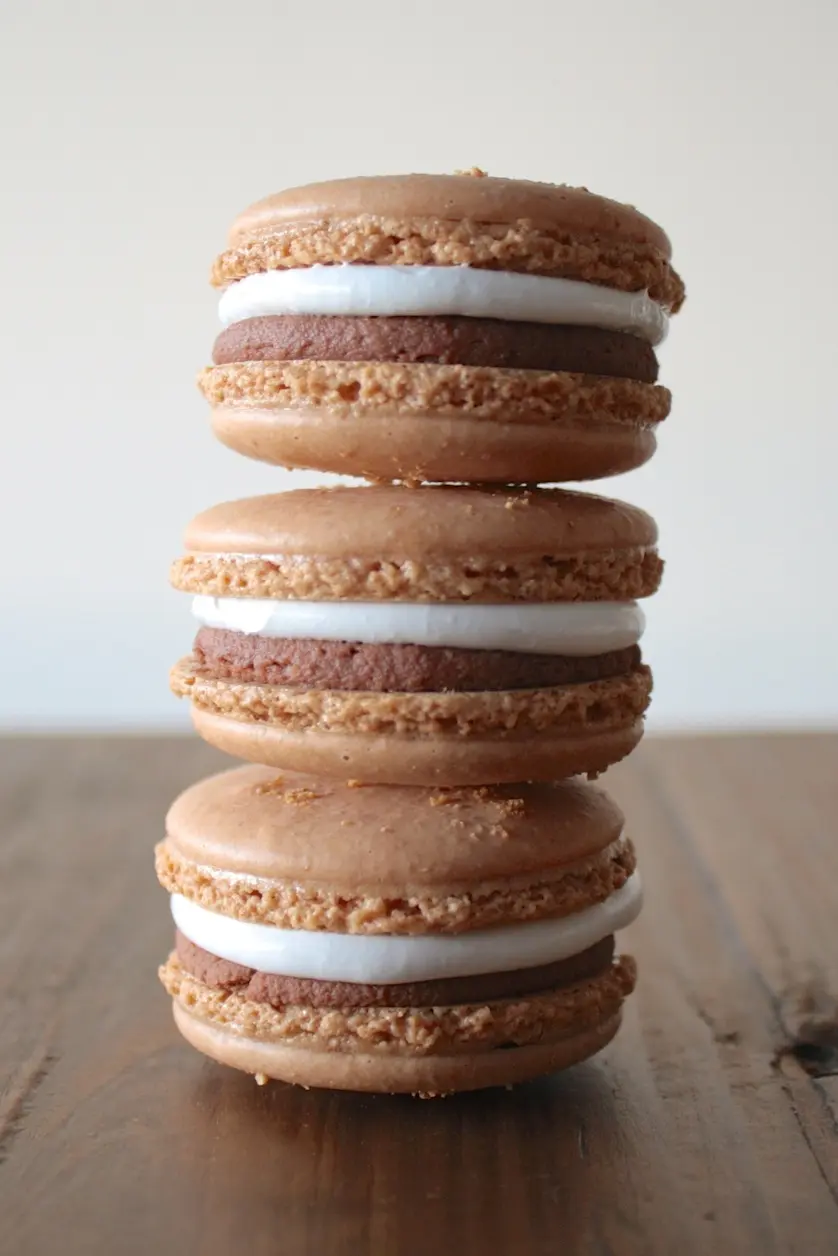 Found Liv For Cake
Raspberry Macarons
Italian Meringue raspberry macarons are perfect for any party you have coming up!
Found Home Cooking Adventure
Healthy Matcha Green Tea French Macarons
Looking for a treat with some added health benefits? Look no further!
Found Desserts with Benefits
Mexican Spice with Dulce De Leche
This mouth watering recipe involves vanilla, coffee, cocoa and cinnamon spiced macarons filled with sweet and creamy dulce the leche!
Found Sugary and Buttery
Peanut Butter and Jelly Macarons
You're never too old to enjoy peanut butter and jelly!
Found Dixie Crystals
Blackberry Lemon & Lavender Macarons
Yum!!! These 3 flavors come together to make a seriously delicious treat!
Found Tatyana's Everyday Food
Key Lime Macarons
Get festive for summer with these festive and tart key lime macarons!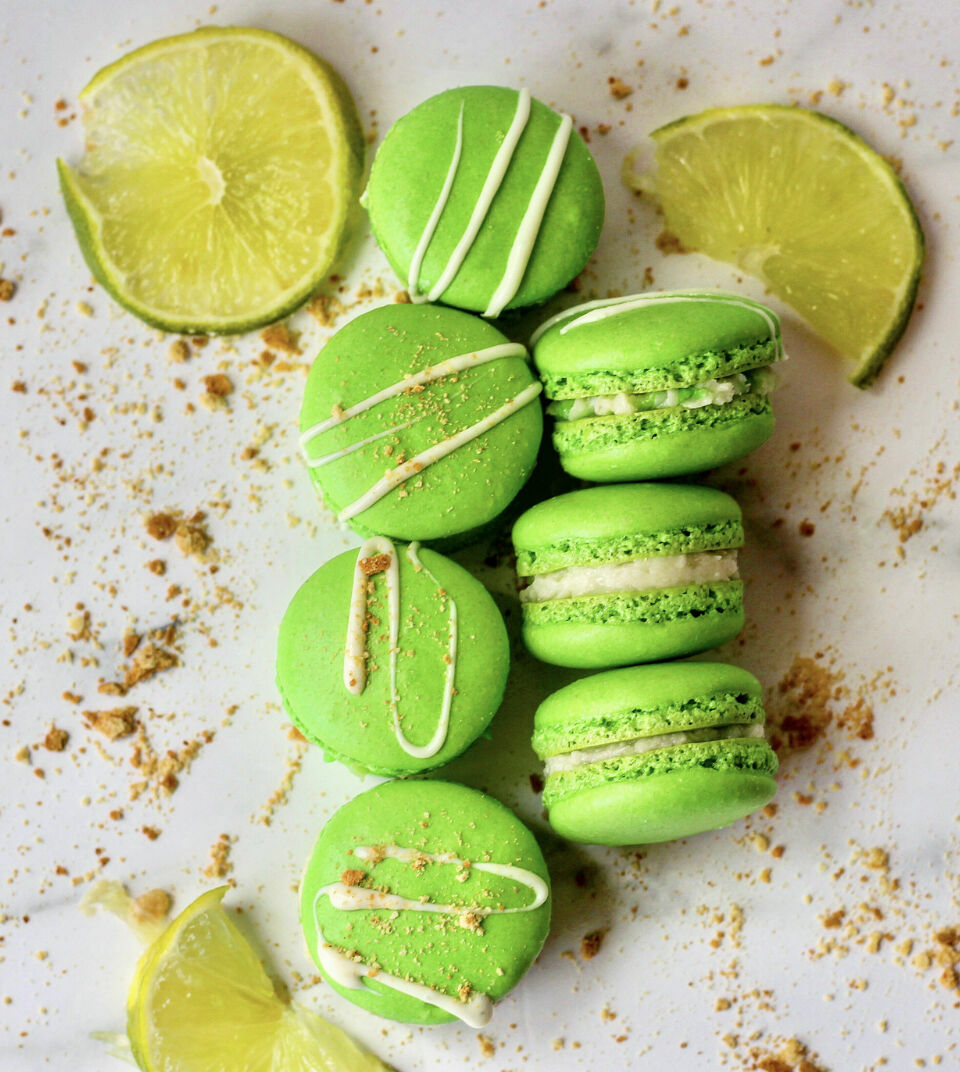 Found The Feed Feed
Nutella Macarons
It is scientific fact that everyone loves Nutella! So give this macaron recipe a try!
Found Pies and Tacos
Raspberry Habanero Macaroons
While you wouldn't usually put sweet and spicy together in a macaroon, I think this could work! Just make sure to warn your guests!
Found The Devil Wears Parsley
Coconut Macarons
Sweet, delicious coconut flavor comes together in this gorgeous light blue macaron! And the texture is amazing!
Found Pies and Tacos
Molten Lava Cake Macarons
How delicious?! Give it a shot!
Found YouTube
Salted Pretzel Macaron
Sweet and salty go together! At least in my world they do! And this is perfection!
Found Parsley Sage Sweet
Lemon Poppy Seed
Yumm!! Lemon with a twist of poppy seed makes these the perfect summery treat!
Found Craft Log
Champagne Macarons
These are fantastic for a bachelorette party, girl's night, or any other fun gathering with your friends!
Found Pies and Tacos
Bourbon Pecan Macarons
These boozy macarons are flavored with pecans to make for a delicious treat!
Found Chaka Blanford
You May Also Enjoy…
39 Delicious Milkshakes That You Can Make At Home
39 Nutritious Recipes Your Baby Will Love
37 Tasty and Decadent Easter Desserts