Hello, DIYers!
As the Summer begins to come to a close it is time to start re-thinking your garden and landscaping situation! How will you spruce up your yard and give it a great festive feel for Autumn? It's time for new colors, new décor, and a new perspective! Here are some awesome ideas that will get you started!
Happy crafting!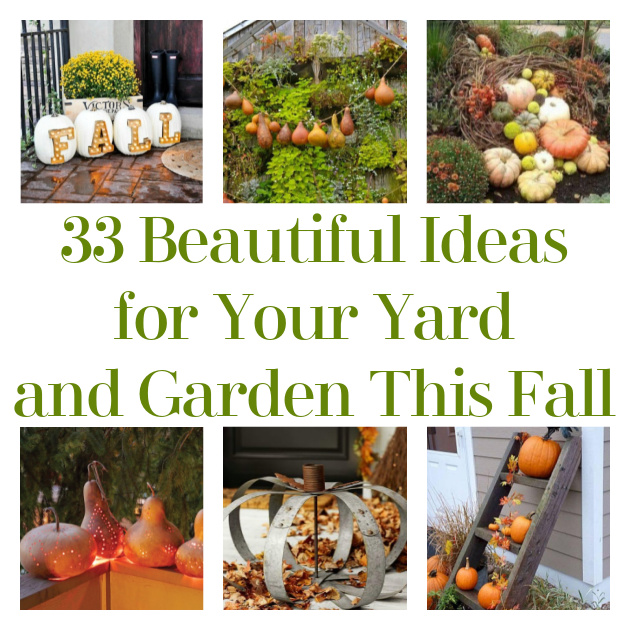 ...
Wooden Crate Planter
These are cute and colorful! Perfect for your Fall flowers!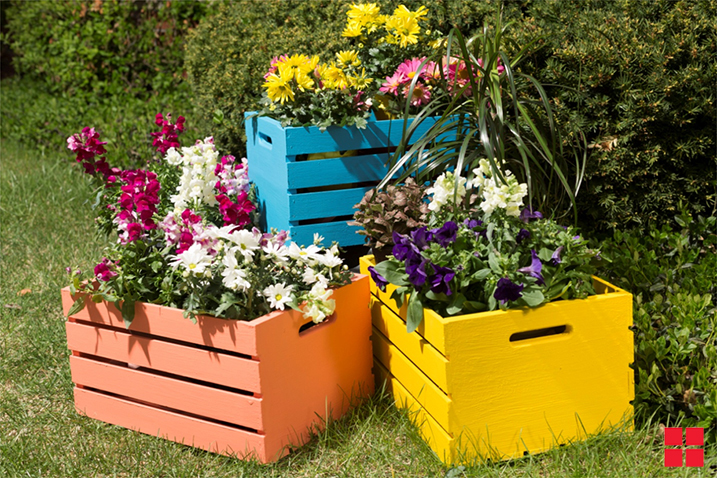 Found Rustoleum
Ladder Shelf
Use a leaning ladder as a shelf for assorted Fall décor!
Found Founterior
Harvest Signs
Make some lovely seasonal signs for your yard!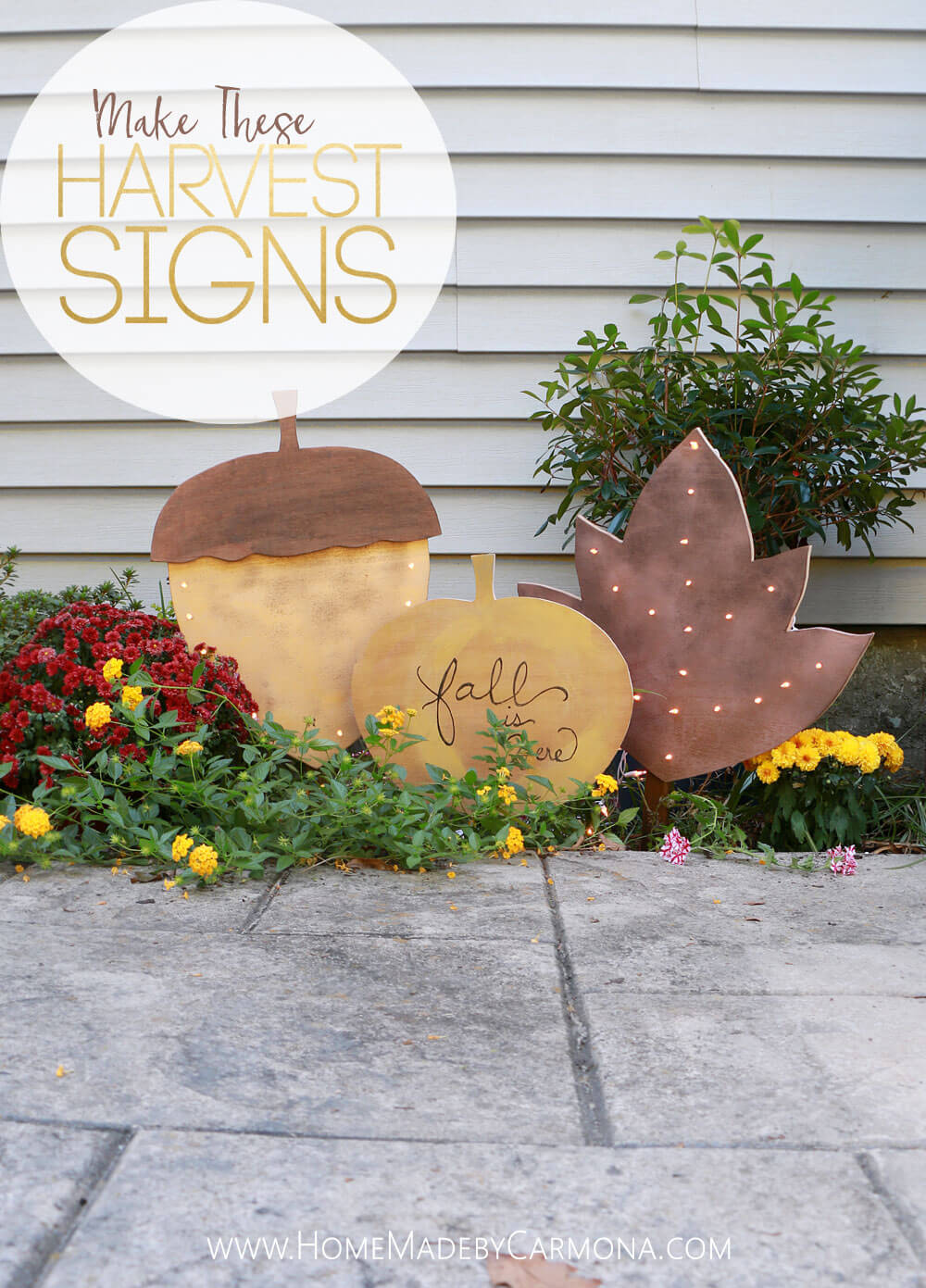 Found Home Made By Caroma
Wheel Barrel Feature
Use a rustic wheel barrel with Fall décor to celebrate the season!
Found Pinterest
Bushel Basket Tiered Planter
This is an adorable addition to your outside porch or garden!
Found Mycreativedays
Arrow Yard Sign
Fall is a time for fun! Show off with this adorable yard sign!
Found Cookies, Coffee, and Crafts
Pumpkin Planters
Short on planters for your seasonal mums? We've got a solution for that!
Found 17 Apart
Corn Stock Mail Box
Dress up your mail box or a light feature in your yard with stocks of corn!
Found My Amazing Journey
Whiskey Barrel
Use whiskey barrels to add height and dimension to your garden.
Found Gingham Garden
Use Haystacks
Use haystacks to add an extra seasonal element to your yard and garden this Fall!
Found Love To Sew
Landscape a Nest
There's all sorts of fun things you can do with landscaping! Why not try making a large nest with gourds spilling out like this…
Found Founterior
Late Fall Container
Decorate with flowers appropriate for the season!
Found YouTube
Marquee Light Letter Pumpkins
This is an adorable decoration for your porch, patio, or yard!
Found Karaspartyideas
Wagon Feature
Use a red wagon to feature your lovely Fall flowers!
Found Gingham Gardens
Wooden Pumpkins Yard Decorations
These lovely decorations will carry you all the way through the end of November! Give them a shot!
Found First Day of Home
Corn Stocks on Columns
If you have columns on the front of your home, why not fasten tall corn stocks to them for a festive feel?
Found Love to Sew
Crate Train
This wooden train is a lovely addition to your fall garden!
Found Pinterest
Gourd Banner
Gourds are a beautiful way to decorate!
Found Pinterest
Bushel Baskets
Bushel baskets are classic! You're likely to find some while thrifting or at a flea market!
Found Gingham Gardens
Fall Topiary Inspiration
Topiaries are a great way to decorate year round! Check out this video to help get you inspired to create one for Fall!
Found YouTube
Horn of Plenty
Use a horn feature in your garden and allow it to spill out with festive pumpkins and gourds.
Found Ben_Kerckx
Metal Pumpkins
Weatherproof these pumpkins and set them up in your yard as a fun element for your garden!
Found Thenavagepatch
Happy Fall Yall Pallet Sign
Make your own Fall themed yard sign!
Found Audrey Gail
Rustic Decorative Wheelbarrow
There are so many creative ways for you to decorate this lovely seasonal décor. What will you come up with?
Found homedepot
Gourd Lanterns
Light up your porch or patio with this lovely gourd lantern!
Found Makenzie
Galvanized Tub
Use a galvanized tub to display your festive Fall flowers in all of their glory!
Found Gingham Gardens
Fall Scarecrow
Scarecrows are a classic Fall décor. You can make your own with this tutorial!
Found 2littlehooligans
Fall Fairy Garden
Create a lovely fairy garden with a Fall theme!
Found YouTube
House Number Pumpkins
Show off your house number using cute pumpkins!
Found Adiamondinthestuff
Farm Animal Planters
This is a super cute collection of planters that are perfect for late summer and fall!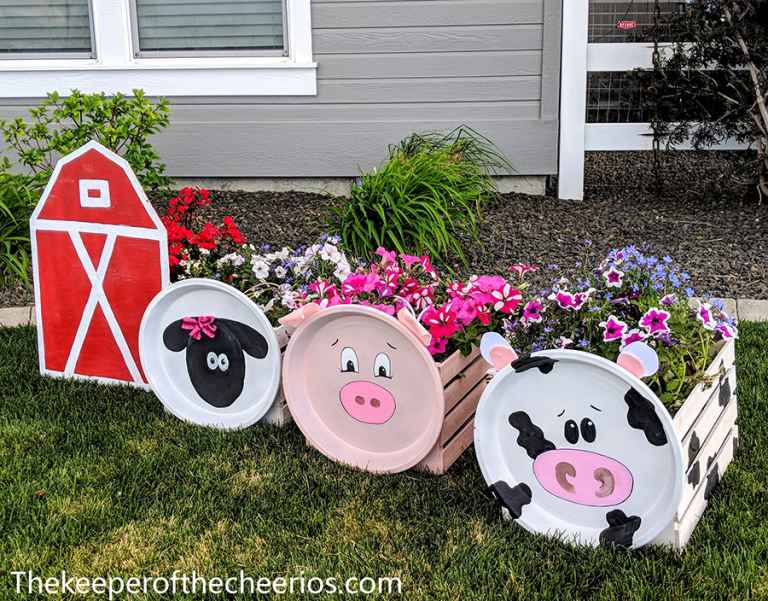 Found The Keeper of the Cheerios
Walkway Lined with Pumpkins
Lining your walkway with pumpkins is a lovely way to add a base level to your landscaping!
Found BHG
Rustic Chair
Using a rustic chair is a great way to add some level and dimension to your garden, porch, or patio! You might just consider weatherproofing it!
Found Gingham Gardens
You May Also Enjoy…
31 Beautiful DIY Water Features for Your Garden