Hello, DIYers!
It's about that time of the winter that we all begin to get restless and excited for Spring! That brings fun, nicer weather, and also a great opportunity to tackle big home projects! 2020 was a big year for home projects (because we were all home anyway!) but with new homes purchased, more upgrades to do, any maybe even homes being put on the market, there's always more to be done! If you're thinking of trying to save yourself some money on some of the big ticket home projects, doing it yourself might be the perfect solution! This list puts together many common or trending home projects with tips, tricks, and instructions to help you complete the job with ease!
Happy crafting!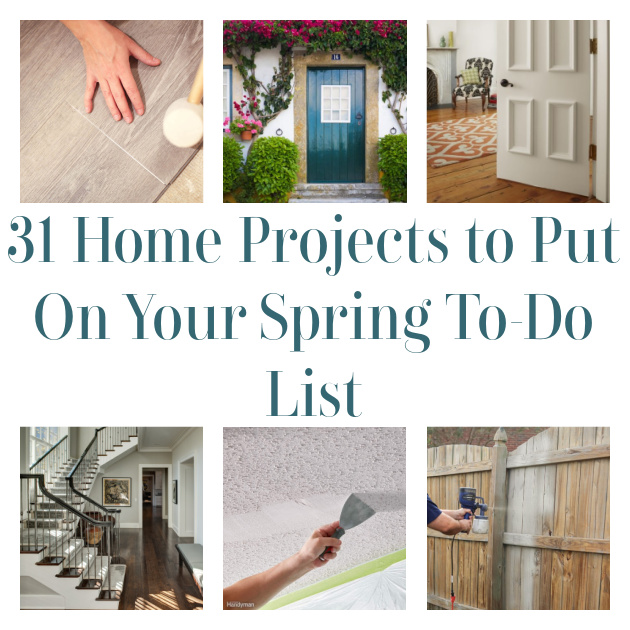 DIY Painting
Paying a professional to paint adds a lot to the total for the final job. If you're feeling competent enough, here is a list of some great tips for making a painting project easier!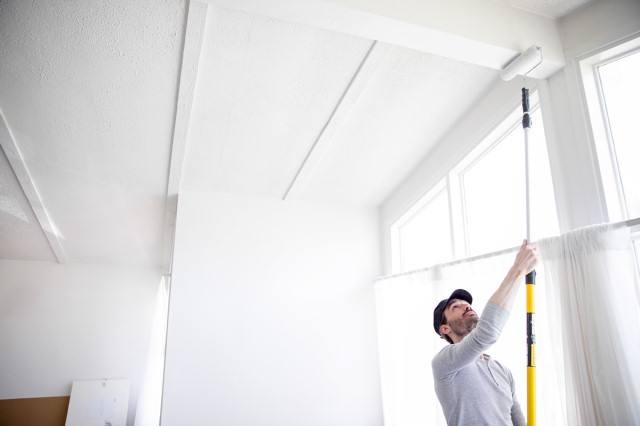 Found Nationwide
Installing Vinyl Plank Flooring
Vinyl plank flooring (often referred to as LVP or luxury vinyl plank) is a popular flooring trend. It is known for being scratch and fade resistant while also being waterproof. Not to mention, it is an easy floor to install yourself, even if you have no prior experience! It just takes some careful calculations and researching the issues you might come up against! Pay close attention to the wear layer you're buying and then go to town for a beautiful new look!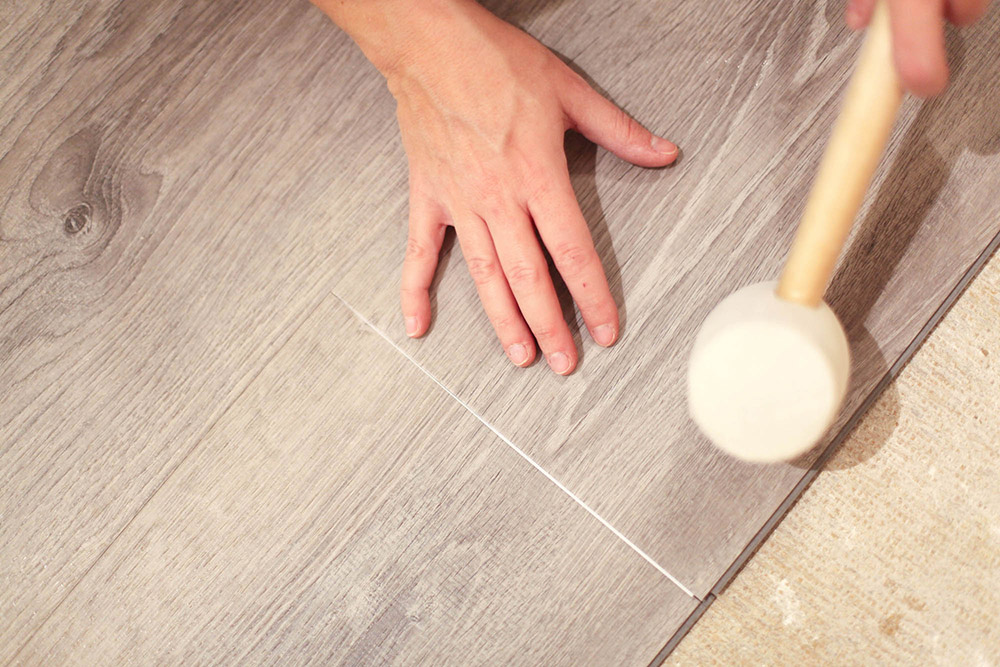 Found Home Depot
Refacing Cabinets
Are you looking to modernize your kitchen? It can get pricey! Fortunately, it doesn't necessarily mean that you need to go buy an entirely new set of cabinets! You can use the basic frame and reface the the cabinets to look more modern. It just takes a little extra work!
Found Family Handy Man
Repair Vinyl Siding on House
Every now and nick or gouge on the side of the house becomes unsightly. Fortunately, the repair is fairly simple to do yourself!
Found Family Handy Man
Painting Front Door
Whether you want an accent door or just want to refresh the look on yours, make sure you read this first! It has everything to make this DIY project a positive one!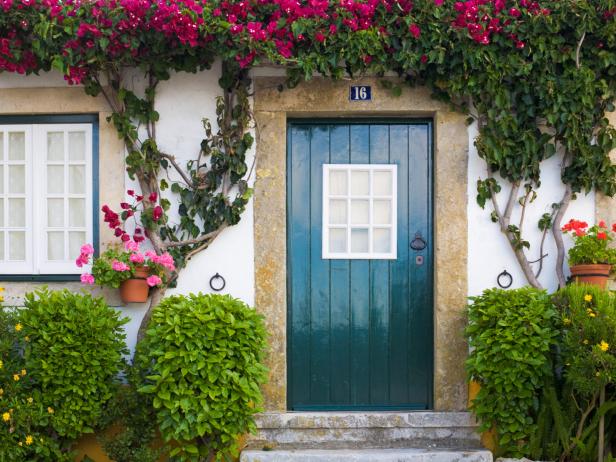 Found DIY Network
Cleaning Rain Gutters
Paying someone to clean your rain gutters can be costly. If you are thinking of taking on this project on your own, here is a great guide to help you get from start to finish!
Found Bob Vila
Building a Fence
Are you thinking of putting up a fence, you should first explore your options! This is a great guide!
Found The Garden Glove
Add Back Splash
A back splash can make a huge impact on the look of your kitchen! There are a few different ways (and budgets) to make that happen!
Found The Spruce
Building a Shed
Do you need extra storage space for the back yard? You might consider building your own shed!
Found Wood Create
Power Washing House
Power washing your house is sometimes necessary for knocking off excessive grime, sprucing up a home before selling, or before painting!
Found Family Handyman
Install Closet Organizers
Make the most of your closet space by installing a custom closet organizer!
Found The Spruce
Painting a Fence
Do you have a perimeter fence that is in fine structural shape but could use a sprucing up? Use this great DIY to help you paint it to last!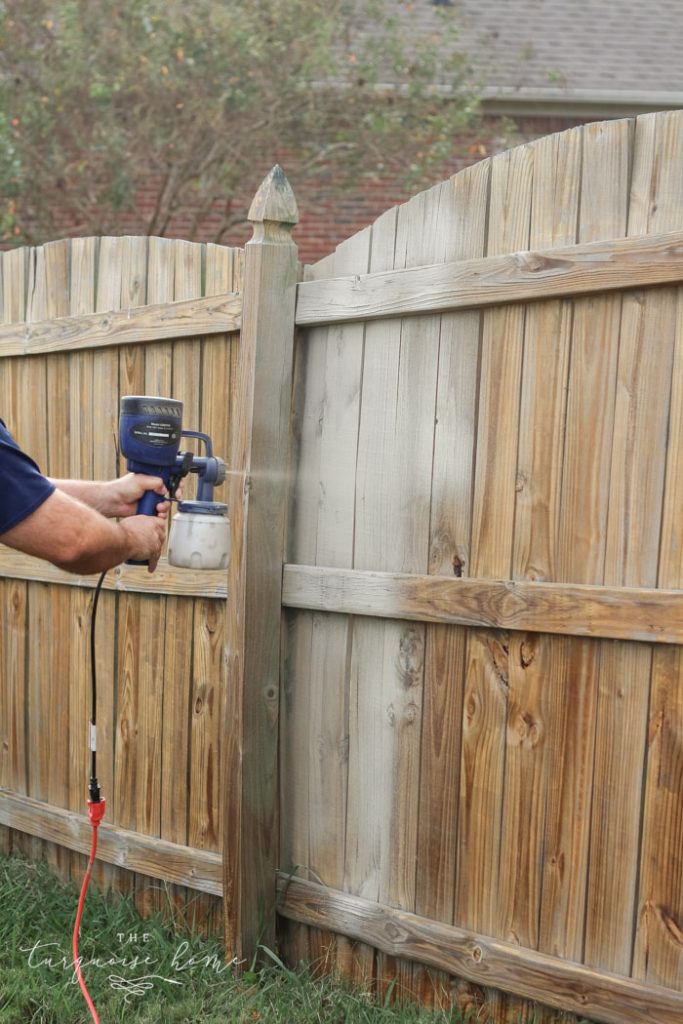 Found The Turquoise Home
Under Stair Storage
Use the space underneath your stairs more wisely by creating this amazing storage system! You'll wonder how you ever lived without it!
Found Family Handyman
Build a Basic Deck
If you want to add at least a basic deck to your yard, you can use this simple and budget friendly DIY! Of course, if you're feeling more ambitious, there are many tutorials that outline other custom measurements and shapes!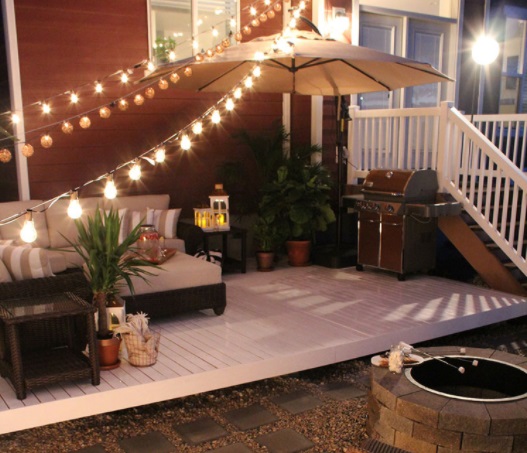 Found Home Depot
Install Crown Molding
Installing crown molding into your room is way easier than you might think! And it does so much to add a lovely finish to your walls!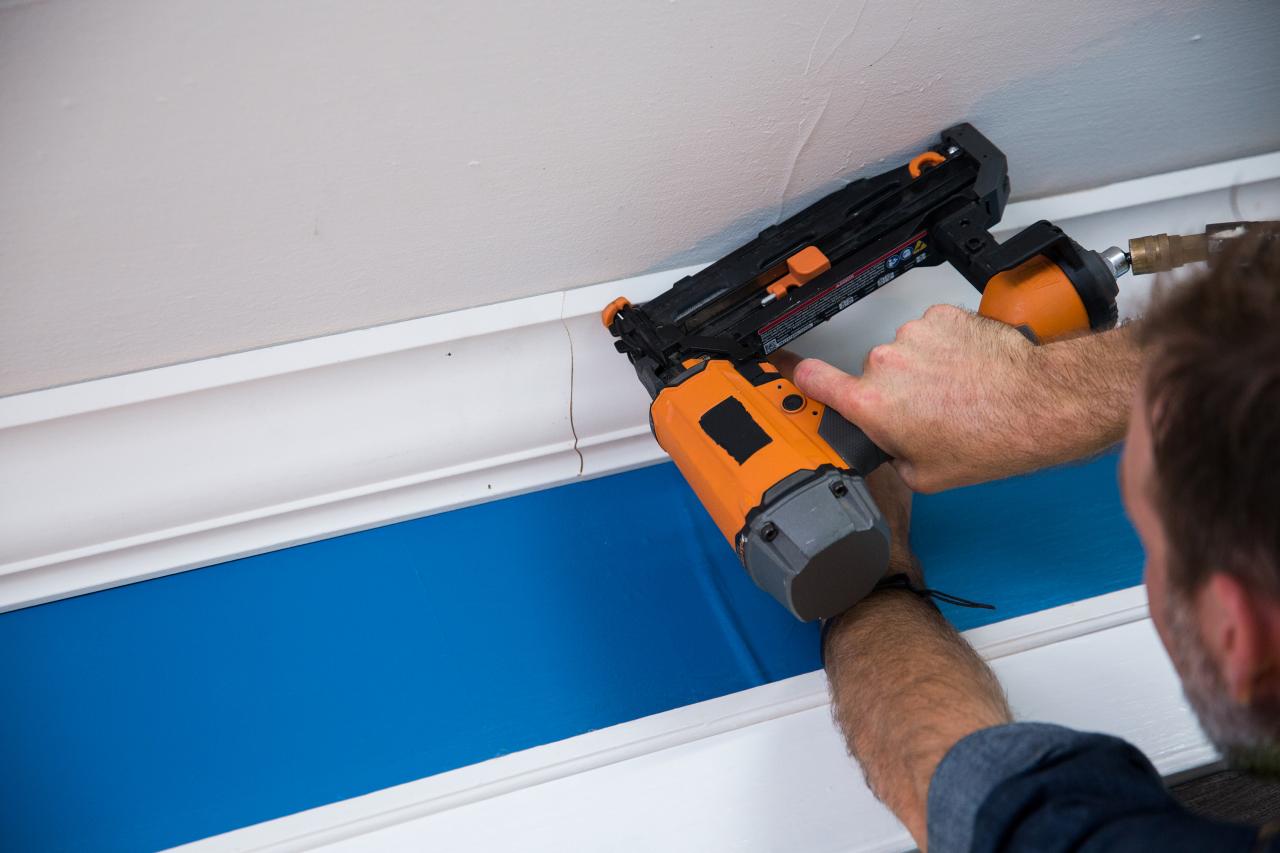 Found HGTV
Install Under Cabinet Lighting
Having lighting installed under your cabinets is incredibly convenient! If you want to achieve this in your home, check out this great DIY project!
Found Family Handyman
Install Basement Drywall
If you have an unfinished basement, you can add livable space and value to your home by finishing it yourself!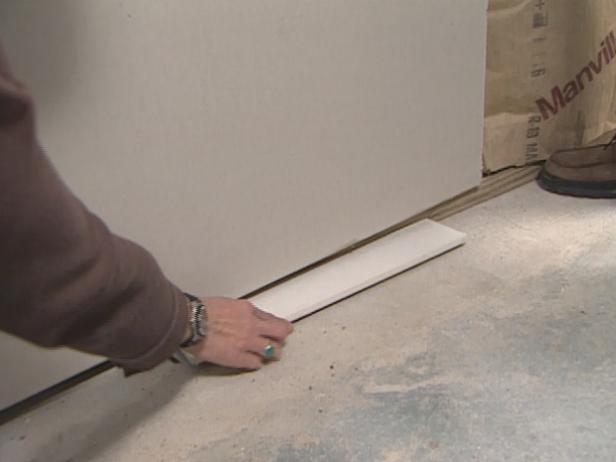 Found DIY Network
Add Carpet Runner to Stairs
With a little math and some effort, you can install your very own stair runner for elegance and safety!
Found This Old House
Mudroom Bench
Storage at an entryway can be one of the most challenging places in the home! You can help to remedy this issue by creating this wonderful mudroom storage bench! You can store shoes, coats, and even extra storage, like book bags!
Found Honey Bear Lane
Installing Iron Banisters
Iron banisters look absolutely gorgeous! Especially in comparison to the basic, cheap, wooden banisters that we are used to. You can make the upgrade by doing it yourself!
Found View Along the Way
Remove Popcorn Ceiling
One would be hard pressed to find someone who still loves popcorn ceilings. Unfortunately, there are still many homes who have them! You can remove one in your house by using these steps!
Found Family Handyman
Honeycomb Shelves
These honeycomb shelves are trendy and adorable for displaying small plants and tchotchkes!
Found Crafted By the Hunts
Lay Down Tile
A tile installation takes some time and effort, but it isn't terribly difficult once you get into the flow of it! Here is a great guide to help you out along the way!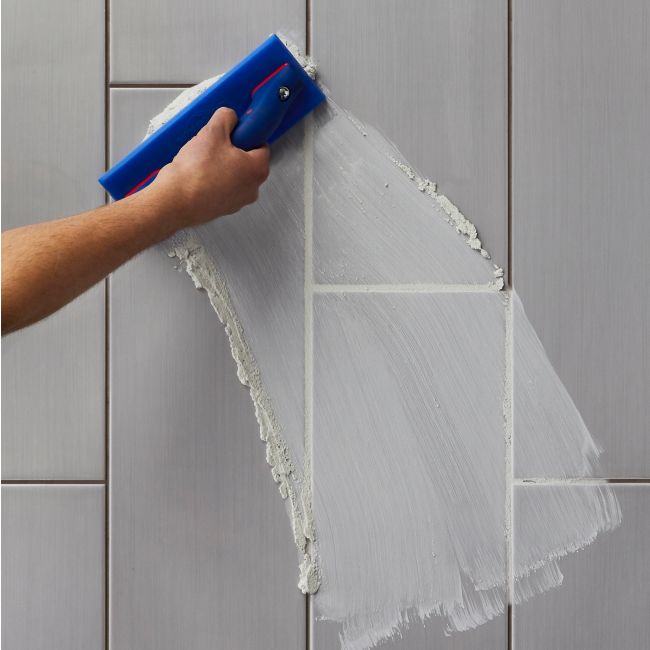 Found Tile Shop
Update Look of Boring Interior Doors
You don't have to switch out the cheap interior doors of your home just to make them look nice! With some paint and upgrades you can have them looking like a beautiful or exciting element to your décor!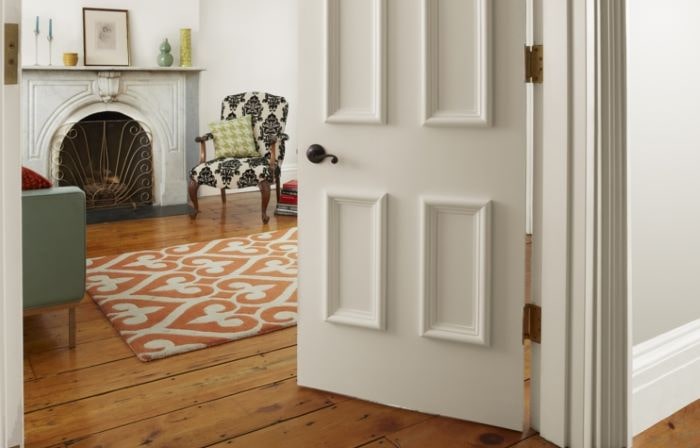 Found Schlage
Remove Non-Load Bearing Wall
If your goal is to create a more open concept floorplan in your home, you can knock down a non-load bearing wall! Here are some great instructions to learn how!
Found The Spruce
Refinish Wooden Deck
Give your wooden deck a facelift by staining it a new, modern color with a terrific sealant!
Found The Spruce
Add Faux Ceiling Beams
You don't have to do a major construction project to get your ceilings looking fun and different! Add these faux ceiling beams to modernize the room on a budget!
Found My Vintage Porch
Remove Wallpaper
Is there dated wallpaper in your home? Getting it off can be a pain! But here is a simple guideline to get you started and make the process go as seamlessly as possible!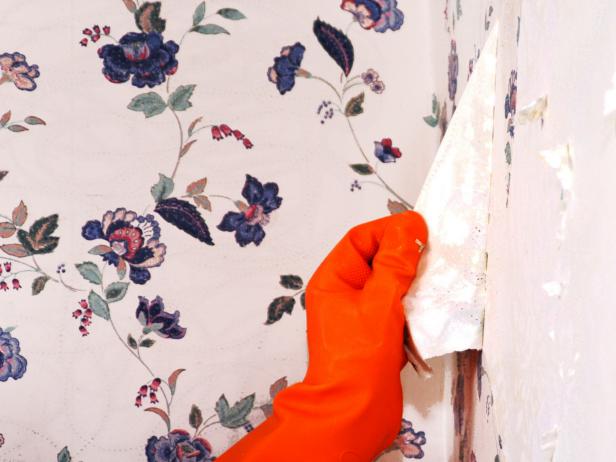 Found HGTV
Re-Caulk Bathrooms
Do you know the last time the caulk was freshened up in your bathroom? If not, check the condition. It might be time! These DIY instructions will cover everything that you need to know!
Found Bob Vila
Update Hardware
Whether on your cabinets, bedroom furniture, or other, you can create a fresh new look for your furniture by simply updating the hardware!
Found The Spruce
Install Sliding Door on Track
You can add character to a room by adding a sliding door as opposed to a traditional doorway.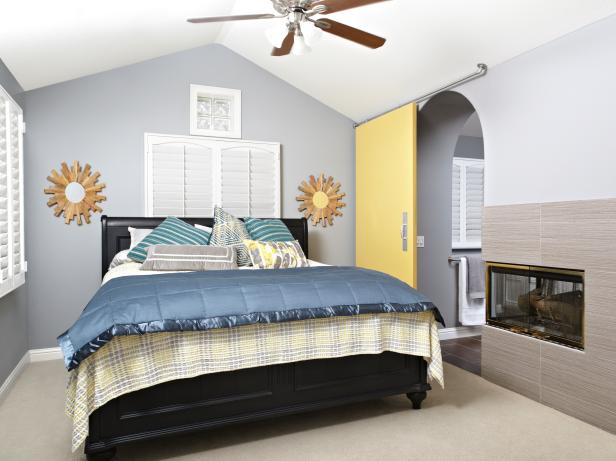 Found DIY Network
You May Also Be Interested In…
30 Vibing Lights to Create the Perfect Bedroom Aesthetic for Teens
31 Fabulous Ideas for Upcycling Old Furniture
How To Create Functional, Multi-Use Spaces In Your Home
31 DIY Chandeliers and Overhead Lighting to Transform Your Home
31 Lovely and Functional DIY Clocks