Hello, DIYers!
It's almost Spring time! With the nicer weather afoot, it's a great time to sweep off the porch and start decorating! We've put together a list of fantastic porch inspiration and DIYs to help you create the masterpiece of your neighborhood! Dress your door up and fill your porch with Spring flowers to welcome your guests! Which projects will you choose to make your porch an oasis?!
Happy crafting!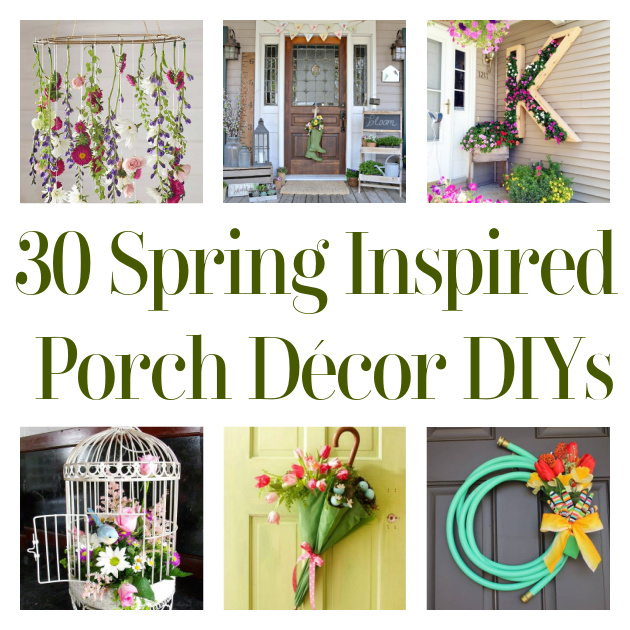 A Burst of Yellow
Add pops of yellow with the door, wreath, flowers, or even lemons! Plus you can make this fantastic wooden doormat with this tutorial!
Found Creatively Living
Rain Gutter Planters
Why not try hanging your flowers on your porch with these fantastic DIY planters?!
Found Make It Love It
Garden Hose Wreath
Have a garden house with a tear in it? Don't throw it away… upcycle it!
Found Create Craft Love
Blue Skies, Blue Ceiling
Take a look up above at this custom blue paint job on the ceiling! On this porch, you can relax in the shade without sacrificing the peaceful blue from above!
Found Southern Living
Flower Basket Wreath Alternative
Another great alternative to a wreath is a flower basket or beach bag!
Found Nesting With Grace
Living Number Box
If you love genuine greenery, look no further than this amazing, living numbers box!
Found A Beautiful Mess
Whiskey Barrel Planter
Fill a whiskey barrel with a bunch of colorful flowers!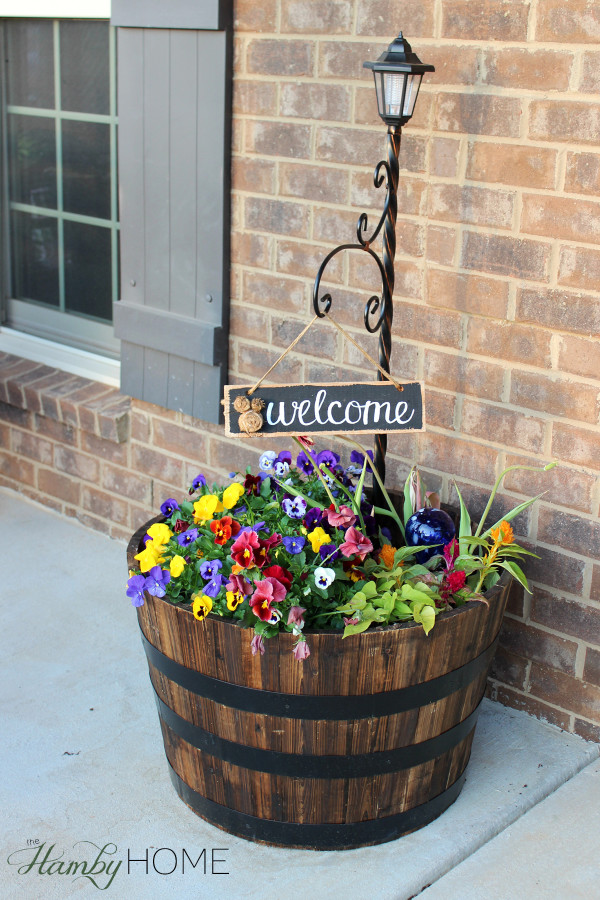 Found The Hamby Home
Paint a Runner
Make your door truly pop by painting a runner up your stairs, welcoming your guests to your home!
Found One Kings Lane
Chandelier Planter
How cute is this?! Find a chandelier to upcycle and go to town!
Found Embracing Creativity
Branch Ladder
This branch ladder can be dressed up to suit any season!
Found Ashbee Design
Rainboot Door Décor
This is so cute and different! Use a colored rainboot stuffed with flowers in place of a wreath on your door for an individual element!
Found Cottage in the Oaks
Decorate with Lavender
There are so many benefits to growing your own lavender! It looks beautiful, smells great, and you can use it in your teas!
Found Gardenia
Simple Spring Wreath
Elegant and understated is the theme of this fantastic Spring wreath!
Found Hello Central Avenue
Birds Nest
Birds nests are lovely and charming! If a bird hasn't decided to make your porch their home yet, you can still decorate with one!
Found Make Life Lovely
Pick a Color
For a small porch, keep the color scheme tight! Pick a color and work with shades of that rather than too much variation!
Found My Home Stories A-Z
Monogrammed Planter
How adorable is this?! Make one with the first letter of your last name!
Found Remodelaholic
White Wash Terra Cotta
Add a beautiful, white wash look to your basic terra cotta pots this Spring!
Found Tidbits
Custom Outdoor Pillows
Can't find the perfect outdoor pillows to match your design concept? You can make your own!
Found A Beautiful Mess
Large Planters
Large planters are really all you need to feature a beautiful front door! Just make sure to double nest the pots so they can be relocated as needed without disturbing the roots!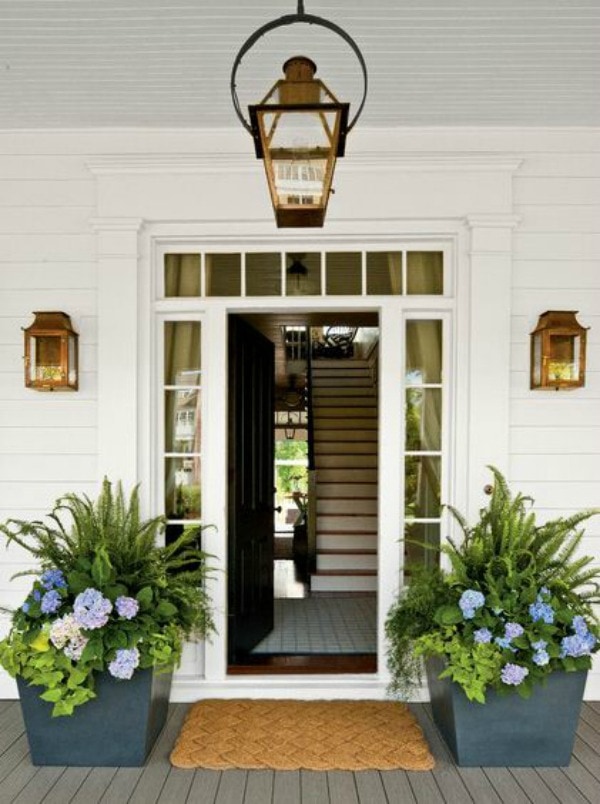 Found Gilded Mint
Boho Floral Ring
If you're looking to add a Boho element to your porch, why not do it with this great floral ring!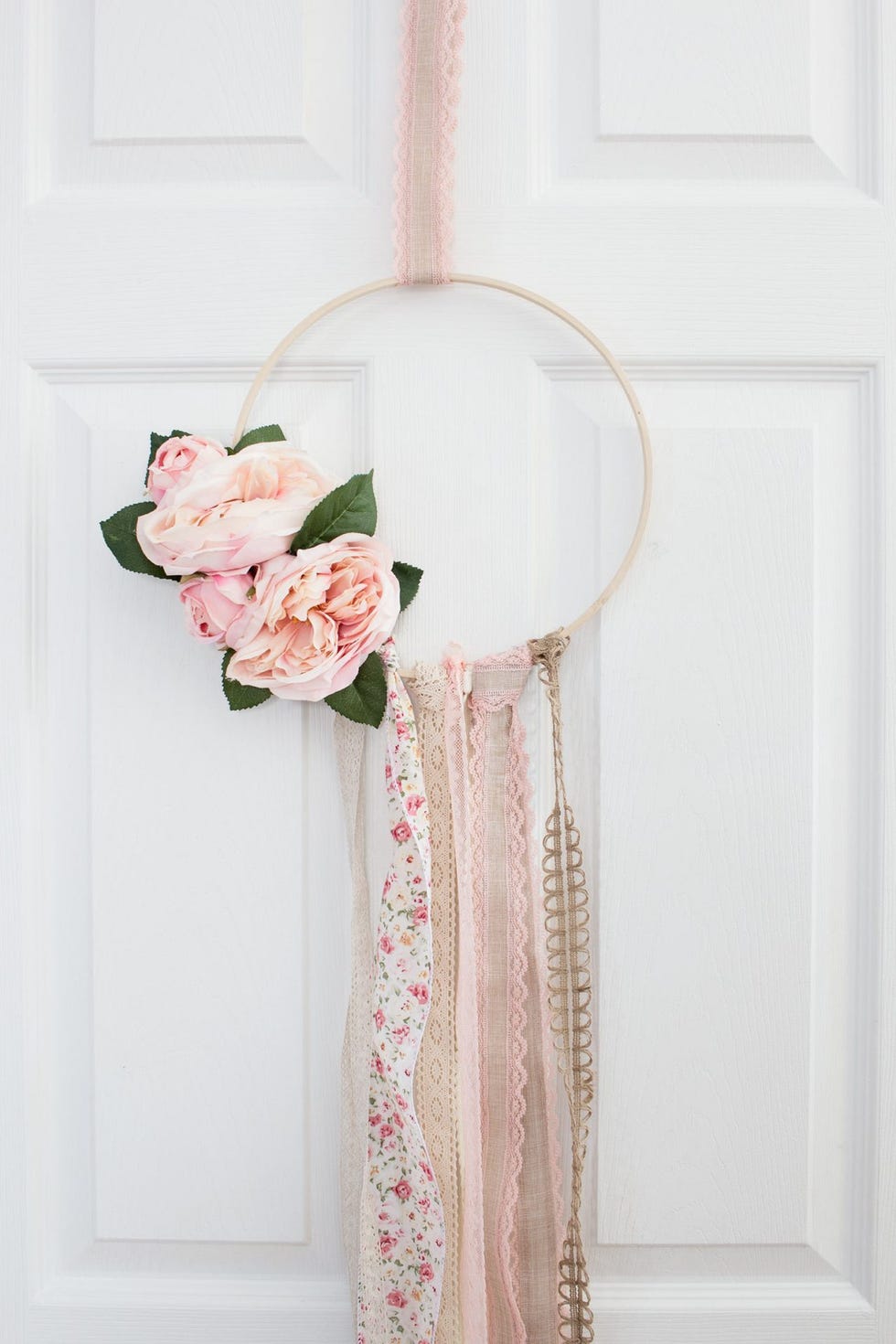 Found Homemade Lovely
Decorate with Eggs
It doesn't get more Spring-y than decorating with eggs! Give it a try!
Found Confessions of a Plate Addict
Flower Chandelier
This paper chandelier is lovely and perfect to add a fun color pop to the porch!
Found BHG
Mixing Patterns
If you have a nice sized area, you can mix patterns and colors in a charming way!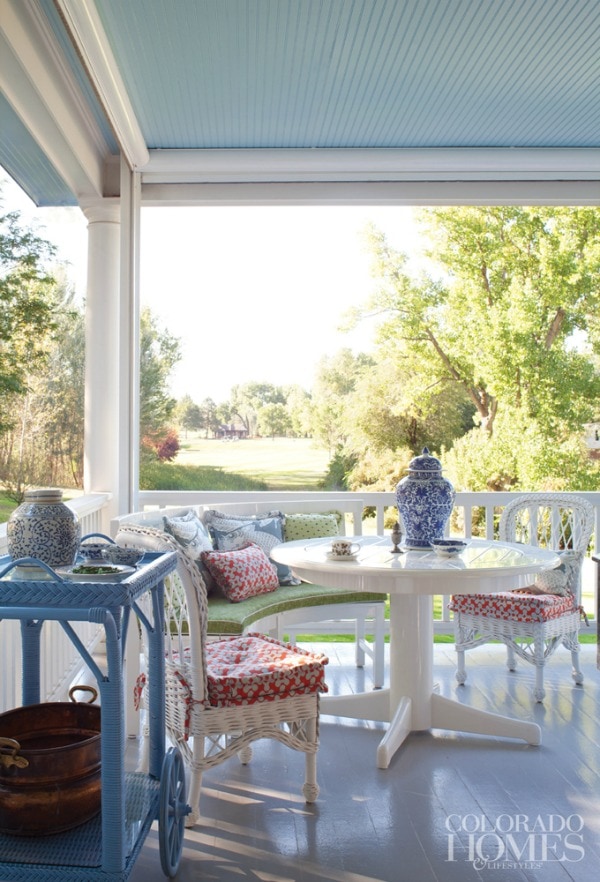 Found Leo Interiors
Milk Can Table
You can DIY your own table for the porch by upcycling a wonderful milk can!
Found Fussy Monkey Biz
Turquoise and Yellow
Turquoise and yellow is such a winning combination for spring! I love the color pop of the yellow rainboots!
Found Gilded Mint
Umbrella Full of Tulips
This fantastic door décor brings elements of the rainy Spring days, Easter eggs, and tulips! Perfection!
Found BHG
Painting Metal Cart
If you find yourself with a fabulous piece of metal furniture that is worse for the wear, why not try painting it instead.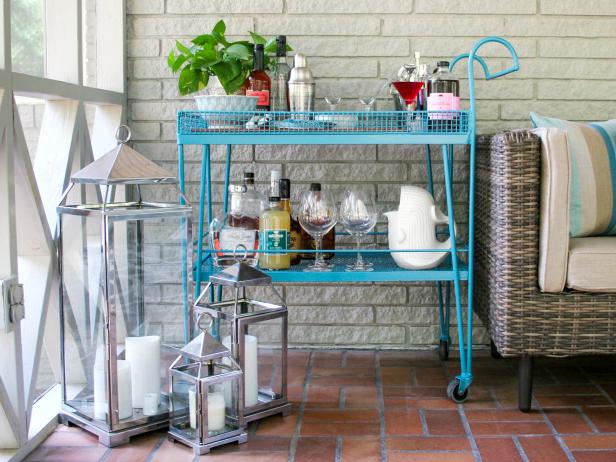 Found HGTV
Decorative Bird Cage
Create and decorate with a bird cage on your porch!
Found Mas y Mas Manualidades
Stacked Planter
Welcome your guests with this beautiful stacked planter! It's simple and cost effective to make!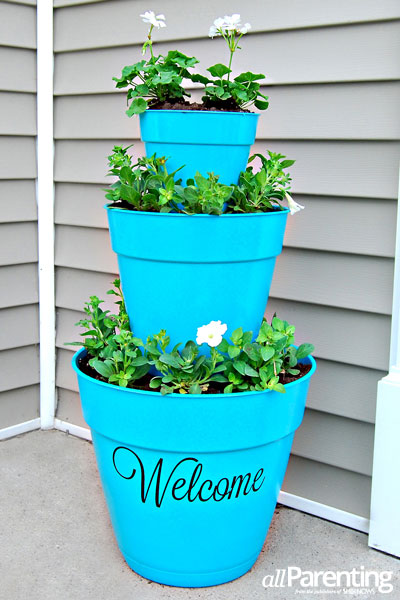 Found All Parenting
Wooden Wreath Sign
Easter themed or not, this wooden wreath sign makes for a great addition to your porch!
Found Fynes Designs
You May Also Enjoy…
37 Delightful and Decorative DIY Projects for Your Garden
31 Magical Fairy Gardens to Recreate
29 Beautiful and Efficient Propagation Stations
31 Beautiful and Natural Dried Flower Crafts
33 Eco-Friendly DIY Spring Cleaning Products