Hello, DIYers!
Many times, we find junk laying around the house or in the garage and simply decide to pitch it. Today, however, we are going to challenge you to try and find a way to upcycle your items into something beautiful for your garden! These can sometimes be some of the most creative and charming items that help to decorate your garden, all while helping the environment. We've included some awesome garden upcycle ideas to help you get started!
Hanging Basket from Old Lampshade
What to do with a ripped or broken lampshade? Well, you can turn it into a unique hanging planter!
...
Found Salvaged Living
Hanging Plant Chandelier
This is a gorgeous overhead feature for an outdoor table! Painting the wheel with a bright color adds a wonderful touch to this project!
Found Ideal Home
Landscaping with Glass Bottles
You can use glass bottles in the garden a ton of ways! One of which is landscaping!
Found Dishfunctional Designs
Tin Can Wind Chime
Decoupage yourself a beautiful wind chime for your garden using tin cans!
Found Pillar Box Blue
Toad Stools from Old Tires
These are so adorable! If you have tires lying around, why not give this a try?!

Found Grillo Designs
Repurposed Cabinet Potting Bench
An old cabinet doesn't have to go to the dump! You can spruce it up and turn it into a lovely potting station outside!
Found Lost and Found Decor
Old Tire Into A Gorgeous Planter
Old tires can be great to use in landscaping and gardening!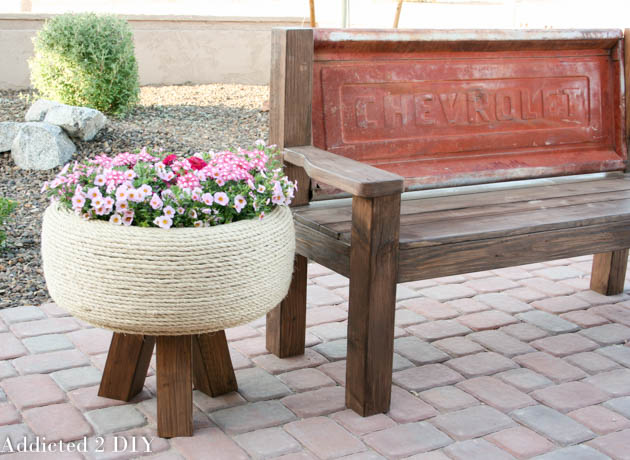 Found Addicted 2 DIY
Upcycled Lantern Stand With Patina
Once upon a time it was a lamp stand… now it's a beautiful garden planter and light!
Found Salvage Sister and Mister
Bicycle Wire Art
An old bicycle wheel is great for turning into wire art, such as this tree of life! You can even add colorful beads to light it up in the sunshine!
Found A Crafty Life
Decorative Tin Can Planters
Tin cans can be painted and decorated into something lovely for your garden! Plus it is easy to punch drainage holes at the bottom of them!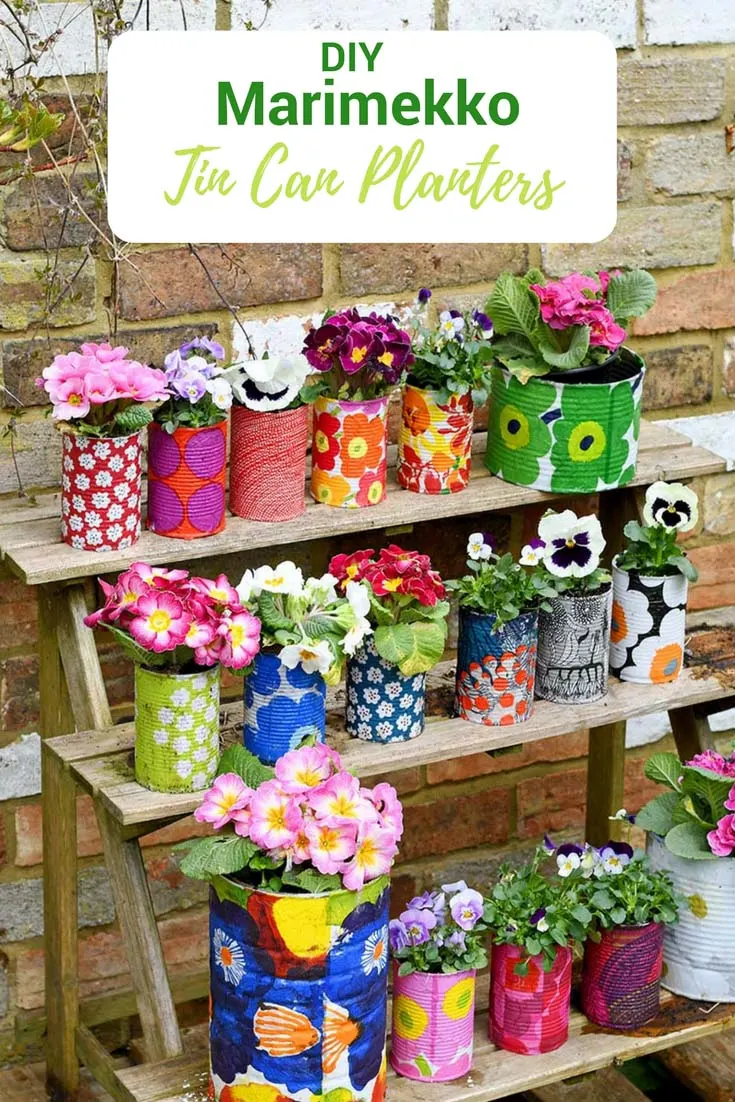 Found Pillar Box Blue
Bottle Cap Flowers
Have a bunch of bottle caps? Instead of pitching them, why not make some fun garden decor?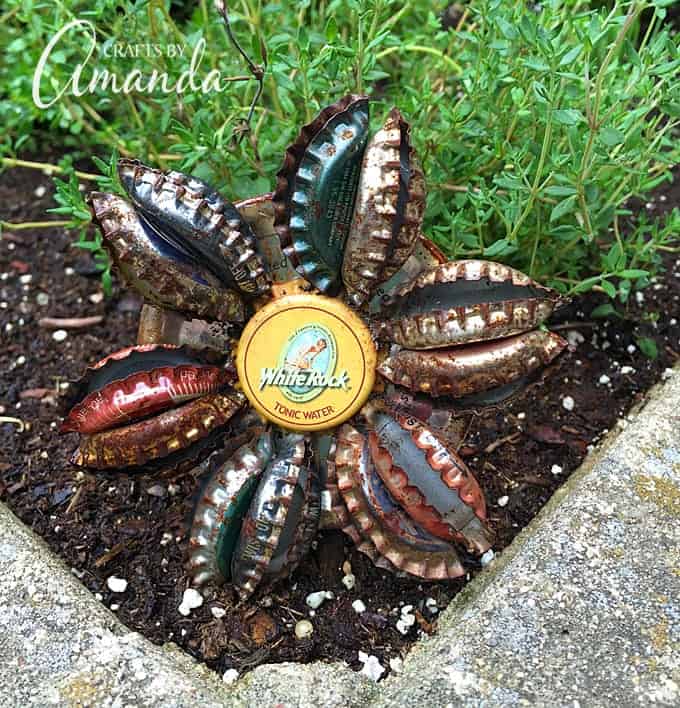 Found Crafts By Amanda
Upcycled Bicycle Wheel Garden Art
Hang bicycle wheels as a feature in vertical planters! It makes for beautiful garden art along your fence or shed!
Found Ideal Home
Ladder Plant Stand
A broken ladder isn't safe to stand on, that's for sure! But you can turn it into a safe space for outdoor (or even indoor) plants!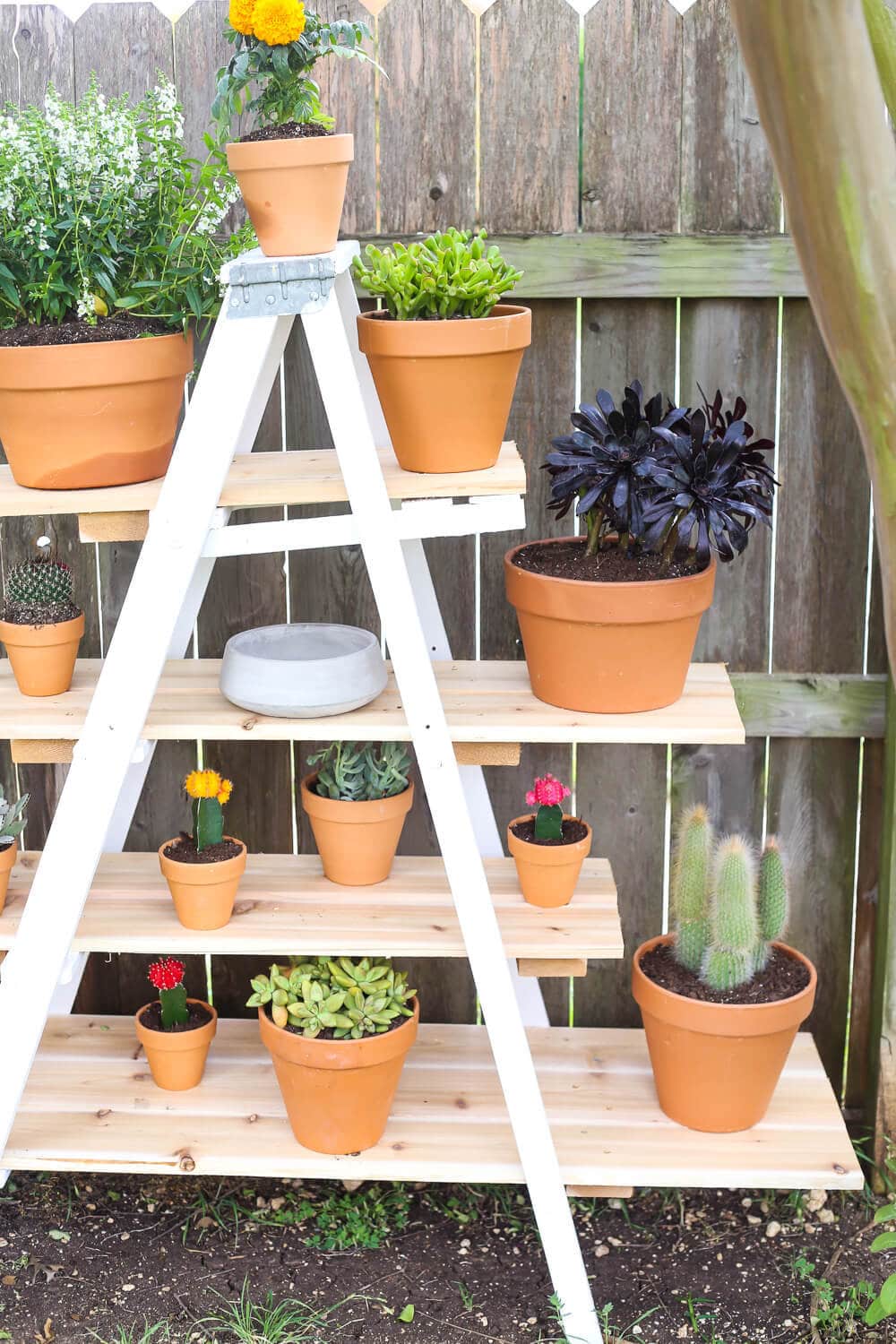 Found Love and Renovations
Large Bundt Planter
This colorful planter was made with a large bundt pan on top of a lamp base!
Found Pinterest
Stained Glass Garden Spinner
This colorful, spinning wheel is made out of an old bicycle wheel!
Found Flea Market Gardening
Moroccan Style Painted Wood Pallet Planter
We already know that wooden pallets can be used for pretty much anything in the DIY world. You can add a pop of color by making this for your garden!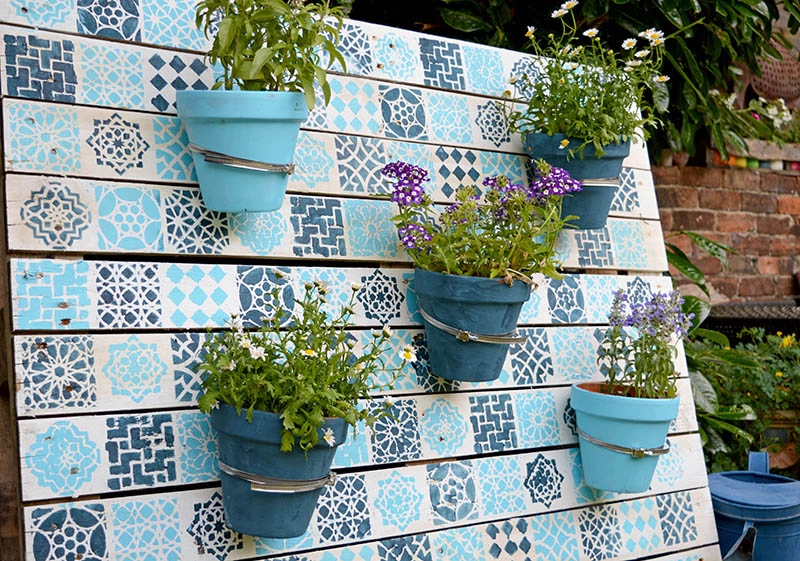 Found Pillar Box Blue
Garden Lamp Totem
Colorful, vintage lamps can make a beautiful garden totem!
Found Little Vintage Cottage
Coconut Shell Mushrooms
Fairy toad stools are easy to make with coconut shells!
Found Craft Invaders
Spoon Garden Markers
Getting rid of a mismatched set of silverware? If you have no one to give your old set to, why not try this?!
Found Life is a Party
Hubcap Garden Flowers
Hubcaps are great for painting and using as art in the graden!
Found Curbside Classic
Flower Bed from Metal Frame
Your metal bed frame doesn't need to go in the trash! You can me this beautiful "flower bed" literally!
Found Pinterest
Birdbath from a Vintage Lamp
This old floor lamp has been spruced up! The iridescent shell dish topper makes for the perfect finish!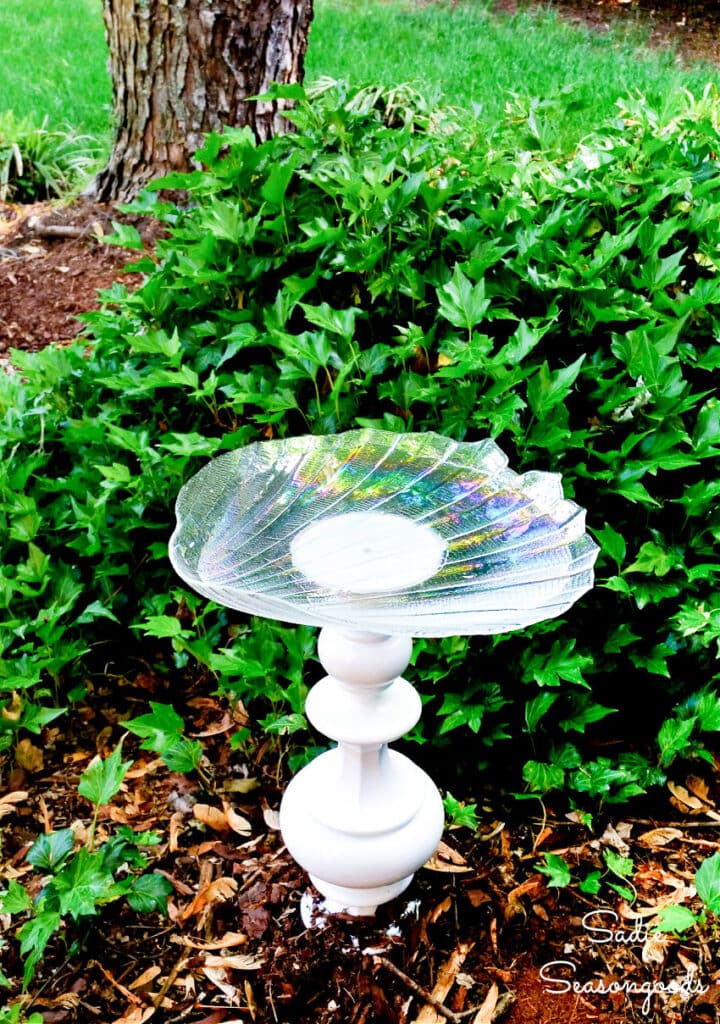 Found Sadie Seasongoods
Planter Tire Swing
If you don't have any little ones to play on a tire swing, you might consider making a tire swing planter instead!
Found Creative Green Living
DIY Watering Can
If you don't have a hose, this tip can be a lifesaver! Just make sure to clean out the laundry detergent bottle well before using it to water plants!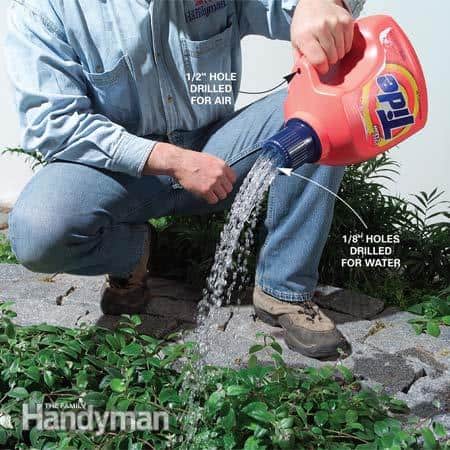 Found Living a Frugal Life
Vintage Tricycle Planter
How beautiful is this?! You can paint the tricycle for a pop of color or leave it looking vintage!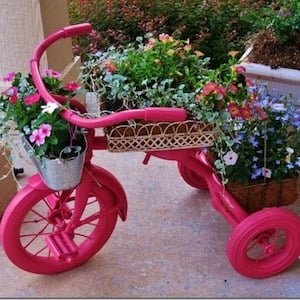 Found Judy Sterman
Solar Light Chandelier
I see a lot of chandelier's out for trash or for free, especially when people are remodeling! Scoop one up and make this fabulous solar light!
Found Pinterest
Umbrella Planter
Secure an umbrella into a dreamy plot of earth to create the perfect mini-garden!
Found Goods Home Design
Paint Stick Garden Markers
Suddenly unsure of where all of these paint sticks came from? Upcycle them in an herb garden!
Found Happy Hooligans
Hanging Bird Bath
Have a lid where the dish has gone mysteriously missing or broken? Don't throw it out! You can use it to hang a bird bath!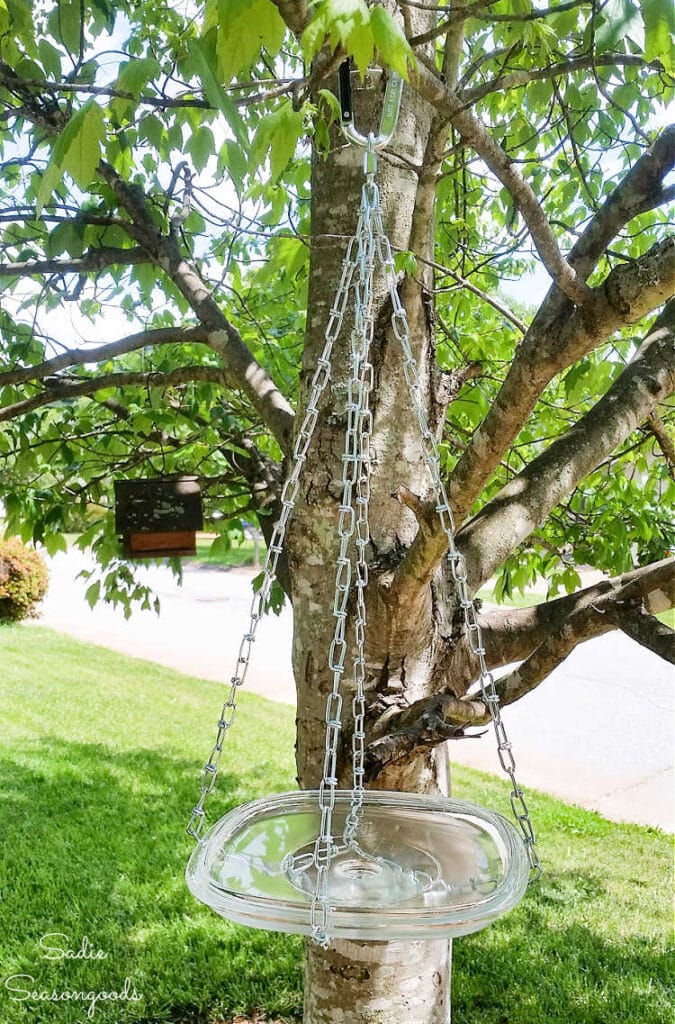 Found Sadie Seasongoods
Trampoline Archway
Lovely!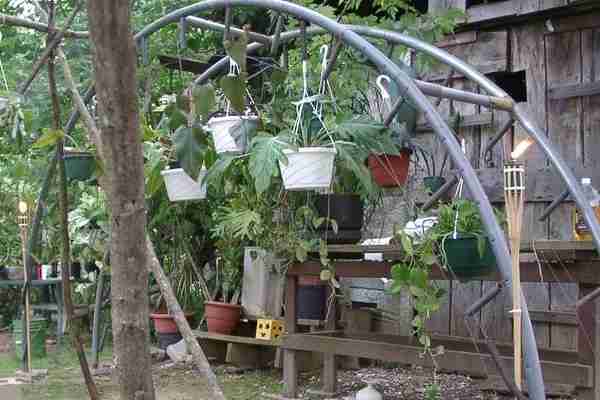 Found Get Trampoline
You May Also Enjoy…
31 Beautiful DIY Water Features for Your Garden
30 Lovely Landscaping Projects You Can Do Yourself!