Hello, DIYers!
Who doesn't love succulents? As long as they are in proper lighting, they withstand forgetful watering habits and become pretty difficult to kill! They are fantastic for decorating with and come in all sorts of shapes and sizes. The creative ways to display them are pretty much never ending! Here are 30 examples for showing off your succulents in creative and fun ways!
Happy crafting!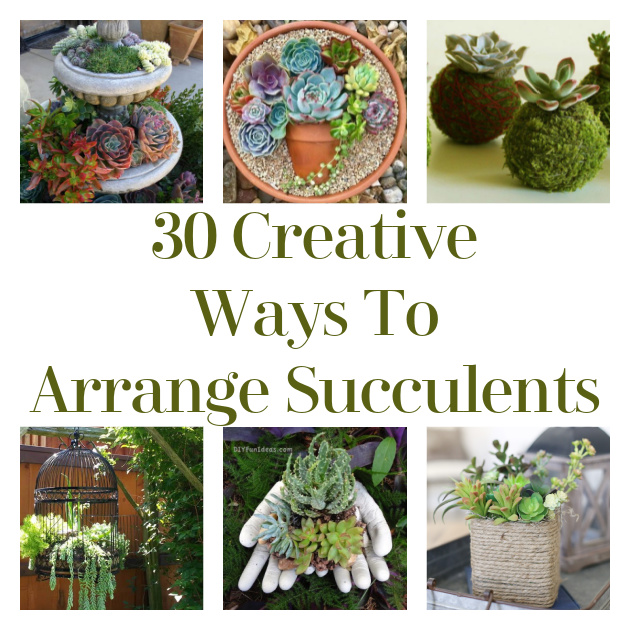 ...
Succulent Wreath
Turn your beautiful succulents into features on an indoor or outdoor wreath! Just make sure you have proper lighting!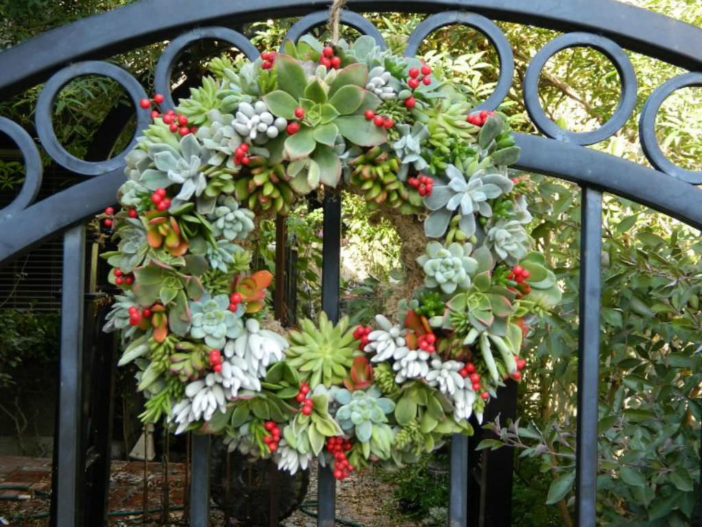 Found World of Succulents
Planter Inside of A Planter
How cute is this? Just position a small planter into the soil of the larger pot and create a lovely succulent arrangement around it!
Found SooPush
Bird Cage Succulent Garden
Drill some drainage holes at the bottom of a bird cage and hang it somewhere with plenty of light!
Found Empress of Dirt
Wagon Wheel Succulent Garden
A wagon wheel is an amazing way to organize your succulent garden!
Found Garden Lover's Club
Glass Containers
If you have glass containers or jars you might thing, "this is perfect!" but without proper drainage, things can get tricky! Proper layering of rocks and cacti soil are the key to making sure your succulents don't get over-watered!
Found Simply Whisked
Succulent Spheres
How amazing is this?! It could be hung or used as a gazing ball!
Found Drought Smart Plants
Rock Arrangement
You can build a creative landscape yourself in order to plant your favorite succulents!
Found Succulent South
Snail Shell Mini Succulent Garden
How cute are these?!
Found World of Succulents
Succulent Coffee Table
Pick any old table and create a beautiful glass top garden space!
Found Reddit
Hanging Succulent Pinecone Tower
Use pinecones to create this work of art!
Found Creative Live
Upcycled Water Fountain
If you have a water fountain in your garden that has fallen into disuse, why not give it a new life… literally! Plant it with lovely succulents!
Found Succulent South
Succulent Kokedama
Use a ball of moss to house your beloved succulents! This is an incredibly popular style in Japan!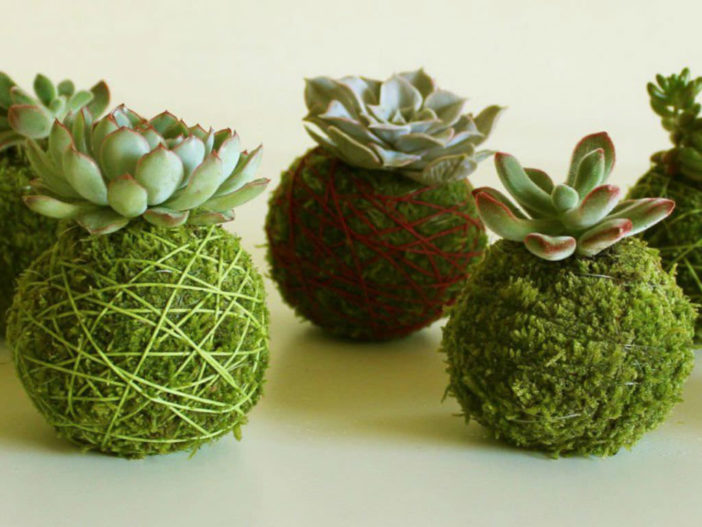 Found World of Succulents
Garden Boot Planters
Upcycle some old work boots as a succulent planter!
Found Empress of Dirt
Vertical Gardens
Who says that verticals have to be horizontal? Give this living art a try!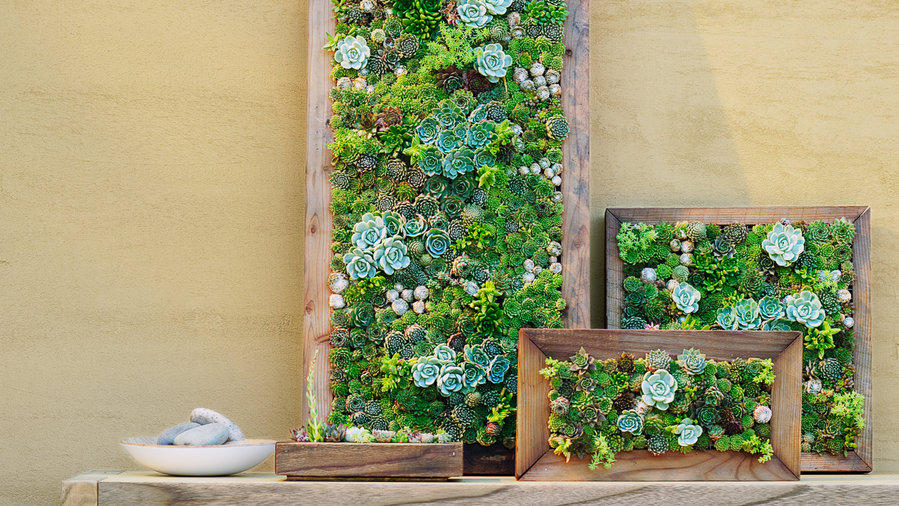 Found Sunset
Suitcase Succulent Gardens
Have an old suitcase laying around? Drill a few drainage holes and fill it with lovely succulents! Bonus points if it's vintage!
Found Pinterest
Succulents In Hands
Create these cement hands to hold your favorite succulents!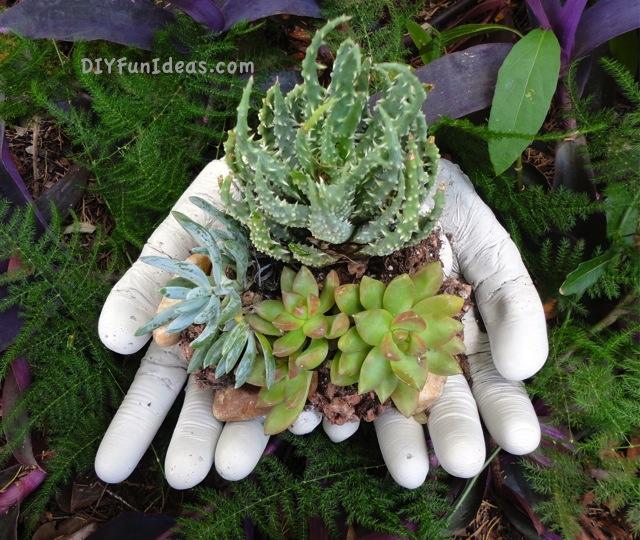 Found DIY Fun Ideas
Driftwood Succulent Planters
Have you ever wondered how succulents could grow and thrive inside of a beautiful piece of driftwood? This video shows you how!
Found Youtube
Tea Set Succulents
Arrange your succulents in a tea set! Just make sure to add a drainage hole so that they don't retain too much moisture!
Found SooPush
Concrete Accents
Fill unsightly cracks in the pavement or steps with something beautiful!
Found Urbana
Colander as a Planter for Succulents
How adorable is this colander planter?! Plus it already comes with drainage holes!
Found The Happy Housie
Uncycled Kleenex Box Planter
Kleenex box?! No one would suspect!
Found See Vanessa Craft
Pallet Succulent Rack
If you love succulents, this rack will hold a ton of them!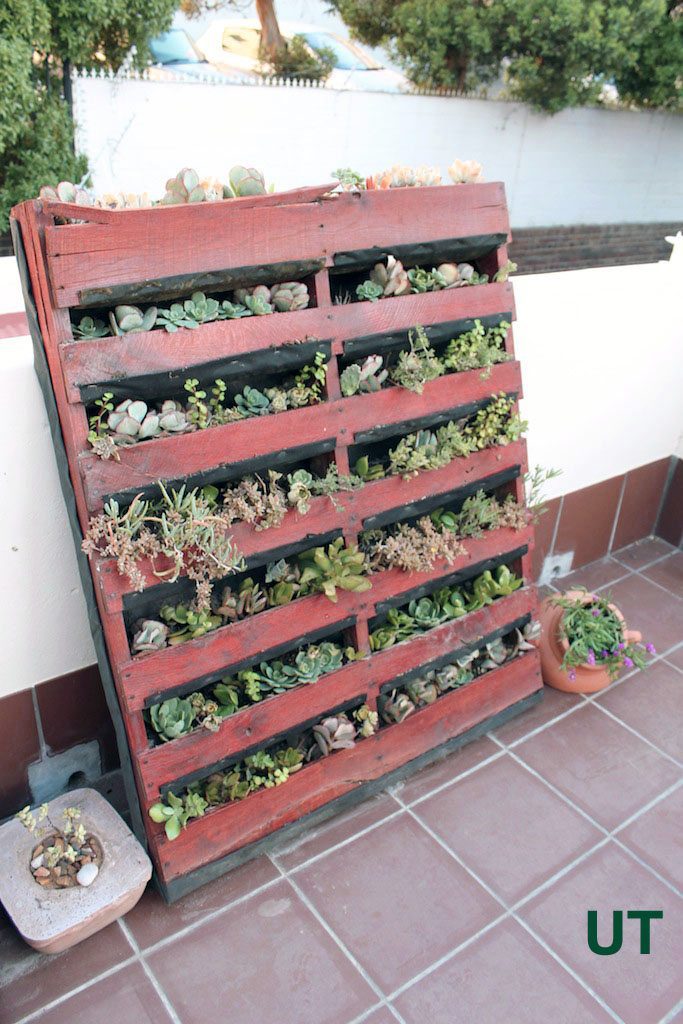 Found Upcycle That
Cassette Tape Succulent Planter
Use old cassette tapes to make this adorable succulent planter!
Found Creative Green Living
Used Tire Succulent Garden
Don't just send your used tires to a landfill… put them to work!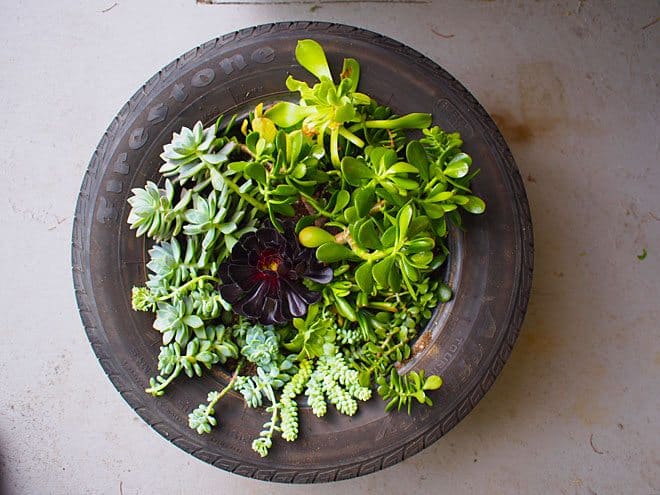 Found Charles and Hudson
Cinder Block Gardens
Cinderblocks make an easy and interesting succulent planter!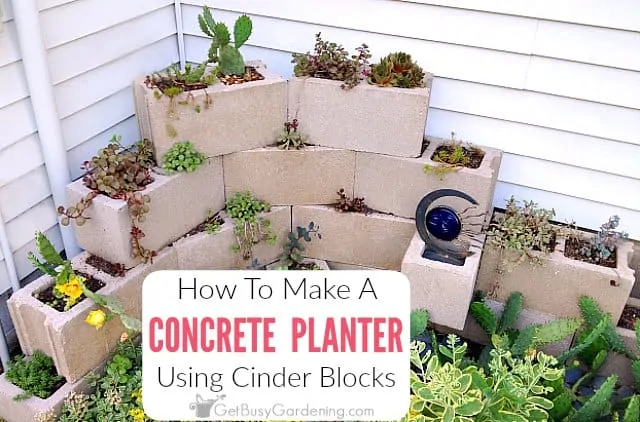 Found Get Busy Gardening
Garden Seat
How adorable is this lovely garden chair?!
Found Empress of Dirt
Wine Bottle Planter
Upcycle your wine bottles into beautiful planters!
Found DIY Projects
Hen and Chick Lawn
All of the greenery, none of the mowing! Perfect!
Found The Easy Garden
Vintage Tool Box Planter
Take an old, vintage tool box and decorate it with your favorite succulents! This would make a lovely centerpiece for a picnic table!
Found Succulent South
Tree Stump Planter
Here is a video tutorial that will help you re-create this awesome tree stump planter!
Found YouTube
You May Also Enjoy…
30 DIY Decorative Outdoor Lighting Projects for Your Patio & Garden
30 Lovely Landscaping Projects You Can Do Yourself!
37 Delightful and Decorative DIY Projects for Your Garden
35 Creative and Lovely Birdhouses
31 Magical Fairy Gardens to Recreate
29 Beautiful and Efficient Propagation Stations