Hello, DIYers!
Our days are busy and stressful, aren't they? It seems like no matter what phase of life you are in, there is always something going on. Because of this, it can be helpful to implement routines that will best serve you throughout the day. For instance, you know that the hustle and bustle of the work day leaves you with minimum time to eat. So instead, you pack a lunch that you can eat at your desk. It makes sense and it saves money! But there are also plenty of ways that you can prepare your overall body and mind to have the best possible day. Here are 21 routines that you should consider adding into your morning in order to optimize your day. Pick out a couple of them and give them a try!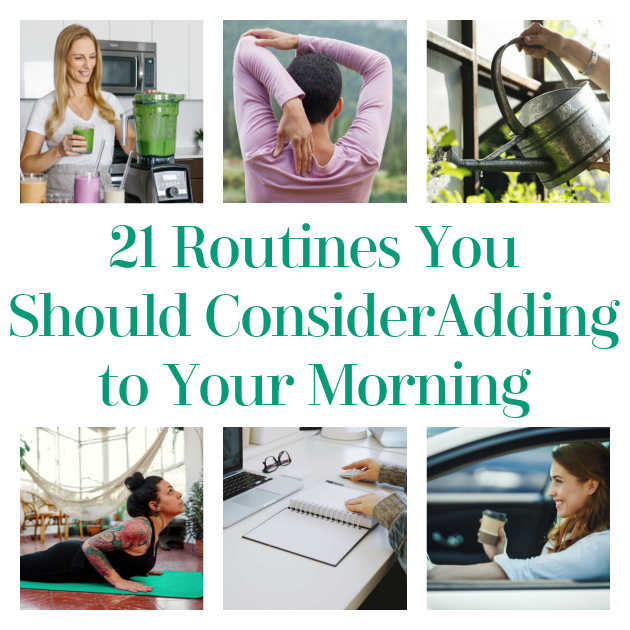 Say Affirmations
You've probably heard it suggested before, but I'm here to tell you again! Morning affirmations are an AMAZING way to start your day. These positive statements can help you to challenge self-sabotaging and negative thoughts. Resolve to reach new goals, change bad habits, and speak yourself into becoming who you want to be. With disciplined practice and growing conviction, your brain begins to believe your self-talk and helps to carry you towards making better choices and feeling more confident as you take on your day.
You may choose to write your own based on your goals and aspirations or you can use some of these to help you get started. Pick a couple that speak to you and make sure to say them for five or so minutes each morning. You can say them in the shower, on your morning drive, as you brush your hair, or take some deliberate time to say them while looking in the mirror. Make sure to tell yourself that you look fantastic each day and watch your confidence grow!
Found YouTube
Shower in the Morning
Showering in the mornings have a lot of health benefits! It can help improve your circulation if you are feeling cold or sluggish in the morning. If you have a high stress job you can also relieve some of that by preparing for your day under the water. Additionally, a morning shower can help you to kick out any allergens or congestion that may have creeped in while you were sleeping.
Sure, it takes some extra time in the morning. But it can be time well spent! Feeling fresh and clean as you start your day is an excellent way to ensure high confidence!
Found Life Hacks
Morning Walk
A morning walk can help wake you up! Not only does it help to jump start your metabolism, it gets some steps in. Going for a walk can clear your mind and give your time to acclimate to the world. The fresh air is excellent for deep breathing! This also gives you a good opportunity to drink a bottle of water. It may be so energizing that you don't even need to run straight for the coffee!
Found Healthify Me
Dry Brush and Moisturize
Using a dry brush on your body is a sure fire way to get your blood flowing! You start at your fear and the idea is to brush in the direction of your heart. You will be exfoliating your skin in a delightful way and warming up your body to feel more prepared to take on the day. Make sure to shower after to remove any and all dead skin cells. After your shower, you will be all set to moisturize your body and enjoy how soft and refreshed your skin feels. As an added bonus, making sure to dry brush or otherwise exfoliate your skin can make your make up go on much more smoothly and last longer.
Something about this routine is helpful to make yourself feel taken care of. It is truly a practice of self-love. If it seems like too big of an investment of time, you can always double up the time spent brushing with another task. You may use this time to say your affirmations, count your blessings, wake up your mind with a podcast, or set your intention for the day.
Found Pinterest
Morning Stretch
Okay, maybe you don't want to commit to the complexities of Yoga. That's okay too! That doesn't mean, however, that there isn't a great benefit to getting a quick morning stretch in! Your body and mind will both thank you. You can take 5-7 minutes after getting out of bed to stretch out your back, your arms, and your legs to get you prepared to take on the day. Your circulation and your range of motion will be improved. Stretching can also prevent injury throughout the day as you do your running around! If you're not sure how to get started with a morning stretch routine, this will help!
Found Relax the Back
Listen to Music
Listening to music while you're getting showered, dressed, or putting on make up can be a lively way to get yourself energized. You might choose a happy pop song to dance around to, music to rock out to, or something that inspires you to sing along. The important thing is that the music inspires you to be alert, awake, and get moving in a positive way. Feel good looking in the mirror while your favorite jam plays in the background. Pretend your life is the start of a movie, why not?!
If you don't feel like making a playlist of your own, you can often find a pre-made playlist that will suit your needs. This article links to a specific playlist on Spotify and you can search many others on any streaming service! If you can't find something you like style-wise, maybe branch out an look for a work out or powerlifting playlist to get you pumped up!
Found Business Insider
Make Your Bed in the Mornings
Each morning after you get out of bed, why not make it right away? When you commit to making it daily, it makes it quick and easy to do. It is a sure fire way to get your room looking neater and a small task to stimulate your productivity. When you think about it, big tasks are more easily completed when you know the small ones are handled. Knowing that your bed is made, cozy, and waiting for you at the end of the day can seriously boost your brain and help you to hit the ground running!
Found Radipt
Mindful Journaling
Taking some time to exercise your mind in a positive way can be a wonderful way to wake up. It gives you some deliberate time to check in with yourself and how you are feeling. What I like about these is that as long as you keep up with it, even when you aren't feeling so fabulous, it will help you gain a lot of perspective on your fluctuating feelings. Not only that, it can help you to be more gentle with yourself when you are struggling to accomplish things when you are feeling down. Here is a collection of truly wonderful mindful journaling prompts specifically to start the day. Get yourself a lovely journal and set aside 10-15 minutes to enjoy silence, white noise, or the sound of nature and write!
Found Simply Fiercely
Tending to Plants
Another excellent way to wake up and feel good is to tend to any plants that you may have. This may include watering them, dusting off leaves, misting them, or just generally checking on progress and health. Noticing new leaves, flowers, or changes can bring delight or indicate a need for change in the plants surroundings. Feeling like you are taking care of something and being successful is a wonderful way to start the new day. Plus it's better for them too! Just be careful! Tending to one or two may lead to an addiction! I speak from experience!
Found Life Hacker
Morning Meditation
An early morning meditation can help exponentially in regards to practicing mindfulness. You may choose to mediate on your own, with peaceful music, or be guided. You can make it a short session or, if you are experienced, take a bit longer. Apps like Headspace will help guide you through meditation and they offer a free version. You will also find a TON of amazing options for free mediation guides through YouTube. Select a length of time and voice that works for you!
Found One Percent Better
Drink Water
Drinking water is arguably the most important part of the morning. After a night of sleep, hydrating is the perfect way to wake up. In fact, you should always set a goal for the amount of water that you would like to drink for the day. I always aim to get 1/3 of it accomplished before I even leave the house. You can up your water intake easily! Personally, I enjoy a walk while I drink a bottle of water. The combination of the two helps me wake up more naturally and put off coffee until a little later. Additionally, if you take any vitamins or pills in the morning, instead of combining them into one gulp, take them one at a time with a big swig of water after each. If you can get used to enjoying 16-20 ounces of water in before your day begins, you'll notice that you have some extra energy throughout the day and even your skin will thank you!
Found Pure Wow
Plan Your Day
Starting your day aimlessly can be tough! Without any idea about what you have on the agenda can have you heading out the door without any real plan or direction. Perhaps while you enjoy your first cup of coffee or tea, it is a good time to take a few moments to breathe, wake up, and begin looking over your agenda for the day. What tasks are the most necessary? Are there meetings you need to mentally prepare for? Do you have plans after work and what are you eating throughout the day? Saving yourself from surprises makes it easier to keep control and not end up stressed, hungry, or feeling unproductive.
Found Voice Headline
Enjoy a Smoothie
Starting your day off with a nutritious meal can be great. But if you're busy and like to enjoy something light and on the go, a smoothie is perfect. When you buy them out and about, they are generally packed with sugar. Try these homemade smoothies that are packed with protein, greens, and delicious fruits!
Found Downshiftology
Exercise Your Brain with Apps
Take some time in the morning to sharpen your mind! Isn't that why so many people used to do the morning crossword puzzle in the newspaper? Now that habit can be replaced by specially targeted brain exercises, learning a language, or other problem solving games. You can use apps like Luminosity, Elevate, or Duolingo to hone your skills and wake up your brain! The best part? There are free versions of these apps that make it a cheap addition to your day and if you happen to love it, you can always invest in more. It's entirely up to you!
Found Parade
Set Your Intention for the Day
Do you feel like a lot of the time you are floating aimlessly through the day, not really sure what you are trying to accomplish? That's usually a sure fire way to make sure that you aren't going to accomplish anything! Whether it means a literal, important task on your to-do list, an overarching step towards a larger goal, or simply a spirit or phrase that you want to help influence all of the parts of your day, you can set an intention to help keep you focused.
For instance, you may decide that the thing most important to feeling like you're accomplished at the end of the day is to make sure the house is clean. In that case, you would set your intention to resolve the importance of that task. Imagine how good it will feel to have the house clean and cozy at the end of the day. Picture it freshly vacuumed, counters wiped down, bed made. Plan to light candles, put in a fresh wax warmer, or enjoy a simmer pot while you relax before bed and know that you did a good job.
If you know that you have a challenging day ahead, you may choose to pick a spirit or mindset that will help you get through the day more easily. For instance, you may choose to set an intention that you will keep an open mind. Or you can look to the bright side of situations. If you keep this mindful perspective, you may end up having a much better day!
Found Life Hack
Spend Time in an Online Community
If you work for yourself or you have a specific goal in mind, having an online community can help. Whether you are trying to lose weight, be a freelance writer, or learning a language, you can find an online community and spend 10-15 minutes reading through new activity, asking questions, and getting re-inspired! Check online forums, Reddit, or Facebook groups for likeminded people who are doing the same thing as you! Just make sure to be mindful of the clock.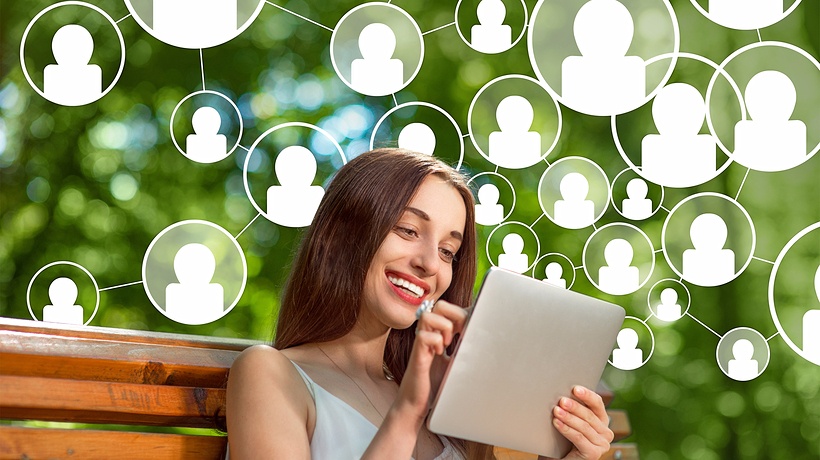 Found eLearning Industry
Exercise
Getting in some deliberate exercise first thing in the morning is a great way to start firing on all cylinders! Whether you are hitting the gym, going for a run, or working out in your living room, you won't regret it once it's done. You don't have to commit a ton of time either! You can do a HIIT workout which challenges your heart rate in only 15 minutes. Additionally, a 7 minute workout can be enough to boost your mood. Or you can pick a particular part of your body to work out each day of the week! Exercise legs on Monday, arms on Tuesday, and so on!
Found YouTube
List Your Gratitude
Being thoughtful about things that you are thankful for is a wonderful way to start the day. Furthermore, it helps you to not take things for granted and keep perspective. For the warm coffee you get to enjoy in the quiet, for the "I love you!" you share with your loved ones as you all depart for your own days, for a job that offers you growth opportunities. There are always at least three things that you can note and appreciate each and every day.
I'm personally partial to a physical list in a small journal beside the bed. However, you can think about the things you are grateful for while brushing your teeth, driving to work, or washing your hair. You might even decide to give it a special place in your daily planner!
Found One Lovely Life
Plan Something Fun to Look Forward to
Can you carve out a few minutes in your busy day to take a small break just for you? Even if you can't spare it in the morning, take a couple of minutes while you are showering or brushing your teeth to plan what to do with those couple of minutes. Maybe it means that you'll go grab a fancy coffee, listen to a podcast while you relax, read a new book, or allow yourself 15 guilt free minutes to just have quiet time. However you want to spend it, think about how good it will feel to have and commit to making it happen!
For more ideas of small things that you can look forward to each day, check this out!
Listen to a Podcast
I don't know about you, but listening to the news in the morning stresses me out! There's rarely anything good to hear and it seems easier to catch up on the highlights on news pages after I've already set myself straight for a good day instead. So why not pick a couple of podcasts that are relative to your interests that are about the length of your commute. Personally, I love listening to a podcast that teaches me something new about my personal interests as it lowers my stress levels and makes the drive something to look forward to instead of dread. You may also choose a podcast that will help you make personal or professional growth. Whatever works best for you is the right way to go about it! And if your worried about not being "in the know" about the current political climate or world devastation, why not consider being the person who pops in with a fun fact instead?! You never know, your co-workers might appreciate a break from recent news as well!
You can find a podcast on Apple, Spotify, Podbean, Audible, Stitcher, and more!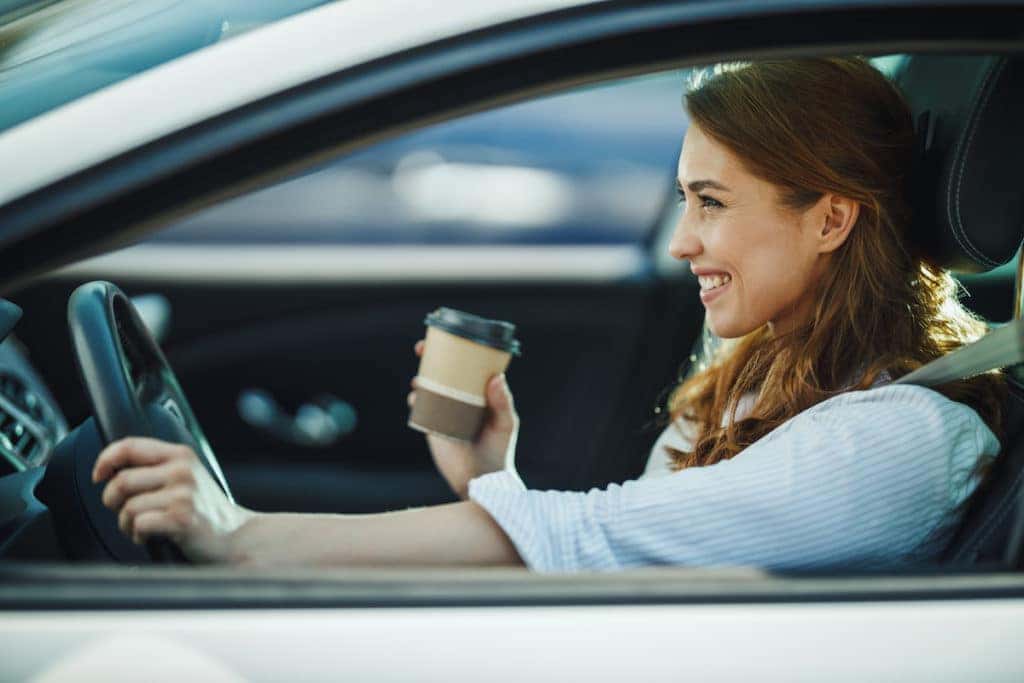 Found Toyota of Clermont
Morning Yoga Routine
A morning yoga routine will help you to stretch, feel good, and practice mindfulness. You can do anything from a full-on hour yoga practice to even taking 10-15 minutes for a shorter yoga routine. You can go to a studio that offers morning hours or even do it from the comfort of your own home. With apps like Headspace and iFit there are guided yoga practices that you can choose from. But you don't even need to subscribe to those to find different styles of yoga! Connect to YouTube and find yourself a morning routine or yoga instructor who inspires you. Don't shy away from picking someone who will most suit your needs!
As a beginner, you can find specific practices that will keep things simple as you build up your skills. If you are overweight or have certain physical limitations, all is not lost! There are plenty of instructors of all shapes and sizes who can help you feel comfortable. They can safely guide you through modified routines as you begin to build up your stamina.
Your morning yoga routine doesn't have to be just about peace either. You can use yoga in combination with Pilates or cardio in order to get a quality stretch and workout in before your morning coffee!
Found Greatist
Found You May Also Enjoy…
33 Delicious Donuts To Make At Home
37 Amazing Accent Walls You Can Make Yourself
33 Amazing Starbucks Copycat Recipes
37 Ways to Organize Any Drawer in your home!
35 Decadent and Delicious Coffee Recipes You Can Make Yourself
30 Sweet Candy Recipes You Can Make Yourself