Hello, DIYers!
The holiday season has officially begun and Thanksgiving is fast approaching! Whether you are hosting this year and taking on the task of feeding your friends and extended family all on your own, or you are a guest who is hoping to wow with your contribution, Thanksgiving sides are as important as the turkey itself! Having a beautifully set table is only the beginning! Forget about the plain old mashed potatoes and stuffing out of a box. These recipes don't take a master chef, but they are so different and decadent, your family will think you've recently taken lessons!
Happy cooking!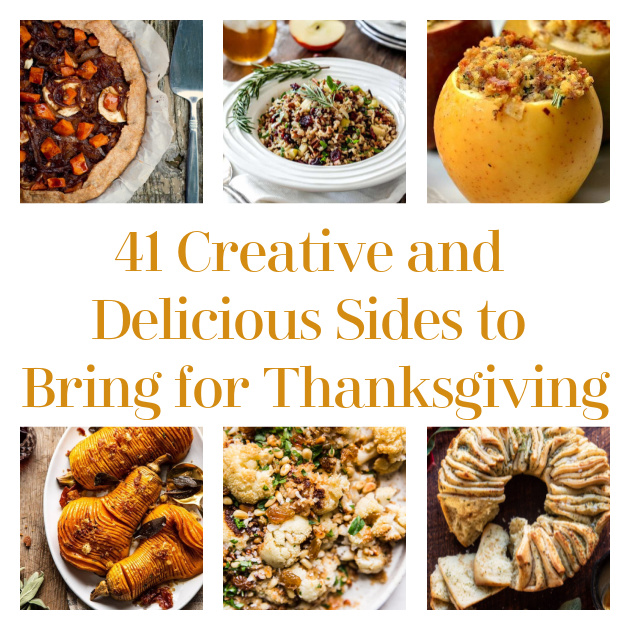 Green Beans Almondine
Fresh and delicious! This pairs perfectly with turkey and stuffing!
Found The Modern Proper
Melting Sweet Potatoes
Yummy sweet potatoes topped with a maple pecan glaze? We're calling it a side… but it could easily be a dessert!
Found Mildly Meandering
Creamy Collard Green Gratin
Found Make it Grateful
Grandma's Baked Artichoke Hearts
This is a great way to enjoy artichoke!
Found The Life Jolie
Herb Stuffing Wreath
A bundt pan can turn this savory dish into a showstopping side for your Thanksgiving table this year!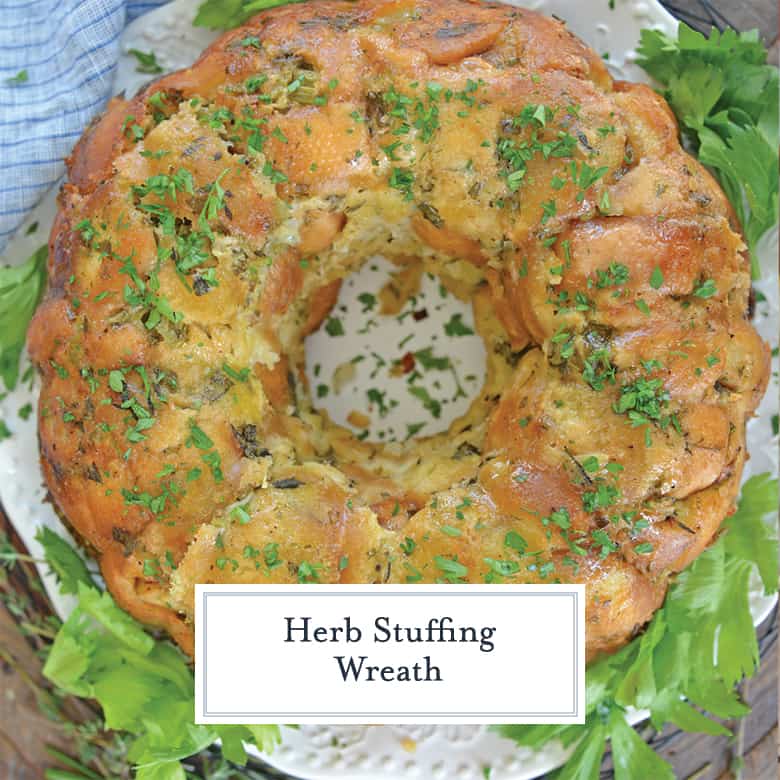 Found Savory Experiments
Roasted Cauliflower with Toasted Panko and Golden Raisins
Are you a fancy, culinary genius? Your family will surely think so!
Found The Modern Proper
Duchess Potatoes
These make an elegant addition to your Thanksgiving plates!
Found Homemade Interest
Sweet Potato, Caramelized Onion, and Goat Cheese Galette
This is not only tasty, it's absolutely gorgeous!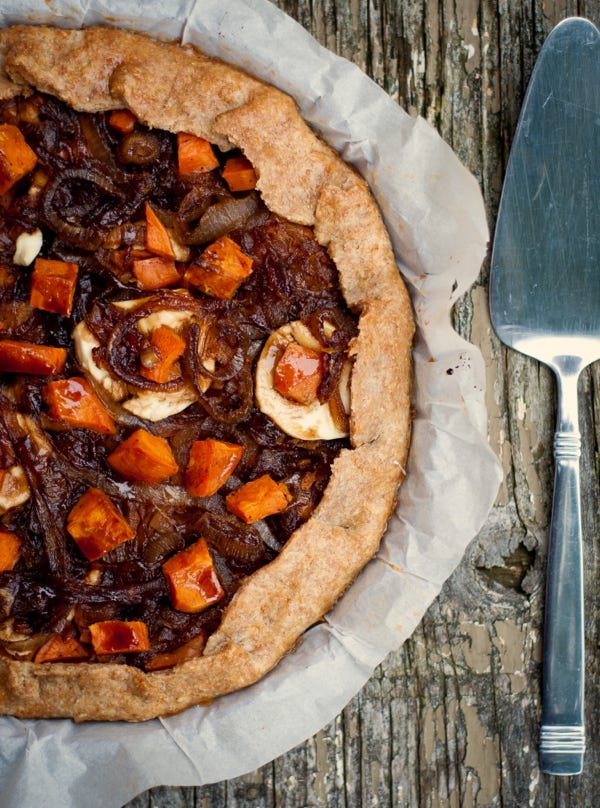 Found eat. live. travel. write.
Eggnog Bread Pudding with Cranberry Sauce
This is packed full of holiday flavor! Enjoy!
Found Make It Grateful
Creamy Confetti Corn with Bacon
Oh my gosh! How delicious does this look?! Blow your family away with this side dish!
Found Cooking Classy
Pull Apart Garlic Bread Wreath
Carb heavy… but totally worth it!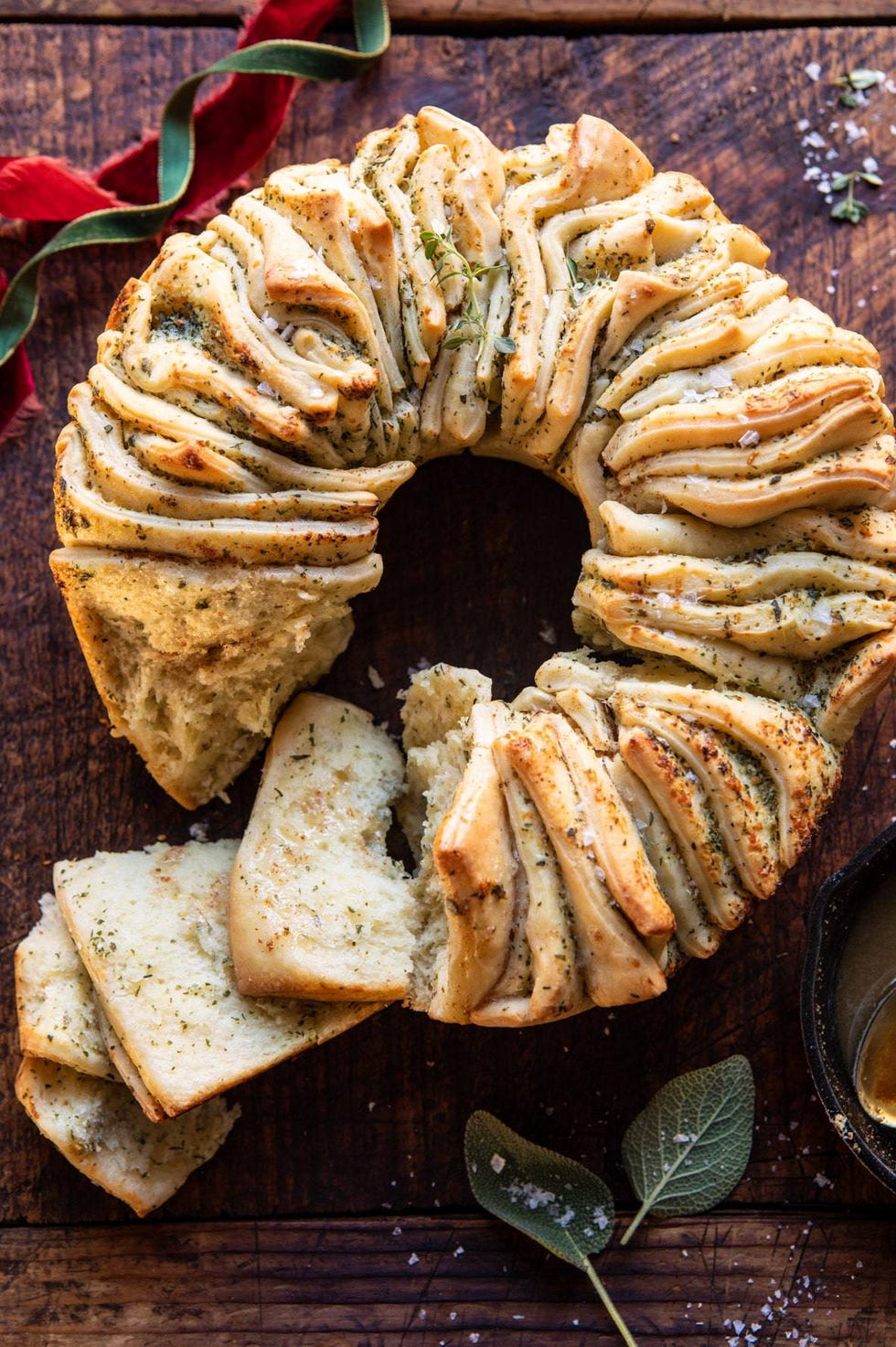 Found Half Baked Harvest
Garlic Parmesan Roasted Sweet Potatoes
These are super easy to make and PACKED with flavor! Delicious!
Found Eat Well 101
Parmesan Popovers
Once you've had a popover, dinner rolls will never be the same!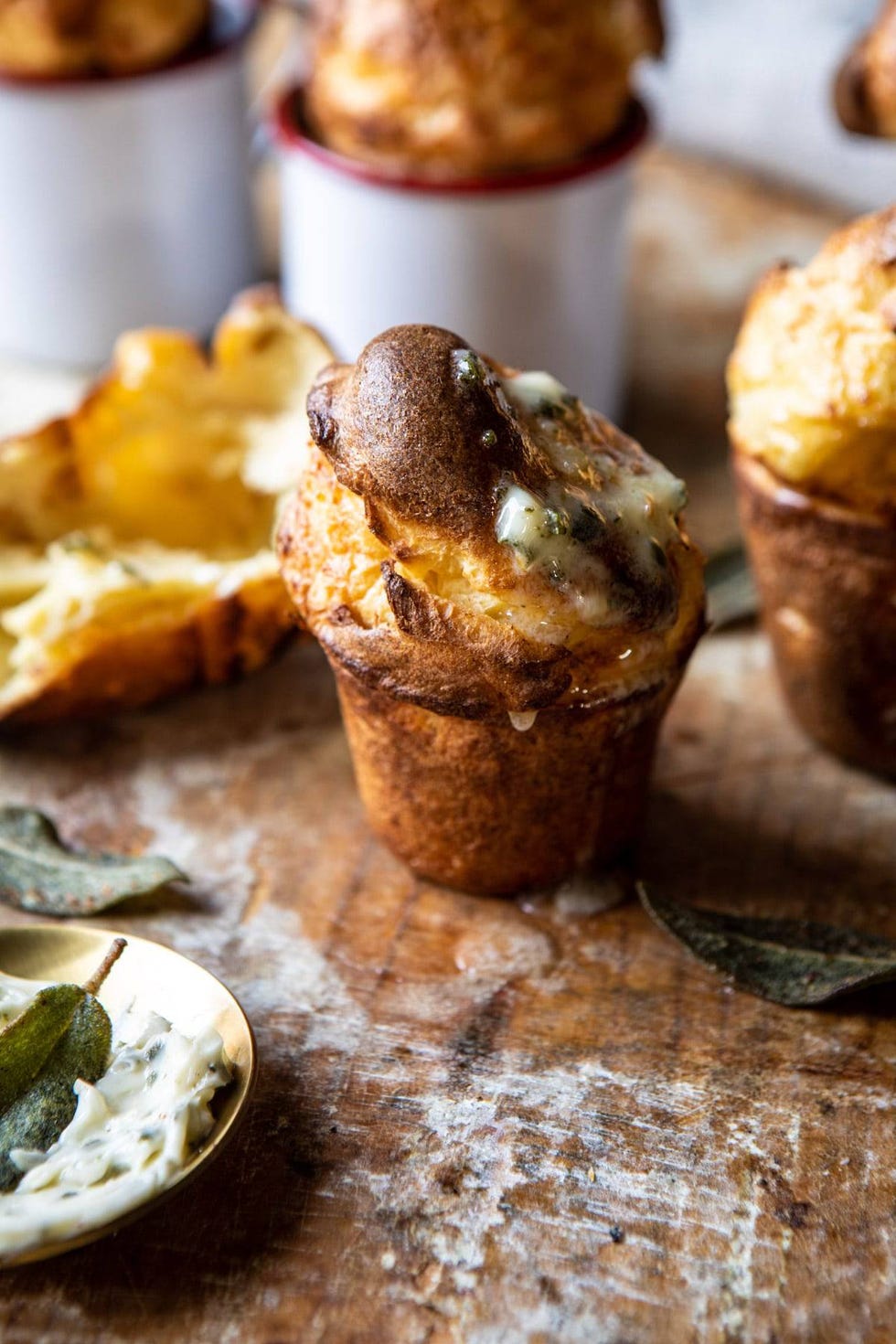 Cranberry Chutney
Pump up the cranberry this year!
Found The Modern Proper
Fried Mashed Potato Balls
How fun are these?!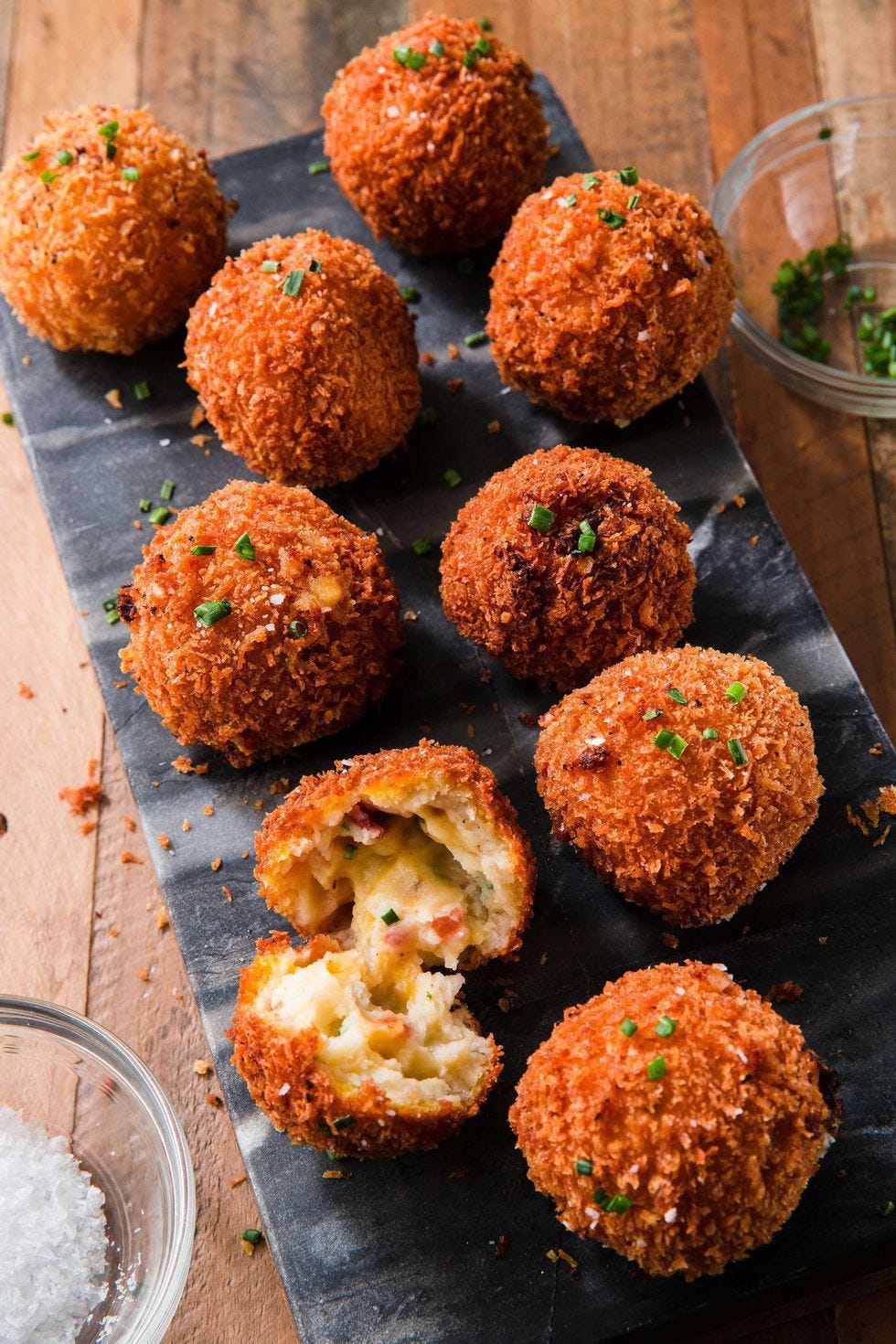 Found Delish
Instant Pot Butternut Squash Soup
Are you obsessed with your instant pot? You can use it to make this amazing squash soup!
Chestnut Dressing
Velvety chestnuts, raisins, celery and apple with a crispy top layer! Are you sold?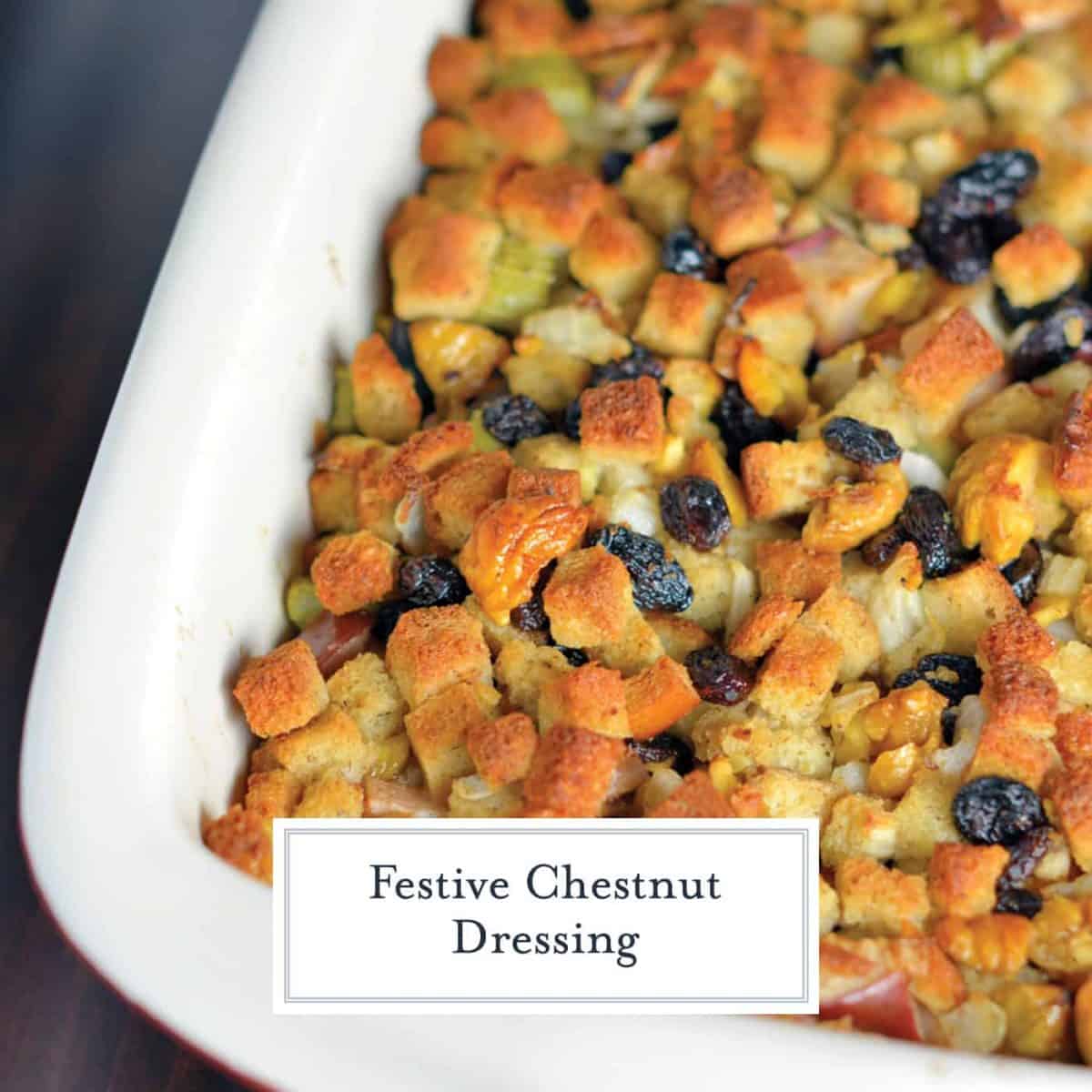 Found Savory Experiments
Potato Leek Au Gratin
I've said it before and I'll say it again… people sleep on leeks too much! They are DELICIOUS!
Found The Modern Proper
Bacon Wrapped Stuffing Muffins
Ummmm… YES! Please!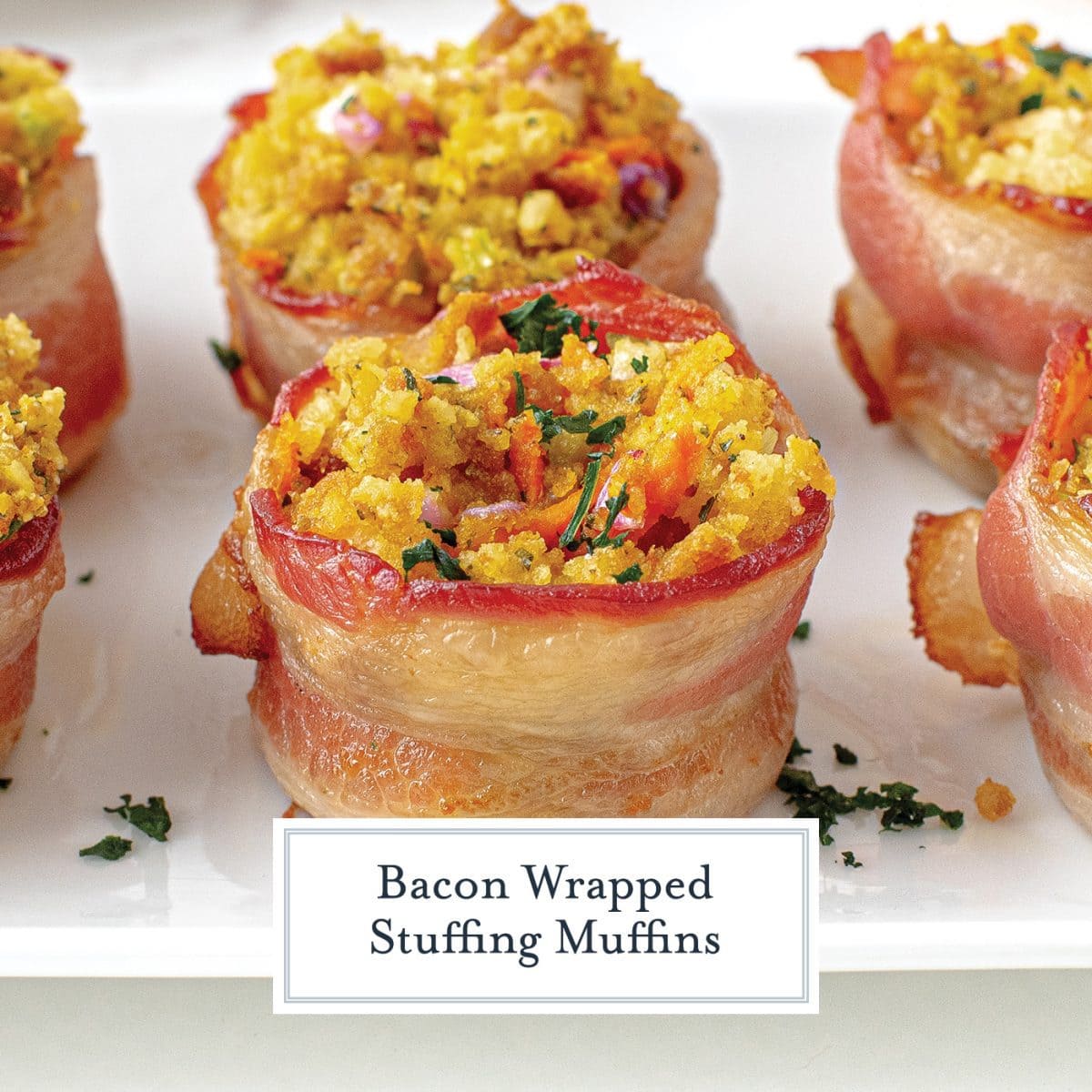 Found Savory Experiments
Cranberry Apple Pecan Wild Rice Pilaf
Get creative with your rice!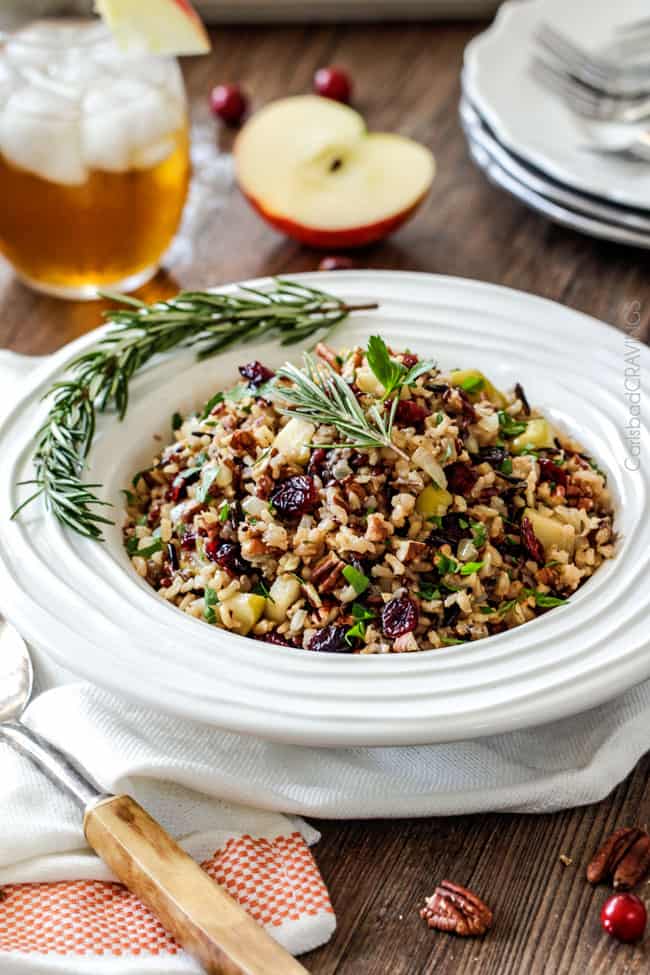 Found Carls Bad Cravings
Bourbon Glazed Carrots and Pumpkin with Brown Sugar
Yummmmmy!
Found Sprinkles and Sprouts
Rosemary-Maple Cornbread Muffins
These have a flavor that just sings! Your family will be impressed!
Found Make it Grateful
Baked Apples with Sausage Stuffing
Don't forget the apples at your Thanksgiving table!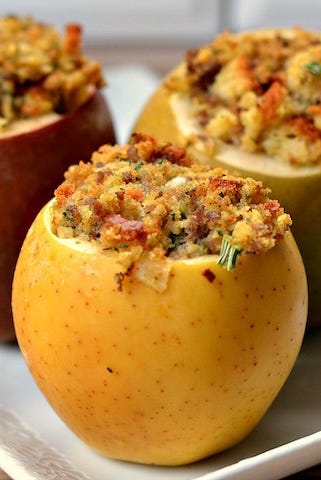 Found Growing Up Gabel
Celery Pear and Hazelnut Salad
Serving up a salad? Try this one!
Found The Modern Proper
Sausage Stuffing
Yumm!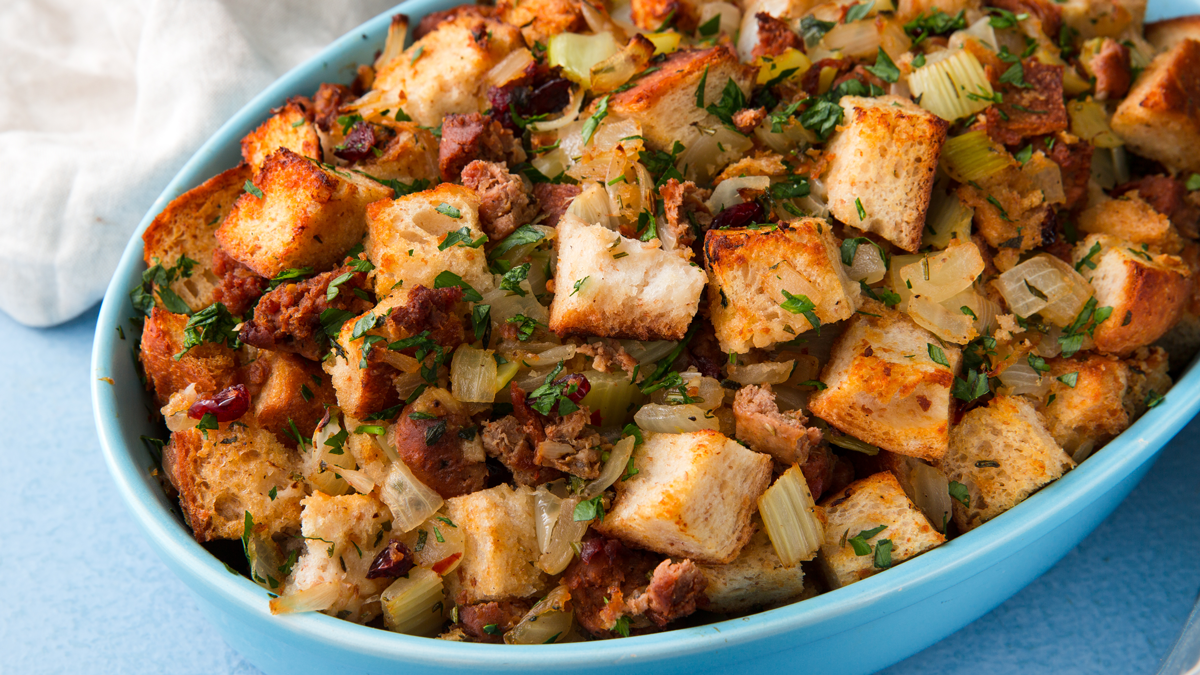 Found Delish
Cornbread Stuffing Muffins with Apple and Pancetta
This sounds absolutely amazing!
Found A Spicy Perspective
Pesto Mashed Potatoes
This vegan side is best topped with yummy pine nuts!
Found Make it Grateful
Roasted Acorn Squash
Thanksgiving is the time for squash! Give your guests a show!
Found The Modern Proper
Oyster & Sausage Stuffing
Have a seafood loving family? This is for them!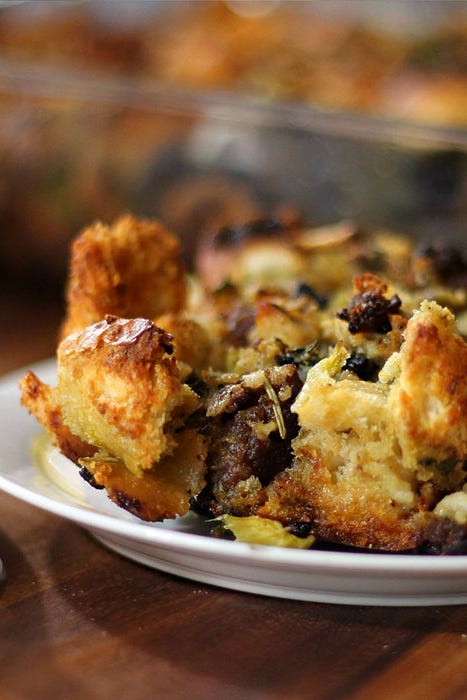 Found Cooking In Bliss
Garlic Brussels Sprouts Mac and Cheese
Oh my gosh! This is a delicious twist on the classic mac and cheese!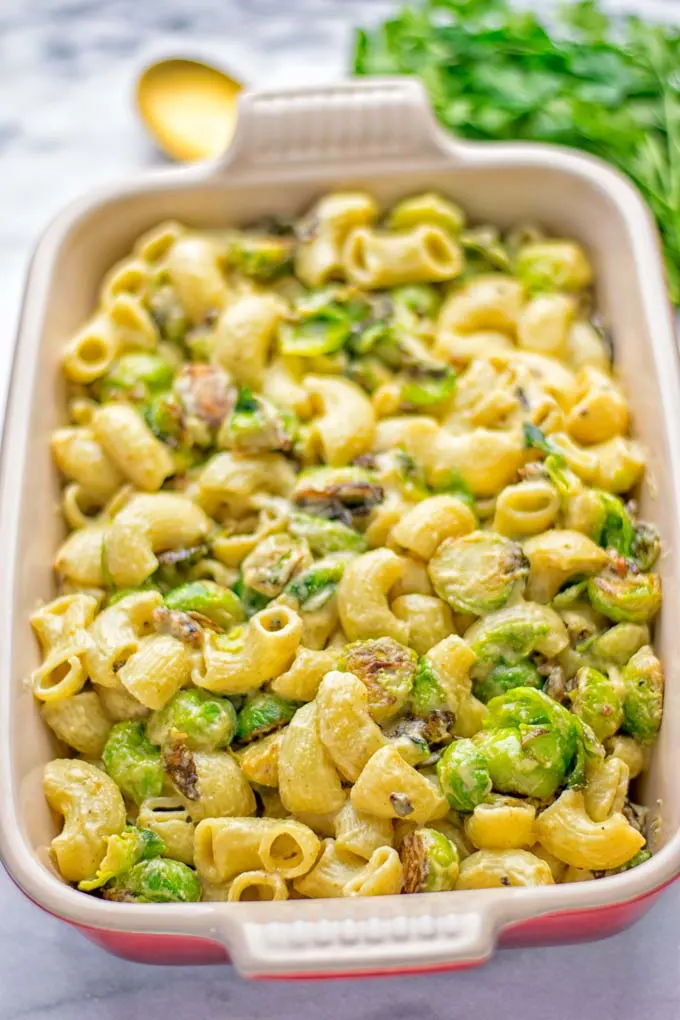 Found Contentedness Cooking
Vanilla Bourbon Cranberry Sauce
Make your cranberry sauce REALLY exciting with this recipe!
Found Far From Normal
Cranberry Feta Brussels Sprout Salad With Candied Pecans And Warm Bacon Vinaigrette
I'm sorry… is your mouth watering? Because mine sure is!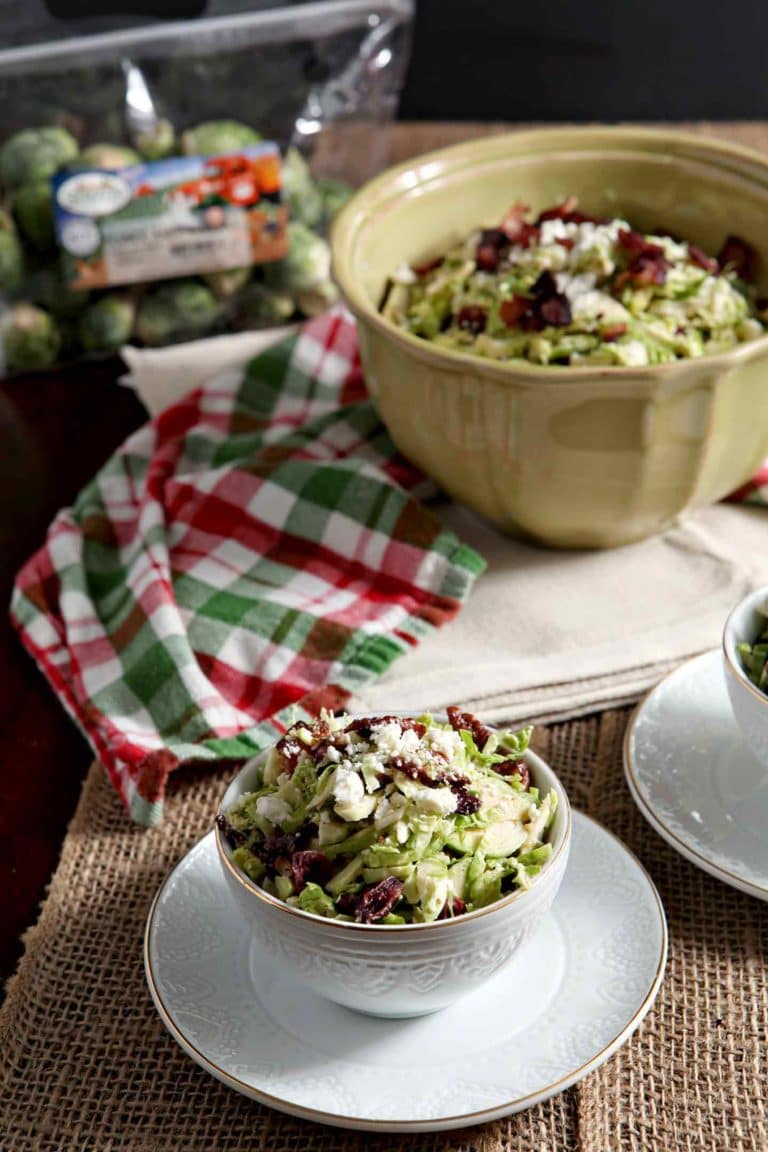 Found The Speckled Palate
Thanksgiving Stuffed Shells
Enjoy the flavors of Thanksgiving in these delicious and cheesy stuffed shells!
Maple Bacon Roasted Brussels Sprouts
This is a fantastic keto recipe, but you would never know! It's delicious!
Found Make it Grateful
Roasted Beets and Sweet Potatoes
This is a sweet and tasty side that is easy to make!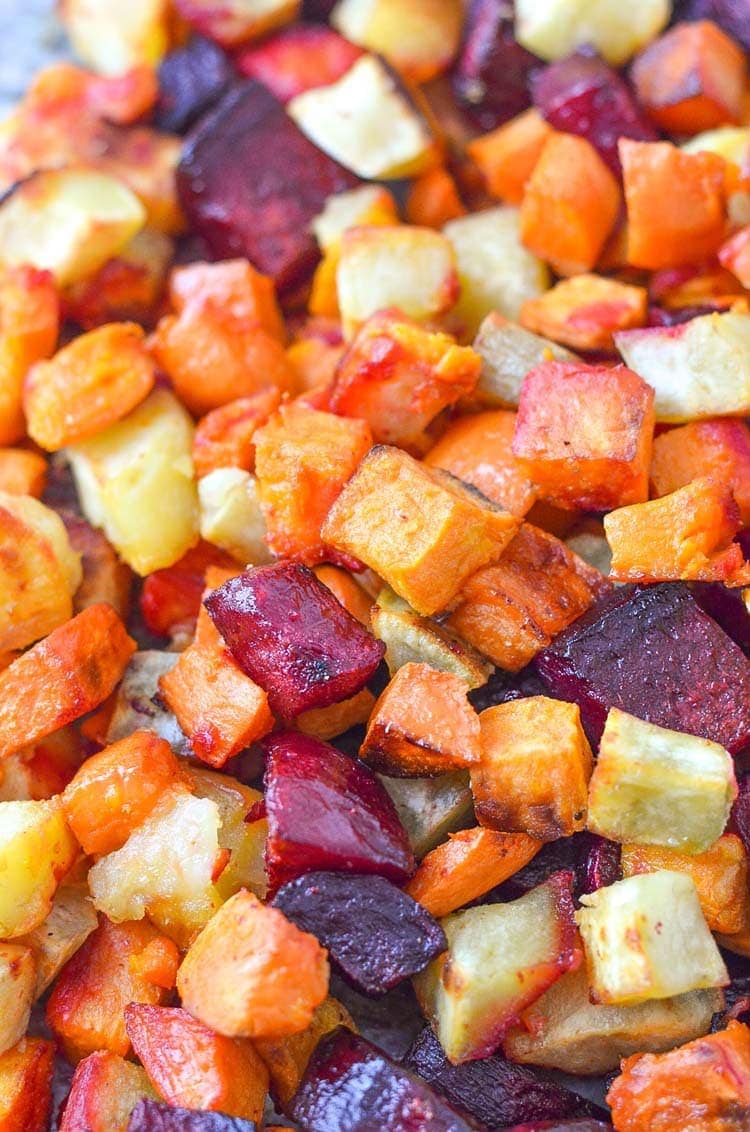 Found Know Your Produce
Shaved Brussel Sprout Salad
Fall salads are the best salads!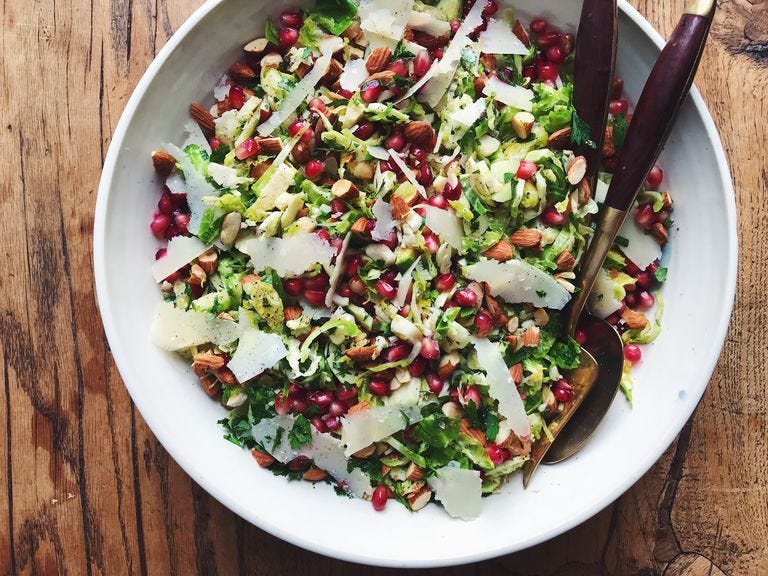 Found Delish
Lobster Mac and Cheese
Make your mac and cheese extra special!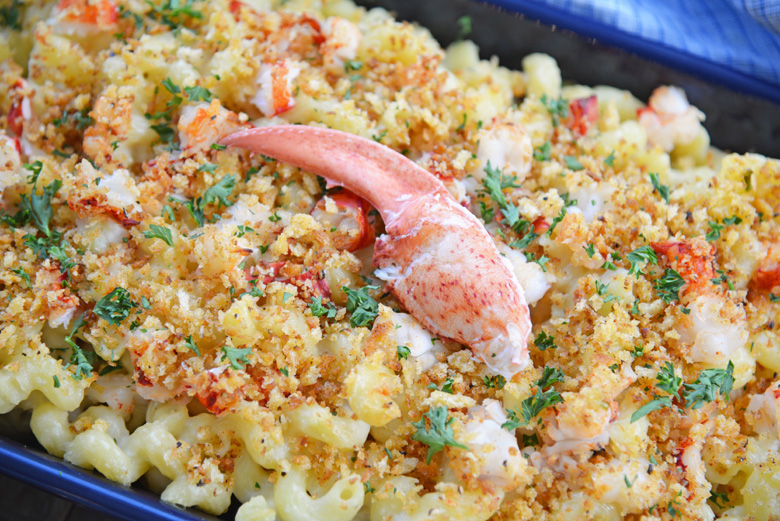 Found Savory Experiments
Loaded Slow-Cooker Potatoes
The thing I love about slow-cooker or instant pot recipes is that if you're bringing along a side, it is a great way to keep it warm and fresh without being a serious nuisance to the person cooking the main event!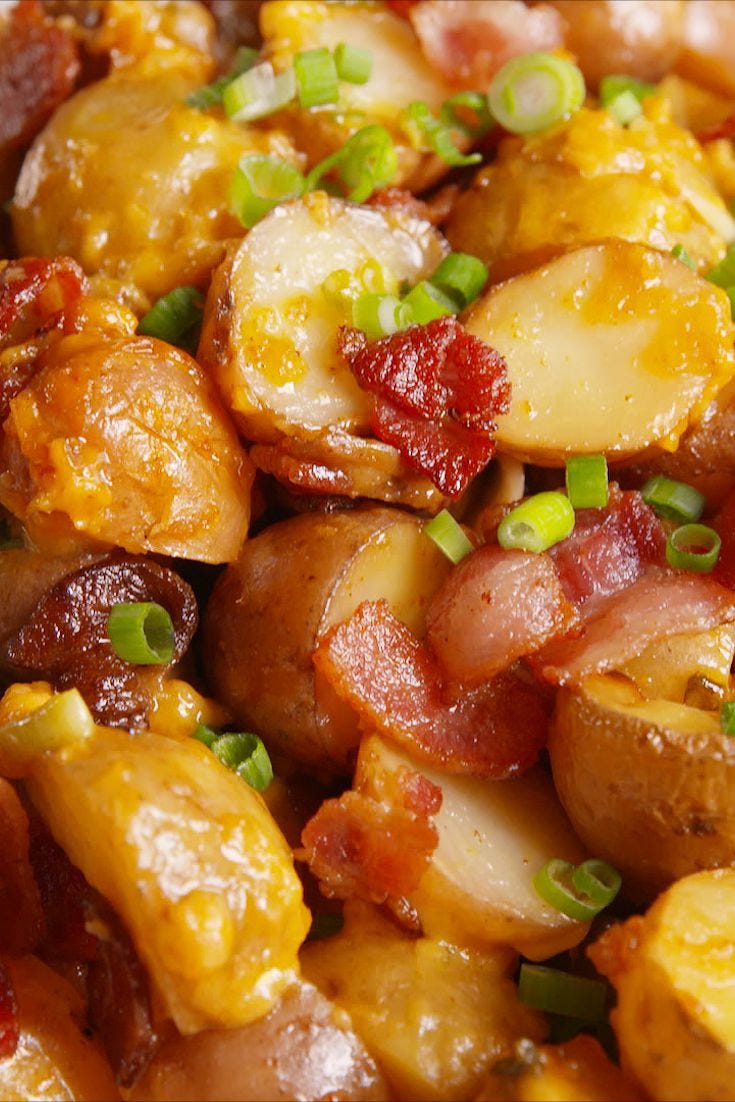 Found Delish
You May Also Enjoy…
37 Creative Turkey Recipes for Thanksgiving!
39 Wing Recipes You Can Make for Game Day!
39 Mouthwatering Ways to Make Potatoes
37 Hearty Fall Recipes to Inspire You
33 Amazing Starbucks Copycat Recipes
39 Pumpkin Recipes to make Your Fall Fabulous!
39 Soul-Warming Fall Soup Recipes to Enjoy