More people than ever before are working from home. Even if you commute to an office, more than likely you have 1 or more days where you have the option to telecommute. Lots of companies also like to offer the ability to work from home if there is inclement weather such as snow or a bad storm, so they can still keep the office open. So whether you have a business out of your home or commute to work, we know that you're going to see our DIY home office projects!
It is easy to create a fun, stylish home office. Whether you have a generous budget or a shoestring sized one, there are projects here to make your space look much better. Best of all, each time you work, you'll enjoy a more attractive and well organized work space. Which will more than likely have you working at an even far better, efficient pace than usual!
One of the biggest challenges most face is realizing that they have a limited space for their home office. You'll be pleased to see many creative uses of smaller space here, to give you lots of inspiration to manage yours too. So you can make the most of your home office.
Happy DIY-ing!
...
Acrylic Wall Calendar
Every home office needs a great calendar. Here's one you can DIY.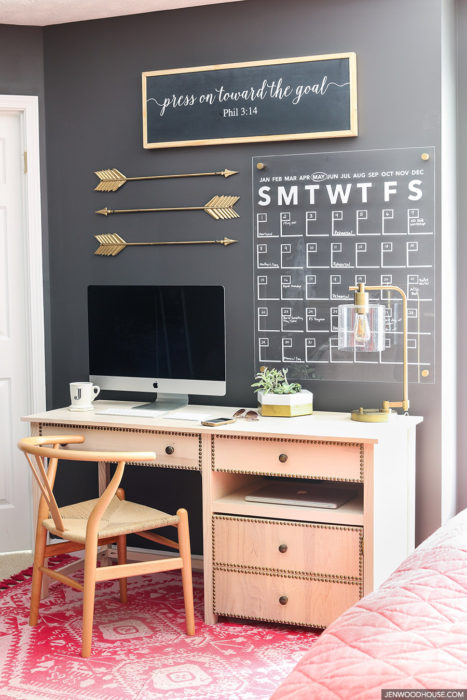 From JenwoodHouse
Stenciled File Cabinet
Isn't this pretty? A lovely DIY file cabinet.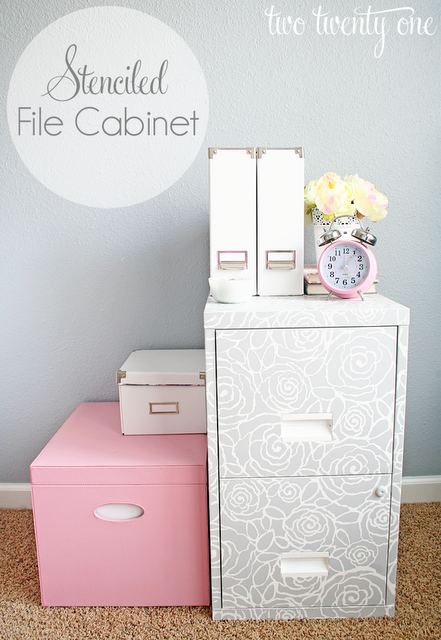 From TwoTwentyOne
Washi Tape Pencils and Desk Cup
Aren't these colorful? Perfect for your home office.
From HappinessIsHomemade
Pallet desk
Love pallets? Make a home office desk from one.
From Instructables
How to Hide Desk Cords
Want under your desk to look tidy? Learn how to hide your computer cords.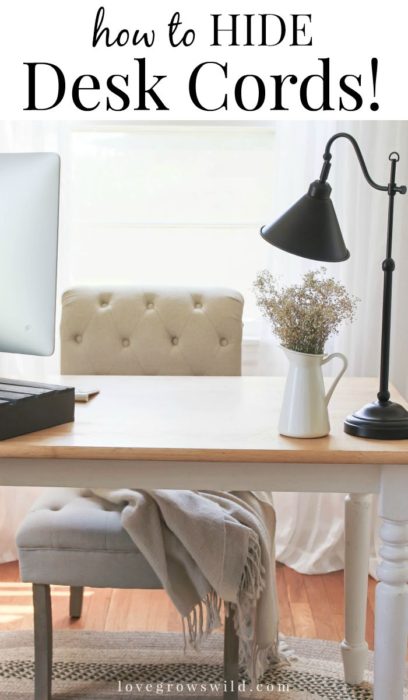 From LoveGrowsWild
Dry Erase Boards from Old Frames
Most of us want dry erase boards in our offices. Try this DIY.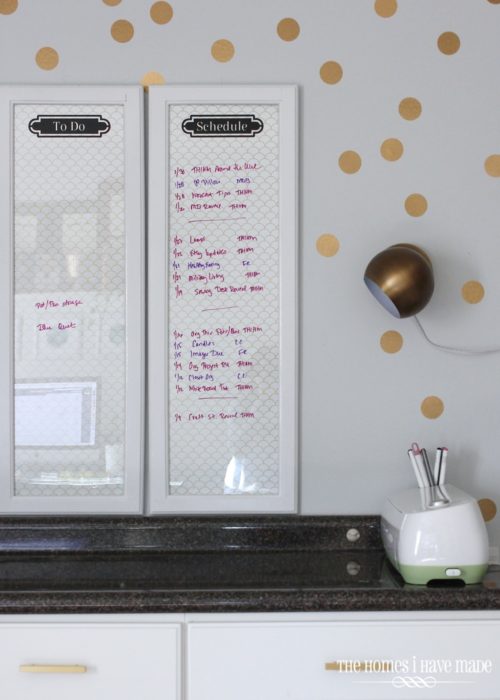 From Coupons
Kate Spade Inspired Storage Boxes
Want to keep your home office tidy? DIY these boxes.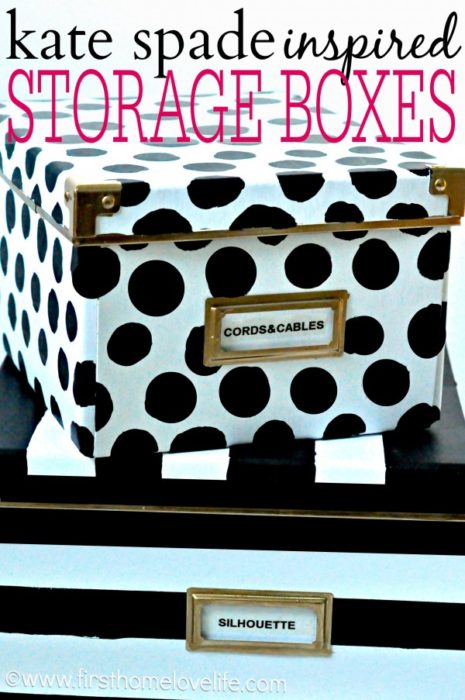 From FirstHomeLoveLife
Desk Shelf
Do you use a computer? Then DIY this shelf.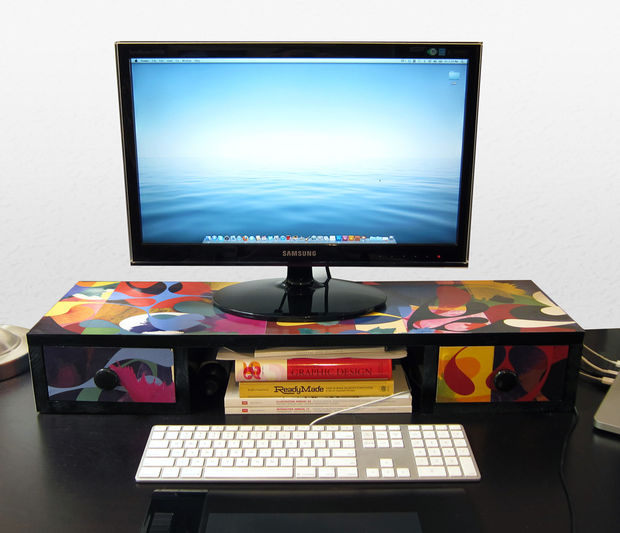 From Instructables
Make a Rainbow Table
Wow! It's the perfect home office desk and so colorful.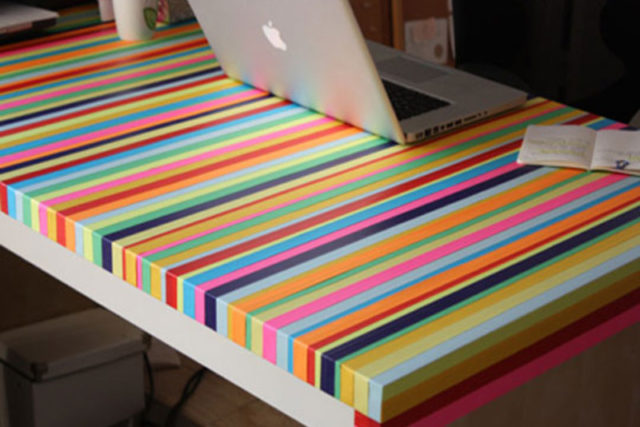 From MommyScene
Quick and Easy Home Office Organization
One of the tips to organize your office is to know what you want to keep there. Then choose ways to store items.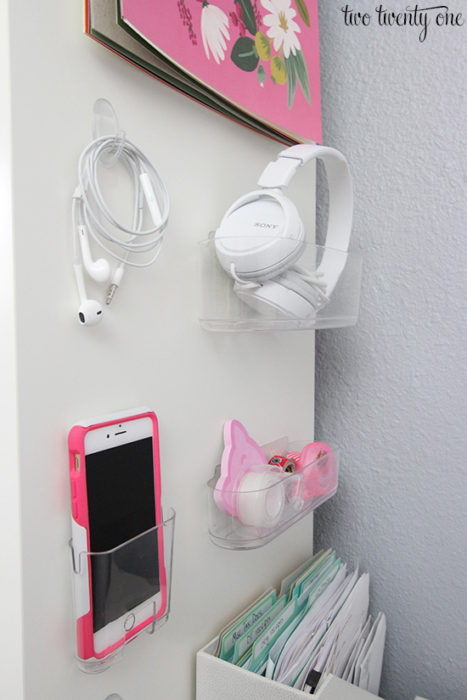 From TwoTwentyOne
Oryx Desk
Isn't this stunning? A beautiful desk to work on.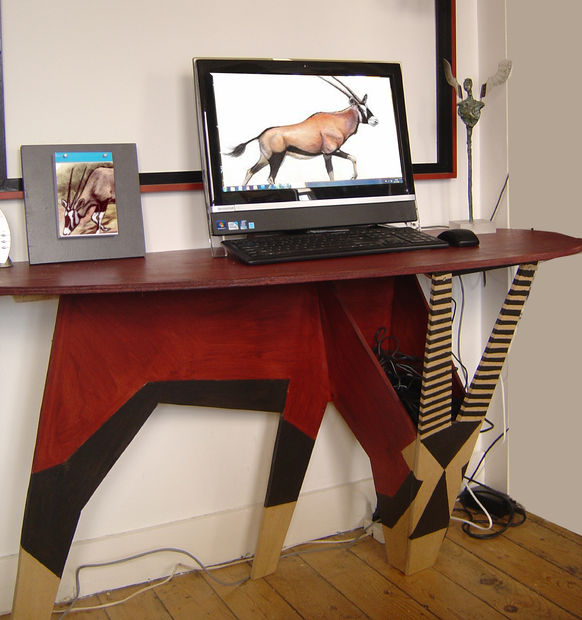 From Instructables
Washi Tape Cord Labels
Not sure which cord is for what? Use Washi tape.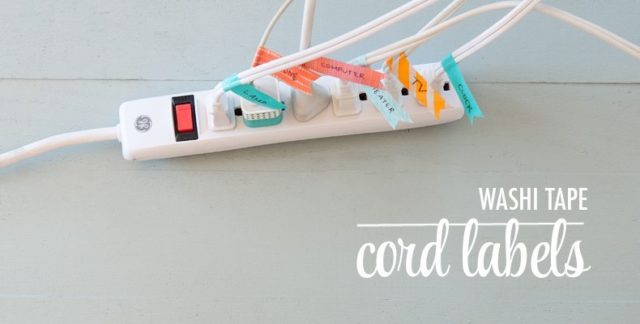 From TheChicSite
Building Office Cabinets
In most home offices you'll want great cabinet space. Try DIY-ing these.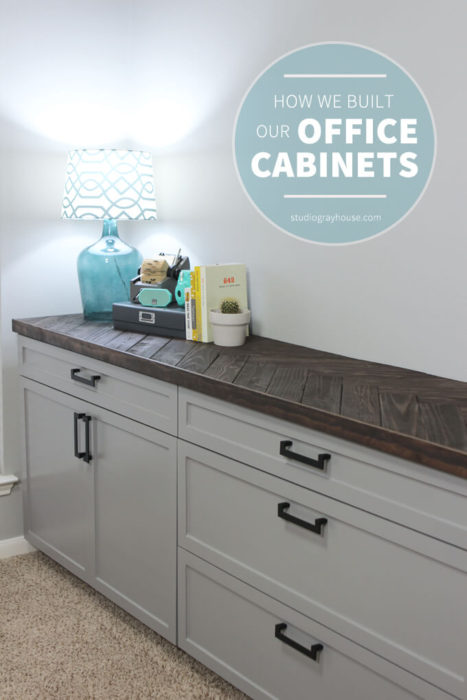 From StudioGreyHouse
IKEA AVSKILD Cork Placement to Pin Board
Does your home business use social media. Make this DIY cork board to figure out your social media calendar.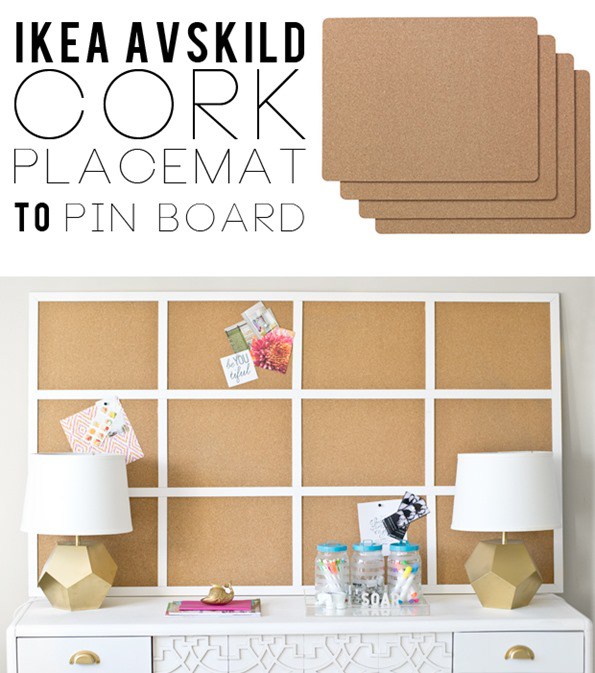 From infarrantlycreative
Filing System Organization
Doesn't this look great? Perfect for your home office.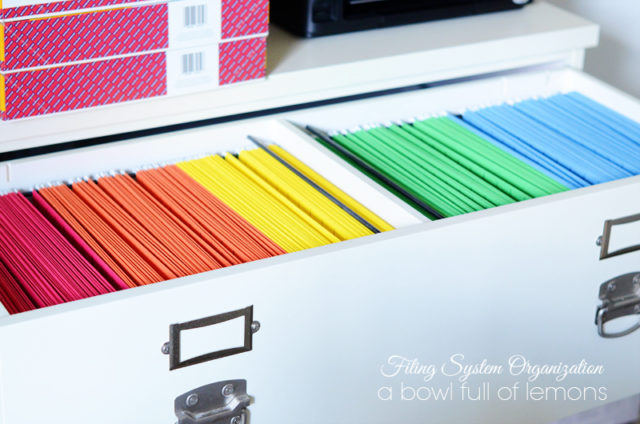 From ABowlFullOfLemons
Mod Podged Desk Drawers
Want a colorful desk? Mod Podge it!
From ModPodgeRocksBlog
Washi Tape Laptop Cover
Here is a simple way to accent your laptop. It will make your home office look pretty.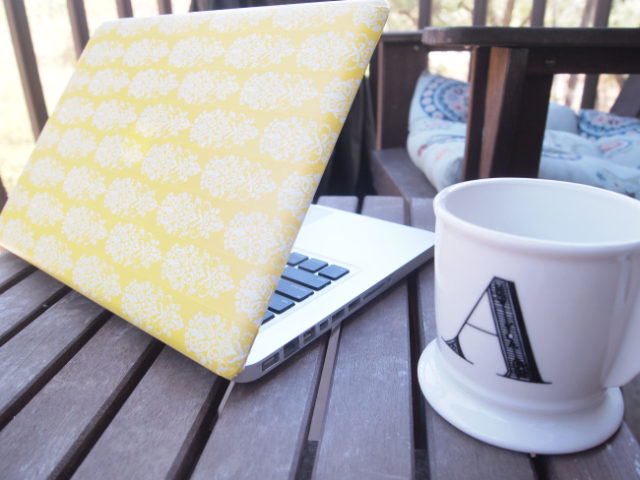 Dry Erase Board and Desktop Tray
Here is a dry erase board you can easily DIY. It looks so pretty for your home office.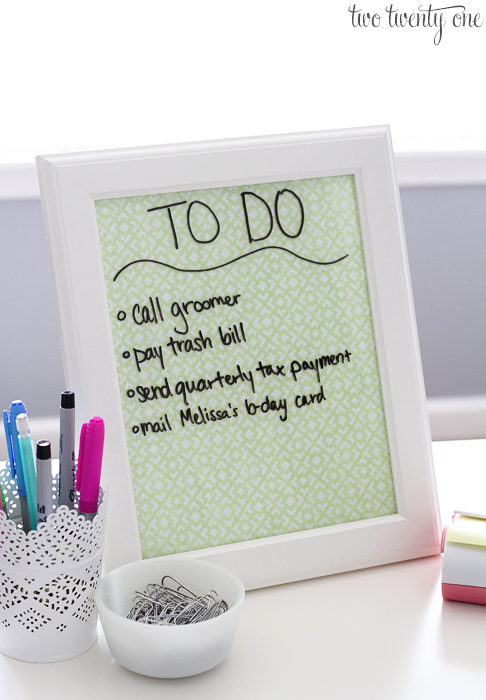 From TwoTwentyOne
Design the Perfect Home Office
Your home office should energize and uplift you. It also needs to inspire you each day.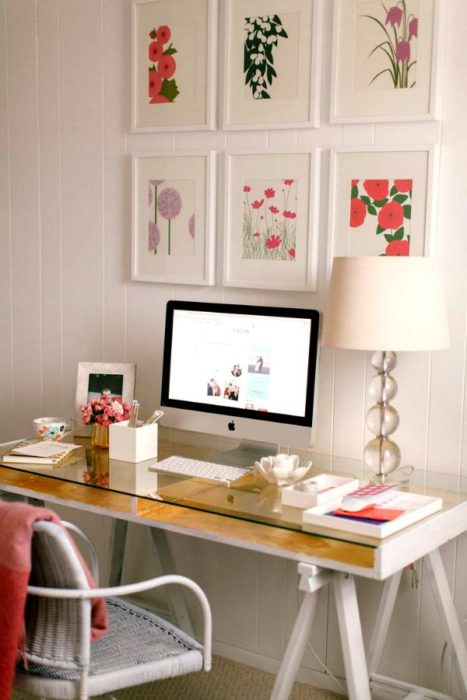 From CozyLittleHouse
DIY Fabric Decoupaged Office Chair
Want a great looking home office chair? Try this DIY.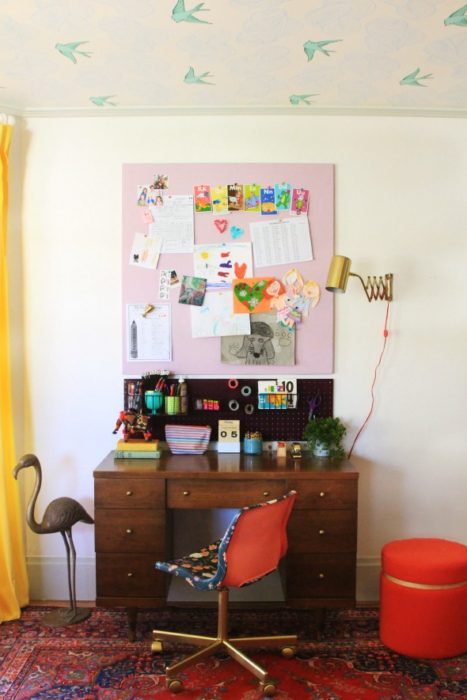 From LittleGreenNotebook
Office Pegboard Organization
Want to keep your office organized and running smoothly? Try this pegboard system.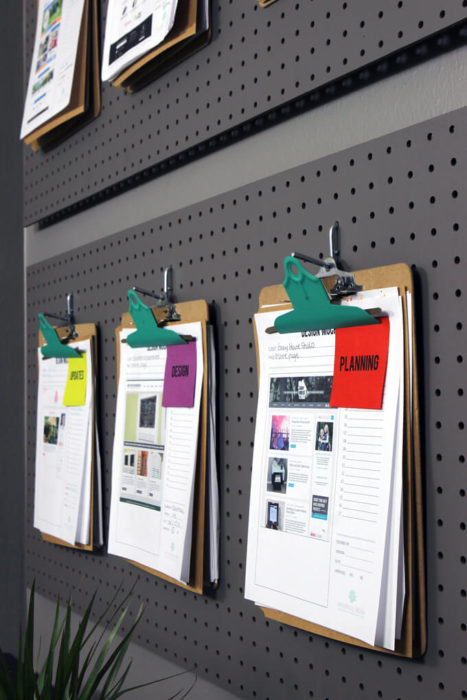 From StudioGreyHouse
Home Office Hacks Hide Your Shredder
Isn't this pretty? It's not a basket – it's your shredder!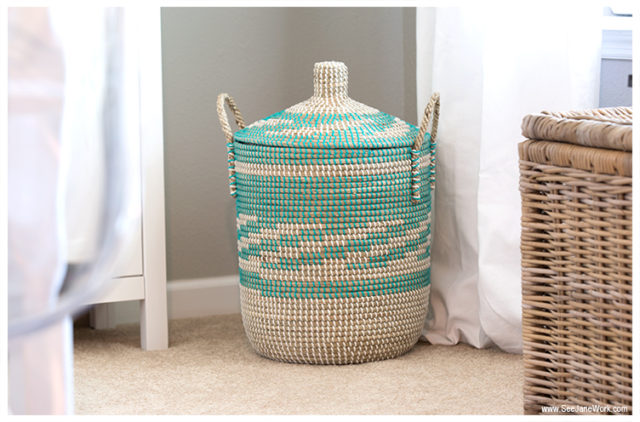 From SeeJaneWork
Home Office Organization Tips
Don't these DIY files look great? A terrific style for your home office.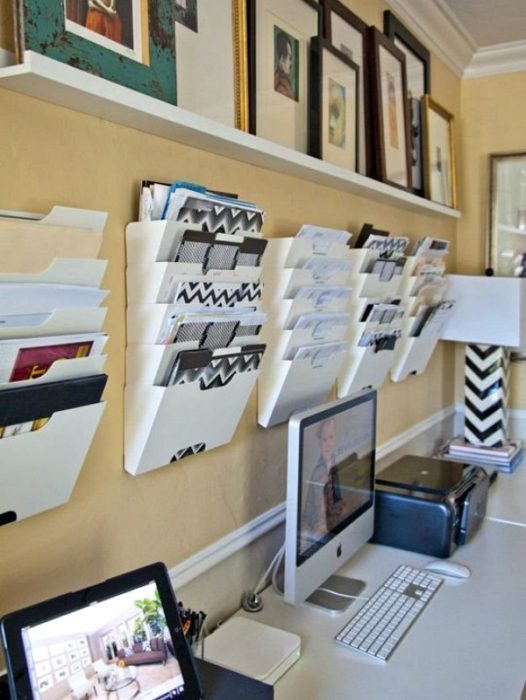 From CozyLittleHouse
Two Level Desk DIY
Here's a great desk for computers. It has 2 levels.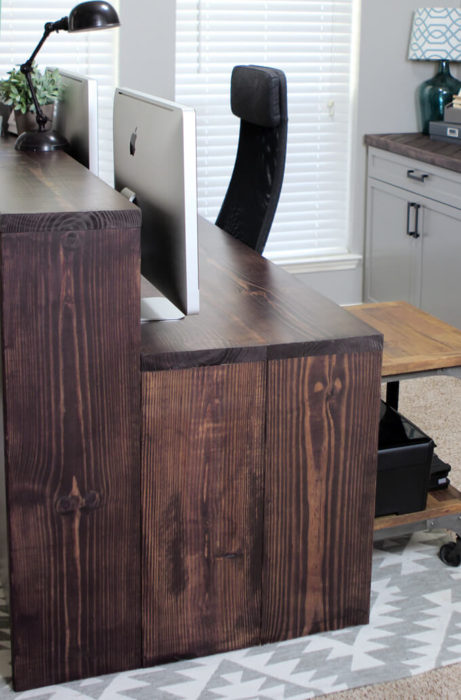 From StudioGreyHouse
How to Eliminate Paper Clutter
Does your home office have too many papers? Here's a DIY that will help.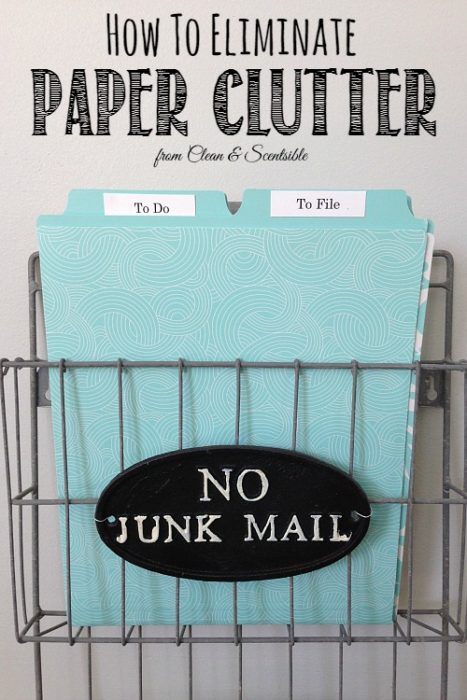 From CleanAndScentsible
DIY Crate Bookshelf Tutorial
Need a bookshelf for your home office? Try DIY-ing it with crates.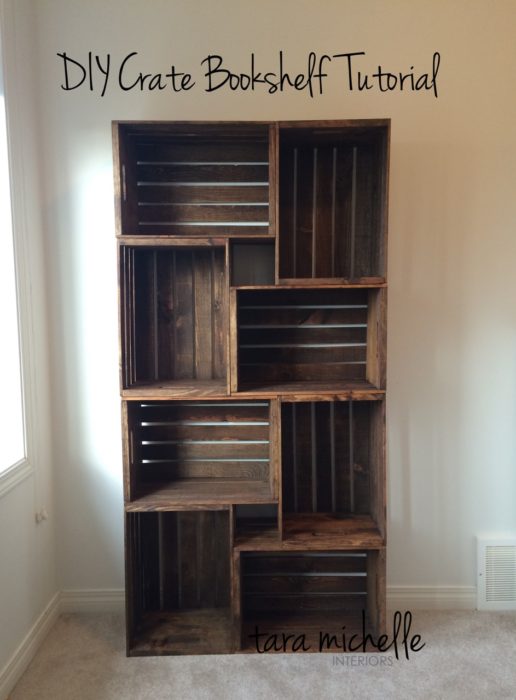 Super Easy Succulent Display
Want plants in your home office. Try a simple display like this.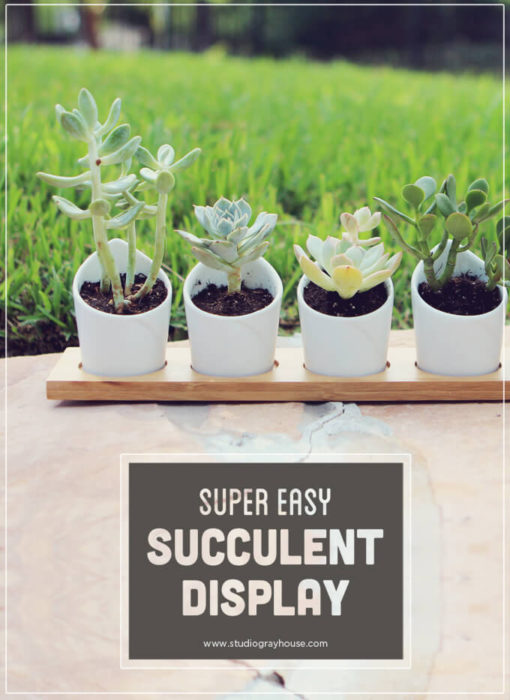 From StudioGrayHouse
Best Ways to Create a Home Office in Small Spaces
Okay, part of the secret is getting a smaller desk! You also really want to be selective about what you put in your home office too.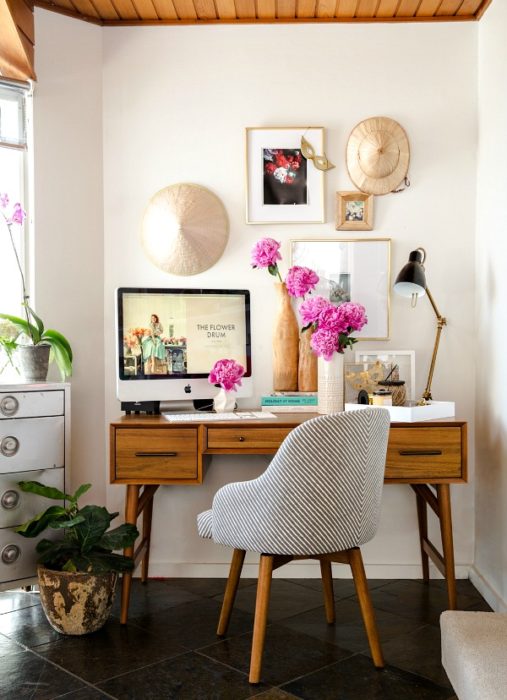 From CozyLittleHouse
Quick Easy Fix Office Storage
Want your home office to look neat? Try this.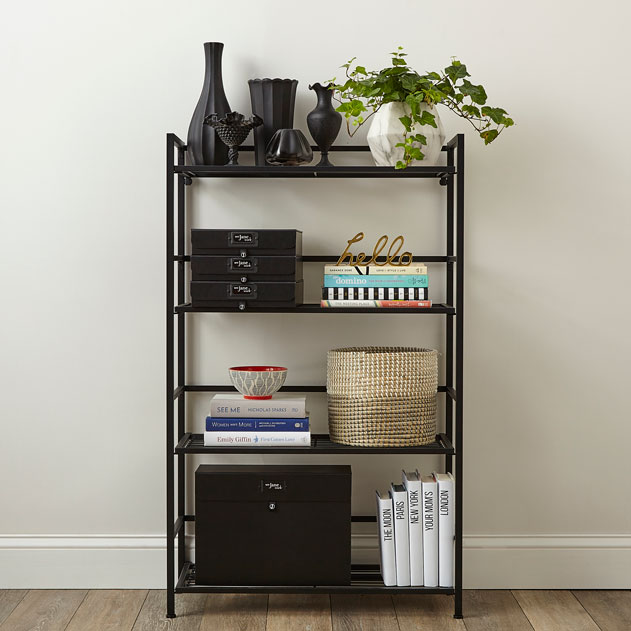 From SeeJaneWork
How to Organize the Home Office
Here's how to put everything away neatly in your home office. A great DIY.

From CleanAndScentsible
Get Rid of Paper at Home
Isn't this a great way to DIY your filing cabinet? Perfect for a home office.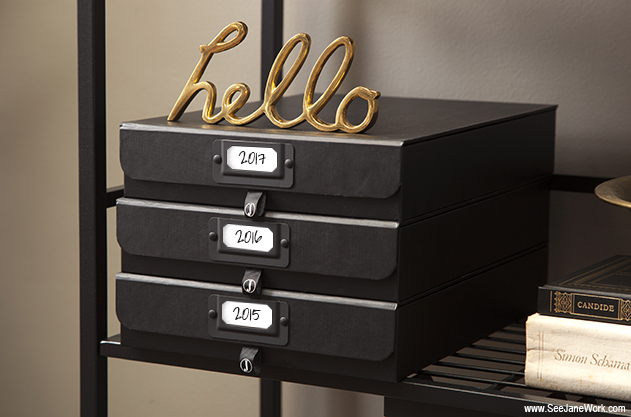 From SeeJaneWork
Home Office Ideas for Small Spaces
Have a small office? Here is a great wall organizer.
From DecoratedMantel
Pretty & Easy Home Office
One of the things that really completes a home office is matching accessories. Then try to have a color scheme too.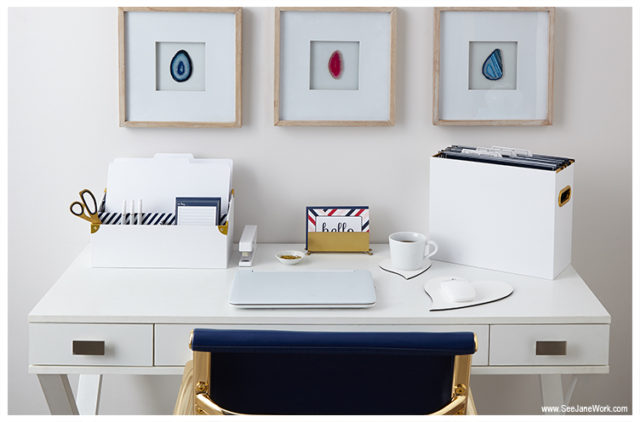 From SeeJaneWork
Small Desk Organization Ideas
Have a small desk in your home office? Try organizing it this way.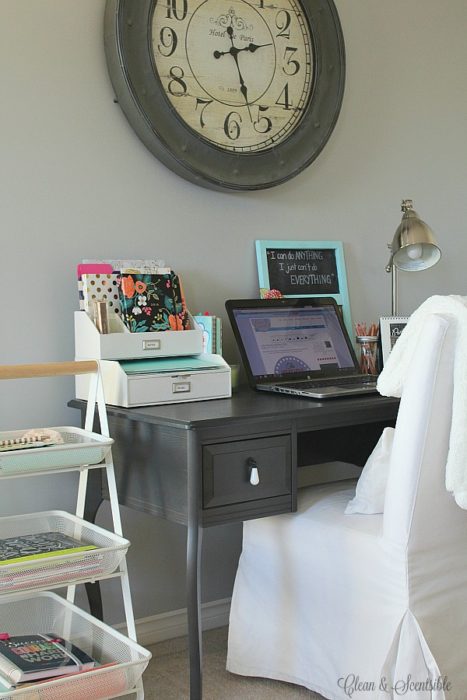 From CleanAndScentisble
Wall of cork with my memories at my workplace
Are you a graphic designer or a stylist? This board is perfect for your home office.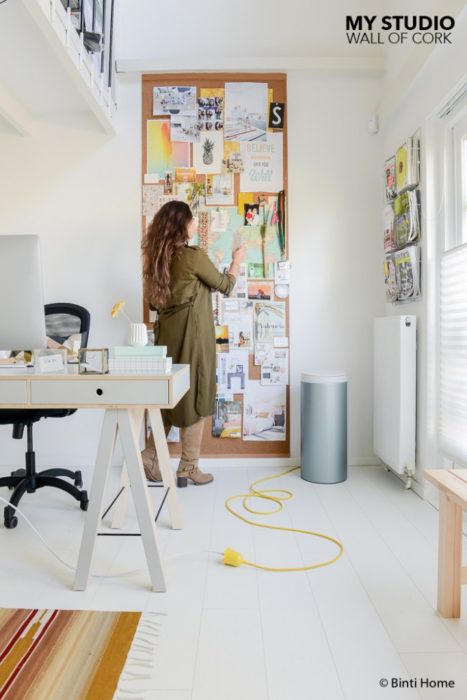 From BintiHomeBlog
Boho Home Office Inspiration
Like the Boho style? DIY your home office like this.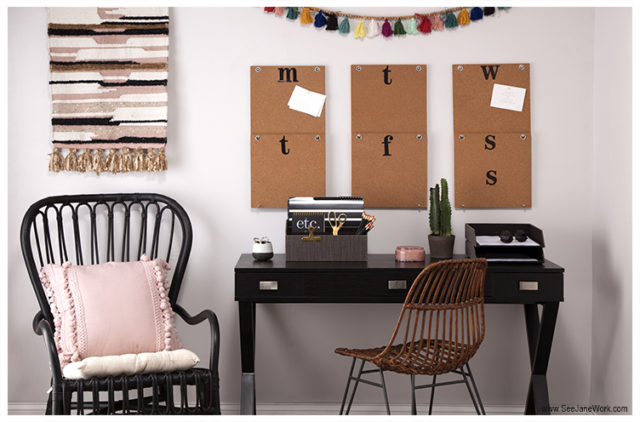 From SeeJaneWork
DIY Desk Organizer
Keep your desk organized. Your home office will look great.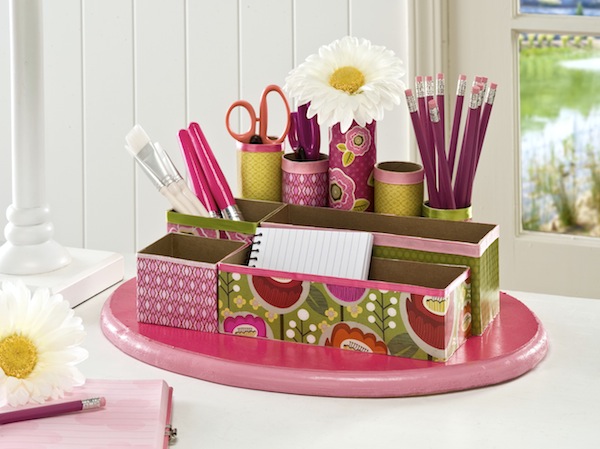 From ModgePodgeRocksBlog
Unique office supply holders
Want to keep everything tidy on your desk? It could be as easy as this.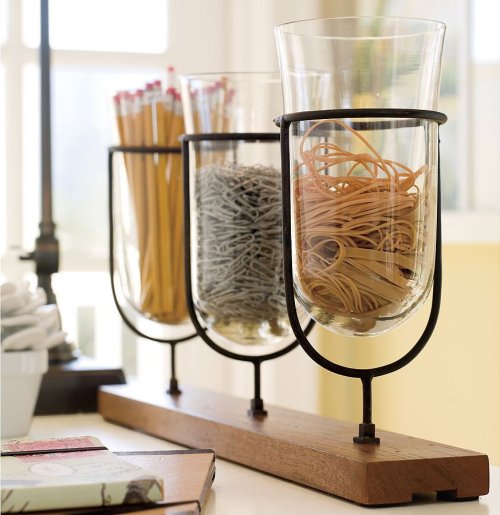 Posted by nom-nom-nom at Tumblr
My Hide Away Printer Project
Everyone wants a home office to look great. Here is what to do with your printer.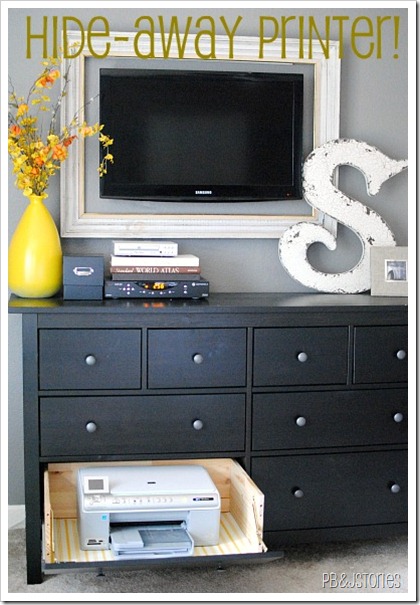 From PBJStories
How to Create a DIY Homework Station for Less
While this post says it is for a Homework Station, one can easily see that the desk organization could be for a home office too. Look at the baskets up top!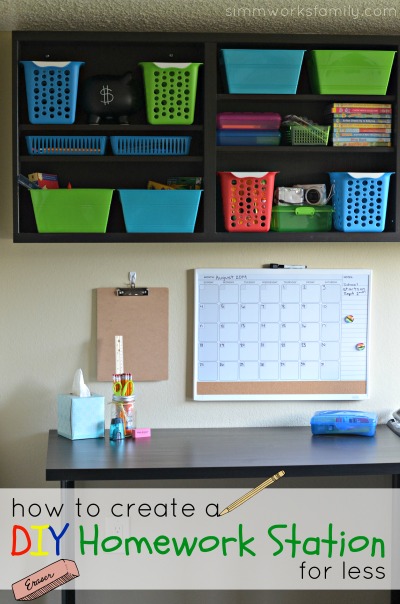 From ACraftySpoonful