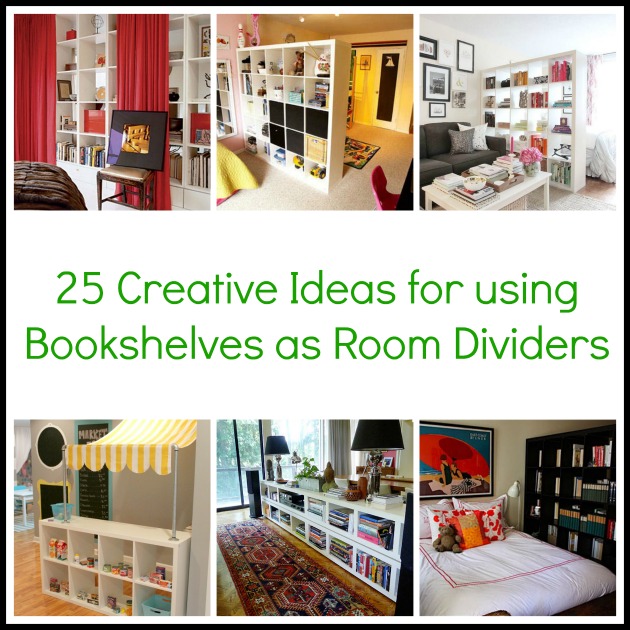 Ever used a bookshelf as a room divider? If you live in an apartment in a big city, such as New York City, Chicago or San Francisco, then chances are you've certainly either done it or considered it. Because every single square foot is at a high premium! Especially if you are renting either your apartment or home, using a bookshelf for a room divider is an ideal choice. Because you are not asking your landlord to make a permanent physical change to the apartment or home, and for a lot less money than it would cost to add in a wall, you've simply created 2 (or more!) rooms by using a bookcase.
We can tell you're getting excited by this idea now. If you're thinking about doing it, we have a couple of tips for you. The first one is to be certain to choose a high quality, sturdy bookcase. This is not an area to skimp and select one that might tip over. Especially if you live in a part of the world that is prone to strong storms such as earthquakes or tornadoes. You might pay a little extra for the bookcase or the materials to create it if you DIY it, but you'll be very glad when it stands firm! Our other tip is what you load into the bookcase. We highly recommend that you do not stuff your bookcase to the gills with stuff. Remember that the #1 job of this actual bookcase – is to be a wall, not a bookcase! Take a look at what some of the others have done to make their bookcases look pretty and part of the decor in the room.
When every square foot counts or you want to create a spare bedroom, this may be your best choice. Here are 25 bookcase room dividers for your inspiration. Happy DIY-ing!
...
Kettles Yard, Cambridge
If you choose a short bookcase to divide a room, then it looks like you have even more space. While that room does not have individual privacy, there are still benefits.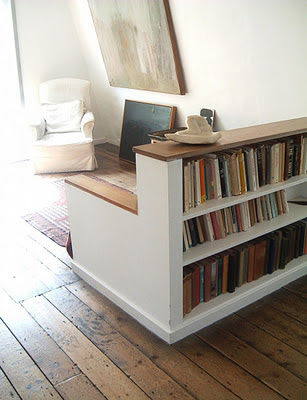 From KateGibb
Casey's Plenty of Space
Especially in a smaller space, room dividers done right are critical. Using a bookcase means you get a divider but you also have lots of space too.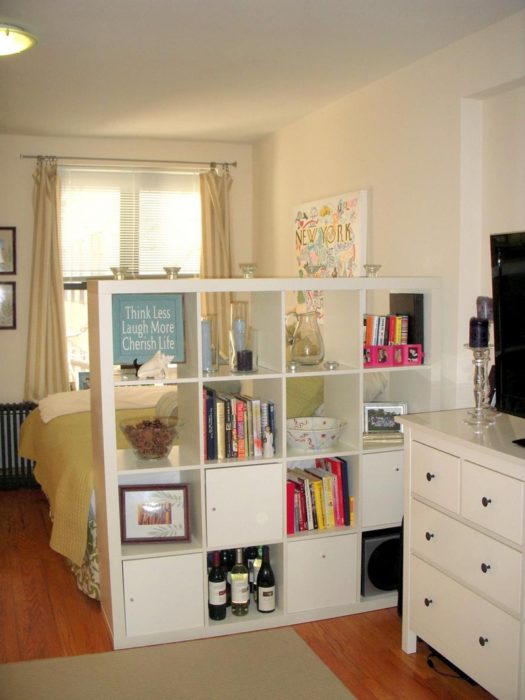 From ApartmentTherapy
room divider
What a perfect way to give both of your kids their own room! Add a bookcase they both can use too!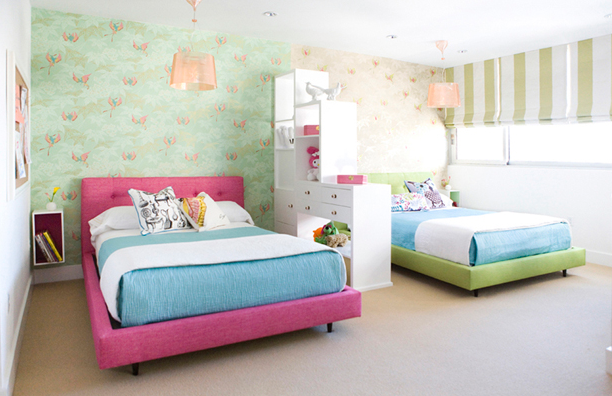 From decorpad, source: Erinn V Design Group
A pied a terre Renovation NYC
Look at how much space is in this 450 square foot apartment! This bookcase really makes a difference!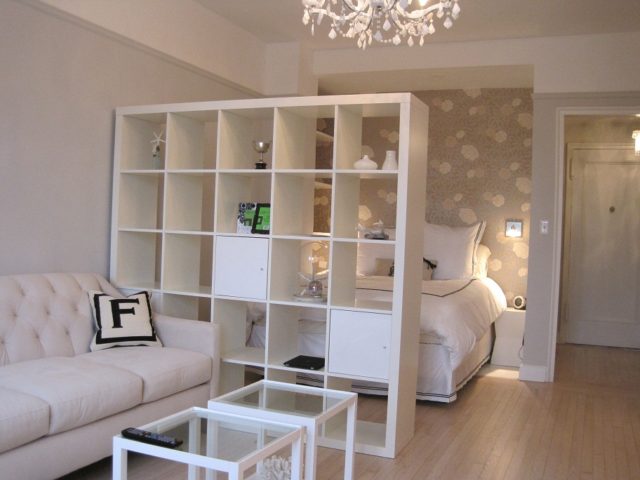 From Drawn2Style
Kids Spaces
Want to create a fun play space? A bookcase can offer a place for toys and make a tiny room too.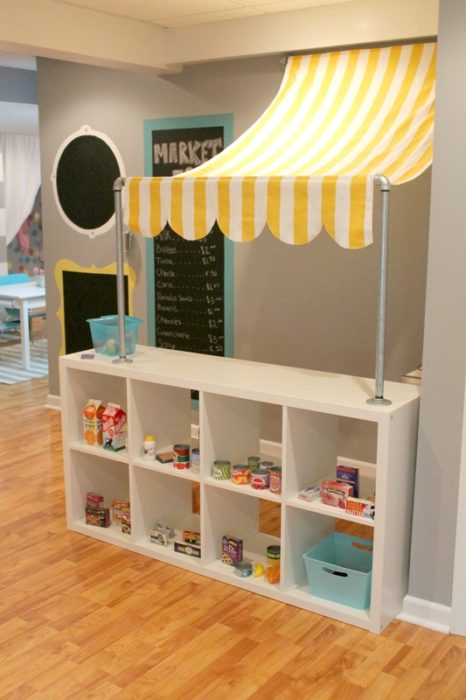 From Pear-Design-Studio
4 Rooms in 1 How a Scandinavian Space Multitasks
See how this bookcase offers privacy for the bedroom? Its the perfect way to create individual spaces.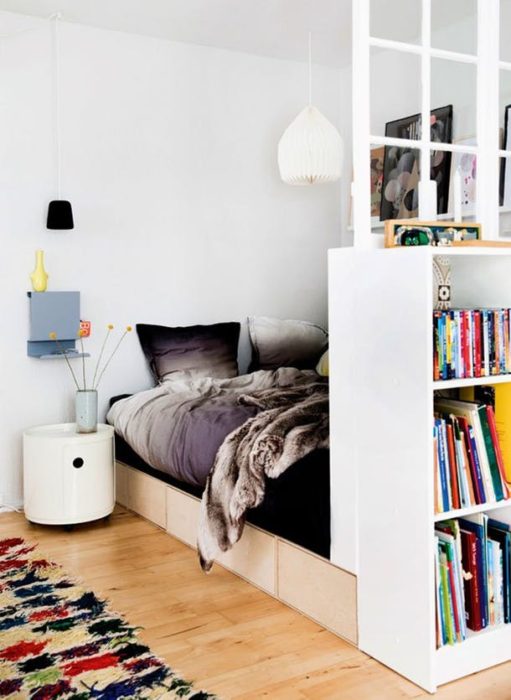 From ApartmentTherapy
Tumblr Image Bookcase Room Divider
See how this divides the dining room from the living room? It also holds everything you need.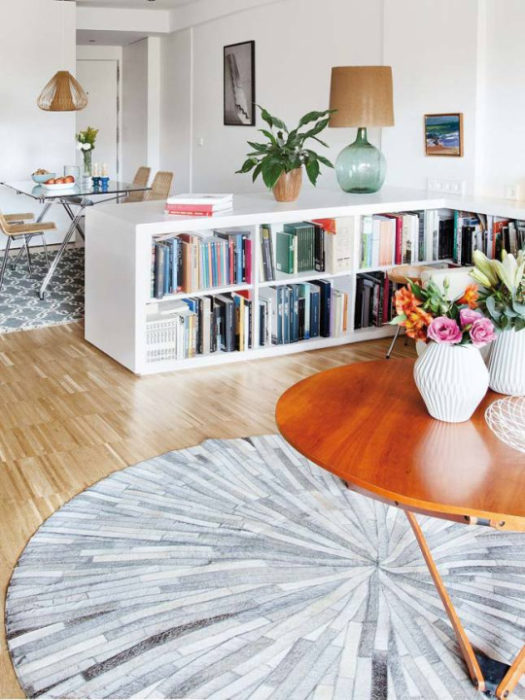 From posted by teachingliteracy @Tumbler, original source not credited
Interior Crush
See how this tall bookcase creates a private bedroom. It also offers lots of space for favorite objects.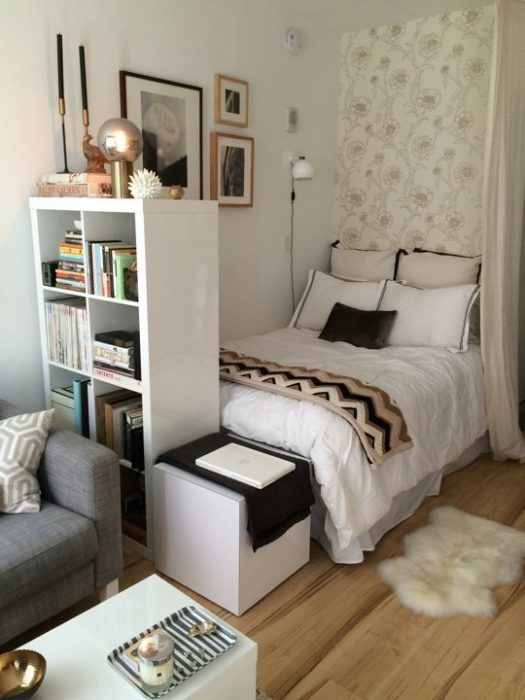 From ALittleLeopard
Feature Friday Meredith and Gwyenth the New Yorkie in NYC
What's lovely about this book case as a room divider is how stylish it is. Notice the storage bins, so you can easily keep items handy but tidy too.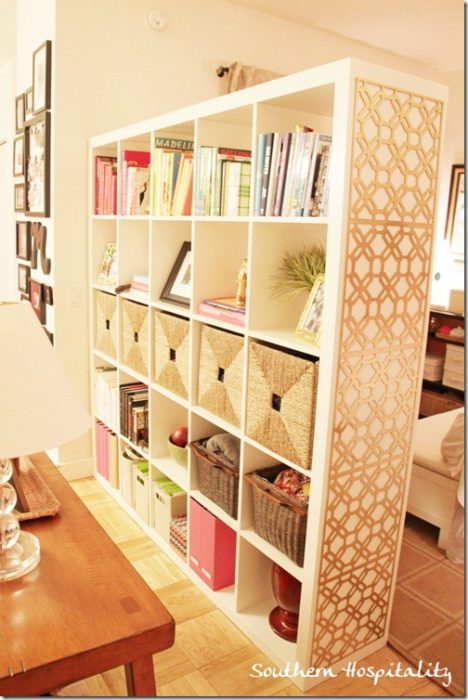 Jackie's Colorful Upper East Side Home
This tall and wide bookcase creates a spare bedroom. Look at how great it is to create more space!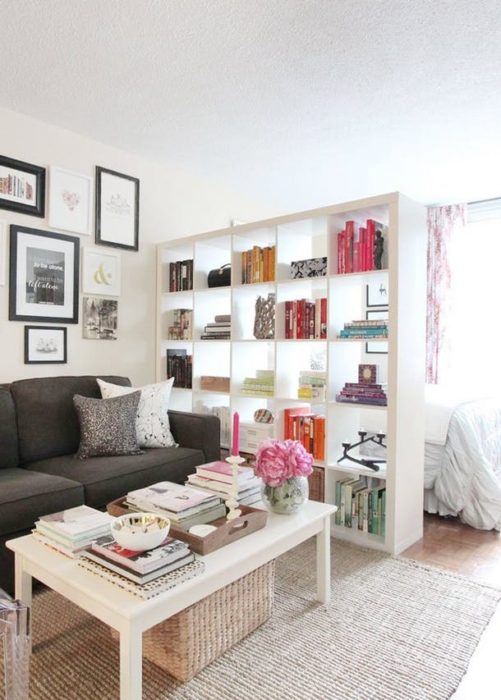 From ApartmentTherapy
3 Design Ideas to Steal from One of a Kind's Office
If you have a home office, a bookcase or two are the perfect way to get some privacy. Filled with lush plants, this also looks lovely too.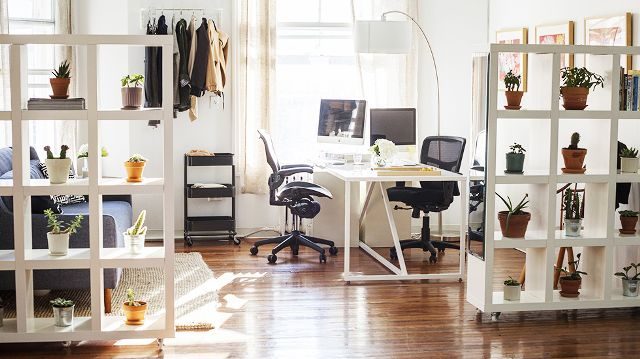 From MyDomaine
Phia and Anthony's Shared Space
Have 2 kids that share a room? Give them their own rooms, with a bookcase.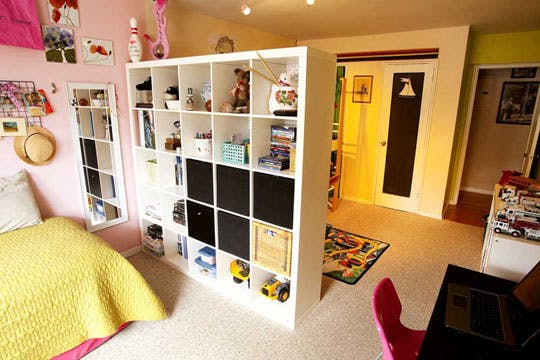 From ApartmentTherapy
Terrace Shelving Unit
Here is a stylish, contemporary wood bookcase. If you are looking to divide a room, try one like this!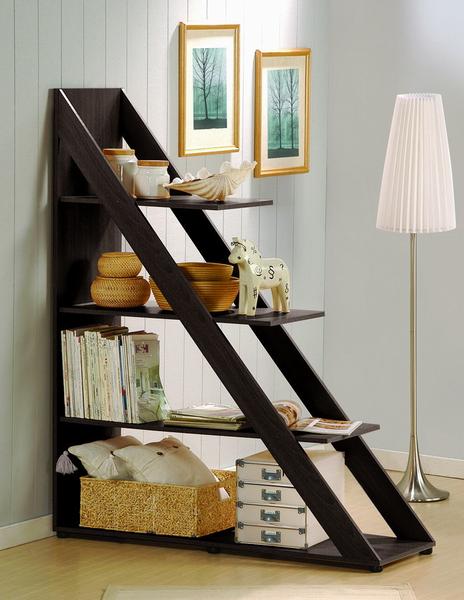 From Froy
Tour Author Julia Reed's New Orleans Home
Notice how lush and beautiful this bookcase is! An aquarium and books filling it to the very brim, it also divides the living room and the sitting room.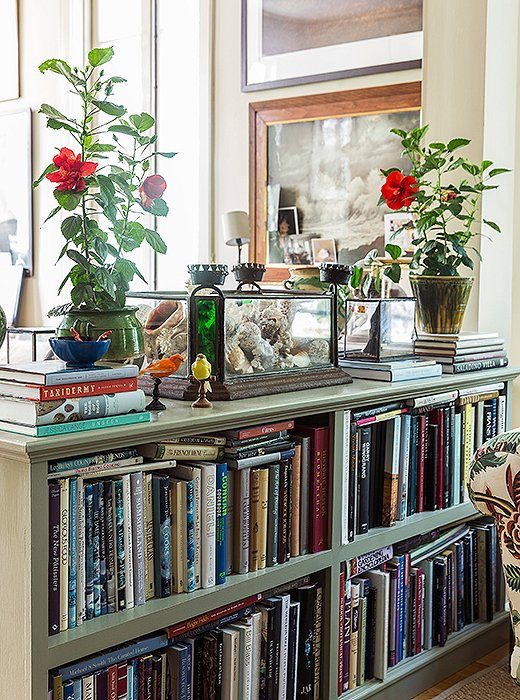 From OneKingsLane
The 'Grand Dame' of ASKarchitects in Piraeus, Greece
These bookcases go from the floor to the ceiling. Notice how simply they divide the rooms.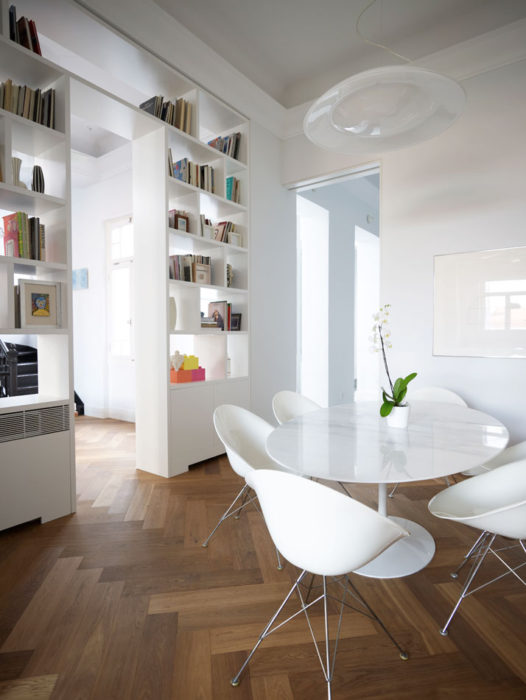 From Yatzer
Chic Interior Design by Garrison Hullinger
Wow, what a bookcase! Notice how a statement making bookcase both divides and makes 2 rooms look great.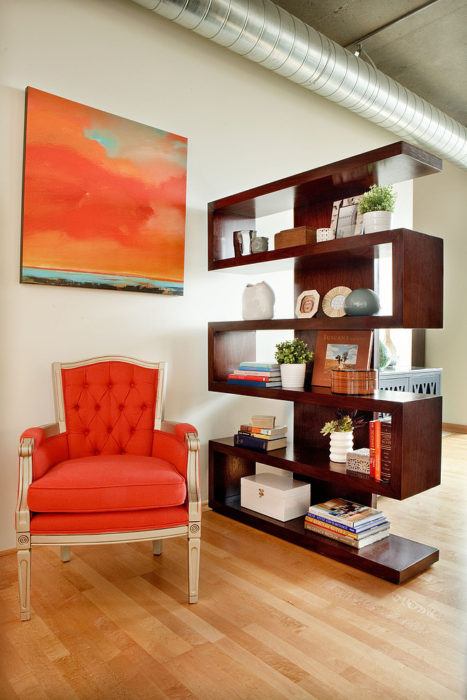 From HomeAdore
Bookcase Divider with Curtain
Now this is one of the most elegant bookcase dividers we've seen. It also provides lots of privacy too.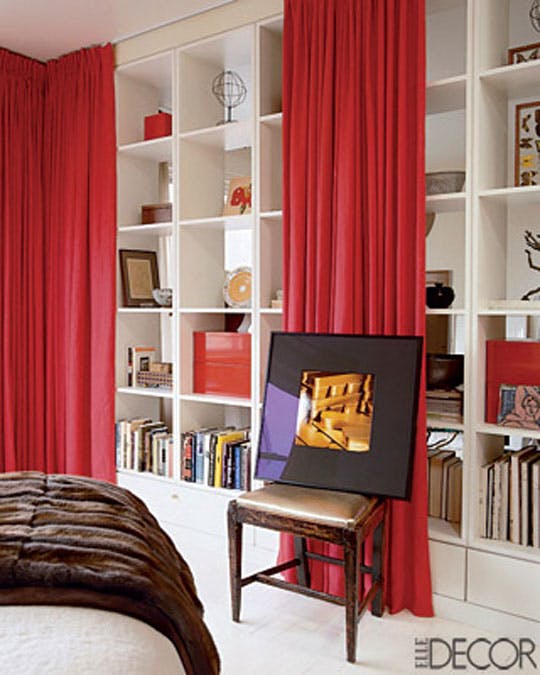 From ApartmentTherapy
Maayan Zusman Interior Design Tel Aviv Apartment
A modern, metal bookcase is one that will get lots of compliments. Its like having a work of art on display!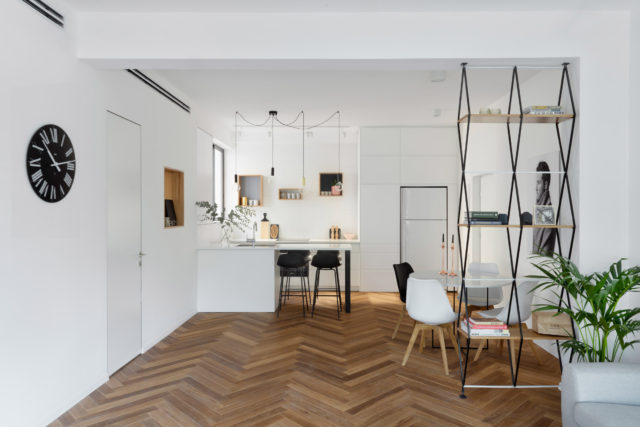 From Dezeen
Rotating Flatscreen TV
Now here is a very unique idea for your room dividing bookshelf. Why not add a rotating flatscreen TV?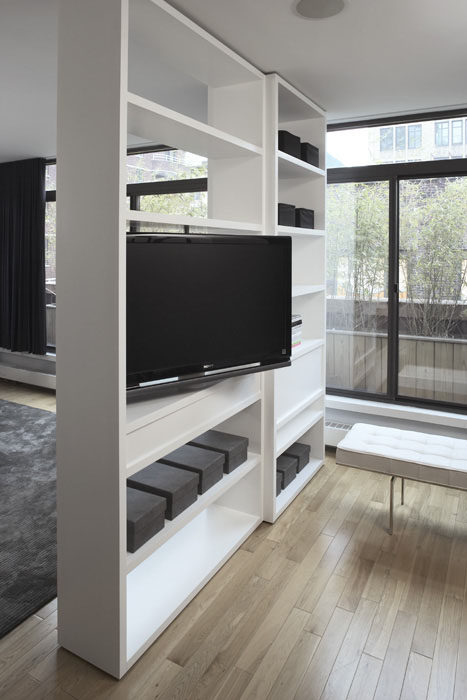 From decorpad
Kitchen Inspiration from Eurocucina 2010
A large bookcase makes the perfect room divider! You can have total privacy and also keep your favorite books, right within reach for reading whenever you like.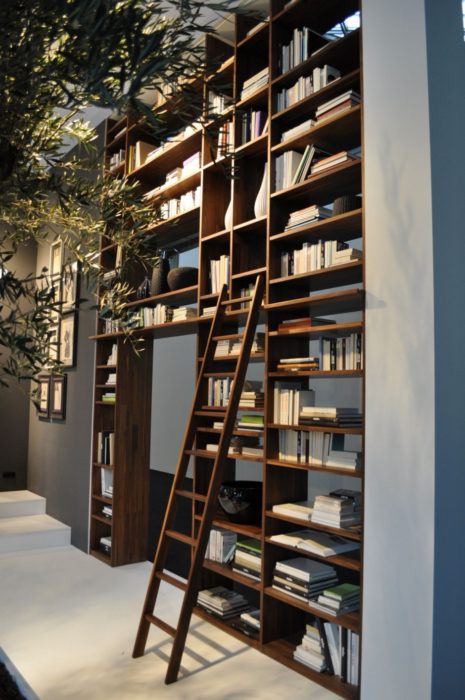 From Contemporist
Inspiration: Using a Bookcase as a Room Divider
Want a cozy bedroom? Find the right bookcase and its easy to create an extra bedroom in your home.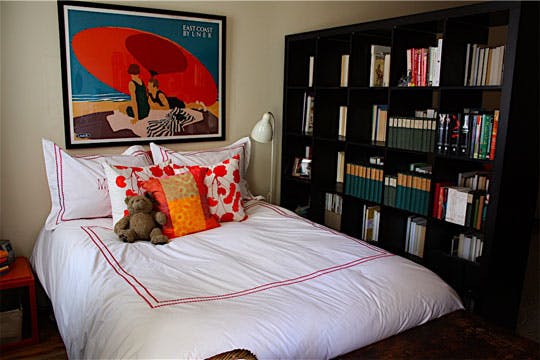 From ApartmentTherapy
Decor Inspiration Bookshelves
This nook is separated from the rest of the apartment by a low bookcase, holding vintage records! Its easy to see how this helps the flow of the apartment.
From Elle
A DIY Bookcase and Room Divider
The secret to a great bookcase as room divider is to have a tall one. Also to measure your space for the best fit.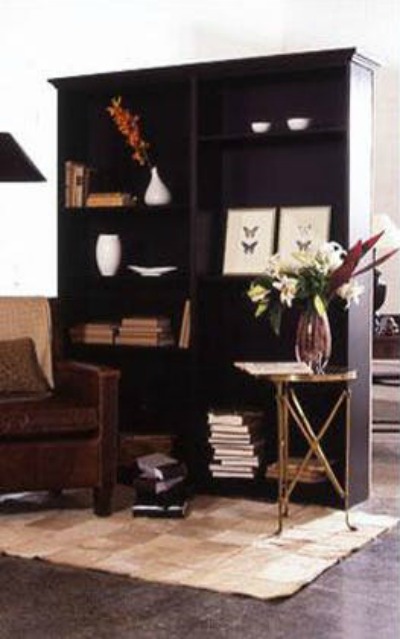 From ApartmentTherapy
Andrei and Sylvi's House
One great tip about using bookshelves is that you can fill them with artistic objects. Make them part of the room's decor, not simply a divider.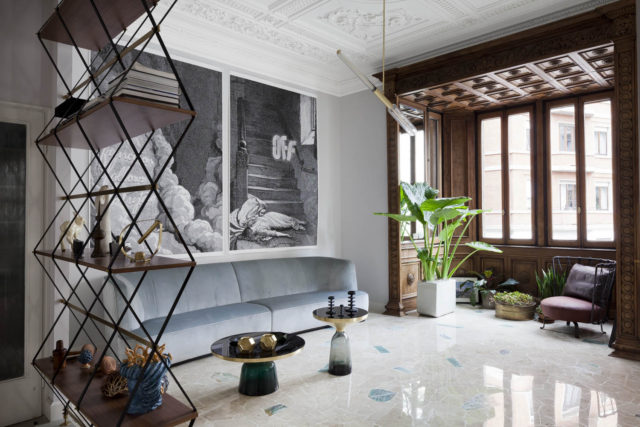 From PietroRusso
10 Ways to Create an Organized Home Office in a Small Space
Notice how choosing a graduated and short bookcase is a unique way to separate rooms? Also adding plants to this room separator is in many ways a very welcoming touch too.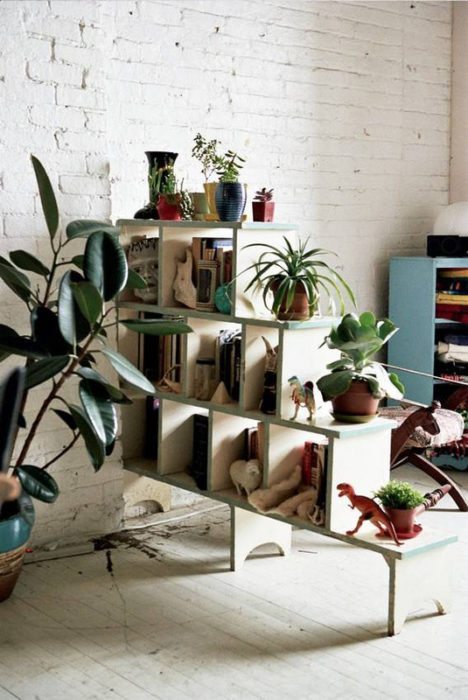 From Domino