Hello, DIYers!
Valentine's Day is fast approaching! And while you're picking out the perfect gifts, cards, and date-night ideas, you're also probably thinking about your perfect outfit! It doesn't matter if you are hanging with the romantic love of your life, your best friends, or your family… it's a fun holiday that is all about appreciating all of the warm and fuzzy feelings you get from all of the wonderful people you love! Check out these cute pictures for inspiration or for their tutorials!
Happy Valentine's Day!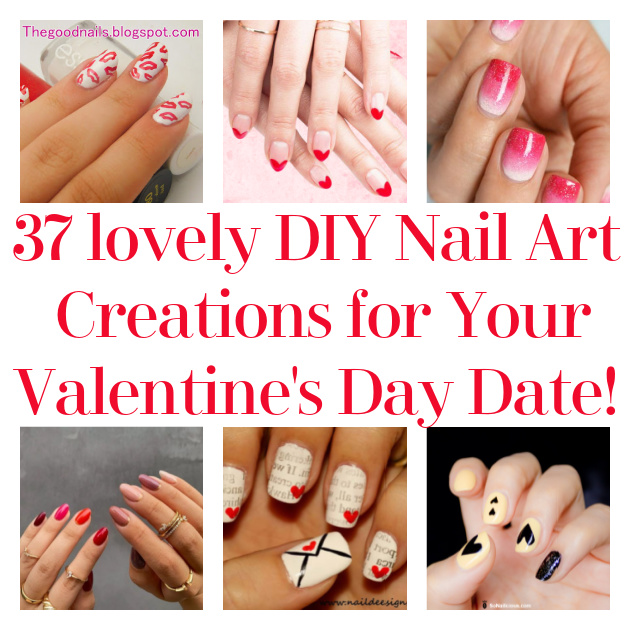 Love Letter
This is so cute! The envelope on the thumb is a cute touch!
Found Nail Deesignz
Candy Heart Nail Art
This is a fantastic look for an acrylic set!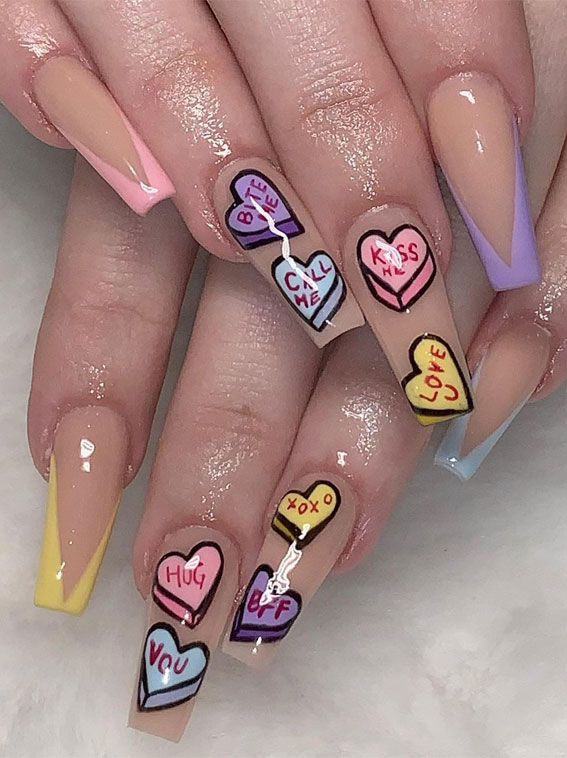 Found The Best Acrylic Nails
Sweet Valentine's Day Nails
Simply lovely!
Found Daily Something
Candy Heart Nail Art
This video tutorial can help you get this cute look!
Found Robin Moses
Pastel Pink Negative Space Nails
This is a cool technique!
Found One Nail to Rule Them All
Heart French Tip
These are so dreamy and perfect for your perfect Valentine's Day!
Found Cosmopolitan
Tainted Love
Feel like getting away from all the red and prefer to add a touch of black? Look no further!
Found Sonailicious
Ombre Pink Nails
The glitter adds a nice touch!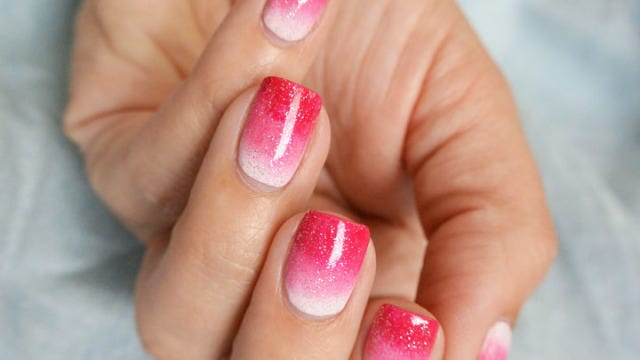 Found Cosmopolitan
Purple Glitter Hearts
Get your purple on!
Found ScalededMilk
Hearts, Glitter, and Flower
Beautiful!
Found More
Washi Tape Nail Art
This is so simple but it looks fantastic!
Found The Beauty Department
Wavy Pinks and Reds
These are lovely!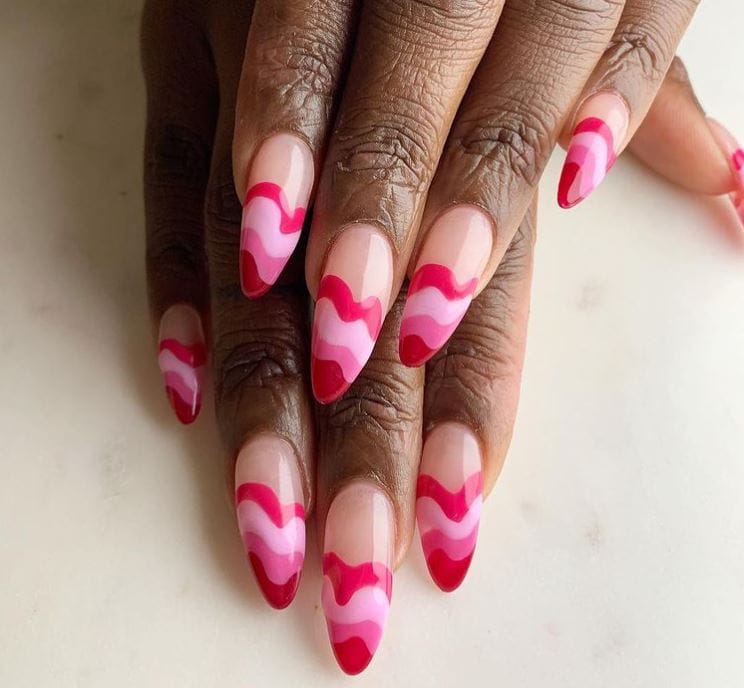 Found Nails By Mei
Alternative Pastels
Not into pink and red? Try this!
Found Nicoles_Nails_
Strawberry Nails
This nail art is done by painting press on nails before putting them on! Brilliant!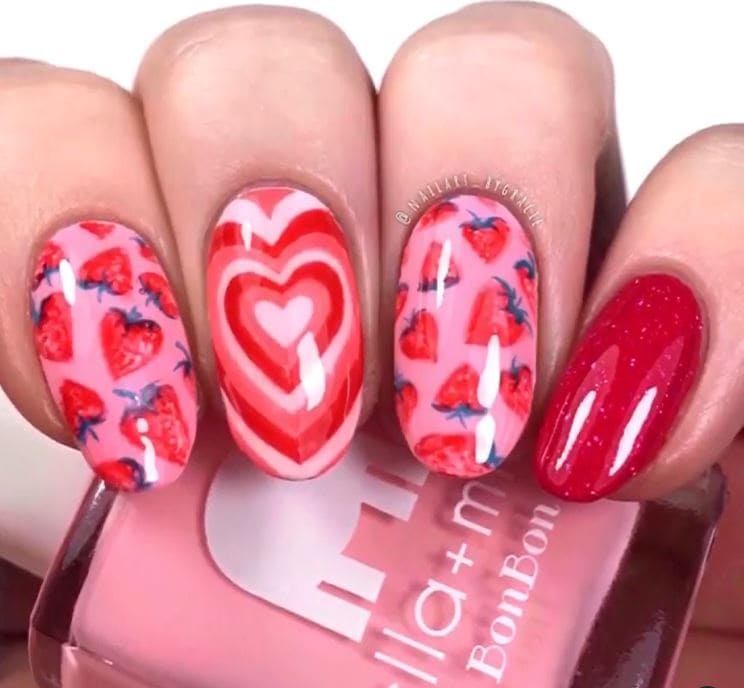 Found Nailart_bygracie
Valentine Chevron Nails
Super cute!
Found Jenna Beth Day
Foxy Nail Design
This is so cute!
Found Liquid Jelly
Simple and Sweet
This is a simple look using a sweet color and nail stickers!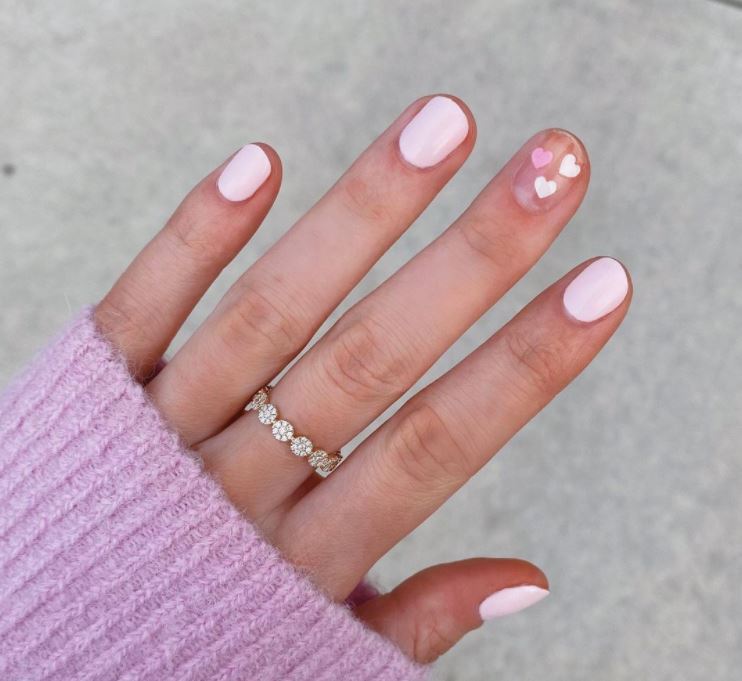 Found Olive and June
Easy Heart Nail Art
Super simple but very cute!
Found Yes Missy
Bright Pink Valentine Nails with a Touch of Glitter
How lovely!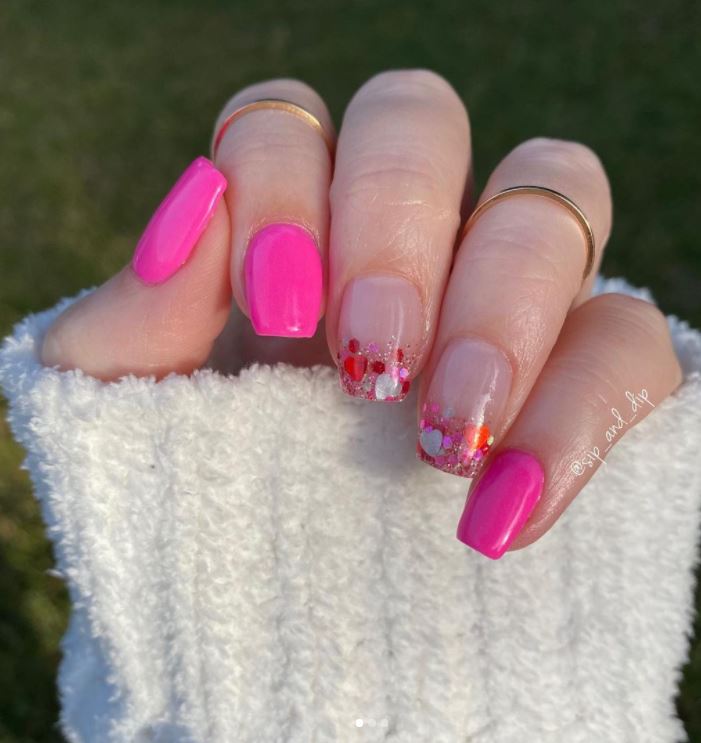 Found sip_and_dip
Love is in the Air
So sweet!
Found Nail Art Gallery
Glitter and Love
The love in cursive seals the deal as an accent nail!
Found Sweet N Shimmering
Scrabble Nail Art
What a cute idea!
Found One Nail to Rule Them All
Candy Heart Messages
Super adorable!
Found JauntyJuli
Tic-Tac-Toe Nails
These are so playful and fun!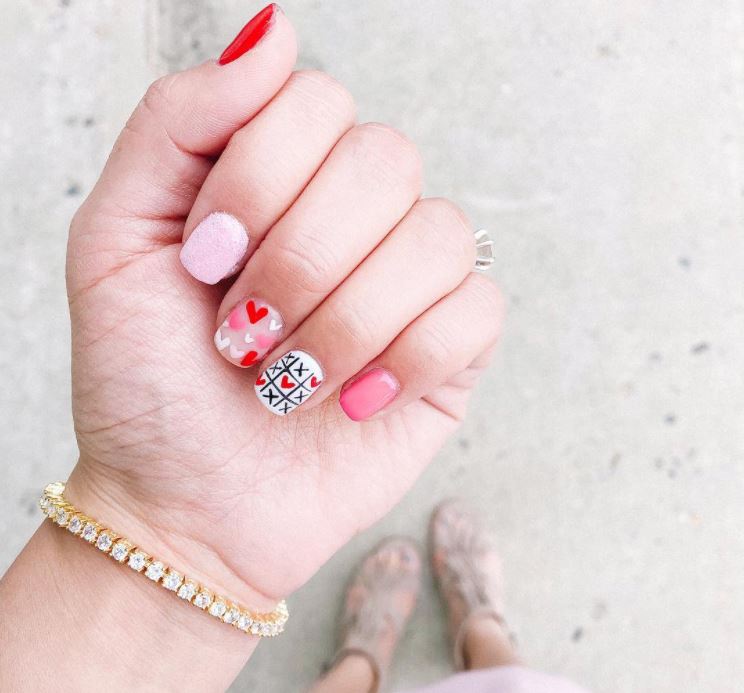 Found Sandyalamode
Multicolored Nails
This is very simple, but it's also lovely and gets the point across!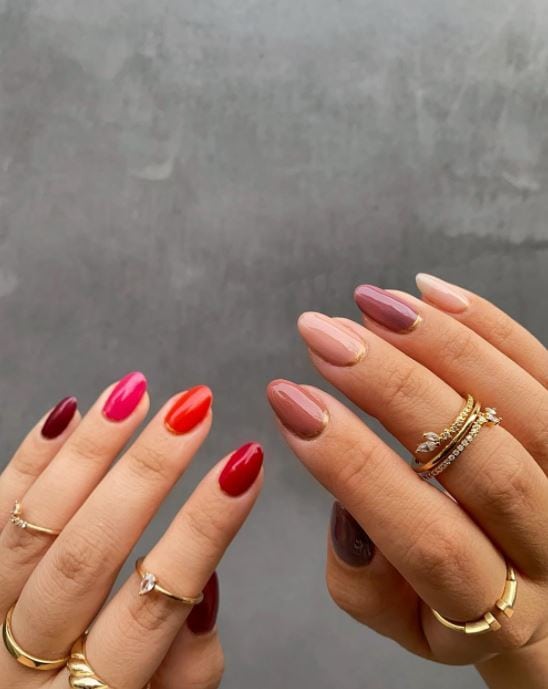 Found Amyle.nails
Pink Hearts
Found Fundamentally Flawless
Quilted Heart Nail Art
Found Liquid Jelly
Soul Mate Nails
This color is called soul mate!
Found Nicoles_Nails
White Heart Tips
I just love this dainty design!
Found lvtnails
Key to My Heart
Precious and so glittery!
Found Chickettes
Rainbow Heart Nail Art
Found Yes Missy
Hanging Hearts
So dreamy!
Found Lucys Stash
Mean Candy Hearts
Not all the way in the Valentine's Day spirit? Try this!
Found Holy Nails
Red Lip Nails
So sweet!
Found The Good Nails
Striped Nails
Easy and sweet!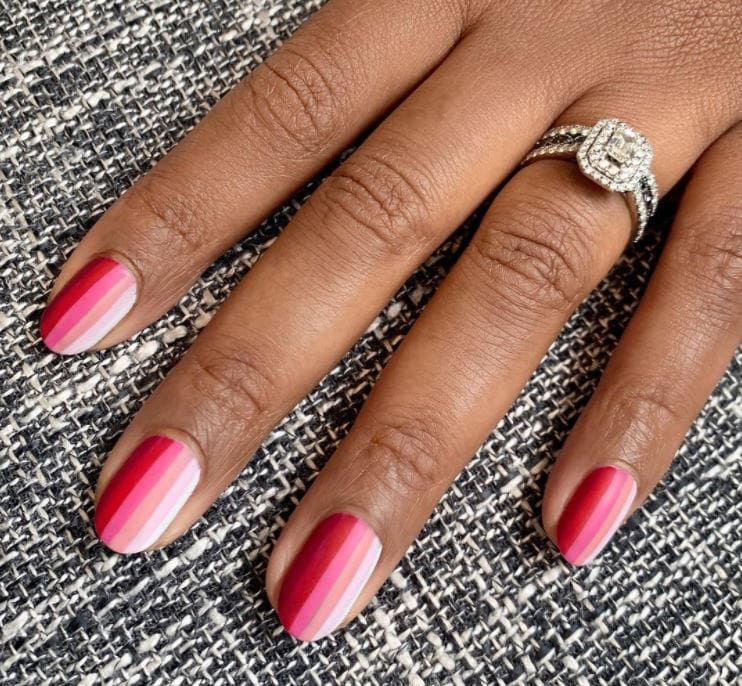 Found nailsfromnars
Velvet Heart Nails
I don't know that these would be great for long-term wear, but they could do well for the day!
Found More
8-Bit Heart Nails
Adorable!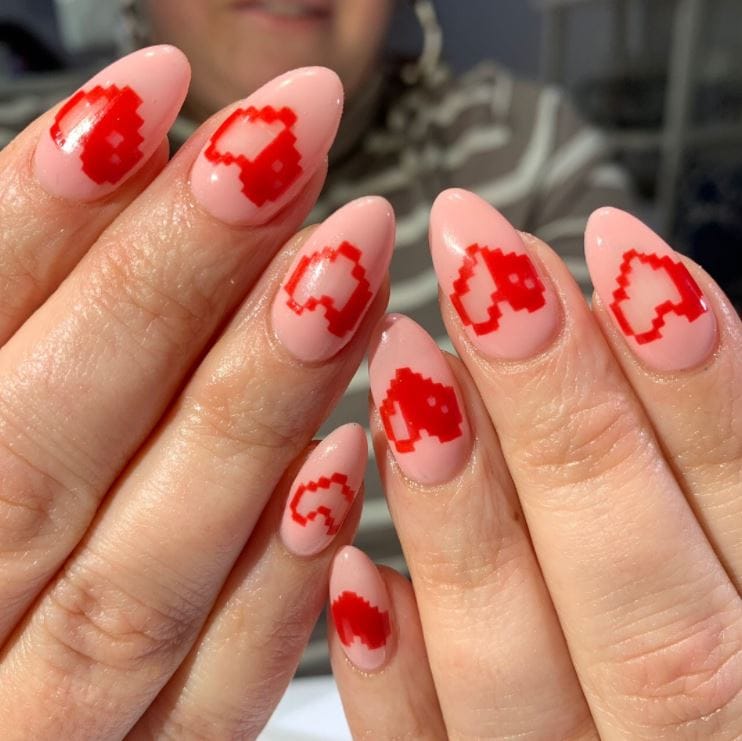 Found vanityprojects
You May Also Enjoy…
37 DIY Valentine's Day Gifts for Her!
39 Decadent Valentine's Day Treats and Dessert Recipes
31 Lovely and Romantic Valentine's Day Décor DIYs
40 DIY Valentine's Day Activities for Kids
33 DIY Valentine's Day Gifts Boyfriends and Husbands will Love
30 Brilliant DIY Makeup Storage Hacks
33 Luxury Bath Products You Can Make Yourself