Hello, DIYers!
Let's talk make up clutter! Makeup is something many of us tend to do during the morning aka the most stressful time of the day! Implementing some organization to your makeup collection makes your mornings go more smoothly, plus there are better odds that you will use more of it! Most of these can be done with minimal skill level and with items just laying around the house, so what are you waiting for?!
Happy crafting, you beauties!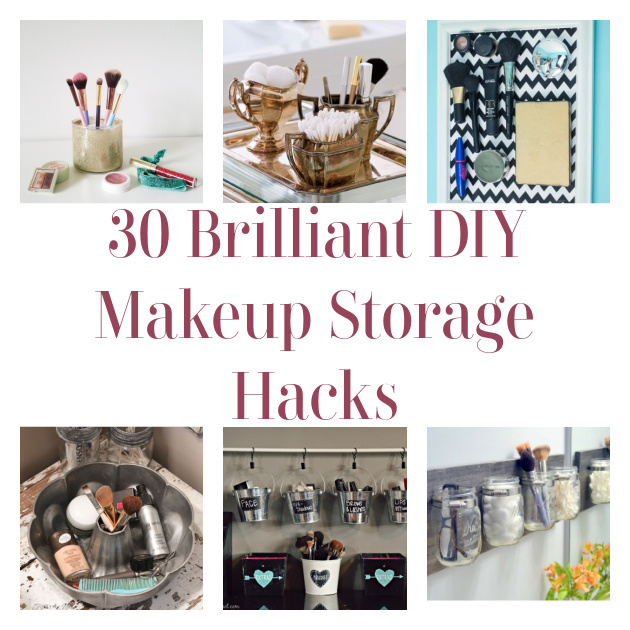 Magnetic Makeup Board
If you're tight on drawer space, or simply tired of rummaging through it for your basic makeup daily-wear, why not put it on your wall with a custom DIY magnet board?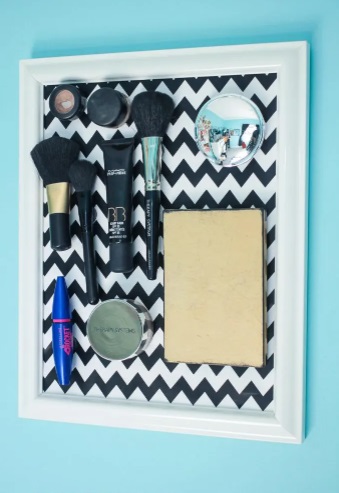 Found Handmade in the Heartland
Repurposed Silver
There maybe isn't a great use for silver that has been passed down for generations in your family, but it doesn't mean that you would want to get rid of them. Good news! You can give them new life as an elegant set of make up organizers!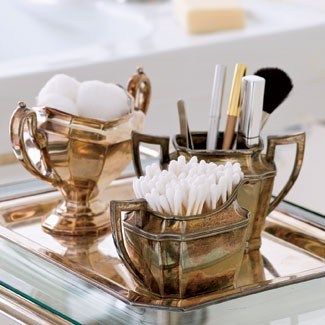 Found Garden Home and Party
Hanging Baskets/Buckets
This is another great way to keep your makeup accessible without sacrificing too much space on your vanity!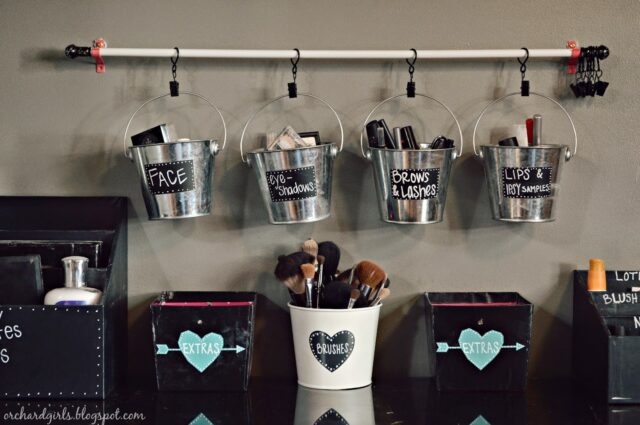 Found Orchard Girls
Nail Polish Spice Rack
Want to add a pop of color to a room? Add a bunch by hanging your nail polish colors together on a spice rack. It makes them nice and easy to find!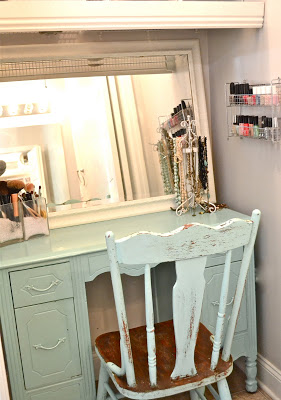 Found Liz Marie Blog
DIY Lazy Susan
Try this amazing DIY build for a lazy Susan! But instead of office supplies, fill it with your makeup and put it on your vanity or bathroom sink.
Found Build Basic
Cake Pan Makeup Organizer
This one is so simple! All you need is an old bundt cake pan and you are also set. Of course, no one is going to stop you if you want to find something cute and vintage. You can even dress up a boring one laying around the house into something to match your décor!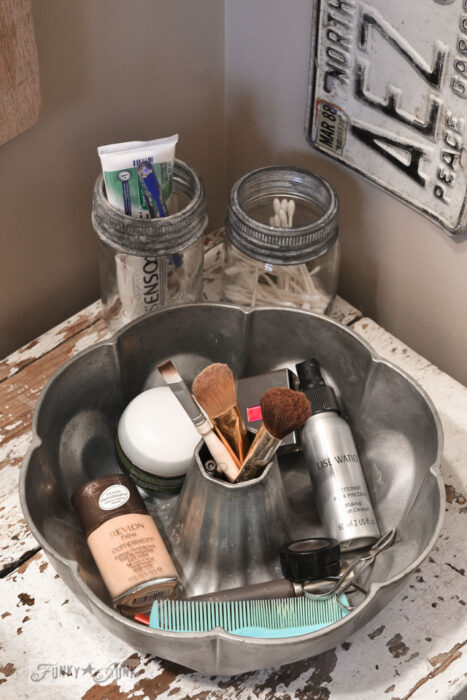 Found Funky Junk Interiors
Mason Jar Organizer
This mason jar organizer gives you easy, sensible access to your products! Plus it's beautiful!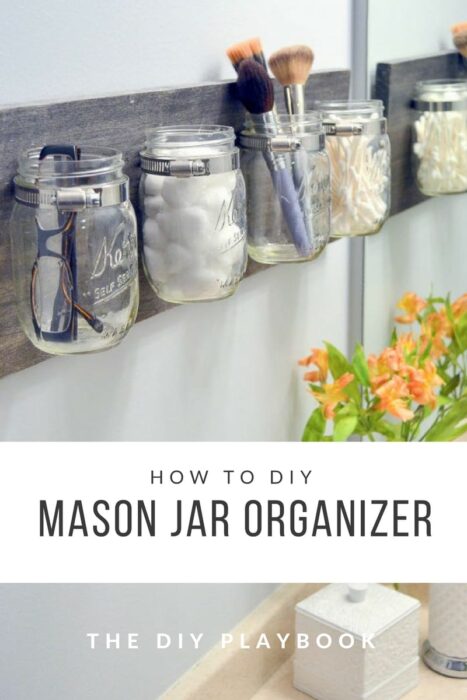 Found DIY Playbook
Recycled Candle Jar Makeup Brush Holder
Need a makeup brush holder? Look no further than the special candle that is almost burnt out!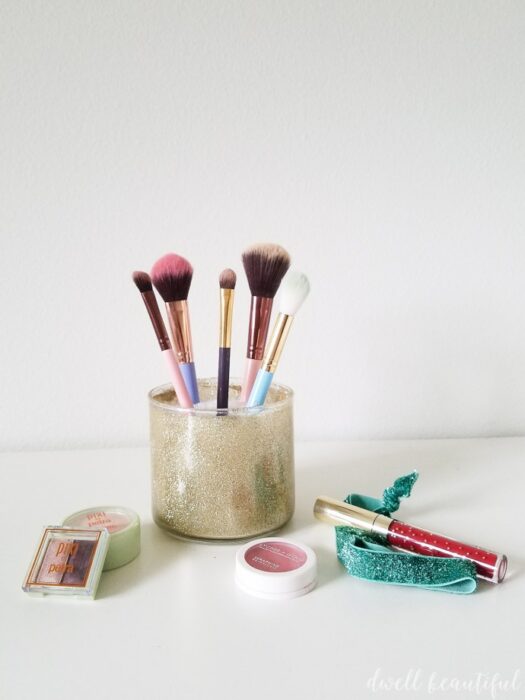 Found Dwell Beautiful
DIY Drawer Dividers
If you have a drawer you can use, make the most of it with these awesome DIY drawer dividers!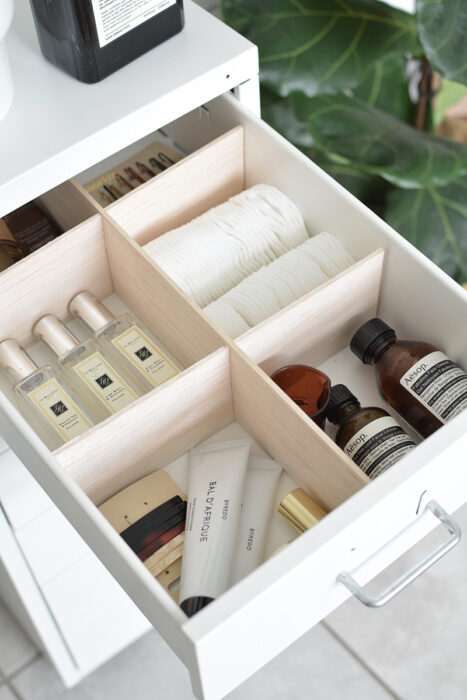 Found Burkatron
Wood Block Cosmetics Holder
A block of wood and a drill is all you need to make this adorable cosmetics holder!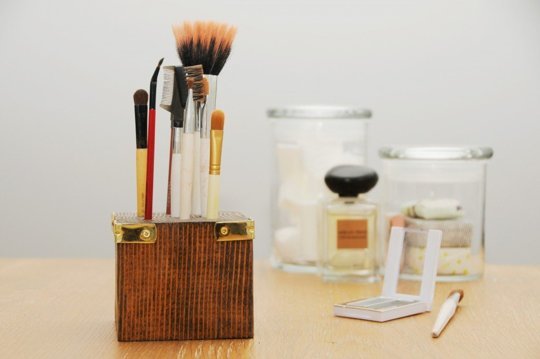 Found Earnest Home Co.
Hanging Shoe Organizer Hack
Use a hanging shoe organizer to display your cosmetic products!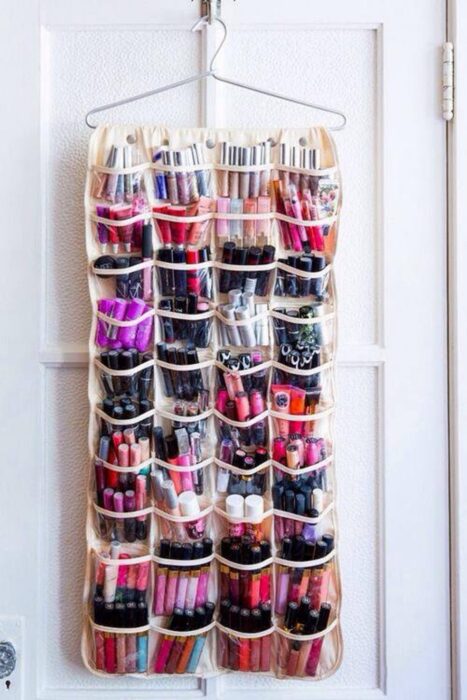 Found Pinterest
Repurposed Tea Set
The opportunities for cuteness are endless here. Mix patterns, spruce up an old set, or use as is! Either way, this towering tea set is perfect for your vanity!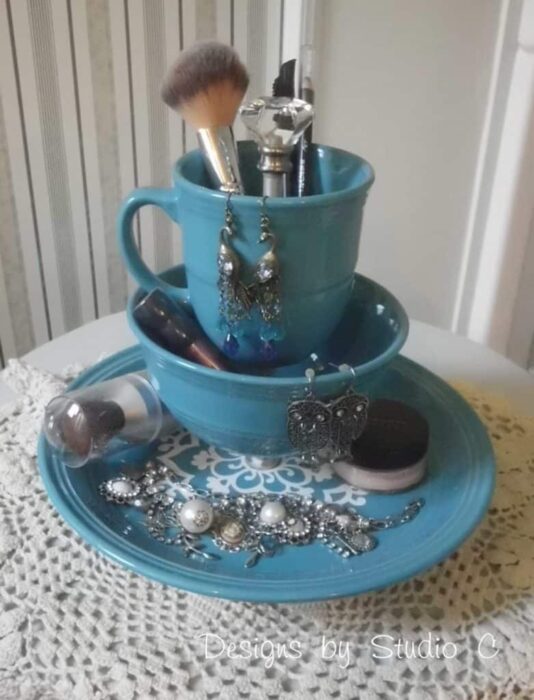 Found Designs By Studio C
Sushi Mat Makeup Brush Holder
Sushi mats make a super simple and cute holder for your make up brushes!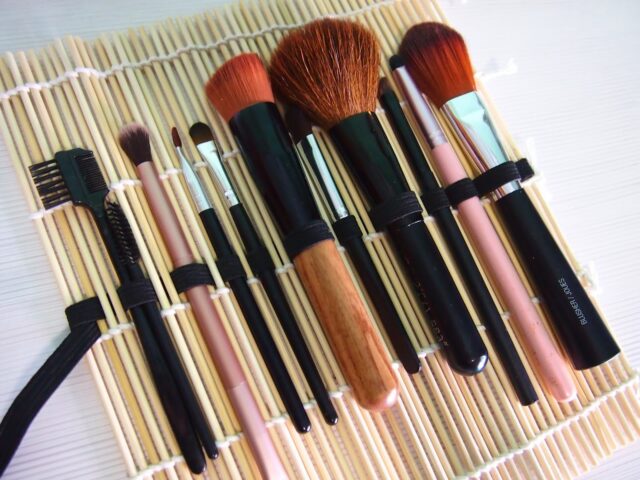 Found Wonderful DIY
Luxe DIY Spinner
This tutorial makes it easy to find the materials to make your own luxe diy makeup spinner!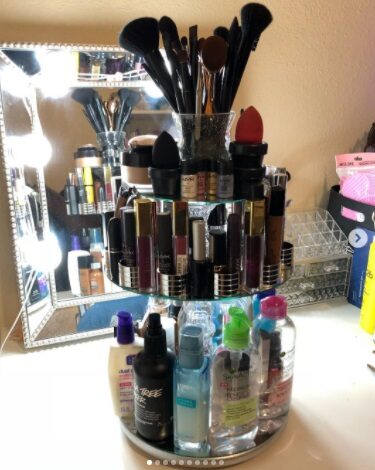 Found Leshane_w
Individual Pallet Organizers
Organize your individual shadows and blushes with ice cube trays!
Found Pinterest
Plastic Bottle Make Up Holders
You can use these super cheap and colorful plastic bottles to make 3 lovely make up holders!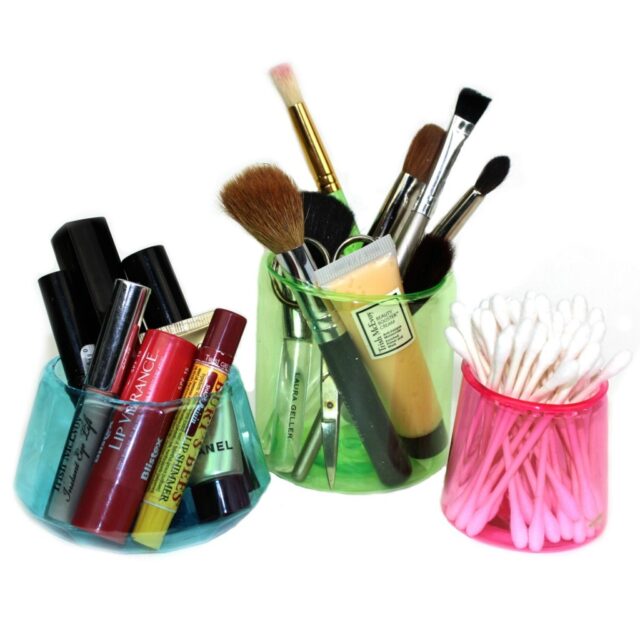 Found A Little Craft in Your Day
Lipstick Holder
This is a brilliant idea for making an lipstick holder that gives easy access to all of your favorites that you forgot you have!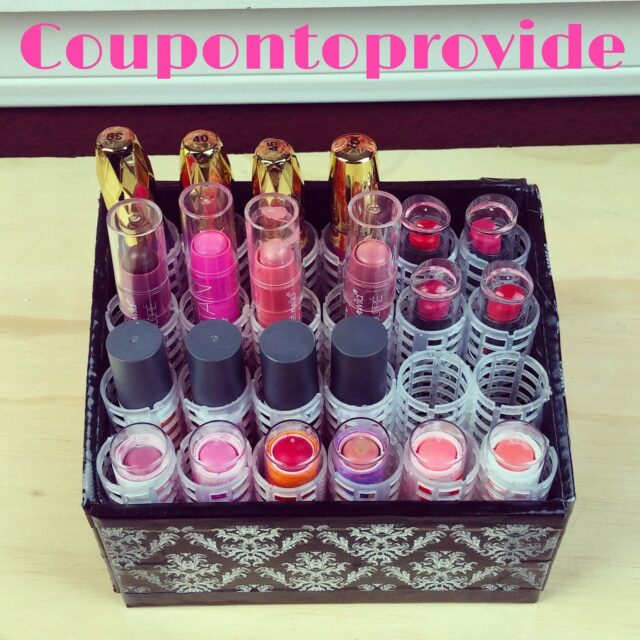 Found The Bates House
DIY Wooden Makeup Organizer
You can create your own high end looking makeup organizer with this tutorial!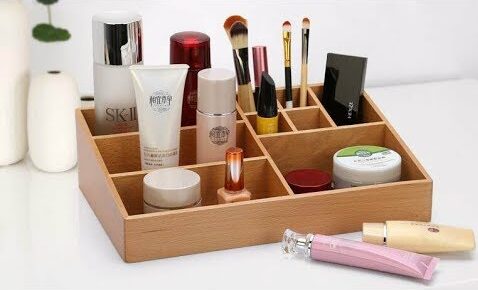 Found Octoboo
Ikea Vanity Hack
Customize this awesome vanity project to suit your hair and make up needs!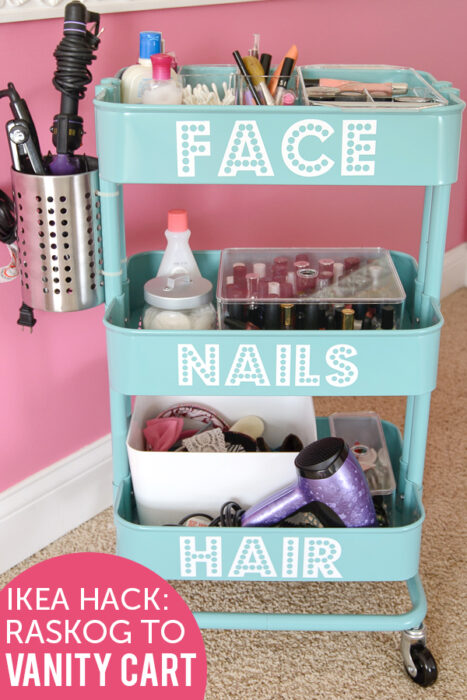 Found Polka Dot Chair
Laced Up Make Up Brush Holder
Have a ripped pair of tights and tons of drinking glasses? Combine the two to make this super cute make up brush holder!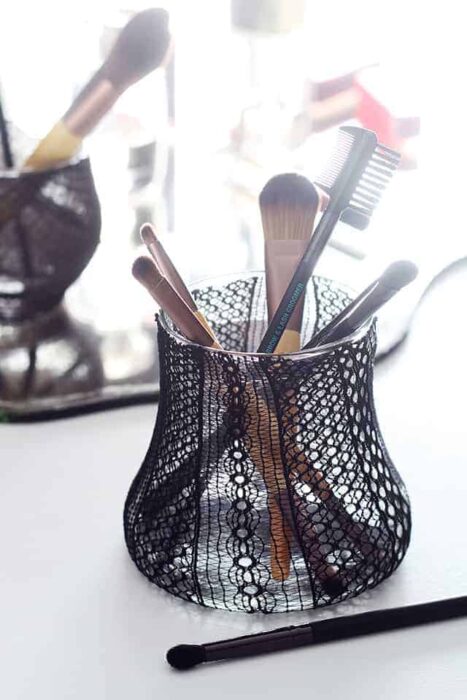 Found Hello Glow
Vanity Tray
Customize a beautiful vanity tray for yourself!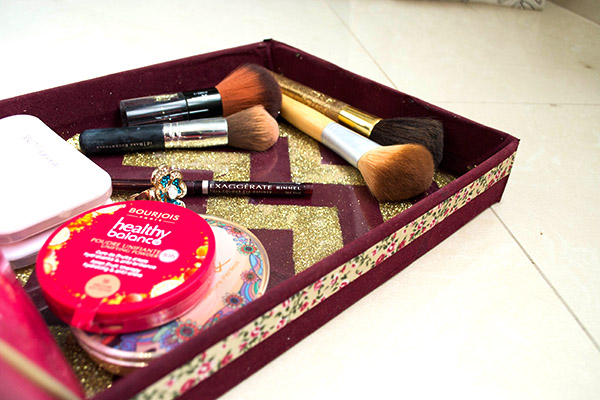 Found Once Upon Her Dream
Upcycle Dish Rack Pallet Organizer
Organizing Pallets can be difficult, especially if you have a bunch! Using a small dishrack can be the perfect way to keep them all in your line of sight.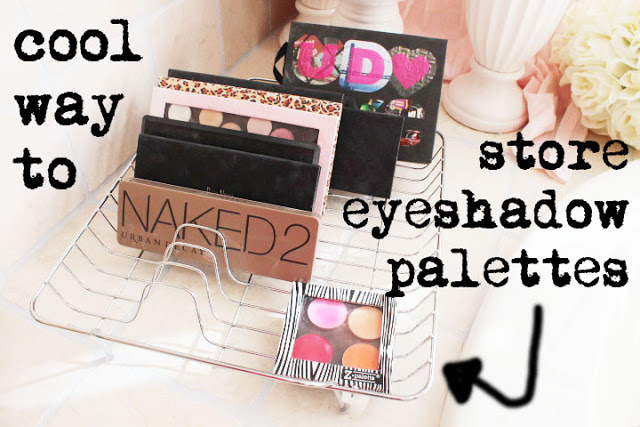 Found KandeeJ
Foam Makeup Holder
This is a simple way to use your favorite products with a retro feel!

Found P.S. I Made This
DIY Cosmetic Shelf
This brilliant DIYer used an old box to make a glittery, circular shelf!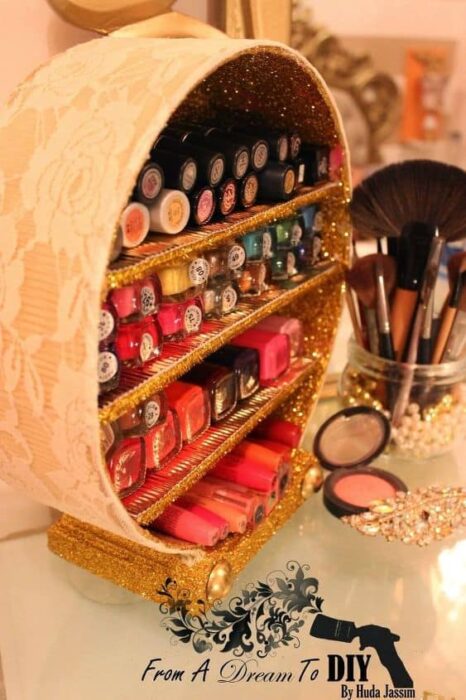 Found Home Talk
Paper Towel Roll Makeup Rack
Paper towel and toilet paper rolls are always useful for upcycling something! Why not give this project a try?!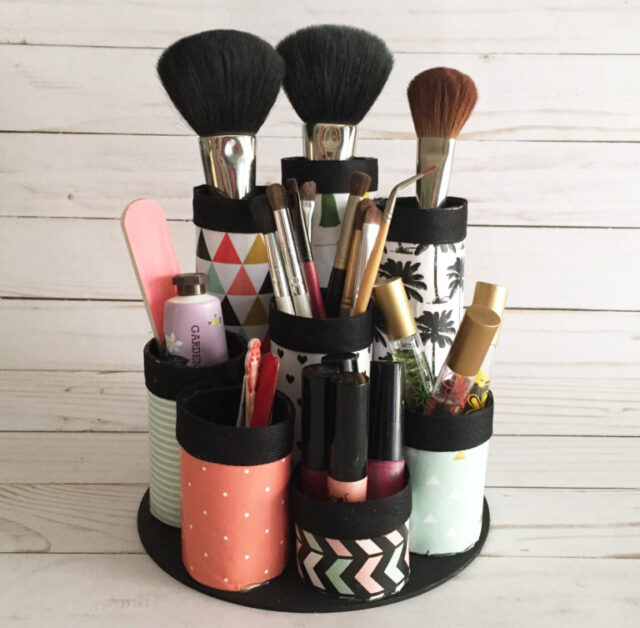 Found Cathie Filian
3 Tiered Stand
This DIY is intended for the kitchen, but you can use the same idea to create something amazing for your makeup!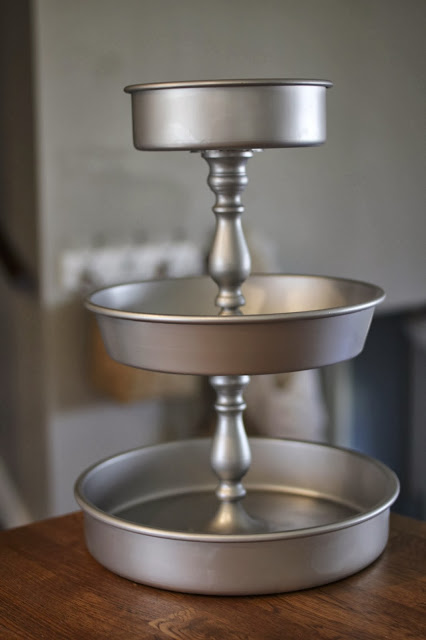 Found Golden Boys and Me
Palette Holders
If you have a couple of larger pallets you can keep them out and easy to reach by using a mail or file organizer.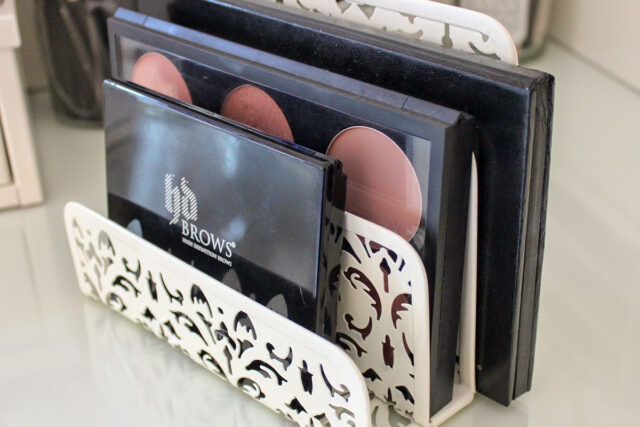 Found Project Vanity
Picture Frame Shelf
Add shelves to a an old photo frame and decorate accordingly! Then store nail polish, skin care products, make up, and more!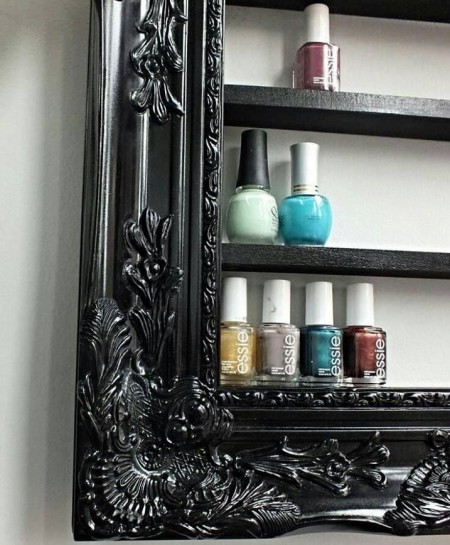 Found Make Space
Shoe Box Makeup Organizer
Dress up an old shoe box and have your very own custom make up organizer!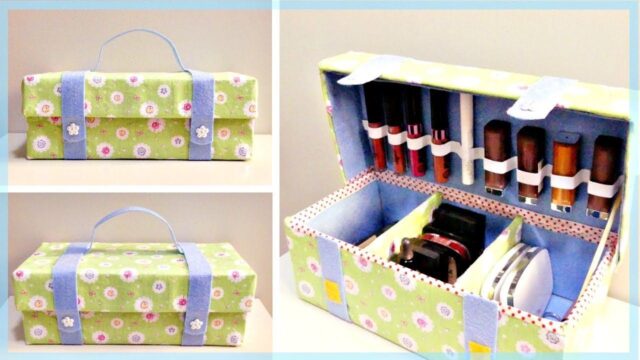 Found Ire Heart Crafting
Skincare Caddy
Dress up a basic white caddy with some acrylic paint! Then gift it with you basic skincare products!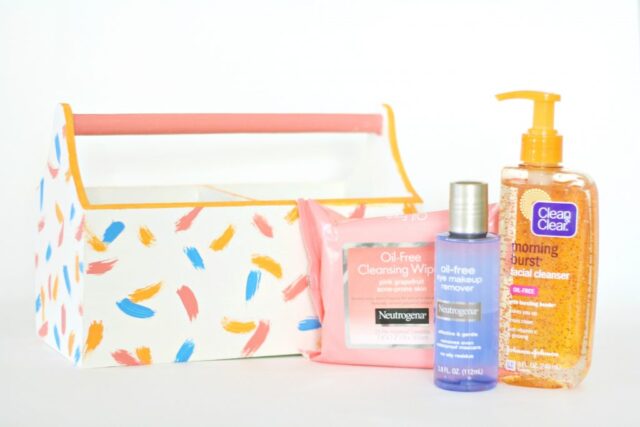 Found Pretty Life Girls
Tumbler Collection Organizer
Glue a collection of clear or colored tumblers together to hold your collection of lip gloss, eye liners, and other make up!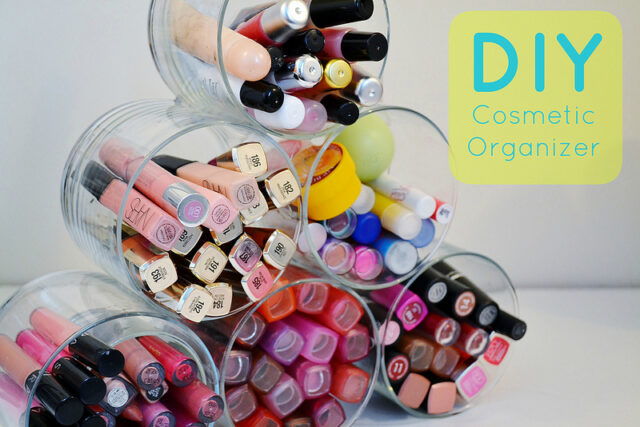 Found Cute DIY Projects
You May Also Enjoy…
37 Beauty Supplies You Can Make Yourself
33 Luxury Bath Products You Can Make Yourself
27 Decorating Ideas To Make Your Bathroom Fabulous
30 Fabulous DIY Active Wear Projects
40 Craft Room Design Ideas for Better Organization & Creativity