Hello, DIYers!
Are you chomping at the bit to get out and about again? While we wait for the world to open back up again, why not up your accessory game by creating some fabulous jewelry?! Who knows! You may even find a passion for it. We've collected a list of some fantastic DIY jewelry projects that you can make for yourself, to gift, or for your Etsy shop!
Happy crafting!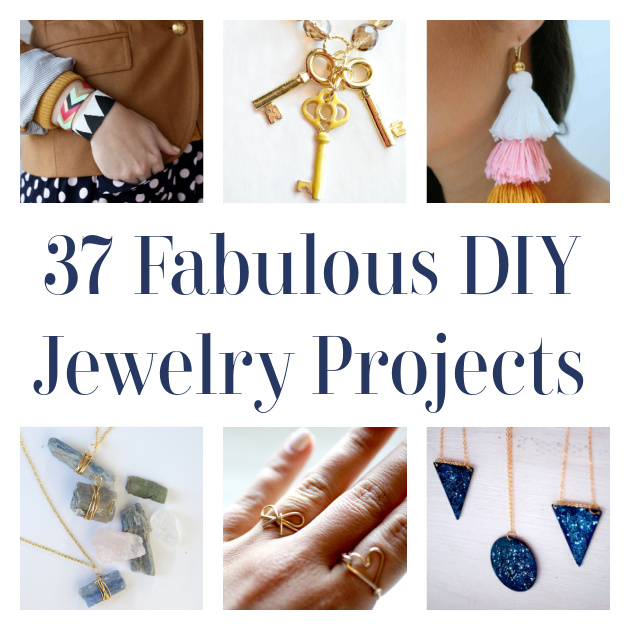 Tube Necklace
You can use pipe fittings to make this lovely rose gold necklace!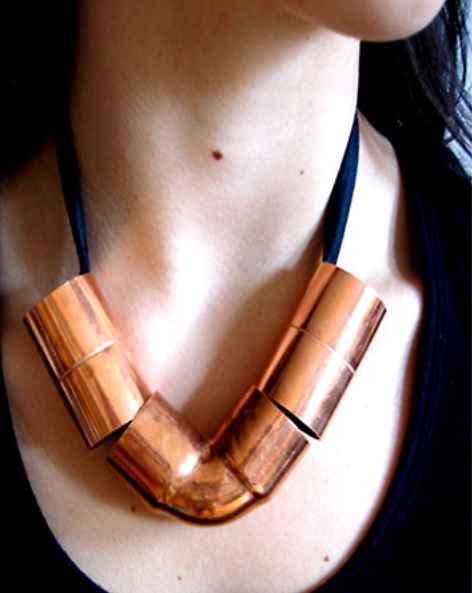 Found P.S. I Made This
Hollow Face Earrings
This is a fun and unique piece of art that you can wear!
Found Too Polished
Vintage Lace Bracelet
This sweet, vintage look is just a DIY project away! This video will walk you through it!
Found Debi's Design Diary
Pearl Earring Designs
Do you love pearl earrings? If so, try one of these 5 great designs!
Found Pinterest
Wire Wrapped Crystals
These are beautiful and so easy to make! Create one for yourself and all of your best friends!
Found Alice and Lois
Infinity and Wire Rings
These wire rings are so beautiful and trendy!
Found Blushy Beauty
DIY Tassel Earrings
Add some fringe to your wardrobe with these adorable earrings!
Found CollectiveGen
Woven Chain Collar Necklace
If you're looking for a lot of bling that still looks decadent, you can do no wrong with this fabulous DIY creation!
Found HonestlyWTF
Gemstone Rings
Wear gemstones on your fingers with this crazy easy DIY project!
Found Creative Fashion Blog
Painted Leather Bracelets
Add a pop of color to your wardrobe with this beautiful set of painted leather bracelets that you can make yourself!
Found A Beautiful Mess
DIY Leather Earrings
These leather earrings are beautiful and can double as diffusers for essential oils if you wish!
Found Making Lemonade Blog
Brass Monstera Leaf Earrings
If you are a plant lover or you know one, these monstera leaf earrings are perfect!
Found DIY in PDX
Beaded Key Bracelet
This is a beautiful beaded bracelet that you can make for an easy afternoon project!
Found A Night Owl Blog
Golden Lace Bracelet
How beautiful is this?! You'd never know it was a DIY project!
Found Craft Gawker
Stamped Initial Bracelet
Initial jewelry never goes out of style! Use your own initials or the initials of your loved ones!
Found A Beautiful Mess
Wooden Earrings
Here are 2 great DIY tutorials to help you re-create these amazing wooden earrings!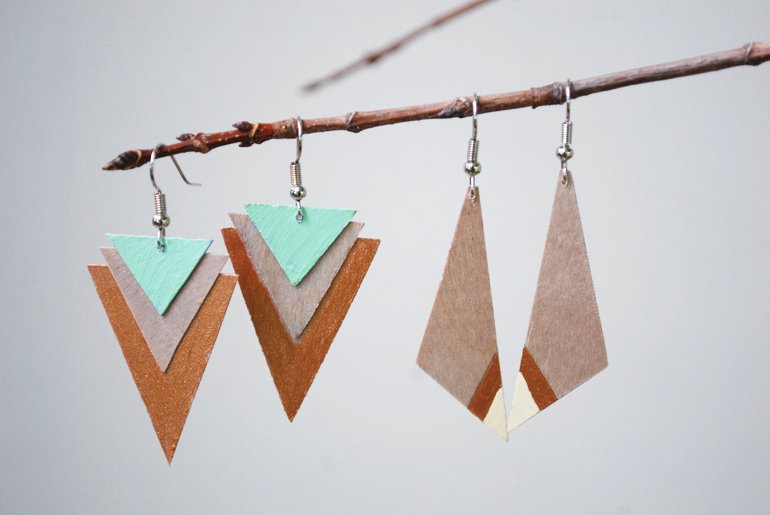 Found The Merry Thought
DIY Resin Necklaces
The sky is the limit for creativity with these amazing DIY resin necklaces!
Found JuneBeautique
Keyring Bracelet
This is probably one of my favorite accessories! It's a great way to keep your keys together while you walk through a store. No more losing them in your purse!
Found Salvage Sister and Mister
Elastic Ring DIY
Sick of having to size up or down every time you bloat? Fix that issue with making this great elastic ring!
Found Make and Fable
Simple Turquoise Necklace
This necklace is easy to make! And you can use any stone bead you'd like to make it customized for you!
Found The Crafted Sparrow
Recycled Vinyl Earrings
This fantastic set of earrings is created by upcycling an old record!
Found Creative Fashion Blog
Marbled Clay Necklace
This is such a low cost project, but it looks high dollar!
Found A Beautiful Mess
Sea Glass Bracelet and Earring Set
Sea glass is a lovely look anytime of the year.The bracelets also have matching earrings!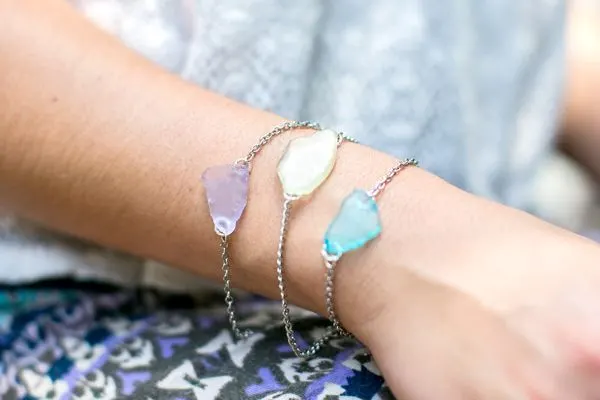 Found The Sweetest Occasion
Safety Pin and Sequin Bracelet
It's so surprising that this is a Dollar Store Hack! You can recreate it yourself in just a couple of minutes!
Found High on DIY
Triple Strand Crystals and Pewter Necklace
How beautiful is this DIY?! It's the perfect gift!
Found Happy Hour Projects
Tassel Hoop Beaded Earrings
If you like the fringe of a tassel, combine it with a hoop earing and some beaded accessories!
Found BD's Artsy
Galaxy Necklace
Add a spacey vibe to you wardrobe with this wonderful galaxy necklace!
Found Oh the Lovely Things
Black Leather Earrings
Leather is a material to use in DIY accessories!
Found Creative Fashion Blog
Handmade Pendent Necklace
You can make your own custom necklaces to go with your outfits with these beautiful pendants!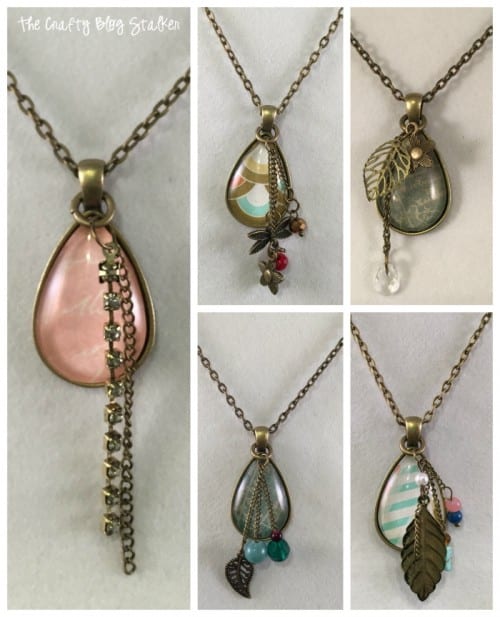 Found The Crafty Blog Stalker
DIY Chakra Bracelet
If you've been wanting a chakra bracelet, you can make your own with this DIY!
Found Golden Age Beads
Beaded Statement Necklace
This beautiful beaded necklace makes a bold statement!
Found Something Turquoise
Painted Wooden Bangle Bracelets
Dress up these basic wooden bangle bracelets with a little bit of color!
Found Sara Hearts
Simple Circle Necklace
This necklace isn't complicated or showy, but it is incredibly beautiful!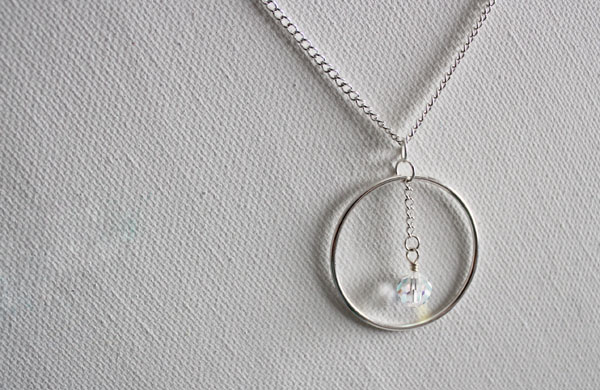 Found 30 Minute Crafts
Fruit Slice Earrings
Re-create your favorite fruit slice with this wonderful DIY project!
Found Robb Restyle
DIY Neck Candy
This is so unique! Definitely not something you could buy in a store!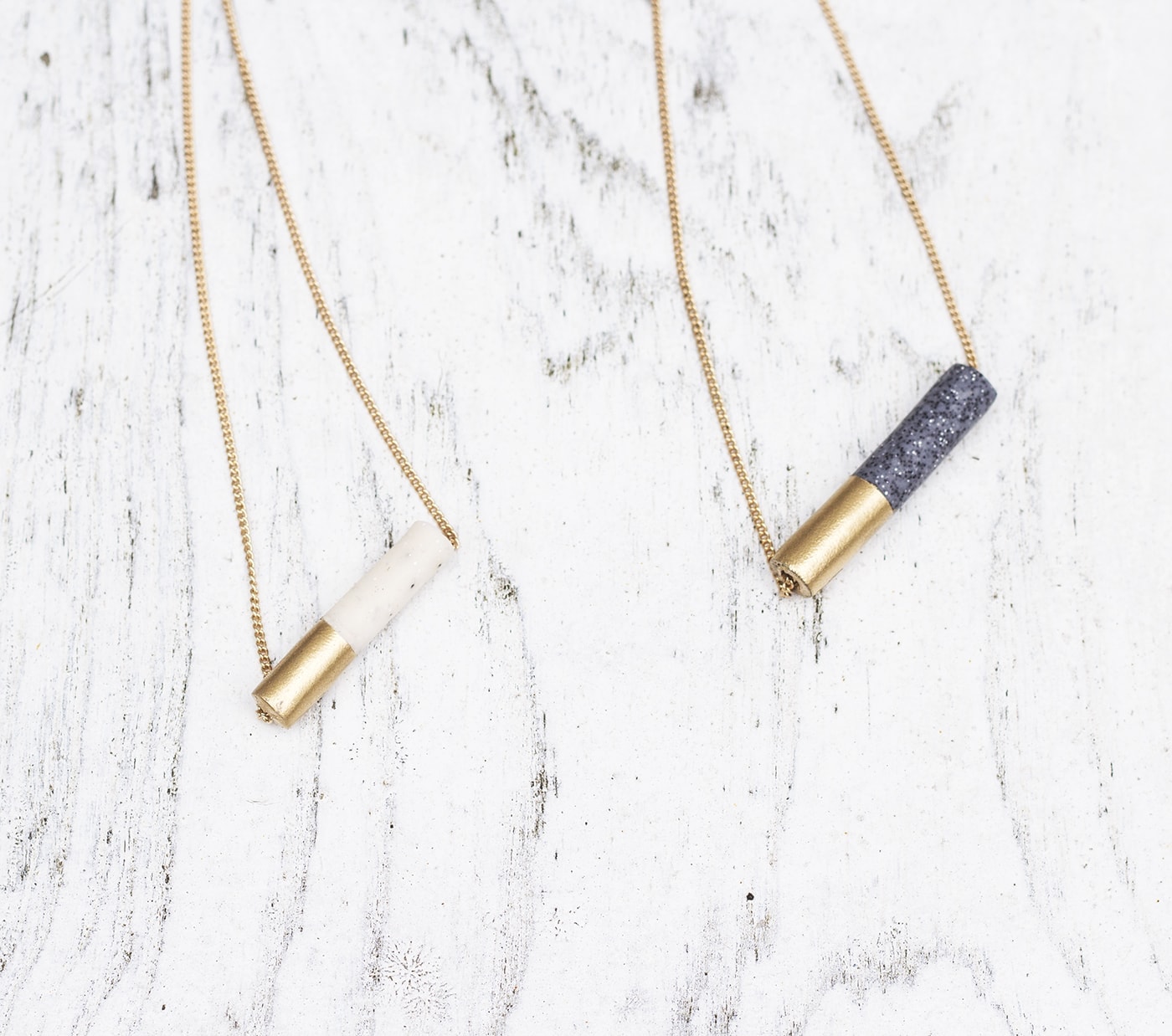 Found The Lovely Drawer
DIY Spoon Ring
Make your own lovely and elegant spoon ring with this great DIY!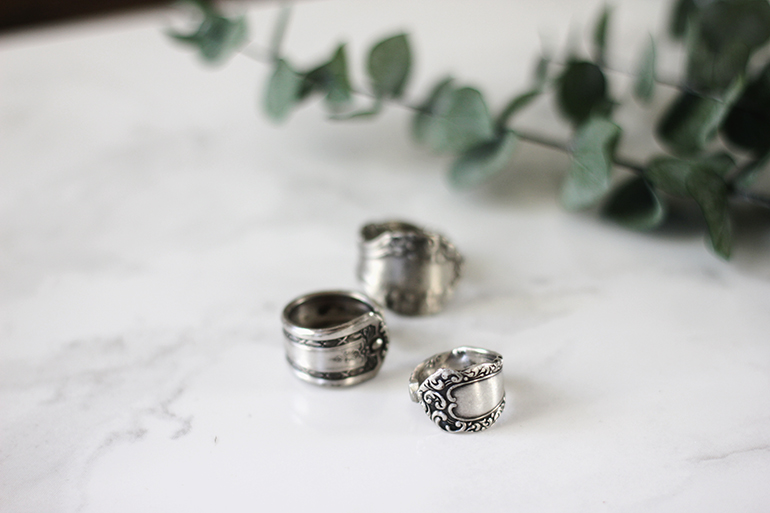 Found The Merry Thought
Chain and Rhinestone Bracelet
Chains and gemstones are such a fun combination!
Found I Spy DIY
You Might Also Enjoy…
37 DIY Valentine's Day Gifts for Her!
33 Luxury Bath Products You Can Make Yourself
31 Lovely and Natural Dried Flower Craft Ideas
30 Brilliant DIY Makeup Storage Hacks