Hello, DIYers!
I didn't plan on having this published on the very day that we had our first snowstorm, nevertheless, it worked out beautifully! If you, like me, will be stuck at home and shoveling out the driveway, why not take a peak at some of these seriously creative and fun snow structures and sculptures! You may just get inspired to make your very own! Personally, I will be making the owls! What about you?!
Happy crafting and stay safe, everyone!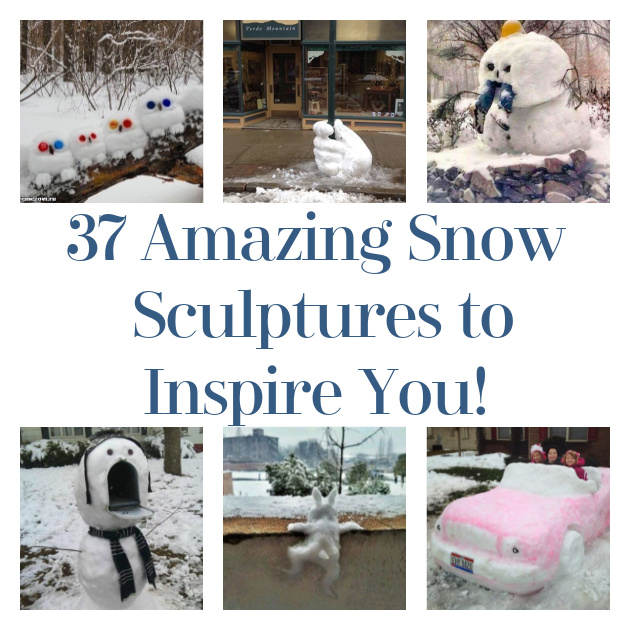 ...
Snow Bunny
This is simple and so adorable! Who wouldn't love to stumble across this in a park or along a wall on a street?!
Found Amos Alvaradow
Snow Dragon
This is a work of art! What fabulous beast will you create?!

Found Imgur
Snowman Army
They may not be anything special in the grand scheme of things, but can you imagine seeing a field full of snowmen?!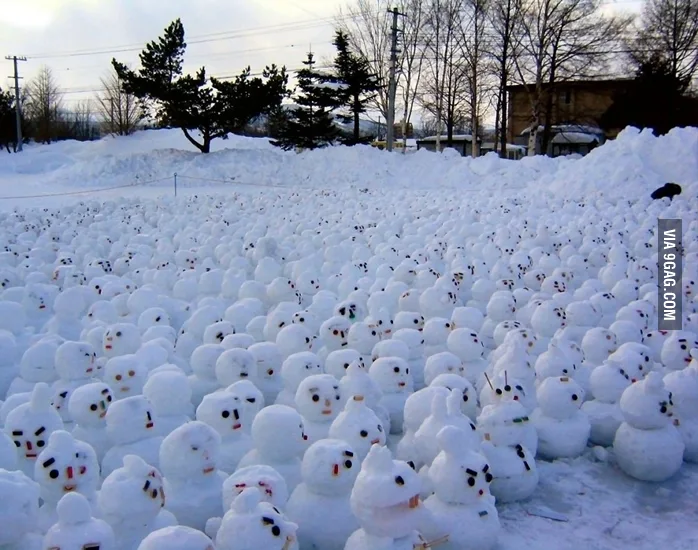 Found 9Gag
Pikachu
What other Pokemon will you make?! You have to catch them all!
Found Eriko Hara
Octopus Snow Creature
There are so many creatures that you can create in the snow! Plus you can add pops of color using food coloring. Give it a shot!
Found Jill Finlinson Clemow
Creative Snow Forts
Not into igloos? That's alright! You can get creative and build some seriously cool snow forts that will better suit your needs, especially for a snowball fight!
Found Imgur
Hello Kitty
Hello Kitty is a beloved character that is easy to recreate in the snow! Give it a try!
Found Michelle Moore Banouvong
Maiiiiiil Snowman
This just screams the song, "When it comes I want to wail, MAIIIIL!"
Found Reddit
Snow Castle
This castle is fit for a snow queen or king!
Found The Yes Girls
Owl Family
This is so cute! I love the use of caps for their eyes!
Found Gala-Sofia Ing
Rock On
Sculpt hands to do all sorts of things!
Found Pinterest
Puppy Snowman
This puppy is cute! Add pops of color and accessories!
Found Deb Jay
Snow Car
Play pretend in this snowy dream car, just watch out for black ice!
Found Steve Apple
Campfire Snow Sculpture
Fire and ice!
Found Reddit
Koala Snowman
With the right snow, you can pack it tight enough to stay up like this!
Found Людмила Сосницкая
Colored Minion
Minions are super easy to make! Plus you can take it one step further by adding color by means of food coloring… or whatever you use to make yellow snow… we won't ask!
Found Marla Griffis
Subtle Sign Holder
This is a cute idea!
Found Buzzfeed
Snow Lantern
How ridiculously cute is this?!
Found Pinterest
Giant Shark
This looks like quite the undertaking, but the results are amazing!

Found Pinterest
Upside Down Snowman
This snowman sees the world a different way!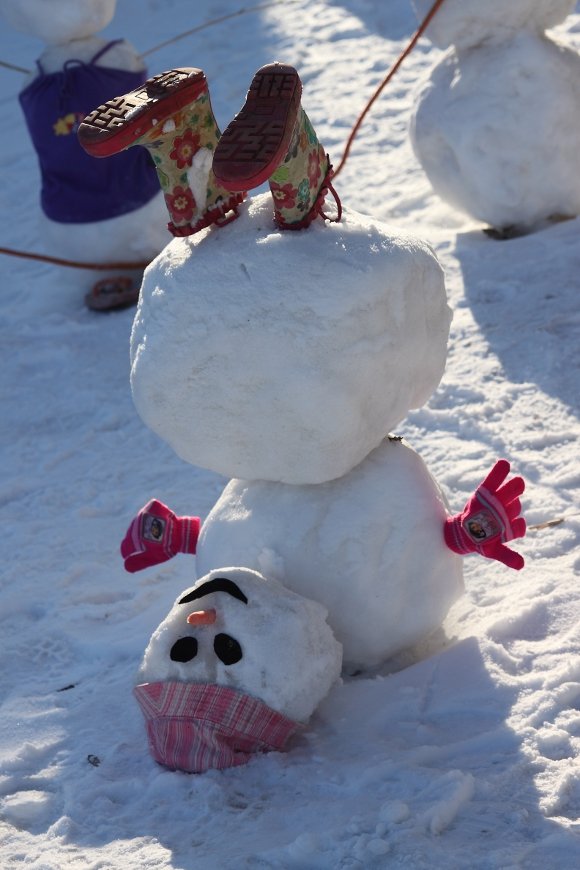 Found Steemit
Flower Walkway
Missing Spring already? Take your freshly shoveled walkway and add colorful flowers with food coloring!
Found Pinterest
Glowing Ghosts
Use glowsticks to create these creepy, glowing ghosts!
Found Pinterest
Frozen Fish
Check this out!
Found Lauri E.Olson-Hohman
Skull
This is so cool! Can you make one too?!
Found Skull a Day
Man-Eating Snowman
This snowman isn't messing around!
Found Tammy
Wheel Barrow
Use props like a wheel barrow to have your snow sculptures doing something fun!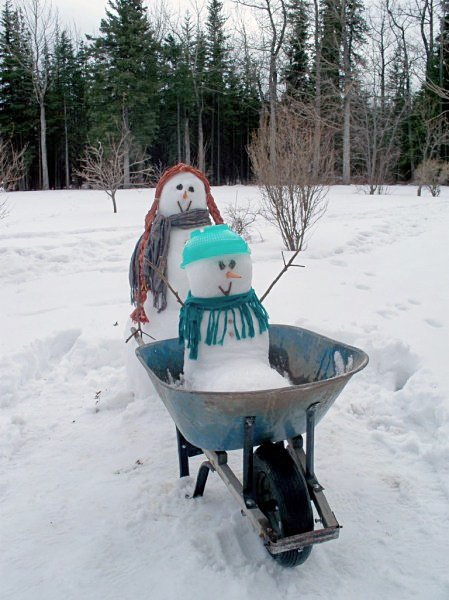 Found Steemit
Snoopy
This beloved character would be fun to create and a delight to spot! What other cartoons could you make?!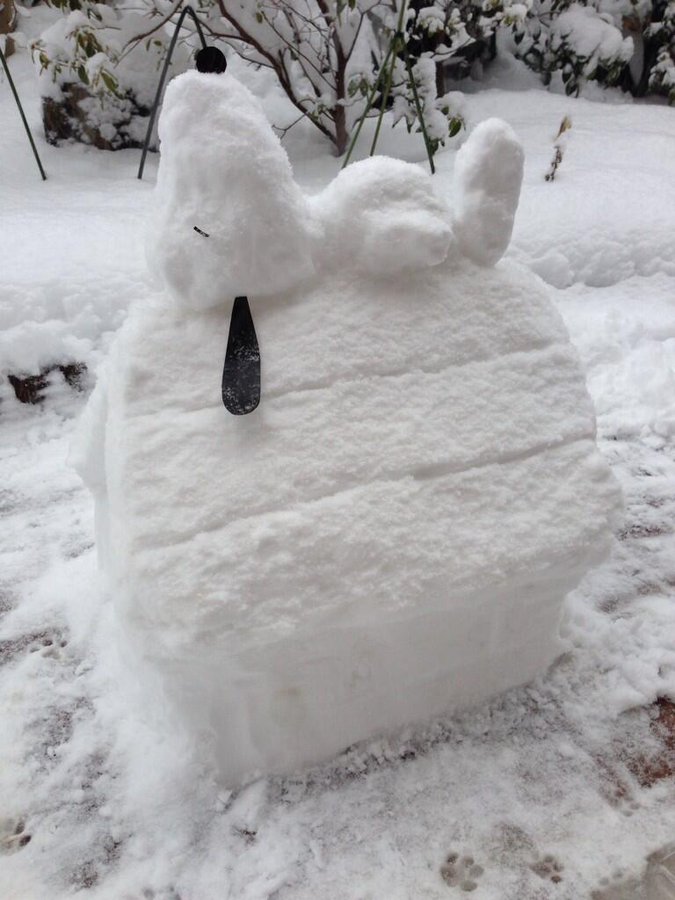 Found @sumikko_mofu
Igloo
Just looking to make a basic igloo? Try this tutorial in 5 steps! \
Found survivallife
Snow Person with Style
How can you get creative in styling your snow man or woman?!
Found Terri Ann
Polar Bear Fishing
Adorable!
Found Lindsey K
Snow Pacman
If you want to get really ambitious, make large ball sculptures in the surrounding area!
Found Shana Gonzales
Snow Bunny
Get inspired with this cute sitting bunny!
Found Kelly Verbauwen
Sun Bathing Snow Woman
Won't it be ironic when she melts?!
Found Linda Gail
Snow Cake
How cute is this?! I think it would be so cute to make this sculpture in front of someone's home for their birthday!
Found The Wild Hussy
Yoda Snowman
This is so cool! And thanks to Mandalorian, if you don't feel like going so big, you can just make a baby Yoda!
Found Pinterest
Sitting Deer
Have a set of deer antlers laying around? You can add them to this adorable sculpture!
Found Paige Hockman
You May Also Enjoy…
33 Snowflake Crafts and Activities for Kids
37 Fun and Festive Christmas Crafts for Kids
35 Fantastic Kids Crafts for a Cold Winter Day
40 Fun and Educational Animal Crafts and Facts For Kids
30 Fun and Inventive Tissue Box Projects for Kids