Hello, DIYers!
Halloween is coming!! Is anyone else excited?! In just a few short weeks children will be flooding the streets dressed as robots, dinosaurs, princesses, and skeletons and knocking on doors in hopes of getting candy! (Snickers, not candy corn!) Now, there's nothing in the rule book that says that a candy bucket HAS to go with the costume or patch a theme, but aren't things always better when they do? You can either pump up their carefully picked outfit or just have fun celebrating with all of the fun monsters and creatures of the night that represent the holiday!
Have fun and be safe!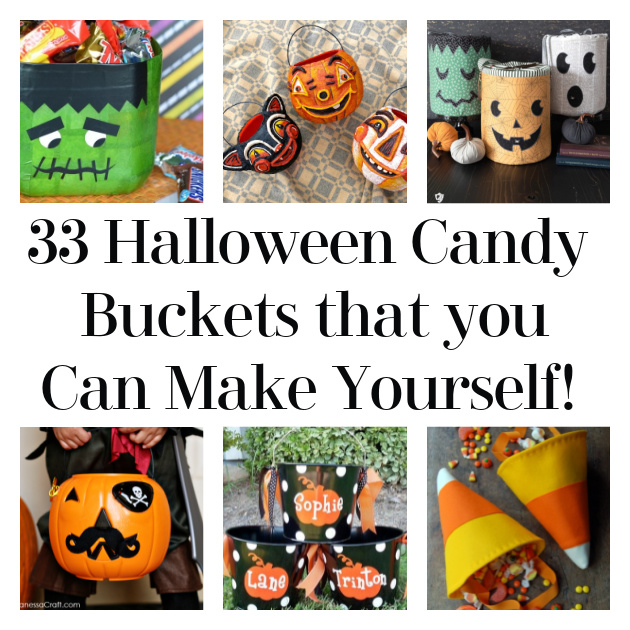 Marshall PAW Patrol Candy Bucket
PAW Patrol is on a roll! If your little one is going as Marshall for Halloween, you can make this! You can take inspiration and make a bucket for any other members as well! Even the newest member, Liberty!
Found The Tip Toe Fairy
Pineapple Jack-o-Lantern
Not into pumpkins… or going out on Halloween as Sponge Bob? Try this!
Found Crafting Cheerfully
Striped Paint Treat Bucket
This is adorable and easy to make yourself!
Found Popsugar
Customized Buckets
How cute are these?! If you have a group of kids getting together, why not make these for each?
Found All Things Cherished
A Duct Tape Trick or Treat Bag
You can make anything with duct tape… including this adorable bag for your Halloween loot!
Found Dukes and Duchesses
Halloween Bucket Sewing Pattern
How adorable are these?!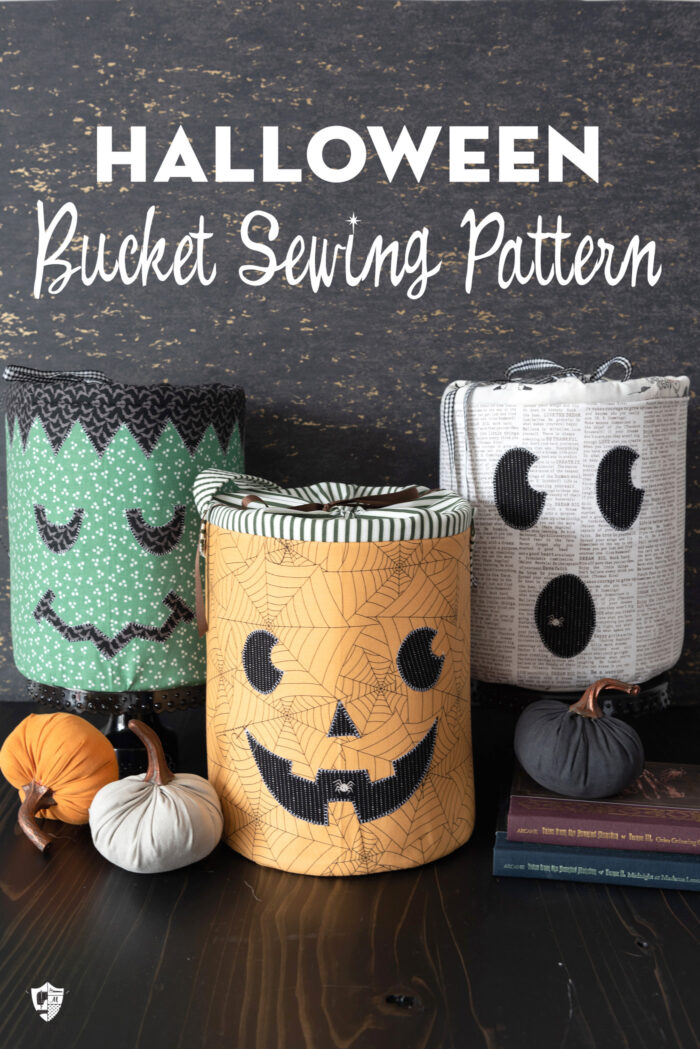 Found Polka Dot Chair
Captain America Shield Candy Bag
Got a little Marvel fan at home? This. Is. Brilliant!
Found Mom on the Side
DIY Bat Bucket
What pairs better with Halloween than a bat?! Carry this little buddy with you to stash your treats!
Found Mer Mag
Halloween Frankenstein Treat Bucket
Use an old milk or water jug to make this adorable Frankenstein treat bucket!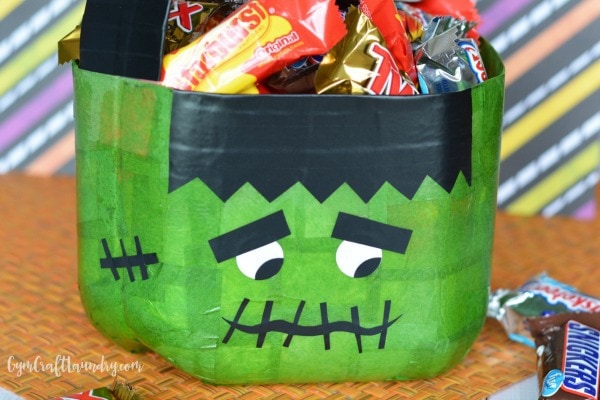 Found Gym Craft Laundry
Vintage Inspired Halloween Buckets
These images are classic and seriously spooky! How cool is this bucket upgrade!?
Found Cassie Stephens
Pixelated Minecraft Bucket
Minecraft is still as popular as ever!
Found All For the Boys
Treat Bucket Upgrades
You can use a boring, basic treat bucket as a base and decorate it yourself!
Found My Frugal Adventures
Easy Ghost Bucket
It doesn't get any easier than this! But look at it! It's still so cute!
Found Mass Hole Mommy
Easy Pirate Bucket
Sail the seven seas with your pirates first mate, the pirate candy bucket!
Found See Vanessa Craft
Glow in the Dark Trick-or-Treat Bucket
Not only is glowing at night super cool… it also helps to notify cars that someone is there in the dark!
Found Not Just A Housewife
Candy Corn Treat Purse
This tiny treat purse is perfect for a quick lap around the block or a classroom party!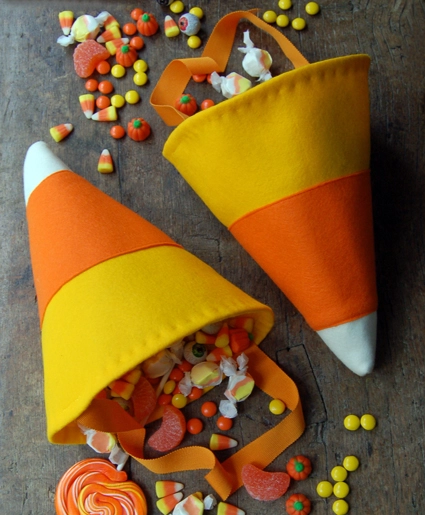 Found Purlsoho
Golden Pumpkin
If your little one is a whimsical fairy princess, the plain gold pumpkin has potential to clash with the costume. And we can't have that! With some paint and ribbon, you've got something unique and lovely to carry around!
Found Julie Blanner
Olaf Treat Bucket
If your little one's are obsessed with Frozen, you can make this adorable Olaf bucket for Halloween night!
Found Stuffed Suitcase
Hand Print Ghosts Tote Bags
Get your little ones involved in the creative process!
Find Kara Creates
DIY Streamer Treat Buckets
Going to be honest… I'm not convinced these are super sturdy. But they are cute!
Found For Rent
LEGO Head Pail
Everything is awesome! Everything is cool when you have a LEGO head candy pail for Halloween night!
Found Simply Kelly Designs
Simple Trick-or-Treat Buckets
Use a wicker bucket to create these cute candy buckets for Halloween night!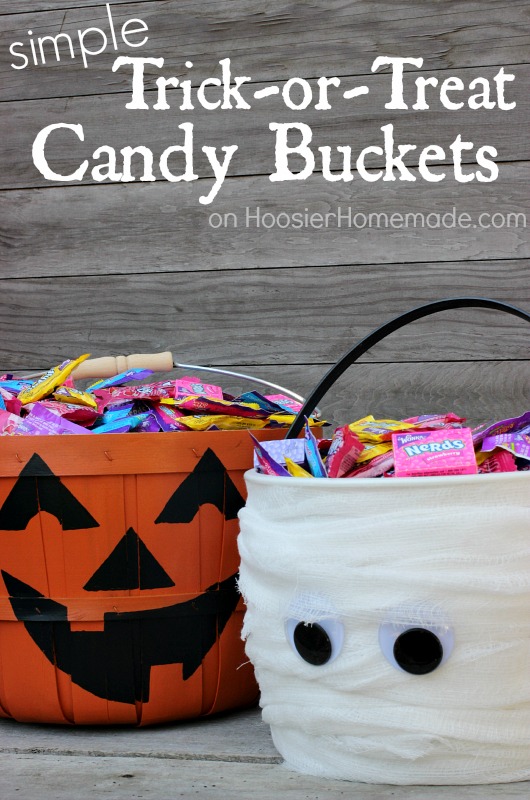 Found Hoosier Homemade
Chalk Board Treat Bucket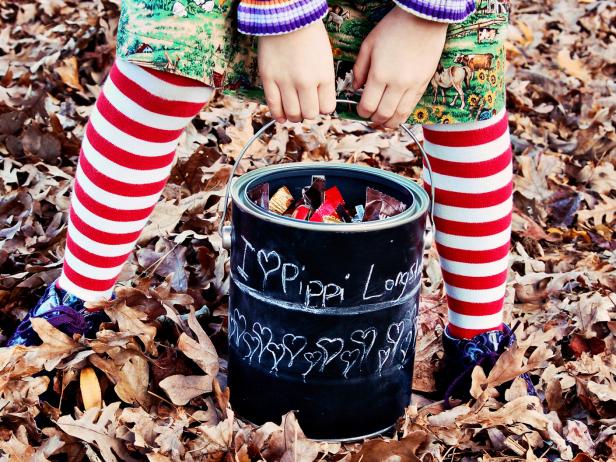 Found HGTV
Mike Wazowski Trick or Treat Bucket
If your little one is going Trick-or-Treating as a character from Monsters Inc. you can make this cute bucket for cheap!
Found The Pinning Mama
Colorful Trick or Treats Buckets
If you and your family think that traditional Halloween colors are over, why not paint up your own?! No one can stop you!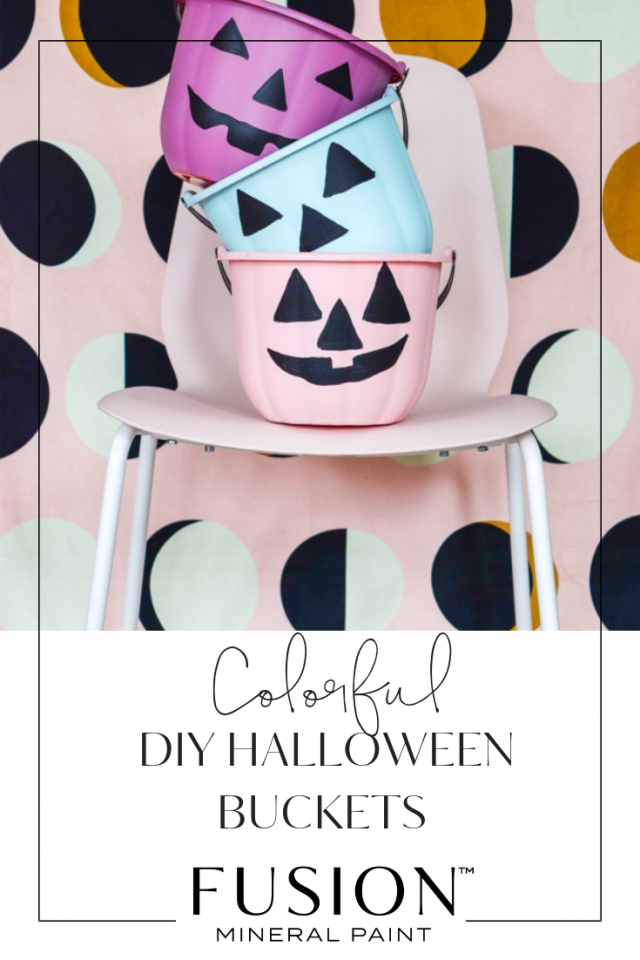 Found Fusion Mineral Paint
Mummified Loot Bag
This is silly AND adorable!
Found Pop Sugar
Trick or Treat Loot Bag
This is cute and can be re-used for other things!
Found 2littlehooligans
DIY Treat Pails
These guys are so colorful and fun! Plus they are easy to do! Give your Summer pails a purpose this Fall!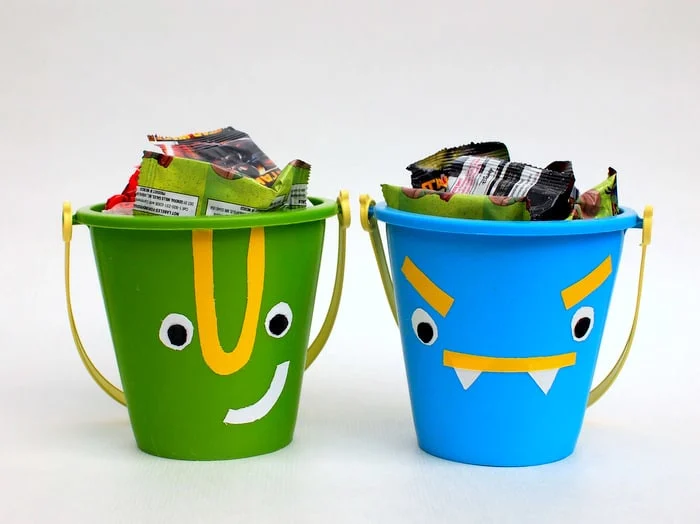 Found DIY Candy
Ghost Bags
A white pillow case can be transformed into a drawstring bag and decorated to look like a spooky ghost!
Found Martha Stewart
Cute Spider Bucket
This little guy is looking more sweet than scary! But that means he is perfect for carrying Halloween candy!
Found Décor Craft Design
Stenciled Canvas Bags
What kind of punny messages will you come up with?!

Found DIYN Crafts
Custom Halloween Buckets
These are easy, sweet, and they get the job done!
Found Life is Made
Ruffled Halloween Candy Tote
It's like carrying a little skirt around! So cute!
Found Eighteen25
You May Also Enjoy…
33 Seriously Spooky Witchy Halloween Projects
43 Funny and Weird Halloween Costumes You can Make Yourself!
33 Spooky Treats to Make for Your Halloween Party
33 Fantastic DIY Marvel Costumes for Halloween
40 Gothic Halloween DIYs for a Dark Aesthetic
33 Halloween Costumes for Your Pets in 2021!