Hello, DIYers!
If you've got a pet that loves to celebrate Halloween with you, they will need a costume this year too! Make your own cute costume for your cat, dog, or rodents! It doesn't have to be expensive or a ton of work. Many of these costumes can be made for just a few dollars and all it takes is a little bit of creative ingenuity on your end! Give one of them a shot and then show them off to all of your neighbors on Halloween night!
Happy crafting!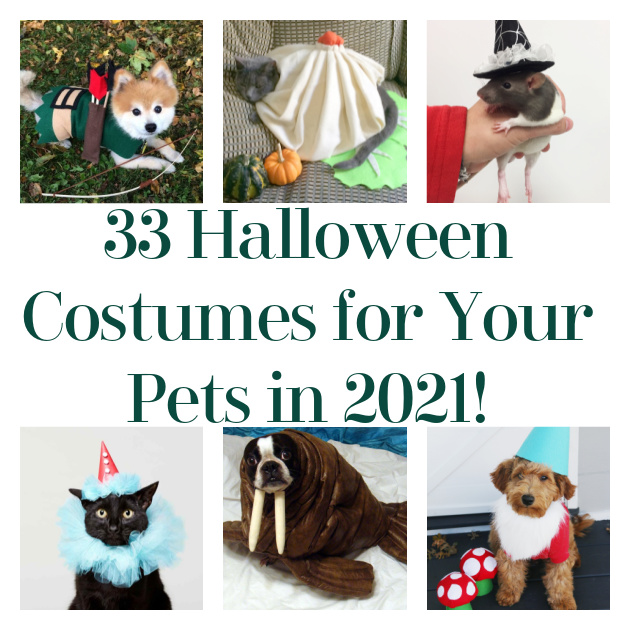 Chia Pet Dog Costume
Ch-Ch-Ch-Chia pet! If you never got to have one as a kid, now is your chance!
Found Instructables
Clown Cat
Looking for a silly costume for your feline friend? Try this!
Found Martha Stewart
Dog Costume Garden Gnome
How cute is this?!
Found The Crafting Chicks
Furry Football
This is incredibly simple if you have a brown pet! It's adorable on a Guinea pig but would work on most brown colored pet friends!
Found Kaytee
Grandma Dog
Suddenly, "Grandma, what big ears you have!" seems wildly relevant!
Found Maya the Bulldog
Soup Dumpling
What a cute little dumpling!
Found Instructables
Grape Dog
Turn your dog into some grapes with this easy DIY costume!
Found Instructables
Felt Robinhood Costume
Grab some felt and go to town sizing it for your own little Robinhood! You can use this ADORABLE picture for reference!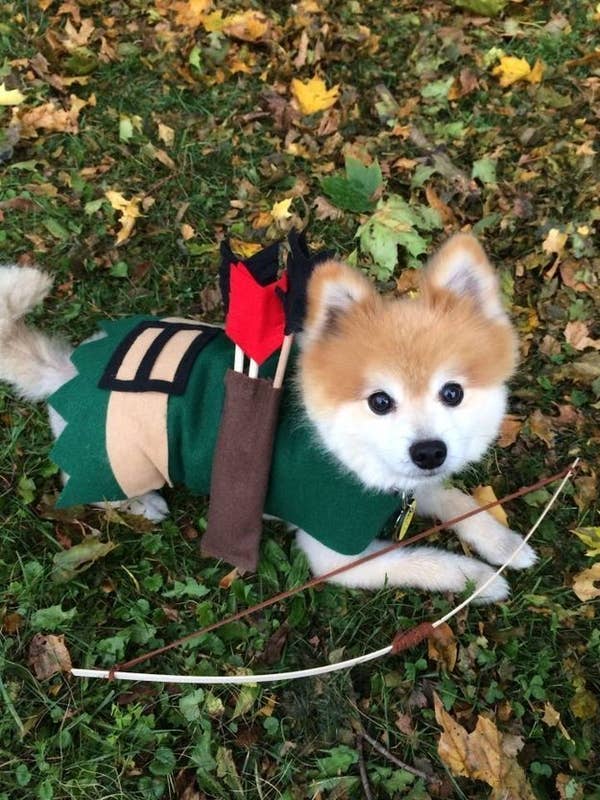 Found Natannepiccolo
Flower Halloween Costume for a Dog
Show off your pet as the beautiful flower that they are!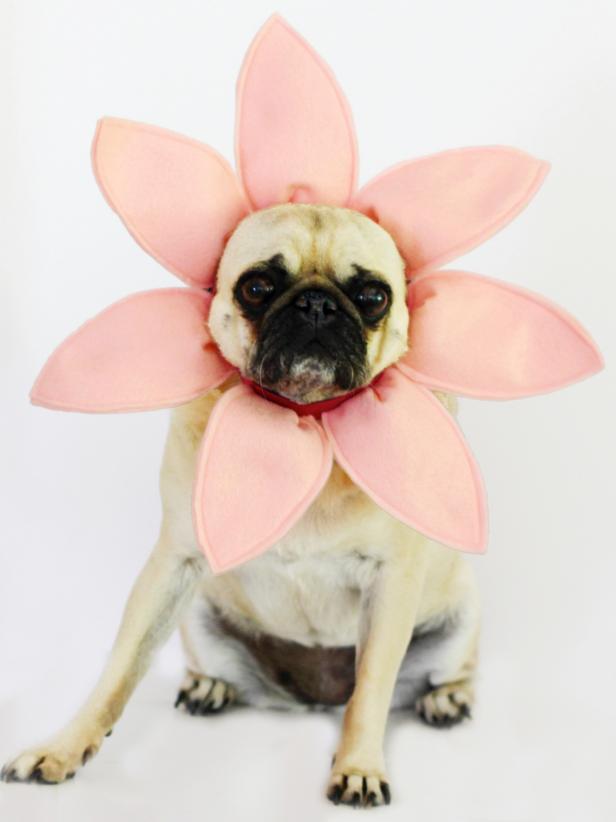 Found DIY Network
Ghost with Dog
This is an easy costume for your best friend!
Found Pets Lady
Frida Kahlo
If your pet channels the creative genius of Frida Hahlo, dress them up as this iconic artist!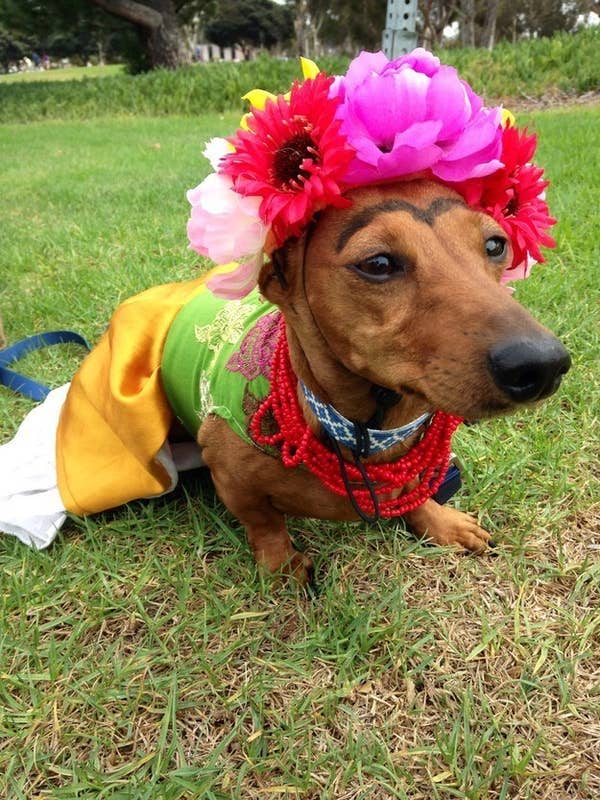 Found Sarahd47
Cotton Candy Pup
If you've got a sweet pet, dress them up as cotton candy for Halloween!
Found Brite and Bubbly
Doggie Bag
Get a little punny with your pup's costume this year!
Found Inhabitat
Beanie Baby
Is your fuzzy friend cute enough to be a beanie baby? Of course they are! Show them off with the tag on!
Found Kaytee
UP! Costume
Dress up a cardboard house and top it with helium balloons for this iconic Disney costume!
Found Pinterest
Walrus Costume
Pupper of the sea!
Found Instructables
Pineapple Costume for Your Dog
How cute is this?!
Found Brit + Co
Hershey's Chocolate Kiss
This costume is perfect for a chocolate lab!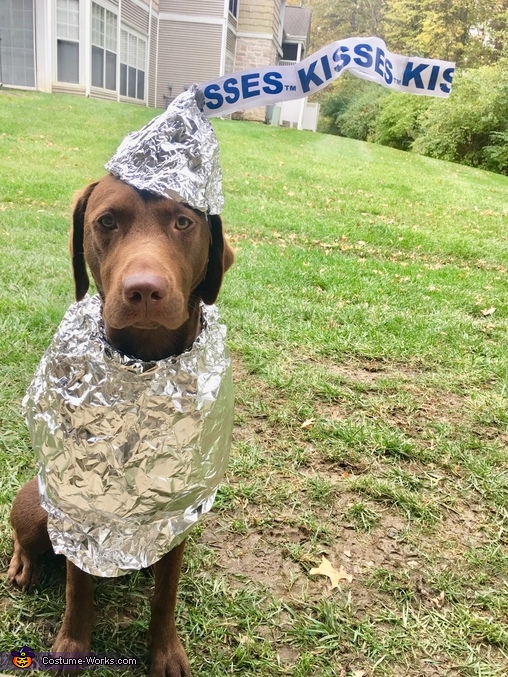 Found Costume Works
DIY Unicorn Costume
How adorable is this unicorn costume?! Make it yourself with this fabulous tutorial!
Found Live Color
Loofa
Your pup can be the epitome of cleanliness! Use a basic dog t-shirt and attach lots of tulle and a rope in whatever color that you want!
Found lucy_the_longhaired_doxie
Spider Costume
Take your spider for a walk on Halloween night!
Found Martha Stewart
Pool Float Costumes
Just look at their faces!! Your pups will love it too!
Found Sugar and Cloth
DIY Flower Basket
Your little one is a flower basket! On the plus side, it will help keep your little one warm while out on a walk!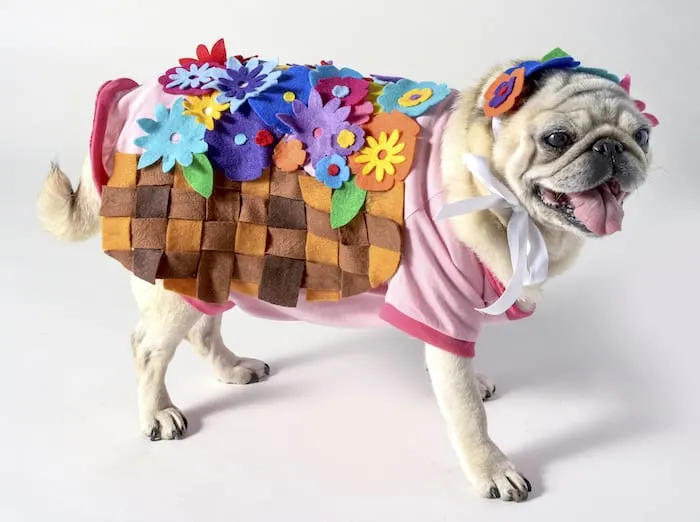 Found DIY Candy
Starbucks Puppuccino
Are you a Starbucks junkie? Celebrate your obsession with this cute costume for your pet!
Found Whiskers Gone Wild
DIY Pirate Dog Costume
Go for the gold, young pup!
Found Irresistible Pets
Rocket Dog!
Blasting off on a space mission, this is is an easy DIY project to impress the neighborhood!
Found Costume Works
Frankenstein Pup
Make sure you use a safe paint for your dog's fur and extra accessories that are homemade and comfortable!
Found Pinterest
Game of Thrones Costume
If you're a fan of the Game of Thrones series, you'll love these awesome cosplays for your dogs!
Found Costume Works
Tiny Witch Hat
This is perfect for a small pet!
Found Kaytee
Cereal Killer
Pick something a little punny and spooky!
Found Sew Doggy Style
M&Ms
If you have a litter of puppies, consider dressing them up like M&Ms!
Found Pinterest
Harry Pawter
The sorting hat just determined the newest student on team Gryffindor!
Found Instructables
Frog Prince Costume
If you have a handsome prince that loves to give kisses, why not dress him up as a frog?!
Found Costume Works
You May Also Enjoy…
43 Funny and Weird Halloween Costumes You can Make Yourself!
33 Spooky Treats to Make for Your Halloween Party
33 Fantastic DIY Marvel Costumes for Halloween
40 Gothic Halloween DIYs for a Dark Aesthetic
35 Spooky Halloween DIYs for Kids
40 Adorable DIY Pet Costume Ideas for Halloween