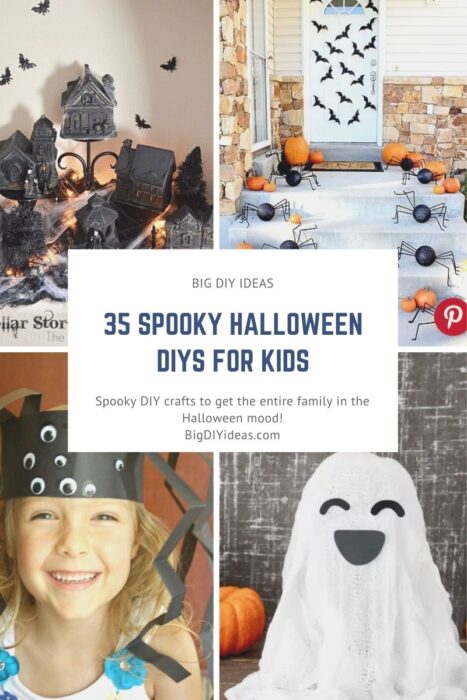 Hello, everyone! We're so excited that it is SPOOKY season! If you ask us, spooky crafts are good for any October, but especially in 2020, it is a fantastic and safe way to get into the spirit with your little ones while staying safe!
We've included projects that would appeal to a large age and skill range so that you can find something that will suit your family perfectly!
You can do a craft a day working up until Halloween or have a DIY extravaganza the day of! However, you choose to do it, we're certain that you and your littles will have an awesome time together!
Happy Halloween and Happy DIYing!
Spooky Halloween Mansion
This is an awesome, budget-friendly project that the whole family can join in on! With items that you can save at home or a quick trip to the dollar store, you can make your own spooky Halloween mansion!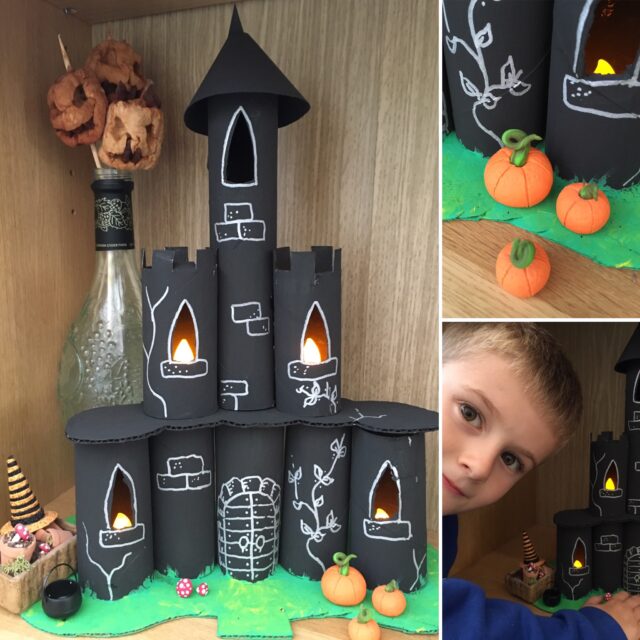 From TTS Group
Easy Painted Pumpkins with Cute Monster Faces
Halloween just got a little cuter with these easy to paint mini pumpkins. Plus, they make the perfect Halloween décor!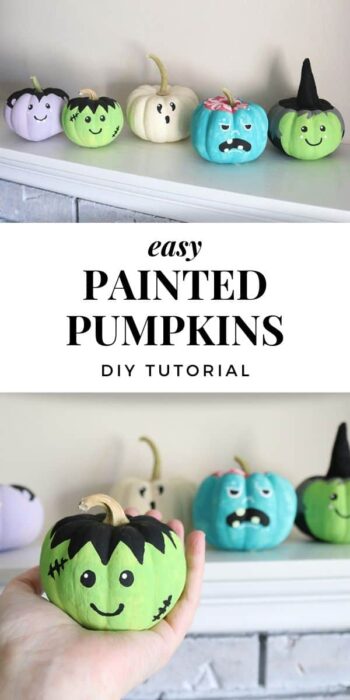 From Aubree Originals
Popsicle Stick Halloween House
Building a house out of popsicle sticks is a rite of passage as a child, so why not make it a Halloween house? Is it a haunted home with a ghost looming in the window? Or a witch's cottage, just waiting for children to come by for a stew… you get to decide!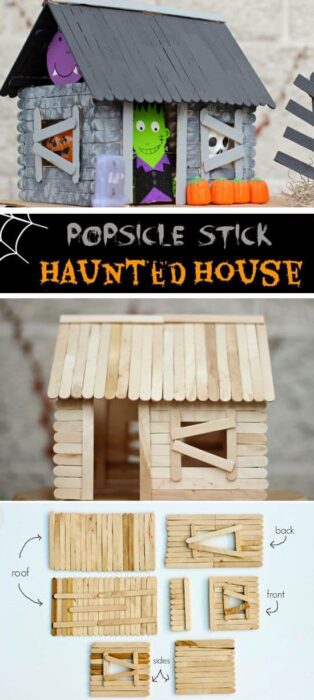 From Happily Ever After
Floating Candles
Remember the scene in Harry Potter where the candles floated mid-air through their festivities? Now you can re-create that in your own home and it's ALMOST as easy as a flick of the wand. This is a fun project for teens and younger children will be amazed at the outcome!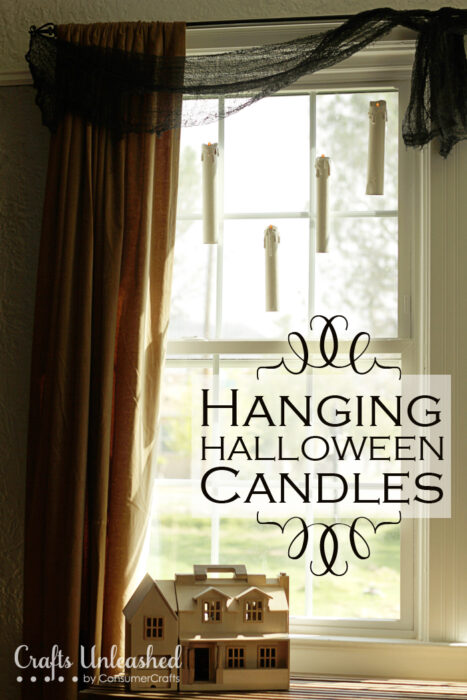 From Consumer Crafts
Hanging Spider Egg Sac
Quick! What's scarier than a spider? That's right… a NEST of spiders! If you're looking for a simple, spooky DIY to do with your family, look no further than this hanging spider egg sac! Bonus points if you fill it with tons of tiny spiders!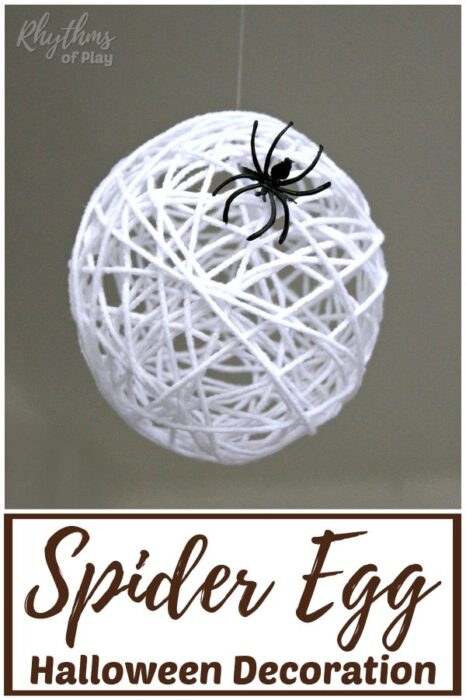 From: Rhythms of Play
Yarn Wrapped Brooms
Your little witches will love this cute and easy broom made with wrapped yarn!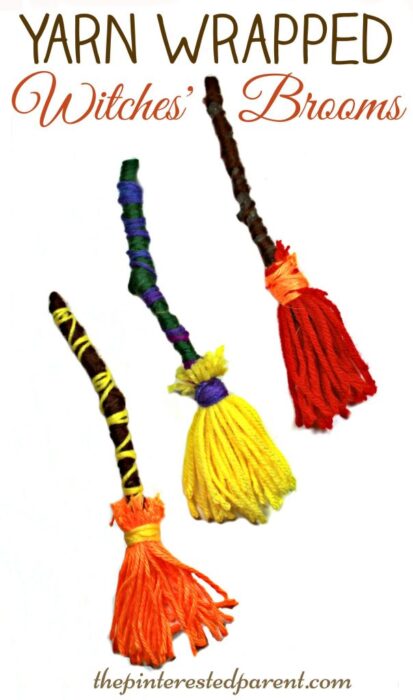 From The Pinterest Parent
Water Color Spider Web Art
Get your kids started on a love of painting early with this easy and creative water color spider web art project! Hang it on the refrigerator or even frame it for some DIY Halloween home décor!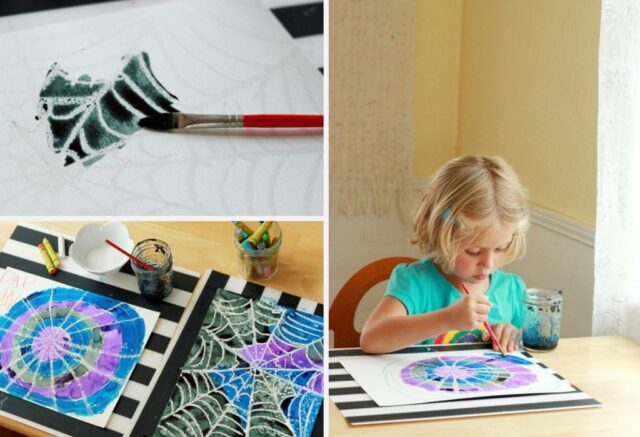 From Let's Lasso the Moon
Pony Bead Pumpkins
It doesn't get any more classic than pony bead art projects! Why not make it more festive by making these easy and fun pony bead pumpkins?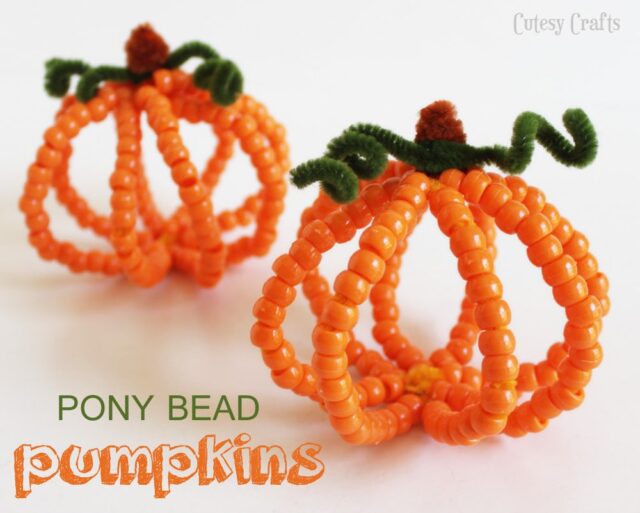 From: Cute Crafts
Melted Crayon Pumpkins
Tired of traditional Halloween colors? Add some whimsy to your Halloween décor with this multi-color melted wax pumpkin DIY!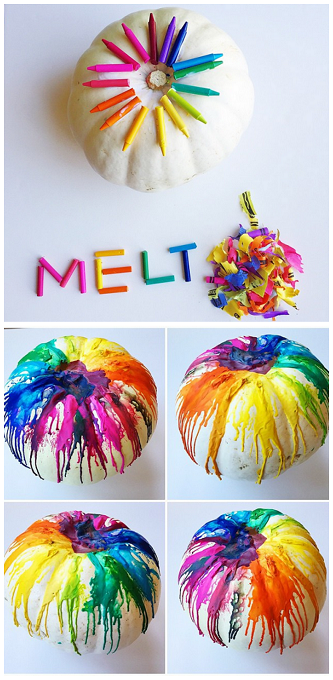 From Crafty Morning
Thumb Print Bat Silhouette
This is a perfect and adorable crafting activity that can even be enjoyed by toddlers! Dig your fingertips into some paint and enjoy!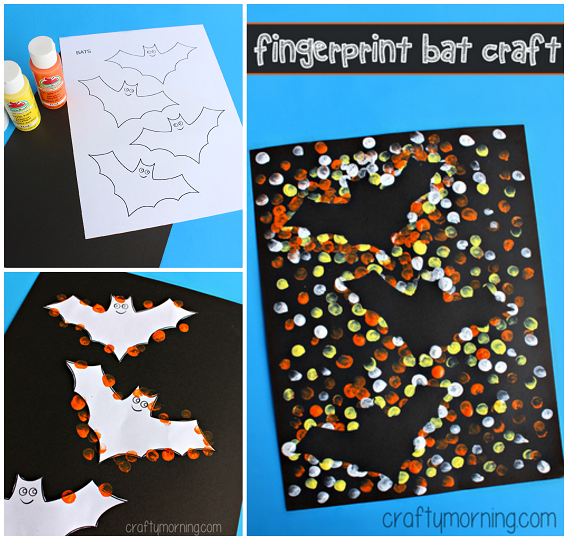 From Crafty Morning
Cheesecloth Ghost
This ghost craft is so simple that even a first grader can do it! These are lightweight and easy to hang in the home. You can customize their face to be cute and friendly or ghoulish and ghastly!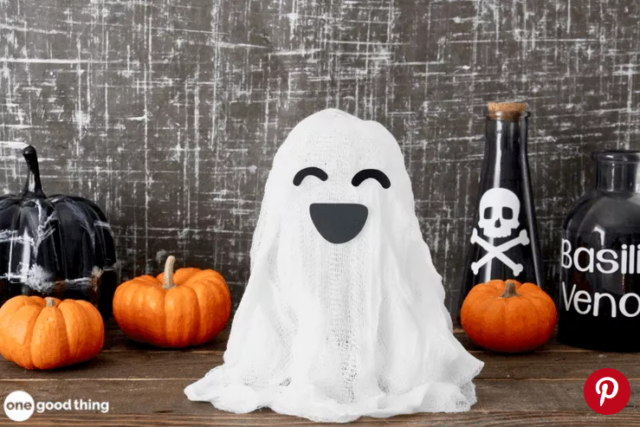 Found One Good Thing
Spooky Halloween Village
Turn a Christmas village into Halloween town in this awesome DIY. It's budget-friendly but makes a BIG impact!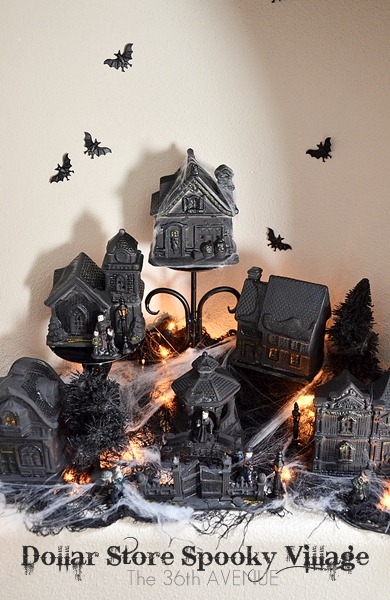 Found The 36th Avenue
Coffee Filter Bat Clips
This is a cute, simple craft that is fun for all ages! Plus, you can hang them on a line of string or Halloween lights to use as cute and spooky décor!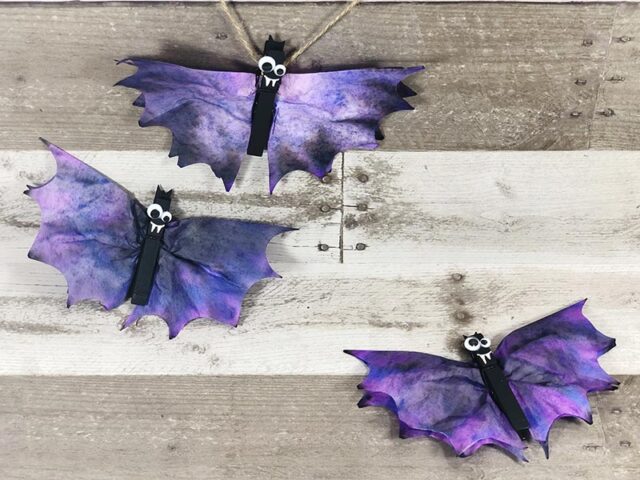 Found Darcy and Brian
Pumpkin Volcanoes
Halloween meets the science fair with this fun fall activity for the whole family to enjoy!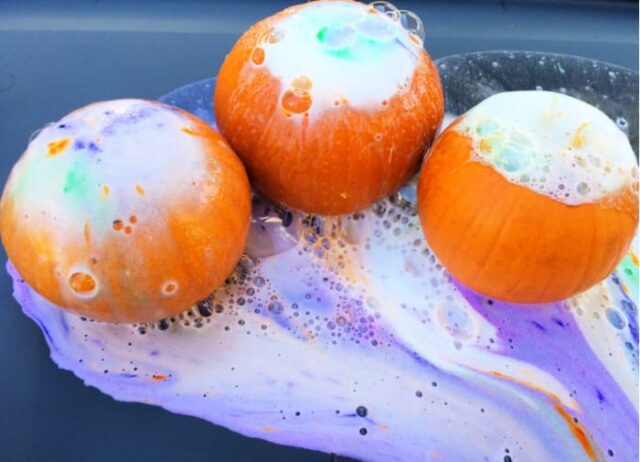 Found Freebie Finding Mom
Spooky Spider Web Pinwheels
Paper pinwheels always make a festive background, so why not turn them into spooky spider webs to hang?!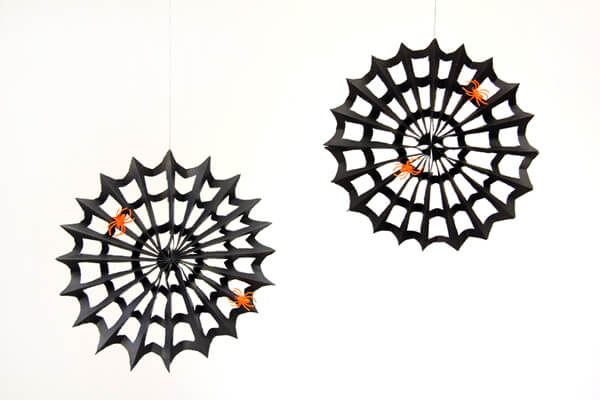 Found This Heart of Mine Blog
Skeleton Hand Art
Doing handprint art is a classic project for kids. But pump it up and make it spooky by adding bones!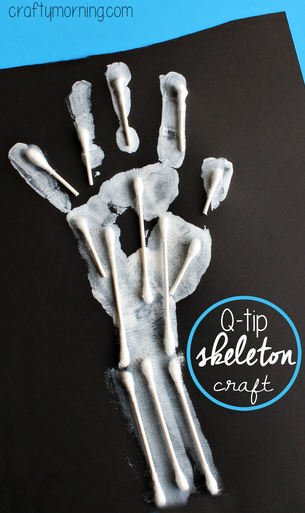 Found Crafty Morning
Ghostly Garland
Cute and festive décor that is simple enough that the kids can help! Gather up the family to make some ghostly garland for all over your house this Halloween.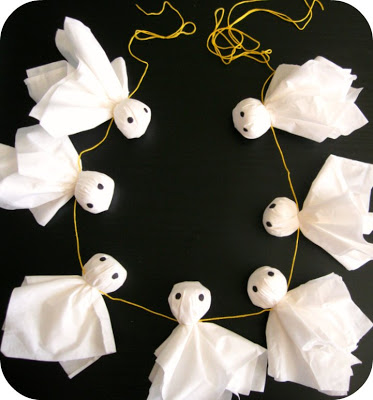 Found Peppermint Plum
Spider and Bat Invasion!
Need inspiration for decorating your porch? These projects are easy enough that the entire family can help decorate! What you'll be left with is a fun creepy invasion of bats and spiders!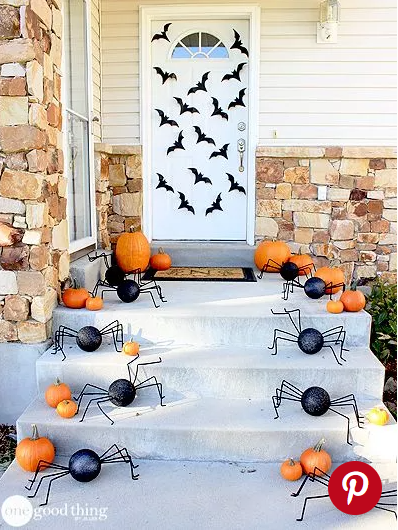 Found One Good Thing
Paper Rosette Bat Craft
This crazy cute paper bat craft is simple and fun to do together! Put them on a string to hang them, put them on a bulletin board, or even tie them to make them a silly necklace.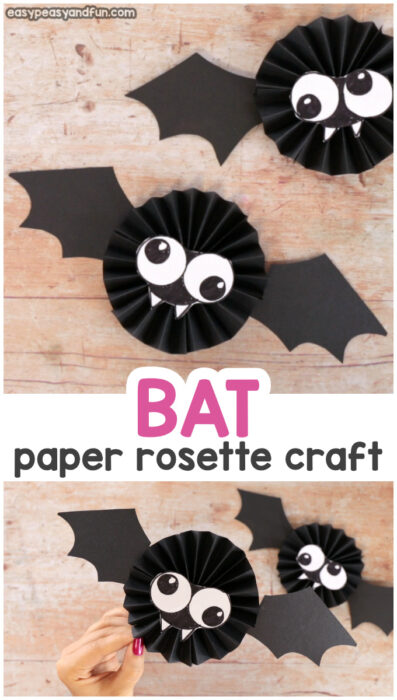 Found Easy Peasy fun
Spooky Milk Carton Haunted House
This is a great upcycle idea that makes a spooky addition to your Halloween festivities!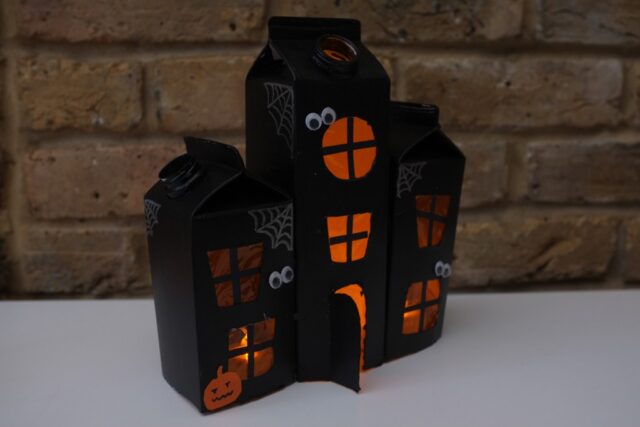 From Choose Cartons
Flying Bat Puppet
Using Paper plates, this fun DIY sets the stage for an adorable bat puppet show!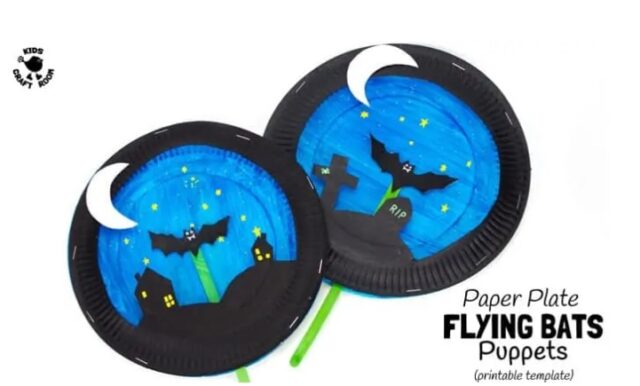 Found Kids Craft Room
Spooky Haunted House Shadow Box
Easy to make with a big impact, the whole family can help to make this spooky Halloween project!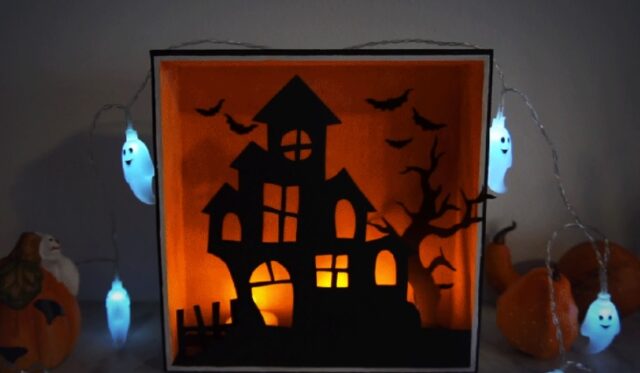 Found Cooking My Dreams
Spooky Hand Soap
With a heavy emphasis on soap this Halloween season, why not create this super simple and spooky hand soap for the family to enjoy all October long?!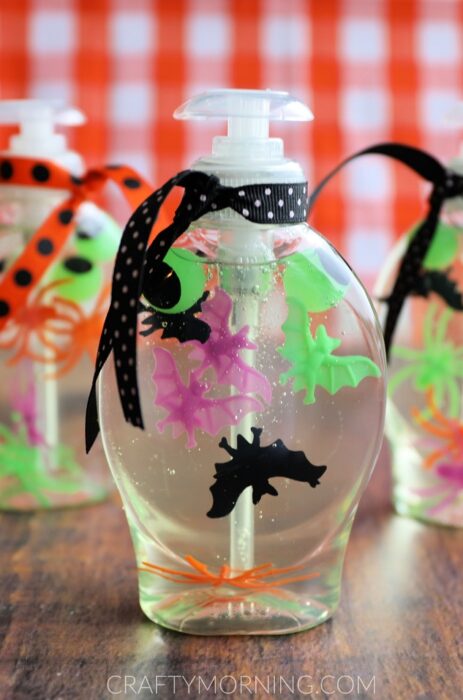 Found Crafty Morning
Spider Web Popsicle Sticks
Cute and simple, these popsicle stick spider webs make for a perfect evening craft with the family! Add a spider to call it home and maybe a fly for his dinner!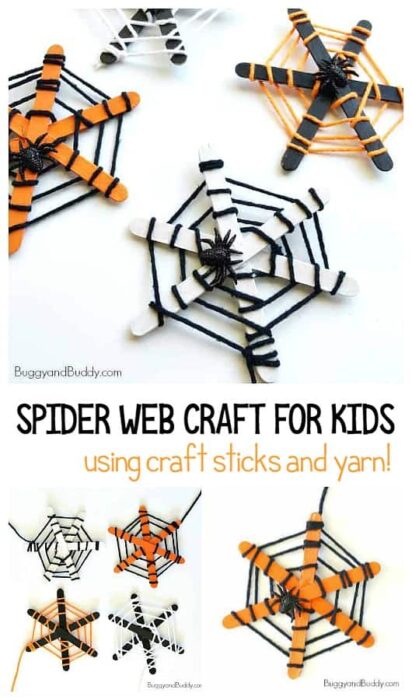 Found Buggy and Buddy
Monster Paper Plate Craft
The possibilities are endless with these customizable monster paper plate crafts! Add eyes, hair, and teeth to make a truly spooky or silly monster!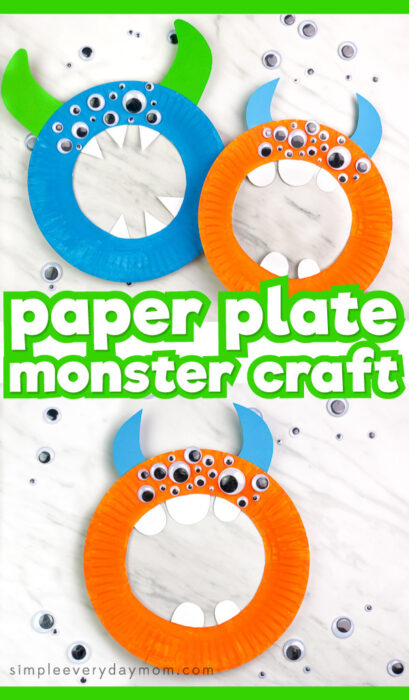 Found Simple Everyday Mom
Painted Zombie Leaves
It simply would not be Halloween without some vicious looking zombies! This activity can be doubled with a festive nature walk, collecting all the best leaves to paint these scary zombie faces!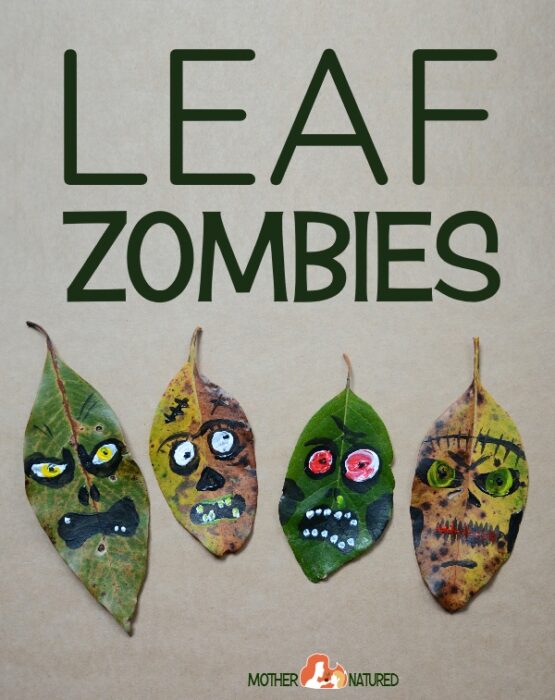 Found Mother Natured
Yarn Pumpkins
How cute are these yarn pumpkins? A simple and fun project that yields great results!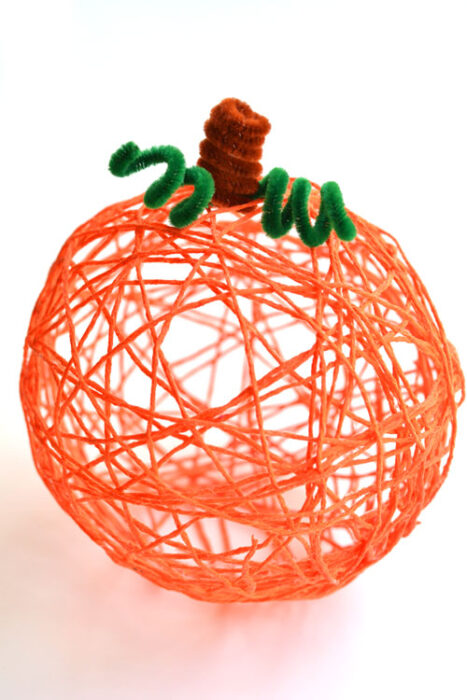 Found One Little Project
Spider Headband
Spend a fun afternoon making this fun spider headband! Just make sure you don't forget the googlie eyes!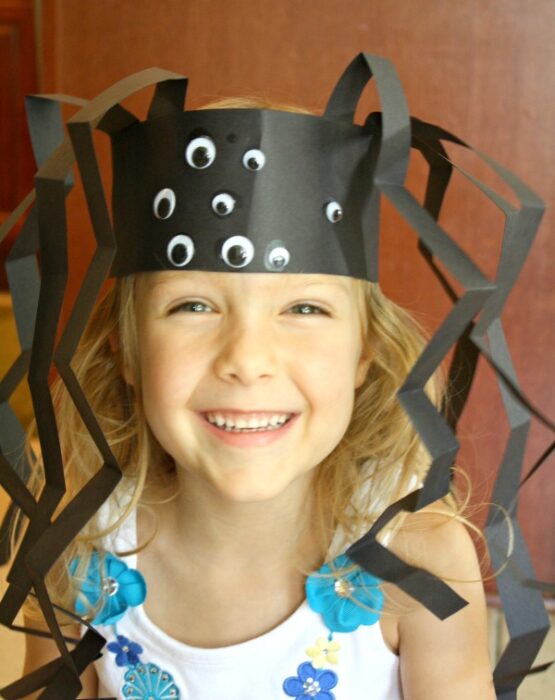 Found Fantastic Fun Learning
Handprint Witch
Handprint crafts are perfect for young kids and this witch is a great blend of spooky and sweet!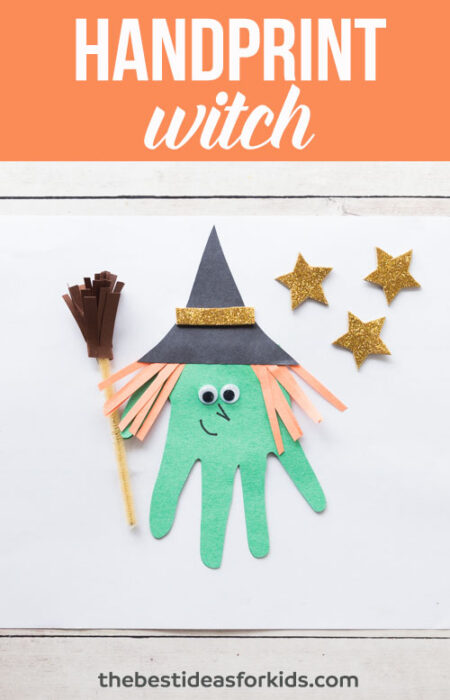 Found Best Ideas for Kids
Easy Zombie Puppet
Use a clothes pin to make this fun, zombie puppet to see his brain!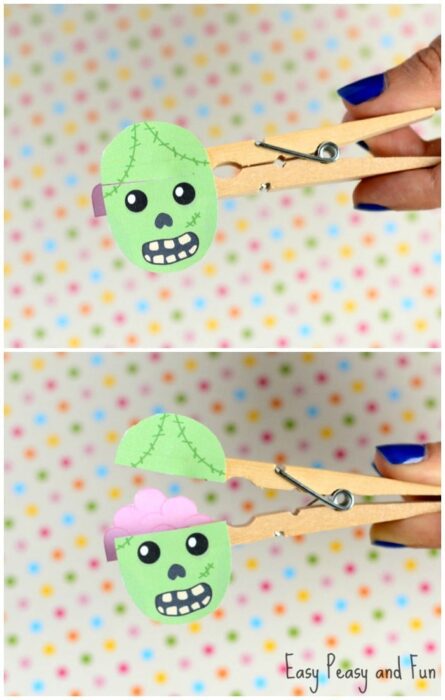 Focus Easy Peasy and Fun
Spooky Spider Jar!
This jar full of spooky spiders and their webs is the perfect nightlight leading up to Halloween!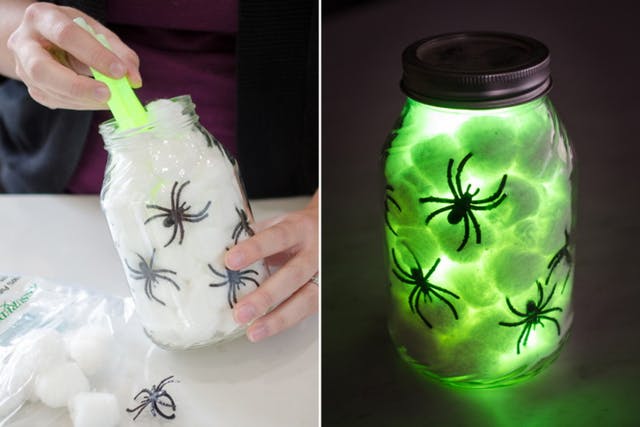 Found Krazy Coupon Lady
Mini Felt Witch Hat
Fun and cute DIY craft project to do with your little witches!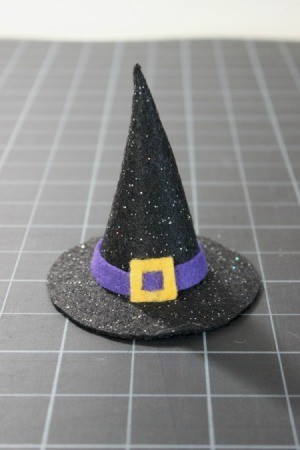 Found My Frugal Halloween
Yarn Wrapped Mummies
Create your very own mummies to play with this Halloween!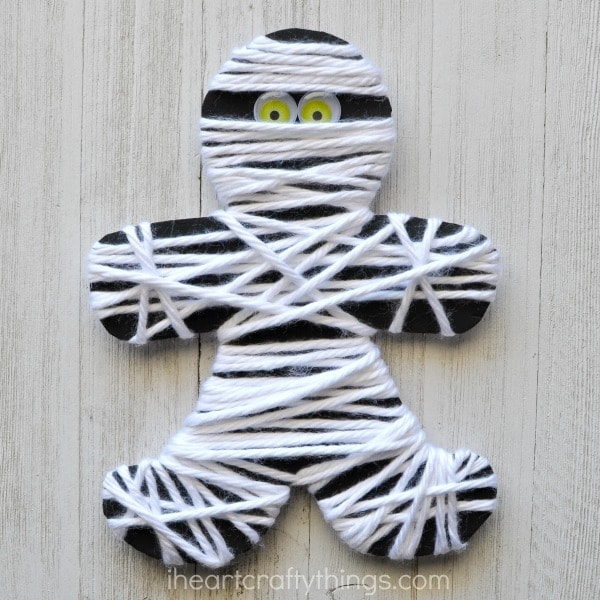 Found I Heart Crafty Things
Paint Splat Witch's Cauldron
This cute and colorful witch's cauldron art will have your little ones excited to create!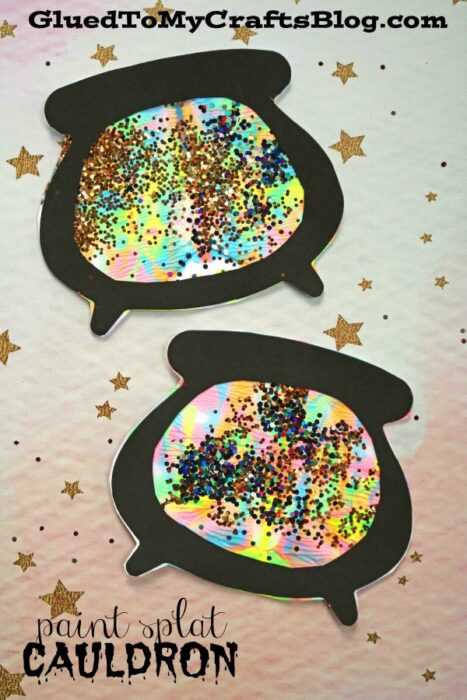 Found Glued to My Crafts
Halloween Sensory Bags
If you've got very young children at home, they can still get in on the fun with these awesome and creative Halloween sensory bags!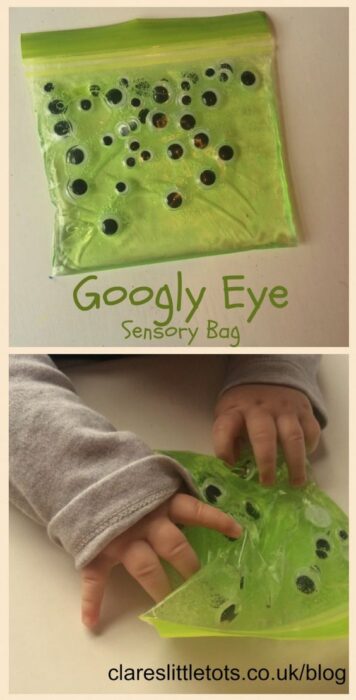 Found Growing a Jeweled Rose