Deprecated
: The PSR-0 `Requests_...` class names in the Requests library are deprecated. Switch to the PSR-4 `WpOrg\Requests\...` class names at your earliest convenience. in
/var/www/wp-includes/class-requests.php
on line
24
Hello, DIYers!
Halloween is just around the corner! Are you planning a costume party or some other spooky soiree? If so, it's time to start planning the menu. Nothing says Halloween like some delectable sweets… especially if they look like they are made of intestines and monsters! Whether you're looking for spooky and silly or seriously gross and chilling, we've got you covered with this list of treats. A handful of these sweet treats will have you and your friends doing the monster mash all night long.
Happy Halloween!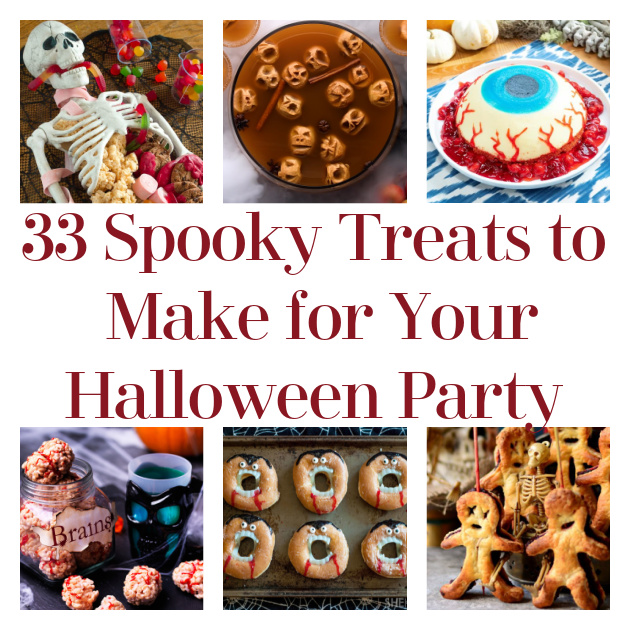 ...
Eyeball Cake
Can you imagine hacking into this on Halloween night?! Creepy and gross!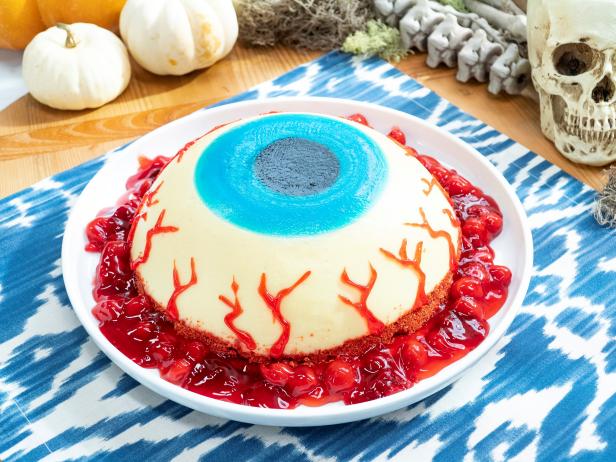 Found Foodnetwork
Spider Cupcakes
How cute are these spider cupcakes?!
Found Wilton
Shrunken Head Cider
This is so spooky and fun!
Found So Yummy
Ghost Smores Dip
Dip graham crackers into this ghost infested and delicious dip!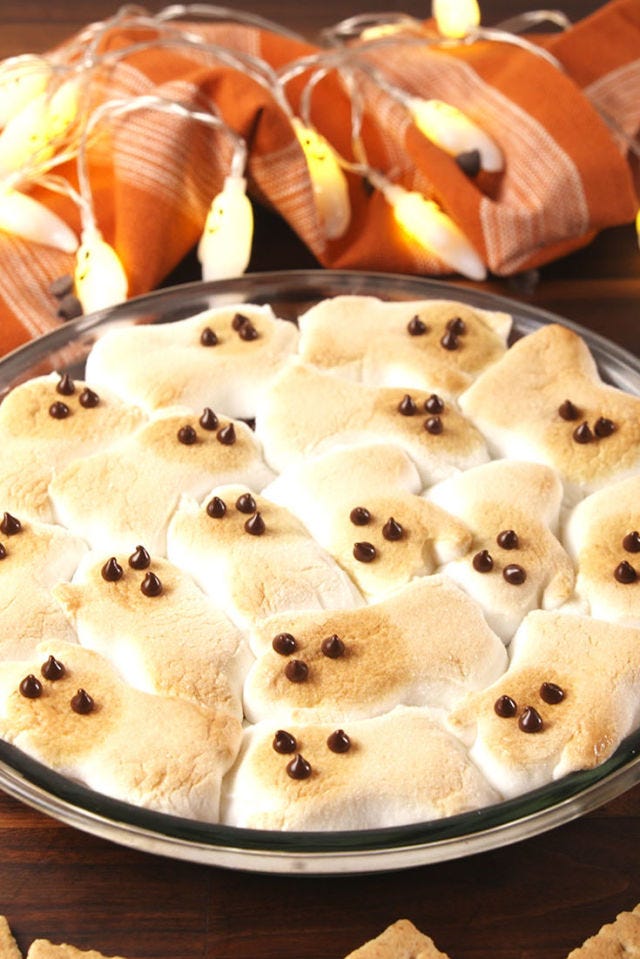 Found Delish
Crispy Marshmallow Brains
Serve your brood of zombies these delicious mashmallowy brains!
Found Sainsbury
The Witch's Heart Halloween Cocktail
If you want to serve up a signature cocktail for your party, look no further!
Found The Flavor Bender
Skeleton Buffet
Feast on the guts of this poor corpse! Add a skeleton bird to peck out the pieces for an added effect!
Found In Katrina's Kitchen
Witch Hat Cookie Cones
Witches hats all decked out in frosting? Delicious!
Found YouTube
Spooky Halloween Party Punch
Cool off this classic punch with frozen, dismembered hands!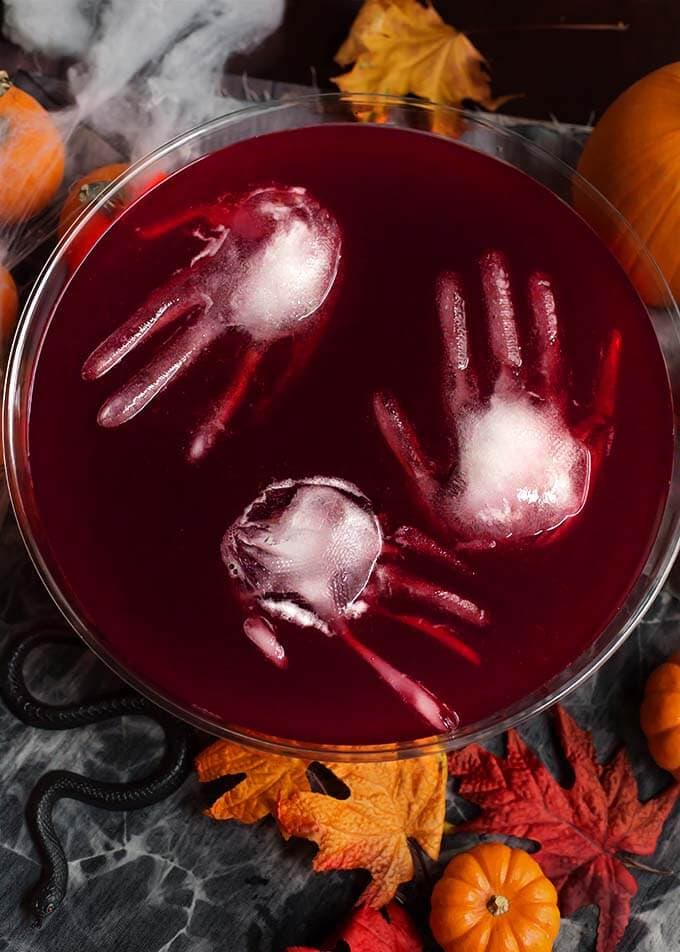 Found Simply Happy Foodie
Spooky Halloween Monster Bark
Eyes and worms, and all sorts of spooky sprinkles!
Found Wilton
Dracula Dentures
Is it creepier to eat a mouth or because it's Dracula's teeth? I'll let you decide!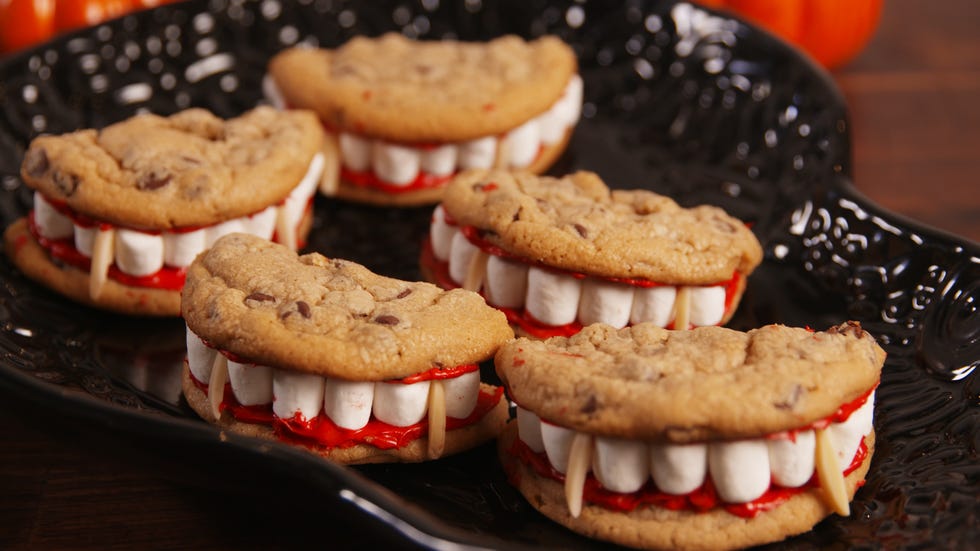 Found Delish
Poison Candy Apples
Watch out for these apples!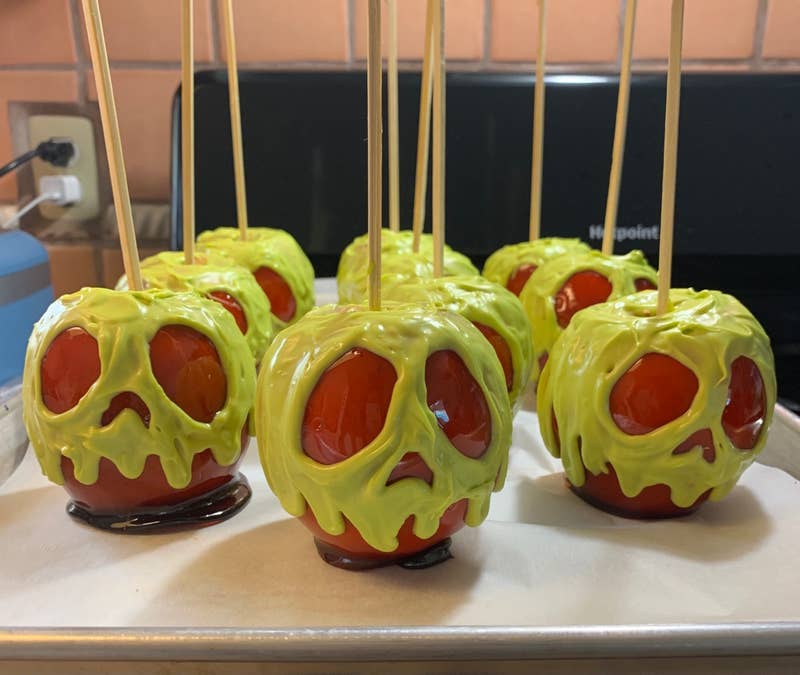 Found Tasty
Chocolate Covered Pretzel Bones
Munch on some bones with this cute treat! Consider adding a touch of red with some colored chocolate!
Found Princess Pinky Girl
No-Bake Vampire Donuts
These are hilarious and adorable! Give them a try!
Found She Knows
Found Wilton
Halloween Candy Corn Jell-O Shots
Bat Oreo Truffles
Bats are creatures of the night… and they taste like Oreos! At least these ones do!
Found One Sweet Appetite
Puff Pastry Voodoo Dolls
Get your voodoo on with these delicious puff pastry dolls!
Found One Green Planet
These donut pumpkins are perfectly cute to put on display for your party!
Found Wilton
Pretzel Spider Webs
Look at how cute cute and spooky these pretzel spider webs are!
Found One Little Project
Edibles Intestines
This may not look appetizing… but dig in and you'll find that they are puff pastries!
Found Wanna Bite
Dark Chocolate and Oreo Mini Skull Cakes
Cookies, Milk, and skulls?! Perfect!
Found Brooklyn Homemaker
Dracula's Blood Cocktail
These are gorgeous and delicious! You can even make them into a mocktail!
Found The Kitchen if My Playground
Hocus Pocus Smores Pop
The book from Hocus Pocus makes a tasty smores pop! Enjoy it for a movie night!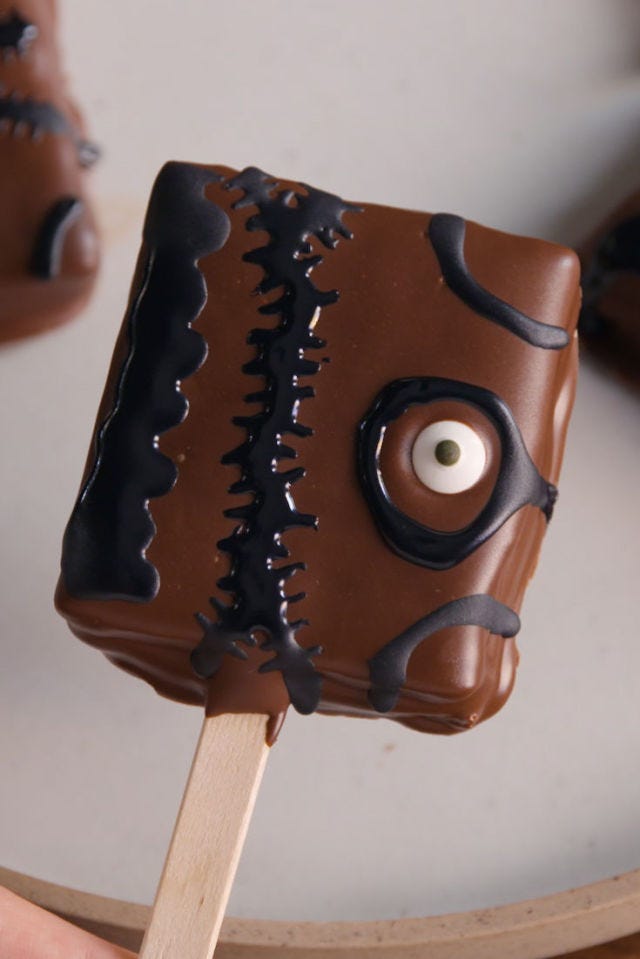 Found Delish
Cauldron Dip Bowl
Keep something healthy on the table by adding fruit and vegetable dishes with a cauldron of dip in the center!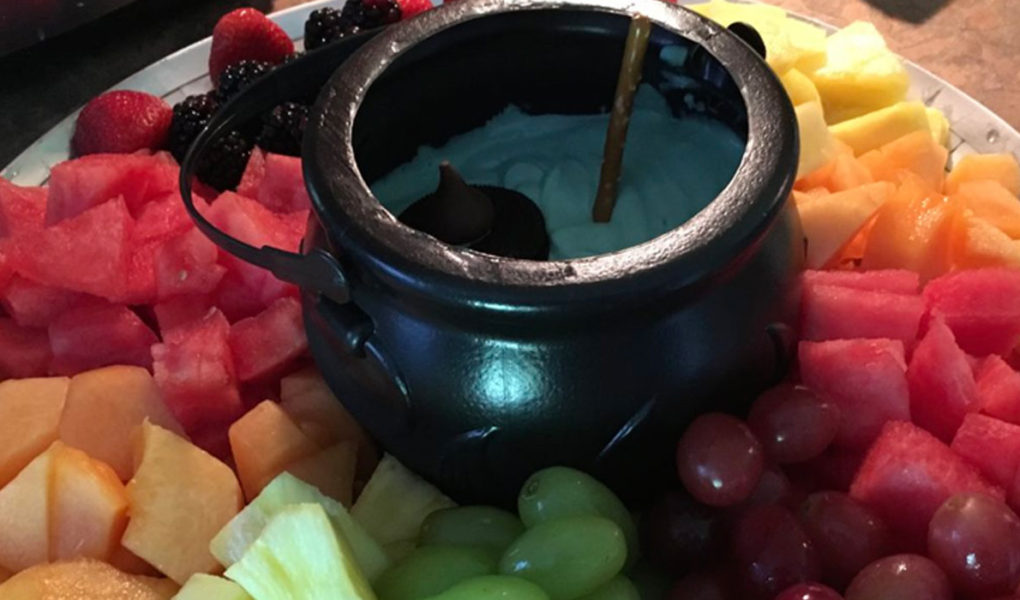 Found Never Done with Fun
Eyeball Cookies
Lots of eye balls with a cookie center!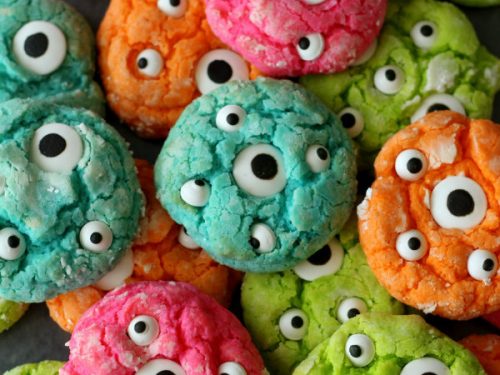 Found Lil Luna
These monstrous marshmallows are ready to party!
Found Wilton
Asylum Scar Cookies
Individually unique in grossness… but they taste good!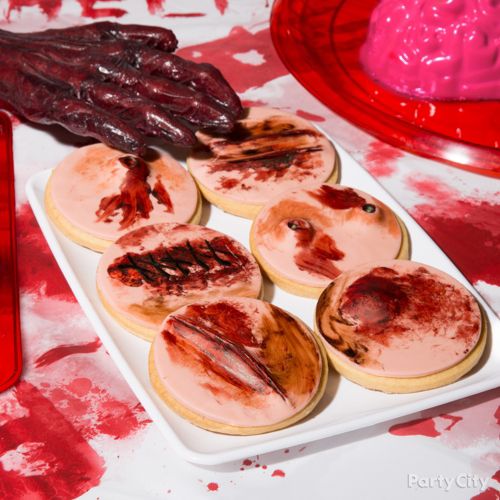 Found Party City
Jack O Lantern Ice Cream Bowls
Serve up some ice cream in this ice cream bowl! How about some pumpkin ice cream?!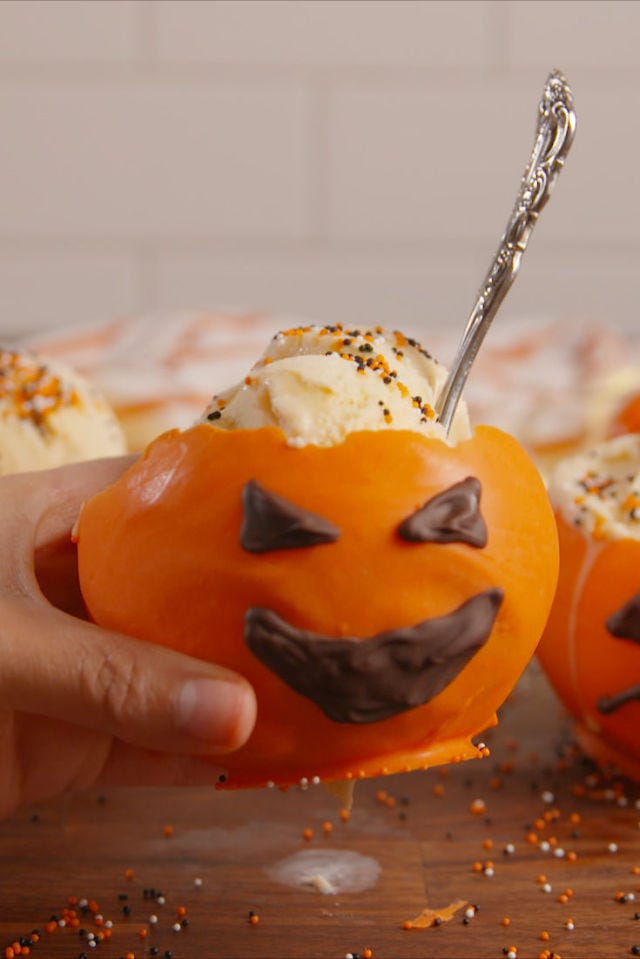 Found Delish
Puff Pastry Pizza Mummy
Take a break from the sweets and enjoy a pizza treat!
Found Eats Amazing
Spooky Deviled Eggs
Deviled eggs are always a huge crowd pleaser… even when they look like eyes!
Found Scattered Thoughts of a Crafty Mom
Ghoulishly Good Halloween Snack Mix
Dig into this bowl of eyeballs and sugar!
Found All Recipes
Do you have some sweet cake decorating skills? Try this!
Found Wilton