Hello, DIYers!
Do you want to leave the campy humor version of Halloween behind and turn your home into a witchy movie set instead? Worry not, readers! We've got you covered. These DIY projects are inventive and make for realistic looking spooky décor. Fill your home with spiderwebs, specimen jars, potion bottles, and spell books! You can even find inspiration for your witchy wearables to complete your Halloween costume! Dress up for a Halloween party or even just to hand out candy! If you take Halloween and all of it's spookiness seriously, this is the list for you!
Happy crafting!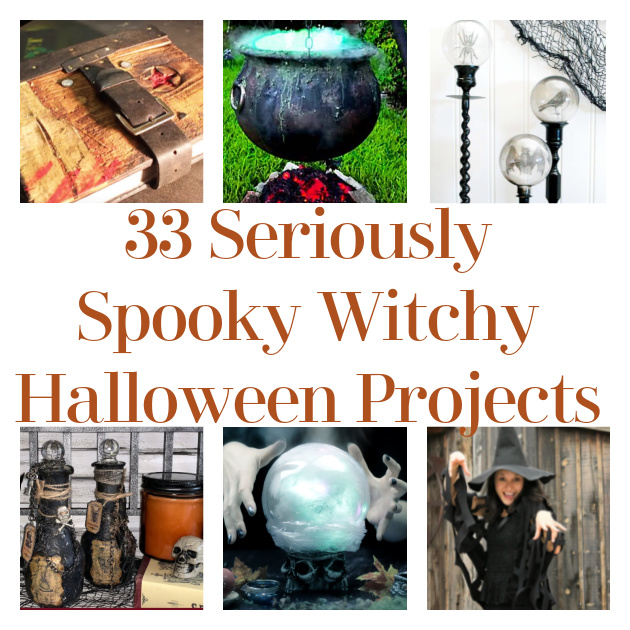 ...
Specimen Jar
Use all of the rubber and plastic creepy crawlers and body parts to make your own specimen jars!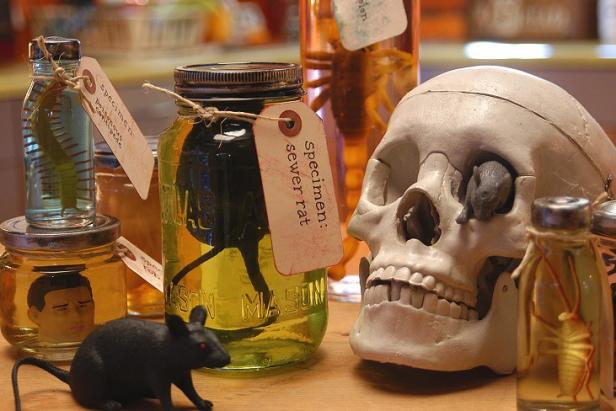 Found DIY Network
Spell Book
You can make one of these lovely and custom spell books to decorate your home with this Halloween!
Found YouTube
Witches Pet
Decorate an old bird cage with a crow inside! They are a trusted witchy sidekick!
Found Living La Vida Holoka
Creepy Candlestick Holders
Distressing and darkening unique candlestick holders is a fantastic way to add some spooky décor to your home in October!
Found Me and Annabellee
Witch Hat
Make your own gorgeous witch hat to wear on Halloween night!
Found Red Shoes Red Wine
Corset Belt
Your witch costume isn't complete without a beautiful corset belt!
Found YouTube
Bubbling Witches Cauldron
No witch should be without their bubbling cauldron!
Found DIY Joy
Nightmare Dust
This was found on Etsy but it is easy to replicate! Grab a jar in any shape that you like and dress it up with a label! Then you can fill it with black, sparkly sand. You can use different colors and purposes if you'd like too! Maybe a green sand for envy!
Found Etsy
Witch Broom DIY
How gorgeous is this witch broom?! This is perfect to add to your creepy Halloween décor!
Found YouTube
Spooky Crystal Balls
These are easy to make and look so spooky!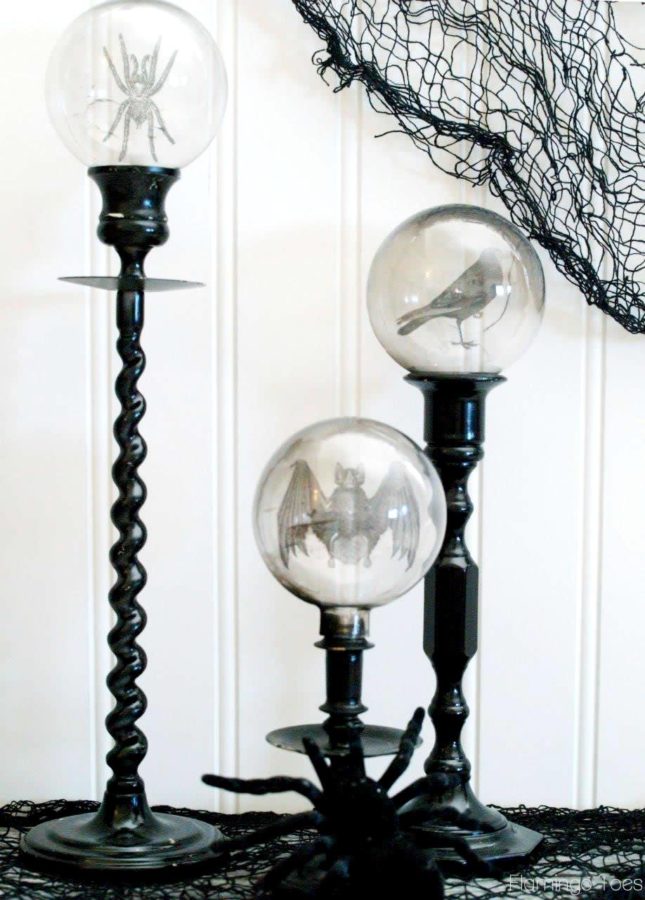 Found Flamingo Toes
Witchy Nails
Dress your nails up for Halloween!
Found YouTube
Pumpkin Spider Web Clock
How does a witch tell time?! On this spider web pumpkin clock, of course!
Found Instructables
Scrying Mirror
You can make your own scrying mirror with this easy tutorial!
Found Punky Moms
Crow with Skull
Crows are a witches best sidekick! Have them right with the rest of the conjuring items! Make sure to add cobwebs for authenticity!
Found Living La Vida Holoka
Ouija Board
Make your own custom ouija board to talk to the dead this Halloween!
Found Crafty Lumberjack
Spider Web Cape
Every witch needs a cape! Why not give yours an extra element of spookiness?!
Found Delia Capes
Realistic Cobwebs
Do your cobwebs usually fall flat? Not after looking over this tutorial!
Found Halloweeneriffic
Eyeball Specimen Jars
A witch always has to have eyeballs on hand!
Found YouTube
Framed Spider Web Art
This is a creative and fun project that you can hang up in October or all year long if you can appreciate a nice spiderweb!
Found Twelve on Main
Crystal Ball
Talk to spirits with this lovely crystal ball!
Found YouTube
Fake Entomology
These specimens and taxidermy are completely cruelty-free! Dress them up in black with cobwebs to make them a little more spooky!
Found Instructables
Flying Bats
Make a statement in your home with these adorable flying bats! This is so easy to do!
Found Mean Right Hook
Witch Bottles
Create these incredibly realistic and lovely witch bottles to decorate your home!
Found YouTube
Crow Wreath
A witches home is protected by crows! Let everyone know before they dare to knock!
Found Celebrate and Decorate
Spider Jar
What's creepier than a spider jar?! Not much if you ask me!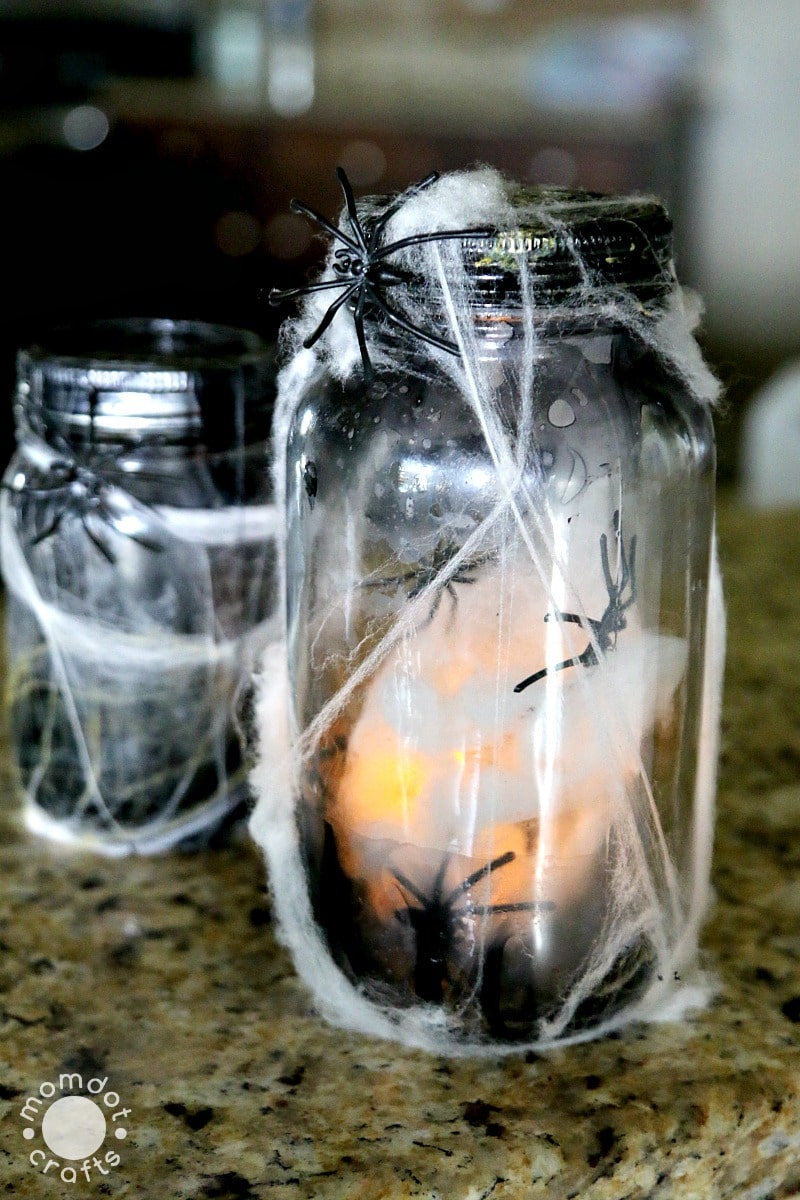 Found Mom Dot
Skull Candle Holders
You can make this totally spooky and interesting candle yourself at home! It looks expensive, but you can get most items at the dollar store!
Found YouTube
Light Up Crystal Balls
You can make these lovely crystal ball ornaments or turn it into a larger crystal ball for your table or entryway!
Found Crafty Lumberjacks
Witch Tutu
Child or adult, this witchy tutu is an easy way to complete your costume!
Found YouTube
Golden Taxidermy Bat
Taxidermy is very witchy! Here is some fake taxidermy made with a bat!
Found DIY Inspired
Spider Web Wall Art
Put something spooky on your walls this Halloween!
Found A Few Shortcuts
Witch's Spell Book Prop
Here is another take on a witchy spell book! It's just as realistic but a little bit more scary!
Found Instructables
Witch Vials
Grab some empty bottles and go to town making these witch vials!
Found While He Was Napping
Wicked Witch Pumpkin Lantern Staff
This is a seriously spooky staff that is perfect to display with a witchy figuring on Halloween night!
Found Instructables
You May Also Enjoy…
43 Funny and Weird Halloween Costumes You can Make Yourself!
33 Spooky Treats to Make for Your Halloween Party
33 Fantastic DIY Marvel Costumes for Halloween
40 Gothic Halloween DIYs for a Dark Aesthetic
33 Halloween Costumes for Your Pets in 2021!