Hello, Diyers!
Spring is coming and flowers are blooming! Now that our hands won't be constantly dry from the cold, it's time to start sprucing up those gorgeous nails of yours! And what better way to celebrate the season than pops of colorful florals? Whether you're deciding to take on the task yourself with one of these fantastic tutorials or just looking for inspiration to show your favorite nail tech, we're sure there is something here that will make you swoon!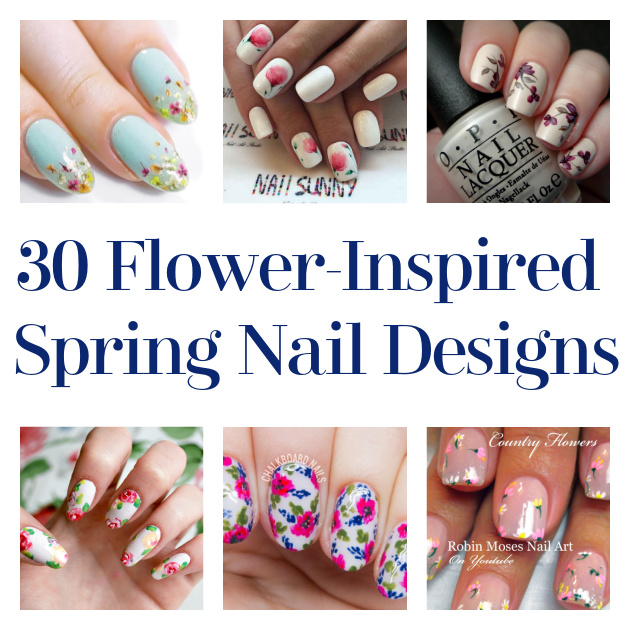 Tulip Tutorial
These pretty tulips are perfect for Spring!
...
Found Blog Lovin
Lavender Nails
Celebrate the incoming flowers with these gorgeous nails!
Found Chalkboard Nails
Dried Flower Nail Art
These are so magical!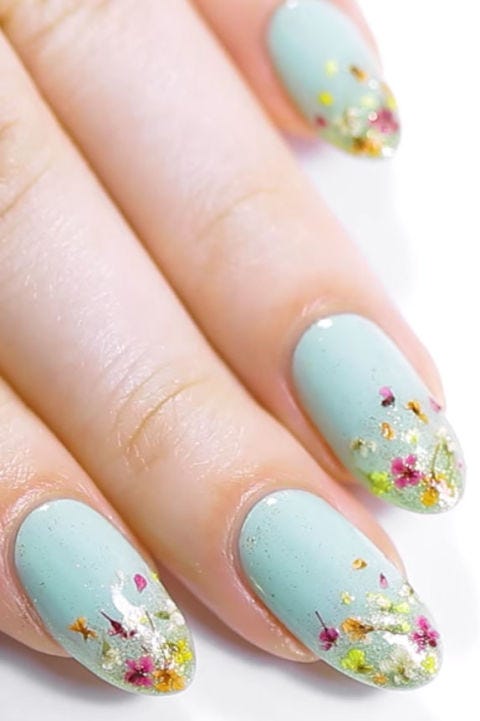 Found YouTube
Hawaiian Nail Art
Get tropical!
Found So Nalicious
Flower French Tips
This is an adorable twist on the classic french tip look!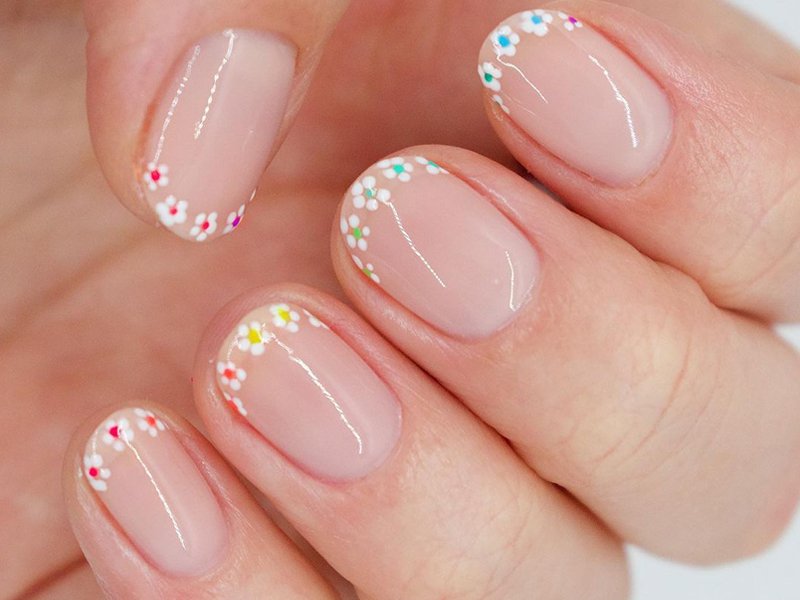 Found Make Up
"One Stroke" Flowers & Zoya Perrie
Check out this amazing copycat tutorial!
Found Copycat Claws
Garden Flower
How cute are these?! Give them a try!
Found YouTube
Spring Daisies
These daisies pop against a lovely blue!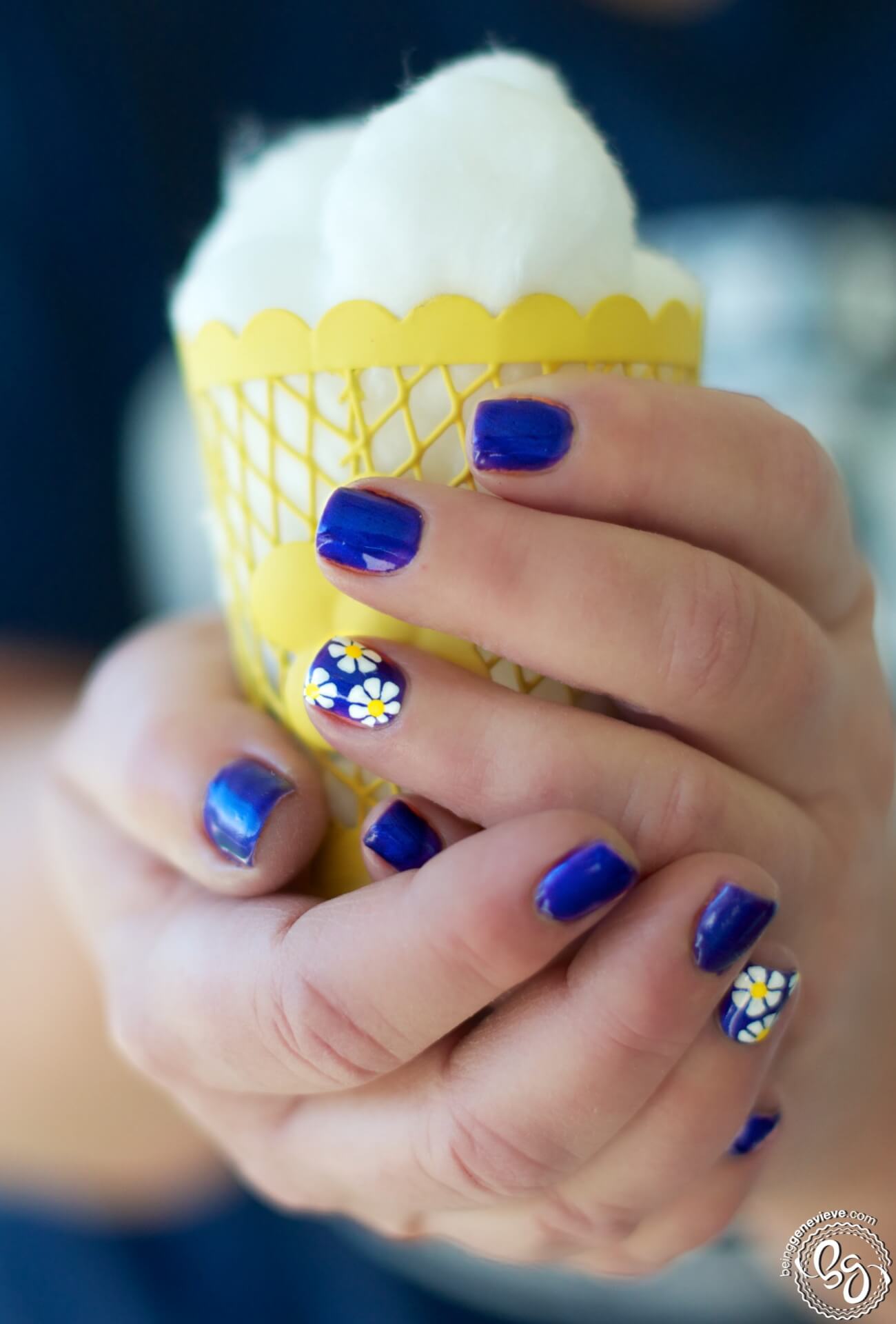 Found Mama Moose
Framed Flowers
Check out this beautiful pop of color! It's absolutely perfect for Spring!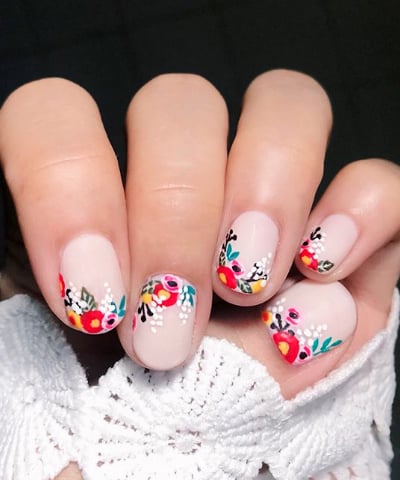 Found Thehangedit
Painted Roses
How lovely! Give this a try!
Found Burkatron
Cherry Blossom Nail Art
Celebrate the spring with cherry blossoms!
Found YouTube
Yellow Sunny Tips
Check out these beautiful floral tips!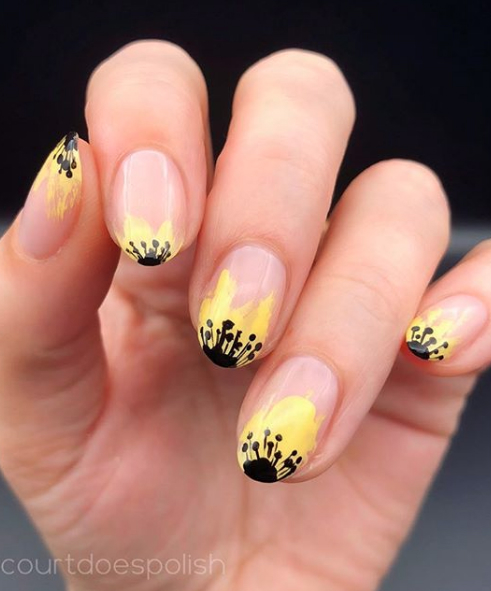 Found The Nail Art Babe
Daisy Dream
This adorable floral pattern was inspired by this Mac Jacobs perfume!
Found So Nailicious
Delicate Nude Floral
These are so gorgeous!
Found Nail Polis
Simple Vintage Floral Inspired
Add a bold pop of color with these sweet nails!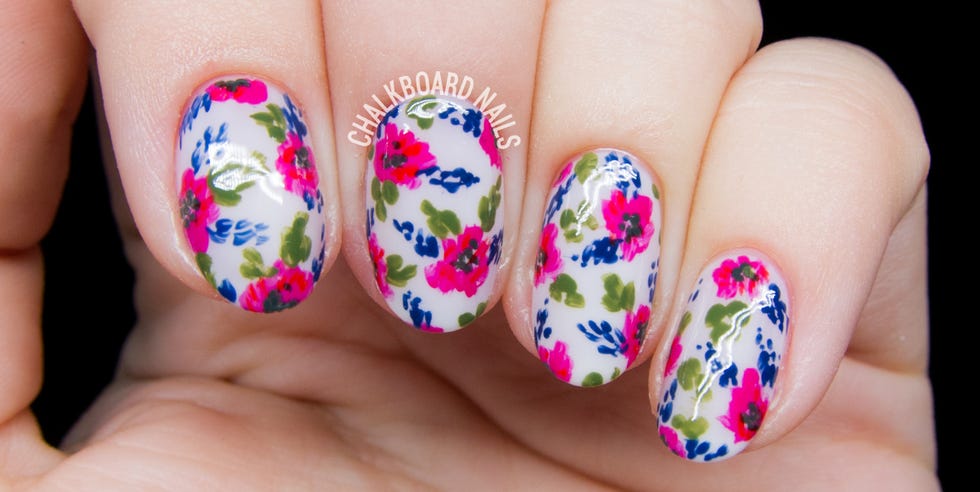 Found Chalkboard Nails
Pink Flower
Who doesn't love pink?
Found YouTube
Happy Daisies
Lovely!
Found Violet Beaux
Delicate Roses
These are gorgeous!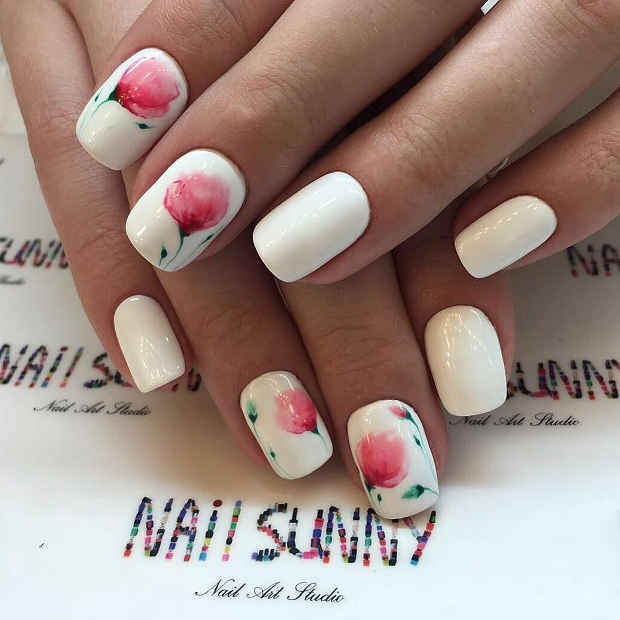 Found Nelson
Dainty Blooms
Small, dainty flowers on the perfect nude background… just lovely!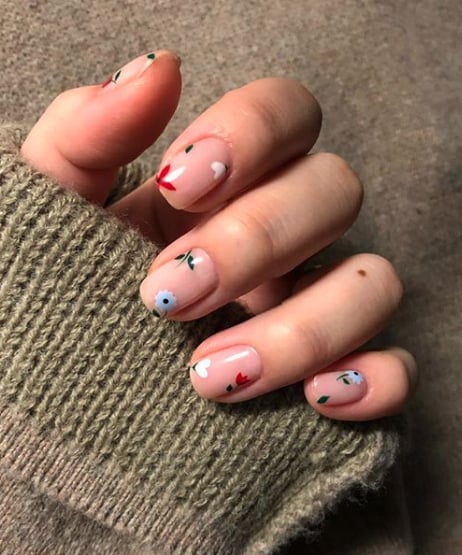 Found Nail Luire
Purple Spring Nails
Purple and Perfect!
Found YouTube
Simple Flower Boquet
These are easy to replicate and so colorful!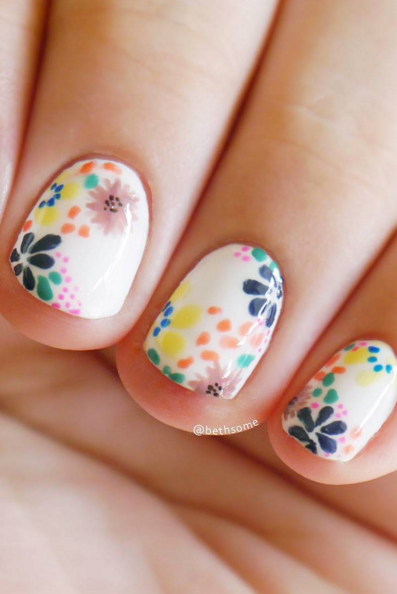 Found Bethsome
China Rose Nails
How realistic and lovely!
Found Nail Bees
Tulip Nail Art
These tulips are simple to replicate! Give it a try!
Found YouTube
Fresh Garden Blossoms
The flowers are just beginning to rise!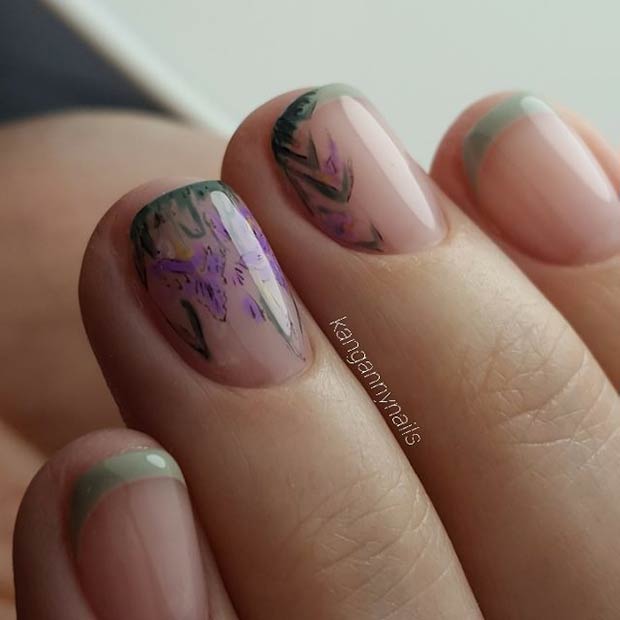 Found Kangannynails
Daisies with Coral
The coral and sky blue makes for a lovely pallet for daisies!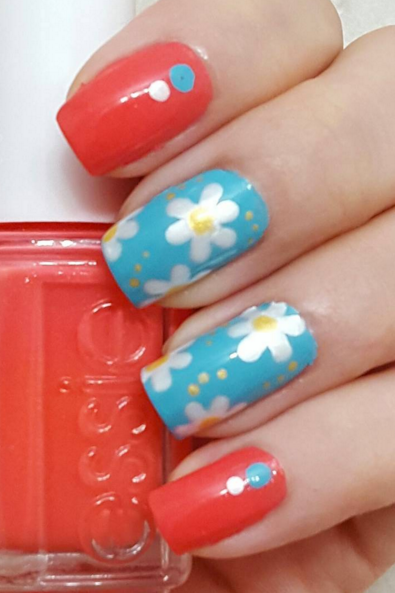 Found Mishka Nails
Spring Floral Nails
Easy to do and adorable!
Found YouTube
Bright Flowers
It doesn't get more springy than this!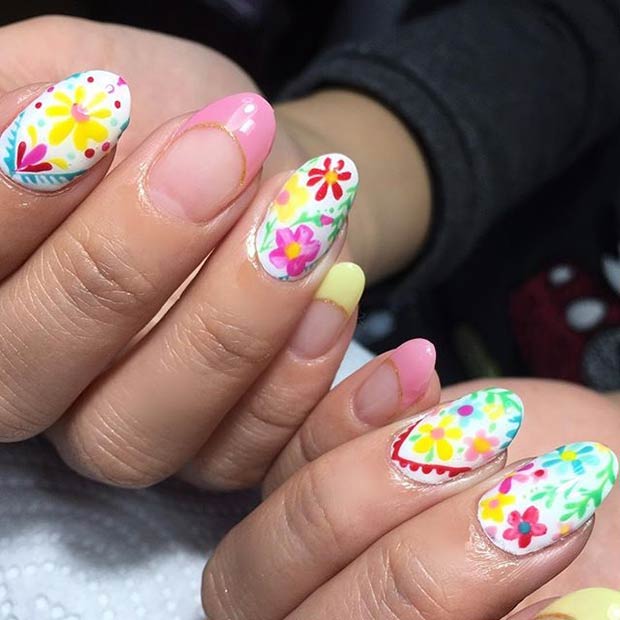 Found kernels
Lazy Tulips
Perfect, cute tulips!
Foud Violet Lebeaux
White Flowers
You don't have to go bold if you don't want to!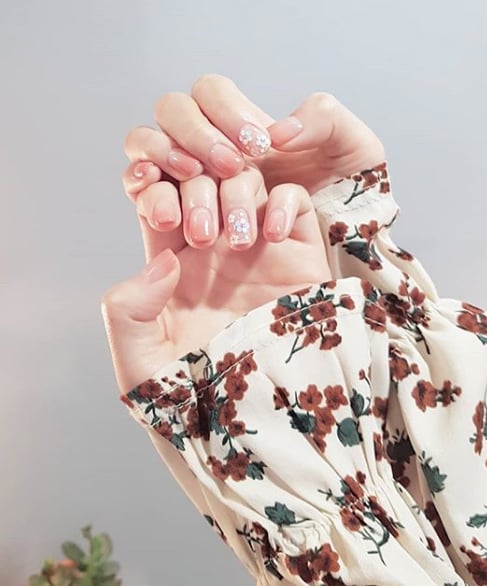 Found Ggoomim
Cherry Blossom Nail Art
These are so adorable! Give this one a try!
Found Hannah Rox It
You May Also Enjoy…
39 Fall Nail Art DIY Designs and Inspiration
37 Beauty Supplies You Can Make Yourself
30 Brilliant DIY Makeup Storage Hacks
33 Luxury Bath Products You Can Make Yourself
31 Impressive Nailscapes Inspired By Nature