Hello, DIYers!
Want to add something special to your look for an occasion? You can wear jewelry in your hair! Whether you like to go with a full updo, half-updo, or keep your locks loose, there are ways to add glitz and glamor to your look for any special event. You might choose to do something small and understated or big and bold! Check these out and see what inspires you!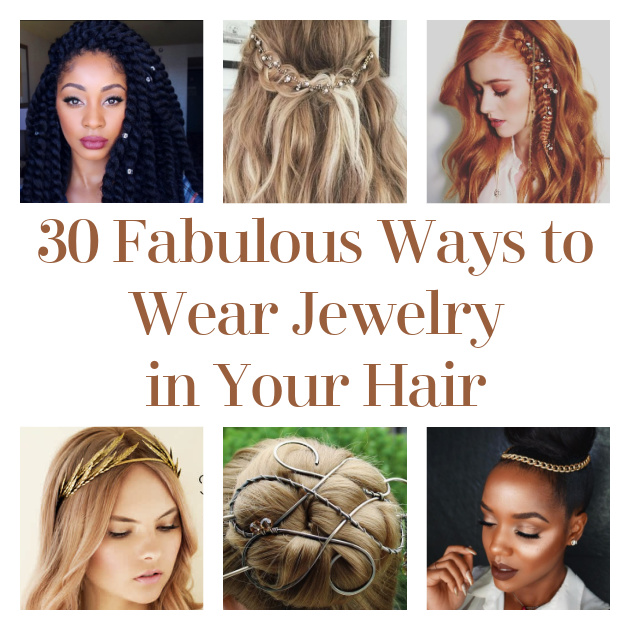 Pearl & Gem Scattered Braid
This is such a cute look!
...
Found @justinemarjan & Elle
Headband Chain
Use a chain to give your hairstyle a cute accent!
Found Yahoo
Hair Piercing
Hair piercing loops are a lovely way to add something a little bit extra to your braids!
Found @ALEXANDERRCRUZZ
Pearl Necklace Updo
This is a charming and simple look!
Found Olive and Piper
Statement Hair Clips
Go bold with a colorful collection of hair clips!
Found Pinterest
Scattered Pearls
Add a special touch to your hairstyle with these scattered pearls!

Found @justinemarjan & Elle
Crown Head Band
Lovely!
Found Naturally Curly
Diamond Chains in a Loose Braid
How pretty!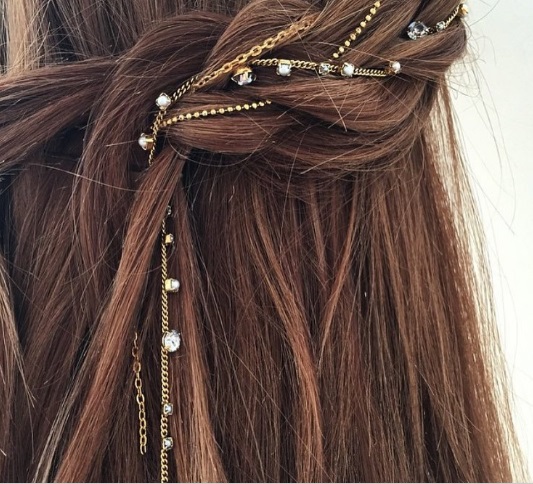 Found Leletny
Styled Tiara
This looks beautiful!
Found Cafe Mom
Jewel Lined Faux Hawk
Found @HEATHERCHAPMANHAIR & Elle
Celtic Hair Bun
Celtic style is chock full of lovely hair jewelry accessories!
Found Pinterest
Earring Hair Charms
This is so cute! You can use sets of earrings you don't usually wear or ones that have lost a match!
Found Yahoo
Party Sequins
How cool is this?!
Found @HAIRBYJOSEPHJAQUE
Jeweled Head Band
This fashionable headband makes a bold statement!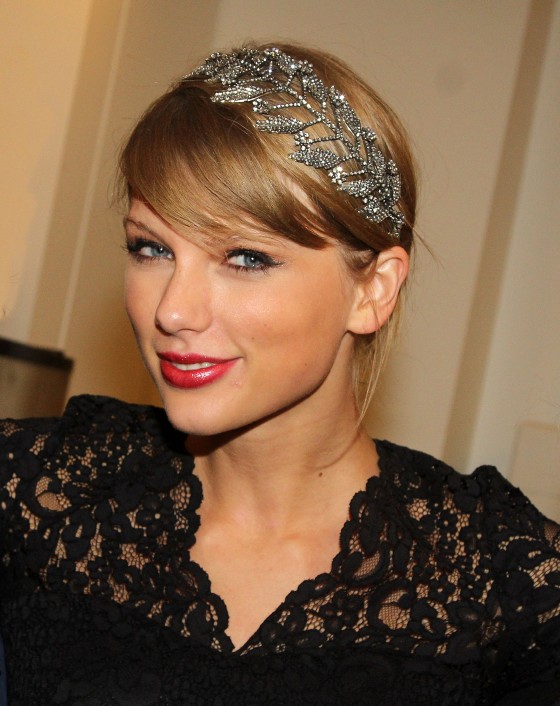 Found Bruce Glikas & Today
Dainty Necklace Accent in Half-Updo
Have an extra necklace lying around? Accent your half-updo!
Crystal Wrapped Pony Tail
Try this beautiful look!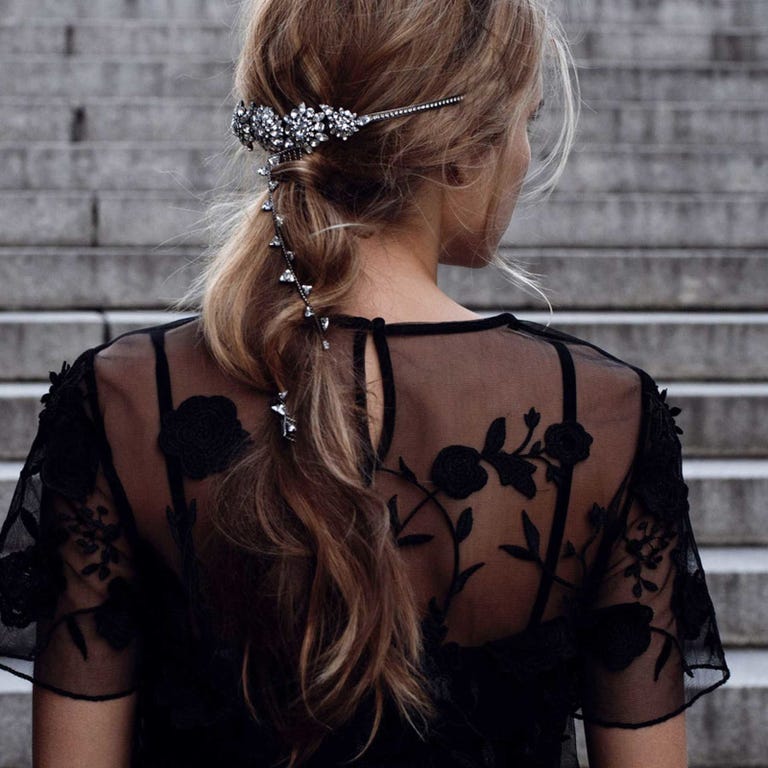 Found Lelenty
Bohemian Head Chain
This is a gorgeous look!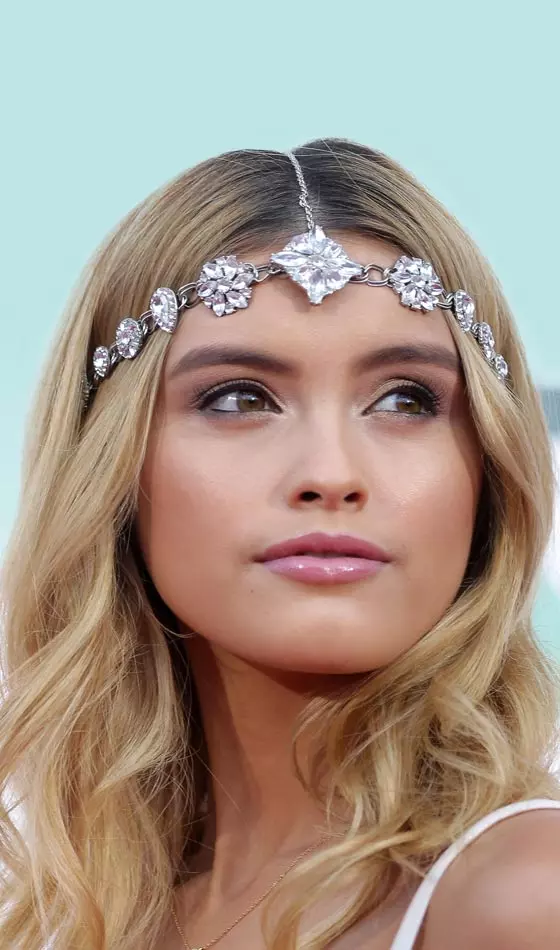 Found Getty
Chains and Babys Breath in a Braid
This is a gorgeous way to accent a braid!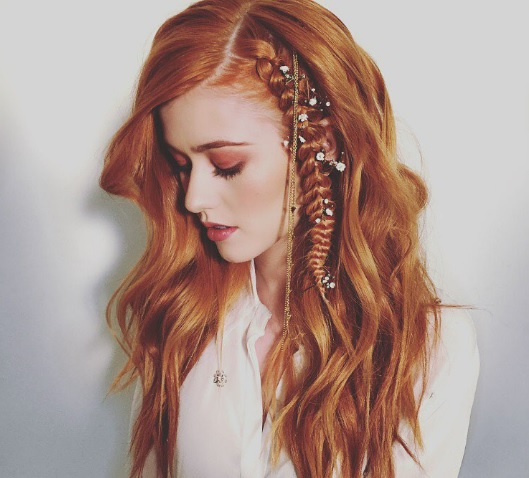 Found Mane Addicts
Sparkling Necklace Below Half-Updo
Use a sparkling necklace as an accent for a romantic half-updo look!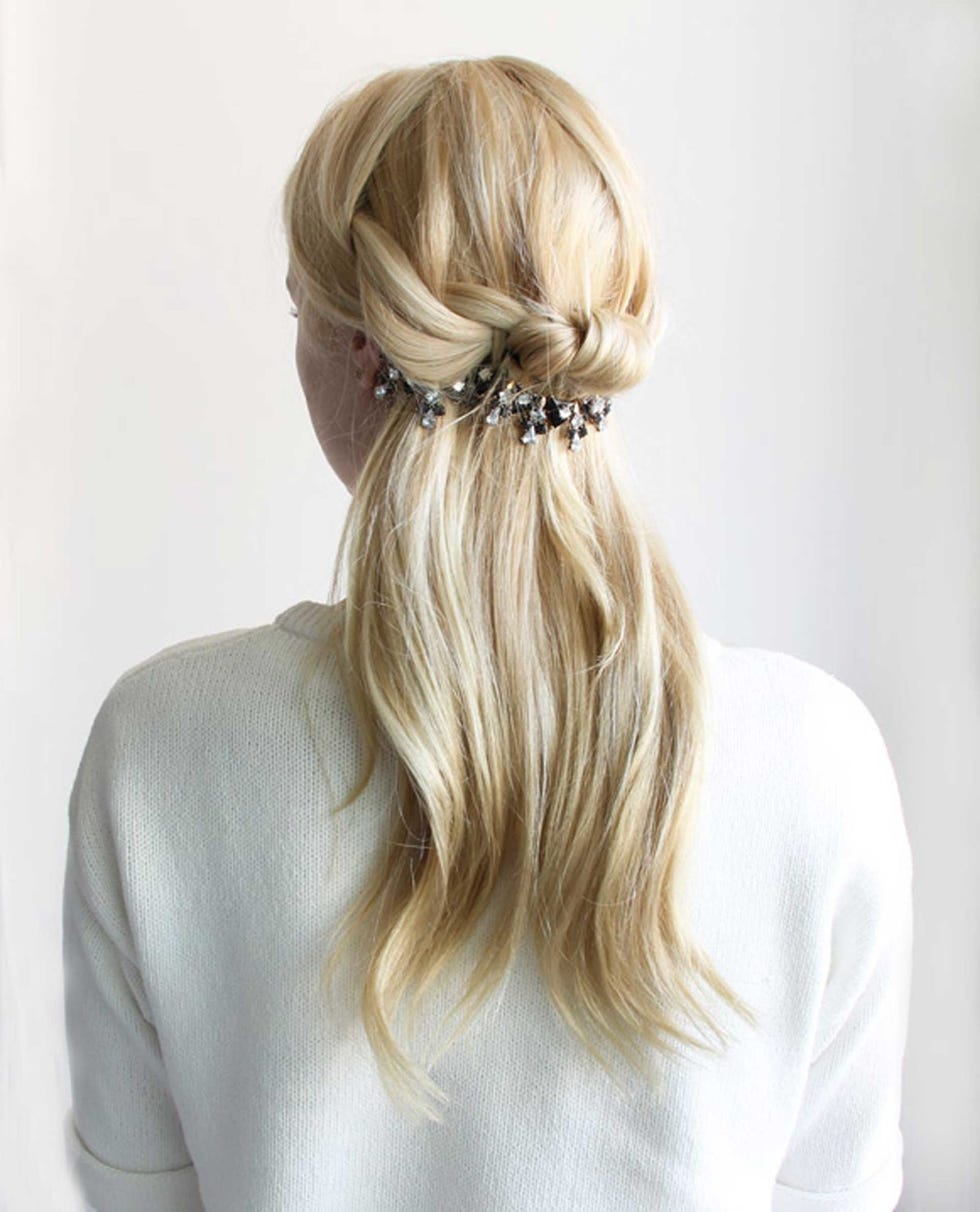 Found Olive & Piper
Bracelets in a Bun
This is so cute and easy to do!
Found Yahoo
Pearl Lined Part
Give your part something special!
Found @missjobaker & Elle
Kundan Hair Jewelry Designs
Lovely!
Found Jewellery Design Hub
Statement Collar Necklace
Give this a try!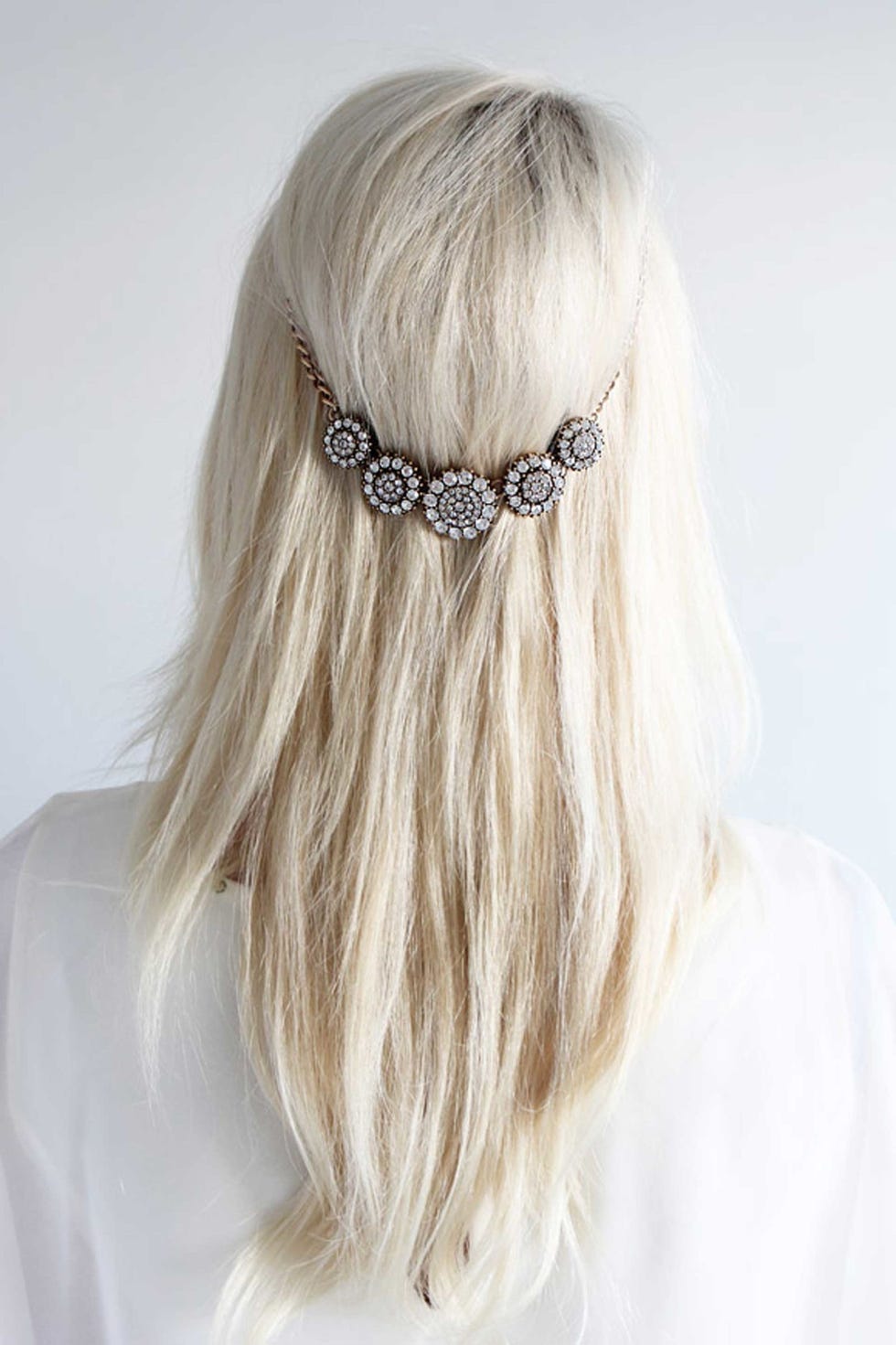 Found Oliver and Piper
Gold Chain Top Knot
This is a fabulous way to wear a chain in your hairdo! Use bobby pins to hold it in place!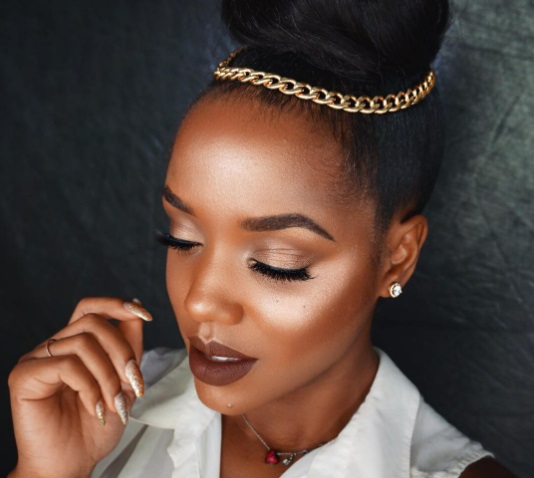 Found Ellarie
Braided Bun With Tiara
This is lovely!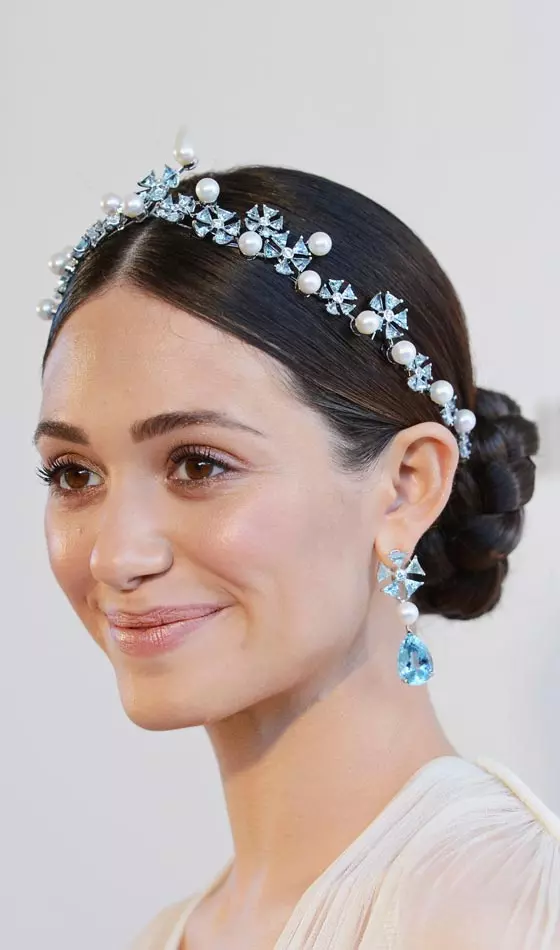 Found Getty
Broach Hairstyle
Have a collection of old broaches? Wear them in your hair!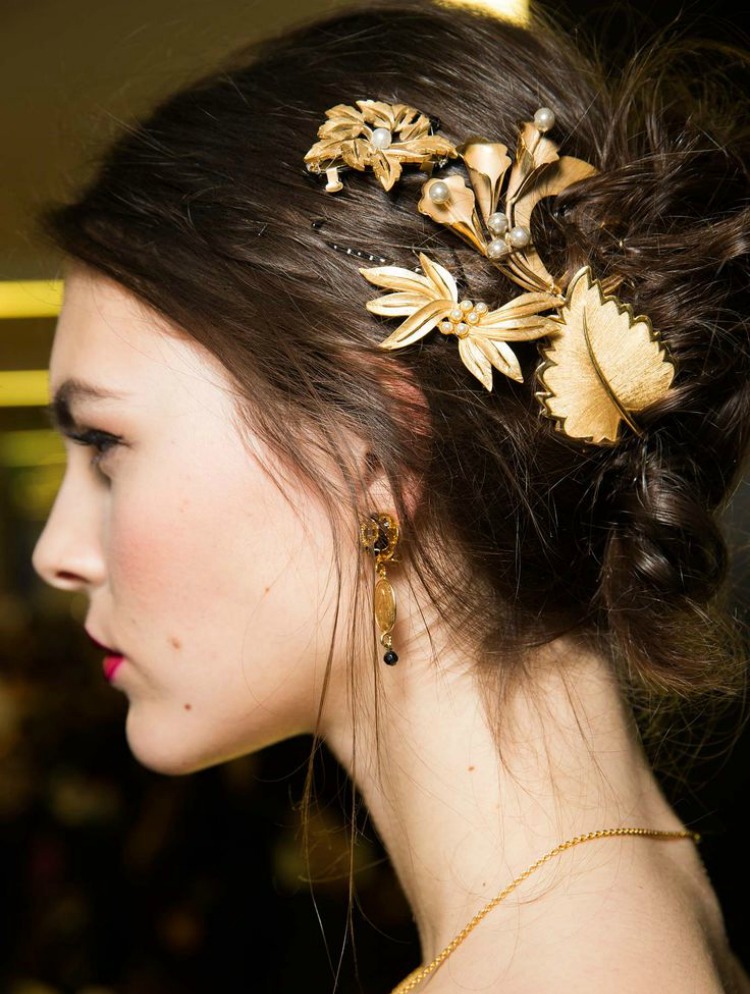 Found Millenial Me
Hair Cuffs + Crochet Twists
This is a gorgeous look for ethnic hair!
Found My Natural Sistas
Goddess Band
How lovely is this?!
Found Olive and Piper
You May Also Enjoy…
30 Face and Body Jewel Ideas for Summer Festivals
31 Impressive Nailscapes Inspired By Nature
30 Bejeweled Nail Art Looks To Recreate
30 Vibing Lights to Create the Perfect Bedroom Aesthetic for Teens
30 DIYs to Complete Your Pearlcore Style