Hello, DIYers!
Understated designs… step aside! It's all about bejeweled style! If you're looking to add a bit of glamour to your look with colorful gems, we've got you covered! Below are a collection of tutorials that will upgrade your wardrobe, accessories! Though we are aware of the popularity of gluing jewels or gems to teeth for an extra sparkle with your smile, we also feel that installing these gems onto your teeth without the help of a professional is too detrimental to individual dental health to be included in this collection. Either way, this list will have you glittering from head to toe! Give them a try!
Happy crafting!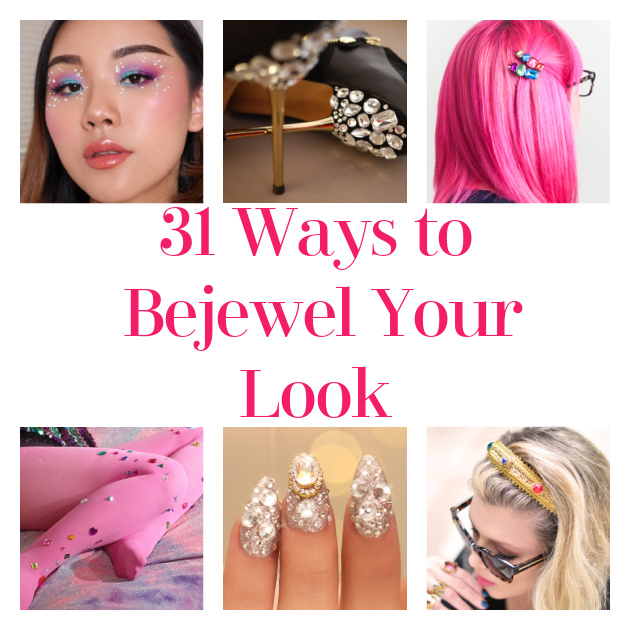 Rhinestone Statement Necklace
This look is all about making a statement!
Found My Girlish Whims
Rhinestones with Eye Makeup
Don't forget to use rhinestones in your eye make up, especially for any upcoming summer festivals!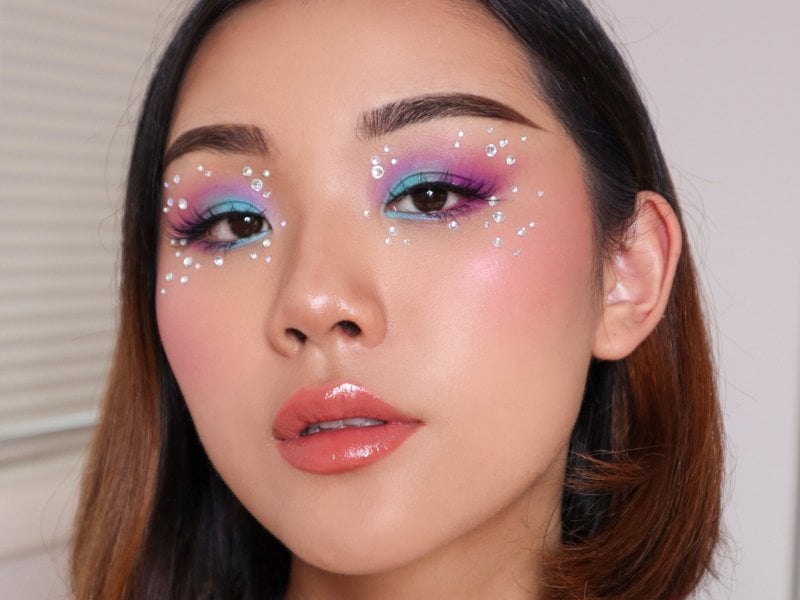 Found Makeup
Bejeweled Sandals
Add some glitz and glamour to your summer sandals!
Found Trend Hunter
Bejeweld Clutch
Spice up a clutch purse by adding jewels!
Found M and J Blog
Cold Shoulder Sweatshirt with Jewels
Enjoy a bit of glam with this cut-out sweatshirt!
Found True Blue Me and You
Securing Rhinestones and Bling to You Nails
Want to include some bling on your fingernails? Here's how you can make sure they stay secure!
Found YouTube
DIY Miu Miu Jeweled Heels
Your heels can leave a lasting impression with this bejeweled upgrade!
Found Honestly WTF
Bejeweld Sunglasses
Add rhinestones to a plain black pair of sunglasses for a unique and interesting style!

Found Matter of Style
DIY Dolce and Gabbana Jeweled Headband
Try this fabulous copycat DIY project!
Found Love Maegan
Bling Bling Two-Finger Ring
Gorgeous!
Found Chic Creative Life
Bold Shoulders: DIY A Bejeweled Sweatshirt
Shoulder embellishments add style and flare to your wardrobe! Upgrade one of your favorite sweaters with this tutorial!
Found Refinery 29
Bejeweled Hair Combs
Add some glitz and glam to your daily hairstyle!
Found Love Maegan
DIY Bejeweled Sequin Patch Pins
This is an awesome way to take your favorite clothing piece to the next level!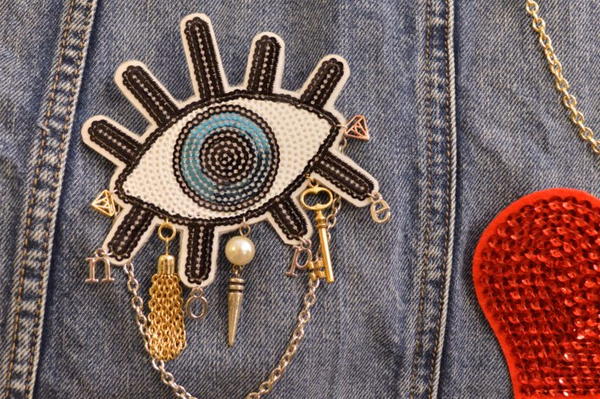 Found All Free Jewelry Making
Rhinestone Bracelets
Making rhinestone bracelets has never been easier!
Found Mom Spark
DIY Embellished Baseball Cap
Fabulous!
Found She Knows
Easy Rhinestone Nail Art
Rhinestones on your nails? Everyone knows you're a 10!
Found YouTube
DIY Embellished Tights / Leggings
Try this!
Found Rookie Mag
Repurposed Brooch DIY Cell Phone Case
Use a second hand glamorous brooch to upgrade your phone case into something fabulous and one of a kind!
Found DIY Inspired
DIY Bejeweled Skirt (Dolce & Gabbana Inspired)
Doesn't this just scream, "fabulous"?! Make one for yourself… without the Dolce and Gabbana price tag!
Found Invisible Stilletos
Bold Facial Gems
Body glitter just isn't enough! Check out this amazing and bold look!
Found Hwa Tian
DIY Rhinestone Hair Clips
Once you've gathered your materials, you are only 10 minutes away from having these awesome hair clips!
Found The Crafted Life
Embellished Denim Collar
Add a pop of something that sparkles to the collar of your button up denim shirts!
Found Trend Hunter
Bejeweled Flip Flops
If average isn't for you…. take a pair of basic flip flops and add something a little extra…
Found Such Pretty Things
Rhinestone Hoop Earrings
These are perfect to complete your look!
Found Mom Spark
Bejeweled Beenie
How cute is this?!
Found More
Bejeweled Epoxy Pendant
This is a fun and easy DIY project that can add some quick glam to your outfit!

Found DIY is Fun
DIY Shoe Bling
Your heels can make a bolder statement when covered with bling!
Found Wedding Bee
Rhinestone Barrettes
Give these a try!
Found Flax and Twine
Bejeweled Hand Mirror
Glamor starts with the preparation process!
Found Mark Mantano
Bejeweled Wrist Cuff
Fab!
Found Sew Trendy
You May Also Enjoy…
30 DIYs to Complete Your Pearlcore Style
Funny Makeup Faces with Animated Cartoon Characters
33 Projects to Make with Your Seashell Collection
30 Vibing Lights to Create the Perfect Bedroom Aesthetic for Teens