Hello, DIYers!
Today we have put together a list of project themes that you can do to keep a senior loved one or resident active and engaged! Keep them stimulated with projects that will remind them of the olden days or start them on something fresh and new! For example, if your resident loved baking, why not enjoy it together with a couple of modifications? Keeping in mind their unique and special needs can make all the difference when helping them to get the most enjoyment out of their golden years! Many of these are also fantastic ways to socialize! So soak in the stories and learn something new together!
Happy crafting!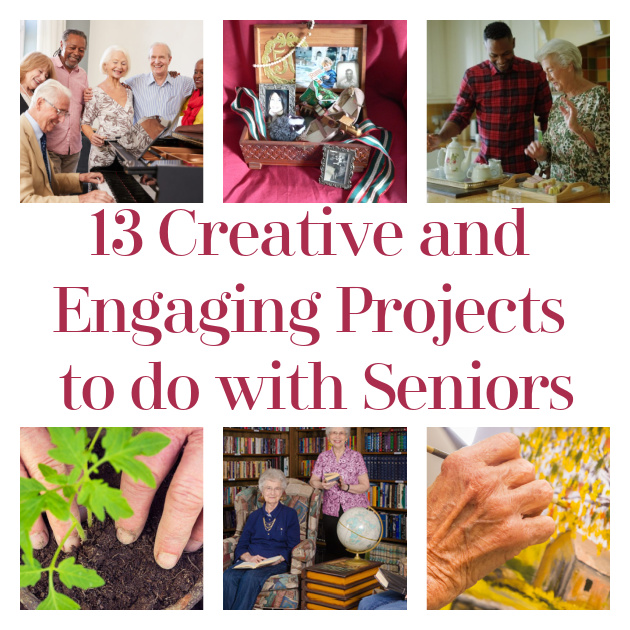 Painting
Painting is an absolutely amazing way to work with seniors. Perhaps they were passionate about painting when they were younger or they always wanted to learn! This can be a wonderful activity for seniors to get creative, express themselves and be engaged. Painting is a particularly beneficial way to communicate and engage with people who have Alzheimer's or dementia. This is because the most active parts of their brain are both emotional and creative more than they are logically.
Found Best Alzheimer's Products
Gardening
Gardening has so many benefits for everyone and that doesn't stop with seniors! Gardening is a fantastic way for seniors to get exercise, strengthen their muscles, relax, and de-stress! Seeing the progress of their efforts can bolster confidence and make them feel productive. Plus there is something so calming about working with plants and getting your hands in the dirt!
Found Homecare Assistance
Exercises
As seniors age they become differently abled and exercising the way that they used to may not be a possibility. However, there are many ways that they can stay active and feel good! Even in a wheelchair, there are plenty of activities that can keep their bodies strong and their minds sharp! Even a stroll around the block everyday can help. Just be mindful of the weather and walking conditions! And, of course, always consult with a doctor!
Found ASC Care
Scrapbooking
Scrapbooking is a great way get to know a senior even better! Plus it can keep them engaging frequently with memories, getting creative, and it is something fun to show off with their family. This can even be a wonderful group activity! Pull resources of colorful paper, stickers, and more!
Found Home Care Assistance
Music Therapy
Music can be played or appreciated by all! Why not find out if seniors have played any instruments or would be interested in learning! It's a great way to stay sharp, get creative, and interact with their peers! There are so many ways to do it! For example, you can host a dance or have a listening party. Have a resident play the piano for others or teach instruments to others.
Found Maplewood Senior Living
Wii Sports
Getting out to exercise can be difficult, especially when it is extremely hot or cold out. Wii sports or some other active video game will help to get some exercise and keep them mentally engaged. You can even get a group together to make teams and inspire fun for everyone!
Found All Seniors Care
Jewelry Making
Seniors can feel productive and happy when creating things! Help them work with beads to make all sorts of crafts and jewelry. Whether it is for gifts, for themselves, or even to sell for some extra cash, it's a great way to keep their brains active and engaged. Just make sure to consider how abled they are. For instance, if they are vision impaired you might consider getting beads with larger holes, using brightly colored beads, and bring a sample of what they are making for them to look at.
Found Beading Buds
Join or Create a Book Club
A book club is a great way to stay sharp and feel good! They can catch up on sweeping romances, travel around the world by novel or memoirs, and indulge all of their interests in a way that requires more attention than television. Not only that, having a group to speak with and a meeting a timeline to adhere to can be helpful for them!
Found Home Care Assistance
Knit and Crochet
Knitting and crocheting can help to improve cognitive ability, memory, and dexterity! For a senior who may have issues with pain, this can also also help to alleviate that due to the engaging distraction. Not only that, knit and crochet projects can build self esteem and create a renewed interest! Especially if the senior is new to these types of projects, keep it small and simple! They will need a well-lit area and if they happen to have arthritis or carpel tunnel, they may need special materials to ensure they won't be uncomfortable while working.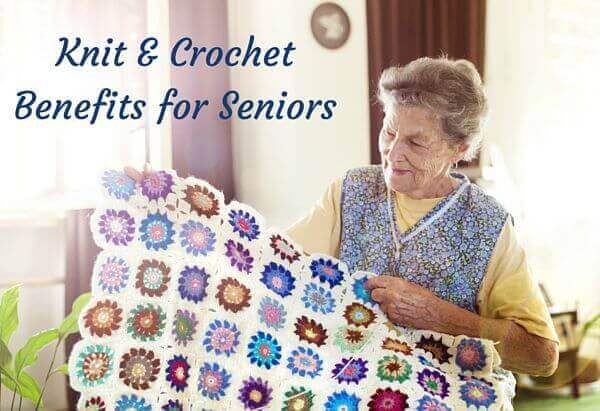 Found Petals to Pecots
Woodworking
Having a designated place to do woodworking so that seniors can create is a great way to help them feel productive! You can keep projects simple. Birdhouses, lazy Susans, toys, or planter boxes are a great way to get them started! This is a fantastic way to keep their brains and bodies active while helping to bolster confidence! For more beginning woodworking projects check this out!
Found Lake Seminole Square
Painting Rocks
Painting rocks can be an incredibly fun group activity! You can even take it a step further by trading rocks, decorating a communal activity space with them, or using them to hide in a park for people to find and take delight in! There are plenty of Facebook groups dedicated to finding and hiding painted rocks. It's a wonderful way to help seniors let loose, have fun, and share some positivity.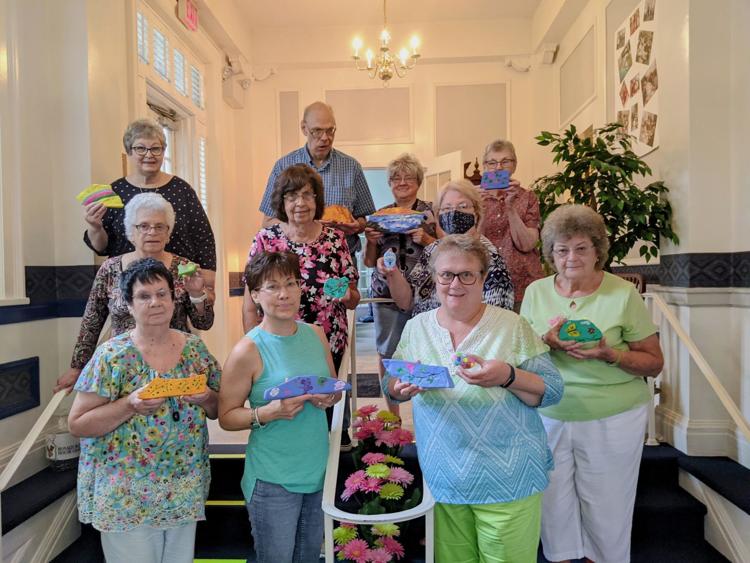 Found Bedford Gazette
Memory Box
A memory box can be so useful to seniors! Not only will they enjoy taking a stroll down memory lane with you, it will give them something to look back at when they are feeling lonely, help jog memories in cases of memory loss and confusion, and can be a big hit with the senior's family members. Add pictures, letters, scents, and sounds if possible!
Found Cedar Hill CCC
Baking
Baking can bring back happy memories and gives something wonderful and delicious to enjoy at the end of it! Just make sure that you make special accommodations in order to keep the senior comfortable! Kneading dough can be hard on arthritis and standing for long periods can be painful on their knees. Make sure there is a cozy place to sit and be mindful when performing specific tasks. This is a fun way to bond and spend the afternoon!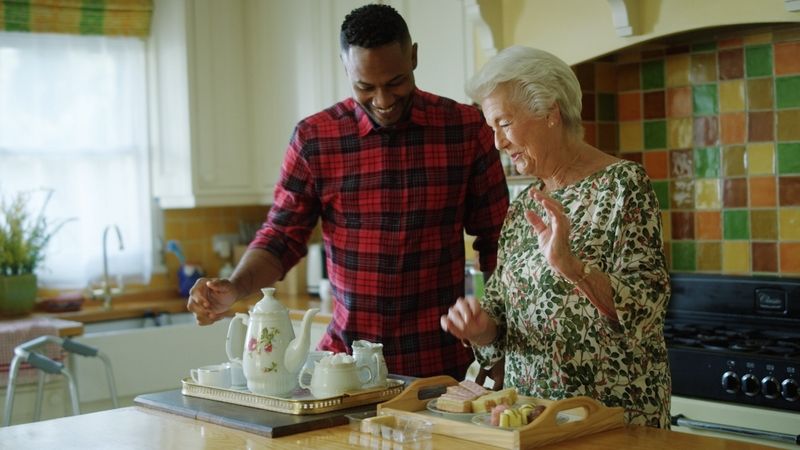 Found Super Carers