Hello, DIYers!
Accent pillows are a great way to add coziness, a pop of color, or texture to any room or even an outdoor sitting area! The best news is that you can make your own! Fully customize your own throw pillows to your style and color scheme! You might choose to upcycle material that you already have or purchase special fabric for the occasion. Choose an option that allows you to sew or a no-sew option! You really can't go wrong!
Happy crafting!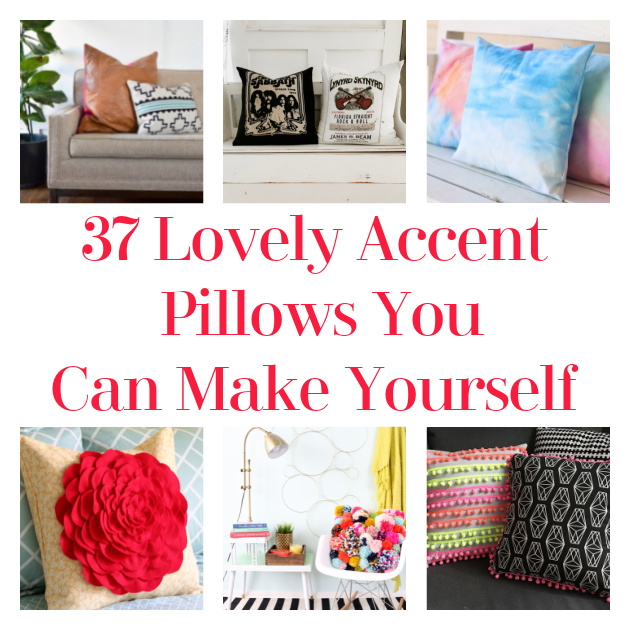 Upcycle Old T-Shirts
T-Shirts are great, but sometimes they have served their purpose! Why not give some of your old favorites a new one by turning it into an interesting accent pillow?!
Found The Wicker House
Sewn Pom Pom Pillows
Different patterns and color combinations can make a bold statement! Give it a try!
Found Brooklyn Craft Company
Butterfly Pillows
These butterfly pillows are fantastic for a little girl's room!
Found Useful DIY
Conversation Hearts DIY
This is the perfect DIY activity for a galentines night!
Found Brit
Circus Animal Cookie Pillow
How cute are these sprinkled and frosted looking pillows?! You can make your own using this tutorial!
Found Studio DIY
Stamped Fabric Pillow
Decorate your pillow with whatever adorable pattern you'd like!
Found Wayback Machine
Watercolor Pillow
Add a splash of color with these beautiful and fun watercolor pillows!
Found Tidbits Cami
Macaron Pillows
Do you love macarons? You can make this sweet pillow or these sweet treats!
Found The Wayback Machine
Floral Pillow
This flower pillow is a fantastic way to add a bold pop of color to the room!
Found Cluck Cluck Sew
Decision Cube
Do you need a more decisive decision maker in your house? Look no further than the decision cube!
Found The Chilly Dog
Sweater Pillow Case
Turn your sweater into a cozy accent pillow in your living room!
Found Maiden Jane
Canvas Rose Pillows
How adorable are these canvas accent pillows?! perfect to add to a bench in the kitchen!
Found Little Yellow Wheelbarrow
Cozy Pom Pom Pillow
How cute is this colorful project?!
Found A Kailo Chic Life
Leather Pillows
Add the look of creamy leather to your couch with this fantastic DIY pillow!
Found Vintage Revivals
Butterfly Pillow
These look gorgeous in a bedroom or even on a couch!
Found Ruffles and Stuff
Beautiful Metallic Pillows
Give a little bit of metallic shine to the room with this DIY pillow!
Found A Beautiful Mess
Ruffled Rosette Pillow
How gorgeous is this rosette pillow?! You can make your own with this amazing tutorial!
Found Building and Decor
Pouf Pillow
These poufs work as a decorative pillow or a comfortable floor seat!
Found Design Sponge
Tuxedo Pillow
Upcycle an old dress shirt with this fantastic pillow pattern!
Found My Own Road
No-Sew Pillow Case
If you love a DIY project but don't want to sew, try this no sew pillow or any of our other great no-sew projects!
Found Style Me Pretty
Diamond Pillow Case
Cozy up with this adorable diamond pillow! This is a fantastic project for a teen!
Found Little White Whale
Rustic Roses Pillow
How gorgeous is this rose pillow?! Give it a try!
Found Alisa Burke
Mod Peacock Pillow
This unique pillow is a great way to add a small pop of color in your home!
Found Positively Splendid
Velvet Lips
Snuggling up with these velvet lips will give a whole different meaning to hugs and kisses!
Found Sewing 4 Free
DIY Sun Cushion
This sunny pillow is perfect for a porch swing or sun porch!
Found Al and Imo Homemade
Crochet Sunflower Pillow
Crochet this lovely pillow for your living room or as a gift!
Found Meladora's Creations
Scarf Pillow
Use a scarf to make this fancy pillow cover!
Found The DIY Mommy
Sprocket Pillows
Mix and match colors and patterns to your hearts content!
Found Cluck Cluck Sew
Giant Succulent Pillow
If you love succulents, this is the perfect addition to your home!
Found Felt Magnet
Sequin Pillow DIY
Get a little glamorous with this fun, sequined pillow!
Found Sister Suitcase Blog
Quilted Pillow
This pillow is a fun twist on the modern pillow!
Found Just Another Hang Up
Donut Pillow
Everyone loves donuts! Enjoy a fun night of making this great pillow and one of these fantastic donut recipes!
Found Make It Love It
Ruffled Shabby Chic Pillow
This light pattern and style plays up a vintage style while still fitting in with a modern, shabby chic feel!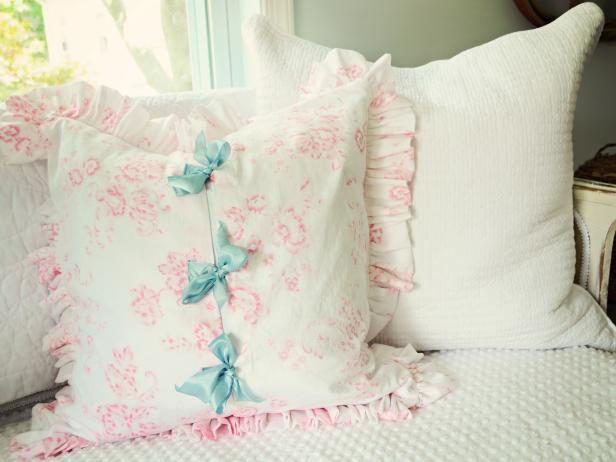 Found HGTV
Quilted Star Pillow
Collect a few fantastic patterned fabrics and make these star pillows!
Found Sew 4 Home
Chunky Knit Pillow Cover
This is the perfect way to add coziness to your living room in the fall and winter!
Found Little Yellow Wheelbarrow
Furry Pillow
Create and snuggle up with a cozy, furry pillow!
Found The DIY Mommy
Dice Pillow
Get nerdy with this adorable dice pillow!
Found Sewing Craft Gossip