Hello, DIYers!
Succulents love the sun! If you have a wealth of them or plan to decorate with succulents, this blog is for you! You can display them in your home and garden without sacrificing any seasonal style. Just try one of these fabulous DIY displays!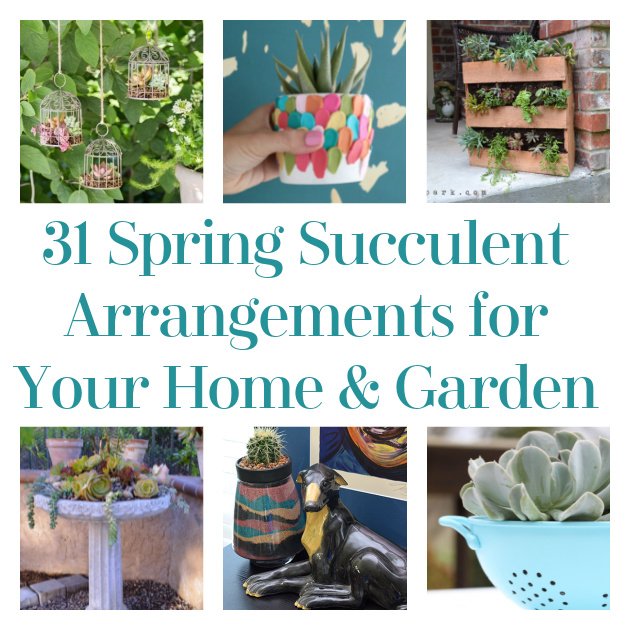 Easter Egg Succulent Planters
These are so cute for the home or to give out as little gifts for the Easter holiday!

Found Happiness is Homemade
Pastel Chalk Jar Succulent Planter
After painting your jar, make sure to fill it with different sized rocks before placing the soil to ensure proper drainage!
Found The 36th Avenue
Small Succulent Bowl
You can use real or artificial succulents, it's totally up to you!
Found Denise on a Whim
Clay Petal Planter
This is adorable and so easy to make! Give it a try!
Found A Beautiful Mess
Succulent Birdbath
This is a lovely way to incorporate succulents into the bird bath!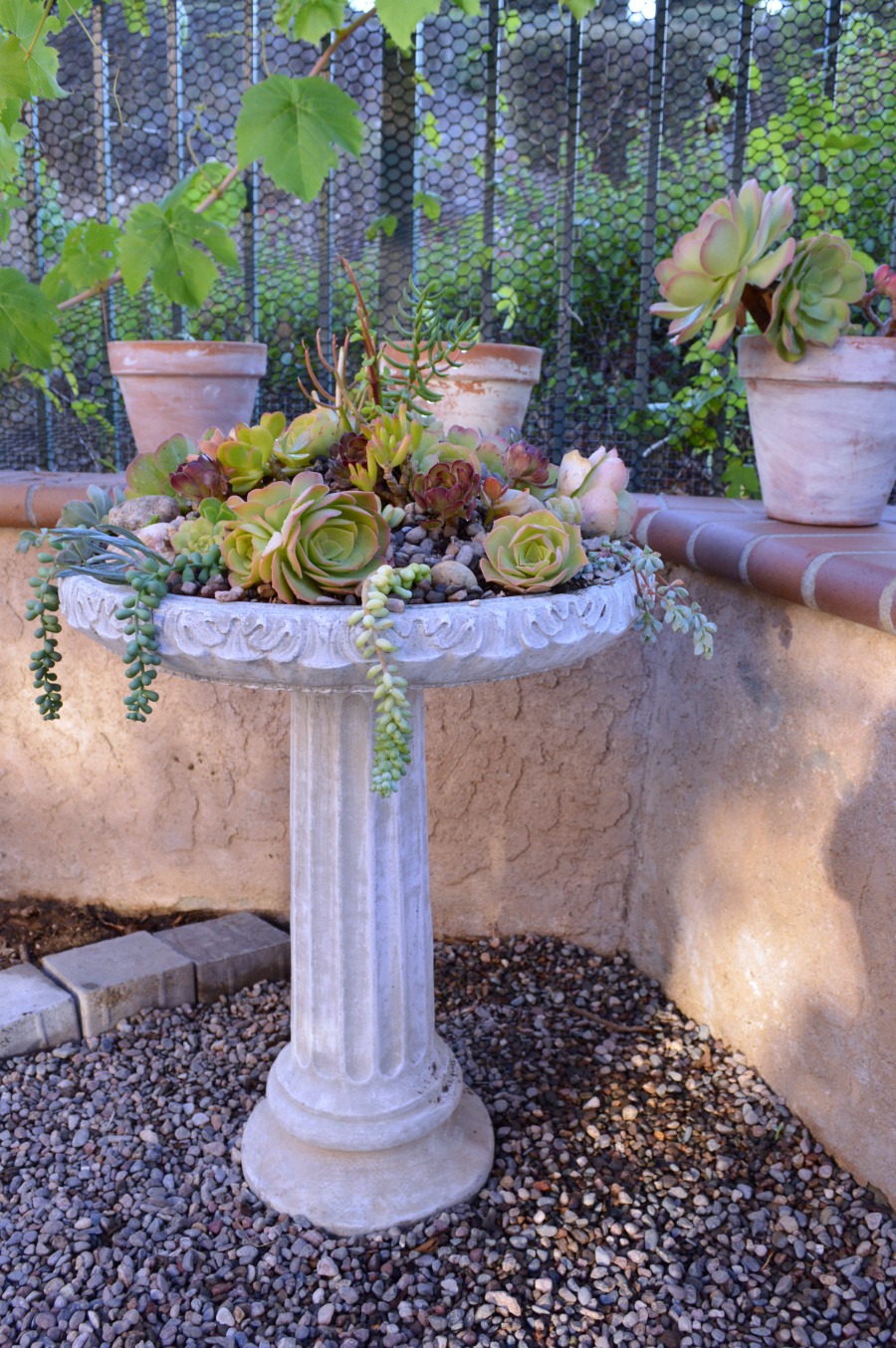 Found My Uncommon Slice of Suburbia
DIY Succulent Teacup Planter
This is so cute! Use any springy teacup you want to upcycle!
Found Hello Creative Planet
DIY Floral-Style Succulent Centerpiece
Just lovely! And so easy to do!
Found Debra Lee Baldwin
Succulent Bowl Centerpiece
Beautiful!
Found Teeny Ideas
Upcycled can Planters
Upcycle aluminem cans!
Found Pinterest
Glass Terrarium Succulent Planter
How cute!
Found Happy and Harried
Small Fenced in Planter
How cute is this?! Use it for planting succulents!
Found Pinterest
Succulent Spheres
These are lovely! You can use artificial succulents or real ones!
Found YouTube
Succulent Table Wreath
A table wreath is lovely for wrapping around candles, hurricane glass, or other displays!
Found Ciao Newport Beach
Rustic Pottery Planters
Rustic style with a pop of color is a lovely way to dress up your succulents for Spring!
Found Freebie Finding Mom
Colander Planter with Succulents
A vintage colander, or one with a pop of color, can make for a wonderful succulent display! Especially because it has plenty of drainage!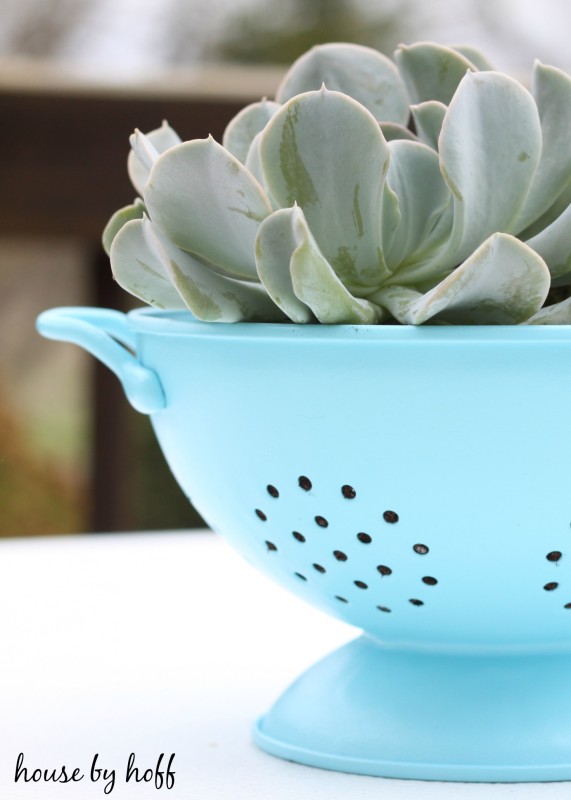 Found House By Hoff
Berry Basket Arrangements
Empty berry baskets can be put to use with these succulents!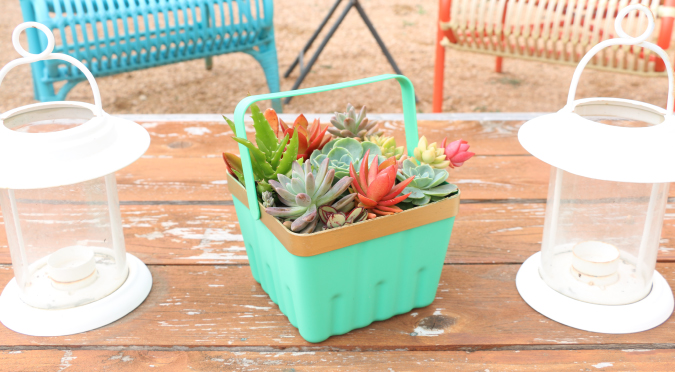 Found Simple as That Blog
Succulent Garden Box
Succulents just love the sun! Why not try them in a garden box?!
Found Within the Grove
DIY Cedar Pallet Succulent Planter
What a fun vertical garden!
Found Mom Spark
Book Planters for Succulents
This is a fantastic option for bibliophiles!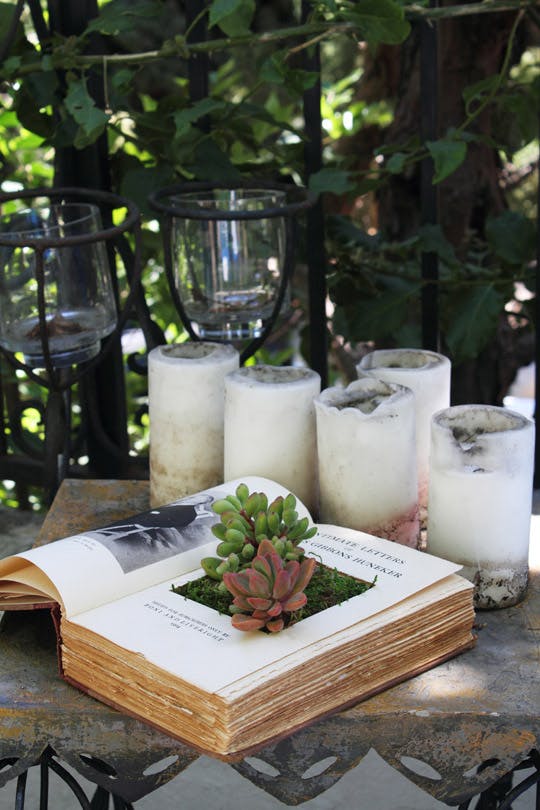 Found Apartment Therapy
Succulent Centerpiece
Dress up your dining room table with a lovely display of succulents!
Found Seven Layer Charlotte
Gum Ball Succulent Planter
An empty gum ball machine can make for a charismatic terrarium!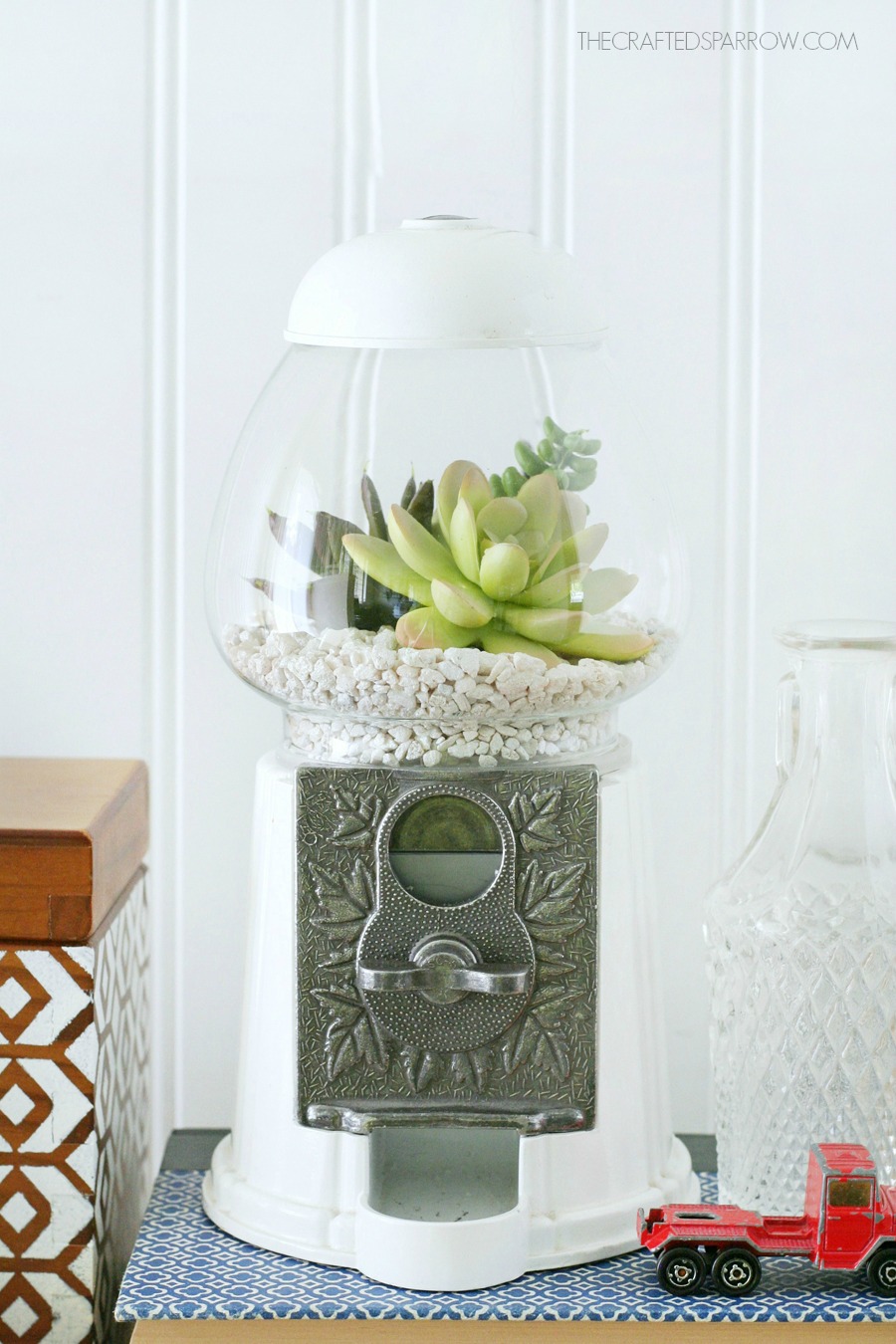 Found The Crafted Sparrow
DIY Keepsake Cactus Sand Planter
This becomes such an interesting piece in your home!
Found Mom Spark
Broken Pot Succulent Garden
Broken pots can still be lovely and serve a purpose!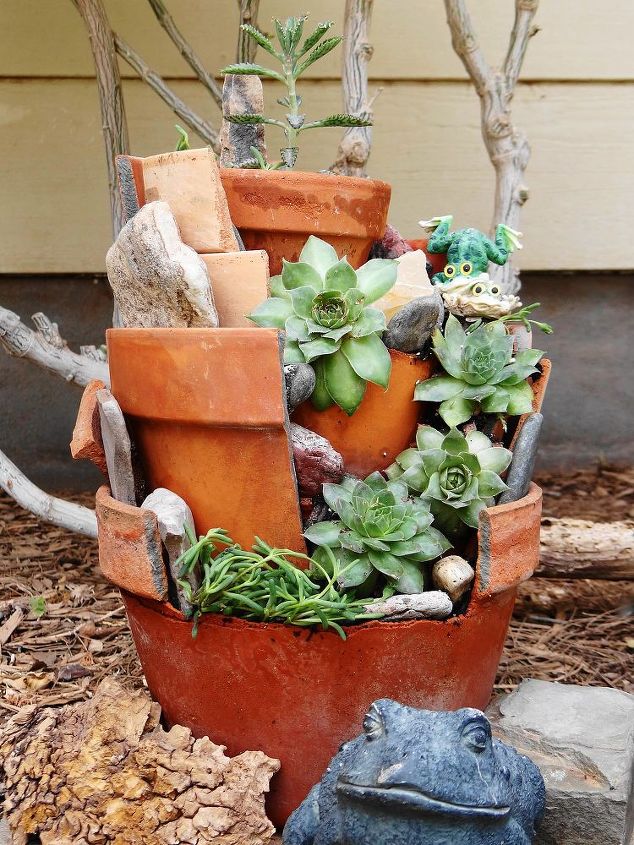 Found Home Talk
Miniature Succulent Bird Cages
Mini bird cages make such charming bird cages!
Found Succulents and Shine
Succulent Garden
This is a practical guide to setting up your succulent garden for success!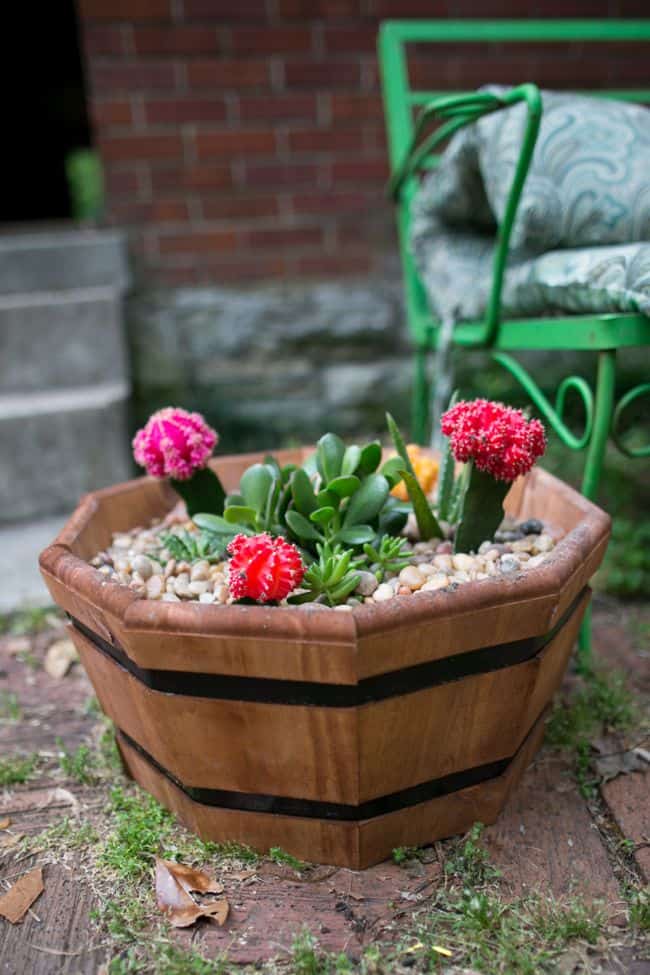 Found Hello Nest
Vintage Tea Tin Succulents
Tea tins can be so charming! If you have a particularly lovely one, why not use it as a planter?
Found Sisoo
Found Popsicle Stick Fence Planter
This is amazing! Check out the video tutorial!
Found YouTube
Wicker Basket Succulent Garden
This is simply lovely!
Found YouTube
Easter Egg Succulent Cups
These are so adorable!
Found A Kailo Chic Life
Tire Planter
A tire planter can be used as a succulent garden if you choose!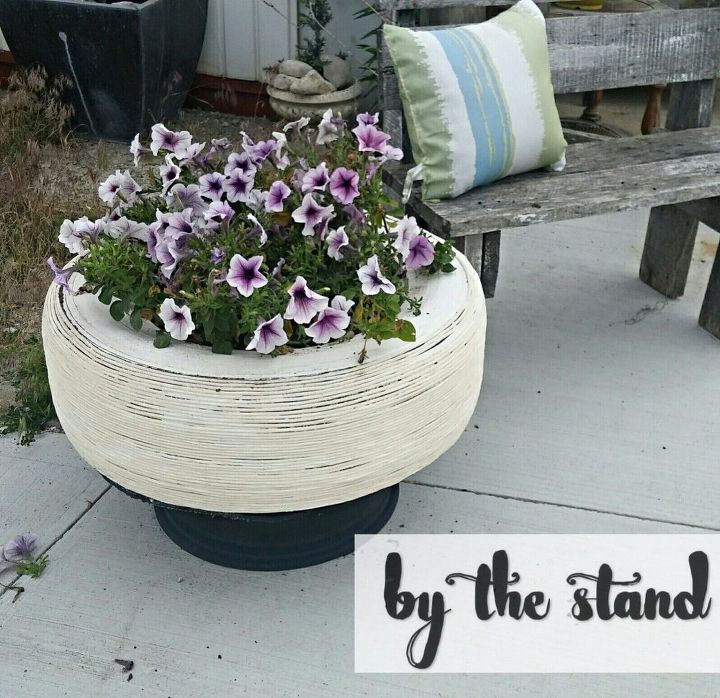 Found Home Talk
Faux Succulent Spring Arrangement
This tutorial uses fake succulents, but you can just as easily use real ones! Just make sure to rotate the display for even growth!
Found YouTube
You May Also Enjoy…
31 Beautiful DIY Water Features for Your Garden
30 Lovely Landscaping Projects You Can Do Yourself!