Hello, DIYers!
Late summer weddings offer a unique hue of colors that combine the bright diversity of summer but with an extra lush green, jeweled tones, and emphasizing some of the fiery colors of the summer heat. It's a beautiful time of year and an ideal time if you are planning a large wedding with lots of locals! Here are some ideas to help you put together a lovely event to celebrate the best day of your life!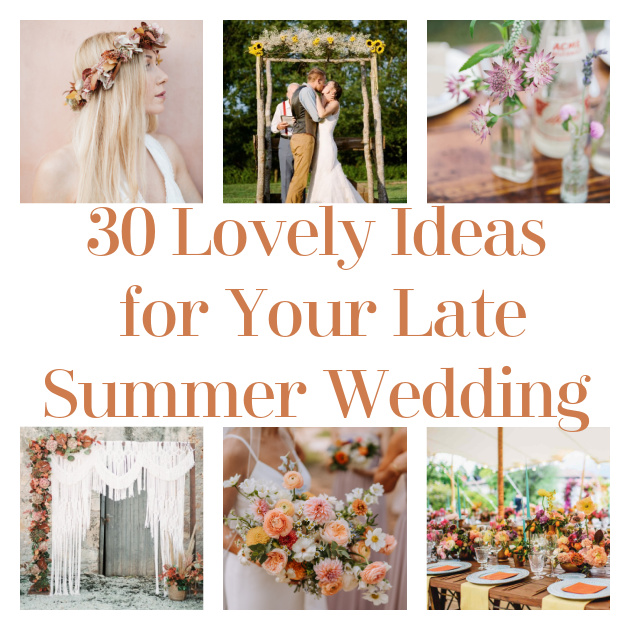 Decorate with Sunflowers
Late summer is a great time to use sunflowers in your wedding as they are coming into bloom!
Found Jillian Hoga via Pinterest
Dried Flower Confetti
This biodegradable confetti is gorgeous and environmentally responsible to have guests toss as the happy couple leaves!
Found A Handmade Cottage
Dyed Baby's Breath
You can use baby's breath as a pop of color by dying it to match!
Found Megan Robinson
Fountains with Greenery
Add an element of water to your wedding, but keep the natural and vining look with faux greenery around it!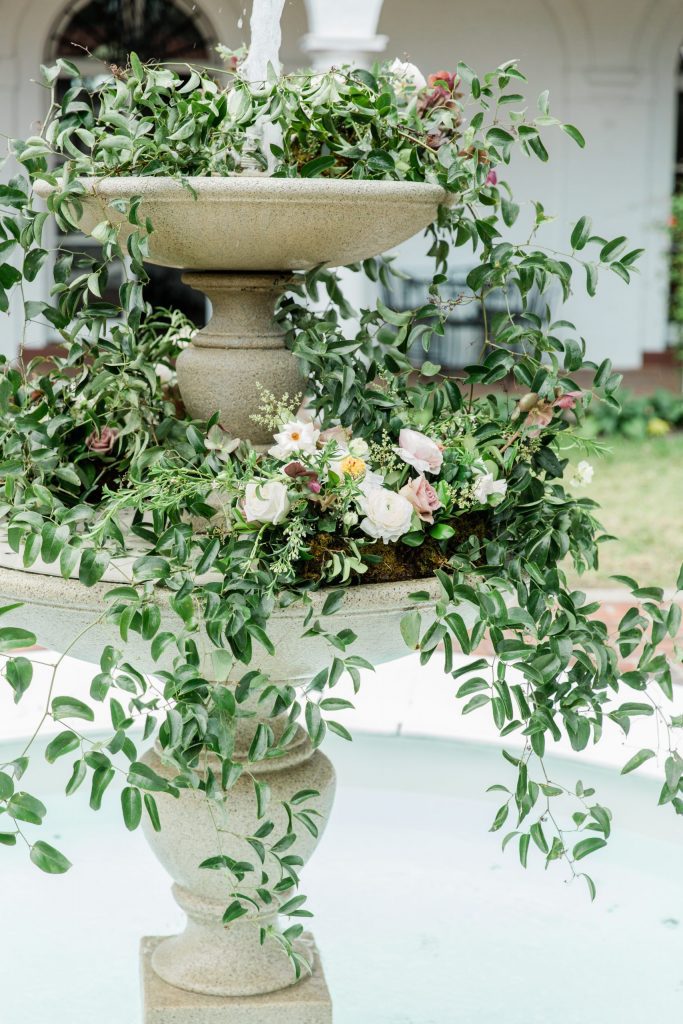 Found Gray Harper
Muted Flower Crown
This flower crown with muted colors celebrates the end of summer as the season turns to Fall!
Found Wedding Chicks
Decorate with Summer Citrus
Who says you can't use fruit to add pops of color to your decor? Oranges are a great way to keep the Summer feel against your greenery!
Found Tidewater and Tulle
Light Pink and Orange Boquet
Bouquet options for late summer weddings often are filled with orange and pink flowers that celebrate the late-blooming flowers before the harvest season officially begins! They look lovely!
Found The Farmer and I
Wooden Bench Guest Book
Keep the memories of your celebration forever! Have your guests burn or sign their names into a wooden bench to place in your yard at home. Just be sure to seal and weatherproof it before putting it outside!
Found Wedding O Mania
Use Cream colored Canvas and Indigo-dyed cotton to create an ombre effect in your wedding decor!
Found Petra Bindell
Oranges and Pink
A touch of summer and a touch of fall!
Found Whitney Darling Photography
Honey as Guest Gift
Honey is a sweet way to say "thanks!" to your guests!
Found Pinterest
Use Wild Flowers and Greenery
If you know the area well, you can keep an eye out for areas where you can forage for wildflowers and other greenery to use in your decor! The natural touch looks lovely, plus it can save a ton of money! Just make sure to take the items ethically!
Found Carmella Rayone
Boho Picture Booth
Hanging macrame is a lovely (and easy!) way to dress up a photo booth! Add a touch of flowers to match the event as an accent!
Found Wedding Chicks
Brass Vases
Brass is such a great color for the hues of late summer and early fall! Use it in your table top decorations!
Found Brides
Sunflower Bouquets
The yellow and blue colors with this bold sunflower bouquet is giving off August vibes!
Found Rustic wedding chic
Old Window Photo Display
This is so cute!
Found Wedding O Mania
Decorate with Peaches
Get festive with some summer peaches!
Found Graham Terhune
Green Garland
Greenery is a great way to decorate your tables!
Found The Wedding Artist Co
Geometric Votives
Geometric votives pair beautifully with flowers!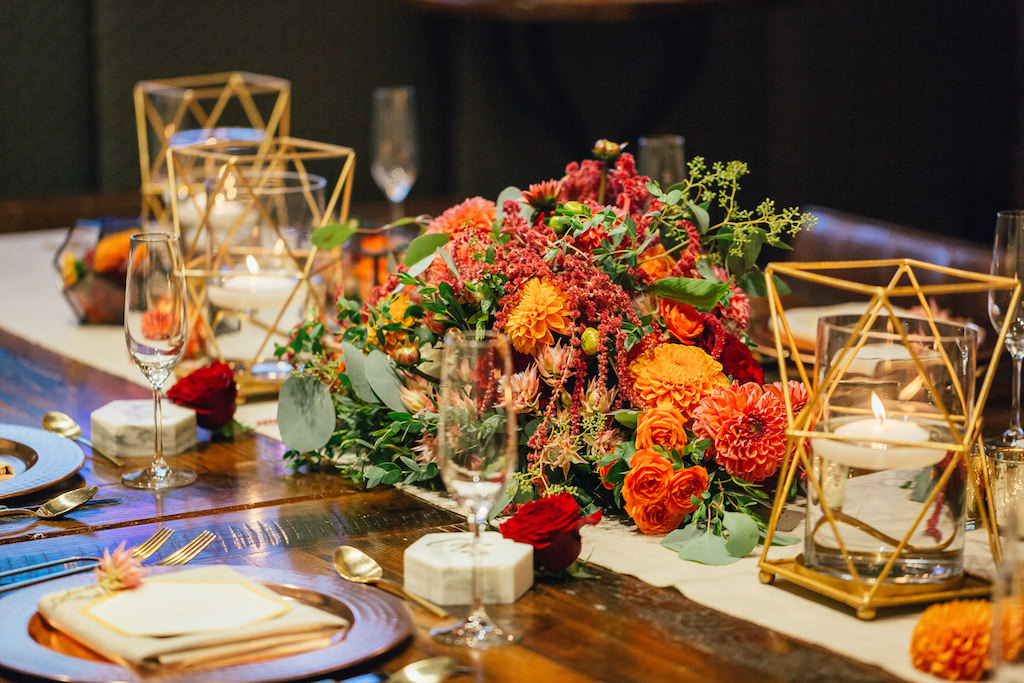 Found Marry Me at Tampa Bay
Rustic Alter
This rustic alter is to die for! It's perfect for an outdoor, summer wedding!
Found Kristin Sweeting Photography
Buckets of Baby's Breath
This is a cost-effective way to decorate your aisle!
Found Wedding O Mania
Wild Flowers in Recycled Bottles
Decorate your tables with collections of recycled glass bottles in different shapes and sizes! It's a charming look!
Found Martha Stewart
Mismatched China
If you (and maybe your partner!) have a love of thrifting and collecting, why not thrift for your dinnerware?! You can rescue tons or mismatched China collections and show them some love in your reception! It adds an interesting element to your tables, making each setting completely unique!
Found The Copper Quial
Burlap Wrapped Boquet
Burlap makes the perfect accessory to bundle up your flowers for a late summer wedding!
Found Wedding O Mania
Wooden Signs on Bride and Groom Seats
These add a cute touch!
Found Wedding O Mania
Hanging Mason Jars with Flowers
This is so charming!
Found Weddings O Mania
Seed Bag Party Favor
This is a cute idea with an even cuter display!
Found Wedding O Mania
Vintage Galvanized Watering Can Centerpieces
In the hot summer months, extra watering is a plus! Plus, vintage watering cans are adorable! Unfortunately, it can be hard to find a surplus of vintage items. Here's a great tutorial for taking a new galvanized watering can and making it look vintage in a snap!
Found Pinecone Cottage Retreat
Have a Fiesta
If you can't beat the heat, give in and throw a festive party!
Found Brides
You May Also Enjoy…
30 Wedding Aisle Décor Ideas for Your Gorgeous Beach Wedding
30 Lovely Place Setting Cards for Your Wedding to Make
33 Beautiful Wedding Hairstyles You Can DIY
55 Wedding Centerpieces—Ideas on a Budget
40 Wedding Craft Ideas to Make & Sell
41 DIY Ideas for Your Coastal Wedding Celebration