Hello, DIYers!
Let's face it… accidents happen and sometimes they can affect your daily wardrobe. Nothing is worse than an accidental stain, rip, or break in your outfit! A perfectly good article of clothing can seem lost forever if you're not sure how to fix it, but with a little bit of DIY skill, you can save your wardrobe from the dreaded fashion emergency! On this list, we have combined quick fixes that you can use on the go when an accident happens as well as some ideas for more permanent repairs to your clothes when you have more time at home. Get the most out of your wardrobe!
Happy crafting!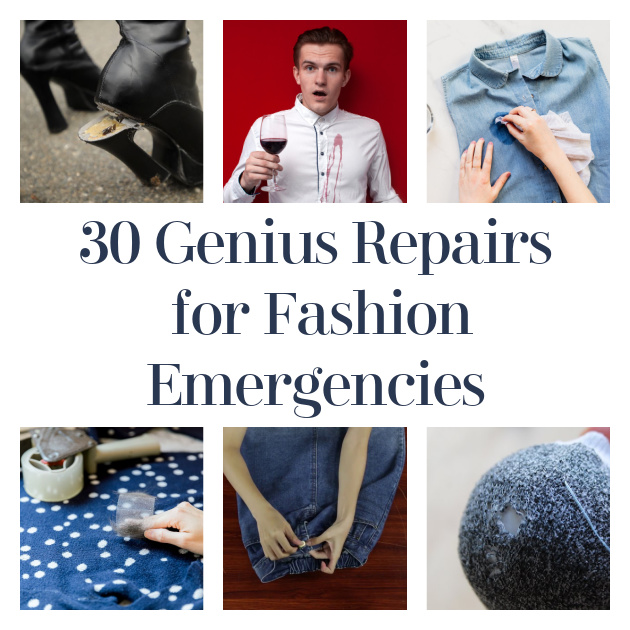 ...
Fixing a Broken Heel on the Go
Nothing is worse than breaking a heel! You run the risk of walking funny for the rest of the day if you don't have a spare! Here are some ideas for fixing this fashion emergency on the go!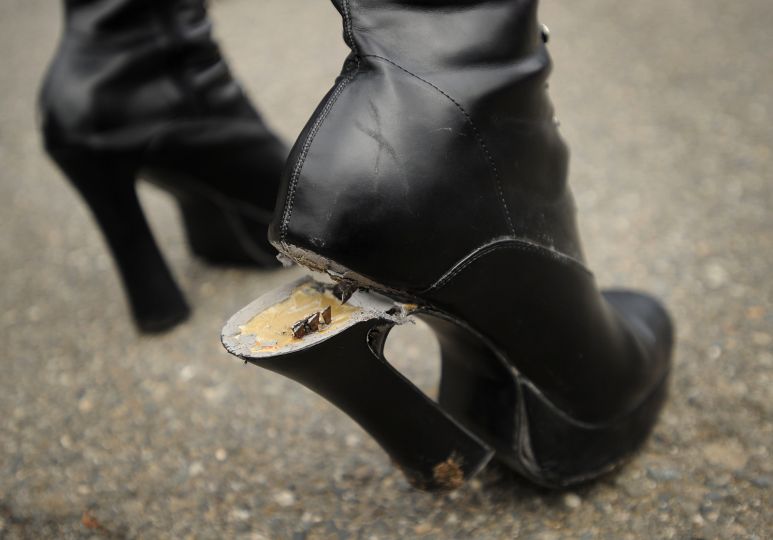 Found Walk Jog Run
Pet Hair Removal While Out
Sometimes you don't always notice the pet hair on you, or you couldn't resist petting a cat or dog while you are out and about! If you didn't come prepared with a lint roller, there are other ways you can get the pet hair off of your clothes!
Found The Spruce
No-Sew Fix for Broken Button on Jeans
Not everyone walks around with a sewing kit! If your button falls off of your jeans, her is a no-sew way to fix it!
Found Off Square
Removing Mold from Leather
Unfortunately, when you love leather, mold can happen! Here's how you can save your beloved leather shoes (or other product) from the mold that is growing on them!
Found Shoe Gazing
Remove Deodorant Marks From a Shirt
If you accidentally got a deodorant mark on your shirt or dress, you can get it off in a pinch!
Found The Spruce
Quick Zipper Repair
Zippers breaking can be a little bit traumatizing! But here is a quick fix to keep your day on track!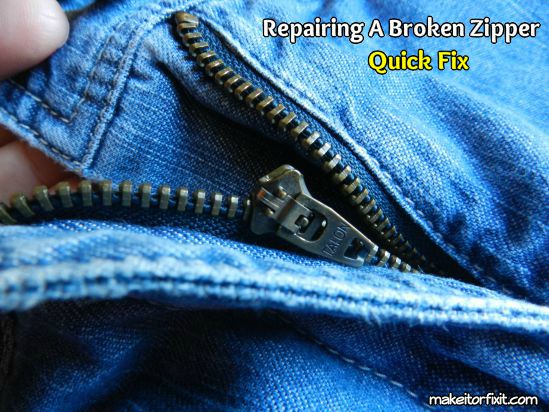 Found Make it Or Fix It
Avoid Runs in Pantyhose
If you are prone to getting runs in your pantyhose, you can use these tips and tricks to avoid them before they start!
Found WikiHow
Quick Fix for Broken Under Wire
There is pretty much nothing worse than the pain of a broken under wire, especially in the middle of a busy day! Here's some options for quick fixes to help get you through!
Found My Newest Addiction
Getting Toothpaste Out of Clothes
Have you ever accidentally gotten toothpaste on your shirt RIGHT as you are supposed to walk out of the door? It's the worst! Here's how you can quickly get the toothpaste out of your clothes!
Found The Spruce
Quick Button Fix with Paperclip
When you're in the middle of your day, you can't always stop to sew up a broken button. Use a paperclip to help keep your pants, skirt, or other article of clothing together until you can get home and do a more permanent repair!
Found How To
Fix a Busted Hem On Pants
Here's how to fix a hem!
Found Mary Martha Mama
Mend Broken Cami Strap
Camisoles get PRICEY! I will probably never stop being offended at the price of them. So it is especially unfortunate when one of the straps break. But never fear! You can fix it yourself! Here's how…
Found 110 Creations
Prevent Stockings from Ripping Further
Carry clear nail polish with you when wearing stockings so that if you get a run, you can quickly stop it from expanding further!
Found I Fix It
Getting Rid of Scuffs on Shoes
When you're busy and on the go, scuffs happen! But that doesn't mean it's the end of your shoes!
Found Quick and Dirty Tips
Quick Fix with Stapler
If a hem has come undone, a stapler can make a decent quick fix! A staple can also be a good substitution for a broken clasp on pants or a skirt. It may not be a permanent fix, but if the accident happens in the middle of a busy day, it will help you get by with minimal interruption!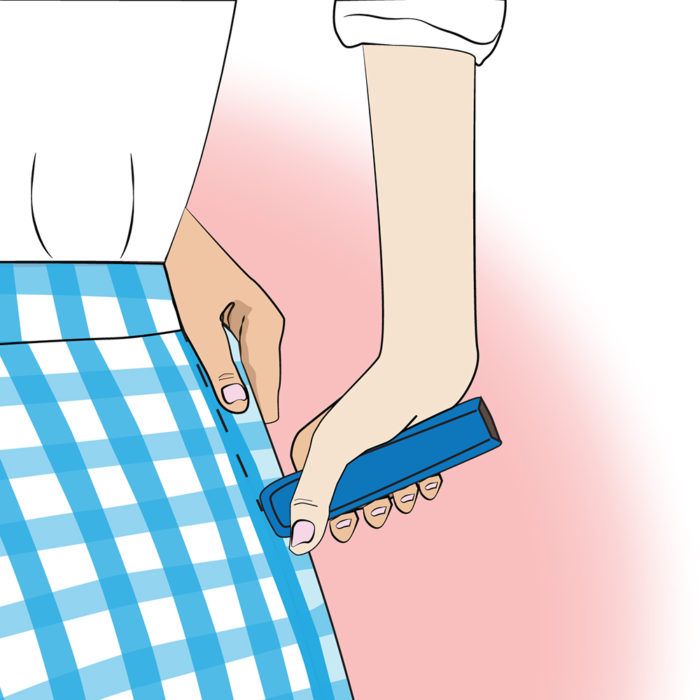 Found Threads Magazine
Fixing Ripped Jeans
Fix a hole in your favorite jeans instead of recycling them!
Found Cleanopedia
Get Coffee Stains Out of Clothes
Coffee stains are a common occurrence, especially when booking it out of the door in the morning! But don't let them ruin your day!
Found The Spruce
Fixing Ripped Knit Cardigan
It's always such a bummer when your favorite knit cardigan rips! Now you can fix it!
Found MKLAV
Belt Repair
Fix a belt that has split instead of tossing it in the trash!
Found Instructables
Hemming a Skirt
If you want to shorten a skirt, you can! It's simple to do, even for a beginner!
Found Melly Sews
Broken Zipper Fixes
Broken zippers come in many forms… here's how you can fix each of them!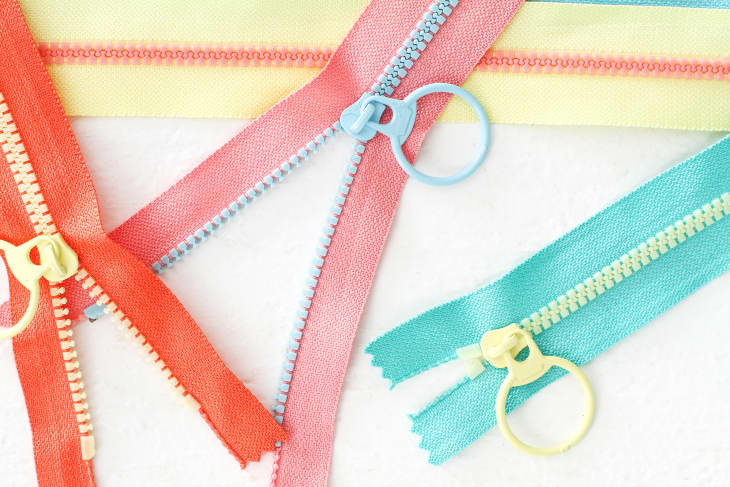 Found Apartment Therapy
How to Mend a Rip in the Thigh of Your Jeans
Do your thighs tend to wear out the inside of your jeans? I have the same issue! You can fix your jeans with this tutorial!
Found Crafting a Green World
Shortening Straps on Tank Top
Some tank tops fit awkwardly just because the straps are too long! You can fix it with this awesome tutorial!
Found Cinderella Sew
Fixing Scratches on Leather
Keep your leather looking great by fixing the scratches and scuffs you accumulate while living your busy life!
Found The Elegant Oxford
Getting Red Wine Stains Out of Clothing
Accidents happen when you're having fun! But don't let it ruin your outfit!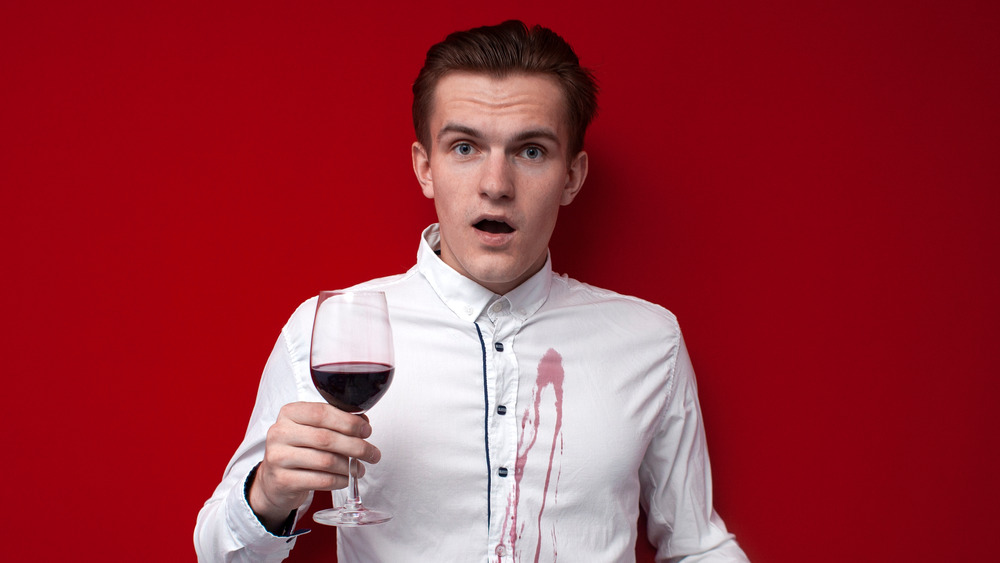 Found Mashed
Deodorant Build Up on Shirts
Deodorant can be havoc on your shirts! Here is a great way to help protect your fabric!
Found Clorox
How To Darn A Sock
Socks take a lot of abuse! If you want to repair a hole in yours, here's what you need to know!
Found Remake
How to Fix a Torn Belt Loop
We've all been there! A torn belt loop can be a nuisance! Here's how you can fix it.
Found Sewing for a Living
Another Great Under Wire Fix
Here is another great way to fix and under wire that has broken in the middle of your day!
Found Make Life Lovely
Getting Gum Out of Clothes
If there's been a terrible gum accident, you can try this!
Found The Public Good
You May Also Enjoy…
31 Adorable Baby Clothes You Can Make Yourself
30 Fabulous DIY Active Wear Projects
32 Clever Storage Tricks for a Small Home
33 Upcycle Crafts to Make with Grandma's Old Things
32 Lovely Summer Dresses You Can Make