Hello, DIYers!
Today we are talking about big, loud, and exciting monster trucks! Boys and girls alike both love watching these massive trucks to tricks, make jumps, and crush cars! They might be fans of going to monster truck shows or just playing with the toys in the back yard! Either way, these rough and tough trucks are tons of fun. Here are some ideas on how you can continue to explore that interest with your little ones. You can even have a monster truck themed party!
Happy crafting!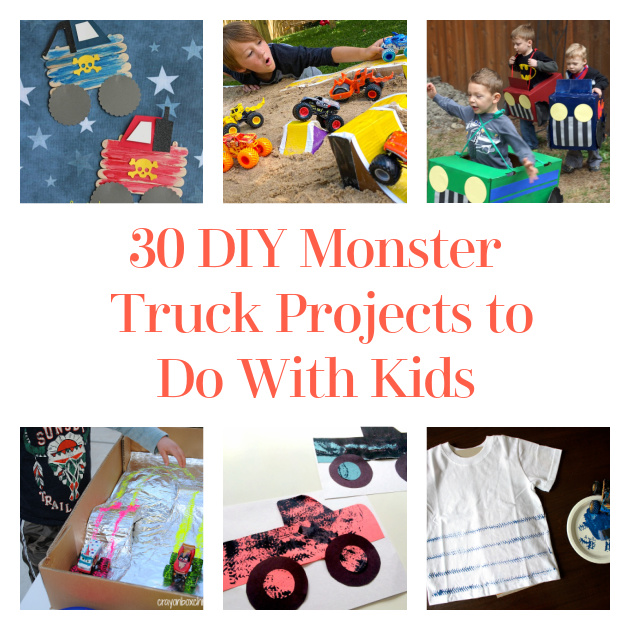 DIY Monster Truck Costume
Whether your little one wants to dress up as their favorite Monster Jam truck or be totally original, this is a seriously amazing costume!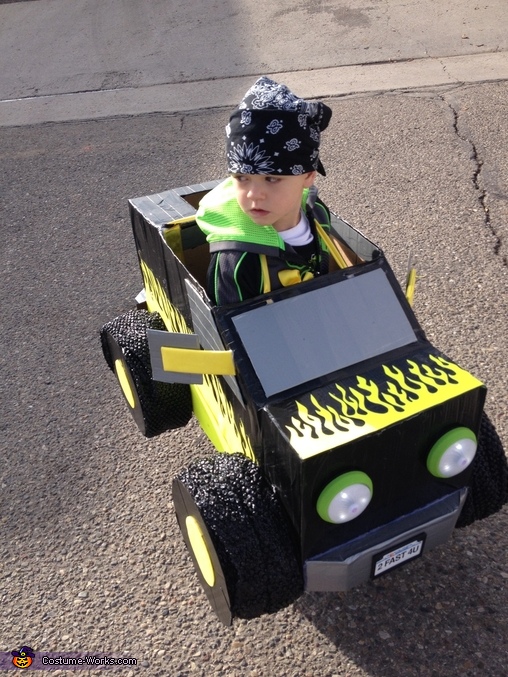 Found Costume Works
Monster Truck Foil Painting
This is so fun!
Found All for the Boys
Paper Monster Truck Craft
Make and play with this amazing, paper monster truck!
Found YouTube
Monster Truck Sensory Bin
This is fantastic, especially if you have an older child who loves monster trucks and a smaller child who can be excited to engage with sensory activities (and playing with their older sibling!)
Found Crayon Box Chronicles
Monster Truck Kiddie Costumes
Your little one's will have so much fun making and designing their monster truck costumes! Then in 3, 2, 1 they can start their engines!
Found Queen of Themes
Easy LEGO Monster Truck
Found Aha Kids
Monster Truck Splatter Painting
This colorful painting uses monster trucks and their wheels to make this cool and textured art, perfect for a refrigerator or their bedroom!
Found Happiness is Homemade
DIY Monster Truck Arena
Use cardboard to make your own arena for trucks to do tricks off of!
Found Kids 2 Kids
DIY Monster Truck T-shirt
This is a fun way to make your own T-Shirt using a toy monster truck! The tire treads look great!
Found Queen of Themes
Monster Jam Track
Forget a LEGO table (scratch that! LEGOs are pretty fun also…)! This Monster Jam track for kids was made by the Grave Digger driver himself and the little boy is his son!
Found Monster Jam Facebook Page
Paper Monster Truck Craft
This is a fun paper craft that everyone in the family can enjoy!
Found Little Family Fun
Painting Monster Trucks
These are lovely!
Found Step By Step Painting
Monster Truck Photo Booth
This would be perfect for a monster truck themed birthday party or you couls place it around a mirror for a more permanent decoration in the home!
Found Life Anchored
Raspberry Pi Powered Monster Truck
If you're encouraging your child to learn about technology, this could be the perfect project for your family!
Found Instructables
LEGO Monster Truck
So cool!
Found YouTube
Monster Truck Phonics Jump
Hooked on monster trucks meets hooked on phonics!
Found Growing Book by Book
Monster Truck Valentines Day Box
You can do this with Grave Digger or any of your favorite monster trucks!
Found Pinterest
Drawing Megaladon
Want to draw this beast?! Here's a video tutorial!
Found Taurus Art
DIY Monster Truck Arena
Make this for a party, playdate, or just as a way to have fun on an average day!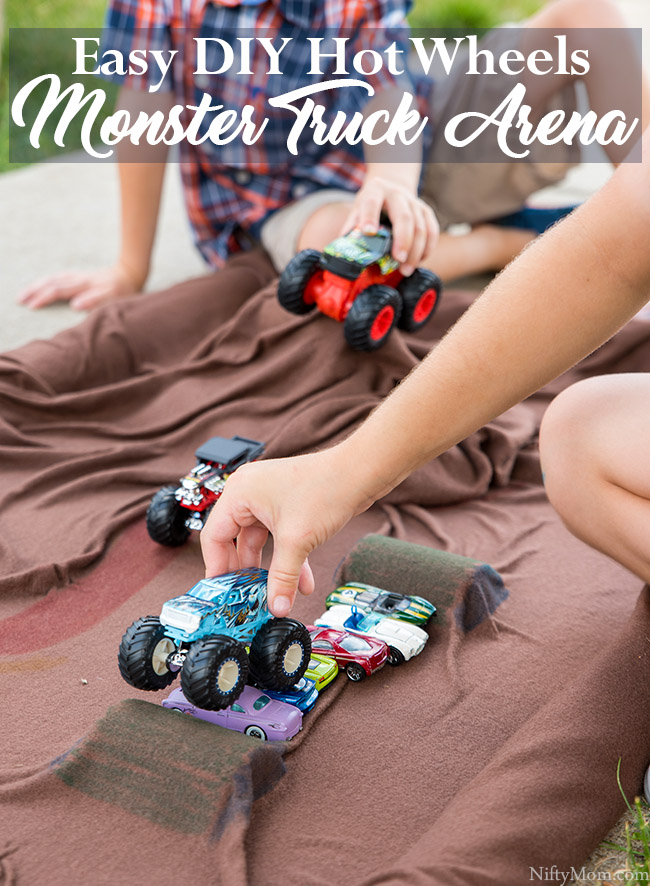 Found Nifty Mom
Paper Plate Monster Truck Craft
A big truck needs big wheels!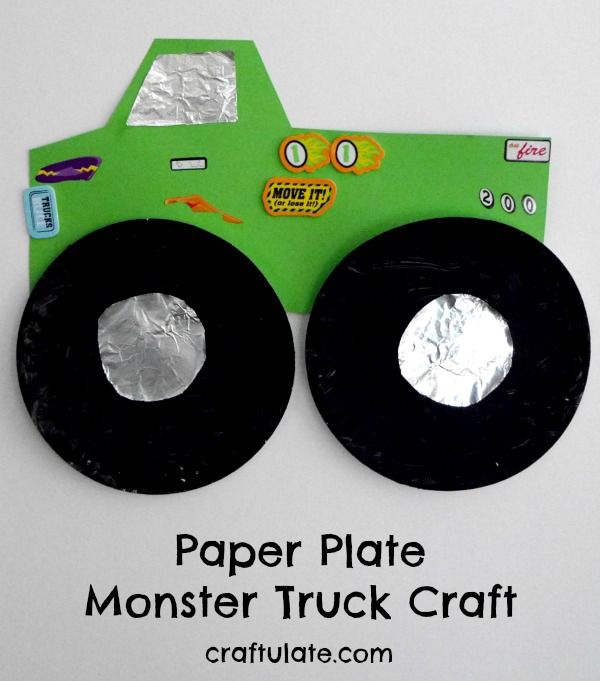 Found Craftulate
Making an Interactive Monster Truck Bedside Lamp
So cool!
Found Instructables
Monster Truck Snack Haulers
Adorable!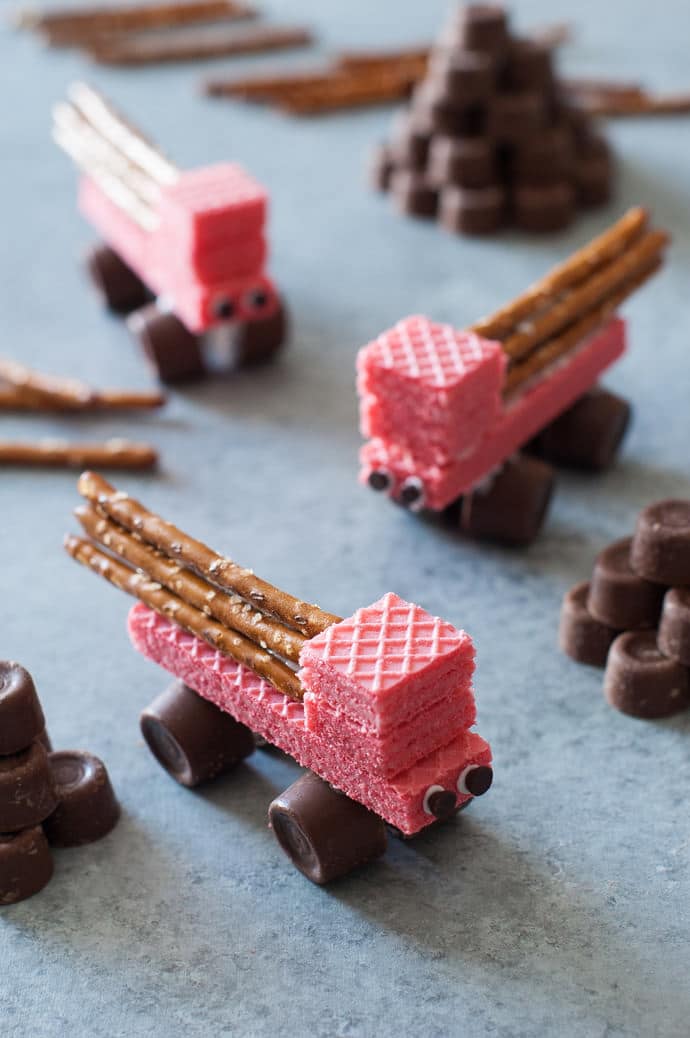 Found Handmade Charlotte
Monster Truck Fort
This is MAJOR for major fun!

Found Instructables
Popsicle Stick Monster Truck
Popsicle stick crafts are always a blast!
Found Glued to My Crafts Blog
Huge Knex Monster Truck
Wow!!
Found Instructables
Custom Enamel Paint for Hot Wheels Monster Truck
This is awesome!
Found Rad Megan
Monster Truck Birthday Cake
Cookie crumbles on this cake make it perfect for displaying your little one's favorite monster trucks!
Found Life Anchored
Wooden Monster Truck
So fun!
Found Instructables
Card Board Monster Truck
This card board monster truck is so fun! Customize it however you'd like!
Found Pinterest
Monster Truck Sandwich
Have a monster appetite? Enjoy this snack!
Found Instructables
31 Lovable Dog Crafts for Kids